Today we're going to talk about French country sectional sofas! The words "modern" and "French country" may have once looked diametrically opposed, yet this pairing of design styles is today very popular.
Modern French country design incorporates French farmhouse characteristics with a contemporary twist, blending simple design, neutral color schemes, varied textures, and natural materials to create a timeless appearance that's full of personality.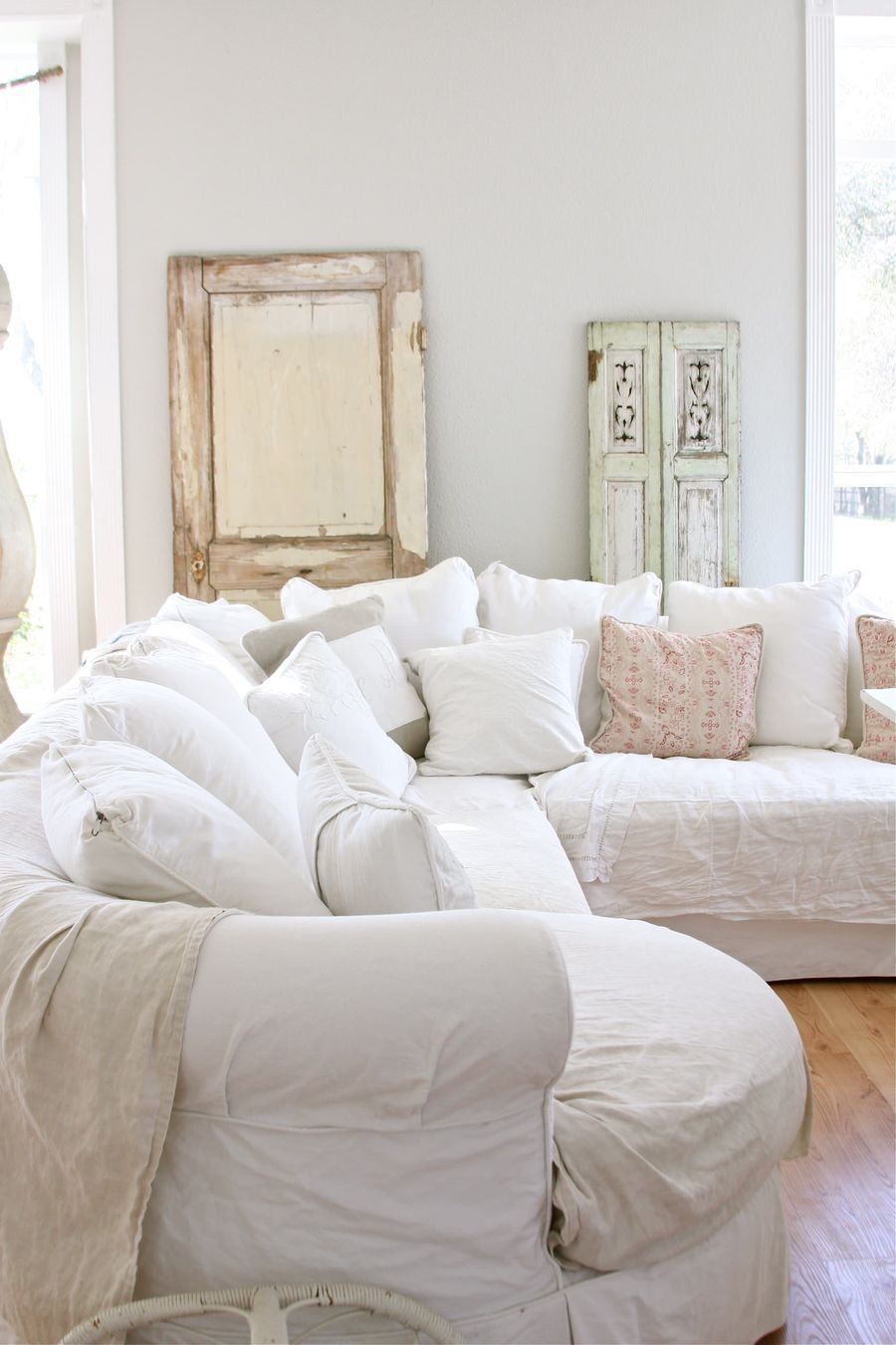 French Country Sectional Sofas
The U-shape, L-shape, and semi-circular shape are the three major shapes of modern French country sectionals. You may, however, build other configurations using modular sectionals, particularly 5-piece sectionals. A word of caution about L-shaped sectionals: make sure you go to the showroom with the correct design in mind.
1. U-Shape
U-shaped French country sectional sofas are a terrific way to optimize the sitting area in your living room without trapping someone in a cramped corner seat. When everyone is sitting on a curved sectional sofa, they will be able to communicate comfortably and no one will feel excluded from the group conversation. The U-shape is great for creating a cozy, convivial atmosphere!

2. L-Shape
These French country sectional sofas are ideal for folks with smaller living rooms who wish to maximize their sitting options without cluttering or breaking up their available space. L-shaped sofas can be symmetrical or not. These sofas frequently have a chaise, too, so it's simple for everyone in your home to unwind, whether they choose to sit or recline.

3. Semi-circular
The semi-circular sectional couch, while not as intimate as a U-shaped sectional sofa, provides even more room than the L-shaped for folks who want to recline on their sofa. Because they are a bit bigger than their contemporaries, this is a wonderful choice for a family with a spacious living room.

Sectional Sofas
All in all, sectional sofas are the perfect solution for adding more seats to a small room. They're pleasant and cozy, and they give off a more casual and informal vibe than a traditional sofa. Modular sectionals are easy to arrange in any room because of their adaptability. French country sectional couches are made up of a number of separate sections that may be combined in a variety of ways. This feature allows the sectional sofa to be more adaptable than a traditional three-seater couch.
The "three over three" configuration of sectional sofas is made up of three back cushions over three seat cushions. They often come with 2 arms (as if it were a standalone sofa), no armrests, or one armrest in a LAF (left arm facing) or RAF (right arm facing) design.
The first thing to think about is the layout and size of your room. Is there enough space for a full-size sectional with a chaise lounge and sofa bed? Or does the size of your living area necessitate a more compact setup?
You may even enjoy vintage contemporary design and wish to purchase anything in that style. Fortunately, sectional sofas come in a variety of forms, colors, and upholstery options to fit your preferences.
More French Country Decor Ideas
French country-style homes must make a pleasant first impression. What better way to greet visitors than with a welcoming modern mudroom. The white cabinetry, light wood details, and woven baskets all look great in an entryway.
Take inspiration from a lofty farmhouse home and use exposed beams, dark wood finishes, and textured accessories to create warmth in your living room. Against the white and wood tones, modern French country furnishings such as natural wood cross-back dining chairs and industrial-style pendant lights provide contrast.
Experiment with mixing modern and vintage components for a unique design combination. Barn timbers line the ceiling in some French country rooms, adding a rustic texture that contrasts with the modern geometric carpeting beneath. Pristine white sheets and simple striped cushions complement the vintage-style metal bed. A bench made from a salvaged wood beam sits at its base, supported by black urban hairpin legs.
Keep getting inspired with our other guides to French country furniture and decor in the home by subscribing below!