If you are furnishing a kitchen, then you might be looking for the best farmhouse bar stools to place near your kitchen island counter. When you need a place to sit at the counter and eat a quick meal, there's no better piece of furniture to have than a bar stool. Bar stools aren't bulky and slide in and out from an elevated surface. They are often purchased in groups of 3 or 4. If you have a larger kitchen, you may need 5 or 6 bar stools to fit around the counter!
Farmhouse Bar Stools
If the rest of your home is decorated in the modern farmhouse home style, then you probably want to keep your kitchen furniture in the same aesthetic realm. That's why we've selected the best farmhouse bar stools you can buy to give you the modern country look you dream of. We managed to find many options that are both affordable and durable.
As a heads up, the words counter chairs and bar stools get used interchangeably quite often, but for this article, we're going to focus on true bar stools – seating without much back support. The benefit of counter stools as opposed to chairs is that they are easier to get on and off of. They are clearly not meant for long-term sitting as the lack of back support could become uncomfortable after too long!
As always, we really try to provide you with both affordable and high quality investment options, so please feel free to click around these different options to find one that fits your budget.
There are quite a few options when it comes to modern farmhouse style barstools. We most commonly see these styles of furniture in farmhouse kitchens:
Rustic: a solid wood barstool
Industrial: a metal stool with a wood base
Country: a round stool with turned legs, perhaps
Here is a great example of a blue kitchen island with beautiful rustic industrial barstools with a farmhouse feel: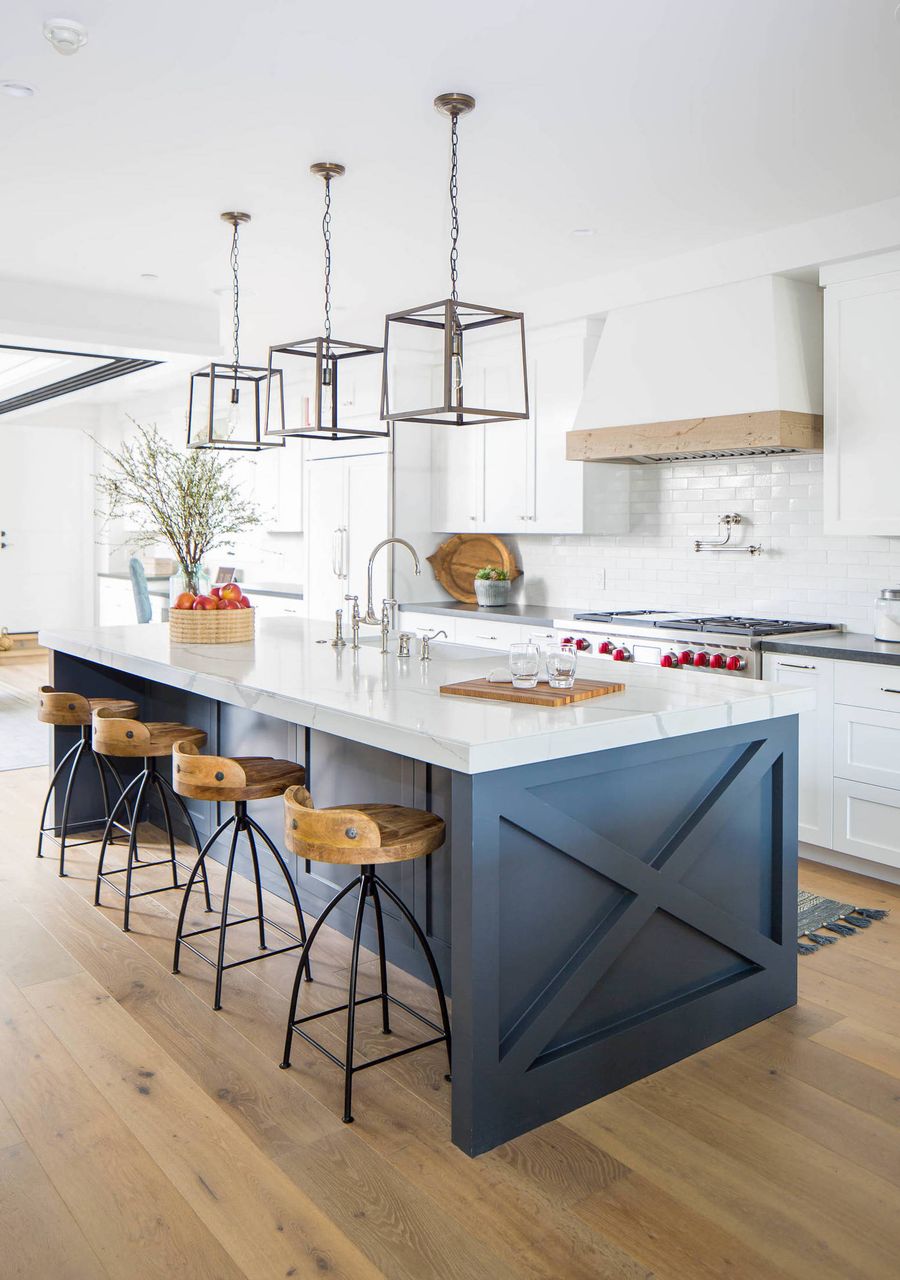 I hope you found at least one farmhouse counter stool or barstool that caught your eye in this article! Remember, I highly recommend that you measure the height of your kitchen counter before buying any of these barstools! You always want to be sure that there is at least 10 inches of space between the seat and the bottom of the counter at which the stool will be placed. It's better to be safe than sorry!
More Farmhouse Decor Ideas
Keep decorating your house with our other Farmhouse furniture and design guides!
Happy curating!