If your home is spacious enough for a breakfast nook, then you're probably looking for the best way to decorate it. Breakfast nooks are the perfect place to start your day. They're great for eating a casual, quick meal in a comfortable way. If I have the choice, I definitely prefer to eat in a breakfast nook rather than a coffee table!
There are lots of ways to design a comfortable, practical breakfast nook, even if you don't have a lot of space. Here are our favorite breakfast nook design and decor ideas to inspire you!
Breakfast nooks can be designed with built-in seating, a table attached to the kitchen island, or separately with freestanding tables and chairs. When it comes to seating, you can opt for a banquette to seat more people, stand-alone chairs, or even stools. Pedestal tables, tulip tables, and other round tables with one central leg work best for breakfast nooks. This ensures that everyone sitting down doesn't have part of the furniture in the way of their leg!
Breakfast Nook Ideas
We'll share some of our favorite breakfast nook designs with you below! If you prefer to stick to basics, then be sure to read our breakfast nook essentials for practical daily living.
1. Table Against the Wall
If you're short on space, consider purchasing a small accent table to push up against the wall, surrounded by three chairs for eating!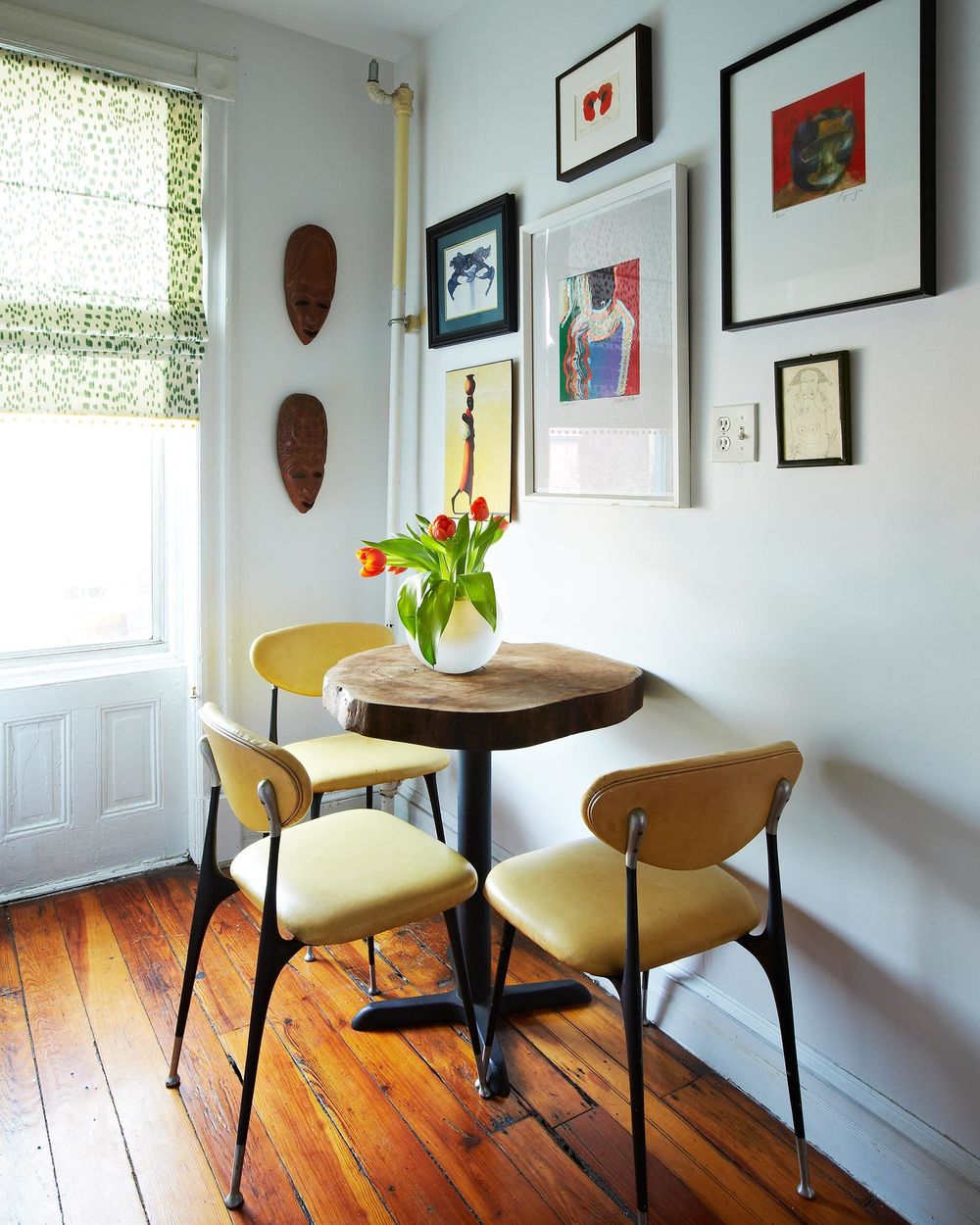 2. Counter height breakfast nook with built-in bench
Counter height tables make it easy to transfer food from the kitchen to the breakfast nook area! Be sure to measure before selecting the right counter chairs for your nook!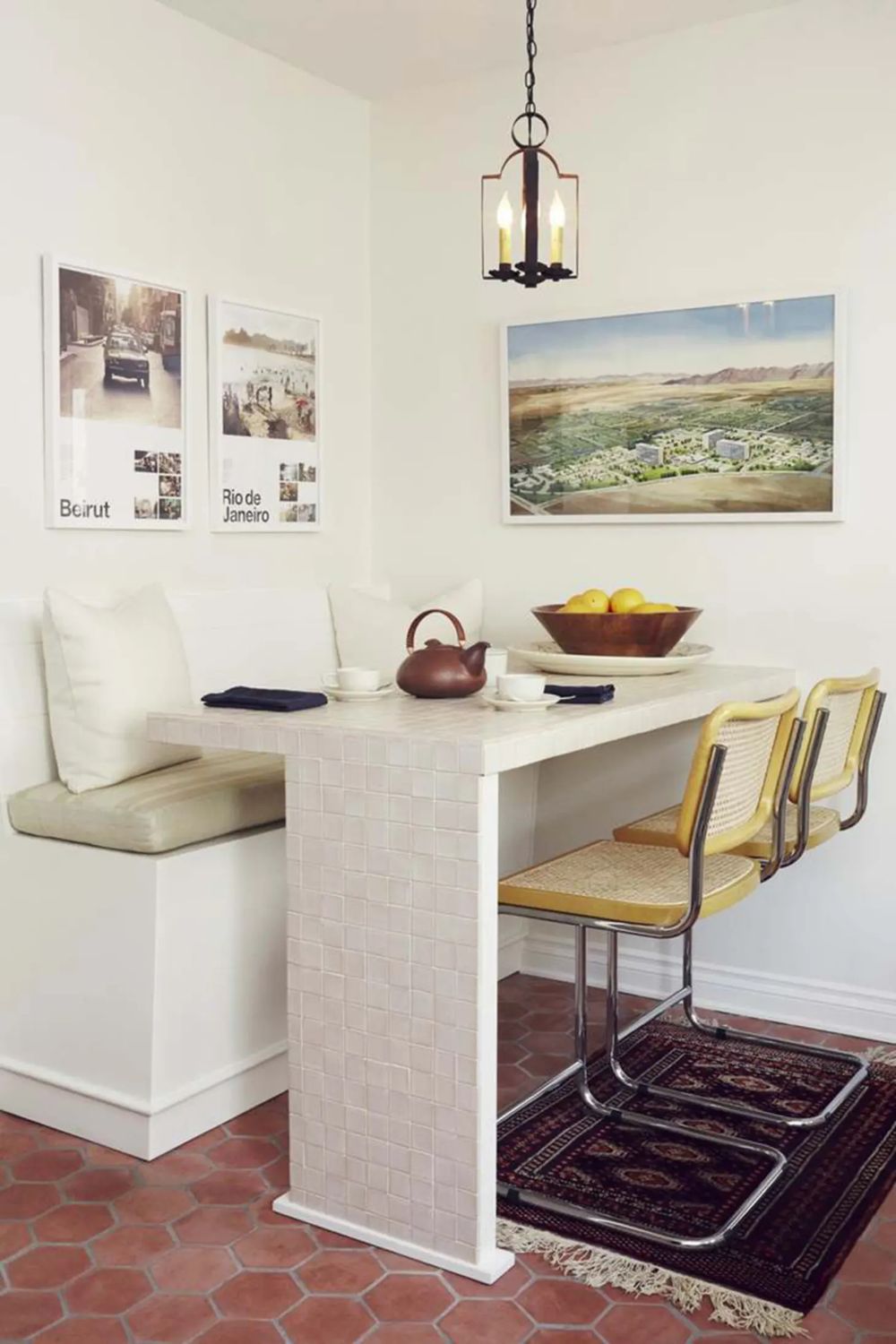 3. Neutral breakfast nook with Cesca chairs
Cesca dining chairs are a classic mid-century modern dining chair that work beautifully in this breakfast nook!
4. Blue and Pink Breakfast Nook by the Window
Go bold with bright colors on pillows and seat cushions.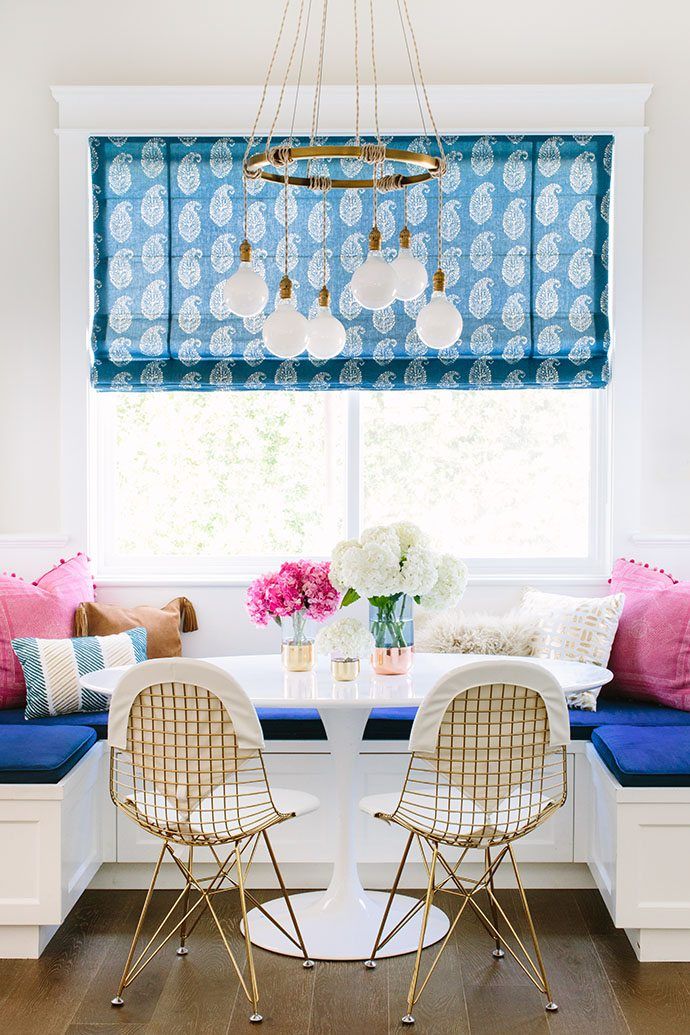 5. Banquette installed on the back of a Kitchen Island
This space-saving idea will create a breakfast nook on one side of a kitchen island. Install a banquette against the island to create seating for your nook.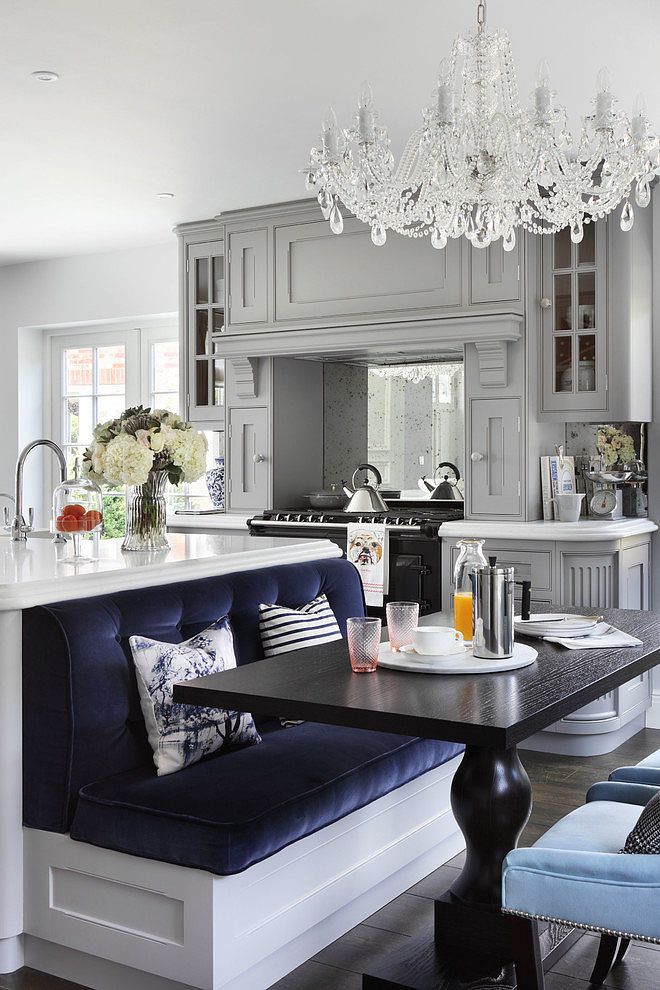 6. Built-in banquette seating next to the kitchen
This breakfast nook attaches nicely to the kitchen, saving space.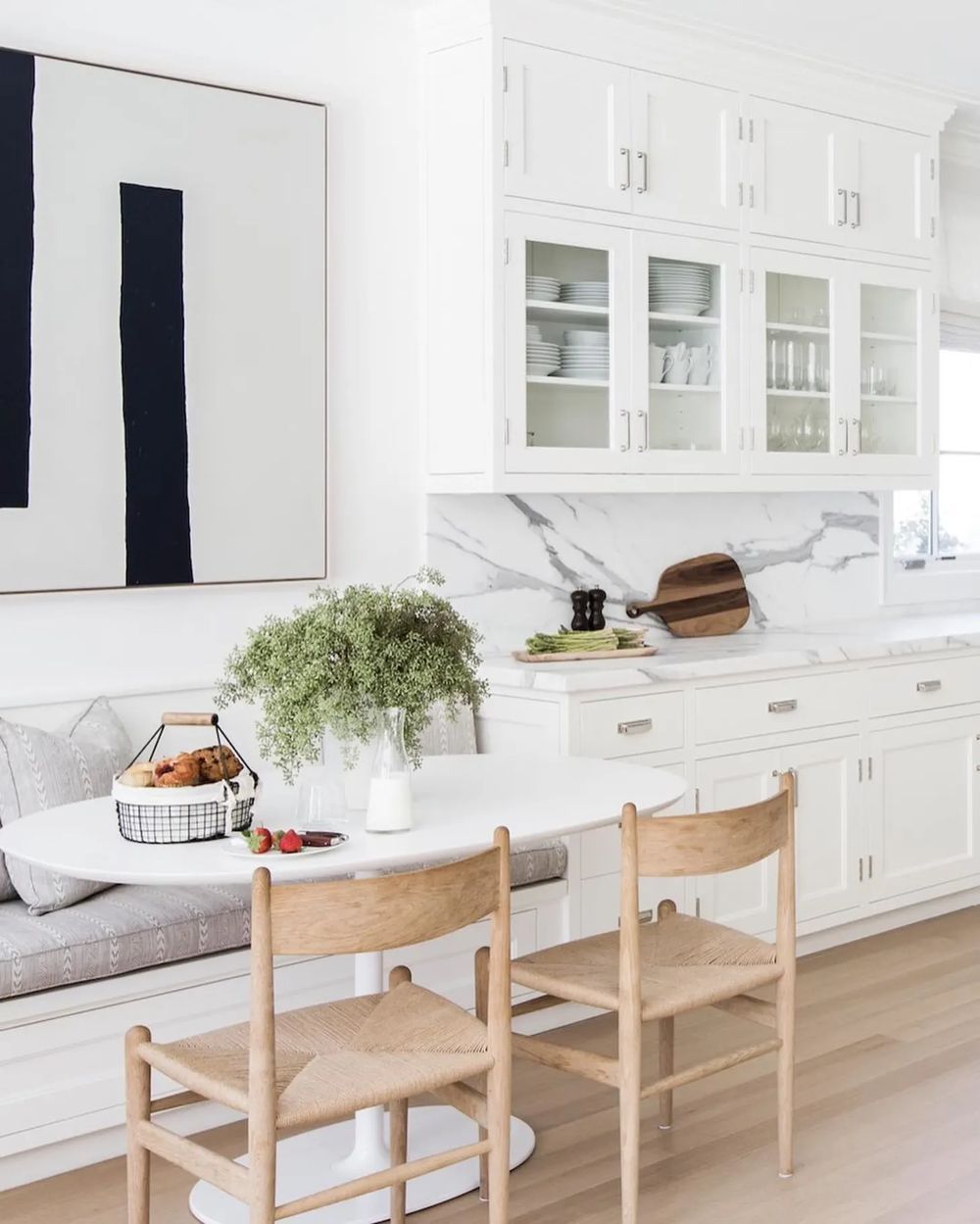 7. Built-in 2-sided booth Breakfast Nook for beach home
Make room for the whole family with this breakfast booth with a gorgeous view!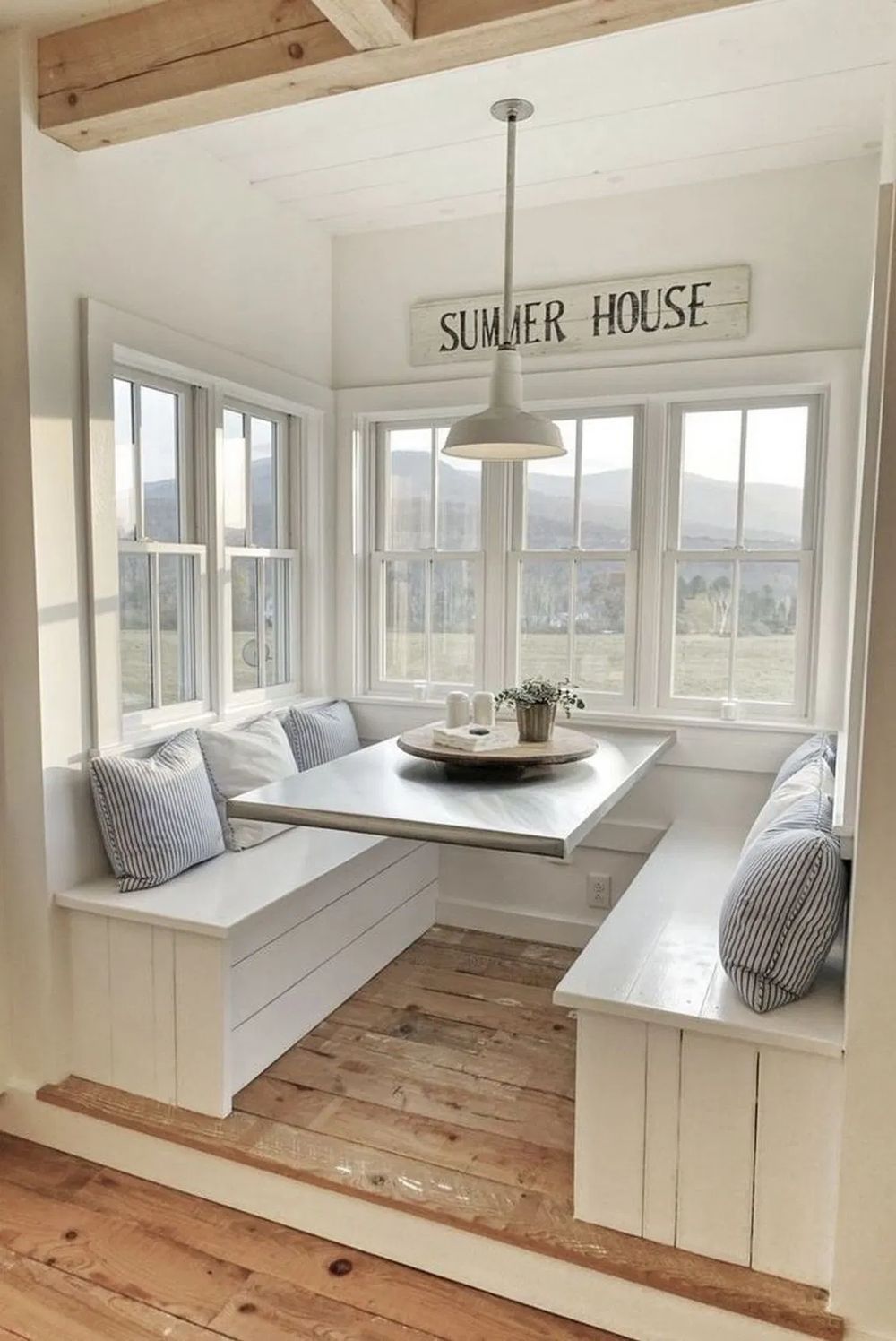 8. Pink channeled bench with Kelly Wearstler chair and vintage rose marble table
This feminine chic breakfast nook is balanced out with gray and white tones.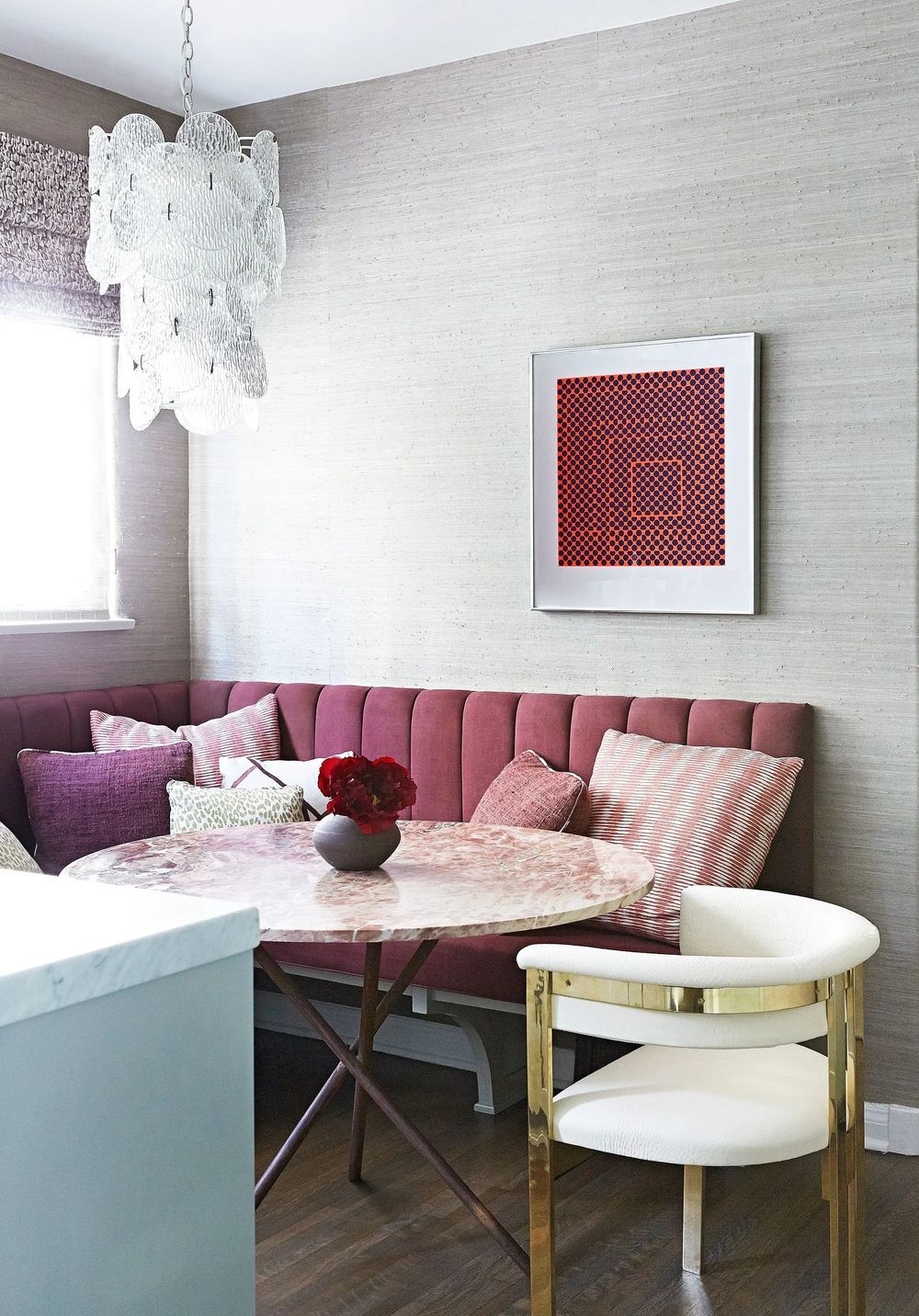 9. White tulip table with matching pink dining chairs
Sometimes a freestanding table and chairs are what you need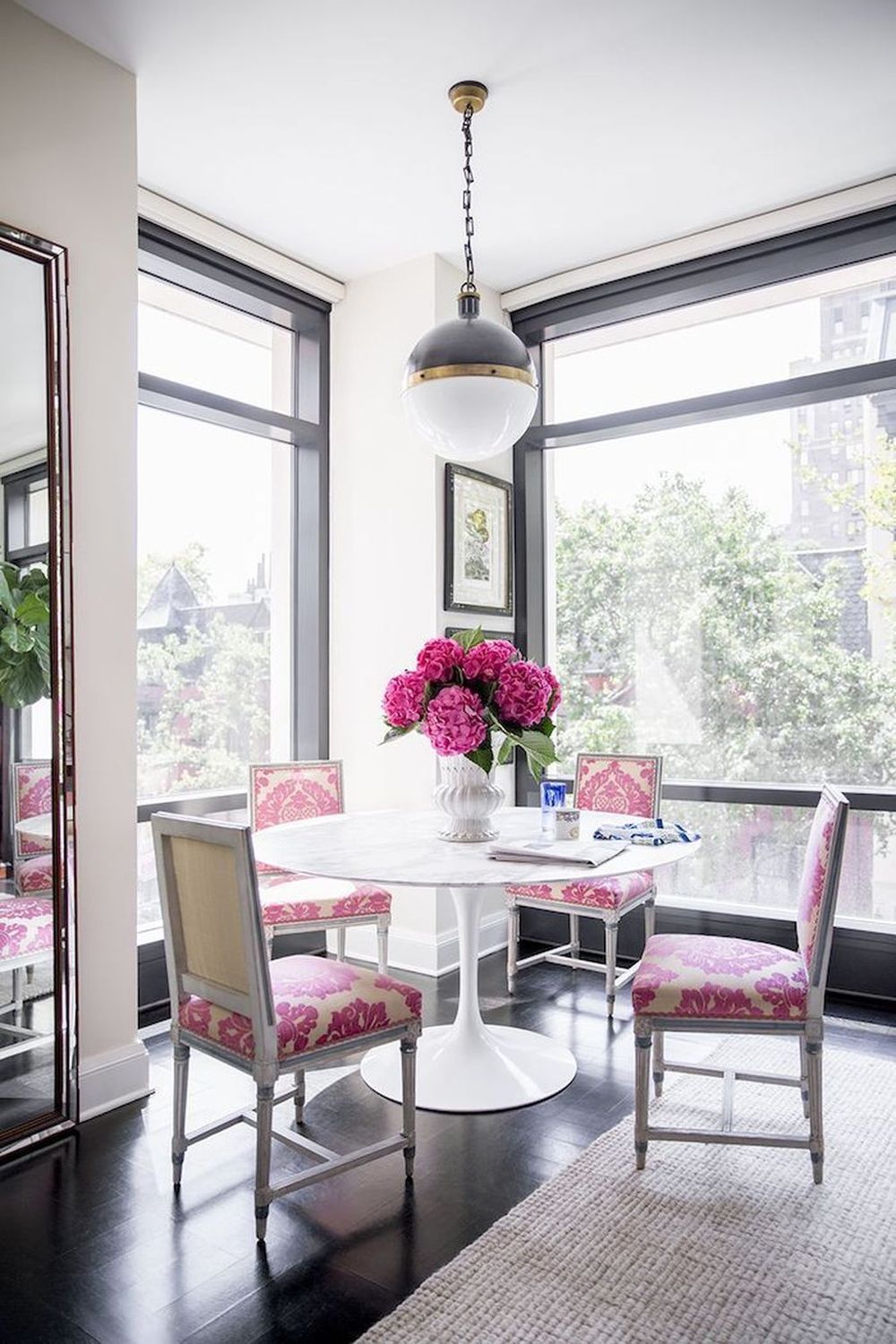 10. Rectangle Table Breakfast Nook Design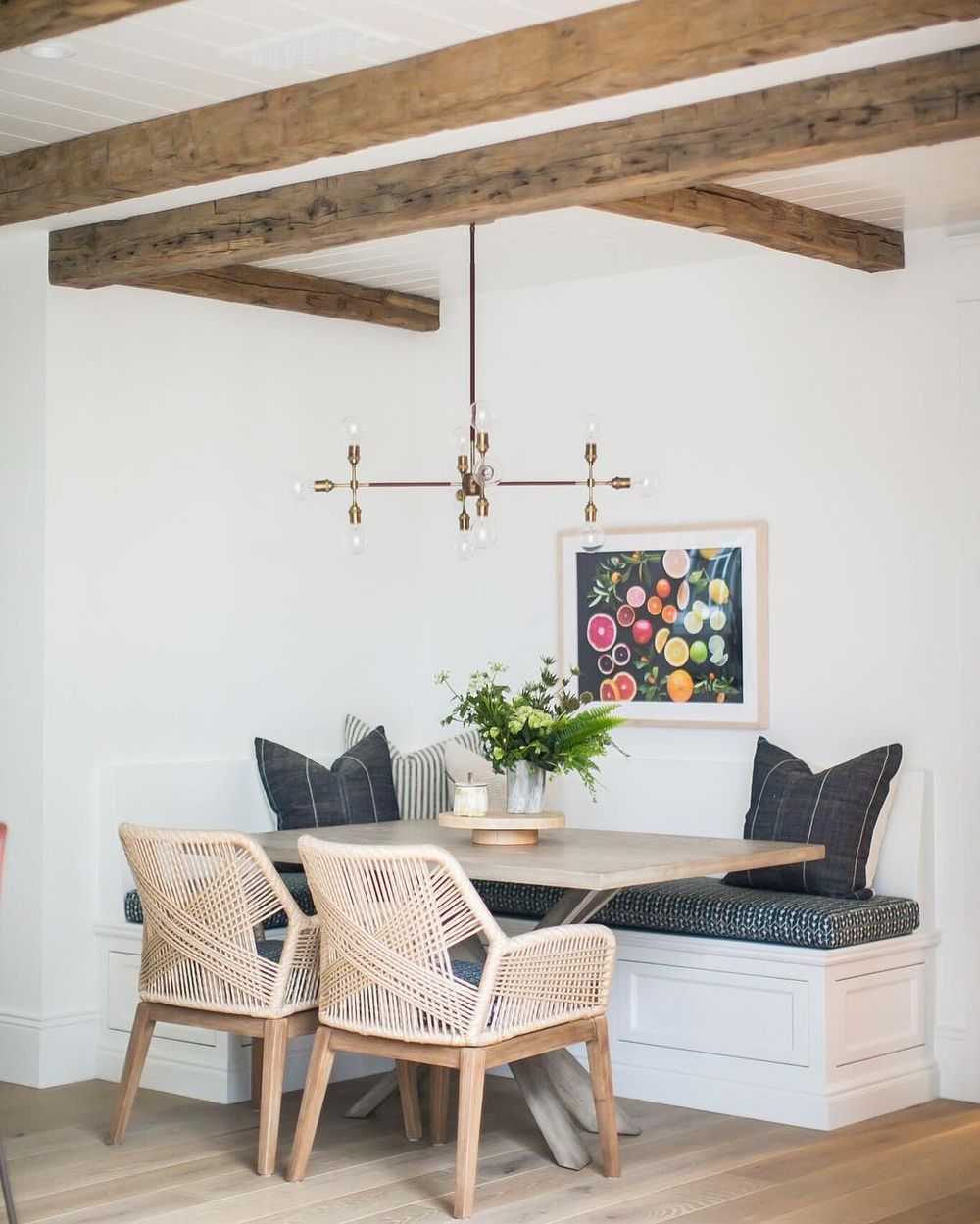 11. Fixer Upper Breakfast Nook with Black and White Checkered Tile Floor
This is one of my favorite Joanna Gaines breakfast nooks! The checkered floor tiles contrast beautifully with the warm brown table. I love the detail of the brass foot rest beneath the seating banquettes, too!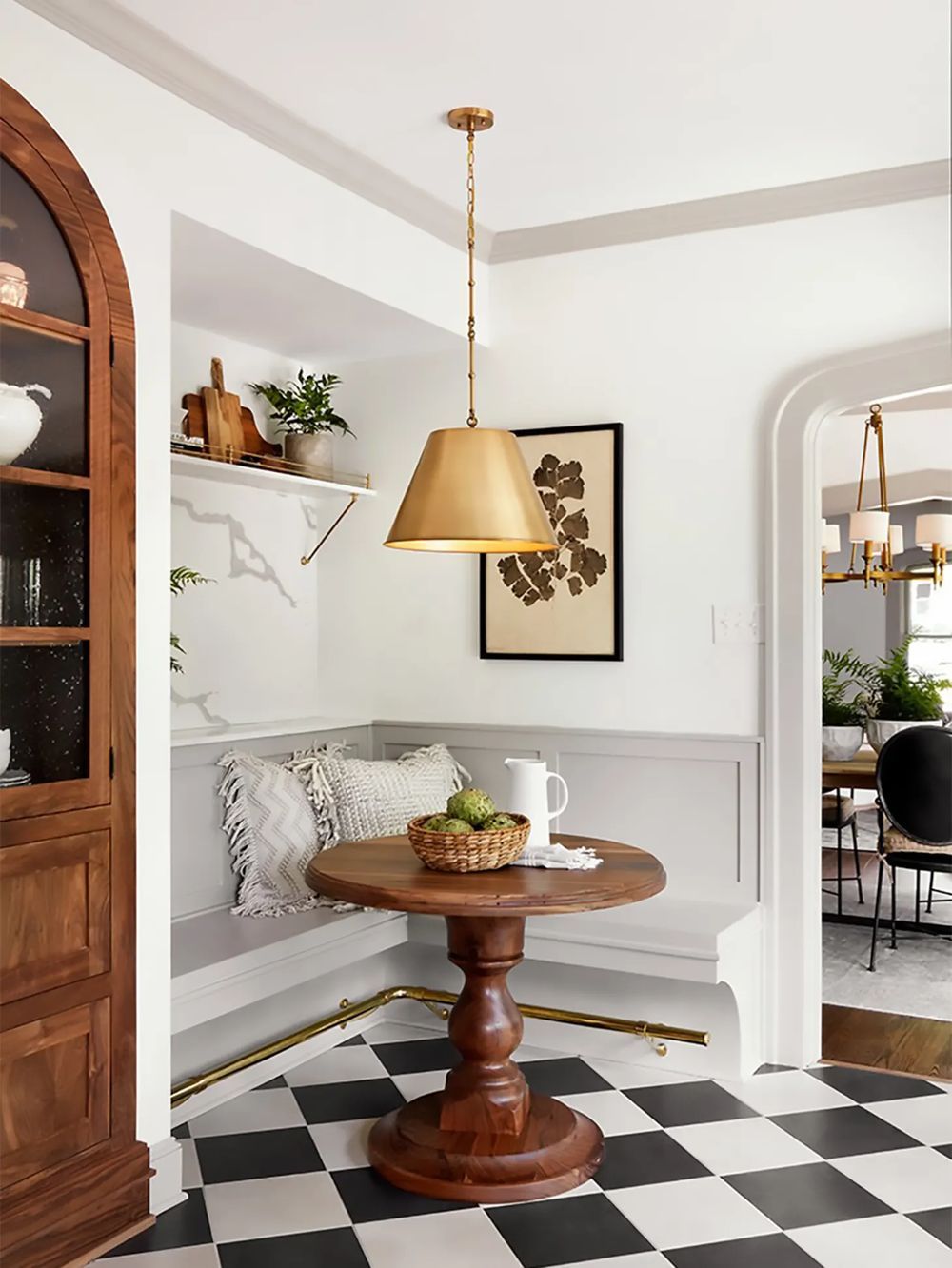 12. Freestanding Corner Banquette
If installing a built-in banquette costs too much, then consider purchasing freestanding banquettes or benches to place against the wall and form your breakfast nook!
13. Rustic Country Breakfast Nook with Wood Table and Chairs
The warm brown tones of this breakfast nook are perfect for a rustic, country vibe.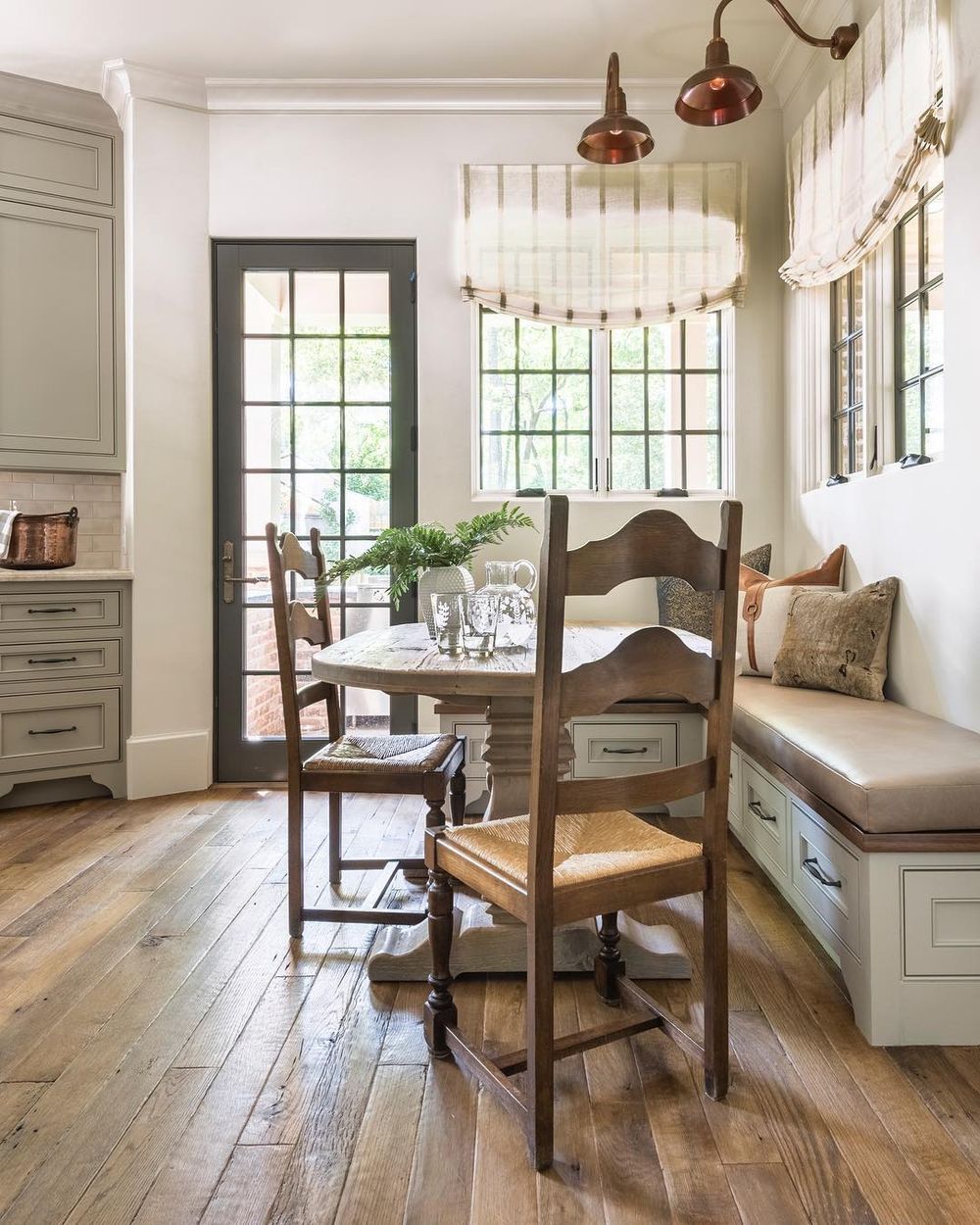 14. Corner Banquette Seating
The gold wall mirror helps to expand this small breakfast nook.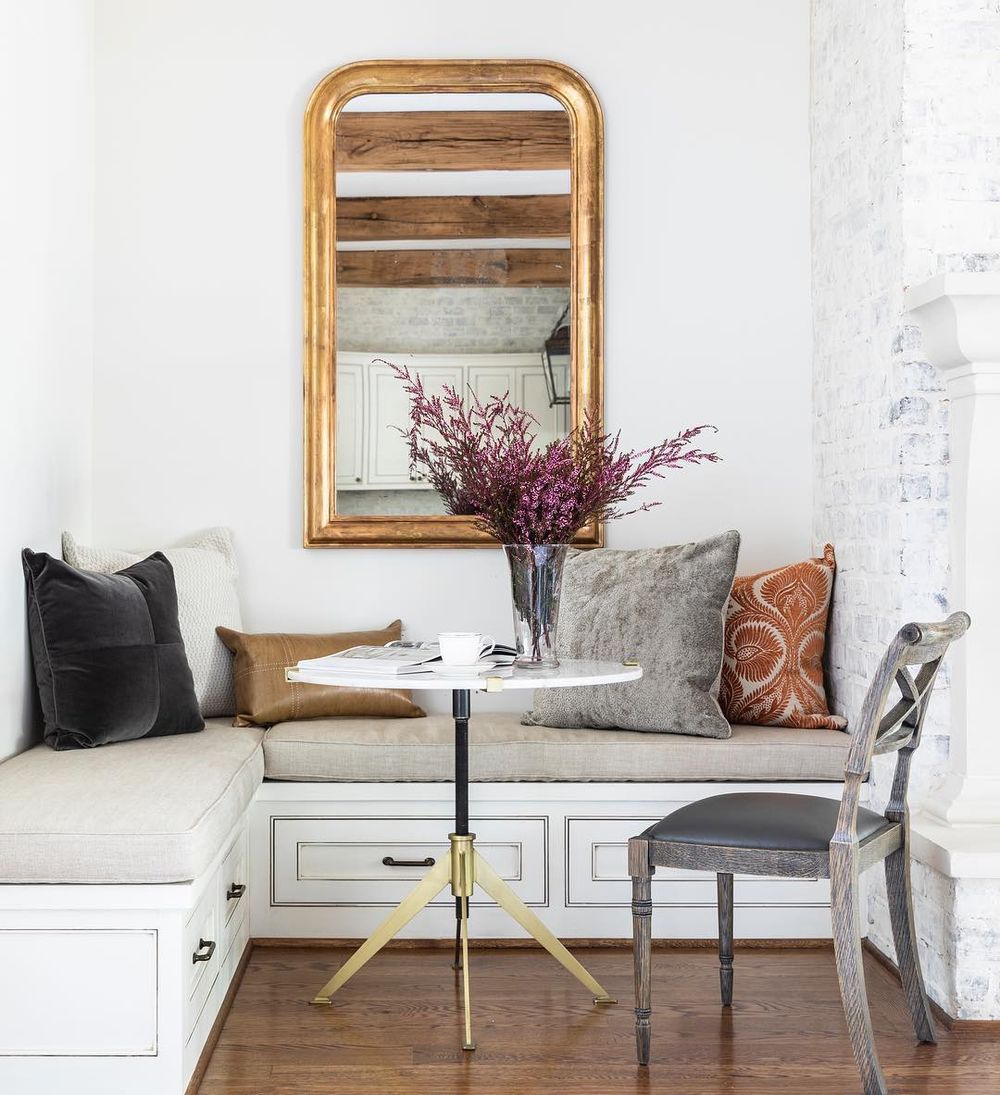 15. Leather Banquette and 3 chairs
These neutral tones create a winning combination.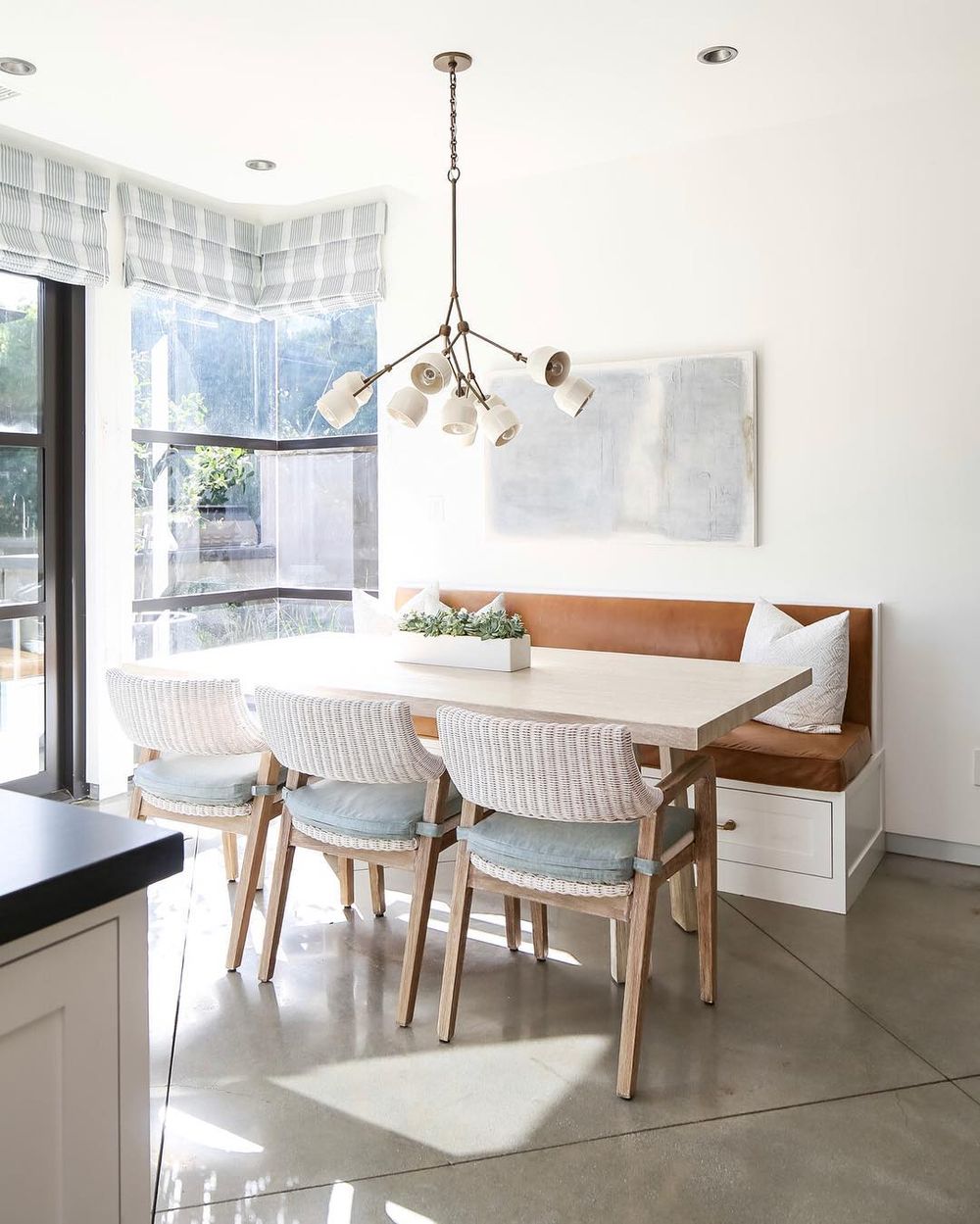 16. Nature Art Gallery Wall Breakfast Nook Decor
Adding some wall art can freshen up the corner.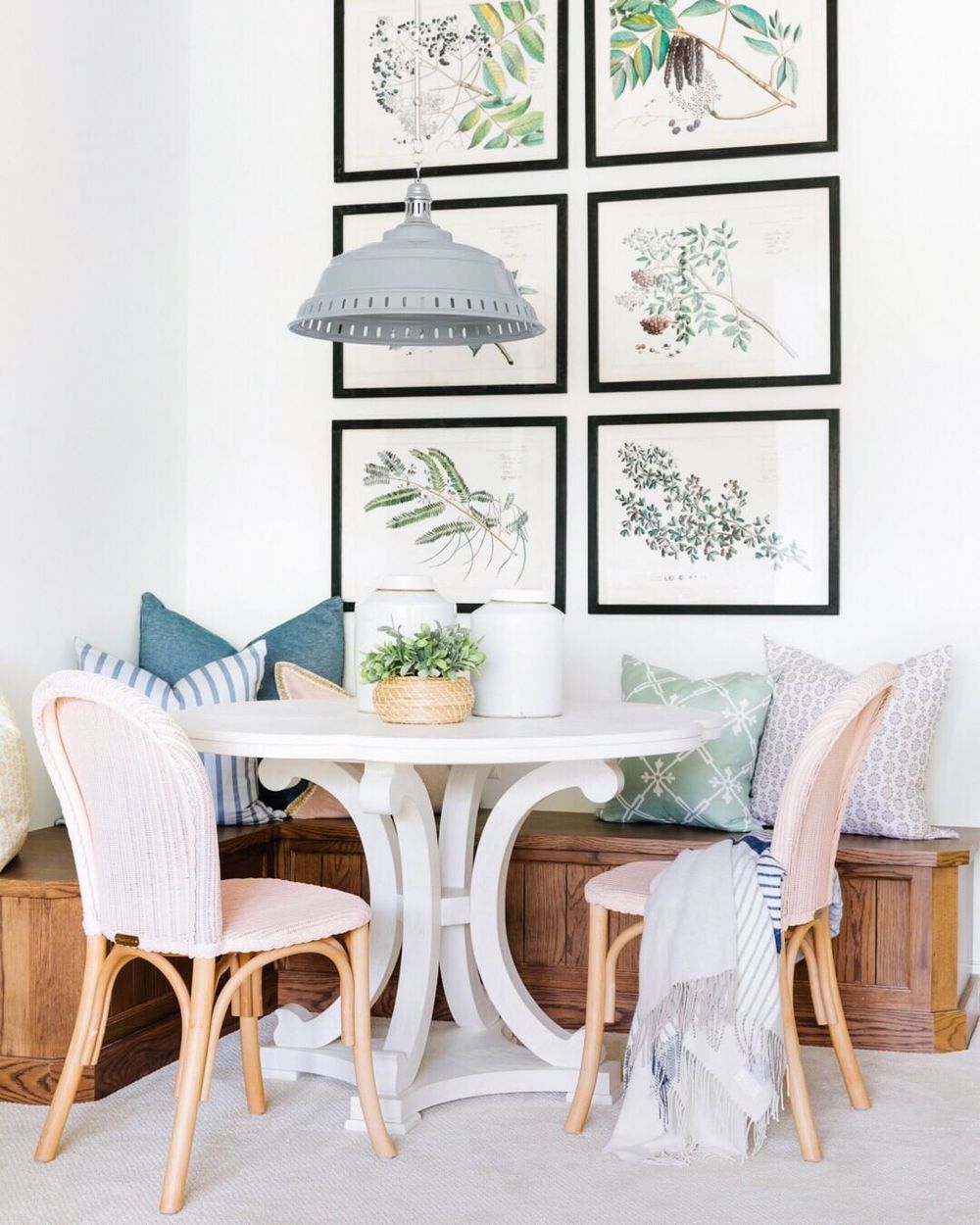 17. Simple One-Chair Black, Gray, and White Breakfast Nook
Your nook doesn't have to have many chairs, especially if you're working in a small space!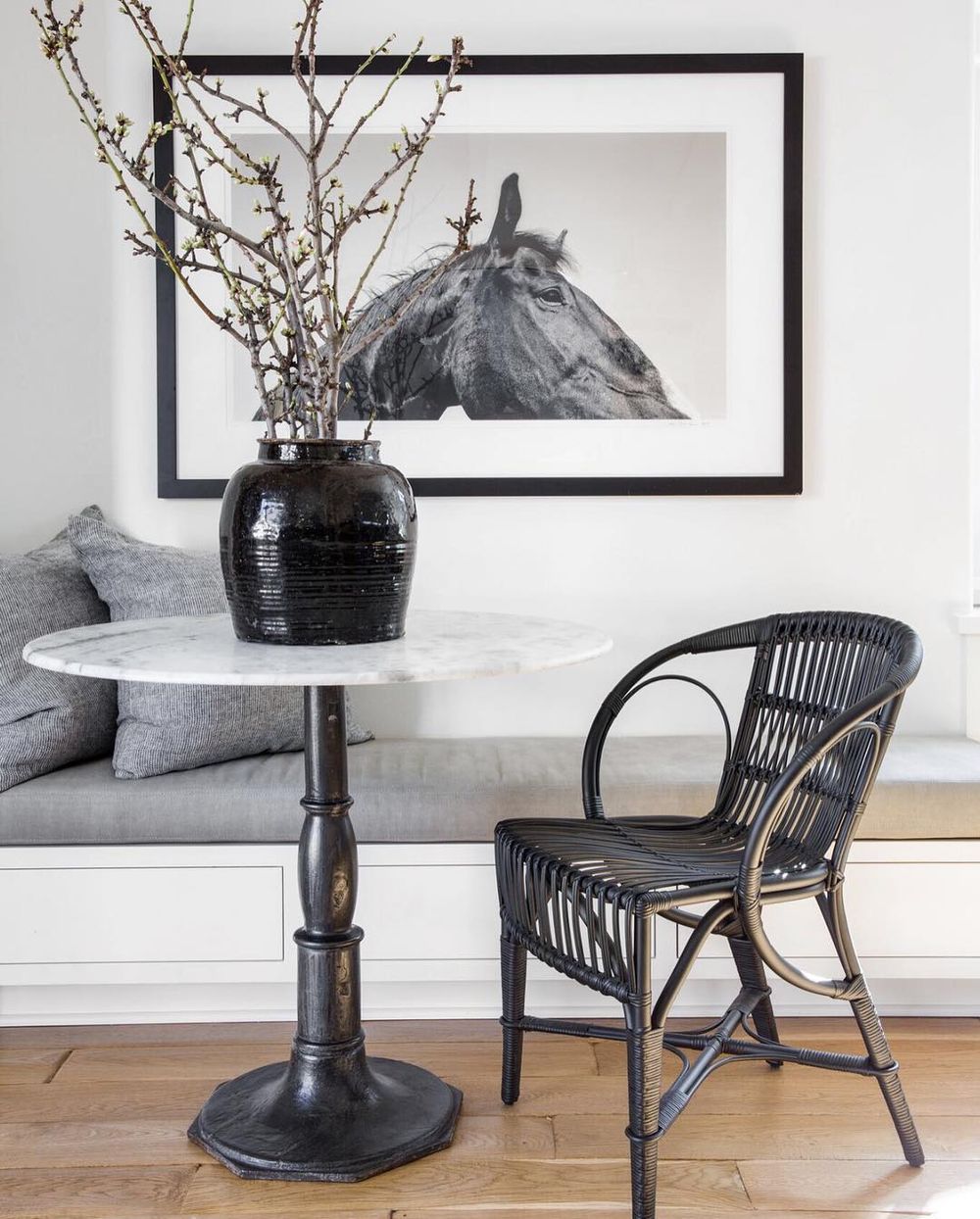 18. Built-in wraparound seating
This 3-sided banquette can seat a larger family!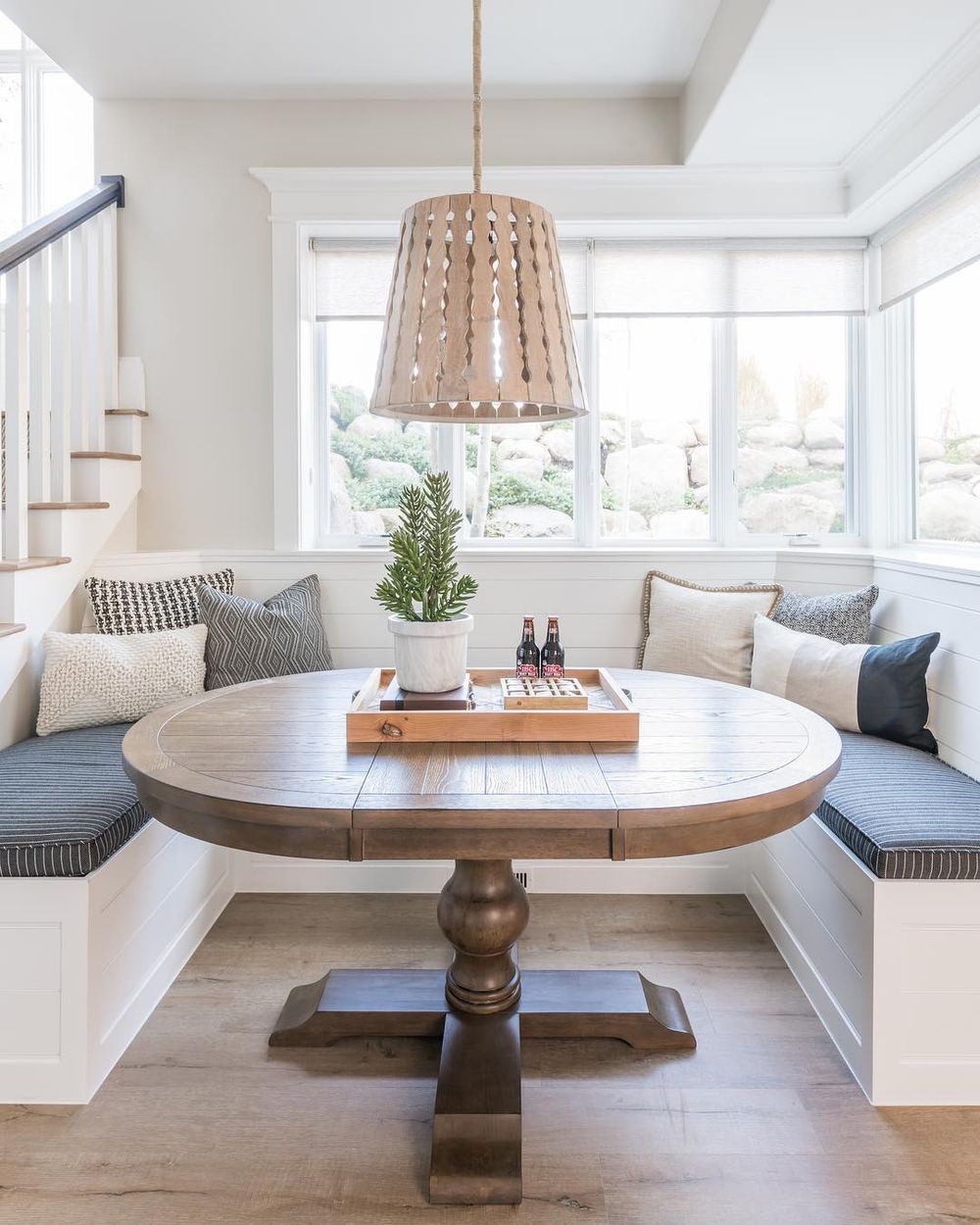 19. Black accent wall
Black adds a dramatic touch to any space.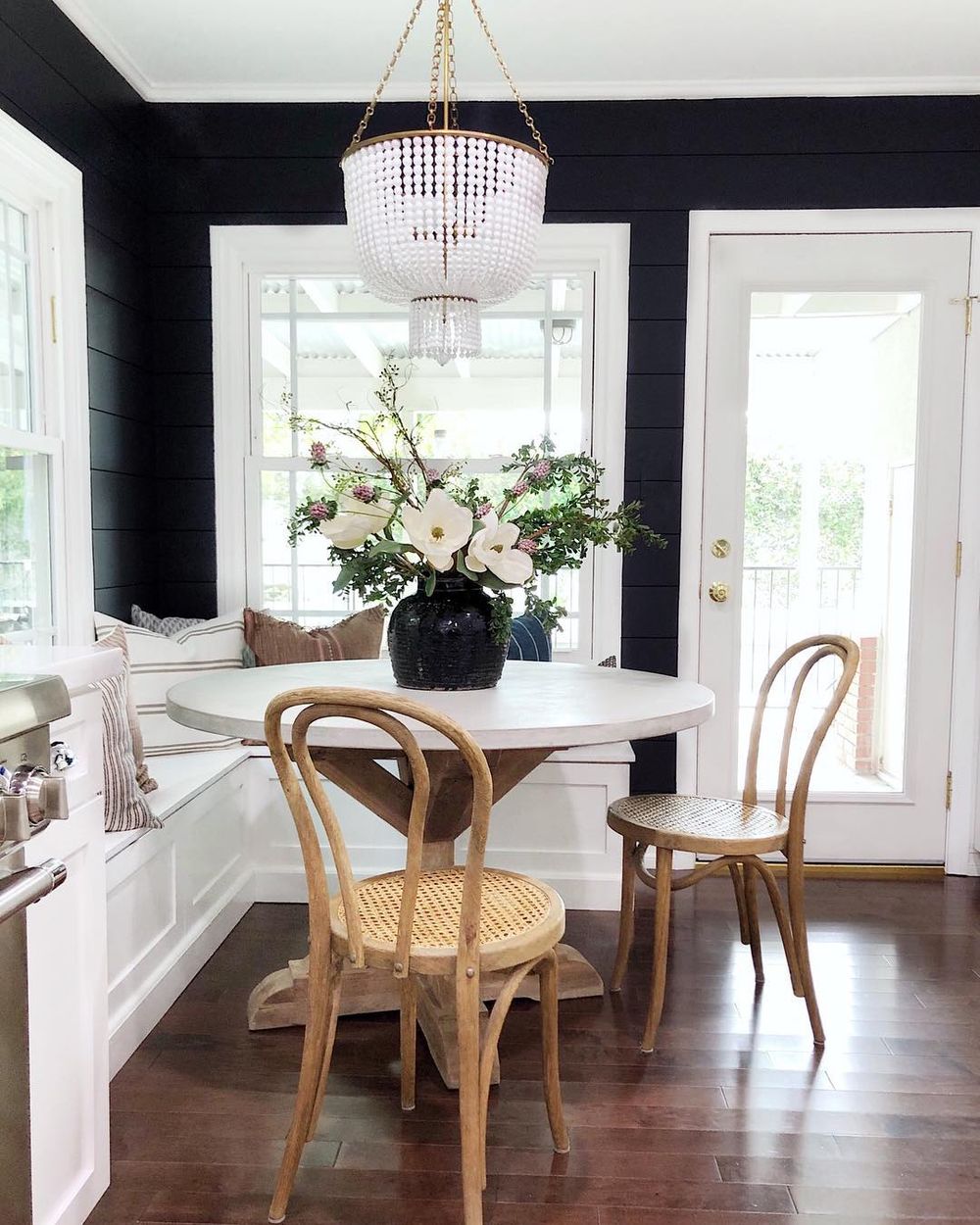 20. Pops of Color
Highlight one color like this breakfast nook with beautiful pops of red!
21. French bistro chairs around wood table
French bistro chairs are the perfect casual dining chair with a French country feel.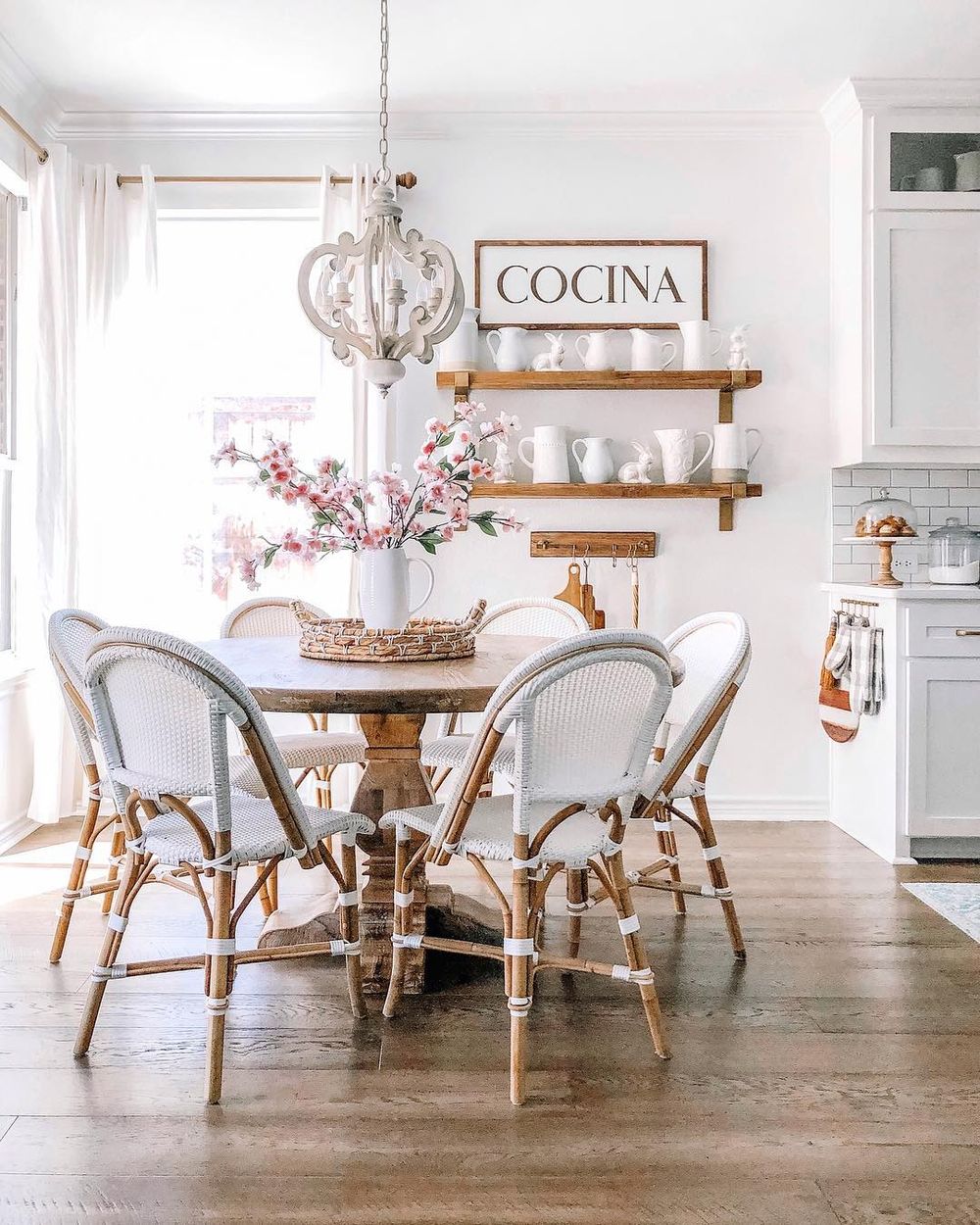 22. Built-in Window Seating
Installing your breakfast nook near a window is a great idea so you can look outside while eating! Built-ins make this window seat nook all the more cozy!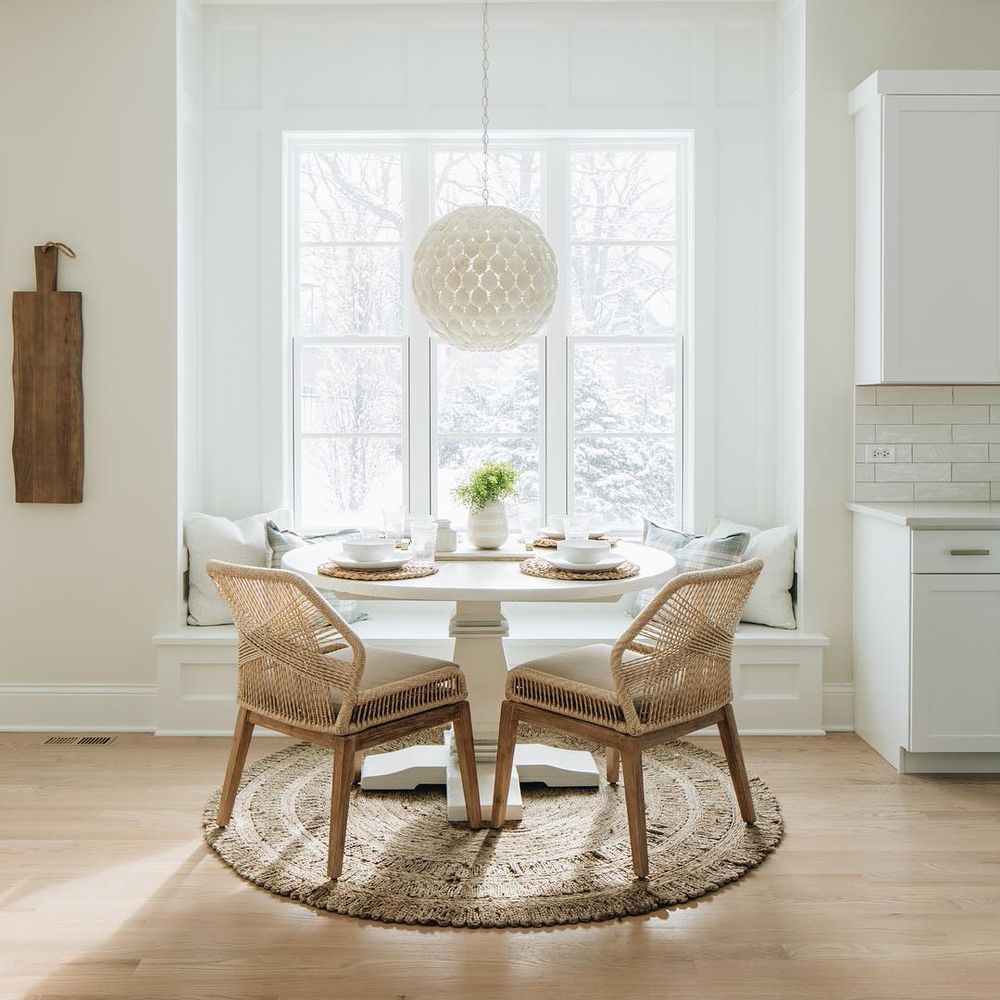 23. Small sofa seating
A small sofa and a rectangular table are all you need for a cozy nook.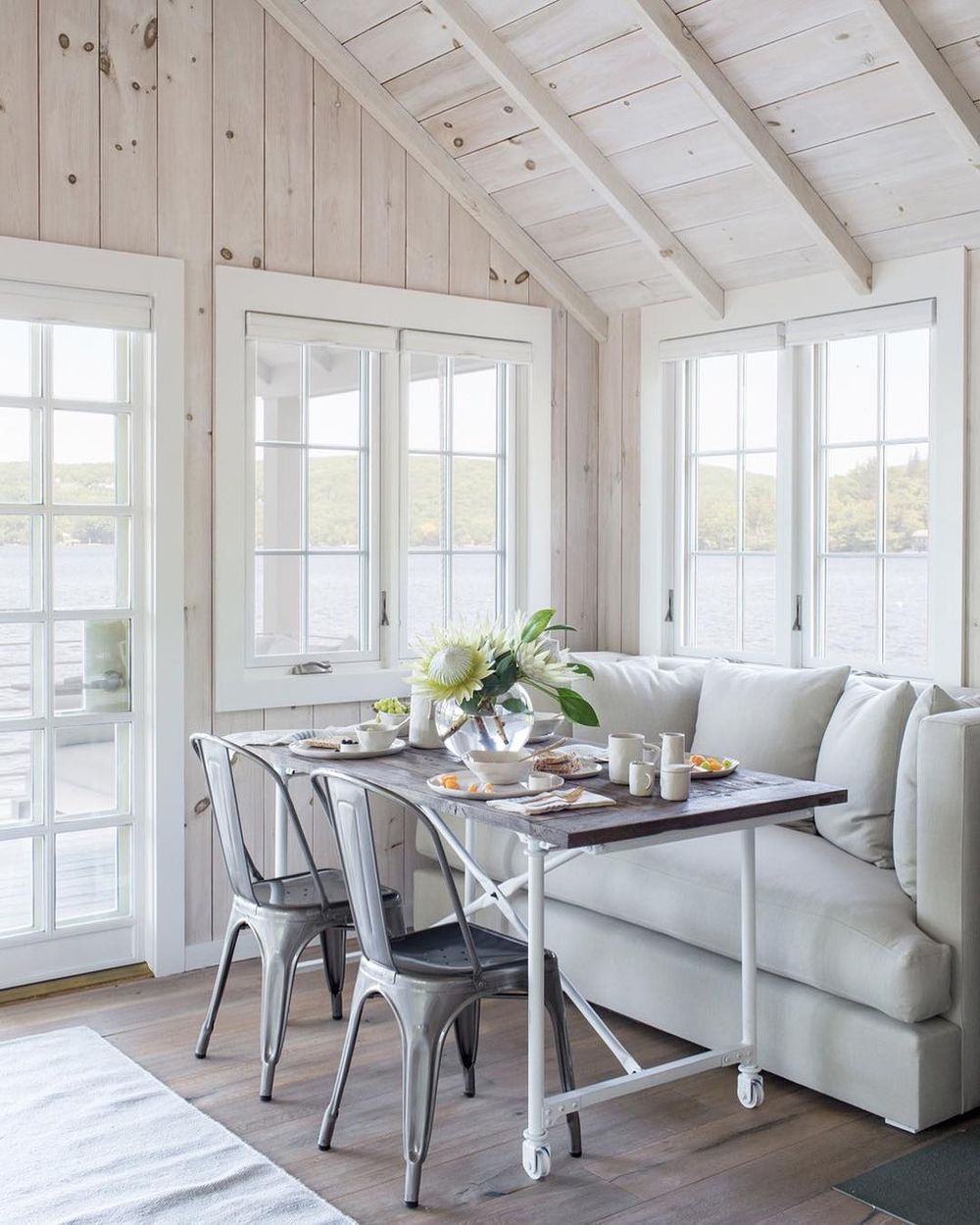 24. Mid-century Style
This minimalist eating nook has classic mid-century style.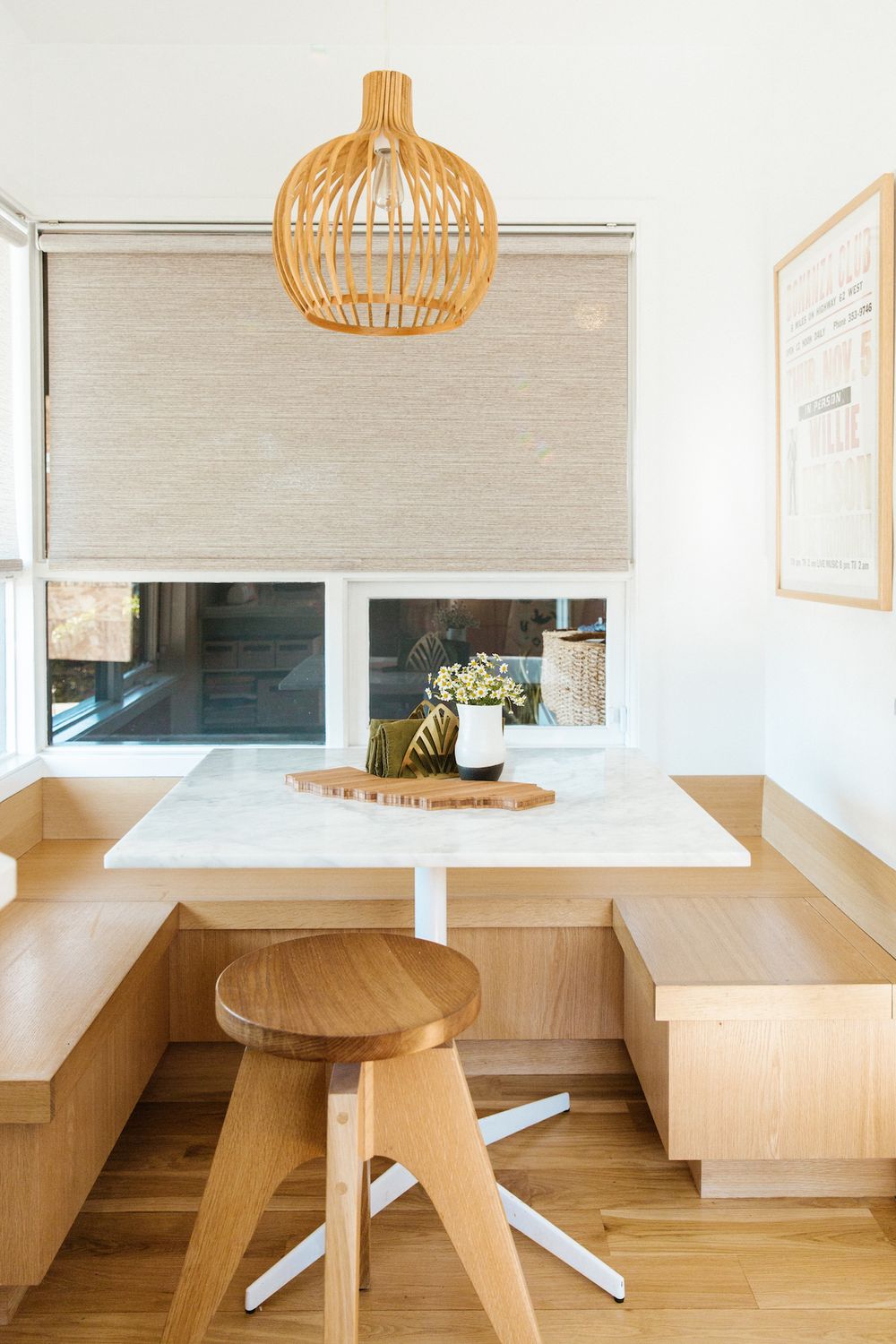 25. French Country Tile Floors
Don't forget the floors in your breakfast nook. These French country tiles give a French farmhouse feel to this space!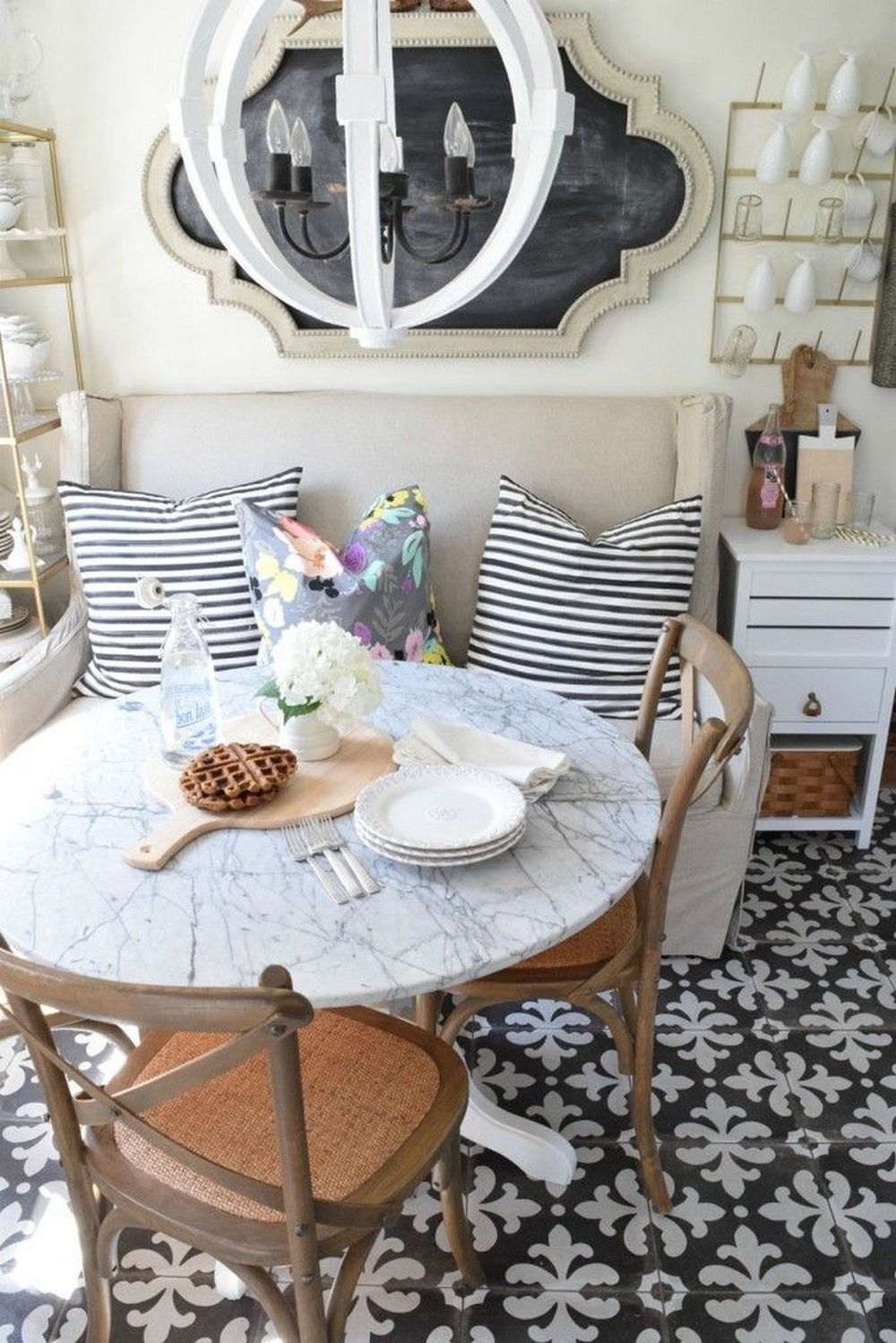 We hope these breakfast nook decorating ideas inspired you to design the perfect eating nook for you and your family!
Breakfast Nooks by Style
We know that many of you have homes designed with a certain aesthetic in mind. We are currently preparing breakfast nook style guides for you to really tailor your breakfast nook according to your home style! Check out the first ones here:
You can also follow our Breakfast Nook inspiration board on Pinterest!
Happy curating!