Welcome, lovely readers! As the heart and soul of any home, the living room is where memories are made and relationships blossom. Embracing the timeless charm of traditional decor not only adds elegance but also brings warmth and comfort into your living space.
Whether you're enamored by the rich textures, classic furniture lines, or the symmetrical layouts reminiscent of a bygone era, you'll find inspiration in these traditional living room decor ideas.
We'll be delving into various ways to create a cozy ambiance with the sophistication of yesteryears, ensuring that your living room is a sanctuary for family and friends. Let's explore designs that bridge the past and present, creating a space that feels uniquely yours.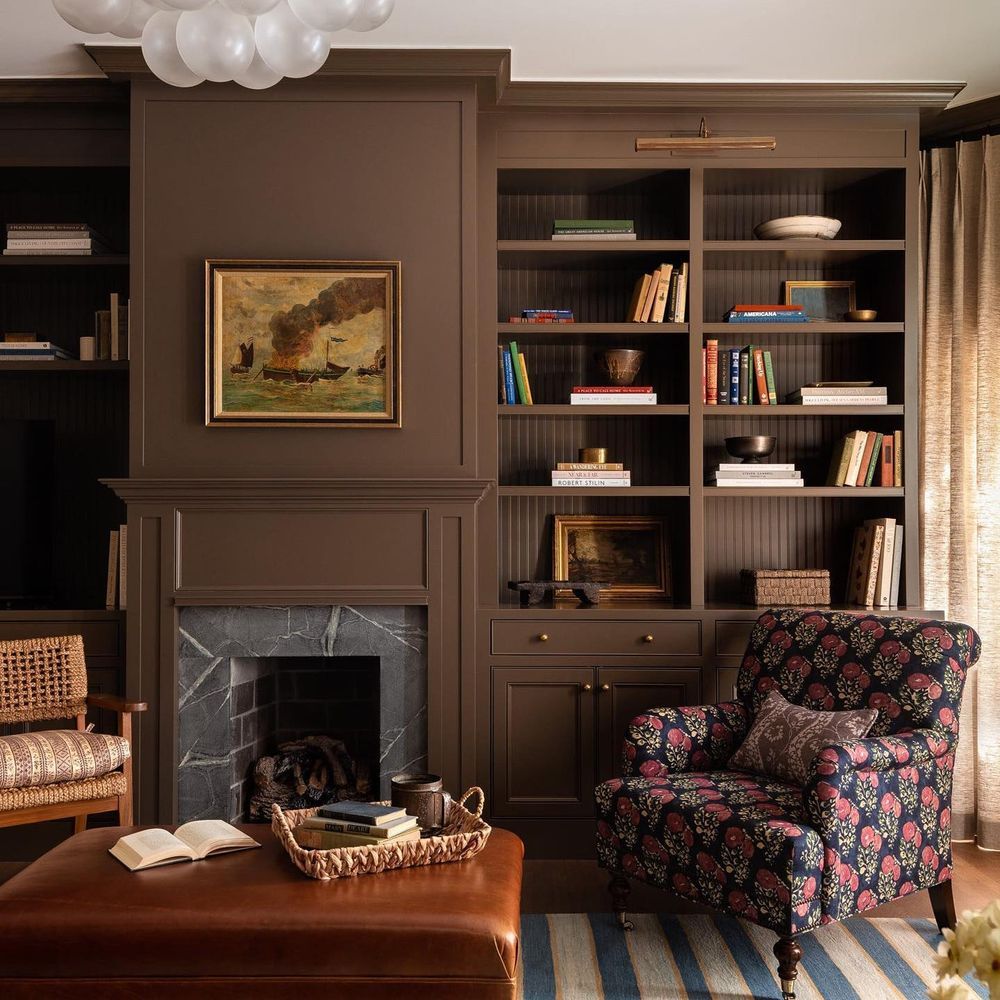 How to Style a Traditional Living Room
Styling a traditional living room involves an intentional blend of timeless elegance and comfort, utilizing a thoughtful mix of furnishings, textiles, and accessories. Here's how you can achieve this beautiful and inviting look:
Start with Symmetry
Position your furniture and accessories in a balanced manner to create a visually pleasing layout. Consider flanking the fireplace with matching armchairs or placing identical end tables on either side of the sofa.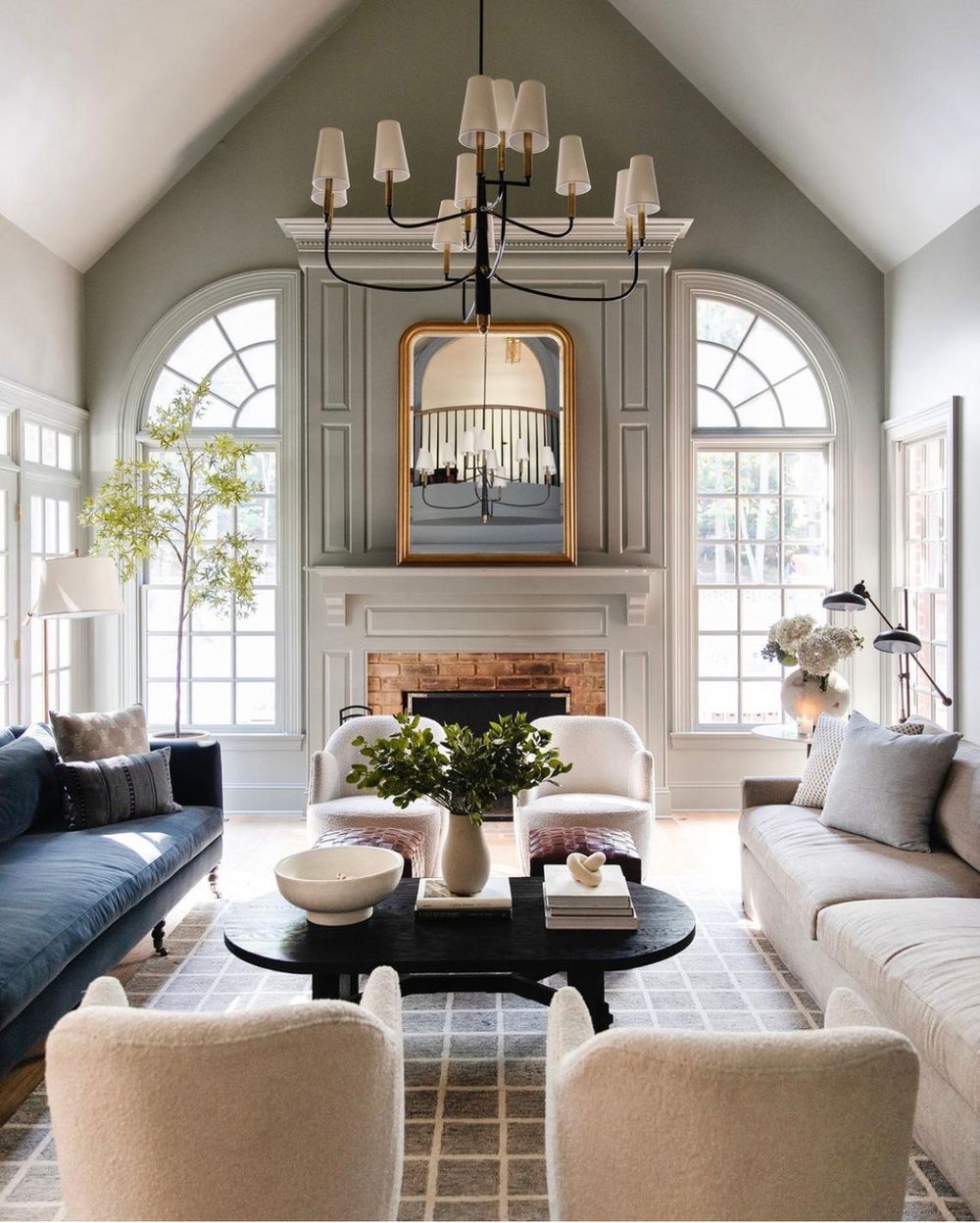 Choose Classic Furniture
Opt for furniture pieces with traditional lines and shapes, like wingback chairs, rolled arm sofas, and cabriole leg tables. Look for details like tufting, carved wood, or brass hardware that contribute to the classic aesthetic.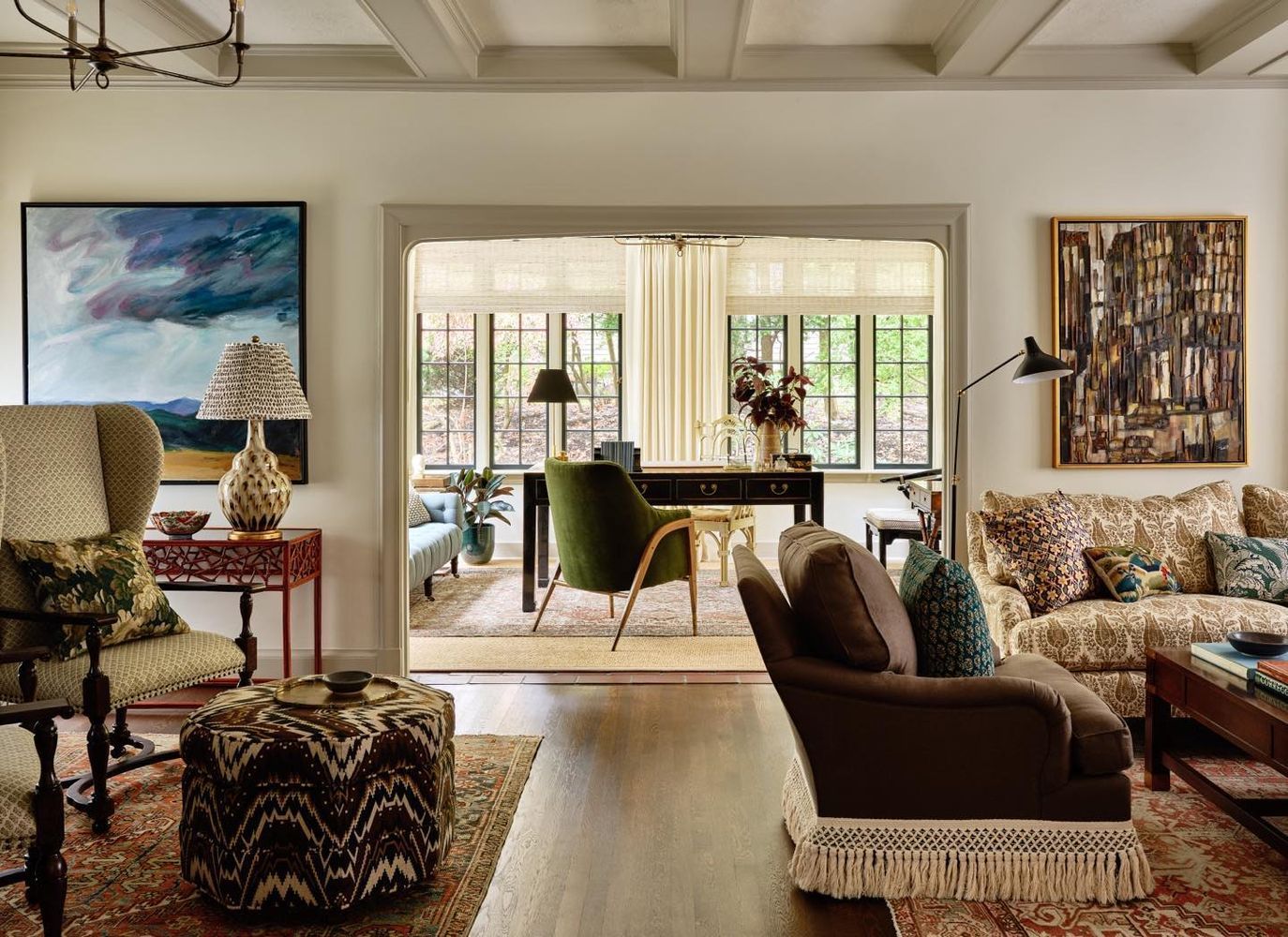 Embrace Rich Textiles
Incorporate fabrics like velvet, silk, or brocade for upholstery, cushions, and curtains. Patterns such as florals, damasks, or stripes can add elegance and sophistication.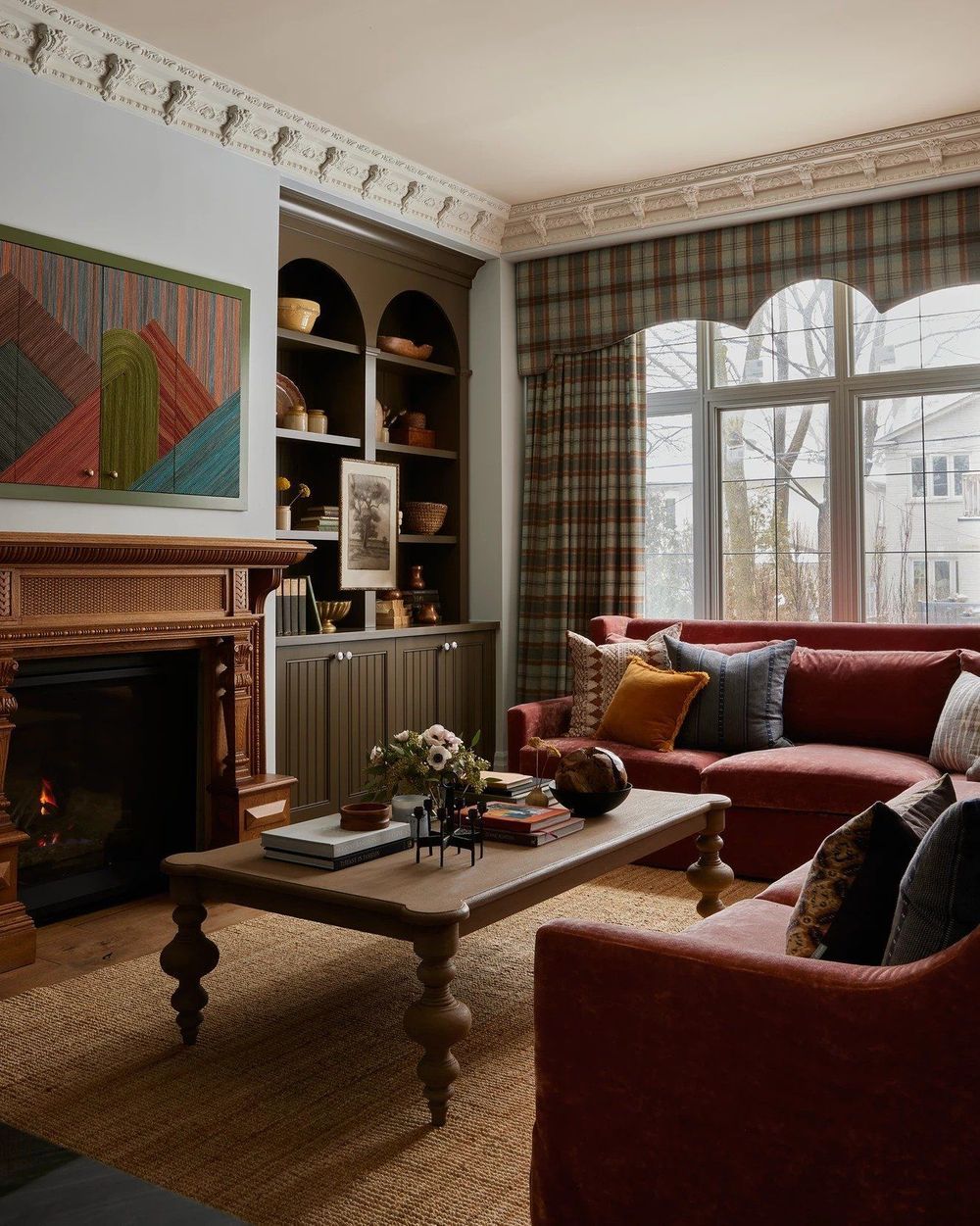 Select Warm Colors
Stick to a color palette that includes warm and neutral shades like creams, beiges, golds, or soft greens. These hues can create a welcoming ambiance without overpowering the space.
Add Wood Accents
Utilize dark, polished woods like mahogany or cherry for furniture, molding, or even flooring. The richness of the wood adds depth and a sense of history to the room.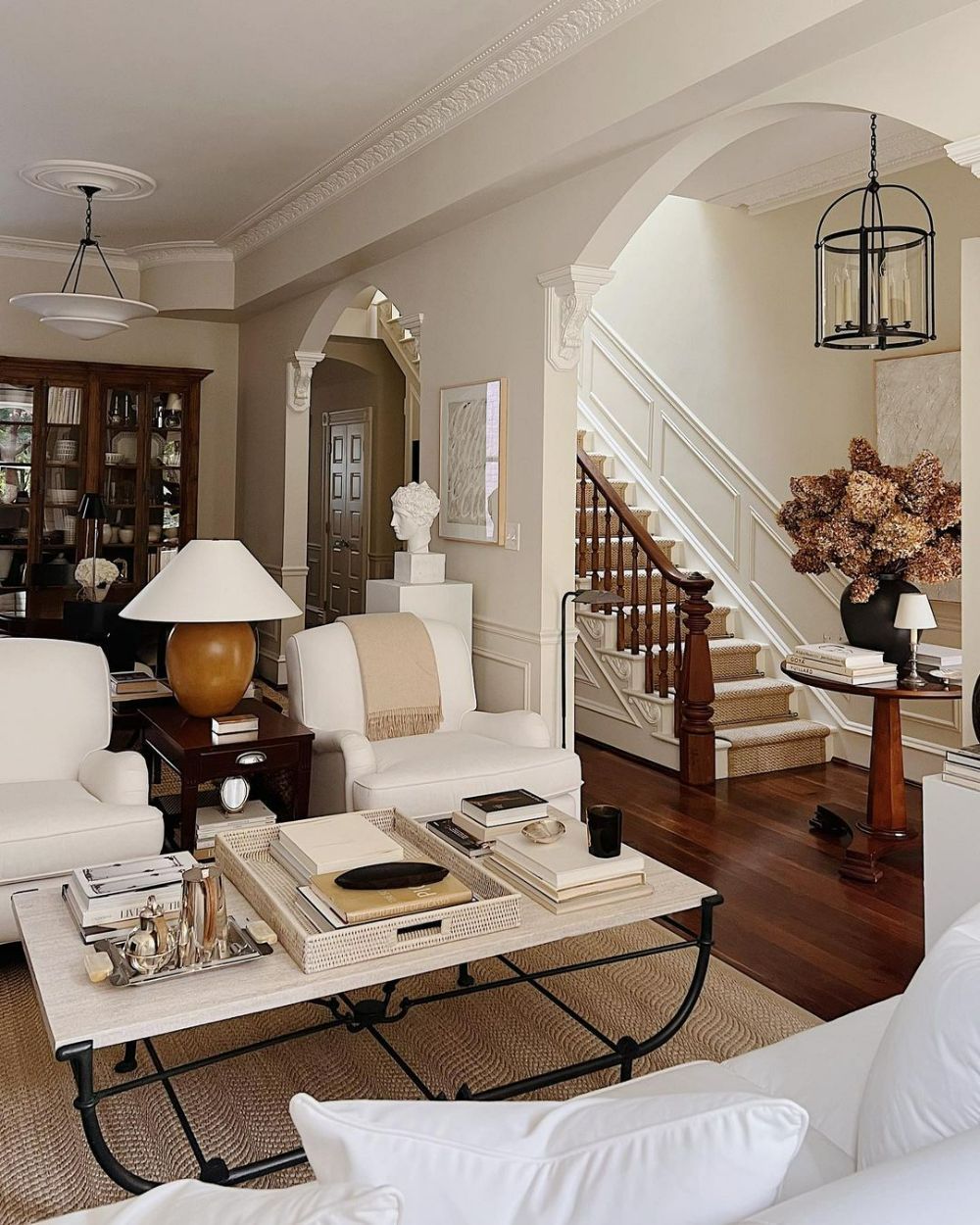 Incorporate Antiques and Heirlooms
Mix in antique pieces or family heirlooms to give the room character and a personal touch. Whether it's a vintage clock, an old painting, or a cherished coffee table, these items connect the space to the past.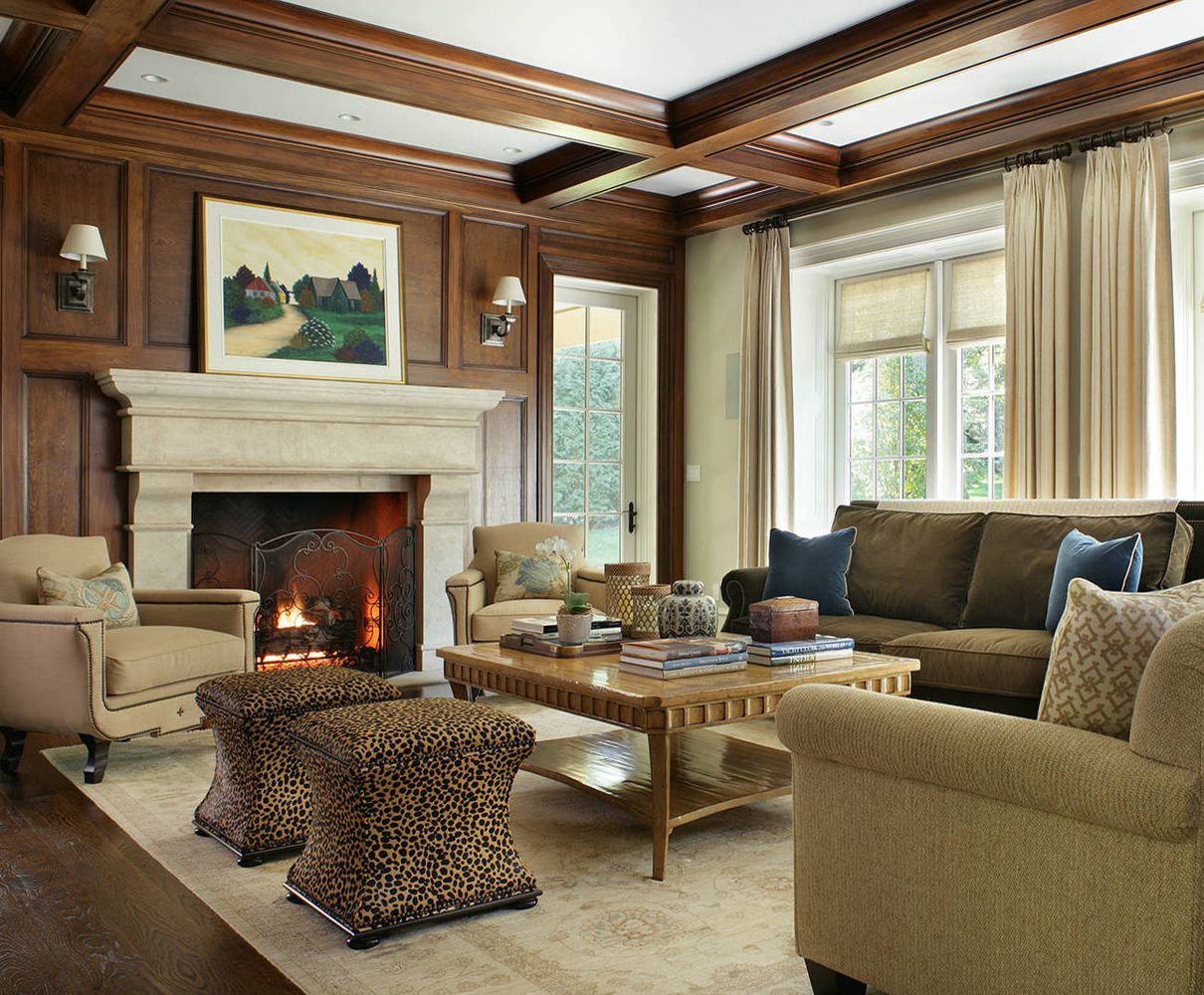 Invest in Quality Window Treatments
Consider heavy draperies or elegant valances that complement the room's color scheme. Well-chosen window treatments can elevate the room's elegance.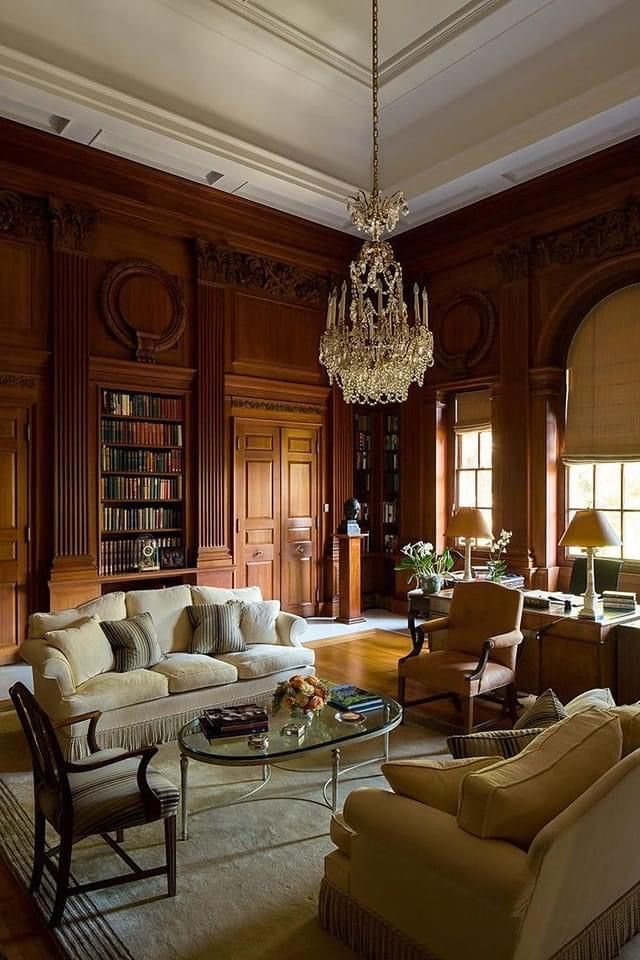 Illuminate with Grace
Use traditional chandeliers, wall sconces, or table lamps with classic designs. Soft, warm lighting enhances the cozy atmosphere of a traditional living room.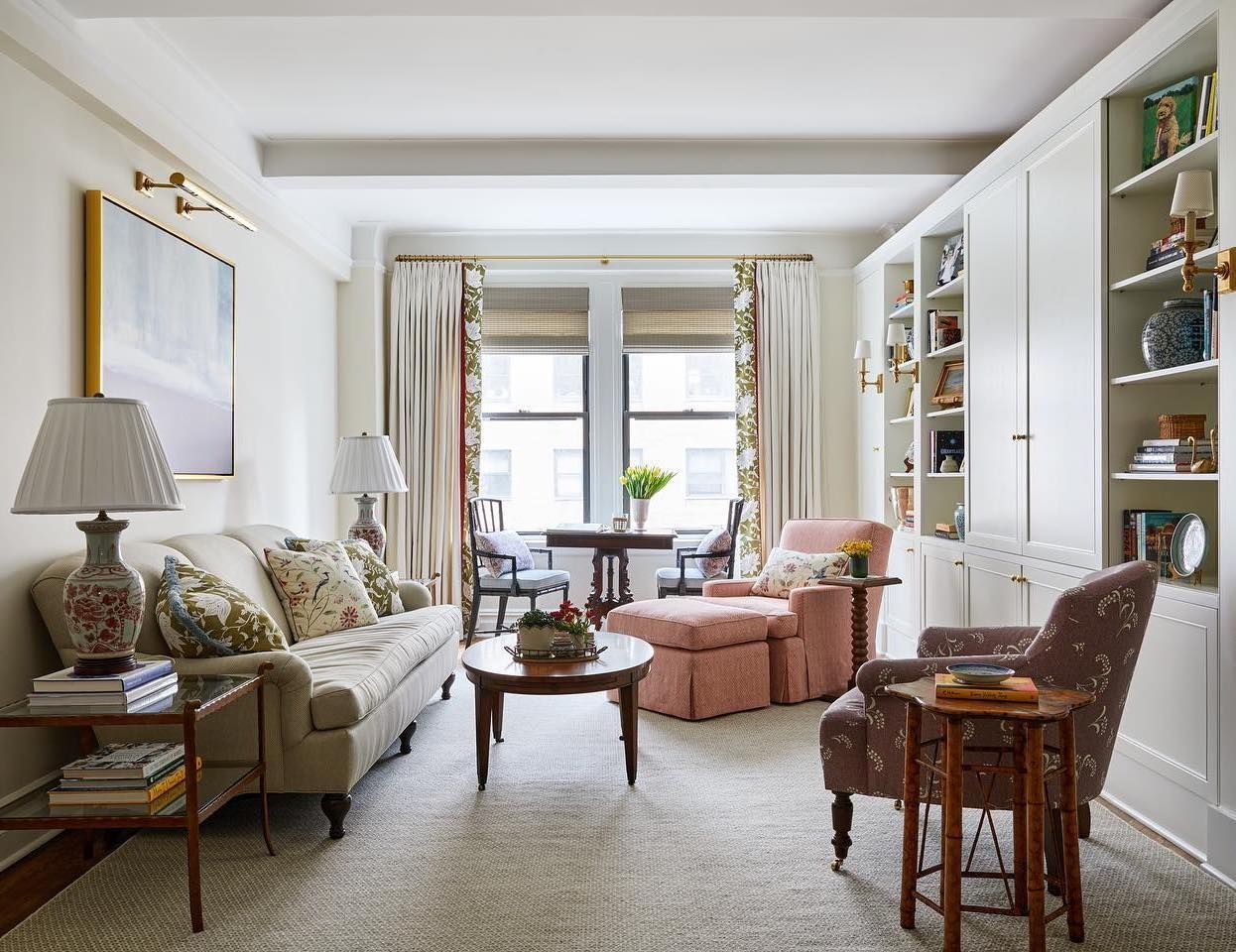 Accessorize Thoughtfully
Place carefully selected accessories such as ornate mirrors, classic artworks, or decorative vases in symmetrical arrangements. Avoid clutter and choose pieces that align with the traditional theme.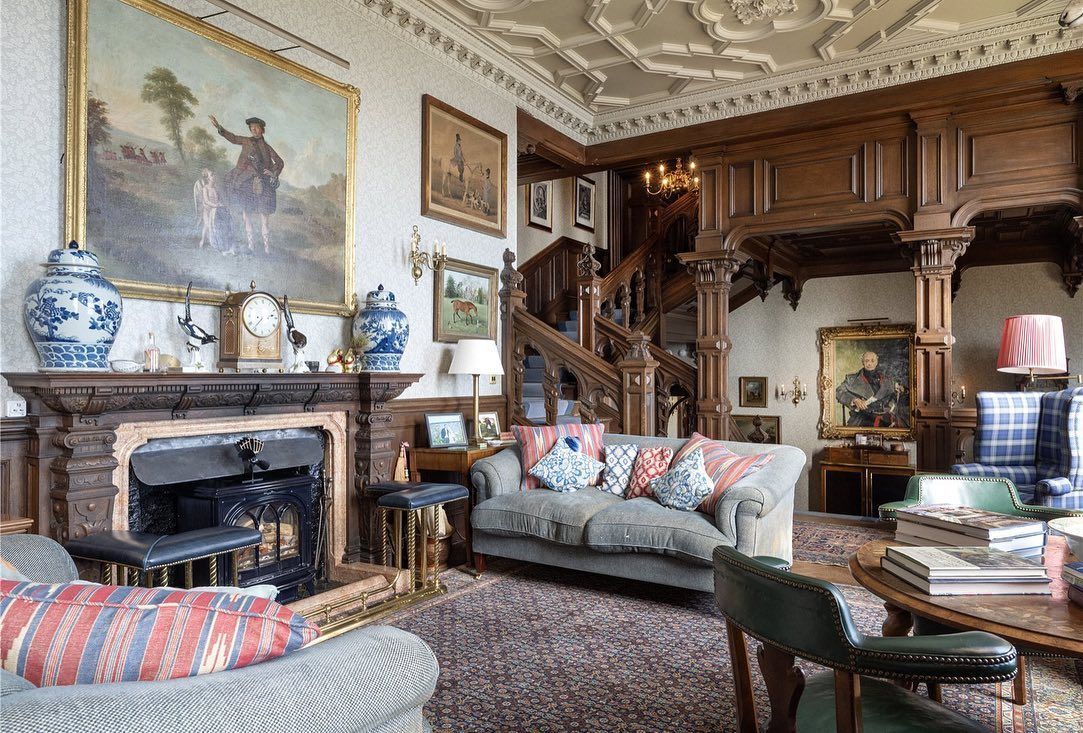 Rugs on the Floor
A Persian or Oriental rug can be the perfect finishing touch, tying the living room together and providing warmth underfoot.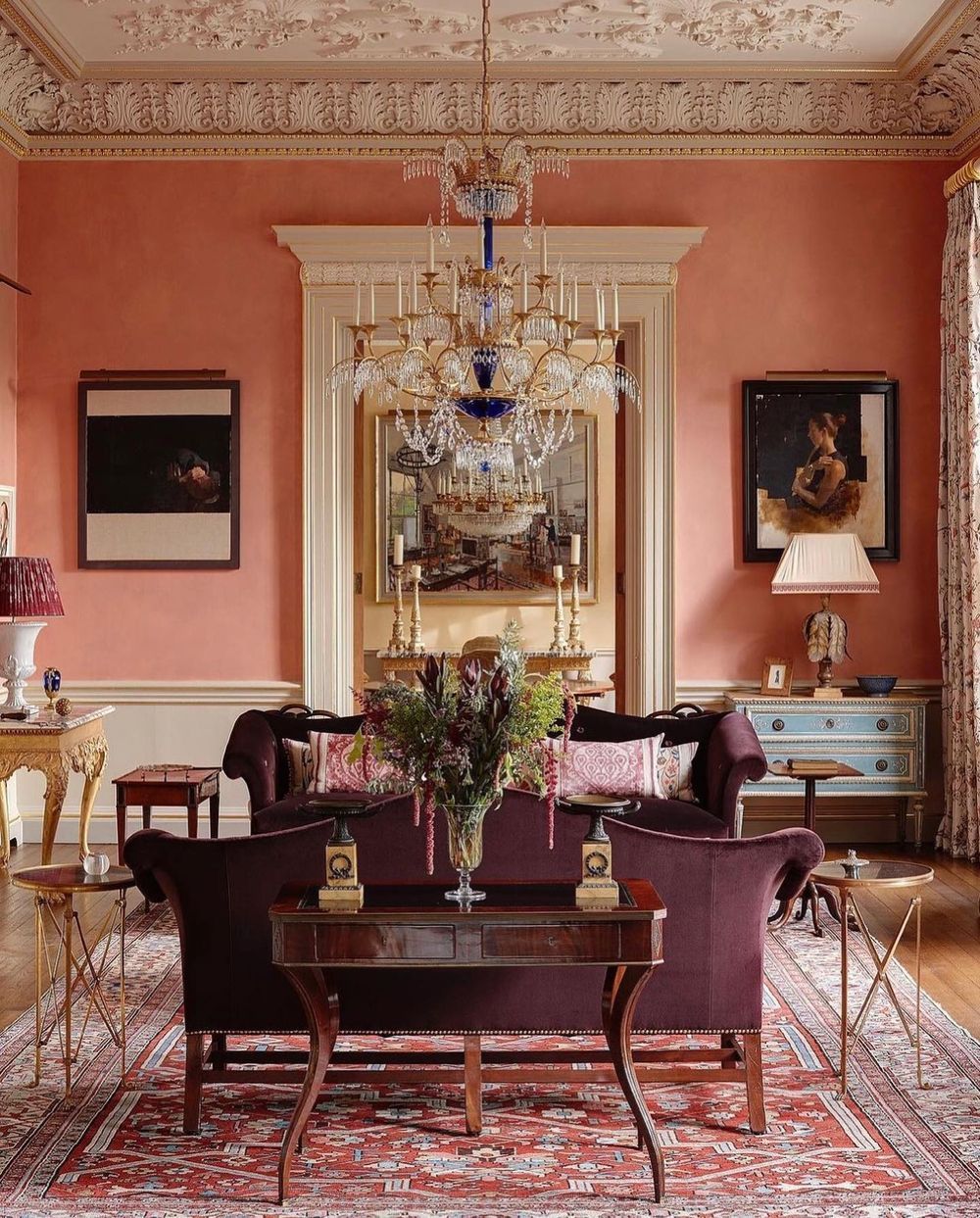 Bring in Natural Elements
Incorporate house plants or fresh flowers in elegant vases. Natural elements can breathe life into the space and complement the traditional styling.
By integrating these elements, you can create a living room that exudes traditional elegance and warmth. Remember, the goal is to make the space feel timeless and welcoming, where every piece and detail work together in harmony. Whether you're starting from scratch or incorporating traditional furniture into an existing room, these guidelines can help you design a space that feels both grand and homey, reflecting the charm and sophistication of traditional decor.
Traditional Living Room Elements
What makes a living room traditional exactly? A traditional living room is defined by certain key characteristics that set it apart from more modern or contemporary styles. First and foremost, traditional living rooms often embrace symmetry, with balanced placement of furniture, accessories, and architectural details. This creates a harmonious and formal look that's pleasing to the eye.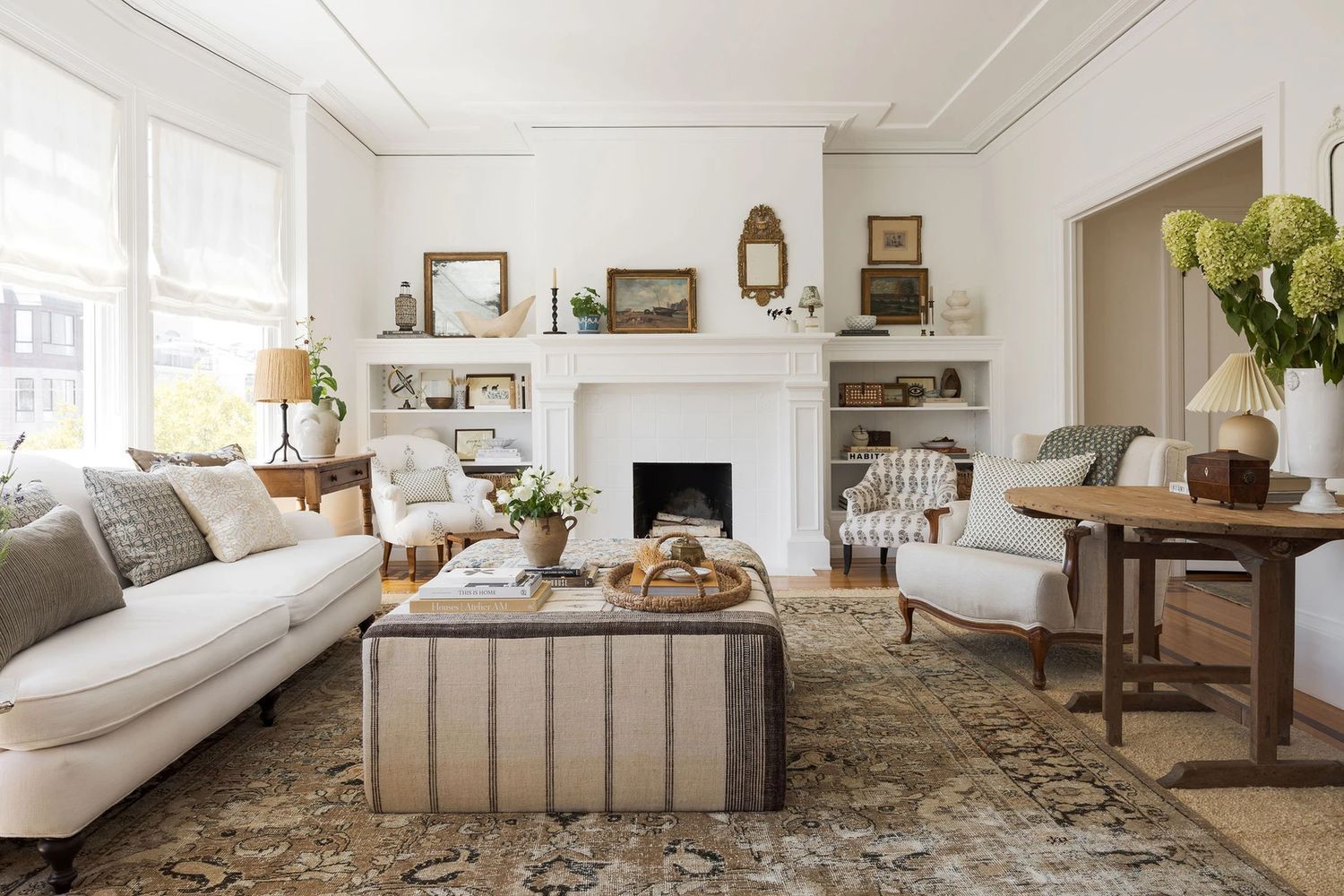 The furniture in a traditional living room is often characterized by classic lines and shapes, such as rolled arms on sofas, claw-footed tables, and wingback chairs.
Upholstery often includes rich fabrics like silk, velvet, or chenille in refined patterns, such as florals, damasks, or plaids. Traditional sofas have been passed down through generations and reupholstered to keep up with the times.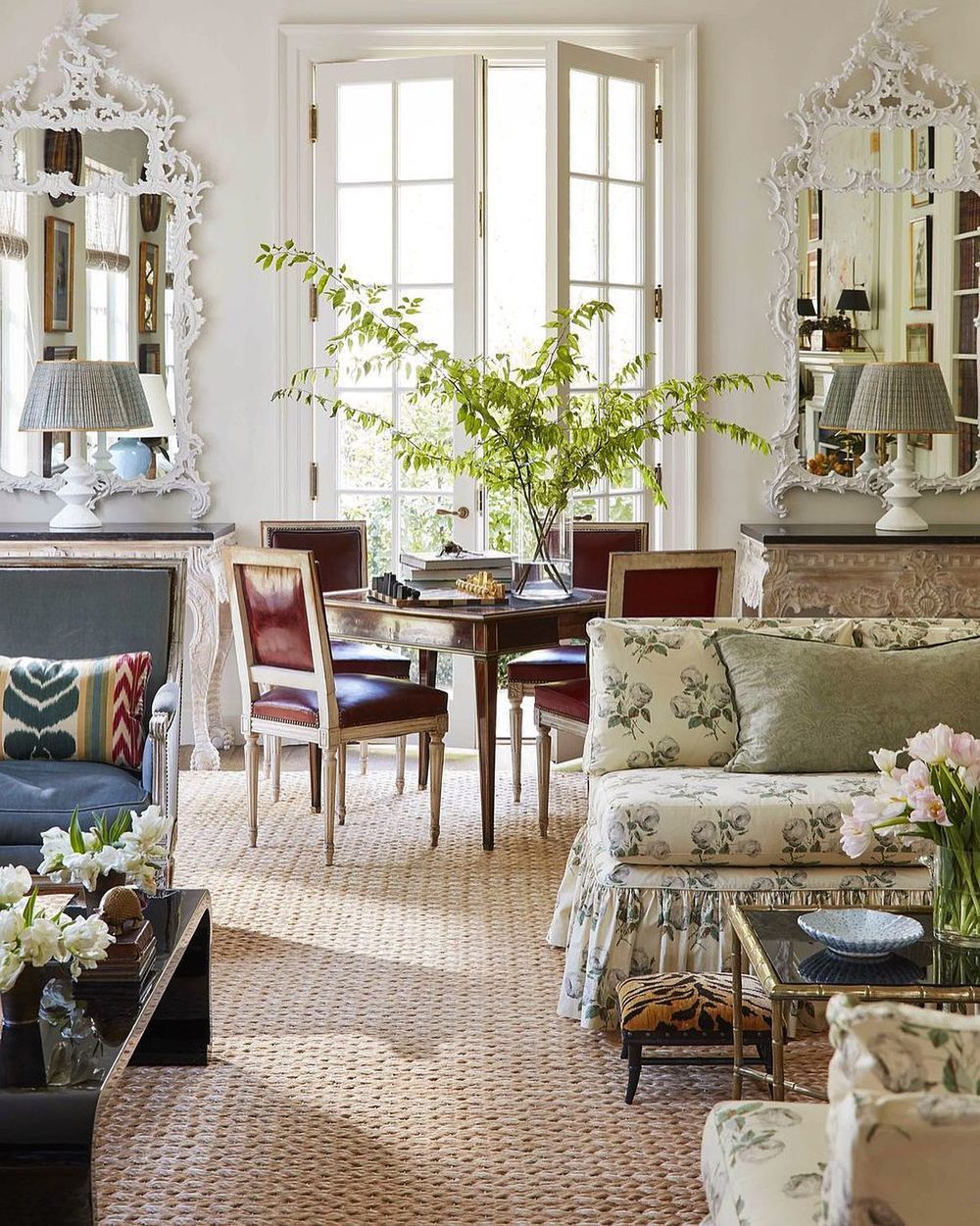 Wooden elements also play a crucial role, with dark, polished woods like mahogany, cherry, or oak adding a sense of gravitas. These might appear in intricately carved details, crown moldings, and elegant paneling.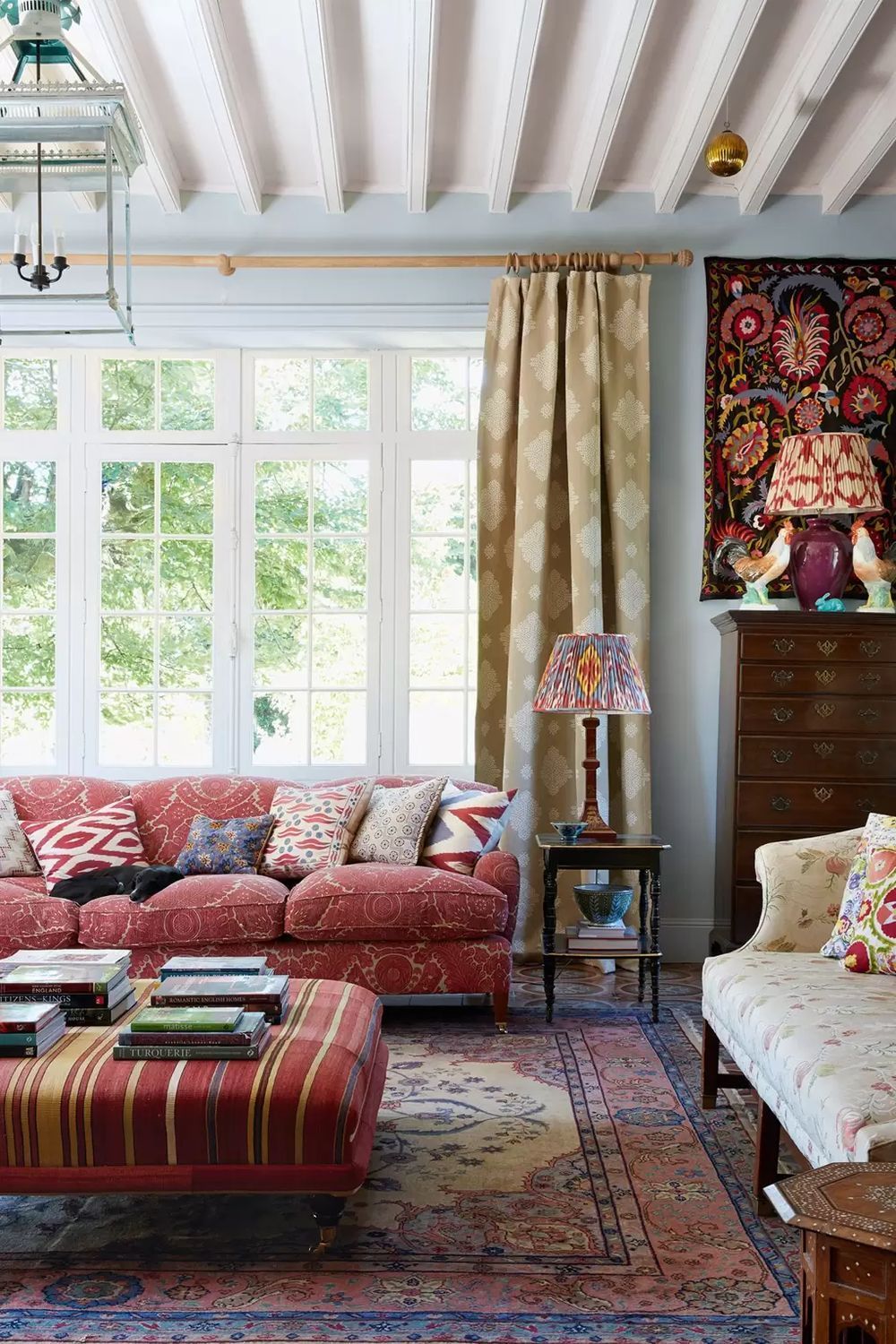 Colors in a traditional living room tend to be more muted and understated, often leaning towards warm and neutral shades.
The use of antiques or reproduction pieces adds a historical indication, connecting the room to a sense of history and timelessness.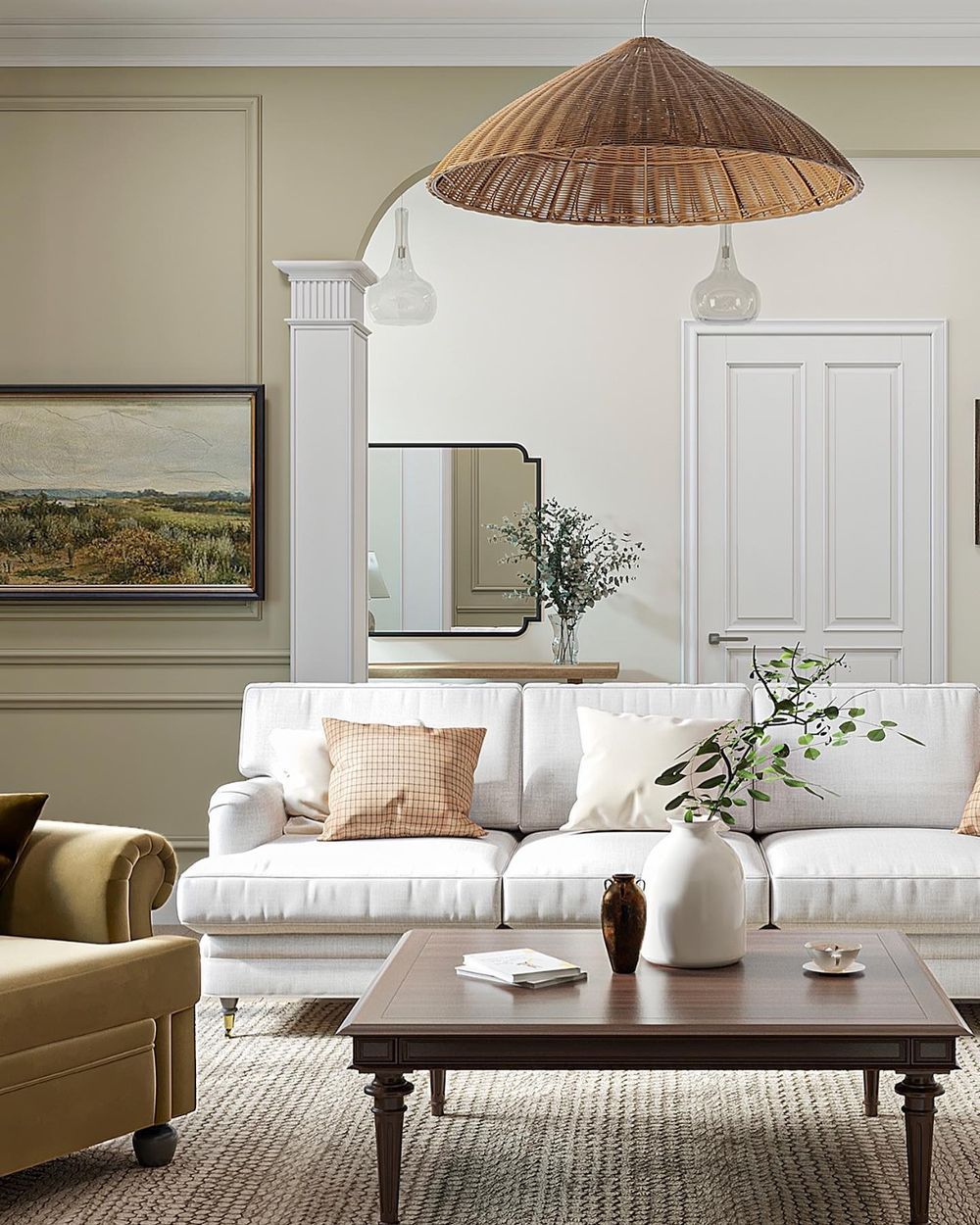 Window treatments in traditional design often include heavy draperies, valances, or sheers, adding an additional layer of texture and formality.
The inclusion of art, mirrors, and decorative items typically follows the overall symmetry, enhancing the sophisticated ambiance.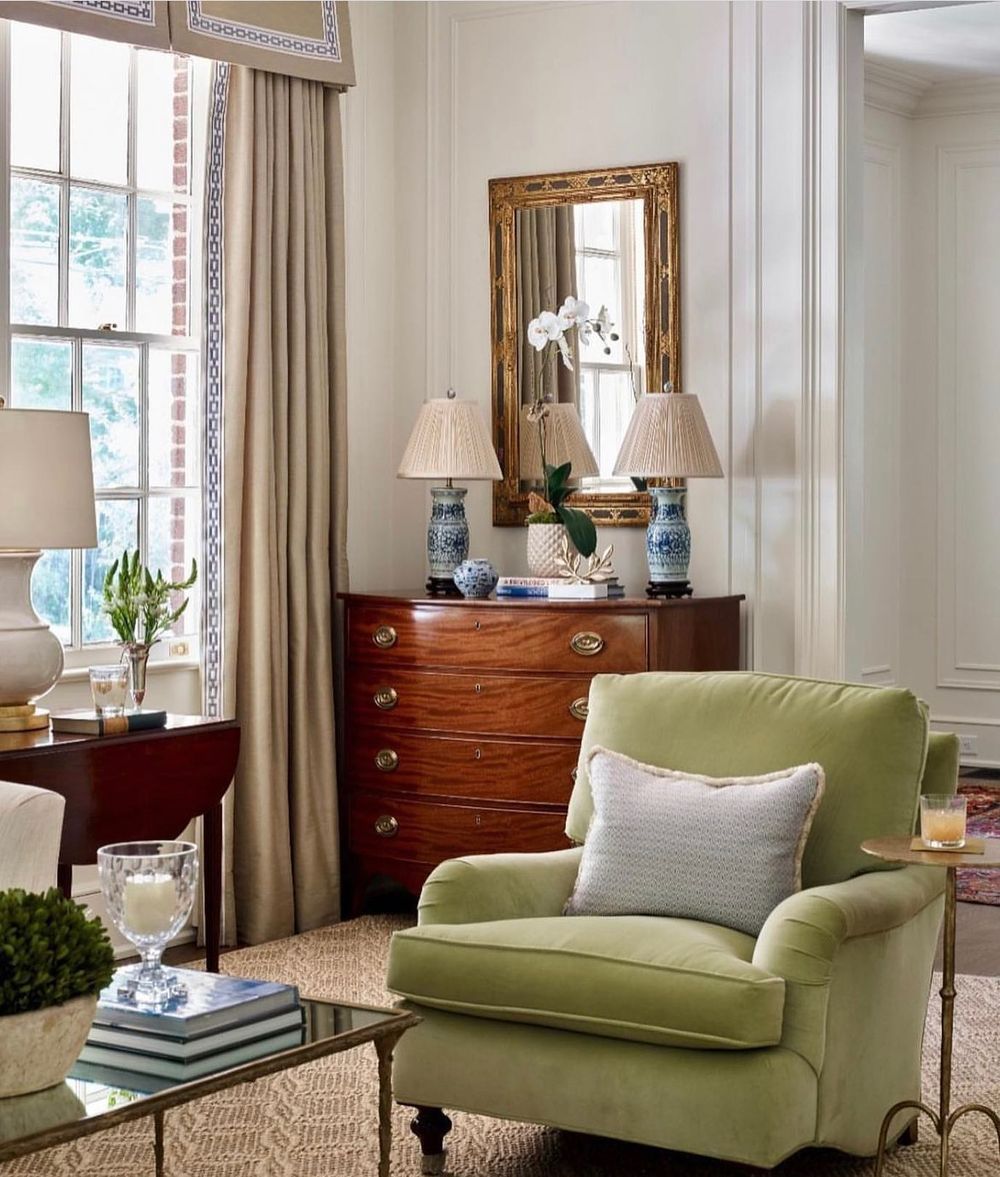 Lastly, lighting often includes chandeliers or classic lampshades, contributing to the warm and welcoming atmosphere that defines the traditional living room.
Together, these elements weave a rich tapestry that embodies comfort, elegance, and a connection to historical and cultural traditions. The appeal of a traditional living room lies in its ability to create a timeless space that feels both grand and inviting, a perfect blend of the old and new.
Traditional Decorating Styles
What are examples of traditional decorating styles? Traditional decorating styles encompass a broad spectrum of timeless designs that are often rooted in cultural heritage and classical aesthetics.
Among them, the English Traditional style is known for its plush furnishings, dark wood, and elegant patterns, often showcasing a rich mix of florals and stripes. The French Provincial style is characterized by ornate, carved designs, soft pastels, and the casual elegance found in the French countryside. American Colonial, with its blend of rustic and refined elements, reflects the early history of America, often incorporating wingback accent chairs, Chippendale furniture, and pewter accents.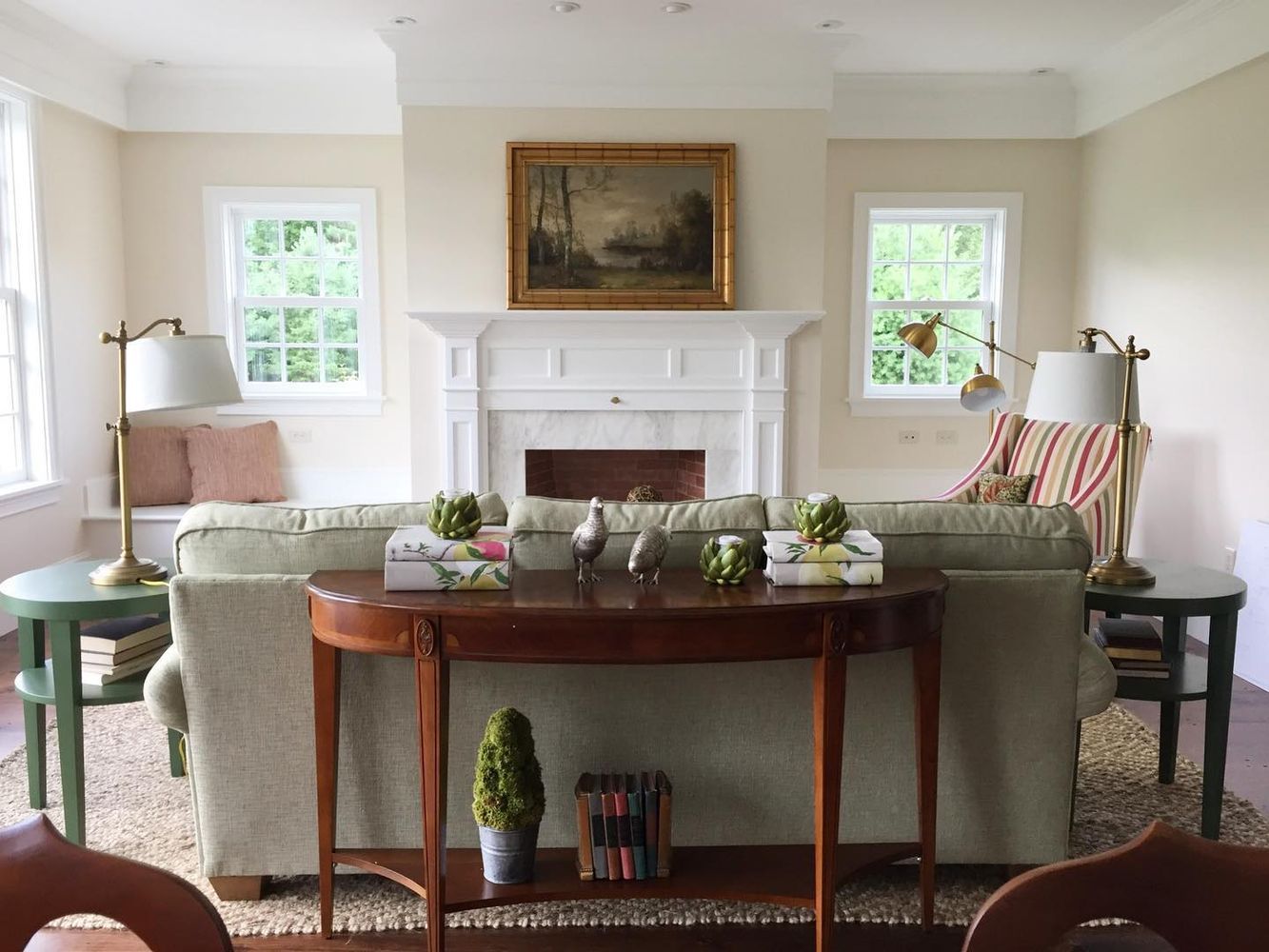 Each of these styles carries distinct characteristics that connect with different historical periods and cultural contexts, providing a rich palette to infuse a home with classic elegance and enduring appeal.
I hope you were inspired by these Traditional living rooms!