These amazing and creative shelving ideas will inspire you to use the walls of your home to store objects in a practical way. Shelving is something that every home should take advantage of. From freestanding shelving units to floating wall shelves, to bookshelves and bookcases, there are myriad ways to maximize your home storage by using shelving. These shelving ideas will give you plenty more storage and create extra space in your home you never knew you could have!
Shelving Ideas to Organize More
Here are the best shelving ideas for easy home organizing.
Floating Shelves
A floating shelf is a great storage option for your kitchen. It's the perfect place to put cookbooks, utensils, pictures, or anything you want. The only downside is you have to screw floating shelves to the wall, and moving them is not an option. Make sure you think long and hard about where you want floating kitchen shelves in your space.
Recessed Shelves
If you're not a fan of floating shelves, you can try its opposite: recessed shelves. Recessed shelves go into the wall rather than stick out from it. The front edge of the shelf is in line with the wall itself.
Recessed shelves are a great way to add depth to your walls and are perfect for clumsy people who may hit a floating shelf when they're distracted. It's the go-to option for small spaces. They do require construction, though! Recessed shelves are often found in showers and so they're called "shower niches" in these cases.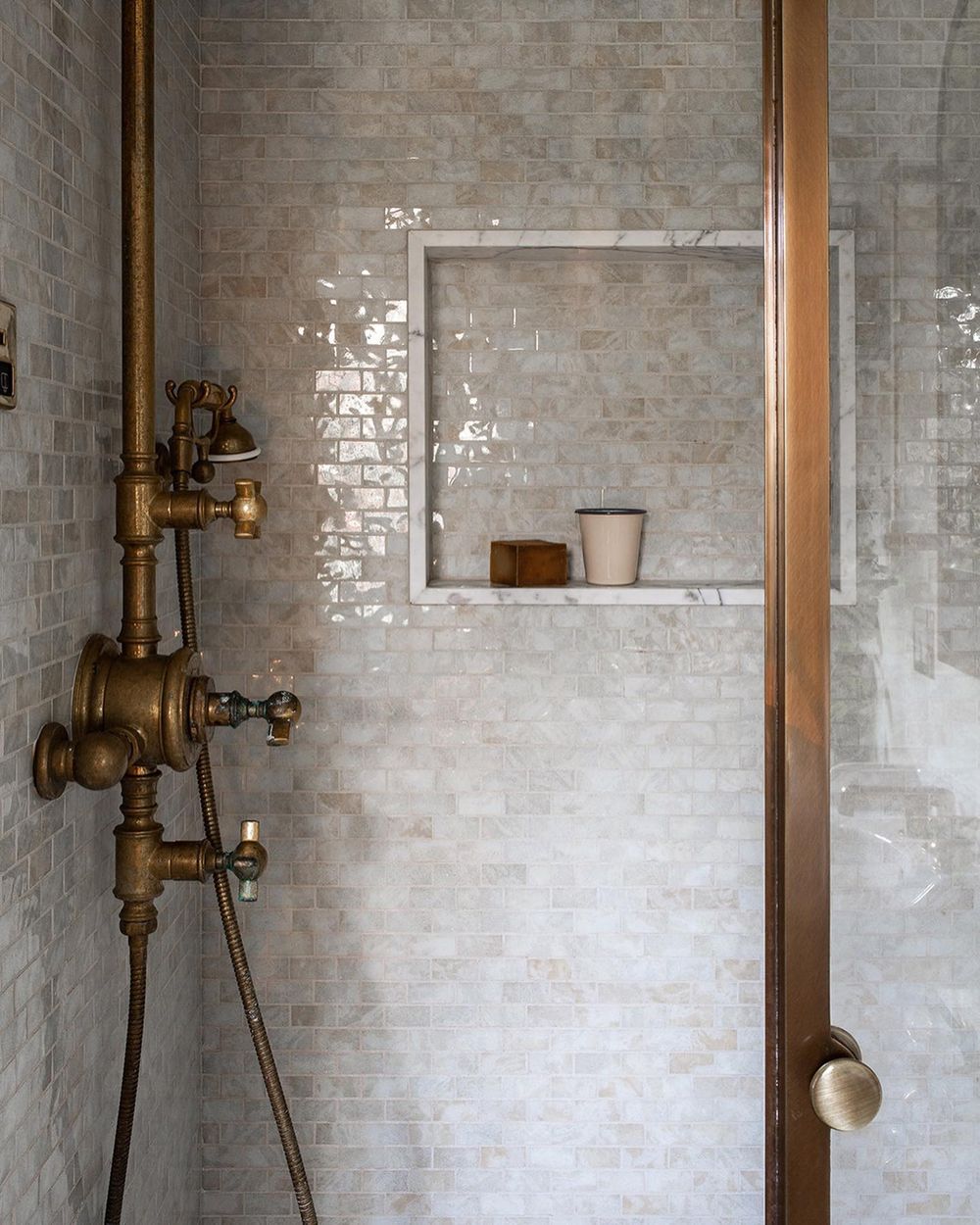 Circular Shelving Unit
A circular shelving unit is a unique choice for people who want something functional and extravagant. It's a bold option when it comes to wall shelving ideas, but people love it. Before you decide to buy one, make sure you don't have a lot of stuff to put on this shelf – because space is lacking there.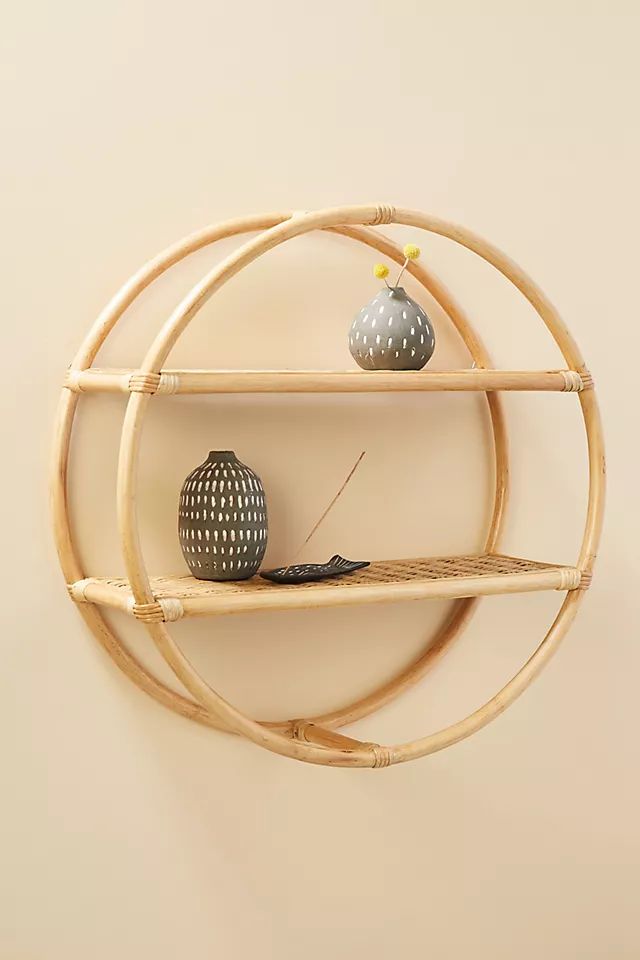 Built-in Bookcase or Bookshelves
Built-in bookcases are a classic option and pretty much self-explanatory. We had to mention it in our list because people tend to forget how classy a bookcase looks on your wall. Don't worry if you're not that much of a reader; you can buy beautiful books in bulk for looks alone or place decorative objects on the shelves!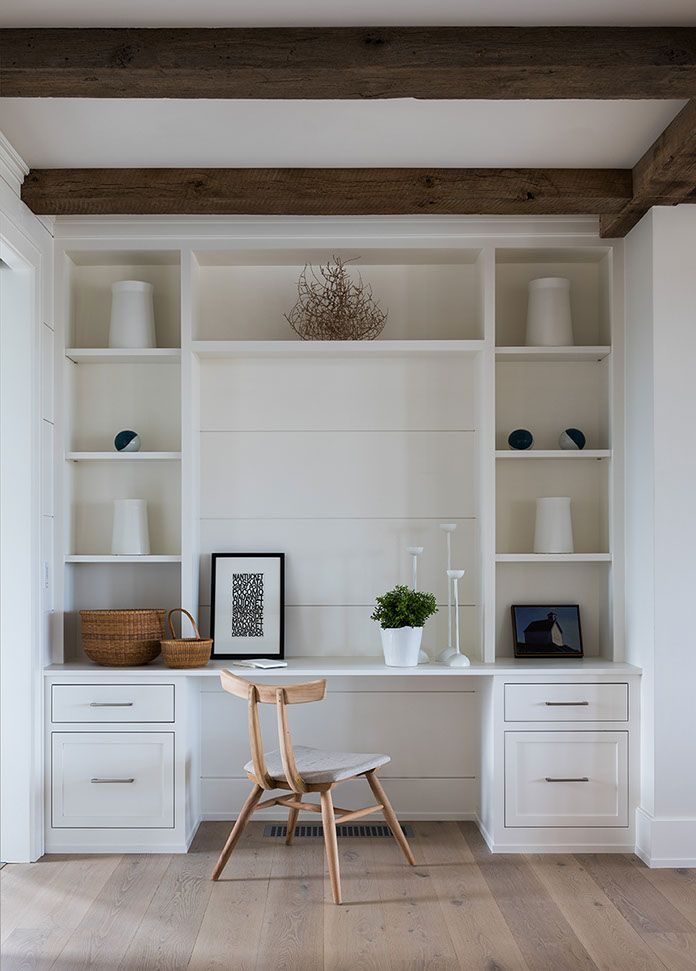 Open Kitchen Shelves
Have a hard time picturing what an open kitchen shelf is? It's more or less like a floating shelf. It's great for pots, pans, and anything else you need to have at a hand's reach and don't want behind a door while you're cooking. It's a pretty good option for a small kitchen.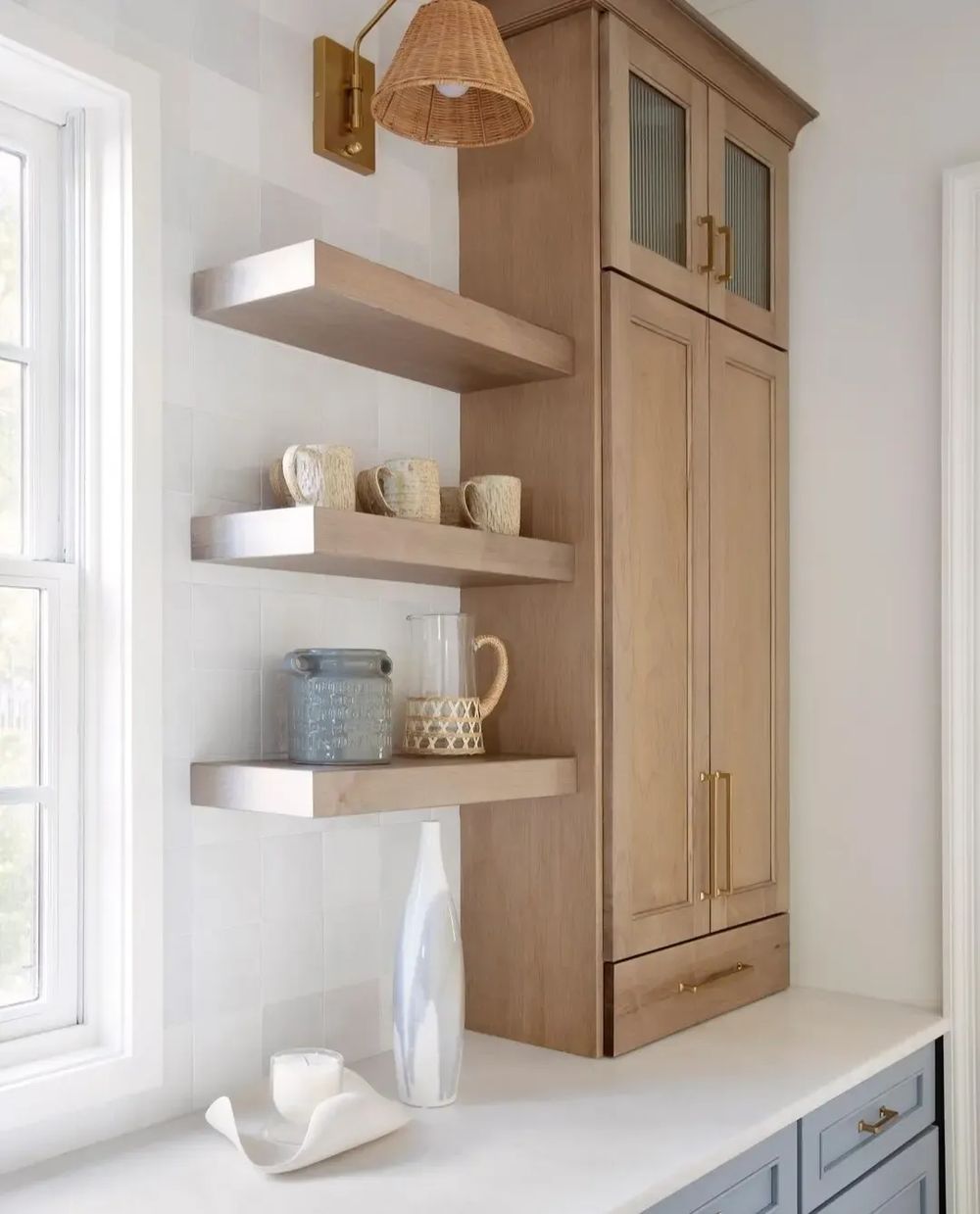 Upper Shelves in the Bathroom
An upper shelf is perfect for a small bathroom or a bathroom with a big mirror that takes too much space. Put an upper shelf on the side and place everything you need there, from shampoos to combs and everything you want. Try not to crowd it too much, or things will fall out from it every day.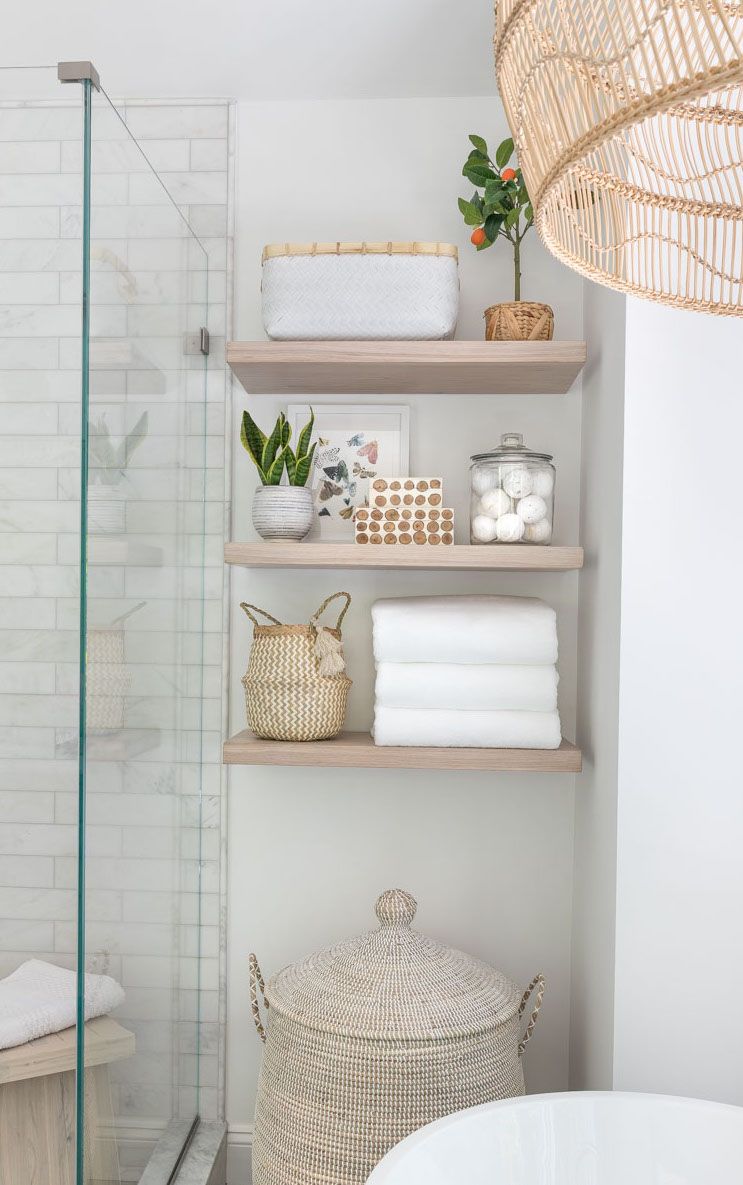 Rail Shelves
Brass rail shelves are great for traditional interior design homes. Little rails on the edge of each shelf help prevent items from slipping or falling off the shelf.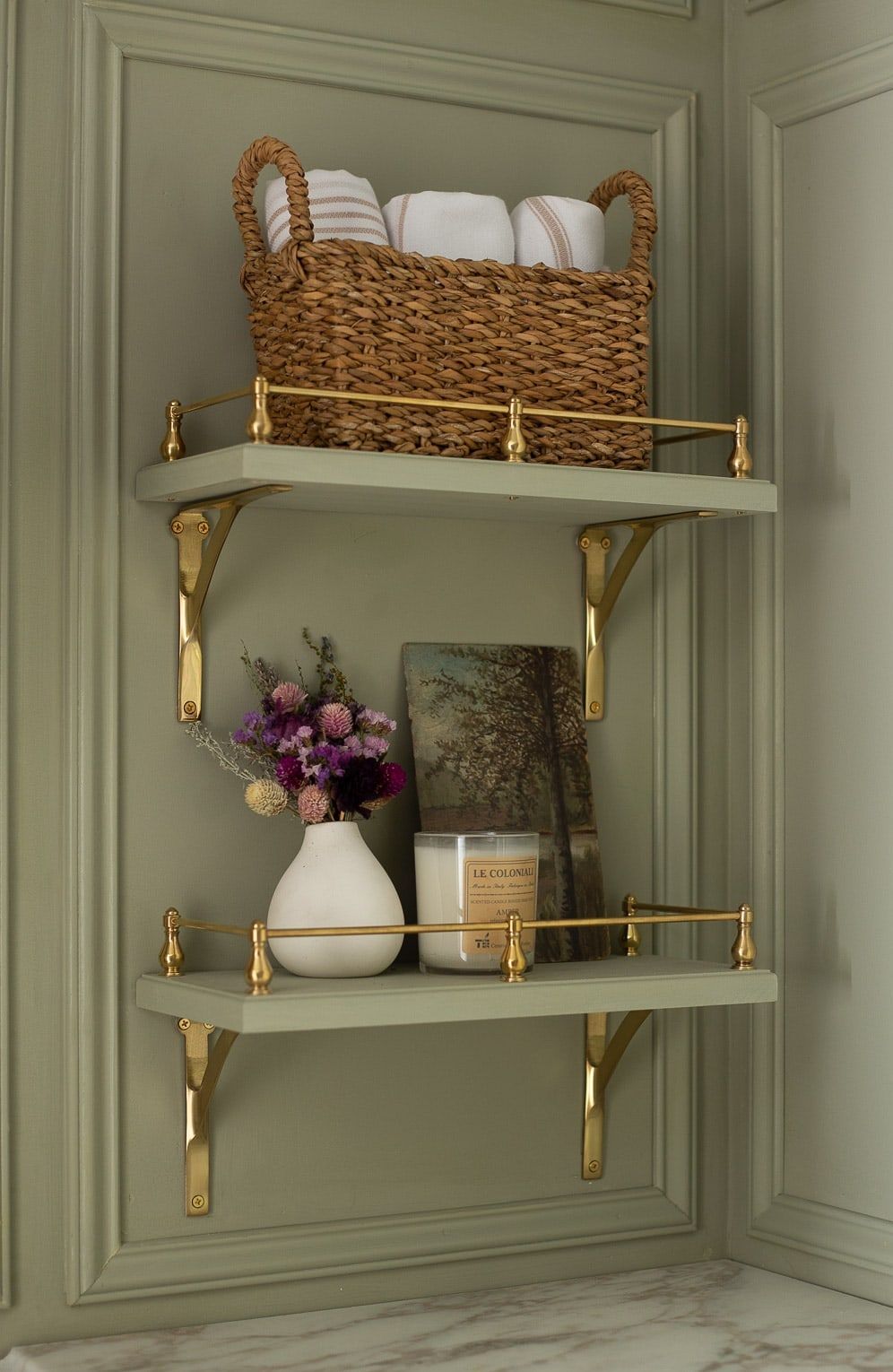 Suspended Shelf
A suspended shelf looks great but is a little bit tricky to set up. It's not something you want to have if you have kids around the house either. It's a flashy option for people who want something bold for their room. It doesn't go on the wall but rather hangs from the ceiling, though.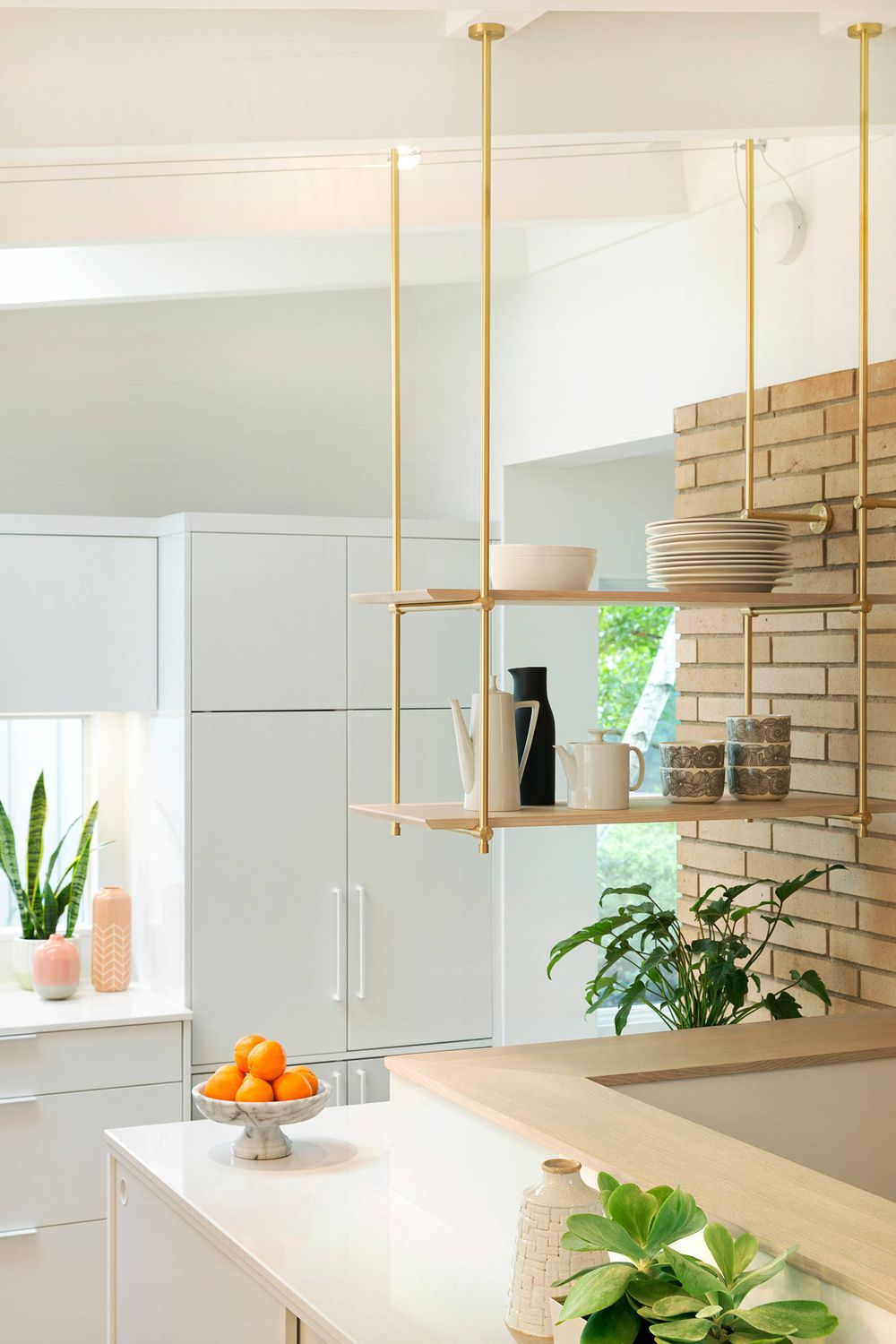 Storage Rack Shelving
For a more sturdy, safe option, you can't go wrong with a storage rack shelf. It's not the most beautiful option and you've seen it a thousand times before – but it's definitely one you can trust. Storage racks are the go-to option if you have a lot of things and need a cheap way of displaying them. Keep storage racks in your finished basement for example.
Honeycomb Shelves
A honeycomb shelf is what you think it is: a honeycomb-shaped shelf. It's more wall decor than a shelf, but you can still put a thing or two there. You have to set them up on the wall like you would a floating shelf, so pick their spot carefully.
Crescent Moon Shelf
Speaking about shelves that are more decor than shelves, a crescent moon shelf would look great on your wall – but don't expect it to have too much storage room. It's one of the best wall shaving ideas for a picture frame or two and maybe a few books, but nothing more than that.
Cubicle-Style Shelves
You can hang cubicle-style shelves on your wall for a more neat and organized choice. It's perfect if you have multiple things you want in one place. Keep in mind this is far from a stylish option. It will look average at best, but it's a trade-off for efficiency.
Modern Diamond Shelf
Do you know what you get when you mix a circular shelving unit and a floating shelf? A modern diamond shelf! It has most of the downsides of these two shelves: little space, fixed position, and far from ideal for small places. It looks great, though, and is a great decor option.
Box Shelves
Box shelves are a stylish alternative to cubicle-style shelves. The great thing about this option is that you can mix it up and play around with designs to have a unique set of shelves on your wall. They are also spacious enough that you can get both something stylish with plenty of storage room.
Asymmetrical Shelves
Asymmetrical shelves are the perfect mixture between storage and style. You can put plenty of books, pictures, plants, and anything else you want – and still have something that looks amazing on your wall. They're not from everyone, though. Some people don't like how unique these shelves look – but those who do, love them.
Bookshelf Cubbies
Bookshelf cubbies happen when cubicle-style shelves meet a bookcase. They are great for books, sure, but they are perfect for vinyl and other collectibles you want to display and carefully store at the same time. It's a great option if you want a shelf where you can put something like a TV on top.
Abstract Bookshelf
An abstract bookshelf is for people who think the asymmetrical shelf isn't daring enough when it comes to wall shelving ideas. It can get wild pretty fast, though – and cross the line between wall shelf and wall decor sooner than you expect it. In other words, if you want a place for your book collection, you better get a bookcase.
Long Shelves
Long shelves are similar to floating shelves but as wide as the entire wall. They go from one side to the other, giving you plenty of space for anything that you need to place over there. People usually place three or four on the same wall to create a bookcase look.
Corner Shelves
Do long shelves seem like too much? You can choose corner shelves for a more compact option. Technically speaking, they are two sets of floating shelves that go on each side of the wall and connect on the corner. It's a great option to display pictures or place small plants on.
Short Shelves
Short shelves are perfect if you need to store a few books or vinyl but need nothing fancy or too big to do it. Think of it as a miniature bookcase that's as wide but not as long. It's far from a stylish choice, though – but perfect for certain occasions.
Small Space Shelving
A small space shelving unit is like a miniature bookcase: it's as long as one but nowhere near as wide. This shelf may be the best option available if you have a lot of stuff but little room for them. Not the best out of all wall shaving ideas for places with a low ceiling, though.
Picture Ledge
This option is a smaller version of a floating shelf. A picture ledge's surface is so small that nothing other than picture frames will fit. You can forget about placing books, plants, or anything else on there. It may sound like a bad idea – but it looks great if you know how to pull it off.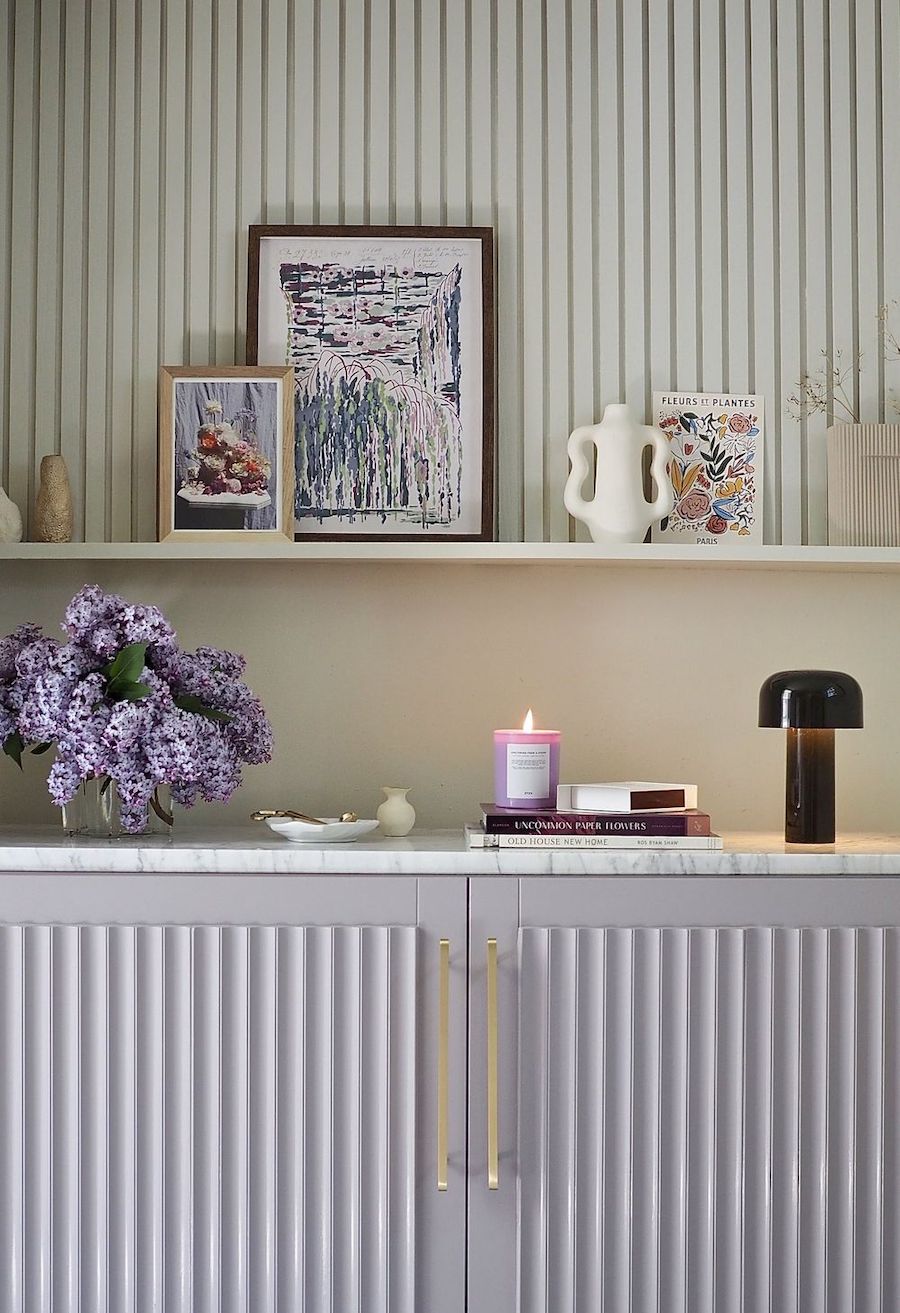 V-Shaped Shelves
A V-Shaped shelf is a perfect place for a few books or as wall decor. You can place a couple of them together for a W-shaped pattern shelf. That's as far as this idea goes, though. This option isn't that useful, but it sure looks amazing.
Hanging Shelves
A hanging shelf is like a suspended wall shelf – but this one actually hangs from the wall. Don't go for this option if you're planning on putting a lot of weight on top of it (for obvious reasons) – but do consider it if you want something stylish and different for a shelf.
Invisible Book Shelves
Invisible bookshelves aren't invisible – but they look like it. Most people use them to place books on them, making it look like they're floating in the air. They will look great on your wall, but they are far from a practical choice.
Copper Pipe Shelves
Copper pipe shelves are a mix between floating shelves and suspended wall shelves. Most floating shelves are made out of wood, and some copper pipe shelves are made out of metal or similar materials. Keep that in mind when you're trying to figure out which one you like better.
Wire Shelves
Wire shelves are a tricky choice when it comes to wall shelving ideas. They don't look fancy or stylish, nor are they efficient or ideal for storing stuff. There are scenarios where one would be a good idea, though. You can probably do better with any of the other options on this list.
Three-Tiered Shelf
A three-tiered shelf is what it sounds like. It looks like a short shelf but is a little bit bigger. Short shelves usually have one or two levels; this shelf has – you guessed it – three. There are different designs, and some are bigger than others, though.
Lucite Shelf
A Lucite shelf is an almost transparent shelf. They are usually made out of acrylic materials and are a unique choice out of all the most common wall shelving ideas you're going to find. Don't let their transparent look fool you – they are pretty sturdy and can hold plenty of stuff.
Shelving Decor Ideas by Style
Next, read about the best shelf decor ideas to style your shelves beautifully and make them look lovely. Here are some shelving decor ideas according to your home style:
---
I hope you enjoyed these home storage shelving ideas!