Organization can be a tricky thing, especially when you're trying to keep your entire home clutter-free. But never fear, we're here to help! Check out the most clever and useful organization ideas for every room in your house!
Living Room Organization
Here are a few of the best living room organization ideas for a tidy and neat family room or TV room! If you don't have the money to install built-in bookshelves, these organization tips for the family room will give you some budget ideas.
Storage Baskets & Bins
Invest in some storage baskets or bins to tuck away any toys, knick-knacks, or other items that might make your living room look cluttered. The storage basket seen below from Serena & Lily is a reader favorite!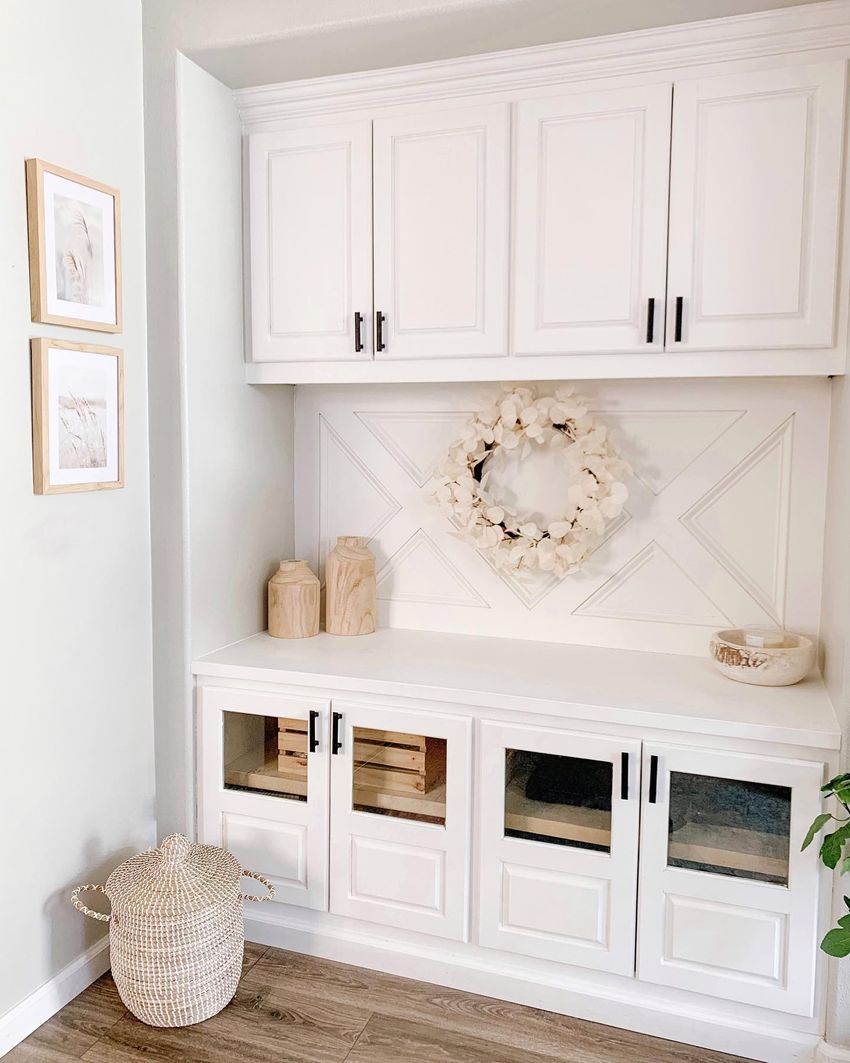 Get a Coffee Table with Drawers
If you have a coffee table with drawers, use it as storage for things like coasters, magazines, and remote controls. A storage ottoman is also a great idea! This one is by Pottery Barn.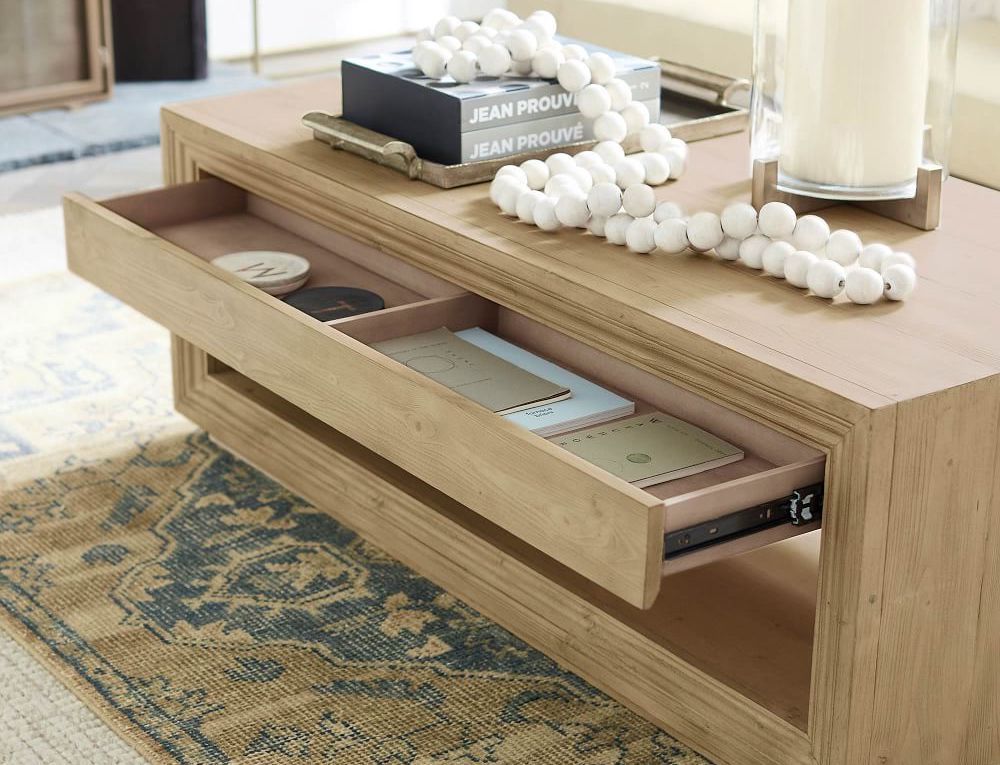 Coffee Table Tray
Place a coffee table tray on top of your coffee table to keep fresh flowers, books, and perhaps the remote control to your TV.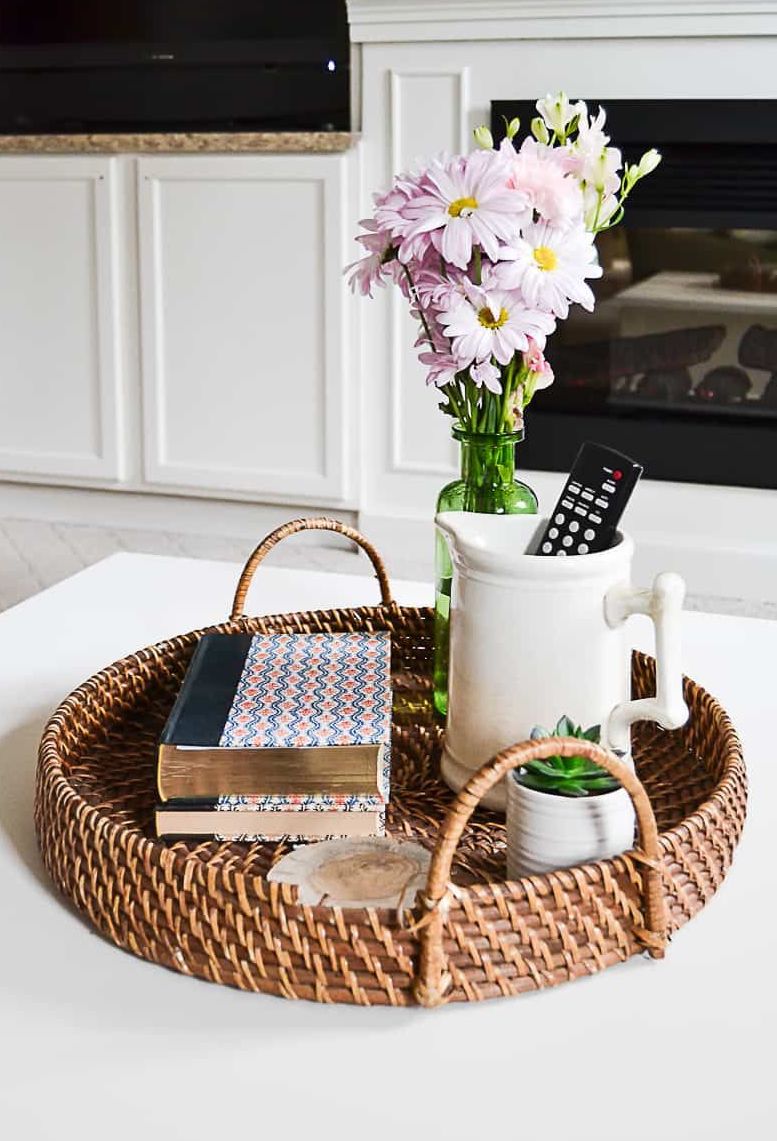 Extra Long Media Console
If you have a lot of things to store, use an extra long media console to keep everything tucked away!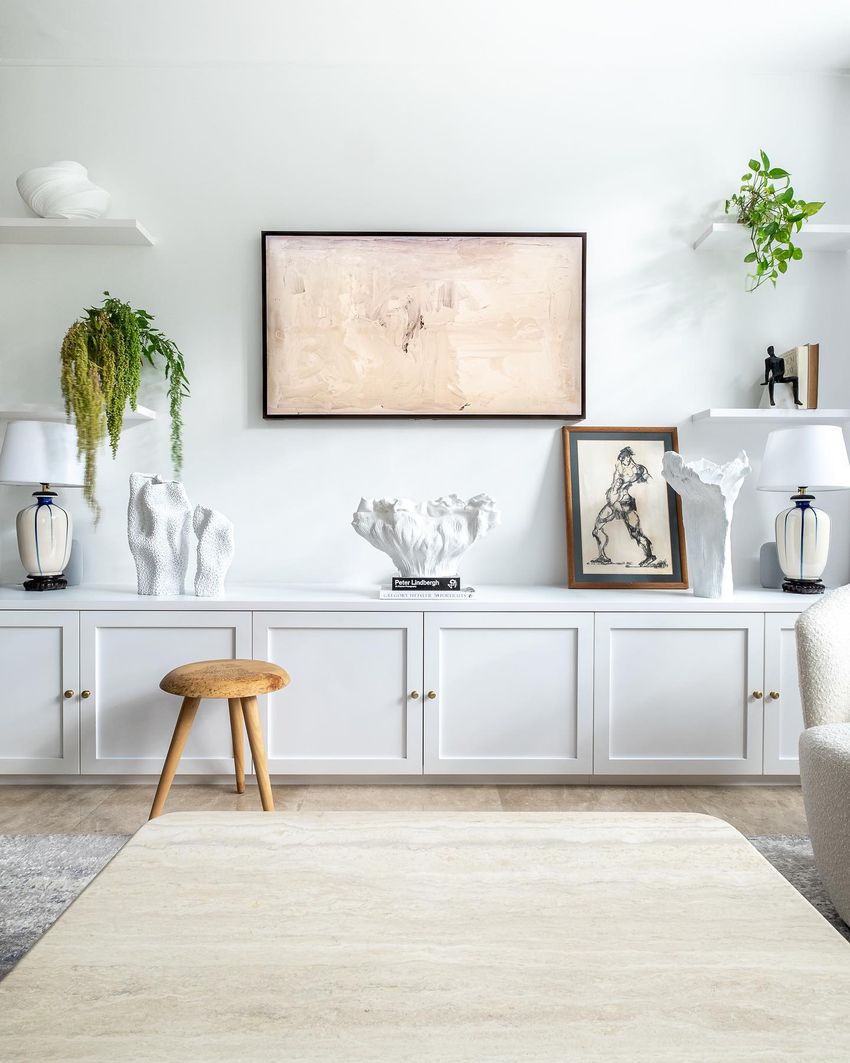 Kitchen Organization
Let's move on to the best kitchen organization ideas. While it's easy to focus on the drawers and cabinets, don't forget about your empty wall space. Hang a calendar or whiteboard in the kitchen so that everyone in the family can see what's going on and when. This will help to keep people in the loop and avoid any scheduling conflicts.
Kitchen Cabinet Organization
Adding vertical shelf separators, shelf racks, and bins to your kitchen cabinets can make sure everything has a home from pots to lids to baking sheets. Check out more clever kitchen cabinet organization ideas.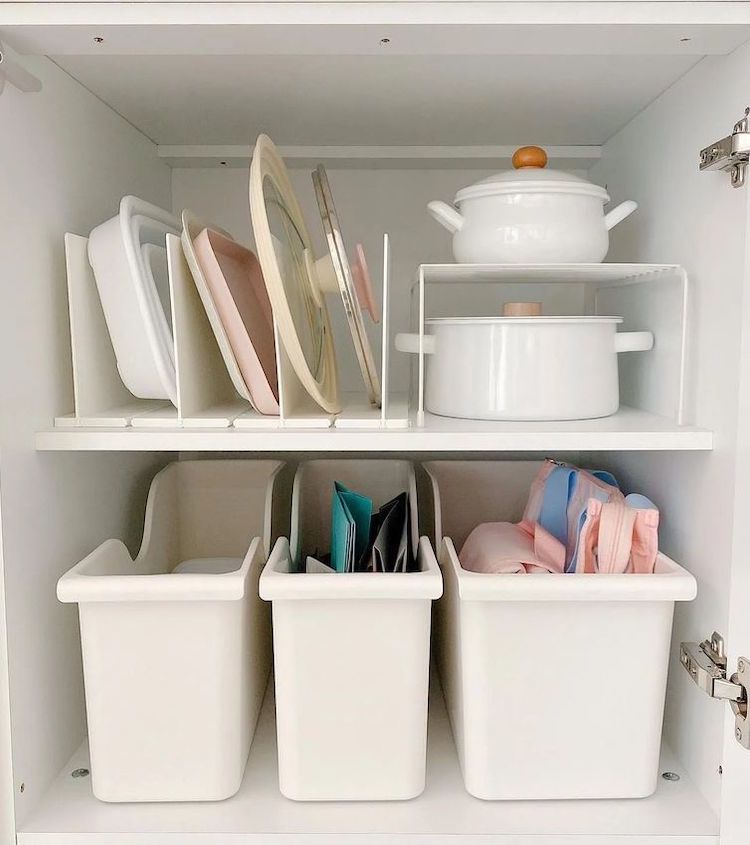 Kitchen Countertop Organization
Only keep the appliances that you use on a daily basis out on the countertops of your kitchen; put the rest away in cabinet storage. Use a tray to group smaller items together and have the space appear tidier. Use a utensil jar to hold your kitchen tools if you don't have room in the drawers. 3-5 cookbooks can look beautiful on the counter. Fruit baskets can be used to store fruit that's ripe to eat. Use a paper towel holder that matches your decor to quickly clean up spills and messes!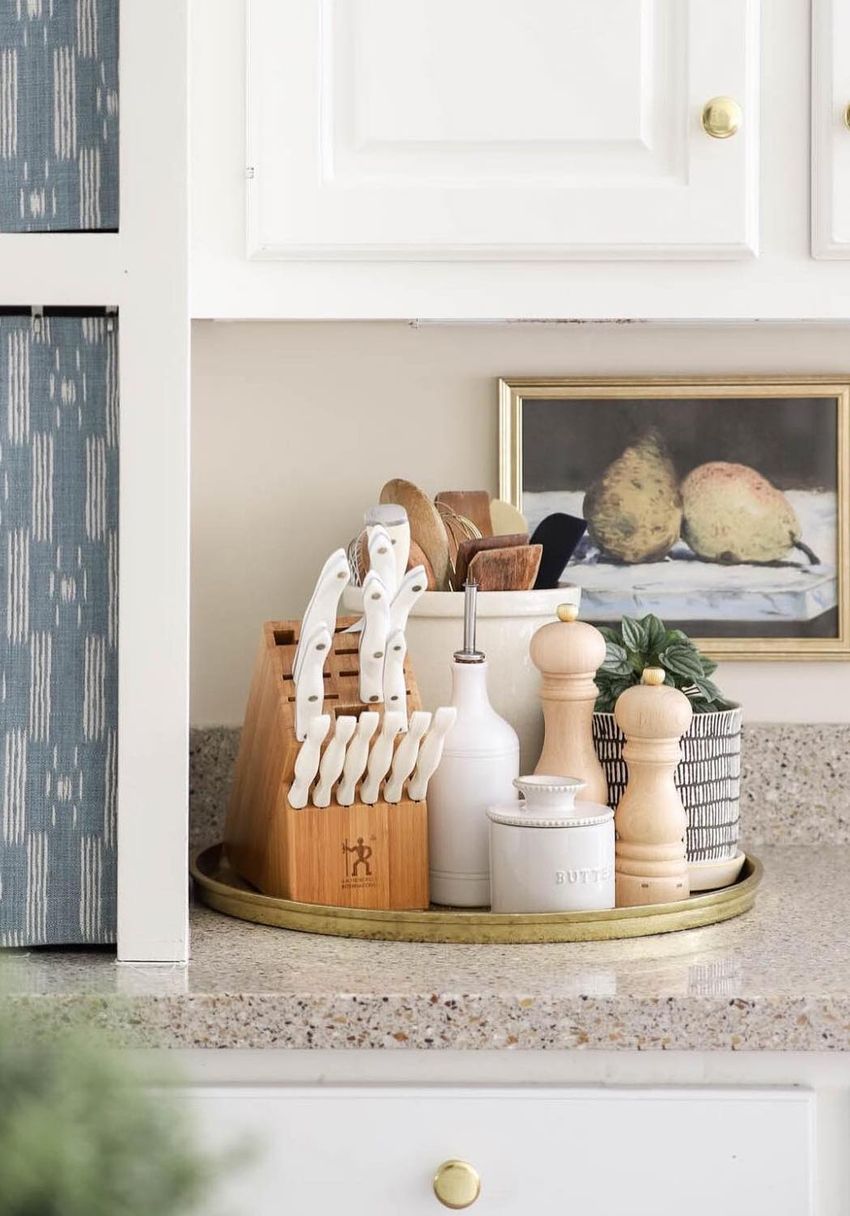 Kitchen Drawer Organization
These kitchen drawers are beautifully organized. From utensil dividers to pegs for separating plates, there are so many great kitchen drawer organization ideas out there to steal!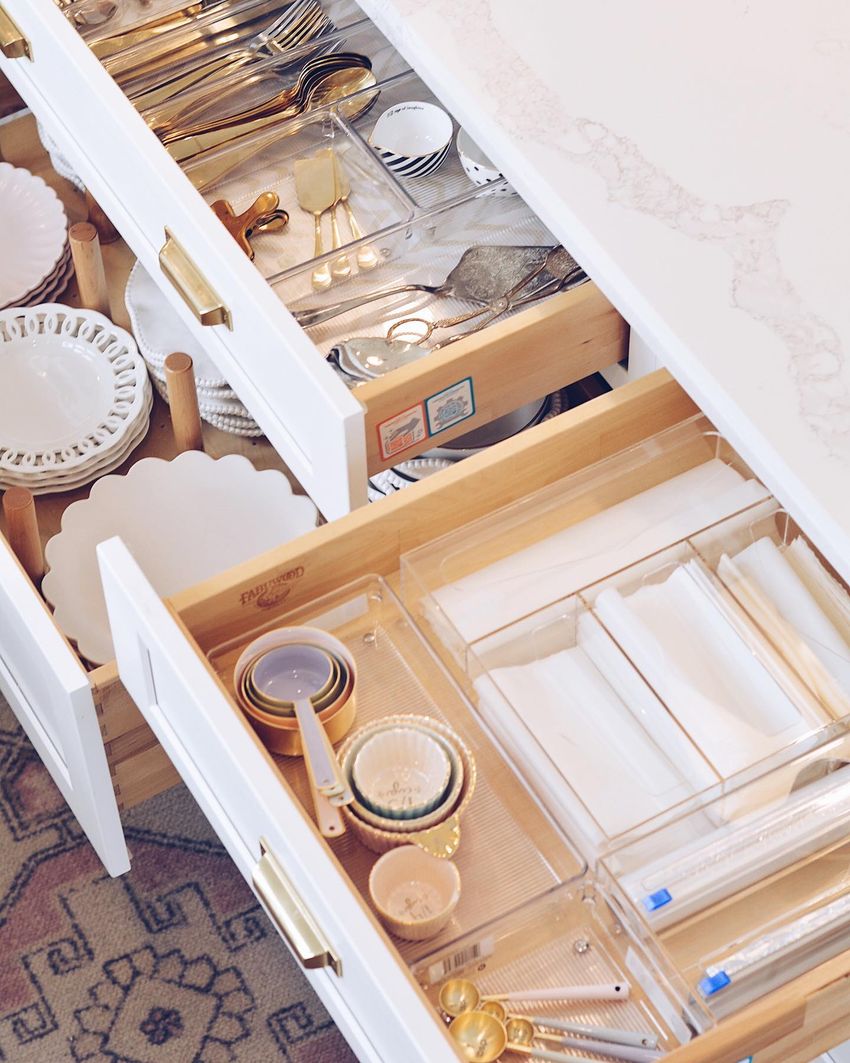 Refrigerator Organization
Find what you need in the fridge easily with this organization guide. Label clear bins when storing food such as yogurt, meat, cheese, and eggs. Use food-preserving reusable bins for prolonging the life of your fruits and vegetables. Add your juices into clear jugs and label them!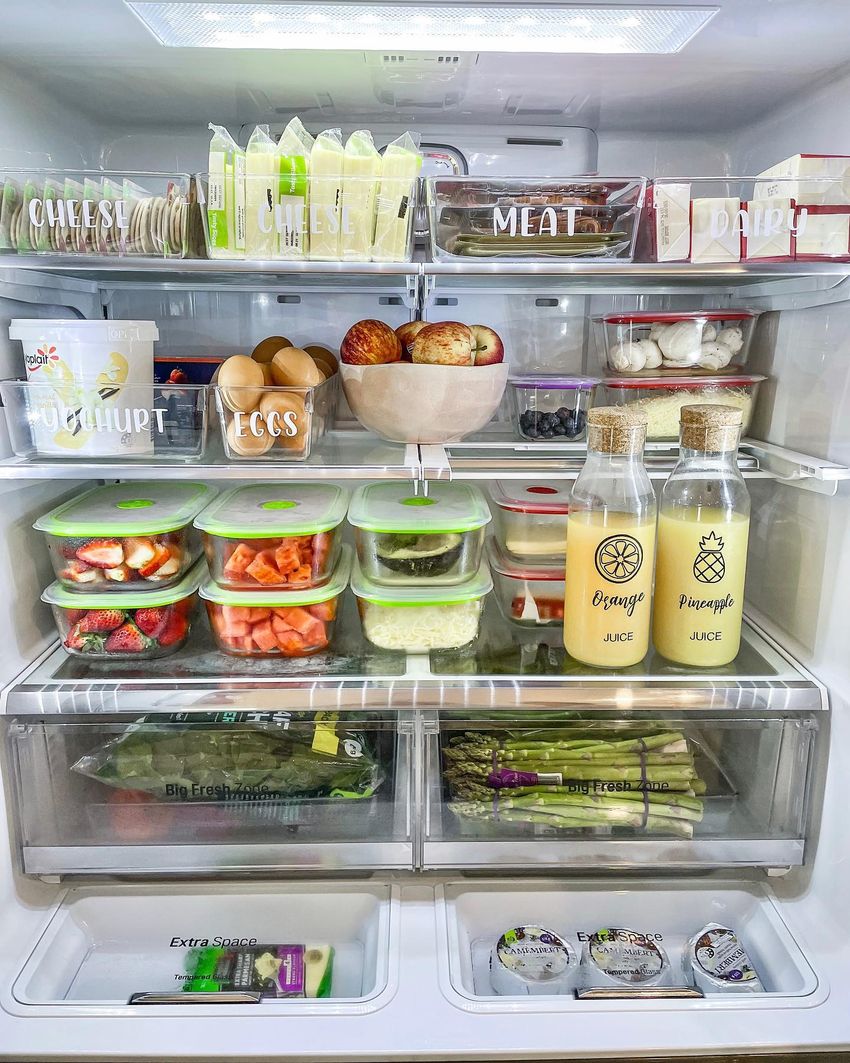 Kitchen Pantry Organization
Clear plastic bins, lazy susans, cereal dispensers, and wire baskets can all be used to keep your kitchen pantry well organized. Finding pasta and snacks has never been easier with these kitchen pantry organization ideas you must know about.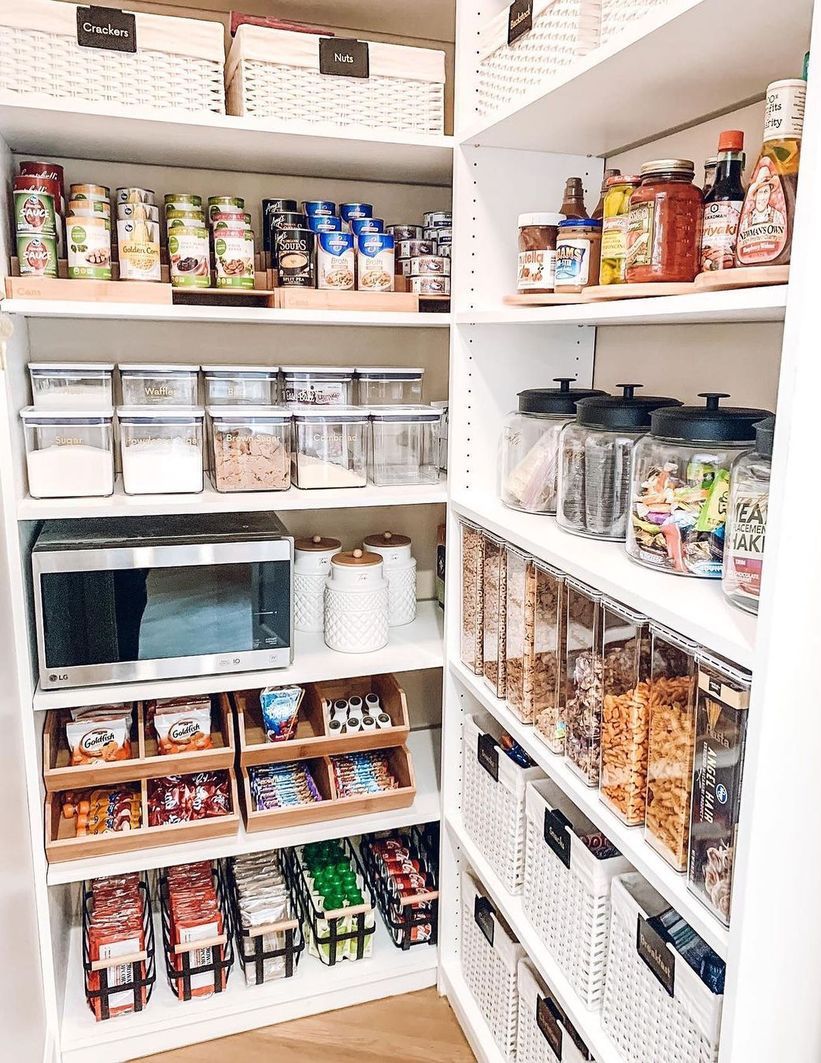 Under the Sink Organization
Use bins and stacking shelves to organize the cleaning products you store under your kitchen sink. If you have space, hang small hooks on the back of the cabinet door to hang dish towels or a paper towel rack.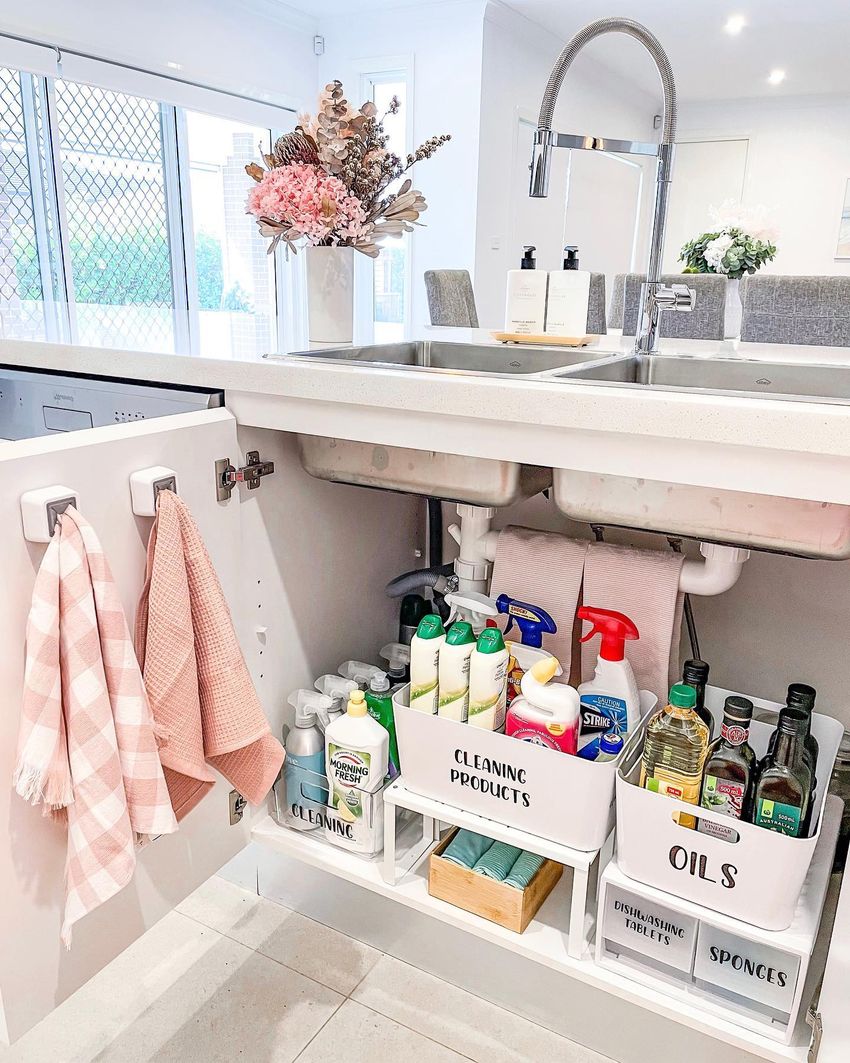 Spice Rack Organization
Since spice jars and herbs are small, they can easily appear cluttered if not properly organized, making the right spice difficult to find when you're cooking and time is of the essence! Prevent getting lost in your mix of spices by organizing them neatly on an elevated spice step shelf, or on a lazy susan that rotates.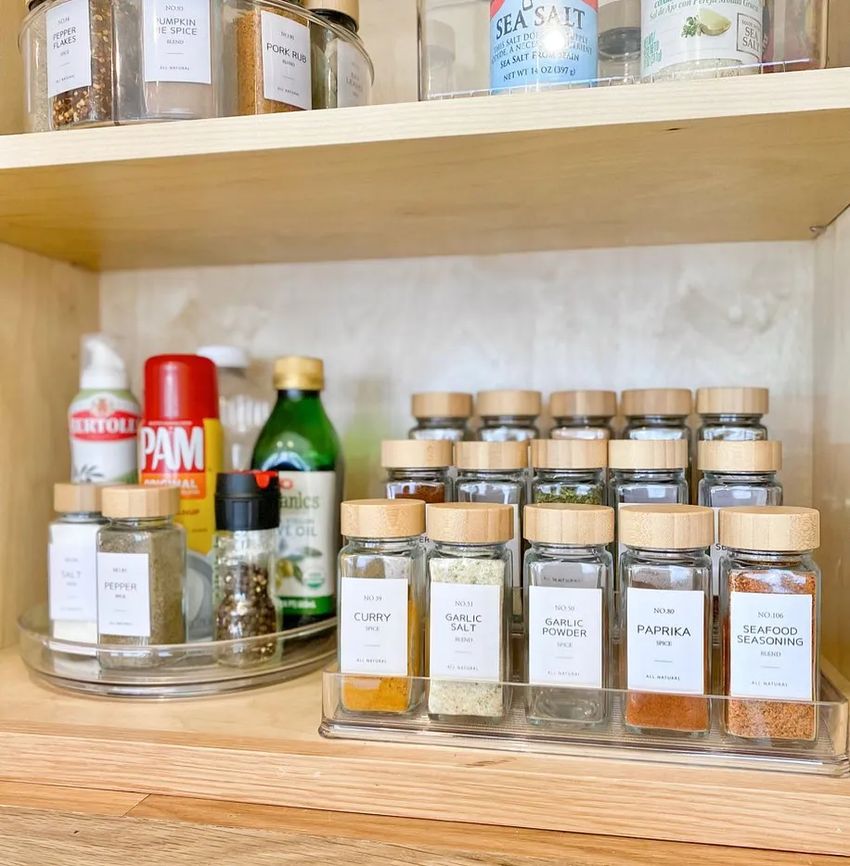 Pots and Pans Organization
Use vertical dividers to store your cooking pots and pans in a cabinet. Hang the lids on the door of a cabinet!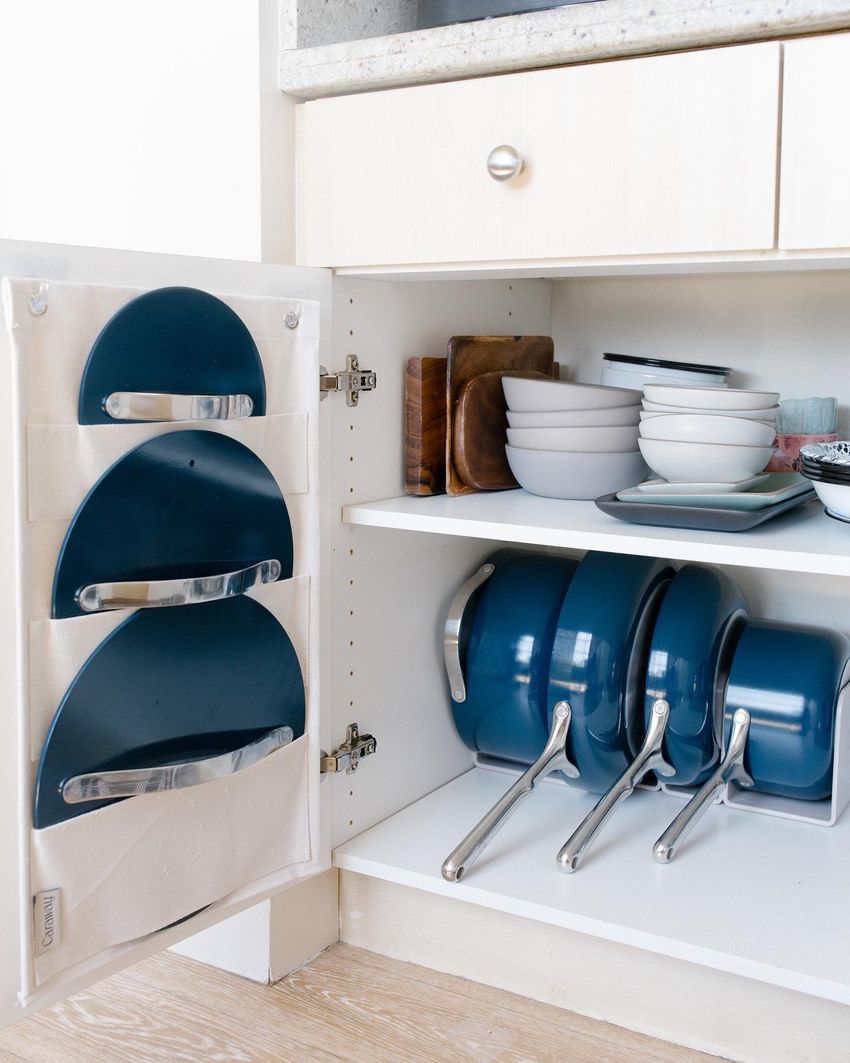 Utensil Drawer Organization
A utensil drawer insert is a must. This one also stores your cutting knives and a rolling pin.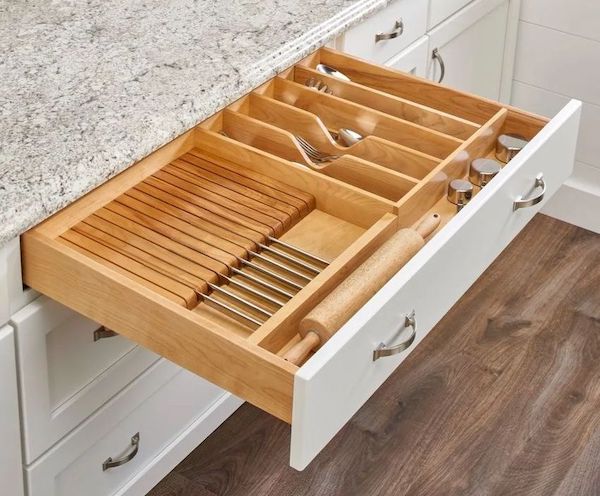 Coffee & Tea Organization
Keep your coffee pods and tea bags squarely organized in their own drawer near your coffee machine!
Junk Drawer Organization
Everybody has a junk drawer with knick-knacks from around the house. Keep it organized with clear drawer inserts like these!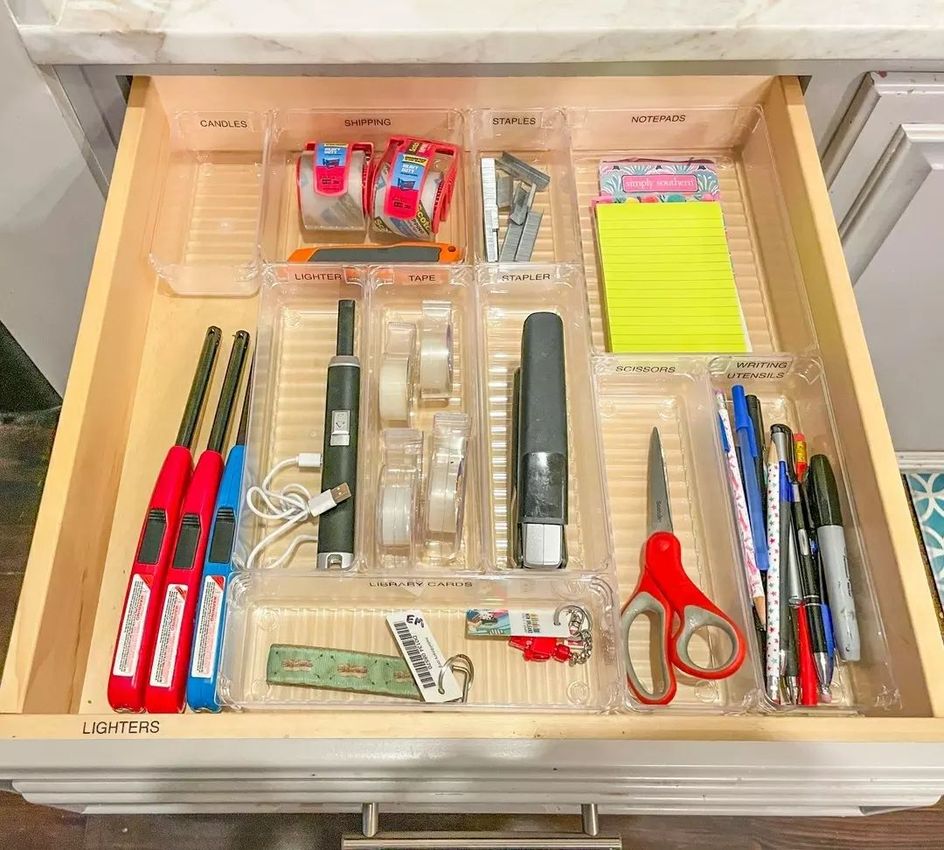 Dining Room Organization
Depending on how much you keep in your dining room, this space might not need much work. Nevertheless, here are some tips for keeping your dining room organized.
Hutch Shelving
If you have a china cabinet or hutch, use it to store away any extra dishes, silverware, or serving pieces. Instead of stacking heavy dishes on top of each other, use cabinet racks to create extra shelves and lift some of the weight off.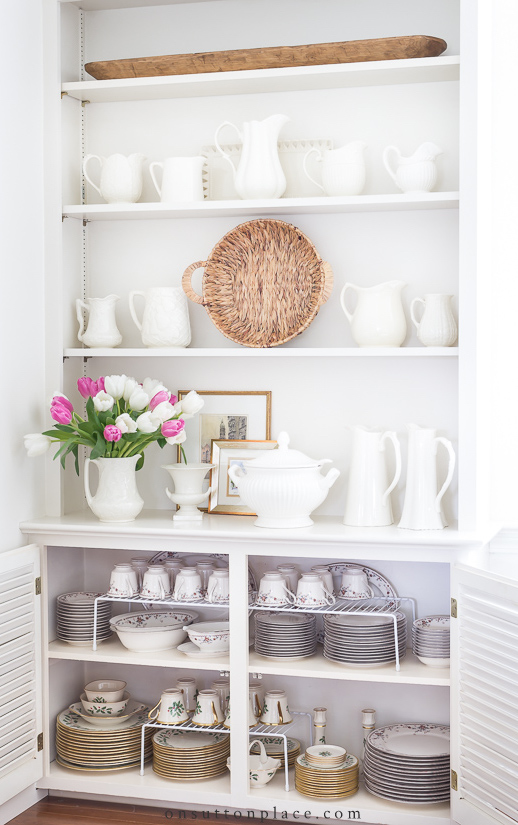 Buffet Storage
A buffet is also a great storage option for things like table linens, placemats, napkin rings, or napkins. Use baskets and shelf stands to separate groups of items.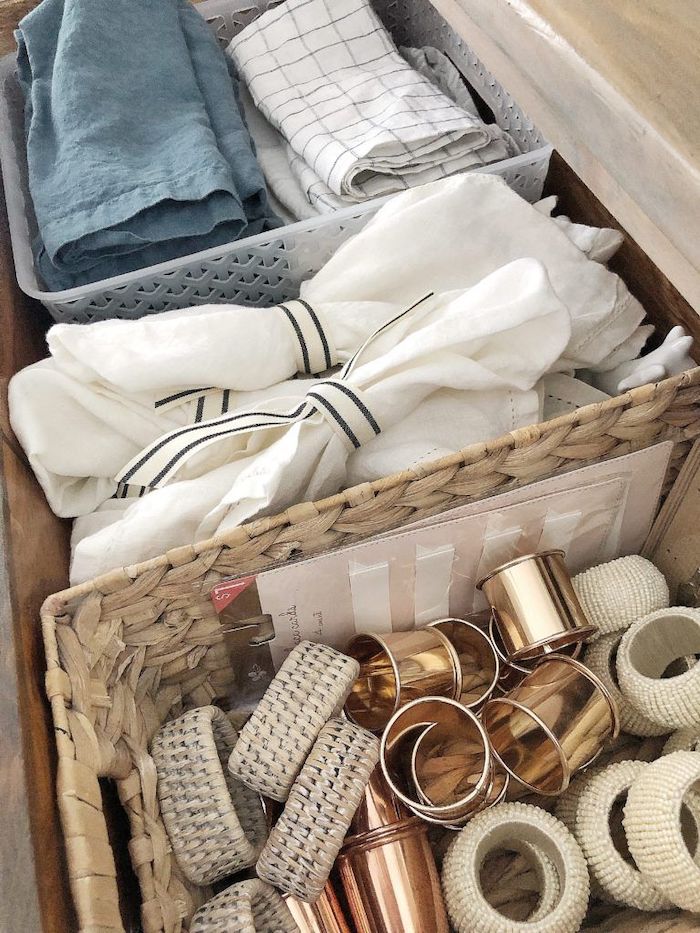 Bedroom Organization
Make your bed every morning as soon as you get up. This will help to set the tone for the rest of the day and make your bedroom look less cluttered. It'll help your bedroom look neater and more put-together. Invest in a dresser or chest of drawers to store away any clothes or other items. Keep a laundry hamper in your bedroom to make it easy to throw dirty clothes in when necessary. These are the best bedroom organization tips!
Dresser Organization
Add some dresser organization items like drawer dividers or drawer inserts. Instead of stacking your clothes, try filing them like you would paperwork!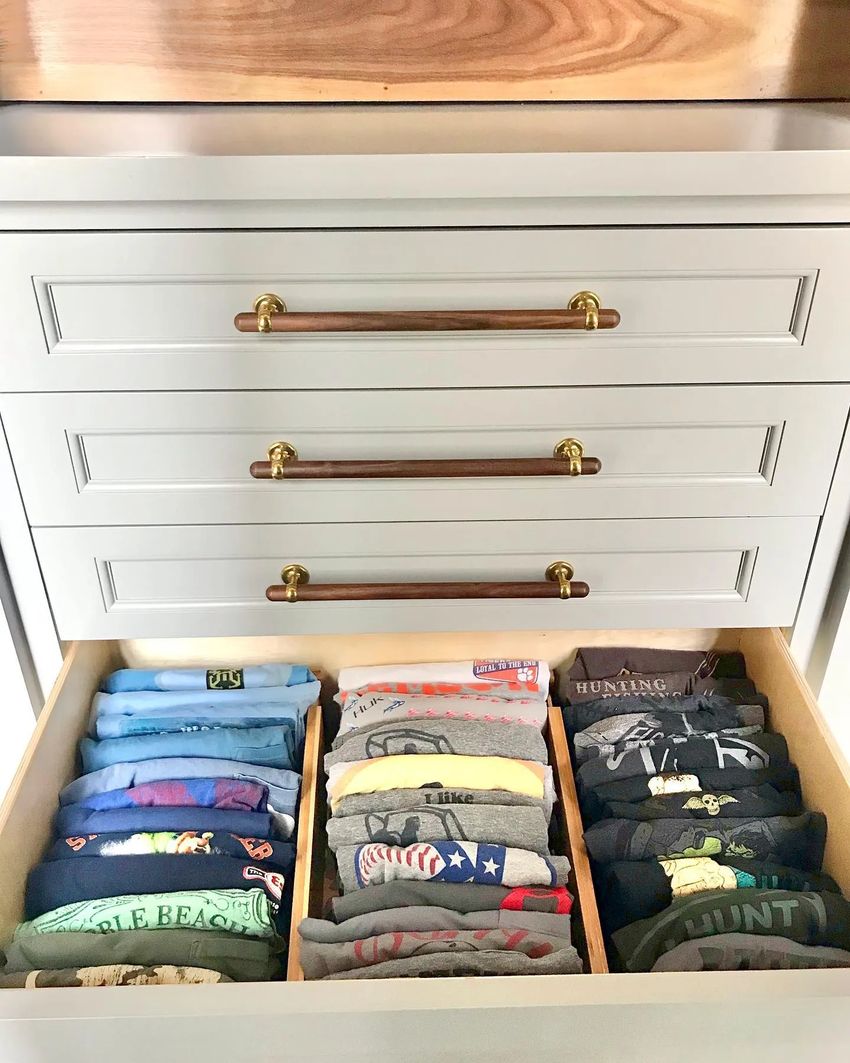 Nightstand Organization
Don't forget to organize your nightstand so you can find what you need before bed easily each evening.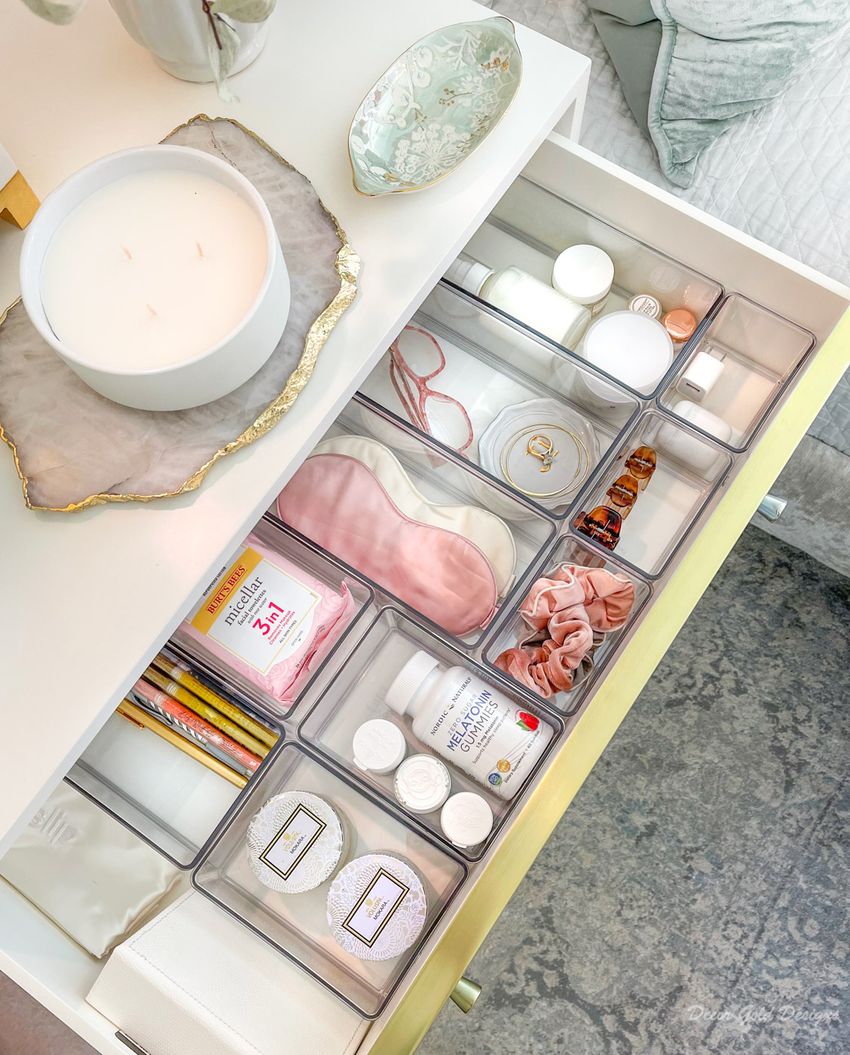 Bathroom Organization
Utilize the space below your bathroom sink to organize your hair, body care, and beauty products. Use baskets or bins to store away any toiletries, towels, or other items that might make your bathroom look cluttered. Keep a covered trash can in your bathroom to make it easy to dispose of any waste.
Bathroom Cabinet Organization
Use baskets to store larger items in your bathroom cabinets and trays to keep smaller items together. Bath towels can be stacked on shelves directly for easy access.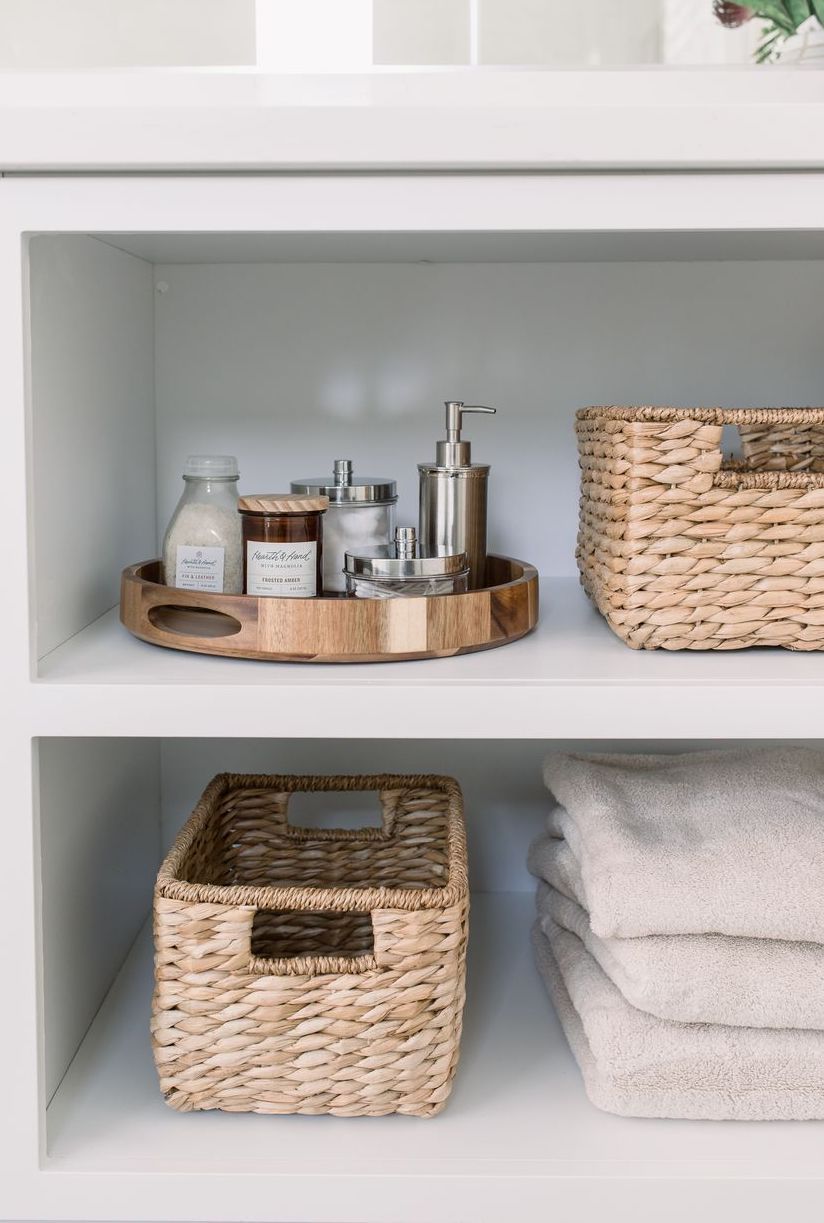 Medicine Cabinet Organization
Keeping your medicine in clear bins can make it easier to find them when you are sick. You can group medicine by ailment or illness.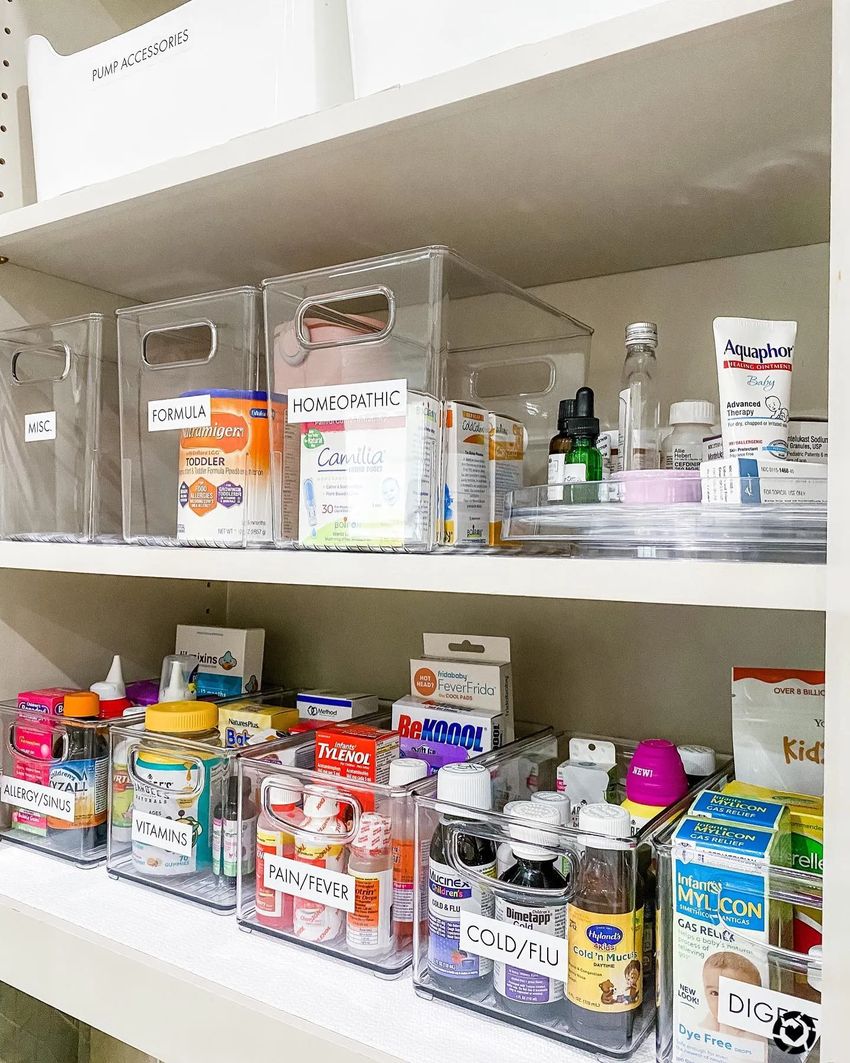 Bathroom Drawer Organization
Use drawer inserts to separate small bathroom toiletries like Q-tips, cotton balls, cotton pads, makeup remover, and skincare products.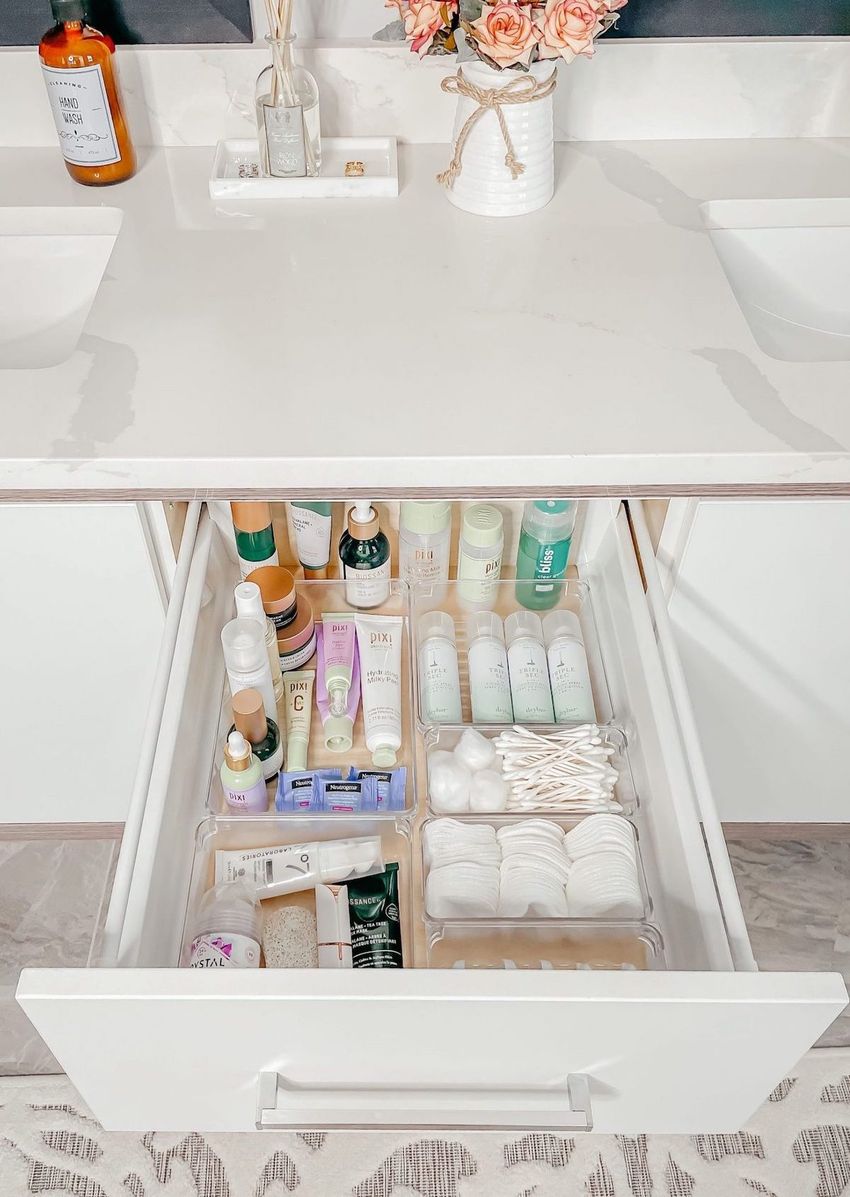 Makeup Organization
The most common ways to store makeup are either with inserts in a bathroom drawer or using an acrylic makeup organizer that sits on the bathroom vanity countertop. If you have lots of makeup, a drawer would be perfect, while moderate amounts of makeup can be stored in a small organizer to keep it from looking too cluttered.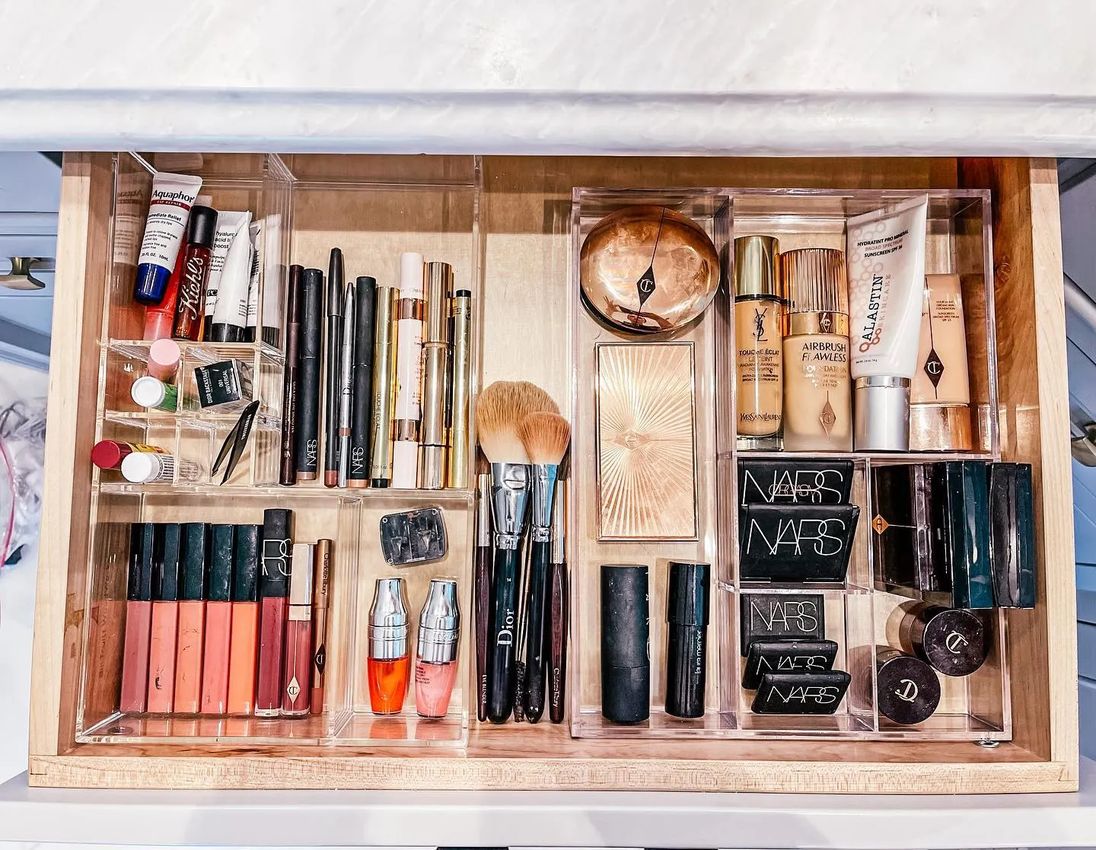 Under Bathroom Sink Organization
Lots of different products can be stored under the bathroom sink such as cleaning supplies, toilet paper, hair dryers, soaps, and more. Use drawers and stacking shelves to keep things orderly.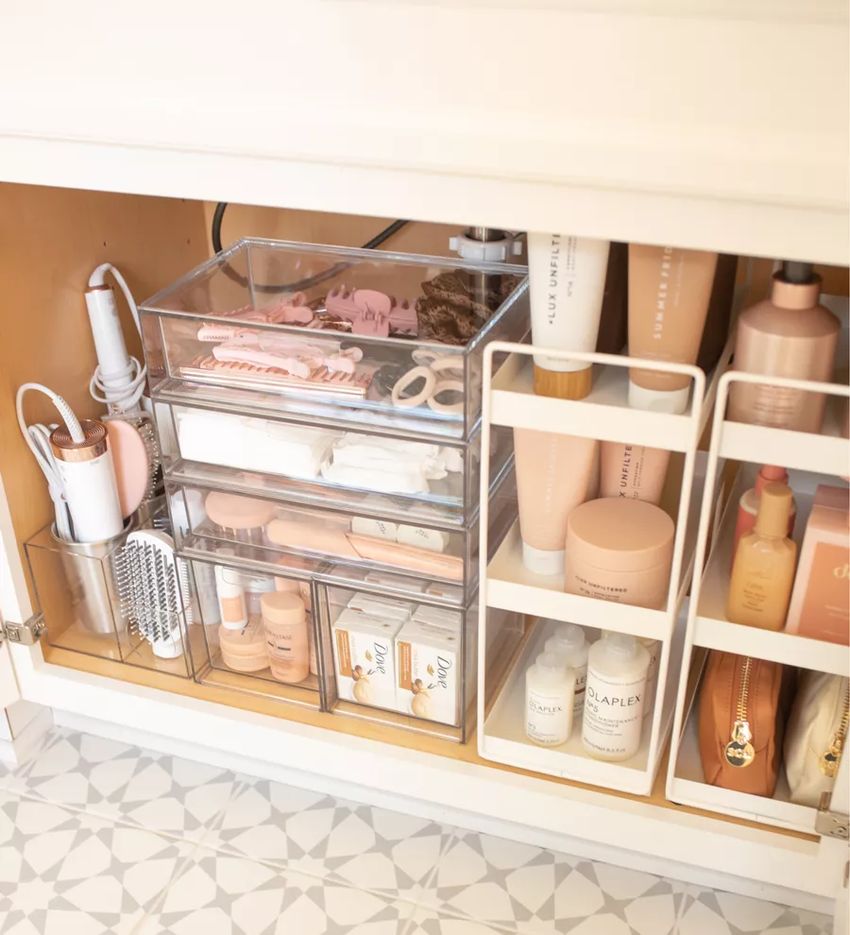 Shower Organization
A shower caddy can be hung on your shower head or attached to the wall if you don't have built-in shelves in your shower.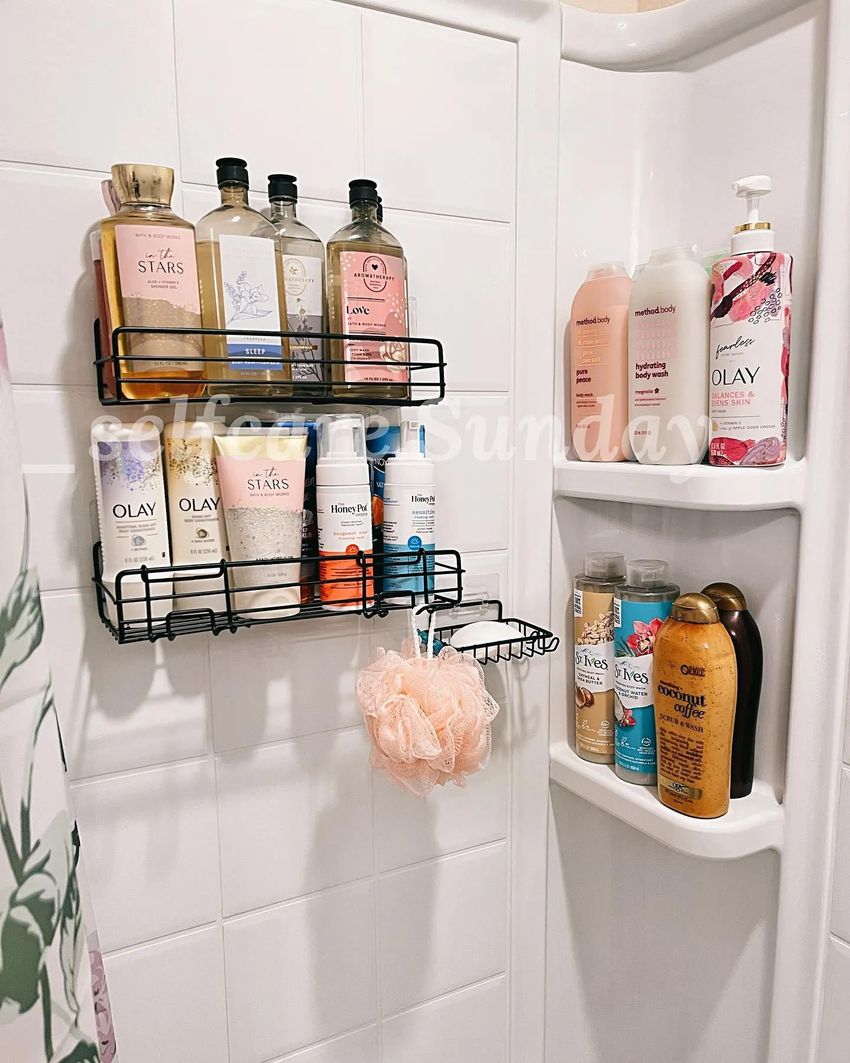 Home Office Organization
Use a filing cabinet or storage bins to keep any important papers or documents organized. Add some shelves to store away books, binders, or other office supplies. Hang a whiteboard or corkboard on the wall in your home office to help keep track of any deadlines, appointments, or other important information. Invest in a comfortable chair to help you stay focused and productive while you're working!
Office Desktop Organization
From stacking cups to desktop organizers to magazine holders and paper filing baskets, there are lots of ways to organize your home office desktop.
Desk Drawer Organization
Desk drawer organization is important for keeping all your office supplies in place. Dividers or baskets can keep them from sliding all over the place and getting messy.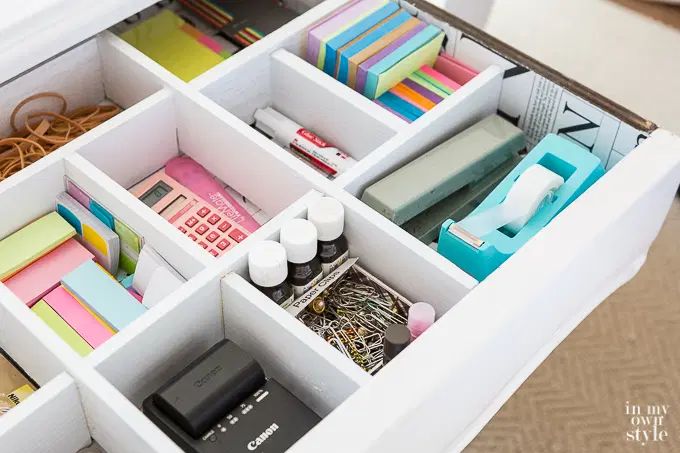 Laundry Room Organization
Staying organized in the laundry room is a must if you have a big family. Keep your detergents and fabric softeners organized in their own glass jars or tucked away in drawers. Use baskets in the cabinets to keep dirty clothes separated by color or fabric.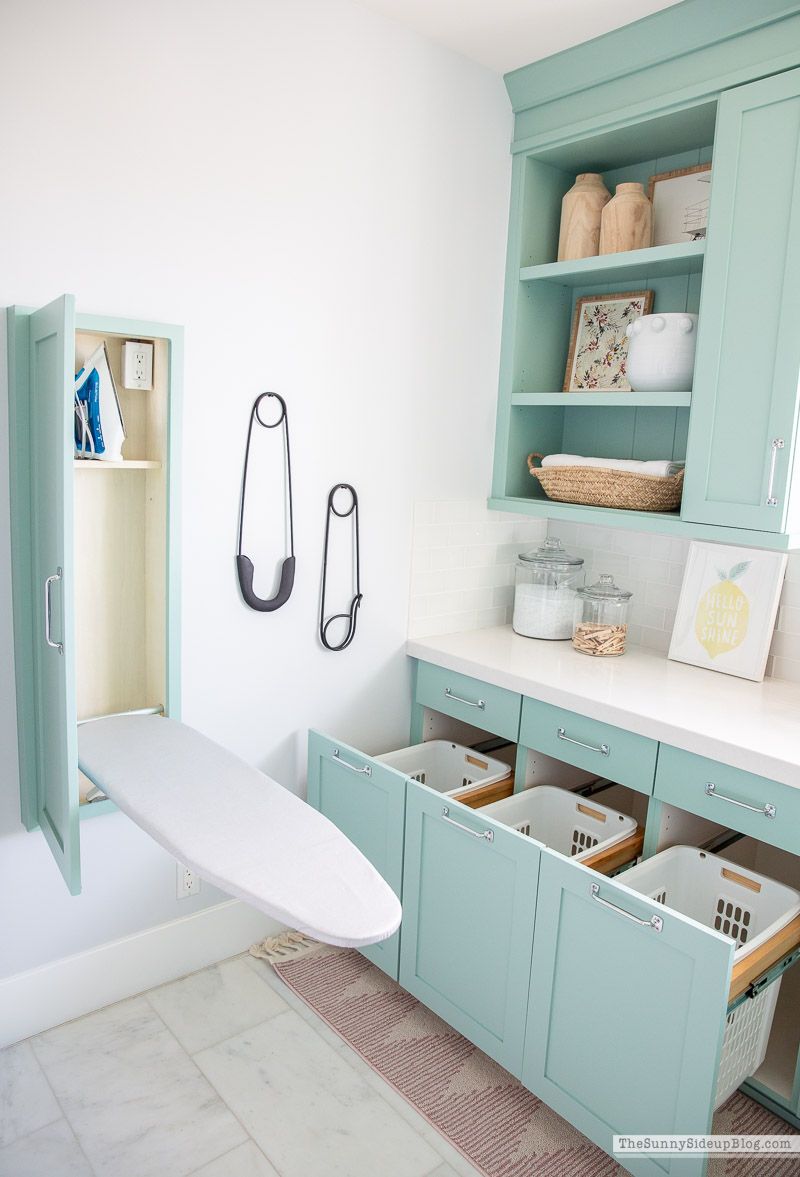 Closet Organization
All types of closets need organizing too! From bedroom closets to linen closets to utility closets, make use of wicker baskets, clear bins with labels, and wall shelves to keep your closet spaces uncluttered.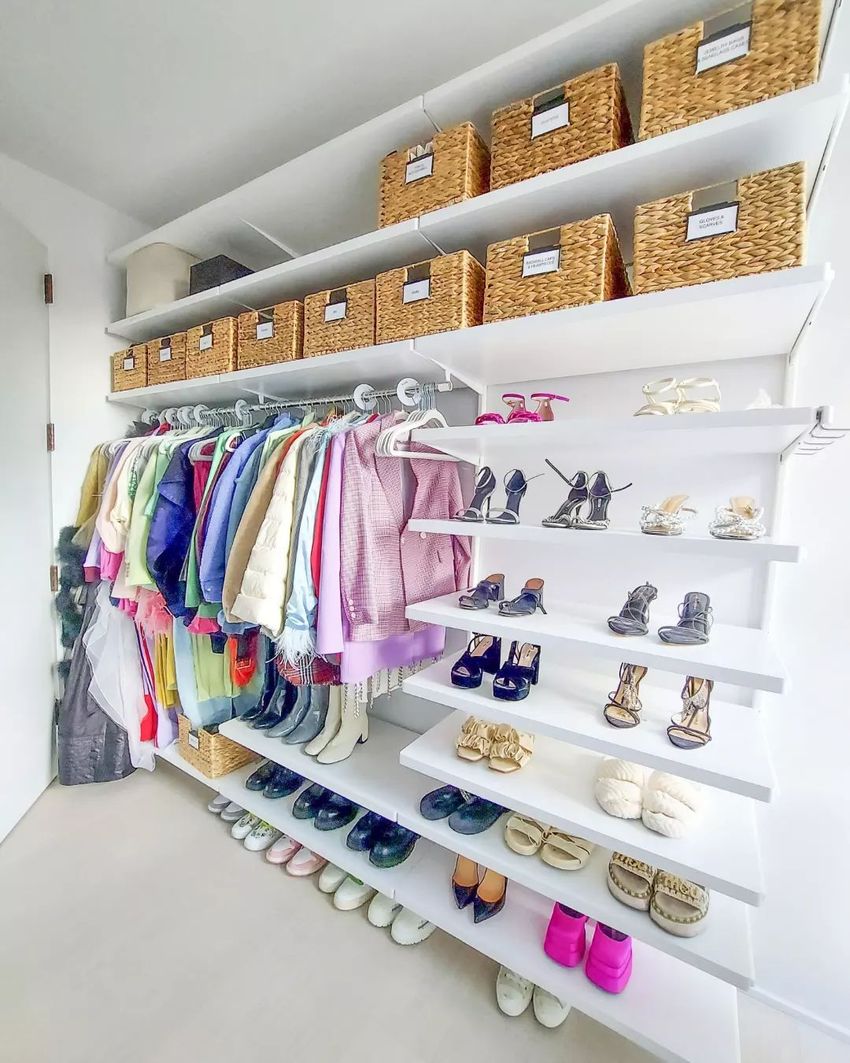 ---
Now that you have some organization ideas for every room in your house, you're well on your way to having a clutter-free home! Just remember to take things one step at a time and be patient- ridding your home of clutter won't happen overnight. But if you stay consistent with your organizational efforts, eventually you'll have the neat and tidy home of your dreams.