Over-the-door organizers are a great way to maximize storage space in any room of the house. They come in different sizes, shapes, and materials, and are used to neatly organize many different items. But what do you put in an over-the-door organizer? The answer depends on the type of organizer and the room where it will be used. Let's get into the details on these awesome home organizing products!
Where to Use an Over-the-Door Organizer
In the bathroom, over-the-door organizers are handy for storing toiletries, towels, and cleaning supplies. A mesh or wire basket can hold hair styling tools, while a clear plastic pocket organizer can keep makeup and brushes organized.
In the bedroom or closet, an over-the-door shoe organizer can be used to store shoes, belts, scarves, and even jewelry.
In the kitchen, over-the-door organizers are great for keeping spices, canned goods, and cleaning supplies organized. A pantry door organizer can hold snacks, baking supplies, and cooking utensils.
What to Put Inside
What are some common items that can be stored in an over-the-door organizer? Over-the-door organizers can hold all types of personal effects, including shoes, hats, scarves, gloves, bags, jewelry, cleaning supplies, toiletries, and pantry items. They are especially useful for small items that can become cluttered and difficult to find.
Types of Over-the-Door Organizers
Over-the-door organizers are an efficient way to utilize space in homes, offering extra storage and organization options. These kinds of hanging door organizers come in various types, styles, and functions.
Here's an overview of the different types of hanging organizers:
Shoe Organizers
Designed specifically to store shoes, these often come with clear or mesh pockets that hold pairs of shoes. The transparent or mesh pockets make it easier to identify the shoes. They usually hang over the entryway closet doors, clothing closet doors, or general bedroom doors.
The best-selling mesh over-the-door shoe organizer on Amazon
I recently purchased the best-selling over-the-door hanging organizer for sale on Amazon, called the Gorilla Grip Slip Resistant Mesh 24 Pocket Shoe Organizer. It's a fantastic product if you're in the market for one of these solutions.
This particular organizer can hold up to 40 pounds worth of weight. It has 24 large shoe pockets which neatly fit one of my size 7 shoes. It's made of a thin mesh material that allows objects inside to "breathe" and air out. Four metal hooks easily slip through the holes and over the door which means there's no installation or assembly whatsoever. The product comes in 11 different colors but I went with white so it blends in with my door paint color.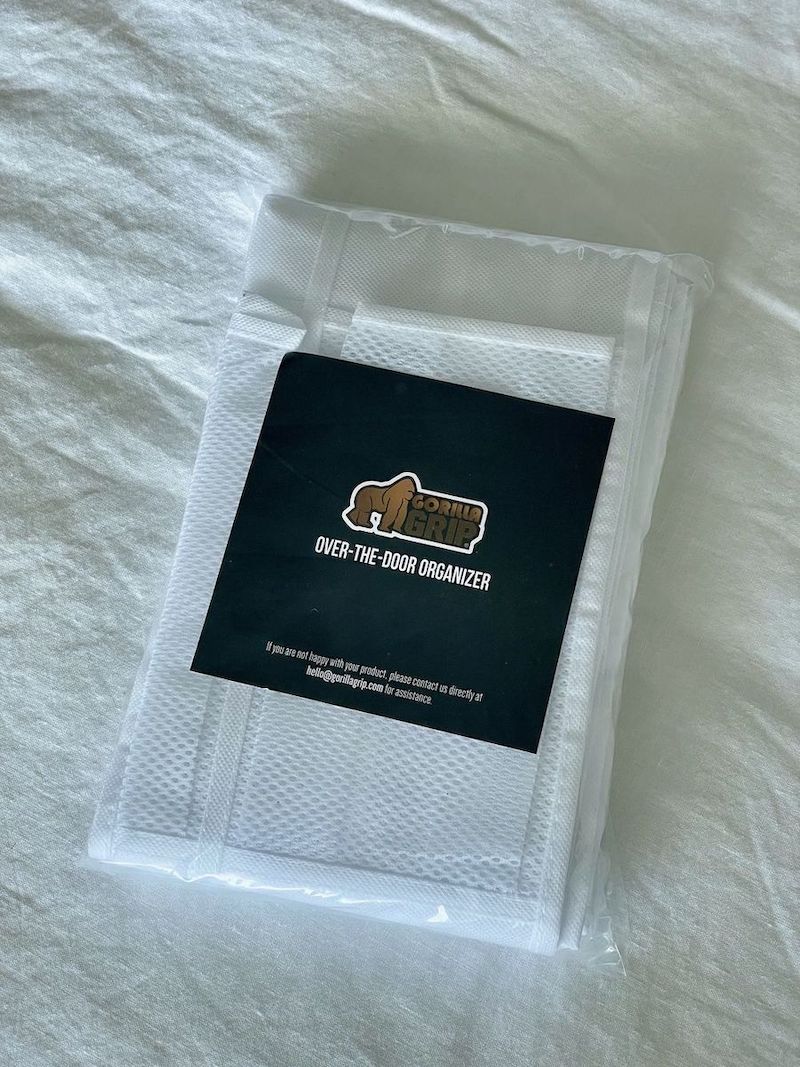 What types of over-the-door organizers are best for shoes?
Over-the-door shoe organizers typically come in two types: those with pockets and those with racks. Pocket organizers are great for storing flats, sandals, and sneakers, while rack organizers are better for heels and boots. Look for organizers with clear pockets or racks that allow you to easily see and access your shoes.
Pantry and Kitchen Organizers
For spices, canned goods, and other pantry items, over-the-door organizers can have multiple shelves or baskets. They are commonly made of wire or plastic and can include adjustable shelving to fit different-sized items.
What are some creative ways to use an over-the-door organizer in a pantry?
Over-the-door organizers are a fantastic space-saving solution for pantries. Use them to store snacks, spices, condiments, and other small items. You can also use them to store cleaning supplies or to hang reusable grocery bags.
Bathroom Organizers
These types of organizers are crafted to hold loofahs, towels, robes, and other bathroom essentials. They might have hooks for hanging towels, pockets for personal care products, or wire baskets for larger items. Being resistant to moisture is a typical feature of bathroom over-the-door organizers.
Can an over-the-door organizer be used in a bathroom?
Yes, over-the-door organizers are a great way to organize toiletries, towels, and cleaning supplies in a bathroom. Look for organizers made of water-resistant materials and with hooks that hold fluffy bath robes and wet towels.
Shower Door Caddy Organizer
Shower Door Caddy Organizers are designed to hang over the shower door and provide convenient storage space for bathroom essentials such as shampoos, soaps, razors, and sponges. Taking advantage of the often-unused space on the shower door, these organizers help keep the bathroom clutter-free and bathtime products within easy reach during a shower.
Bathroom Organizers with Hooks
Organizers with hooks are great for the bathroom as you can hang towels and bath robes on the hooks. Use the upper shelves for shower gels, shampoos, and conditioners.
How many hooks should an over-the-door organizer have?
The number of hooks an over-the-door organizer should have depends on the size and weight of the items you plan to store. For lighter items such as scarves or hats, a few hooks may be sufficient. For heavier items such as coats or bags, look for organizers with more hooks or sturdy hooks that can support the weight of wet towels.
General Purpose Organizers
These organizers are versatile and can be used in any room. They may consist of hooks, pockets, shelves, or a combination of these, and are used for anything from office supplies in a home office to toys in a child's room.
What materials are over-the-door organizers typically made of?
Over-the-door organizers are made of a variety of materials, including fabric, plastic, metal, and wire. Fabric organizers are soft and lightweight, while plastic and metal organizers are more durable and sturdy. Wire organizers are great for storing items that need to be aired out, such as shoes or gym clothes.
Over-the-Door Clothing Rods
Featuring various sections to hang clothes, bags, accessories, or hats, these organizers help in maximizing wardrobe space. Some even include mirrors and additional features tailored to clothing storage.
Nursery and Kids Room Organizers
Nursery and kids' room over-the-door organizers are tailored to hold and organize children's toys, clothing, school supplies, and other essentials in a child's living space. With designated compartments and features, these organizers facilitate easy access to items and help maintain a tidy and playful environment conducive to a child's growth and creativity.
Laundry and Utility Room Organizers
Often equipped with large pockets or compartments and made of metal racks, these organizing racks are useful for holding laundry-related items like detergents, fabric softeners, and cleaning supplies. Some models might include a fold-down ironing board as a space-saving feature.
Those are the major types of over-the-door organizers available for different areas of the home. Which is your favorite way to use an over-the-door organizer?