Welcome to a space where clutter meets its match, and the chaos of everyday living finds solace in order and serenity! If you, like many of us, have found yourself overwhelmed by a disorganized home, you are not alone. The quest for a streamlined and aesthetically pleasing living environment is one shared by many, and the solution lies in home organization products.
These aren't just tools; they are a lifestyle that fosters efficiency, joy, and a breath of fresh air in spaces that could otherwise become stifling. The world of bins, shelves, hooks, and more, is full of simple yet innovative organization products that can transform your living space into a haven of order and tranquility.
If you've already read our best home organization ideas and are ready to get down into the nitty-gritty of actually organizing your home, you've come to the right place.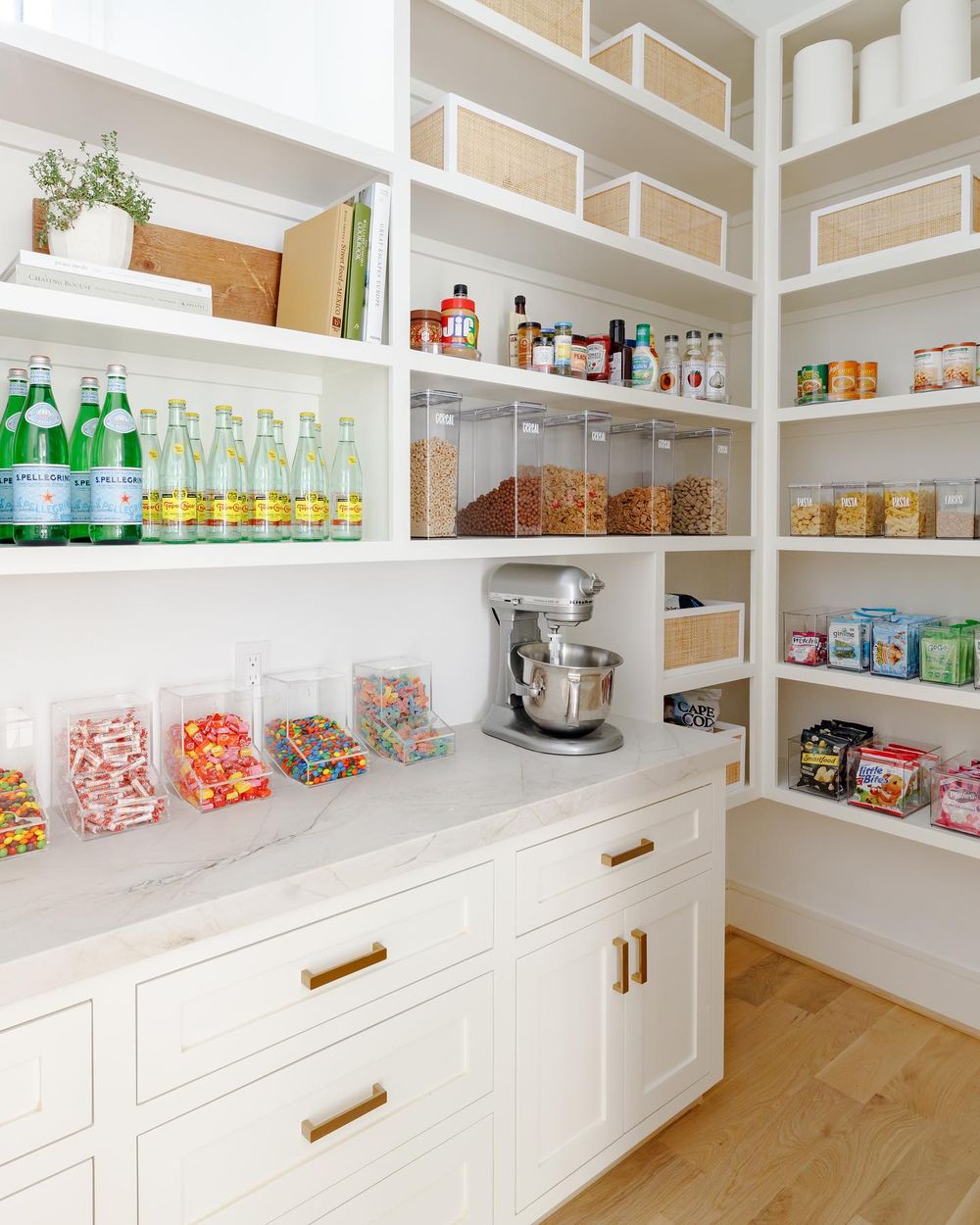 Drawer Dividers
Say goodbye to messy drawers with the help of drawer dividers and drawer organizers. These nifty dividers and trays keep your drawers tidy and ensure that every item has its designated spot. Use them in the bedroom for jewelry, socks, and accessories. These are also useful in the home office for stationery, or in the bathroom for small items you lose easily!
Laundry Hampers and Sorters
I like to pre-sort my laundry using laundry sorting units that have multiple slots. This makes it easier to do laundry quickly when it needs to be done. Good laundry hampers have several different compartments for sorting laundry by color or fabric type.
Over-the-Door Organizers
Make the most of your door space with over-the-door storage solutions. Hang organizers with pockets on the back of pantry doors for spices and kitchen supplies, or on bedroom doors for shoes, accessories, and small items. These versatile storage options are easy to install and utilize often-overlooked space. These home storage products are great for holding shoes, cleaning supplies, pantry items, etc. They can be particularly useful in smaller homes or apartments.
Shoe Organizers
Shoe organizers can keep your shoe collection neat and orderly. You can go with freestanding shoe racks on the floor of your closet, an over-the-door pouch organizer, or place individual transparent shoe boxes where they fit. These tools can help keep your shoe closet tidy and make it easy to find the pair you're looking for.
Under the Bathroom Sink Organizers
You can use under-the-sink organizers in your bathroom to organize different cleaning products and daily toiletry essentials.
Under the Kitchen Sink Organizers
Under the Kitchen Sink Organizers are designed to maximize the storage space in the often cramped area beneath the sink. They allow for the orderly arrangement of cleaning supplies, tools, and other household items, making them easily accessible. By providing a tailored organizing solution, these organizers help in maintaining a clutter-free environment, enhancing the overall functionality and aesthetics of the kitchen space.
Plastic Stackable Organizer Bins with Drawers
Plastic Stackable Organizer Bins with Drawers can be utilized at home to compartmentalize and store various small items, keeping them organized and easily accessible. They are ideal for sorting items like craft supplies, hardware, toys, or office materials. These bins can be placed in different rooms, from the kitchen to the garage, to enhance space utilization. By stacking them, you can create a customized storage solution that fits your specific needs without taking up too much space.
Over-the-Toilet Shelving Units
Lots of people forget to utilize the space above their toilet for extra storage and organization for smaller products like hand towels, toilet paper, and bathroom fresheners.
Flatware Organizer Trays
Keeping your forks, knives, and spoons separated in different containers is a must for getting the flatware and cutlery you need quickly from your kitchen drawer. Silverware trays are the perfect solution!
Pantry Organizer Bins
There are so many options when it comes to pantry organization. Pantry organizing and storage bins can keep your pantry or kitchen cabinets neat and functional. Pantry organizing and storage bins are essential tools for keeping food and other pantry items neat, accessible, and in good condition.
These bins are typically designed to fit pantry shelves and can be used to group similar items together, such as canned goods, grains, or snacks, making them easy to locate and retrieve. By using these bins, you can avoid clutter and make more efficient use of pantry space.
Not to mention, you'll reduce the risk of items getting lost or forgotten in the back of the pantry! They come in various sizes and materials, allowing for customization, functionality of the kitchen, and an efficient food storage system.
Mini Shelf Risers
Mini Shelf Risers are small, typically adjustable platforms designed to elevate items on a shelf or countertop, thus creating more storage space underneath. They can be used in various areas of the home such as the kitchen, bathroom, or office to organize items like spices, canned goods, toiletries, or small office supplies. By providing extra vertical space, Mini Shelf Risers allow you to store items in a more organized and accessible way, making them particularly useful in areas with limited space.
Clear Glass Jars with Lids
Clear Glass Jars with Lids are versatile containers that are commonly used in various settings within the home. Their transparent nature allows you to easily view the contents, making them ideal for storing food items such as spices, grains, jams, or pickles in the kitchen. The airtight lids ensure that the contents remain fresh and protected from moisture or other contaminants. In addition to food storage, Clear Glass Jars with Lids can be used for organizing small household items.
Rotating Beauty Product Organizers
I discovered this product on Tiktok and think it looks amazing for organizing your skincare bottles, makeup, perfume bottles, and more cosmetics on the bathroom counter.
Jewelry Boxes
From simple jewelry boxes to wall-mounted displays, jewelry organizers can keep necklaces, bracelets, rings, and earrings organized and tangle-free.
Decorative Trays
Decorative trays are great for keeping small objects grouped together. I use a simple tray on my entryway console table to keep my wallet, keys, lipstick bag, and sunglasses in plain sight before leaving the house. This ensures I won't forget them!