Looking at De Gournay wallpaper is like stepping inside a magical world, or maybe just inside the film, Marie Antoinette.
De Gournay is a luxury wallpaper brand that is known for its hand-painted designs and exquisite craftsmanship. The company was founded by Claude-Victor De Gournay in Paris in 1794, and it has been creating beautiful wallpapers for over two centuries.
De Gournay wallpaper is traditionally made using a technique called pochoir, which involves stenciling designs onto paper by hand. The designs are then painted with delicate brushstrokes, creating a unique and beautiful effect. Each panel of wallpaper is painted by hand, and the process can take up to 200 hours to complete.
In the 19th century, De Gournay opened a factory in China to produce its wallpapers, taking advantage of the country's skilled artisans and rich tradition of hand-painted decorative arts. Today, the company still produces many of its wallpapers in China, using the same traditional techniques and materials.
De Gournay's wallpapers are known for their intricate designs and attention to detail. Many of the designs are inspired by nature, featuring birds, flowers, and other natural elements. The company also offers custom designs, allowing customers to create bespoke wallpapers that are tailored to their specific needs.
Over the years, De Gournay wallpaper has been used in some of the world's most prestigious homes and buildings, including the Palace of Versailles, the Ritz Carlton Hotel, and the homes of celebrities such as Beyoncé and Jay-Z. Today, the company remains a leader in the luxury wallpaper market, offering beautiful and unique designs that are unmatched in their quality and craftsmanship.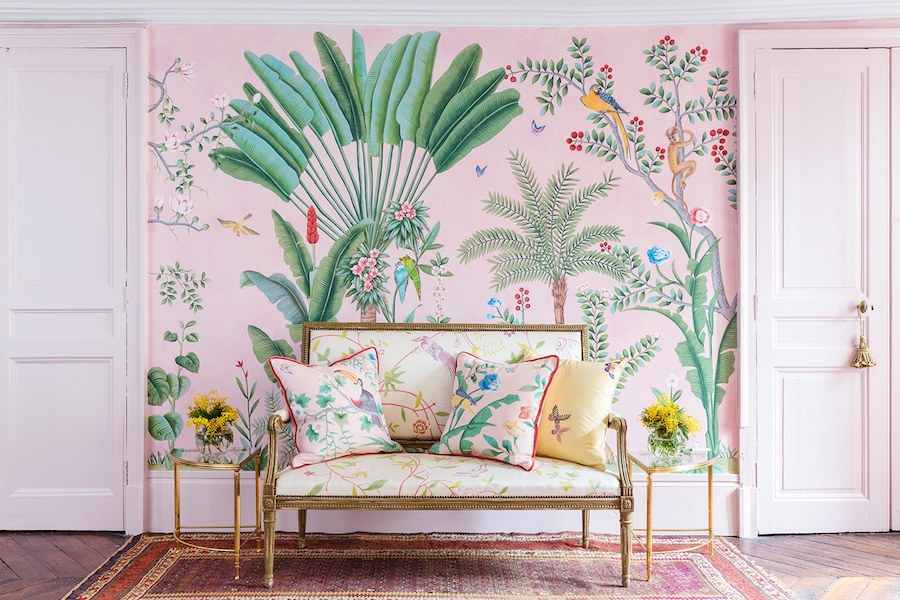 This particular wallpaper is the result of a collaboration with the celebrated shoe designer Aquazzura. Inspired by the designer's Italian headquarters, the wallpaper pulls its style from 19th-century botanical drawings and traditional chinoiserie wallpaper. Set against a soft blush pink, the wallpaper is calming and exciting at the same time. Parrots and monkeys perch atop the green trees on the wallpaper which functions as art in and of itself!