There's something so cozy and charming about the look and feel of English country decor. From floral chintz fabrics to wood beams on the ceiling, this style brings the quaint countryside into your home.
An important element in achieving the English country look is choosing the right tableware for your dining room. The table is the heart of the home, where family and friends gather to enjoy a meal and each other's company.
Today we'll explore the key characteristics of English country style tableware. From vintage china patterns to rustic pottery, we'll cover the essential dishes, glassware, and linens you need to set a properly English country table.
So brew a cup of tea and join me as we dive into the world of English country tableware! What makes a tableware and linen collection truly capture the essence of English country style? Let's find out!
Mixing textures and patterns helps capture the collected over time feel. Stick to classics like stripes and checks in neutral tones. Add whimsy with things like animal motifs and delicate florals. Incorporate natural materials like wood and stone for an organic look. Distressed and imperfect pieces give your tableware an antique charm.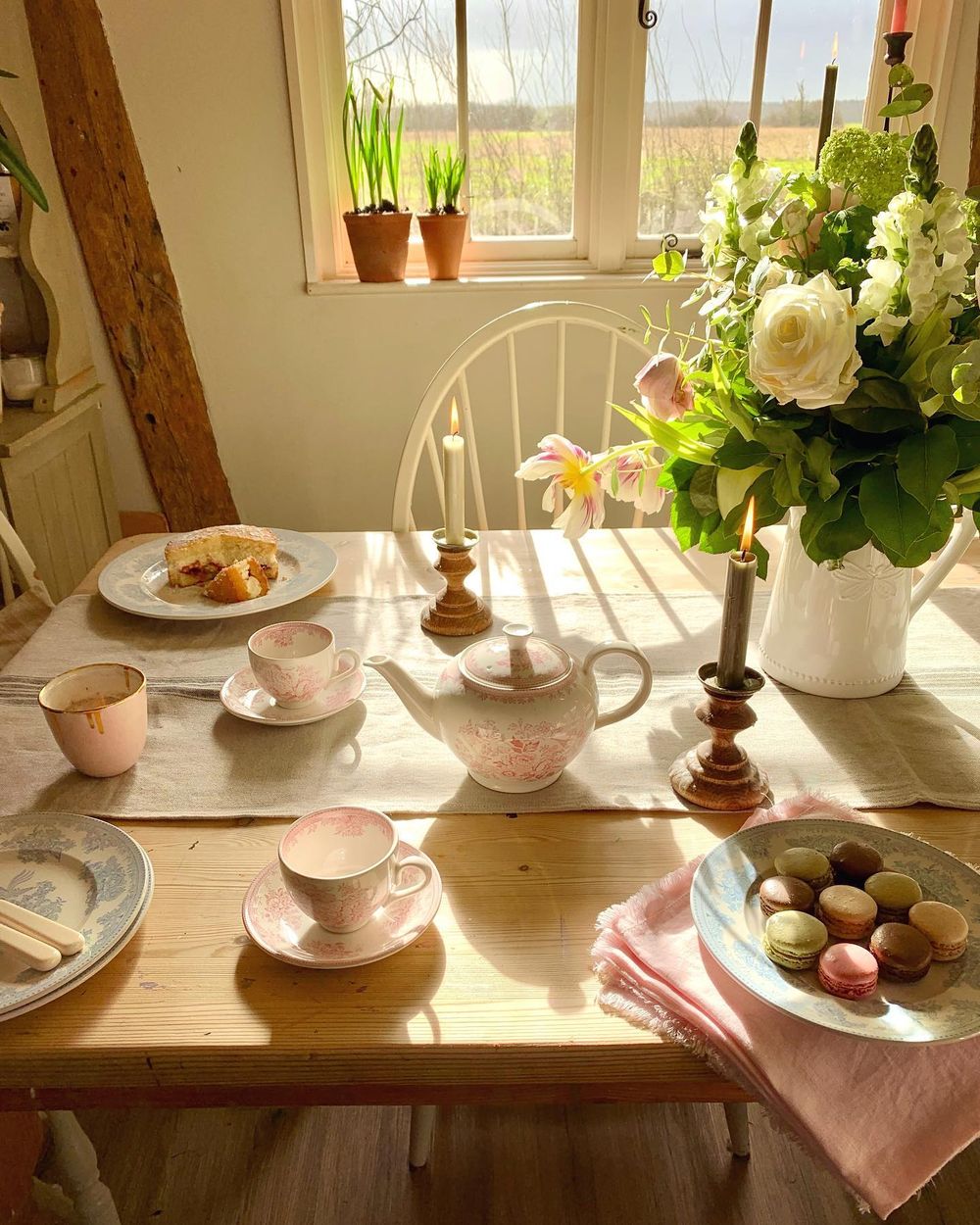 While these ideas are replicas, you could go hunting for authentic English tableware the next time you're across the pond if you like!
Here are some popular tableware brands from the UK:
Emma Bridgewater – Known for their colorful, handmade pottery including mugs, plates, and teapots with unique patterns.
Burleigh – Traditional English earthenware made in Staffordshire since 1851. They are known for their blue and white transferware.
Portmeirion – Made in Stoke-on-Trent, Portmeirion produces iconic tableware like their botanical Sophie Conran line and The Pottery Girls pattern.
Denby – Manufacturing stoneware tableware in Derbyshire since 1809, Denby is known for sleek, contemporary styling.
Royal Doulton – This company has a long heritage dating back to 1815. They produce bone china and porcelain tableware with classic and modern designs.
Cath Kidston – Known for their cheerful, vintage-inspired patterns covering everything from mugs to dinner sets.
Arthur Price – Prestigious flatware and tableware from this family-run Birmingham company since 1902. They hold a Royal Warrant.
Wedgwood – Dating back to 1759, Wedgwood is known for their classic blue jasperware as well as bone china and earthenware.
Royal Albert – This Stoke-on-Trent company has made ornate bone china since 1896. Their Old Country Roses pattern is iconic.
Churchill – Founded in 1961, Churchill produces English fine bone china tableware distinguished by its translucence.
I hope you enjoyed these English Country tableware ideas!