Coastal theme home decor ideas are a great way to make your home look like it is located on the beach or an island in the middle of an ocean! Coastal interior design is a popular decorating theme that is popping up in homes all over the country, even in non-beach homes.
Coastal decorating can be applied to any room in the house, but the living room tends to be the most popular for DIY coastal decor. This is because it's a central room in the house where the family spends the most time. Plus, we welcome lots of guests to our coastal beach home living room. For this reason, it's great to put lots of coastal DIY decor in there!
DIY Coastal Decorations & Home Decor
Don't rush into buying expensive coastal home decorations if you're on a budget. It's better to spend some time crafting what you need and make sure you are happy with the result.
One thing to note is that you will need to take your time when following the tutorials for making these items. Choosing something based on looks and appearances is excellent, but it is the execution that counts!
Let's dive into the best DIY coastal decorations and home decor ideas. You can create some beautiful handmade decor for your beach home with these handy tutorials.
DIY Blue Striped Coastal Farmhouse Wreath
I love this rustic coastal blue striped wreath which can be used indoors so outdoors to add a little nautical charm to your space. This is one coastal craft I'd be excited to make!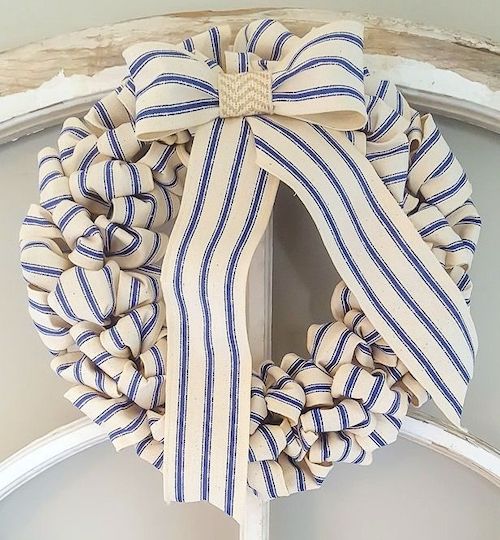 DIY Beach Style Crab Pillow Home Decor
Save some money by making this chic beach-style crab pillow at home one day.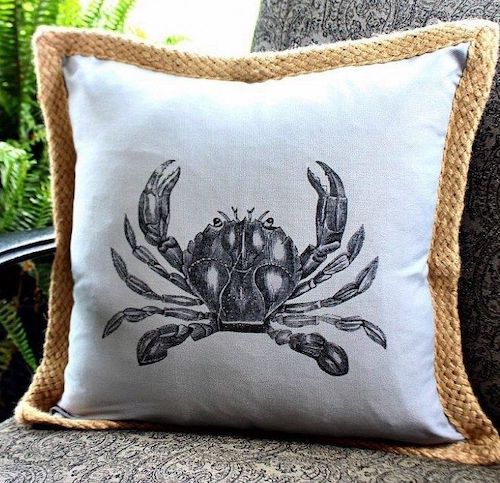 DIY Coastal Tic-Tac-Toe Game Decor
Buying multiple coastal coffee table decorations can add up fast, so why not make some yourself? This beautiful DIY tic-tac-toe game is decorative and fun for the kids! It's a win for all.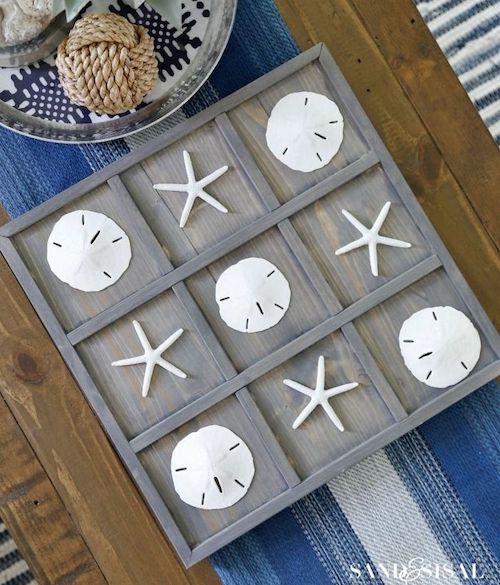 Fun fact, starfish are considered symbolic representations of luck and fortune. For centuries, people have been using this particular kind of fish to decorate their homes and other places. The best thing about having a starfish in your living room is that you can use it as an accent to different colors in your house.
Large Glass Buoys DIY Decor
This is one of the most beautiful DIY coastal decorations I've seen.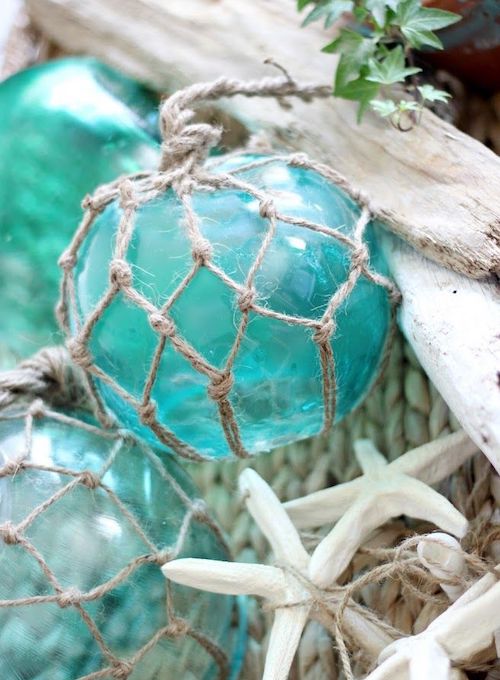 This is one of the best coastal DIY decor ideas. It does not only bring positive energy but also helps you in making the negative energy go away. Aside from bringing good luck, it is also great for the coastal vibe of your home.
DIY Coastal Rope Rug
This small coastal rope rug is a DIY decor project you can take on in an afternoon.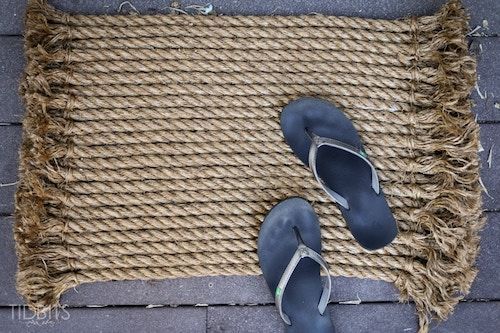 DIY Nautical beach house Wall Decor
These are some great nautical decorating ideas for wall and fireplace decor in a coastal home.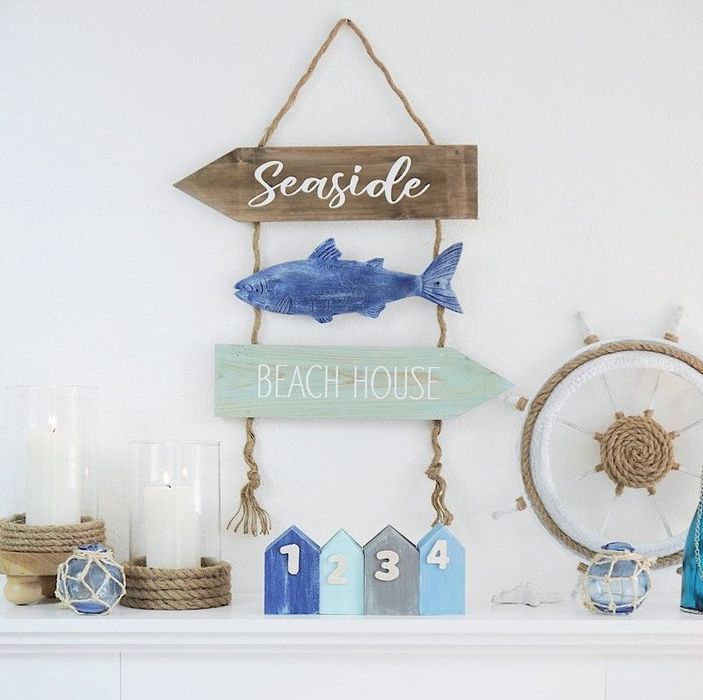 DIY Coastal Handmade Shell Candles
Make your white votives more beautiful and interesting with this DIY coastal shell candle tutorial. Shells are a must for your DIY coastal decorations collection!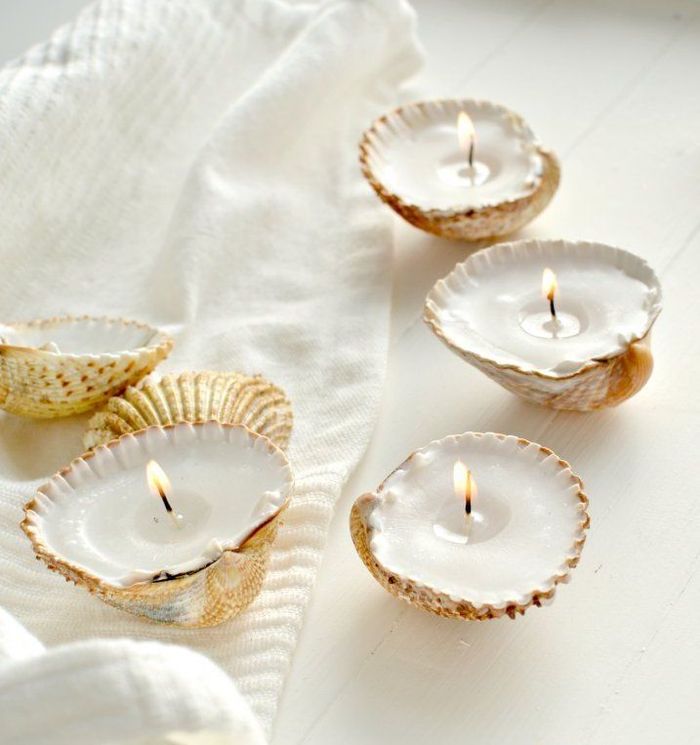 DIY Coastal Rope Coasters
Keep the condensation from your beverages from getting on your furniture with these budget-friendly DIY coastal rope coasters for drinks.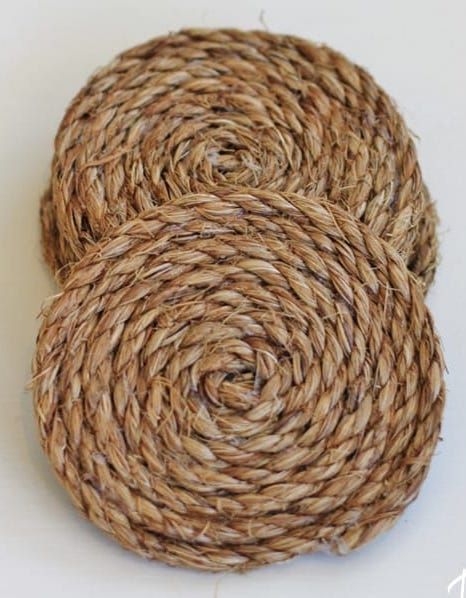 DIY Nautical Braided Doormat
Thi DIY braided doormat takes some skill and practice to get right, but once you do it looks gorgeous! I love the minimalist look of a modern coastal white weave.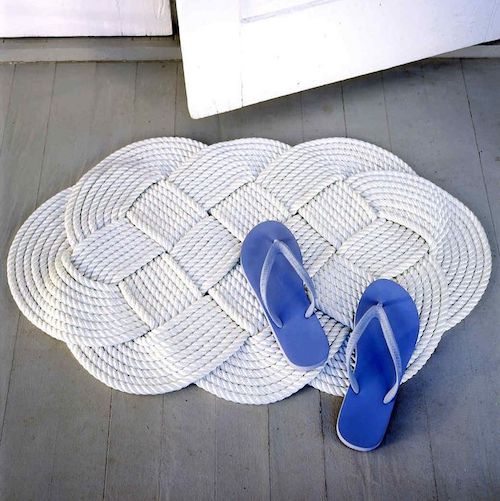 DIY Coral Tray
A coastal tray for serving drinks is always handy when you live by the sea! Serve your family and guests a refreshing beverage on this gorgeous DIY coral tray perfect for coastal homes.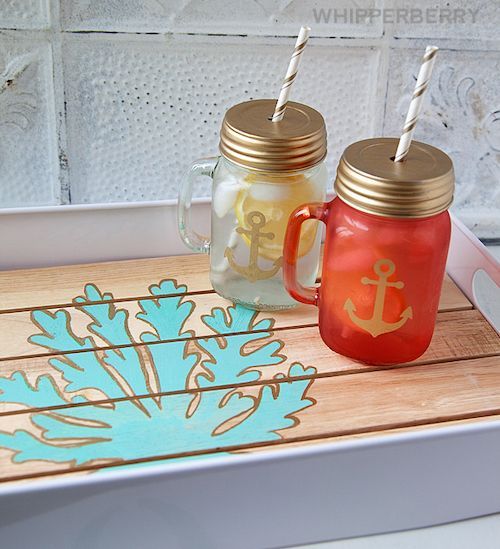 Coral is a really popular coastal decoration motif. By adding one or two coral shells, you can change the look of any room in your home from boring to beautiful. This can add a lot of seaside charm to any home. Not only will it add a lot of color to your home but it will also allow you to decorate using very little money since it is made from natural materials. Since this type of coastal DIY decor idea is not expensive, you can buy it anywhere such as online and at your local dollar store.
DIY Rope Nautical Wreath
This is a beautiful handmade nautical wreath you can make using rope and small coastal motifs.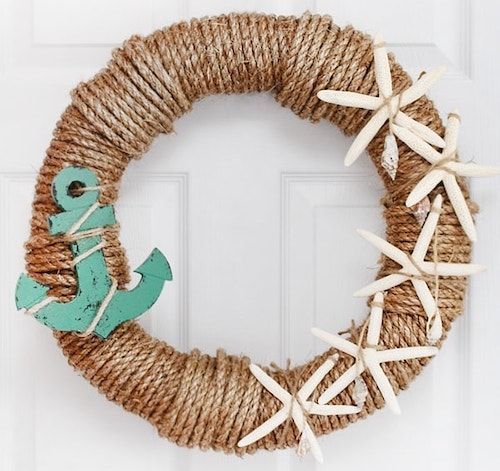 Blue Marbled Planter Pots
These blue marbled planter pots keep the sea blue theme of our coastal DIY decorations going strong. You can use them on the front porch or inside your home to keep small plants and succulents.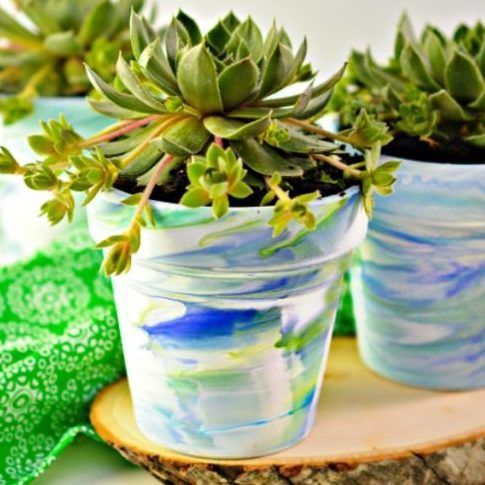 Nautical Wood Art for Beach Homes DIY
This creative piece of seaside art using a seashell and rope is a beautiful way to display some creative art in the home.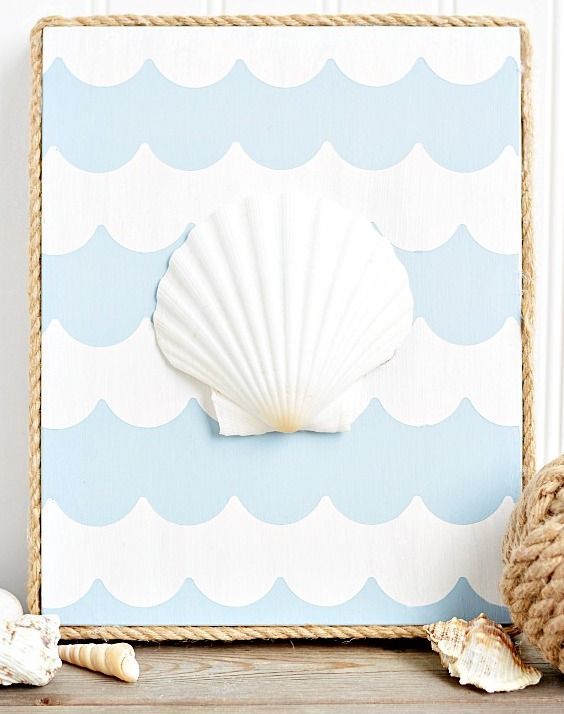 DIY Burlap Life Ring Buoy Wreath
This burlap wreath has been made to look like a floating life ring buoy! It can be hanged on the front door to welcome guests into your beach house.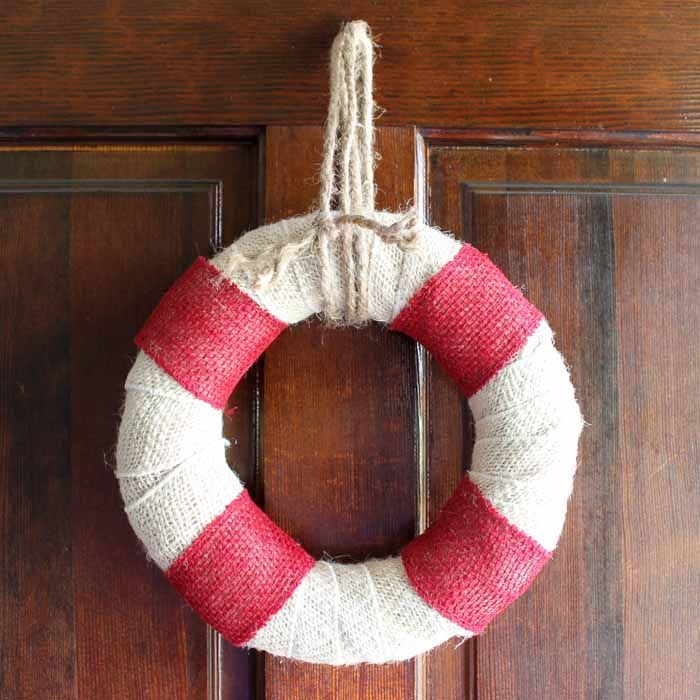 DIY Decorative Seashell Bottles
Seashell topped bottle stoppers can be used to stop bottles and make for beautiful decorations! I wonder if these could be used as wine stoppers too?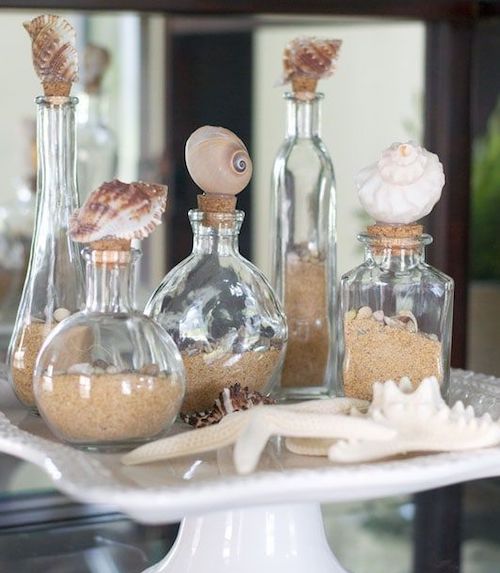 DIY Whale Coastal Pallet Art Decor
You can add different coastal motifs to wood pallets to make budget-friendly coastal art pieces like this one to use around the home!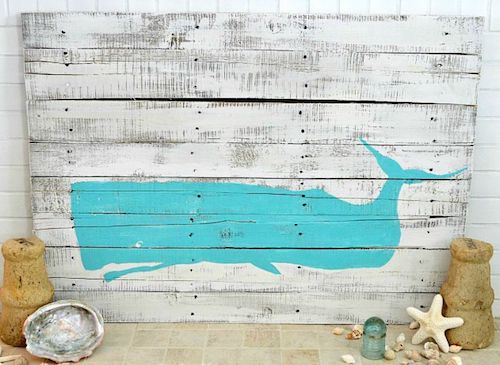 DIY Coastal Decor Sea Glass Rope Lantern
This is one of the most classic DIY coastal decorations. Use rope and sea glass to create this beautiful coastal lantern.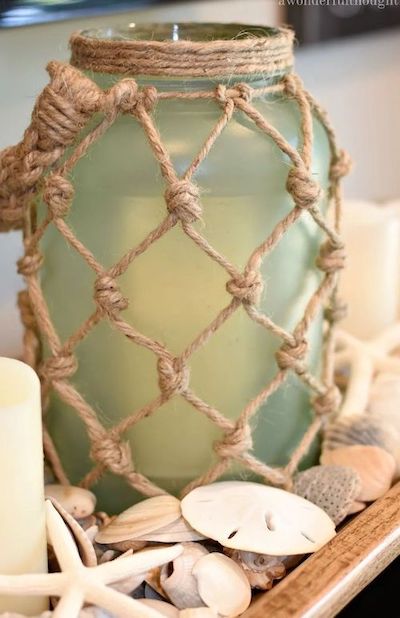 DIY Tropical DIY Aloha Seashell Pineapple Sign
Get a tropical vibe in your home on a budget with this DIY pineapple decoration tutorial.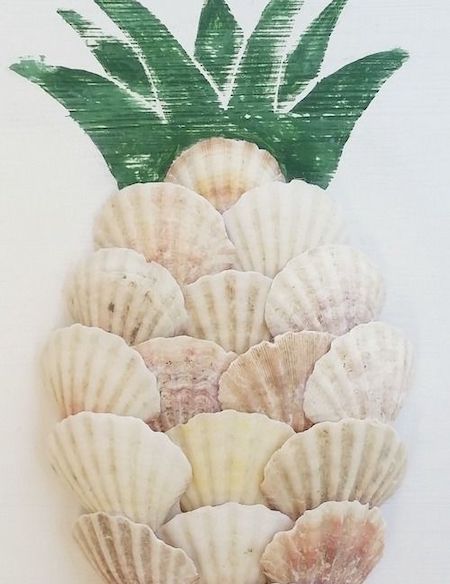 DIY Coastal Seafish Wall Art
This is a very creative way to decorate with cane back in a coastal way. I love the rattan look when it comes to DIY coastal decorations!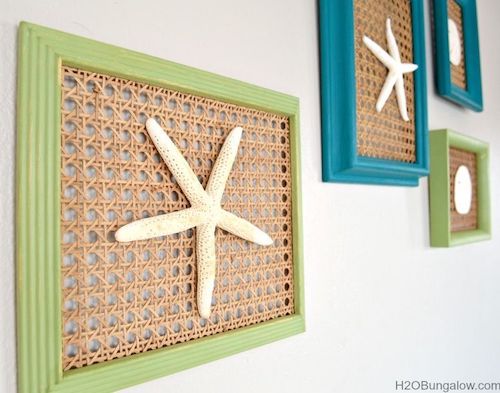 DIY Nautical Rope Mirror Decor
A nautical rope mirror is a must-have in your beach home. However, these classic rope mirrors can get expensive! Make your own using an old mirror and some spare rope to get the perfect nautical look in your summer house.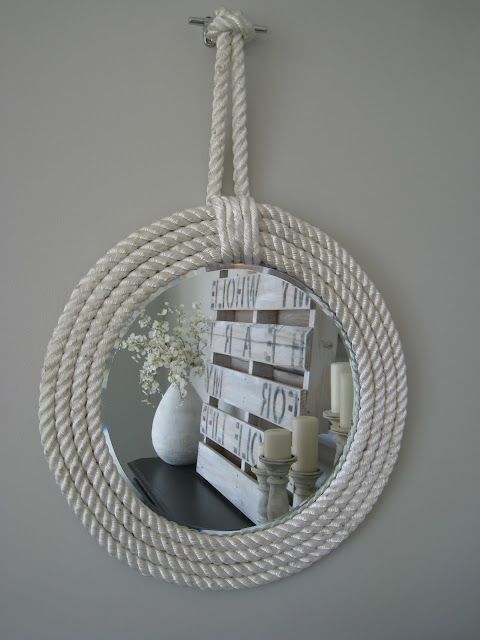 DIY Rope Knot Lamp
This nautical rope lamp can be yours with a few handy tricks! Follow the tutorial and get hands-on to make this beautiful coastal lamp that looks straight out of a magazine!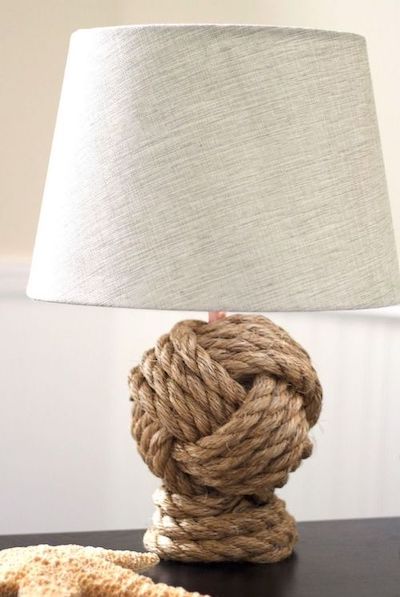 DIY Driftwood Seahorse Decor
This beautiful seahorse wall art piece has been made using many different length driftwood sticks!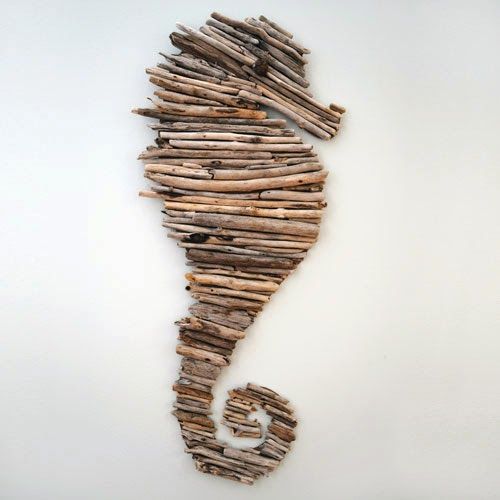 If you aren't in the mood to craft, you can place driftwood accents in your kitchen, hallways, bathrooms, and even your bedroom. If you are interested in using it in your home, there are many places that you can start. For example, you can choose to make a beautiful centerpiece out of driftwood and display it on the mantel or in any other area of your home.
You can also choose to buy a small piece of driftwood and have it decorate a particular space of your home. You need to know how to take care of this type of wood to ensure that it will continue to look its best for years to come.
DIY DIY Sea Glass Bottles
Finding the perfect sea glass bottle can be tough so why not make them yourself? These hazy blue bottles in different shades of sea and sky blue are the perfect DIY coastal decorations for your home!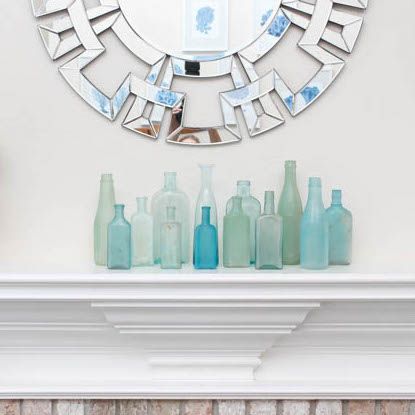 DIY Reclaimed Wood Whale Coastal Art
I will teach you how to make a beautiful whale wall sculpture out of reclaimed wood. It's the perfect decoration to hang above your fireplace or on the wall above your bed.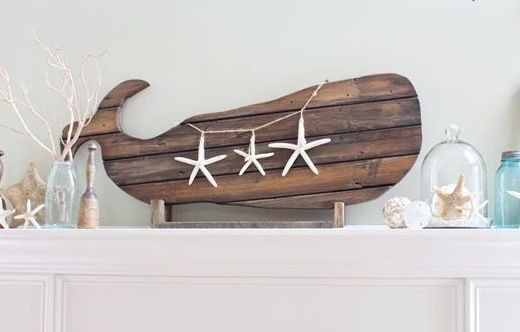 DIY Driftwood Sailboat Decor
I love this modern minimalist sailboat decoration crafted from a piece of driftwood and spare cloths.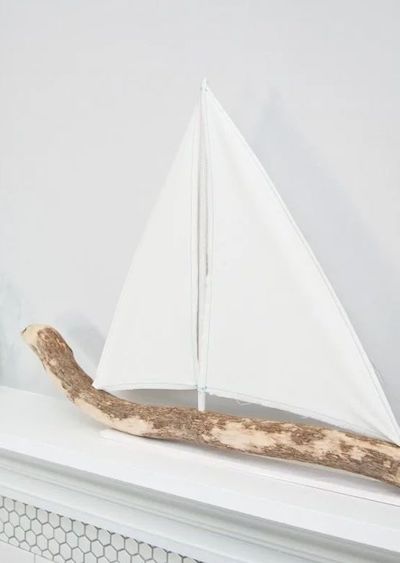 DIY Beach Seashell Wreath Craft
This small and simple beach seashell wreath craft is great for decorating a small corner or tabletop in your home.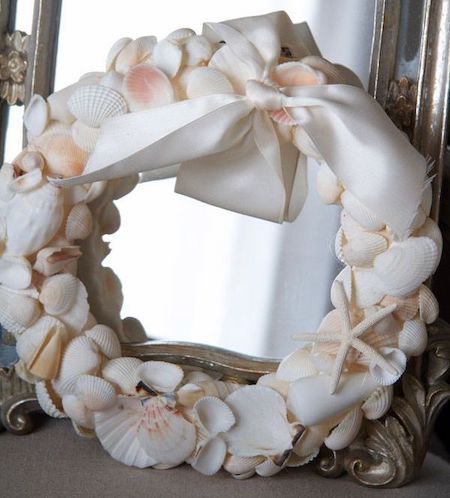 Modern Seashell Door Hanging Craft
Decorate an interior door of your beach home by hanging this seashell craft for all to admire.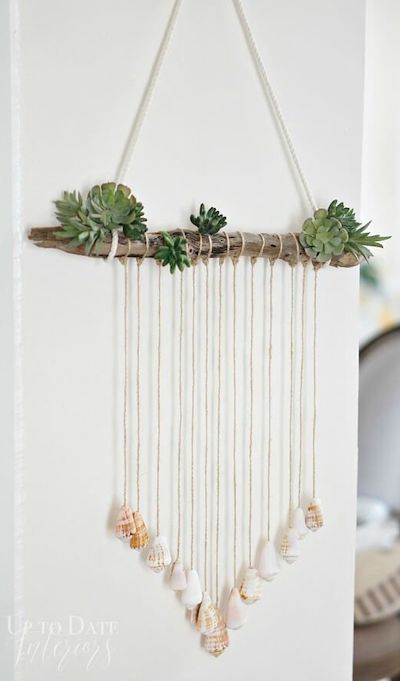 DIY Round Jute Rug
If you have a small coastal entryway, this round jute rug is for you.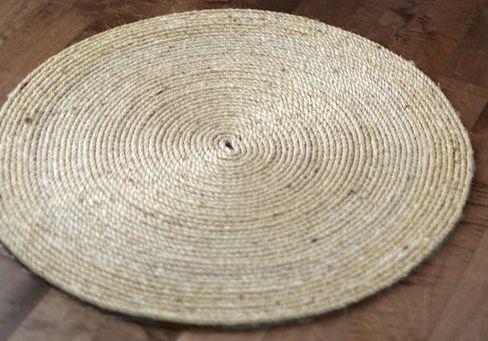 DIY Coastal Shell Wall Decoration
Another great coastal DIY wall decoration idea for decorating the walls of a coastal home!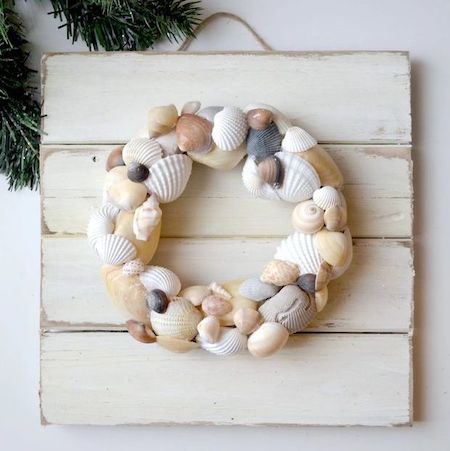 More Coastal Decor Ideas
Keep reading more about coastal decorating with these related posts: