So far the prevailing 2022 decorative style was predominantly a minimalist laidback look, but this current home decor trend is almost completely the opposite! Enter the coastal grandmother decor style. In the words of influencer Lex Nicoleta, the coastal grandmother means anybody who "loves Nancy Meyer's films, coastal vibes, recipes and cooking, Ina Garten, cozy interiors."
Here is everything you need to know about the Coastal Grandmother interior design trend!
What is coastal grandmother home decor?
The coastal grandmother decor style is all about creating a cozy, homey space that feels like it was decorated by your stylish grandma who lives in Nantucket. Think vintage finds, nautical elements, and plenty of cozy throws and pillows. The goal is to make your guests feel like they're stepping into an old-money, seaside home that has been thoughtfully decorated over time. Decades of good taste have culminated in the beach resort of the coastal grandmother's house.
Where did the coastal grandmother trend come from?
The coastal grandmother trend can be traced back to the popularity of Nancy Meyers' films, like "Something's Gotta Give" and "The Holiday." Meyers' films are known for their chic coastal California aesthetic, which has clearly inspired the coastal grandmother trend.
How do you get the coastal grandmother look?
If you want to get the coastal grandmother look, start by sourcing some high-end vintage pieces. Head to your local flea market or thrift store to find some hidden gems if you're on a budget. Once you've gathered up some key pieces, it's all about creating a cozy coastal atmosphere. Add plenty of blue and white pillows and throws, hang some nautical-inspired artwork, and don't forget a vase of fresh flowers!
Where to Shop for Coastal Grandmother Home Decor
The best stores to shop for costal grandmother furniture and home decor include Serena & Lily, Amanda Lindroth, and Society Social. These home retailers embody the old-money, coastal grandmother aesthetic to a T!

Coastal Grandmother Beach House Decorating Ideas
If you're lucky enough to have a beach house, you can really go all out with the coastal grandmother interior design trend! Here are some beach house decorating ideas to get you started:
Hang a nautical-themed flag or banner over the fireplace
Display seashells in a glass jar or vase
Arrange fresh flowers in a vintage-inspired vase
Hang some nautical artwork on the walls
Place a vintage rug in the living room
Fill a basket with throws and pillows for cozy nights by the fire
Typical Coastal Grandmother House
Here is a typical coastal grandmother house by the shore, probably in Nantucket, Newport, or along the Connecticut or Long Island shores.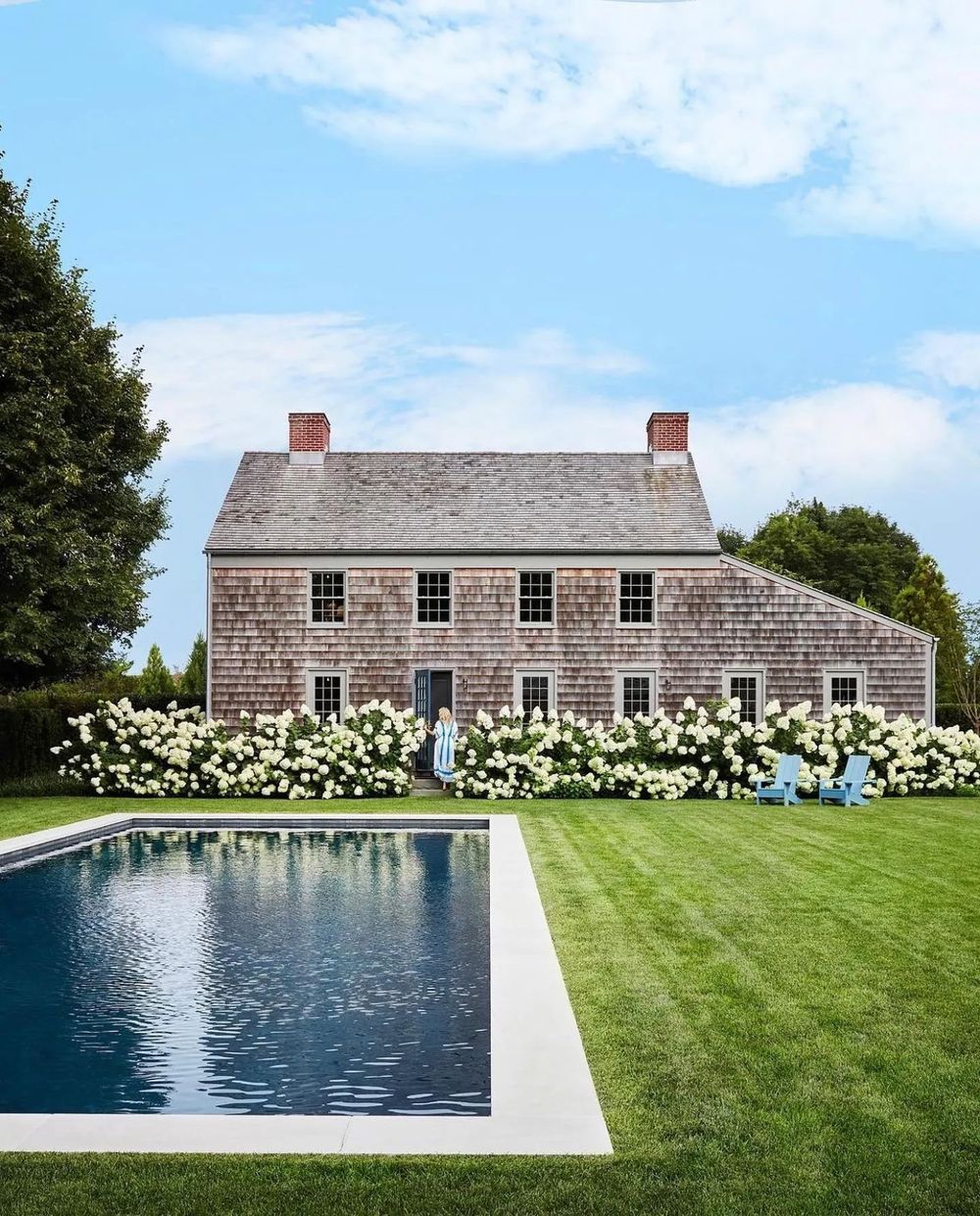 Coastal Grandmother Living Room Decor
To decorate your living room in the Coastal grandmother style, add some ginger jars to the fireplace mantel, blue sofas, gingham accent chairs, and plush sitting chairs with floral upholstery. A jute rug and sheer white curtains complete this look!
Coastal Grandmother Fireplace Decor
Floral wallpaper, gold mirrors, and pink accent chairs complete this Costal grandmother fireplace interior design.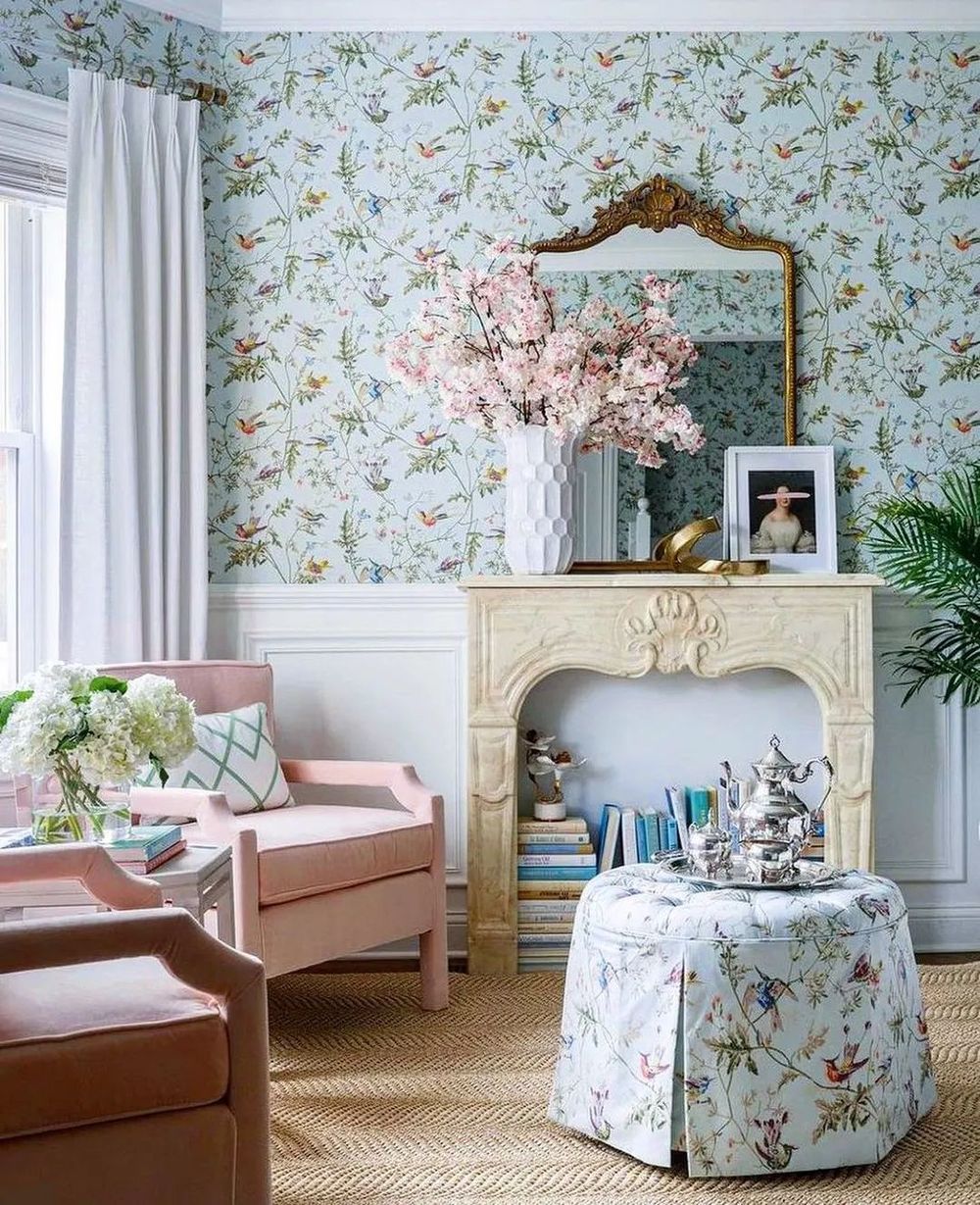 Coastal Grandmother Sofas
The most popular coastal grandmother sofa styles include plush and comfortable sectional sofas, floral printed sofas, sky blue sofas, striped sofas, gingham sofas, and even white linen sofas – anything that evokes the preppy east coast decor aesthetic.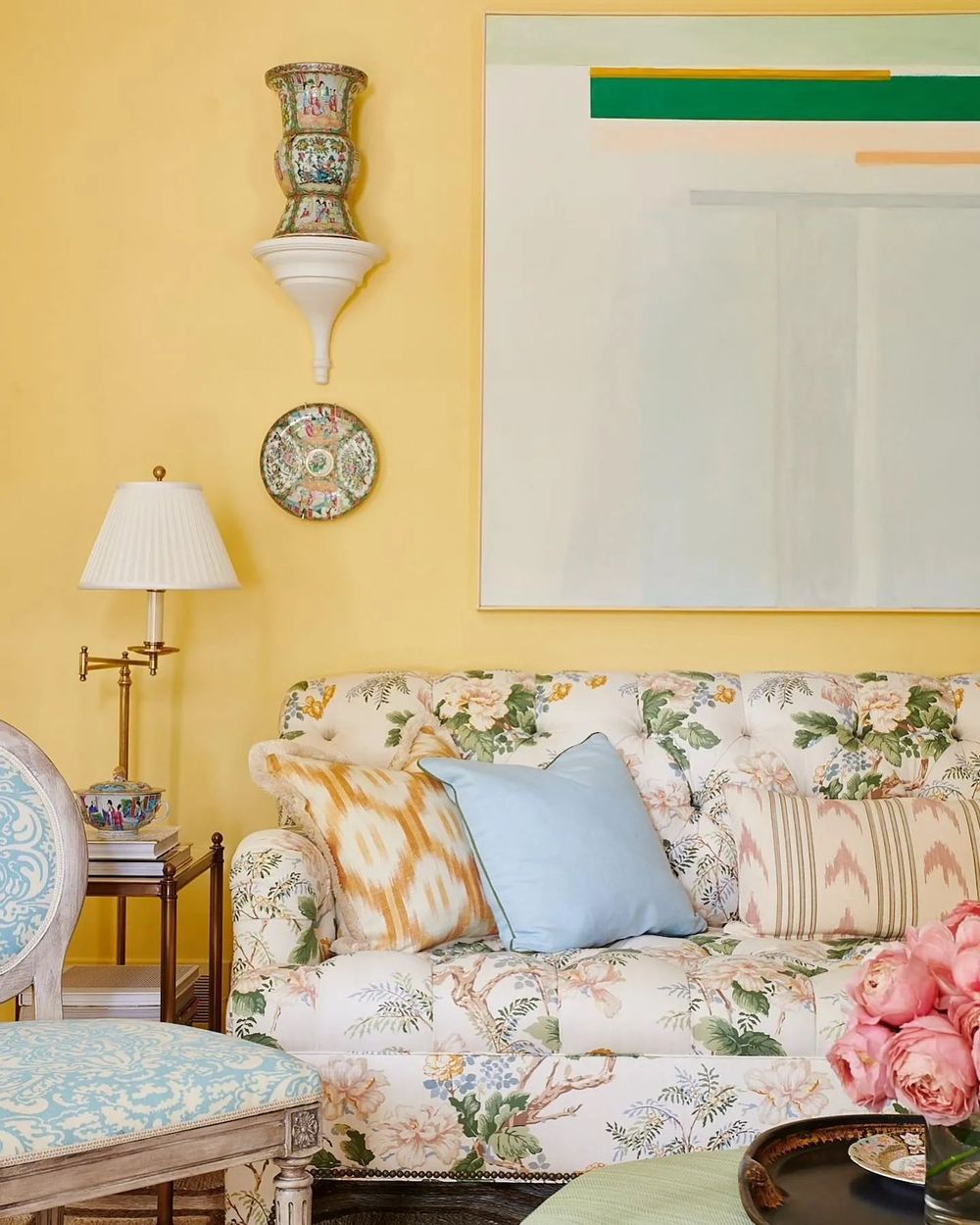 Coastal Grandmother Kitchen Decor
A kitchen with blue cabinets and floral wallpaper is the ideal design for a coastal grandmother's home.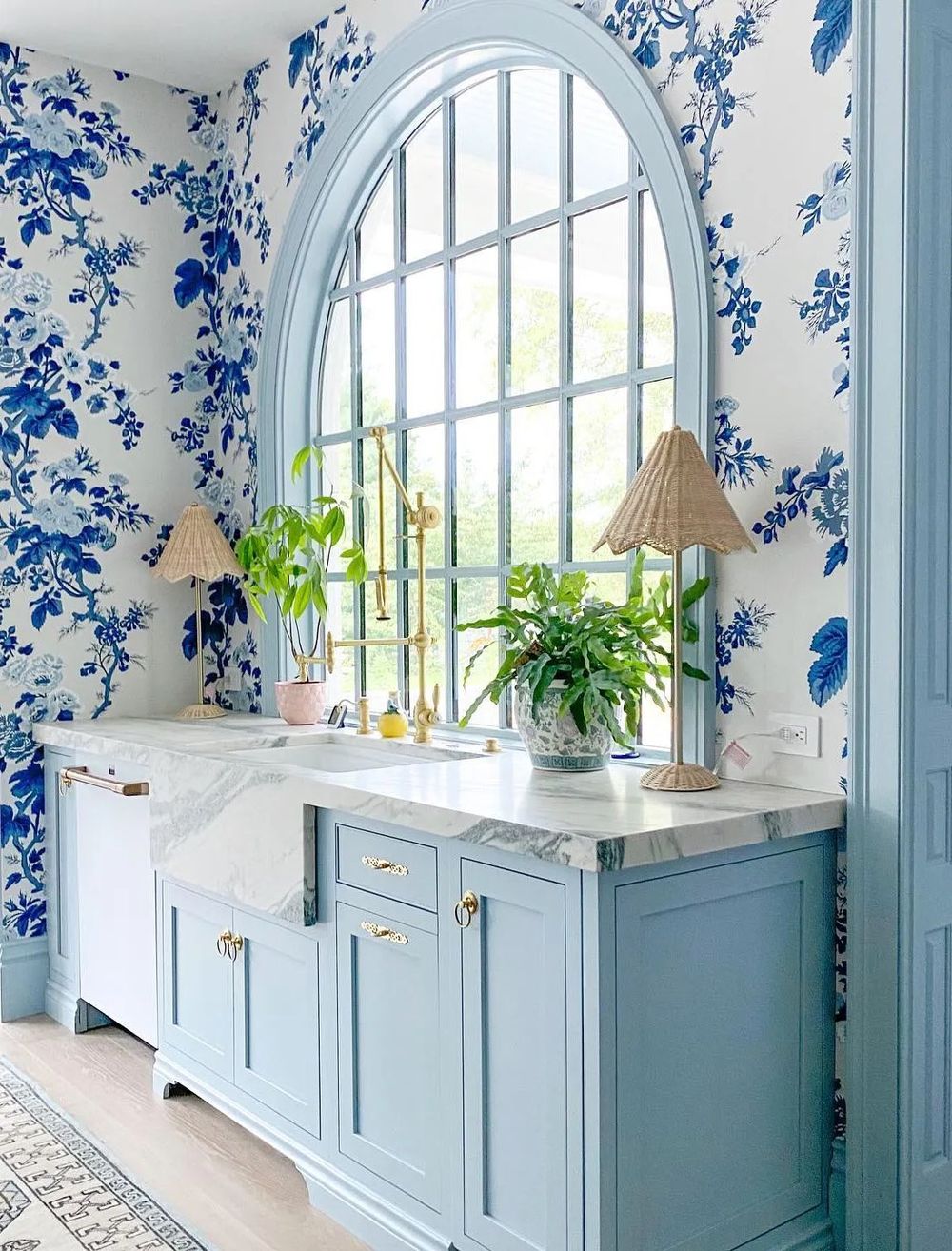 Coastal Grandmother Dining Room Decor
In this coastal grandmother's dining room, a sleek white dining table to seat the whole family is centered among beautiful rattan dining chairs. I believe they are these Riviera chairs. Check out more French bistro chairs here.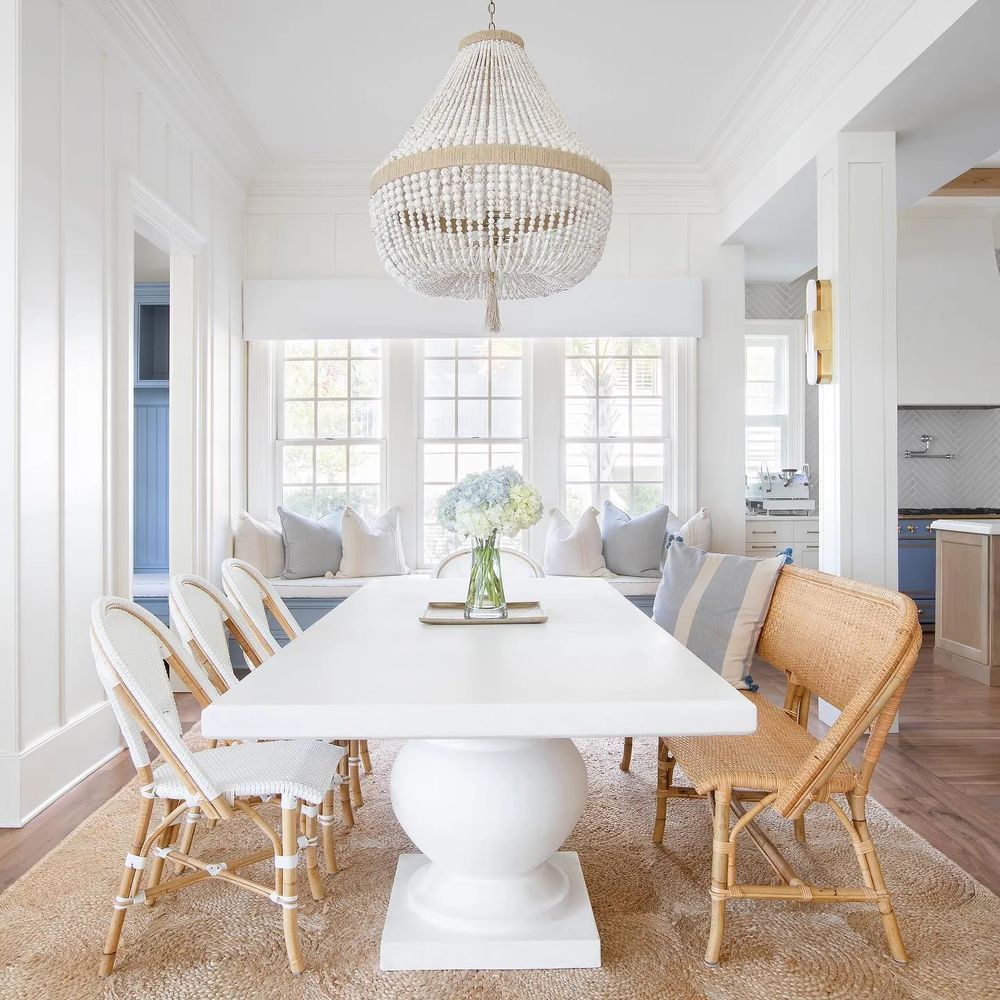 Coastal Grandmother Built-in Hutch
This dining room has a gorgeous built-in hutch that has been painted a pretty coastal blue paint color. It's perfect for displaying white china.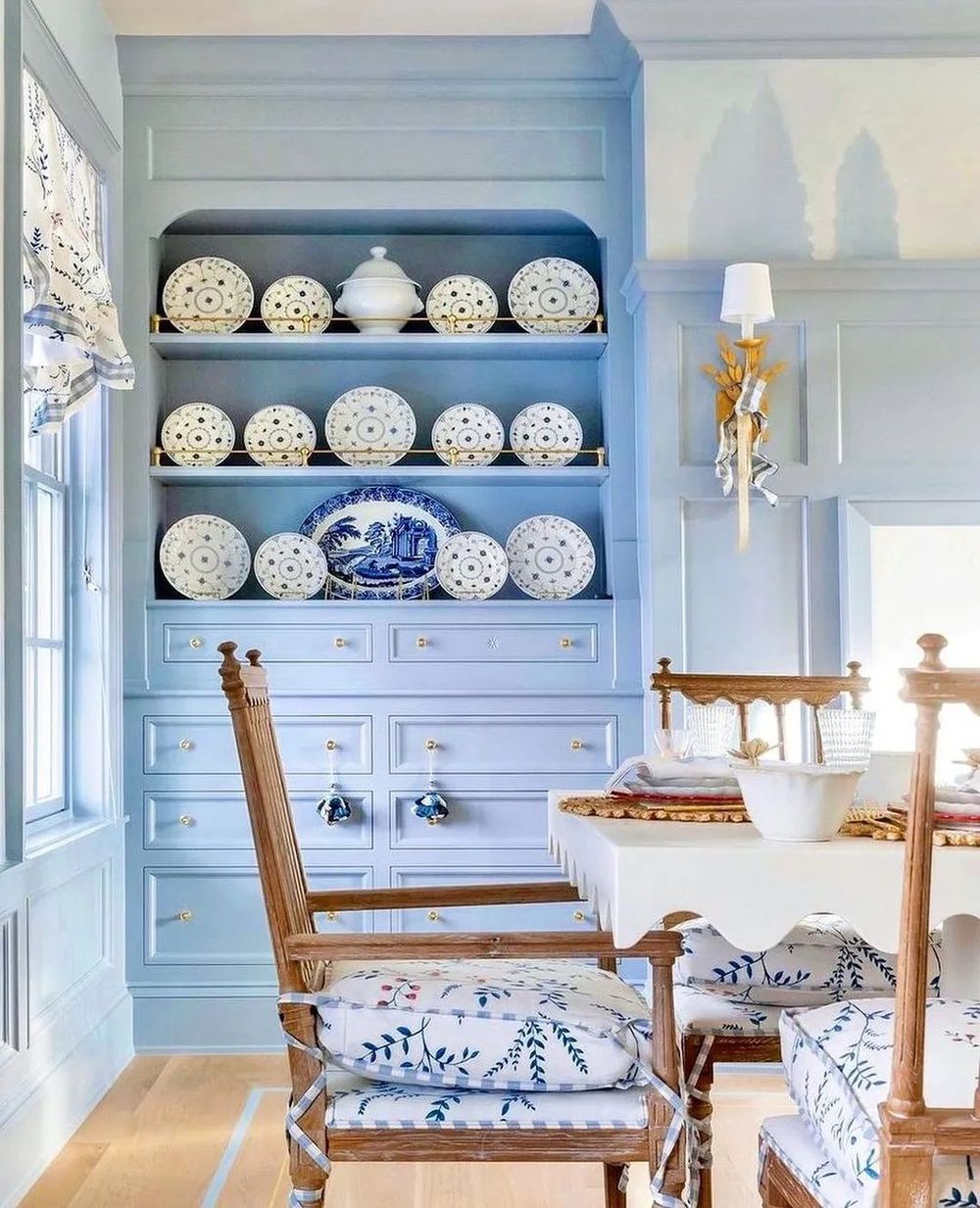 Coastal Grandmother Bathroom Decor
This coastal grandmother bathroom has a freestanding white bathtub.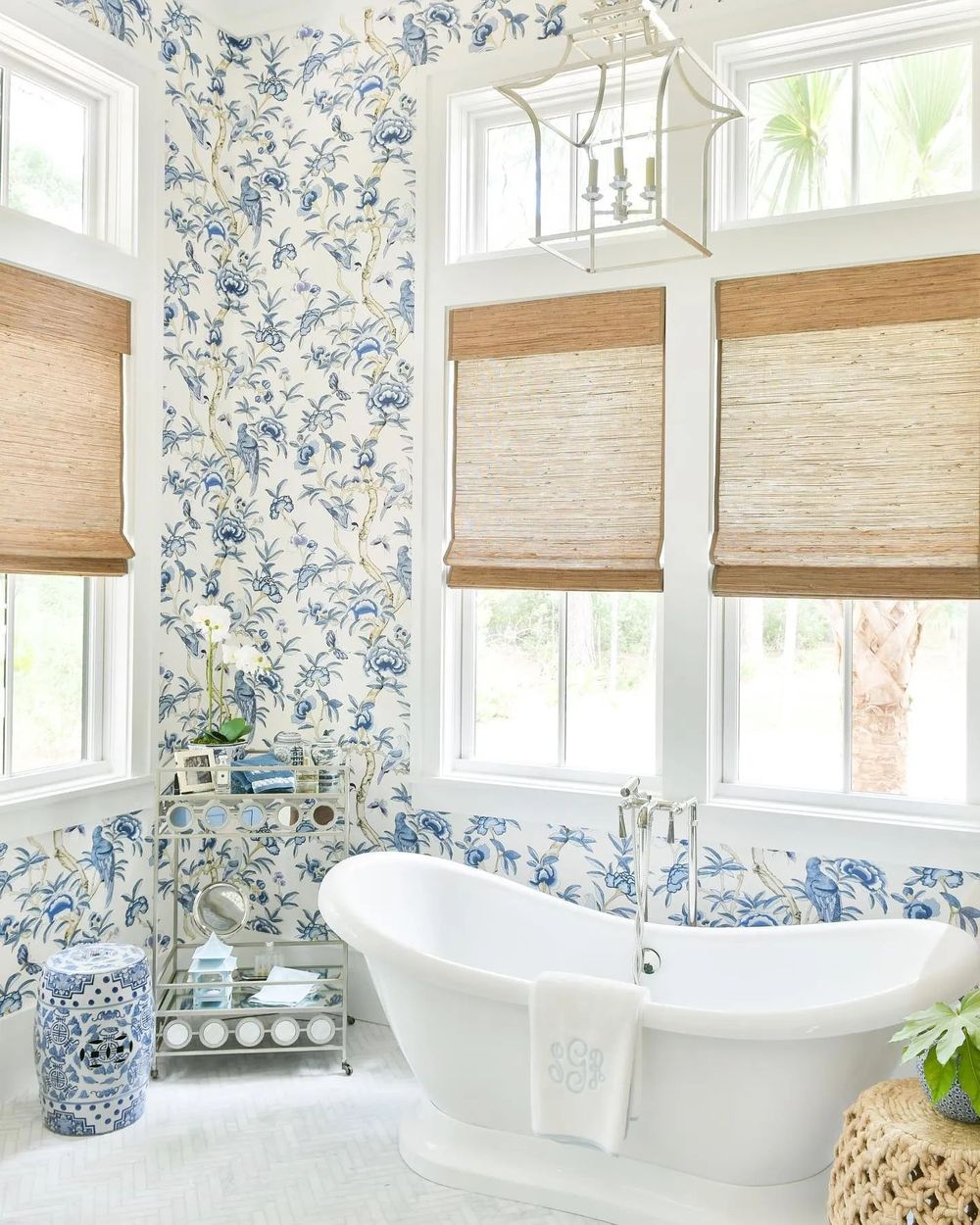 Coastal Grandmother Entryway Decor
A rattan console table with a tray sits near the entryway of this coastal grandmother home. Shop the potcake wicker dog here.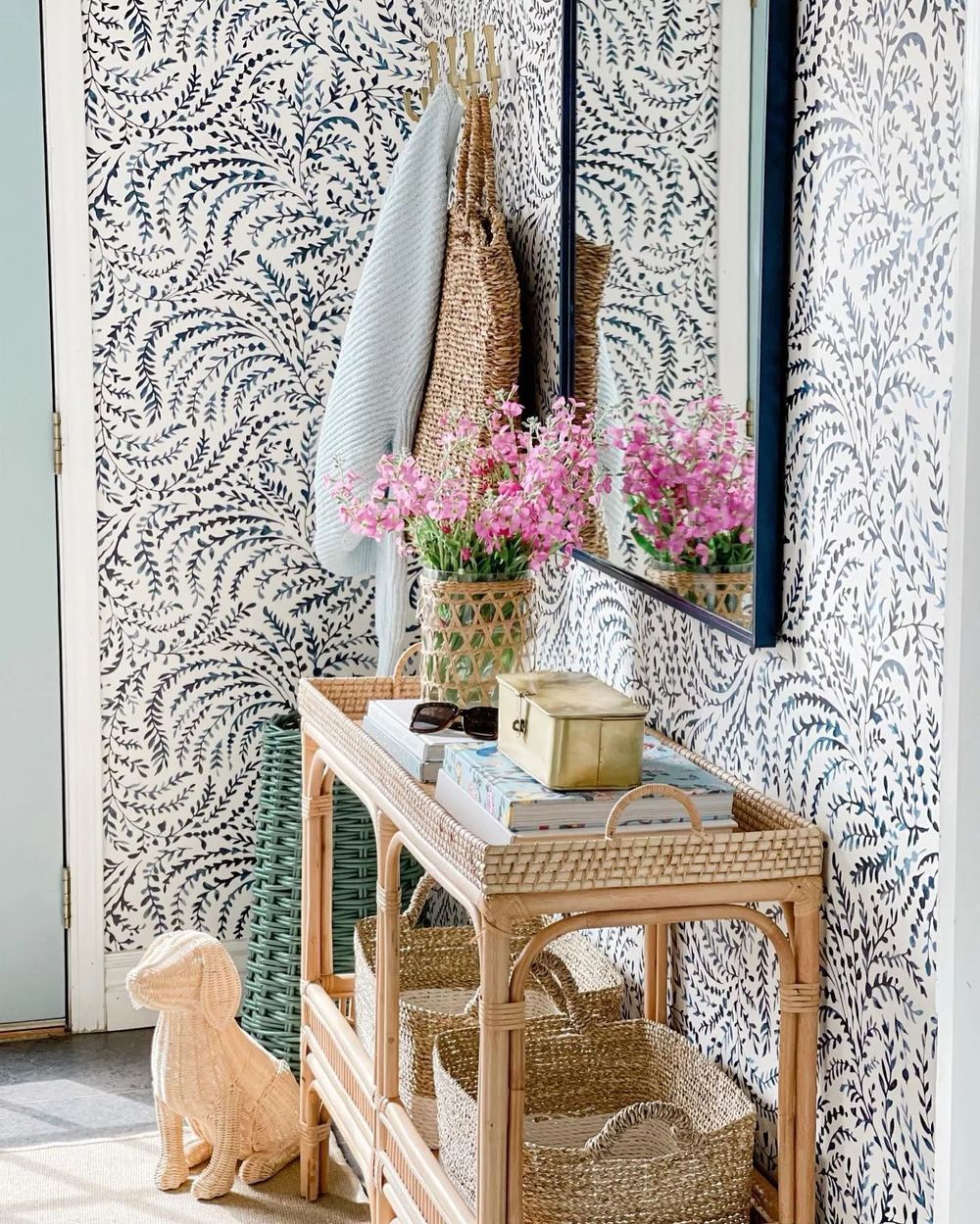 Coastal Grandmother Home Office Decor
A simple white writing desk against a blue and green floral wallpapered wall is all the coastal grandmother needs to write letters to her family. A large white peacock chair adds a vintage flair to this home office space!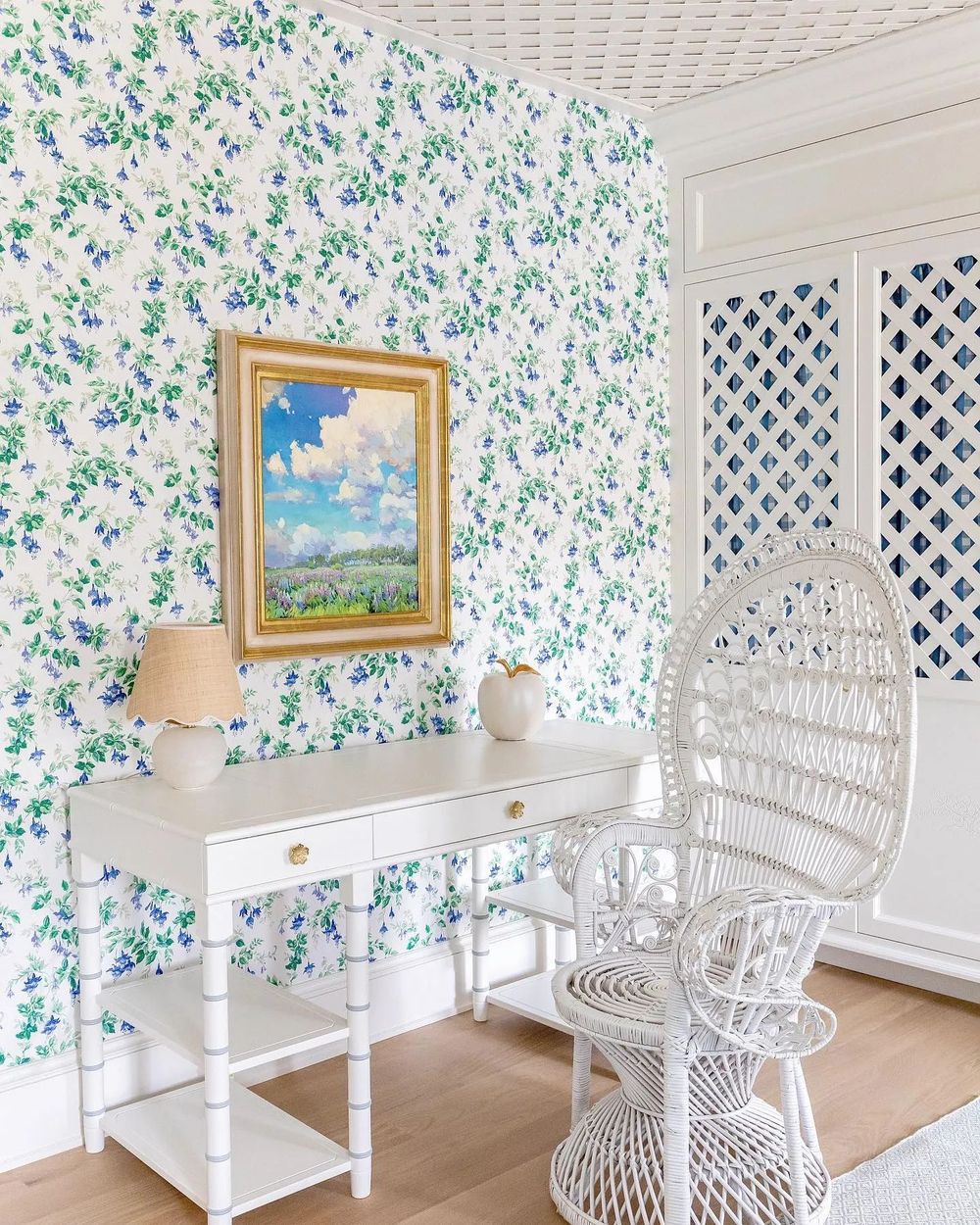 What are some coastal grandmother home decor trends for 2022?
Some popular coastal grandmother trends for 2022 include:
Wicker furniture
Vintage rugs
Nautical artwork
Seashells and starfish decor
Blue patterned fabrics
Oversized throws and pillows
Fresh flowers

Is Coastal Grandmother similar to Grandmillennial Style?
The coastal grandmother trend is similar to the grandmillennial style, but with a more relaxed vibe. Grandmillennial style is all about mixing traditional elements with a modern sensibility. Both styles are preppy and chic, but the coastal grandmother trend has a more laid-back feel.
Why is it called Coastal Grandmother?
The term "coastal grandmother" was coined by Lex Nicoleta, an interior design blogger. The name refers to the chic coastal California aesthetic of Nancy Meyers' films.
What movies should I watch for Coastal Grandmother inspiration and aesthetics?
If you're looking for some coastal grandmother inspiration, be sure to check out Nancy Meyers' films, like "Something's Gotta Give" and "The Holiday." You can also find some great coastal grandmother style in the films of Wes Anderson, like "The Royal Tenenbaums" and "Moonrise Kingdom."
So there you have it, everything you need to know about the coastal grandmother home decor trend! This cozy style is perfect for anyone who wants to create a stylish and inviting coastal home influenced by decades past.