There are a lot of cookware brands out there, so how do you know which one is the best for your kitchen? Here is a list of the best cookware brands for cooking meals every day in your kitchen. From frying pans to skillets to dutch ovens and soup pots, these brands will have you covered no matter what you're cooking. Cookware is definitely one of the major kitchen essentials you'll need for a complete kitchen!
This list of the best cookware brands for home kitchens has been divided into three categories of cookware companies:
Tried and True: These everyday cookware brands have been around for decades so you know they offer a great balance between quality and price.
Luxury: These are the best cookware brands in terms of quality, but you'll pay a premium for their products.
Contemporary: These are the best contemporary cookware brands, many of which are direct-to-consumer and have been launched in the last decade. They offer a fresh approach to cookware manufacturing, without harmful materials and hefty price points.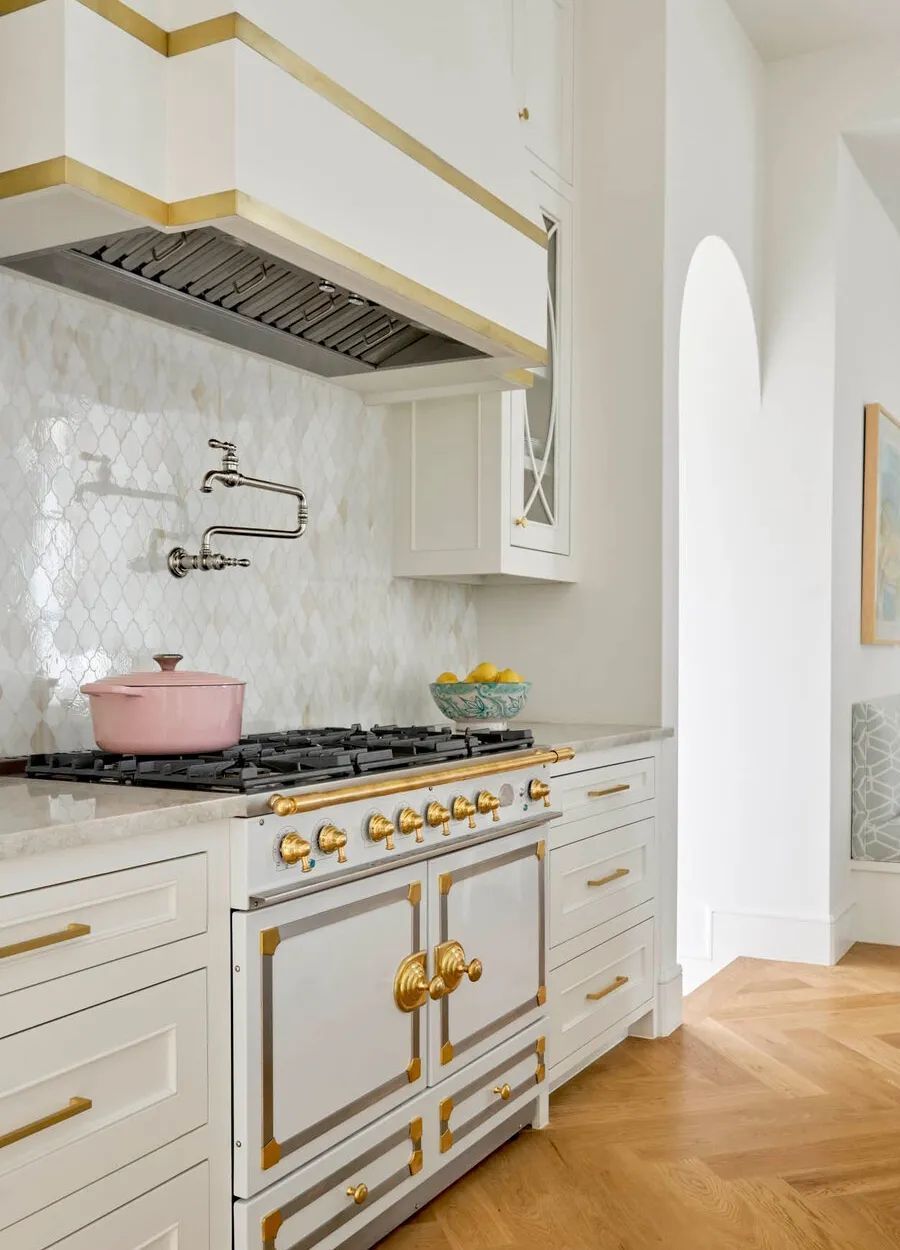 Tried and True Cookware Brands
All-Clad
Based in Canonsburg, Pennsylvania, All-Clad has been a respected cookware company since 1971. Shop All-Clad cookware at national retailers like Williams-Sonoma, Crate & Barrel, Macy's, Amazon, and Bloomingdale's.
Cuisinart
Cuisinart was also founded in 1971 by Carl Sontheimer in order to bring an electric food processor to the American market. Since then, the American cookware brand has grown to become a trusted kitchen brand. You can shop Cuisinart at Crate & Barrel, Williams Sonoma, Macy's, Amazon and more.
Made In
Made In Cookware was designed with the world's best chefs in mind. Now you can cook with the same cookware as them. The fourth generation is currently running this family kitchen supply business. Using 5 layers of metal, this brand is trusted by the pros!
HexClad
If internationally renowned chef Gordon Ramsay trusts HexClad in his own home, then so can you! Using proprietary technology to create both stainless steel and non-stick cooking pan, HexClad makes both functional and beautiful cookware. This hybrid cookware brand will elevate your everyday cooking like no other. You can't beat the lifetime warranty, too. Shop via Amazon and Walmart.
Calphalon
Based in Ohio, Calphalon is an affordable cookware brand you can rely on. The company was founded in 1963 and originally served clients in the professional cooking space and restaurant industry. Using techniques from the aerospace industry, founder Ronald Kasperzak developed high-performance cookware that resisted corrosion, unlike most other cookware. Shop Calphalon via Wayfair, Amazon, and Williams Sonoma.
Lodge Cast Iron
Since 1896, Lodge Cast Iron has produced heirloom quality cookware and kitchen products. Based in the heart of Tennessee, Lodge cookware is known for its durability through generations.
​​Farberware
​​Farberware has made kitchen cookware in New York City since 1900. A Russian immigrant named Simon Farber began by peddling matches and lights in the different city boroughs. A few decades later, they began manufacturing stainless steel pots and pans. The ​​Farberware company grew before being sold to Meyer Corporation in 1997.
Anolon
Anolon was one of the first cookware brands to introduce the hard-anodized nonstick pan in 1986. Since the 1940s Anolon has been a metalsmith, crafting pans, telegraph wire, and more products. The pans are guaranteed for life!
Luxury Cookware Brands
Mauviel
If you are drawn to copper cookware, then Mauviel is a brand you must know. Since 1830, fine restaurants across France have trusted this French brand's top-notch cookware. Founded in Villedieu-les-Poêles in Normandy, the same metalwork traditions from centuries past are still used today to create luxury cookware for kitchens around the world. You can buy Mauviel at Amazon and Williams Sonoma.
Le Creuset
Founded in 1925 in Fresnoy-le-Grand, Le Creuset has mastered the art of cast-iron cookware. Still produced in their original factory using traditional methods of hand forging and casting in sand molds, it's one luxury cookware brand you can trust. The company's innovative stainless-steel cookware has been awarded countless times and is found in celebrity kitchens across the country.
Staub
Staub is a classic French cookware brand founded in the Alsace region of France by Francis Staub. In 1974, he created enameled pots while employed in a French artillery factory. Meant to be the perfect vessel to cook Alsacian braises and soups, each pot was individually cast and still is today.
Contemporary Cookware Brands
Caraway
One of the best direct-to-consumer cookware brands to know is Caraway. Caraway designs beautiful home goods for high-standard cooking, meant to replace Teflon pans. All of Caraway's products are strictly non-toxic for easy, healthy cooking. They are ethically manufactured and packaged in sustainable, recycled cardboard. Caraway was founded by Jordan Nathan and is based in New York. Shop via Caraway's website or Crate & Barrel.
Misen
Misen is a direct-to-consumer cookware brand founded by Omar Rada in Brooklyn which cuts out the middlemen to lower costs. Using the advice from expert engineers and chefs, Misen products deliver premium results at an affordable price. The Misen name comes from the French culinary term, mise en place, which describes a chef's process of putting each piece of equipment in place before beginning the shift's service.
GreenPan
GreenPan was one of the first cookware companies to create PFOA-free nonstick cookware for healthy and clean cooking. The nonstick coating used by GreenPan is completely toxin free and eco-friendly. The company is headquartered in Belgium. The brand is widely sold in America at Williams Sonoma, Saks, Anthropologie, Crate & Barrel, and West Elm.
Material Kitchen
Eunice and Dave, the co-founders of Material Kitchen wanted to celebrate their Korean and Vietnamese heritage and love for gathering around food when they launched their cookware company. With elegant designs and affordable pricing, this is one DTC cookware brand to watch.
Our Place
Founder Shiza Shahid founded Our Place to represent the beauty of sharing a meal with family and friends. The start-up cookware brand is all about bringing people together. Free of toxic materials like PFOAs and lead, the nonstick cookware has a lightweight construction. Shop via Our Place, Nordstrom, and Anthropologie.
Great Jones
NYC girlfriends Sierra Tishgart and Maddy Moelis launched Great Jones in 2018 as an alternative to stuffy upscale cookware brands. The DTC kitchenware brand is hip, chic, and much more affordable. Shop via Great Jones or Nordstrom.
Proclamation Goods
Proclamation Goods is a brand that believes we can live better with fewer things. Their innovative designs are multi-functional and versatile. The Sidekick Skillet and Hybrid Pot are designed to work together to function as a lid and attach to each other to create a Dutch oven. They work with a family manufacturer in Wisconsin, so all products are made in the USA. Proclamation intentionally creates non-nonstick pans since the coatings only last 3-5 years and must be replaced. Their cookware kit is designed to last a lifetime. Christopher Burrage is the founder, based in San Francisco, CA.
Smithey
For cast iron cookware, you must know about Smithey Ironware Co, designed and manufactured in Charleston, South Carolina. Founder Isaac Morton always admired the vintage design and durability of old 19th-century cookware. He wanted to honor the traditional method while employing modern cookware techniques, and so Smithey was born.
Field Company
Brothers Stephen & Chris Muscarella inherited several vintage cast iron pans in their family dating back to the 1930s which inspired them to launch Field Company, named after their maternal grandmother. It wasn't easy to pour iron thin enough to create these beautiful vintage pans, but with the help of a material science professor in Europe, the team learned how to make traditional iron castings by hand.