When it comes to decorating a bathroom nothing is as important as your choice of bathroom vanity. Traditionally a bathroom sink is one of the defining elements of any bathroom design. Your sink is an element that most guests will use, and the first thing that grabs attention when somebody enters your bathroom.
But if you want to improve on the aesthetic sense of your bathroom it's time to forgo sinks and opt for bathroom vanities. A bathroom vanity is in simple terms a bathroom cabinet topped with a sink. However it's also a key element in the bathroom for the following reasons: It hides all the exposed plumbing, provides the functionality of both a cabinet and a sink, and it provides the main design element from which you can define a look for the entire space.
So any bathroom decoration starts with the right vanity. And with that in mind today we'll go over everything you need to know to understand bathroom vanities and find one just right for your taste.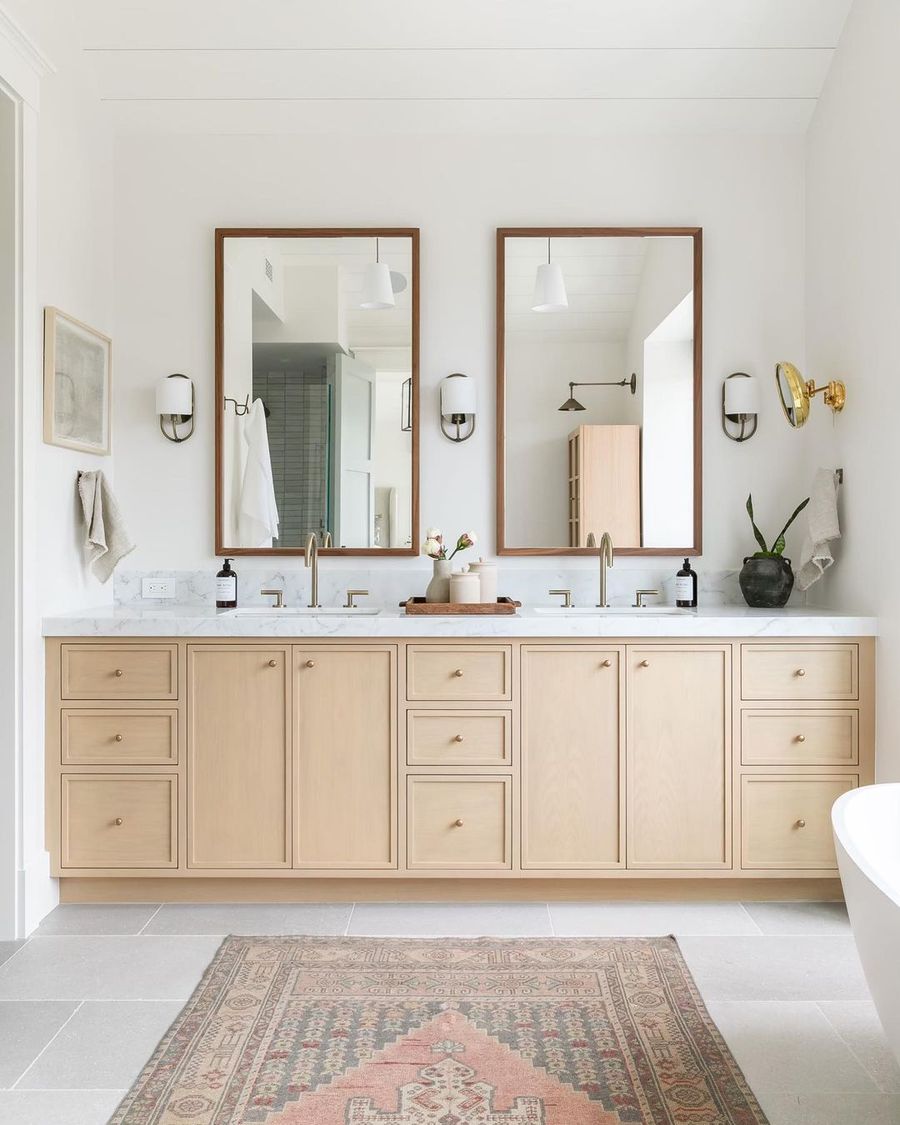 Preliminary Considerations
There are many practical things to consider before choosing a bathroom vanity.
Plumbing
The most obvious is perhaps the plumbing situation of your bathroom. Since the vanity will need to connect to your house water lines through the sink and faucet, working with your existing plumbing lines is the most cost-effective way to upgrade your bathroom. You can reroute the plumbing lines, but this will require a contractor and could become quite expensive.
Available Space
Always measure the space you have to work with. You'd be surprised how easily space can be warped in our minds due to adjacent walls or large objects, so it's best to get clear on the numbers you have to work with before selecting a vanity.
Electrical Outlets
Be sure to consider where you'll get electricity around your bathroom vanity. Measuring the height of your wall beneath the outlet will help you avoid choosing a vanity that is too tall for your space. Most vanities are around 36 inches high.
Types of Bathroom Vanities
The easiest way to categorize bathroom vanities is through sizes. Depending on your preferences and available sizes you can opt for a compact vanity or even a larger double vanity. Likewise, most manufacturers release their vanities following certain fixed sizes, which makes it even easier to choose the right cabinet size for your bathroom.
The following are the main sizes in which bathroom vanities are offered, but keep in mind there'll always be some degree of size variance based on the manufacturer and specific style.
Single Bathroom Vanities
Single vanities usually have a width of 36 inches and follow the standard height of 32 inches; though some manufacturers also offer more compact vanities with a 30-inch width.

Single vanities are designed to hold one traditional sink set up and offer some extra space for your convenience. The additional countertop space allows you to keep toiletries or beauty products around, and to enjoy the design of the countertop itself. As far as storage space goes the plumbing will take some of it, but you should still have at least one layer of unimpeded space.
Double Bathroom Vanities
Double bathroom vanities usually have a width of 60 to 72 inches and either include two sinks or a larger sink with two faucets. Double vanities are perfect for large bathrooms, and particularly for couples.

These vanities provide all the space the couple can need and keeps their areas separated so they can both use the sink at the same time. On top of that the storage space is considerably expanded, space that would be wasted if a traditional sink setup were used over a vanity.
Custom Size
Since a bathroom vanity is at its core a cabinet-mounted sink, it is possible for unique sizes to be commissioned or to be sold at retail. Lately, 48-inch vanities have become popular as a middle size of sorts. But the real appeal of custom size vanities lies in being able to make one that perfectly fits the design you have in mind for your bathroom. It'll take some extra effort, but for some of you, the result will be worth it.
The height of a bathroom vanity can also be customized. Here are some alternative bathroom vanity heights:
Compact Vanity: A compact vanity works great in a guest room, as it takes up less space since it's used less often. These might be a few inchess shorter than the standard 36-inch masterr bathroom vanity.
Kids Vanity: Some vanites are meant to be used for small children. These are around 30 inches high so that kids can "grow" into them!
Mounting Types
The next category for bathroom vanities takes into consideration both design and weight support; we are talking about the different mounting types. Like cabinets themselves, there are various styles available for vanities, and due to their nature as fixed furniture, the mounting method is a really important consideration. Since it affects both the stability of the structure and the look it presents, you must understand what makes each style unique.
Freestanding Vanities
A freestanding vanity is designed to look like traditional furniture. These vanities have their own set of legs to support them, mimicking the look of most cabinets. Not only can this create a more refined look, but it also creates a visual effect where the floor continues beyond the vanity. Looks aside a freestanding vanity is a great pick if the overall weight of your vanity is too big for a floating look.

Floating Bathroom Vanities
As the name implies floating vanities aren't connected to the ground in any shape form of way. These vanities support themselves entirely through their anchor points to the wall, creating a clean floating look. Floating vanities are always popular and are a tried and true favorite. But care should be taken to ensure floating vanities are prepared to support their weight. I have a floating vanity in my bathroom and I use it to store my vacuum cleaner underneath.

Built-in Vanities
On the complete opposite end of the design spectrum, we have built-in vanities. Built-in designs are completely flush with the floor meaning you won't see the tile design, and that their weight is fully supported by the floor. Built-in designs are much more stable and offer additional storage space. On the other hand, the more "blocky" look might not be for everybody.
Bathroom Vanity Customizations
Now that we covered the most important vanity categories you are mostly ready to choose one and completely redesign your bathroom. However, there are other important considerations to take into account before taking the plunge. A bathroom vanity is both functional and decorative, so it's important to look at all angles. That's why we summed up our main considerations into three simple points you should think about at home.
Bathroom Vanity Countertops
A countertop is the face of your bathroom vanity. The countertop defines the look of the vanity from above, the angle anybody using it will see it from. On top of that, the countertop material also defines durability, stain resistance, and weight.

If you go for a particularly heavy material on a single countertop the weight might e too much to go for a floating design. If you pick an untreated material it might stain too fast. Pay attention to both the practical and aesthetic properties of a countertop before settling for one.
Vanity Faucet Fixtures
Vanity faucets come in several styles: single hole faucet, vessel, center set, widespread and wall-mounted.
The right faucet fixtures will add a lot of value to a vanity design, so try to look at various options. A good idea is to opt for colors that complement the cabinet and countertop, to create a complete look. Thankfully as fixtures are almost completely interchangeable you are guaranteed to find a design just right for you.

Bathroom Vanity Storage
Storing various things is half of what a vanity does and it's an important consideration as well. if you go for a small cabinet size with a large sink you'll barely be able to store anything. Likewise, as we said above the mounting type will affect the available storage space. So keep in mind that all these choices will affect the functional space you'll be left with.
Bathroom Makeup Vanities
While many people use their bathroom vanity as a place to do makeup, truthfully, this isn't ideal. Makeup can get messy and it's best to have a separate, dedicated area for putting on makeup. That's where makeup vanities come in. You can build a built-in makeup vanity in your home or you can purchase a freestanding makeup vanity station.
More Bathroom Decor Ideas
Here are more bathroom design and decor ideas to browse!