Floating bathroom vanities have become very popular in recent years as a stylish and functional option for modern bathroom design.
Let's examine whether these unique bathroom vanities could be right for your space as well as where to buy the best floating bathroom vanities.
Floating bathroom vanities are also called "wall-mounted vanities" because of their installation and attachment directly on the bathroom wall.
Pros and Cons
Here are some of the pros and cons to consider when considering a floating bathroom vanity for your home:
Pros:
Space-saving design: A floating vanity can make a small bathroom appear more spacious by creating the illusion of more floor space. Without legs or a base to take up space, a floating vanity can also provide additional storage without making the bathroom feel cluttered.
Sleek and modern look: The clean lines and minimalist design of a floating vanity give it a contemporary feel that can be a great fit for modern or transitional home styles.
Customizable height: Since the vanity is not attached to the floor, you have more flexibility in choosing the height that works best for you and your family.
Easy to clean: With no legs or base to work around, cleaning around a floating vanity is easier and more straightforward. You can just sweep the mop right underneath. That's a big win if you ask me!
Cons:
Limited storage: Because a floating vanity is not anchored to the floor, it may have limited storage space compared to a traditional vanity with several lower cabinets or drawers.
Installation challenges: Installing a floating vanity can be more complicated than a traditional vanity, and it may require additional support to ensure that it is securely attached to the wall. It's likely not a DIY job.
Expensive: Floating vanities can be more expensive than traditional vanities due to their unique design and installation requirements.
Not suitable for all styles: The sleek and modern design of a floating vanity may not be a good fit for all home styles, such as those with a more traditional or rustic aesthetic.
Best Floating Vanities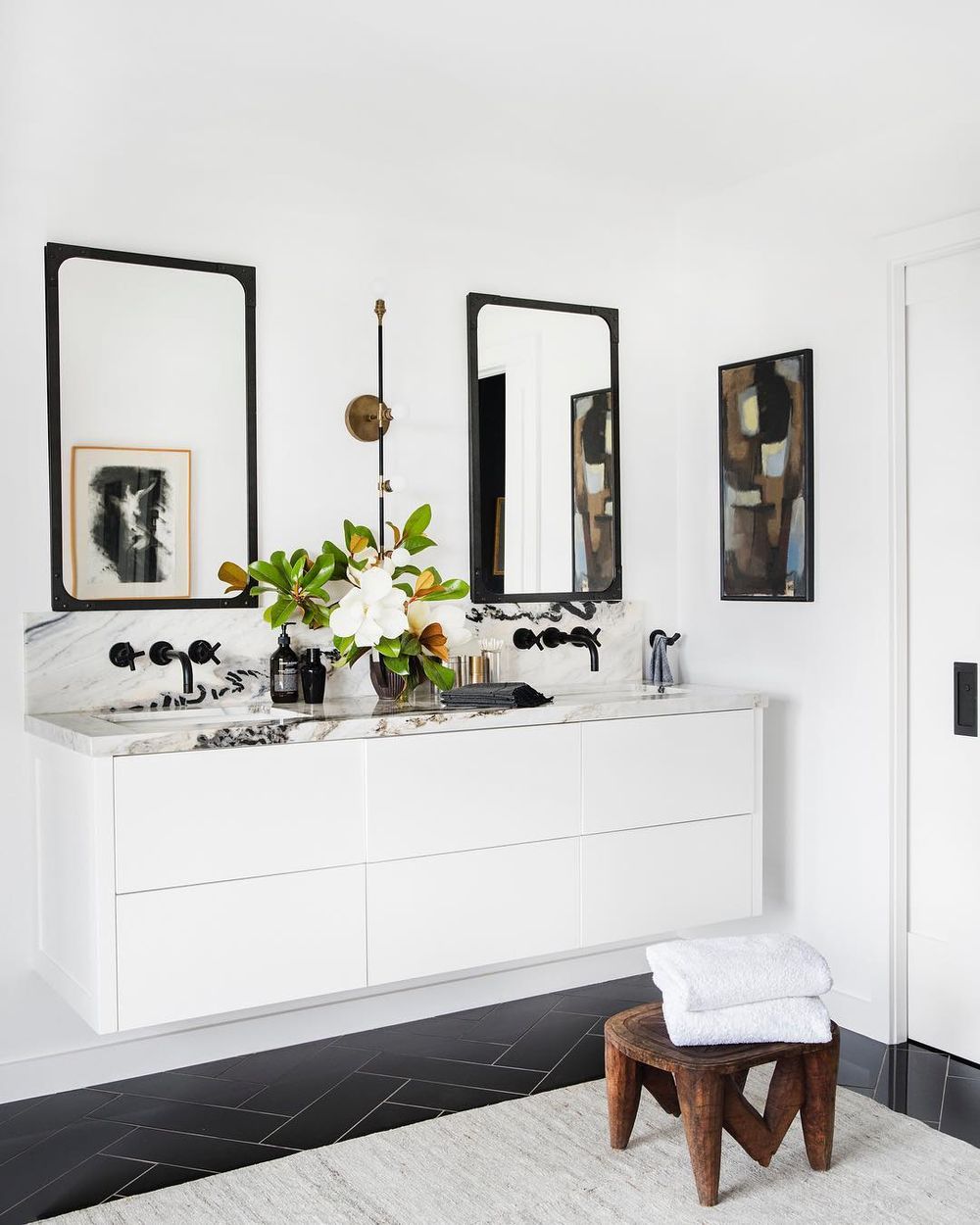 Floating bathroom vanities offer a sleek and modern design that can help maximize space in small bathrooms, but they may be a bit more expensive and require tricky installations. While they may not be a good fit for all home styles due to their limited storage space, they sure do look beautiful in some homes!