I'm so excited to share my latest dining room decor obsession – velvet chairs! There's just something about the luxurious, tactile feel of velvet that elevates any dining space. Whether you're going for a glamorous, moody vibe or want to add some richness and depth to a light and airy space, velvet dining chairs are a fabulous option.
In today's post, I'm rounding up my picks for the best velvet dining chairs on the market right now. From classic button-tufted silhouettes to contemporary clean-lined designs, there's a perfect velvet chair out there for every style and budget. I'll share options in a range of colors and fabrics, from vivid jewel tones to neutral earthy hues that can work in nearly any dining room.
So if you're looking to up your dining room seating game with a seriously stylish, on-trend upgrade, you'll find plenty of inspiration ahead! Let's dive into my current favorite velvet dining chairs for every style and space.
Velvet Dining Chairs to Buy
Velvet dining chairs are an elegant addition to any dining room. They work best in a contemporary setting, and that's exactly the style I'm going to be sharing with you today. These velvet dining chairs are perfect for a modern-day dining room.
Each of these velvet upholstered dining chairs would look lovely in a dreamy dining room design.
How to Decorate with Velvet Dining Room Chairs
Here are some tips for decorating with velvet dining room chairs:
Complement with other textures. Pair velvet chairs with a rustic wood table or add some leather or linen upholstered seats to create an eclectic mix. The contrasting textures will keep the space visually fascinating.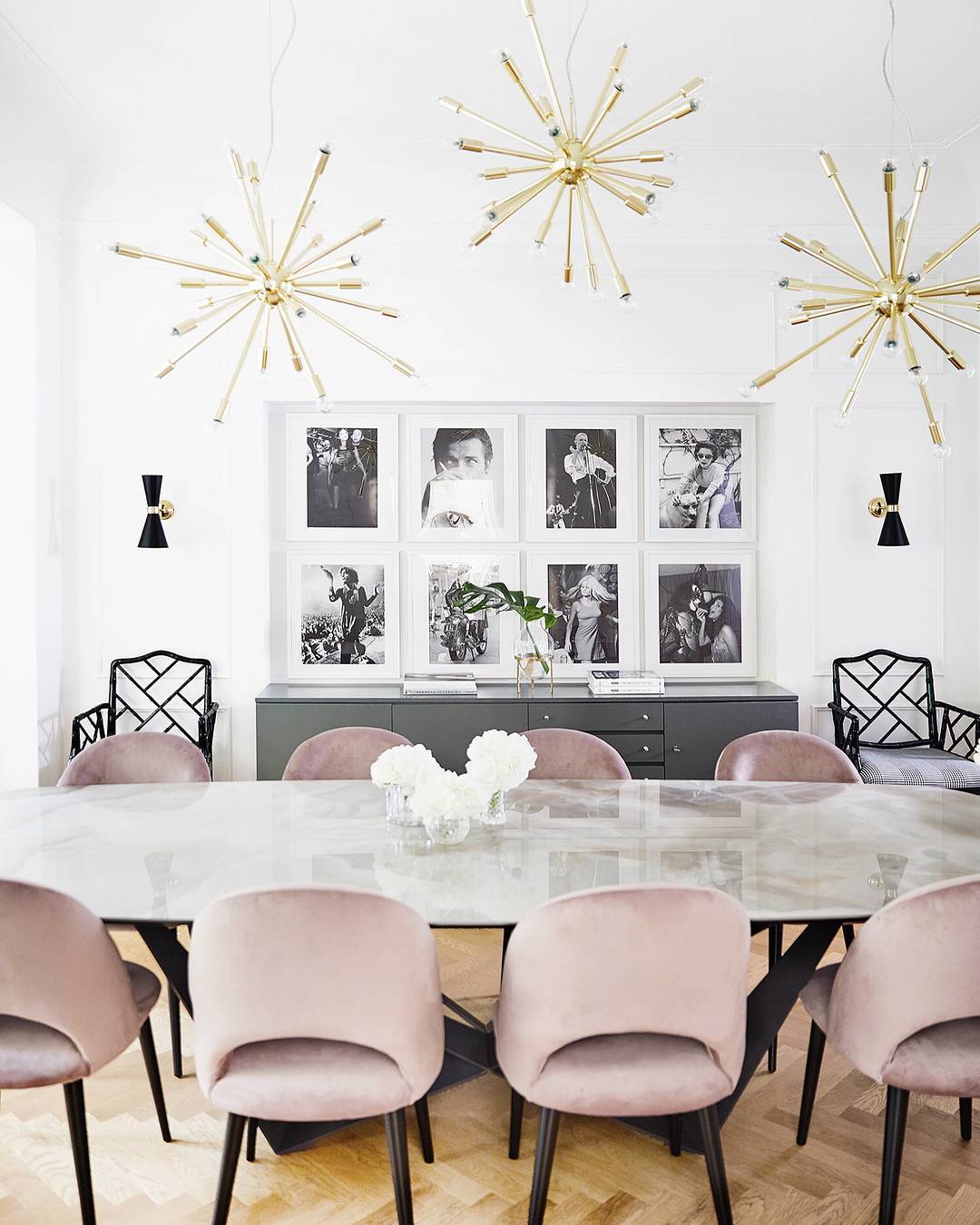 Use velvet pillow cushions. Consider using velvet or velvet-like fabrics on your dining room chair seat cushions. This will create a moody, enveloping effect and make the velvet chairs really stand out. Deep green or blue velvet works beautifully with most dining room colors.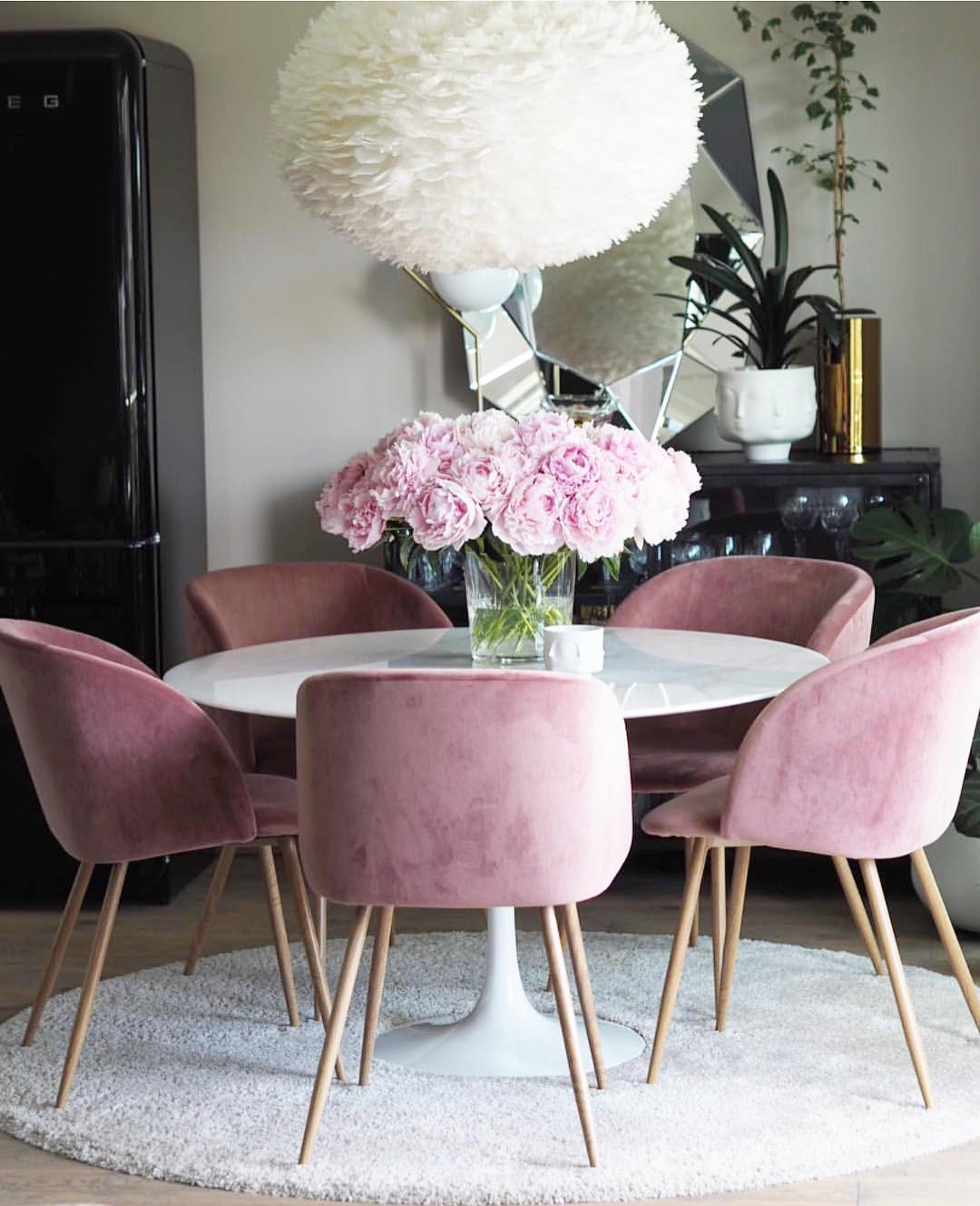 Choose a dramatic dining light. A dazzling chandelier or modern statement light will enhance the luxurious feel. Opt for something with crystal or metallic accents to complement the velvet.
Add metallic accents. Brass, gold, and silver decor touches will make the velvet pop. Try a geometric metal sideboard, gilt-framed mirrors, or metallic tabletop accessories.
Display fresh flowers. A big bouquet of blooms on the dining table adds a vibrant contrast to velvet's richness. Opt for peonies, dahlias, or roses in lush colors.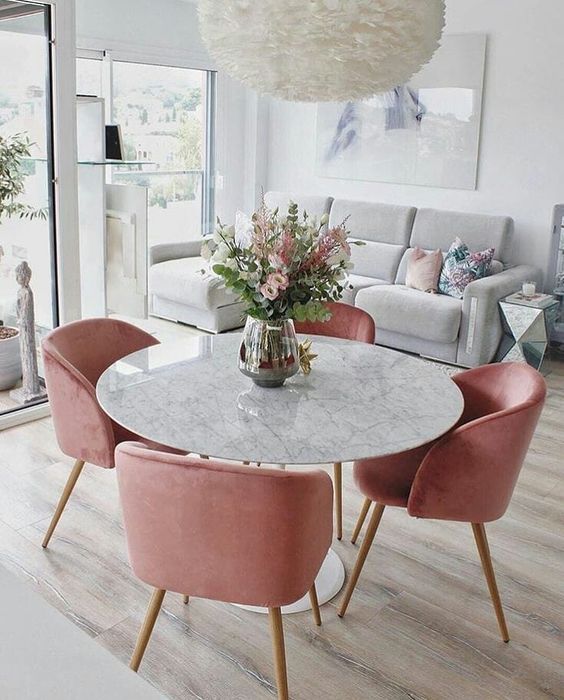 Set the table with fine linens. Bring in some subtle pattern and color with cloth napkins and table runners in prints like paisley or damask. Layer rugs under the table for plush texture.
Use velvet dining chairs in vivid colors. Royal blue, emerald green, or magenta chairs make the maximum impact. Keep everything else simple to let the chairs take center stage.
Pink velvet dining chairs are really popular as you can see!