Dining chairs should not only look good but feel good too. However, once you start shopping for dining chairs, you will realize how difficult it is to find the perfect ones. The price of every type of chair differs significantly, the range of styles is also endless, and there are many things to consider.
As you shop for dining chairs, ensure you get the best style for your home, made of quality material in the right size and within your price range. That way, you will buy dining chairs that will last you a lifetime!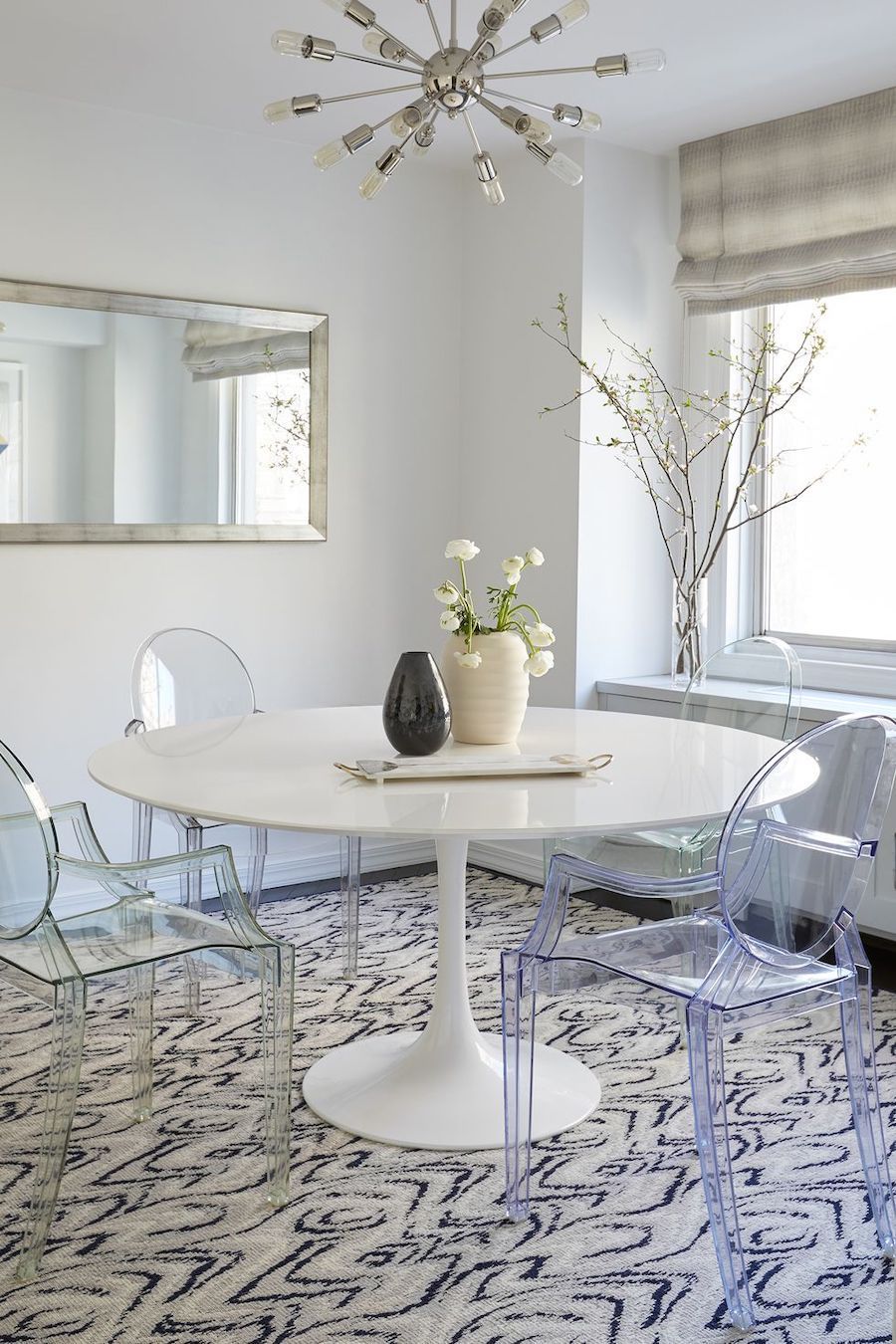 Acrylic Dining Chairs to Shop
Acrylic dining chairs, or ghost chairs as they're sometimes called, are translucent chairs often made of a clear plastic material. Depending on how lucite dining chairs are styled, they can give a room a very glam or mid-century look.
This style of chair first came into popularity when designer Philippe Starck decided to reinvent Louis XVI's famous traditional armchair into a simple acrylic form.
When selecting the right acrylic dining chairs, comfort and style should be the top two considerations. Good chairs should be easy to sit in and have an eye-catching design too. Below are some ideas for buying acrylic dining chairs.

Before you buy your acrylic furniture, you must ensure that you have a sizable place to put them. The dining area should be spacious enough. Remember that if you crowd a small area with too many chairs, even though acrylic chairs are stylish, the area won't look good.
Some of these chairs are stacking, so you can store them away when not in use.
They also might come in different colors like blue or gray. The classic choice is a clear lucite, however.
Acrylic Chair Cushions
Don't forget that you may need some acrylic chair cushions for your new acrylic dining chairs. Faux fur is the most popular choice for acrylic chair cushions but you can also go with a more traditional cotton upholstery cushion if you prefer!

Are acrylic dining chairs right for you?
If you are shopping for the best dining chairs for your home, consider acrylic. These chairs come with a good number of advantages and add a stylish touch to your dining area as well. Here are a few of the benefits.
Give an Airy Look and Feel to Small Spaces
Acrylic dining chairs are clear, just like glass. Although they may not be as clear and translucent as glass, they still provide the same look and feel in the home decor. Since you can see through your acrylic chairs, they make your room feel airy and give a large impression of the room because once your eye spots one piece of furniture, it will keep going until it spots an opaque and solid item. Acrylic chairs will be an enormous advantage if you have a small space to make your space look bigger!
Easy to Clean
Like glass, acrylic chairs are easy to clean, considering that it becomes rather obvious when the furniture is dirty. Hence you will know when the chairs need cleaning. Cleaning acrylic chairs is easy-you only need soapy water and a piece of cloth. When cleaning acrylic, avoid using harsh chemicals as they may damage the material and make it fog.
Modern and Sleek
Acrylic chairs provide a modern look that will complete your interior design. The chairs must be modeled to shape; therefore, they have a simple yet sleek look that will fit into any modern or contemporary styled house.
Easy to Move Around
Acrylic weighs nearly half the weight of glass, hence making it easier to move these chairs around effortlessly. In addition, acrylic chairs will stand the test of time as they are durable pieces. When produced with the right thickness, the furniture will take on the daily wear and tear well. Moreover, acrylic is a tough material that rarely shatters when it falls.
Bright & Luminous
Solid and opaque furniture obstruct light in the dining area; however, acrylics are ideal for maximizing the light. Adding acrylics to your dining area will provide a good and appealing look and make your area full of light.
---
I hope you found the best acrylic dining chairs for your home thanks to this article!
More Decor Ideas
Here are a few related home decorating articles you may be interested in reading: