This Instacart review is totally unsponsored – these are my honest, unbiased, and uncompensated opinions on the famous American grocery delivery service.
In today's fast-paced world, convenience is everything. For many of us, juggling work, family, and daily responsibilities can leave little time for mundane tasks like grocery shopping. That's why services like Instacart are revolutionizing the way busy American families approach their grocery lists.
Offering personalized shopping experiences right at your fingertips, Instacart promises to deliver fresh groceries straight to your door. But does it truly live up to its promises?
Join me as I dive into an in-depth review of Instacart, exploring the benefits, potential drawbacks, and everything in between to help you decide whether this service fits into your bustling lifestyle. Whether you're a working mom or simply someone looking to streamline your weekly errands, this review is tailored to your needs.
Get up to $50 off your first order using my Instacart referral link.
How Does Instacart Work?
Instacart is a grocery delivery and pickup service that connects you with personal shoppers in your area who will handpick groceries from your favorite local stores. Here's a step-by-step explanation of how it works:
Select Your Store
Begin by browsing the available stores in the area through the Instacart website or mobile app. You can choose from various local supermarkets and specialty shops that have partnered with Instacart.
Create Your Shopping List
Once you've selected a store, you can search for individual items or browse through categories. Add items to your cart just as you would with any online shopping experience. You can even include specific instructions for your shopper, such as the exact produce or preferred brand of a product.
Choose Delivery or Pickup
After your cart is full, you can opt for home delivery or schedule a pickup time at the store. You'll then select a delivery timeframe according to your schedule, ranging from an hour to a few days in advance.
Check Out
You'll proceed to the checkout, where you can apply coupons, add your payment information, and review your order. Instacart accepts various payment methods, including credit and debit cards.
Personal Shopper Does the Shopping
Instacart will assign a personal shopper to fulfill your order. They will go to the store, select the items on your list, and follow any specific instructions you've provided. You can communicate with your shopper via the app if you need to make any new changes or have special requests.
Get Your Order
If you've chosen delivery, your shopper will bring the groceries right to your doorstep. If you've opted for pickup, your groceries will be ready for you at the designated time and location. In both cases, you can track the progress inside the app.
Review and Tip
After receiving your groceries, you can rate your shopper and leave a tip. This feedback helps Instacart maintain a high standard of service.
Instacart's service includes access to the best grocery stores and an extensive selection of products, making it appealing to save time without sacrificing choice. There are additional fees associated with delivery or membership, depending on your location and the specific benefits you choose. By offering a flexible, user-friendly platform, I think that Instacart caters to those who need to fit grocery shopping into a very busy and unpredictable lifestyle.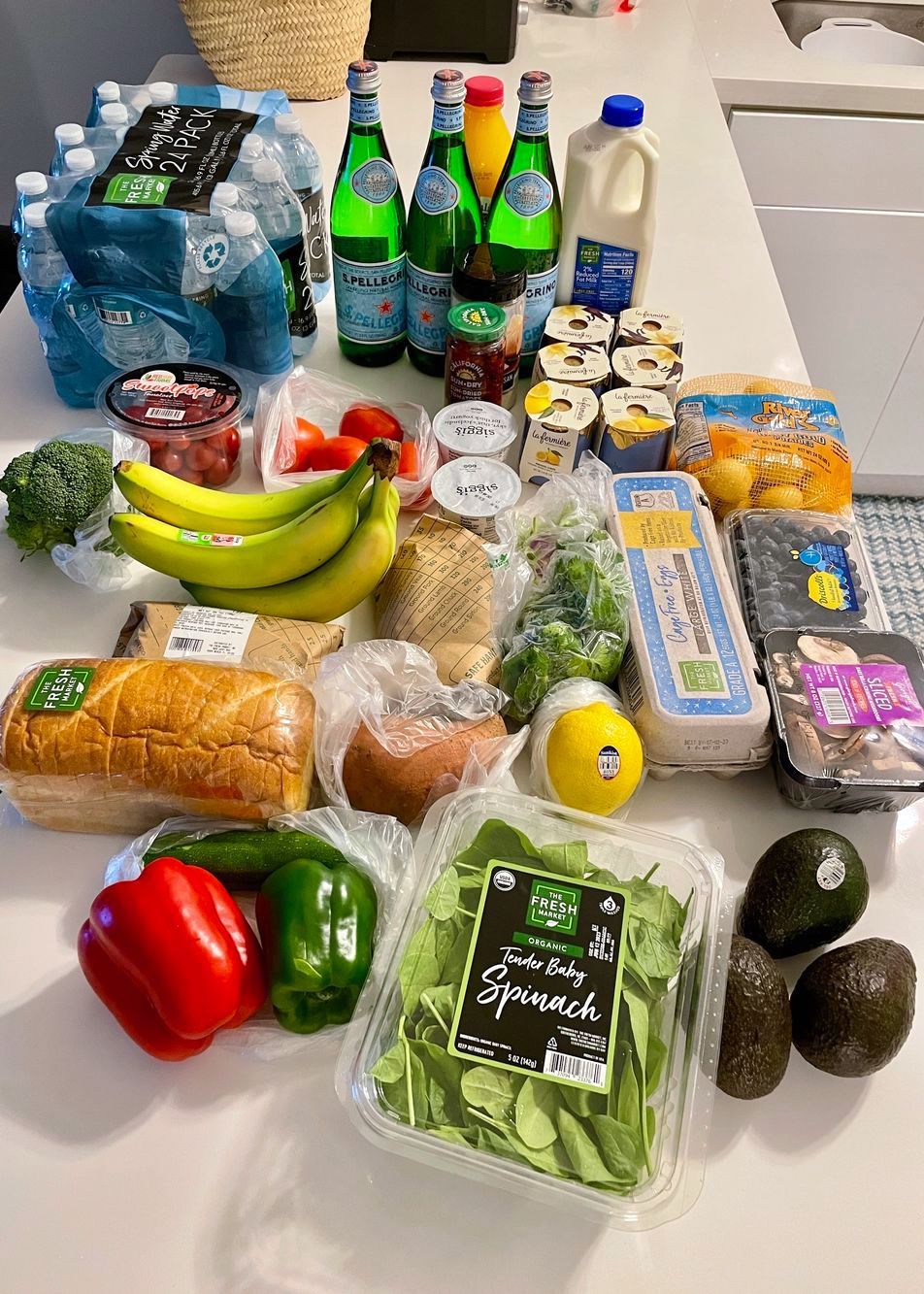 Benefits of Instacart
The benefits of using Instacart for your grocery shopping are numerous and primarily centered around convenience, time-saving, and personalization. Here are the significant advantages in my experience:
Convenience
Instacart allows me to shop from the comfort of my home. I can use the web or go through the mobile app to place an order. I get to order my groceries online while avoiding crowded stores, long checkout lines, and the hassle of finding parking, making the shopping experience far more enjoyable and efficient.
Time-Saving
By outsourcing my grocery shopping to a personal shopper, I can save a significant amount of time. It adds up! This can be particularly beneficial for busy moms and businesspeople who may find it challenging to fit regular shopping trips into their schedules.
Access to Multiple Stores
Instacart provides access to numerous grocery stores in my area (Publix, The Fresh Market, Whole Foods, Target, and more), including specialty shops and organic markets. I can shop from multiple stores in one order, something that would be way too time-consuming to do in person!
Personalized Shopping Experience
Instacart's personal shoppers pay attention to any details and notes you provide, ensuring that your groceries are selected according to your preferences. You can specify the ripeness of fruits, the cut of meat, or any other particular wishes you have.
Scheduled Deliveries
With Instacart, you can pick a delivery window that best fits your schedule. Whether you need your groceries within an hour or prefer to schedule them days out, you have the flexibility to decide.
In-App Communication
You can send messages and photos to your shopper in real time through the app, allowing for last-minute changes, replacements, or specific requests. If an item is sold out, your shopper can suggest alternatives and await your approval, ensuring that you get exactly what you want.
Potential Cost Savings
Although there may be delivery fees or markups on some items, Instacart often offers exclusive deals and coupons that can offset these costs. For frequent shoppers, there's also the option of an Instacart Express membership that provides free deliveries for an annual fee. I can add my loyalty cards to every grocery store, too so I still benefit from any points on my purchases!
Accessibility
If you have mobility challenges or lack transportation, Instacart can be a vital service, allowing you to access to fresh groceries and household items without needing to leave home.
Environmentally Friendly
In the Miami area where I am, my order is grouped with other orders. This means one shopper works on multiple orders, driving one car which makes the whole process eco-friendly. Grouping your order with others in your neighborhood reduces the number of delivery trips and exhaust pollution into the air.
Contactless Delivery
Especially relevant in the context of health concerns, Instacart offers a contactless delivery option, ensuring a safer experience for both you and the shopper if that's something you're interested in.
In essence, Instacart's service is designed to offer a seamless, personalized, and efficient grocery shopping experience. Its benefits are particularly attractive to people like me with busy lives. It's also beneficial for people who have specific shopping needs, or limitations that make traditional grocery shopping challenging.
Downsides of Instacart
While Instacart offers many advantages, there are also some potential downsides that people should be aware of before signing up. Here are some of those drawbacks in my opinion:
Wide Delivery Window
In my experience, the Instacar delivery window is extremely wide (around 1-2 hours) unless you pay extra to have a more precise delivery time. It can be annoying to make sure I'm home and ready to receive the delivery for such a long time.
High Fees and Marked-Up Prices
Instacart isn't cheap by any means. You certainly pay a premium for the service in terms of fees and markups on products. Instacart charges service fees, delivery fees, and even higher prices for products compared to in-store prices. It also encourages you to leave a very high tip (15% or more) for the driver. These additional costs add up fast, making your overall grocery bill more expensive.
Subscription Costs
If you want to take advantage of Instacart Express for unlimited free deliveries, there's an annual or monthly fee involved. Depending on how often you use the service, it may not be cost-effective.
Availability Limitations
I noticed that often Instacart says that a product is marked as out of stock and thus I'm unable to add it to my cart. I question the accuracy of Instacart's inventory checks, but there's no way around it. In some areas, like more rural or less populated regions, Instacart might not be available at all.
Quality Control
While Instacart's shoppers are trained to pick quality items, there might be inconsistencies in what you receive. The personal shopper might not select produce or other perishables with the same care you would, leading to dissatisfaction with the freshness of some items.
Broken Items
I've received broken eggs in some of my Instacart deliveries which is always a pain. Luckily Instacart does allow for refunds in that case.
Wrong Items
In rare instances, you will receive the wrong item or the wrong quantity of an item. One time I ordered 2 tomatoes, but instead I got 10. It was odd, but it happens!
Substitution Issues
If an item on your shopping list is out of stock, the shopper may substitute it with a similar product. While you can usually approve or reject substitutions, misunderstandings or miscommunications can happen.
Potential Delays
Unexpected delays might occur, such as traffic, issues at the store, or high demand, leading to your groceries arriving later than the scheduled window.
Privacy Concerns
Like many online services, Instacart collects data on your shopping habits and preferences. Some people might have concerns about how this information is used or shared with third parties.
Less Support for Local Businesses
If you're passionate about supporting small, local businesses, you may find that Instacart's partnerships are often with larger chain stores, limiting your ability to shop from local markets or specialty stores.
Must Be Tech Savvy
Instacart's service relies on using a website or app. Older folks who aren't comfortable with technology may encounter technical issues and this might create barriers to using the service.
While many of these downsides can be managed or mitigated, they represent potential challenges that could affect your experience with Instacart!
Is Instacart really worth it?
If you ask me, Instacart is still worth it despite its drawbacks. If you don't own a car, the fees and driver tips still mean Instacart is cost-effective when compared to renting a car. If you run a business, the time you save on grocery shopping is priceless, and paying a driver to do that for you is indeed worth it!