For the last month, I've been sleeping on Quince linen bed sheets and matching linen duvet. If you're thinking about buying these sheets or duvet, then this article will tell you everything you need to know!
For full disclosure, this Quince linen sheets review is totally unsponsored, though the sheets and duvet were gifted to me with zero expectations.
There are two types of people: people who love buying luxury bedding to make their home feel like a 5-star hotel, and people who can't stand spending more than the bare minimum on sheets since they can wear down fast.
That's why I was so excited to try Quince linen bed sheets – these sheets are reportedly ultra-high quality but priced incredibly low. Quince makes it possible to get the best of both worlds.
What is Quince?
If you don't know, Quince is a direct-to-consumer brand that works directly with factories to distribute quality products that can "elevate your life" while being made sustainably and priced affordably.
The traditional supply chain for bedding and other home goods is particularly convoluted. You have to deal with sourcing agents, tariffs, warehouse fees, wholesale agents, brand mark-ups, retail store mark-ups, and plenty more middlemen who each push the price of goods higher.
Quince cuts out all the extra middlemen to get you products at the lowest price possible!
This was my first time ordering from Quince and the process went smoothly. The sheets arrived on my doorstep with no hassles in under a week. They were packaged minimally, but sufficiently.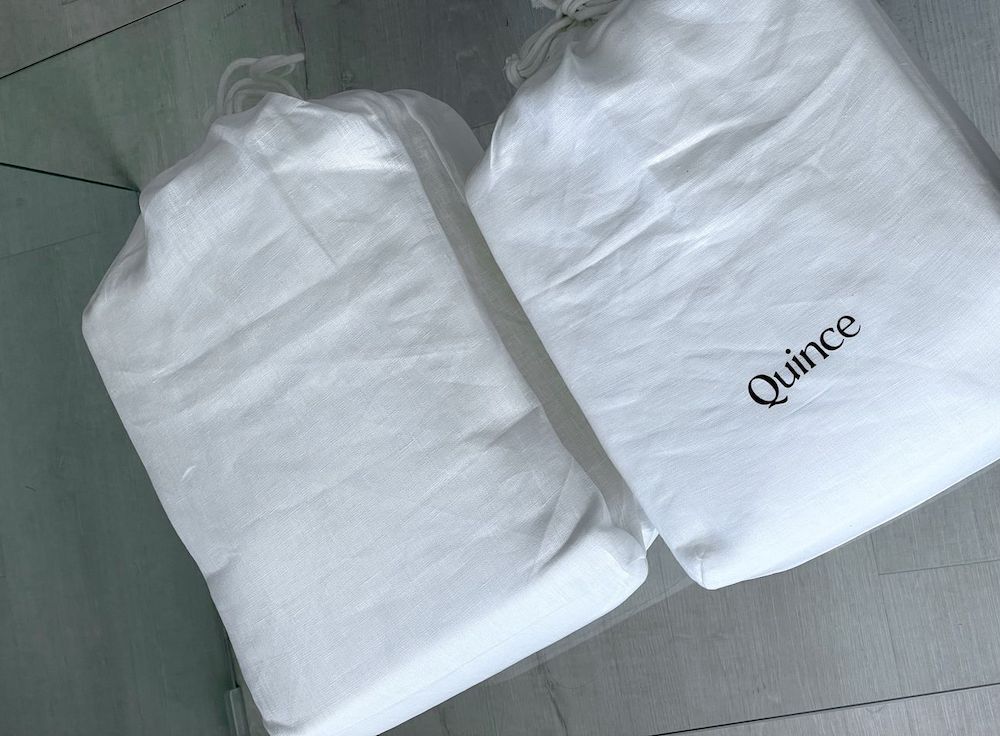 Quince Linen Bedding
I opted for the European Linen Duvet Deluxe Bundle, a 7-piece set that comes with everything you need to make your bed.
The set comes with a duvet cover, fitted sheet, flat sheet, 2 standard pillowcases, and 2 rectangular sham cases. The set is offered in Twin, Full, Queen, King, and California King sizes so you can get the perfect fit. Buying this bundle saves you 15% as opposed to buying each piece separately.
The Quince European Linen Sheet Set is another great alternative if you don't need a full duvet set, which comes with 1 flat, 1 fitted, and two standard pillowcases.
Quince offers free shipping and free returns (for up to 365 days).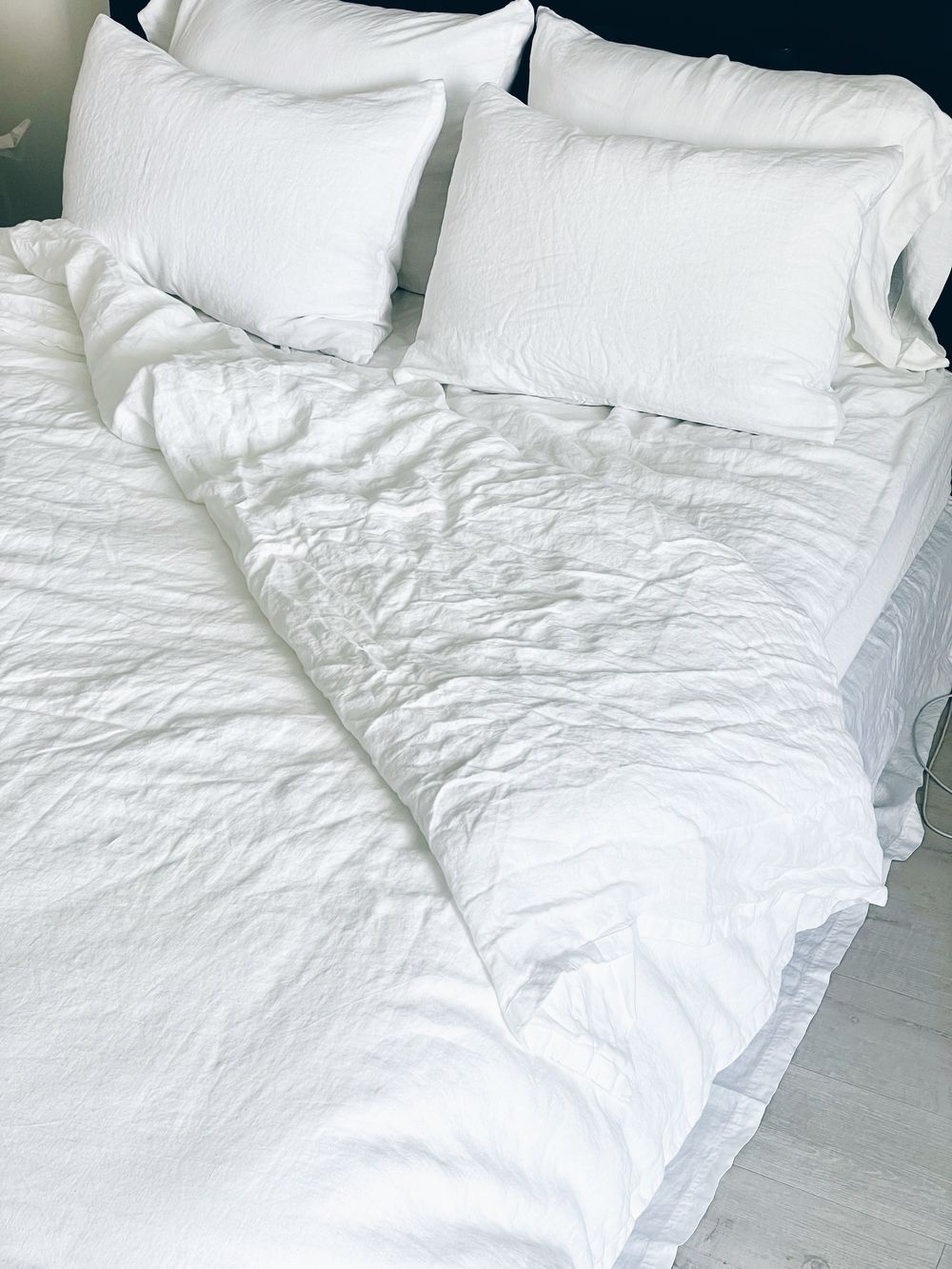 How Quince Linen Bed Sheets Feel
I'll be honest – I had never slept on linen bed sheets before. I had a linen bedspread when I lived in Paris previously, but the sheets I used were cotton. Now that I live in South Florida, I wanted linen sheets that were more airy, breathable, and fit in with my coastal decor.
These sheets are a big upgrade from cotton, to say the least. They are very soft, and have a gently wrinkled look that linen is famous for. The home concept store Merci in Paris sells tons of linen home products, but they're always extremely expensive. My Quince linen bed sheets give me the same natural European linen look without the high price tag.
Most importantly, they're breathable which means I don't get hot overnight while sleeping on them.
100% European Linen
The Quince linen sheet set is made from 100% European Linen. Why is European linen so famous? Well, European linen is known to be the best in the world; it's super soft and very durable – it can last decades.
Always wash your linen sheets first before using them. They are designed to get softer with time and with washes. I noticed mine were much softer after I got them out of the dryer than before I put them in the wash!
Quinc Linen Duvet Button Closure and Corner Ties
What I love about the Quince linen bedding set is that the duvet cover has little corner ties to keep it in place. Cheaper duvets don't have this feature so the comforter ends up shifting around leaving you with excess fabric on one end. Not a problem with my Quince linen duvet!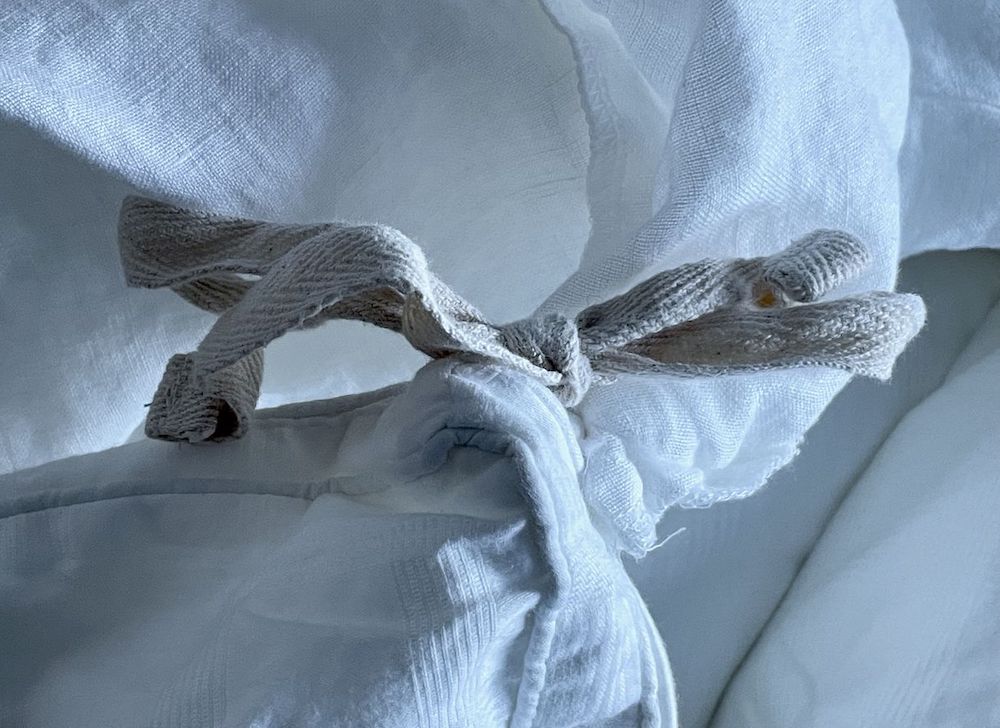 The duvet has a very long button closure on one end, making it easy to get your comforter in and out of the slot.
Machine Washable
These sheets are easy to wash in the machine and when they come out of the dryer they're extra soft. Does Quince linen shrink? I've washed and dried my Quince linen sheets several times so far and they have not shrunk at all. The fitted sheet is designed to be used with mattresses up to 16" thick so there is some wiggle room.
Chemical and Pesticide-Free
Quince linen bed sheets are fabricated without the use of any harmful chemicals or pesticides. They've been tested for harmful substances by a third party OEKO-TEX® under the Standard 100 label.
Transparent Pricing
What's really cool about Quince is that they have a "transparent pricing" policy that outlines their costs for producing the item you buy.
The cost breakdown for these sheets as shared by Quince is:
Materials: $74.18
Crafting Cost: $28.61
Packaging: $5.71
Freight & Handling: $57.02
Credit Card Fees: $7.69
This comes out to a total cost of just $173.21.
This bundle is currently priced at just over $200 so as you can see, Quince isn't marking up these sheets double which is what most online retailers do!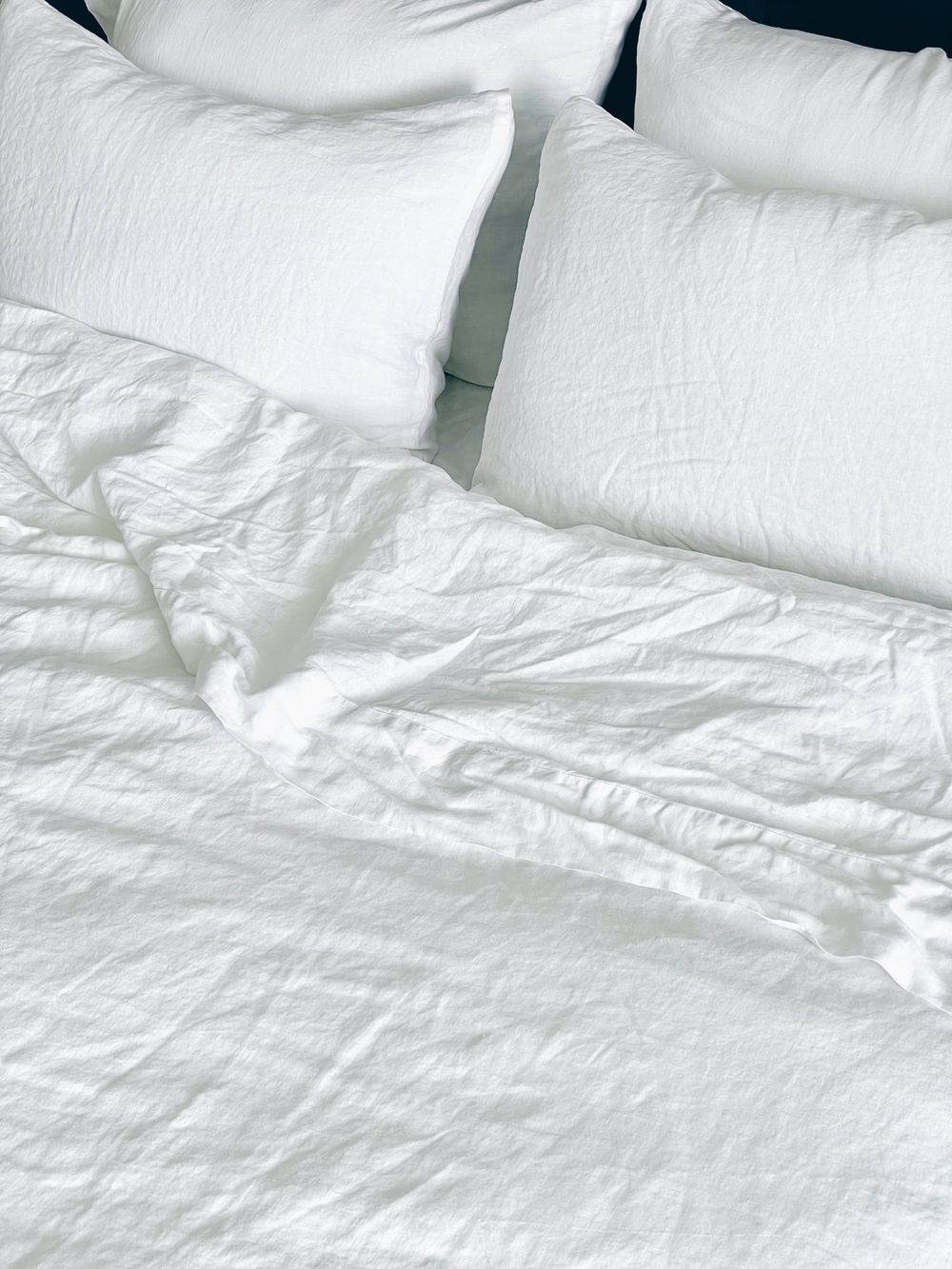 Are Linen Bed Sheets Right for You?
Linen bed sheets aren't for everyone. Some people love them and others do not so much. For the first few uses of linen sheets, you might feel like they are not as soft as you'd like. These are linens that get better with time and after several washes. You can try to add baking soda to your linen wash cycle in order to soften them faster if you like.
I think linen bed sheets are best for people who are hot sleepers and might sweat a lot at night. Linen has the ability to sweep away sweat from the body and keep it off you at night.
They're also great for people who live in hot climates and need to feel a cooling effect at night. Linen is an incredibly breathable fabric. It doesn't hold in moisture or heat. This makes it perfect if you live in the hot South or want to feel comfortable sleeping during hot summer nights!
The biggest benefit of linen bed sheets is their durability. They're known to last decades and many people love them for this reason.
If you aren't sure about linen sheets, go with a basic bedding set to start and see how you like them!
Are Quince Linen Sheets Worth it?
Are Quince linen sheets worth it? After sleeping on these sheets for just over 6 weeks and comparing them to other prices online, I can definitely say this is a product I would purchase in a heartbeat.
Plus, you have 365 days to decide if they are right for you!