In today's world, we often are subjected to a great deal of stress. Between the higher levels of stress, like at work, and everyday stressors like traffic, the 24 news cycle, and your next-door neighbors, we need to make our homes a place of refuge.
Many homeowners these days decide on the concept of a minimalist kitchen to accomplish this goal.
Minimalist Kitchens
Using minimalist design for your kitchen takes what is the busiest room in your house and transforms it. By focusing on the simple, using a higher level of quality, and stripping many things down to a rawer format, minimalist kitchen design, once considered a fad, is now a design used in many homes.
Minimalist kitchen designers place a strong emphasis on natural elements that create an earthy feel. That means using wood, marble, and sometimes cement or stone.
The kitchen is obviously a very practical place in the home, so minimalism is the perfect design style to adopt for this space of the home. 
High Contrast Design
High contrast design is a term that designers use to describe a black and white yet creative approach to kitchen design. There are many aspects of this design and many reasons to choose it. This design uses opposite colors or neutrals that differ one from another. This adds depth, balance, and contrast.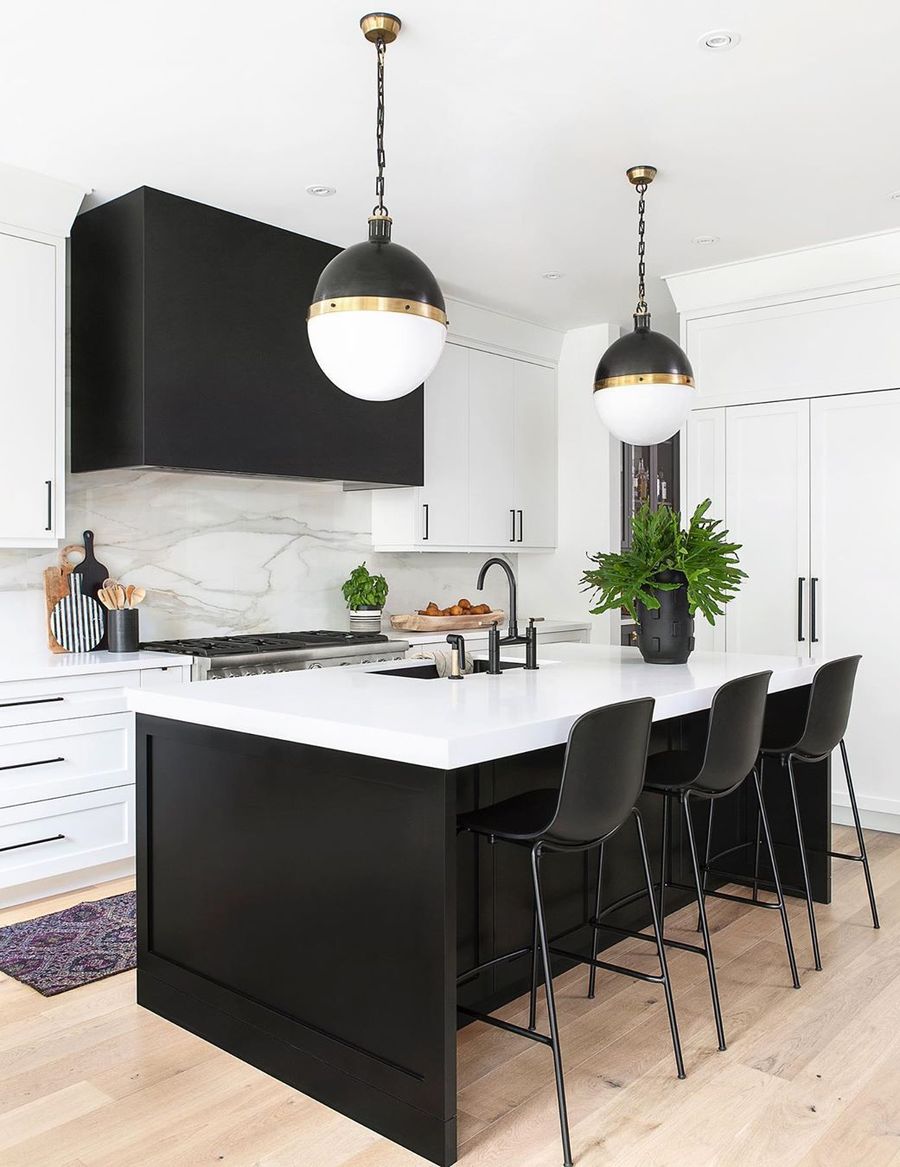 Black and White Checkered Floors
The look of black and white checkered flooring is not a new design concept. It dates back to the 17th century in the Palace of Versailles, outside of Paris, and was the home of Marie Antoinette. In every time period since people have used its simple yet stark appeal. In the 21st century, people using a minimalist kitchen design find these contrasting colors pleasing.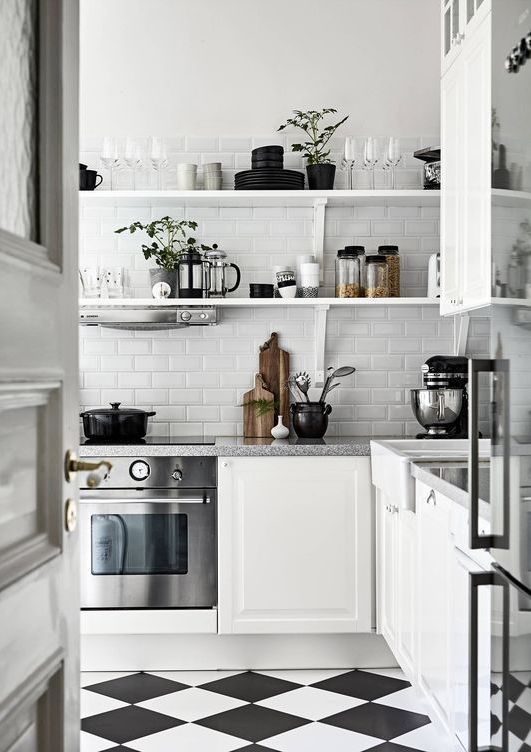 White Subway Tile Backsplash
Using white subway tiles for the backsplash of your minimalist kitchen is not a new idea. This design recurs in kitchens from many eras. What makes it so popular today for those redesigning their kitchen to reflect the minimalist lifestyle? It's a timeless look, tiles are inexpensive, and are very easy to clean. This look never seems dated.
One way to make the all-white look more interesting is to add a contrasting color. In the 21st century, one especially popular look is using a darker color on the grouting of the white subway tiles. A suggested color is the variation of gray, in various shades of this darker color. This helps the all-white subway tile look seem more modern. If you are looking for an additional way to make this look seem even more modern, take the tiles all the way to the room's ceiling. This will make the kitchen look larger.
Scandinavian Simplicity
What makes Scandinavian kitchens different from other styles? Because it has simple lines a clean look and great functionality, Scandinavian kitchen design is often used with minimalist design. It first became popular in the 1950s and remains so because of its lack of clutter look. Scandinavian furniture maximizes light and clears spaces of disorder.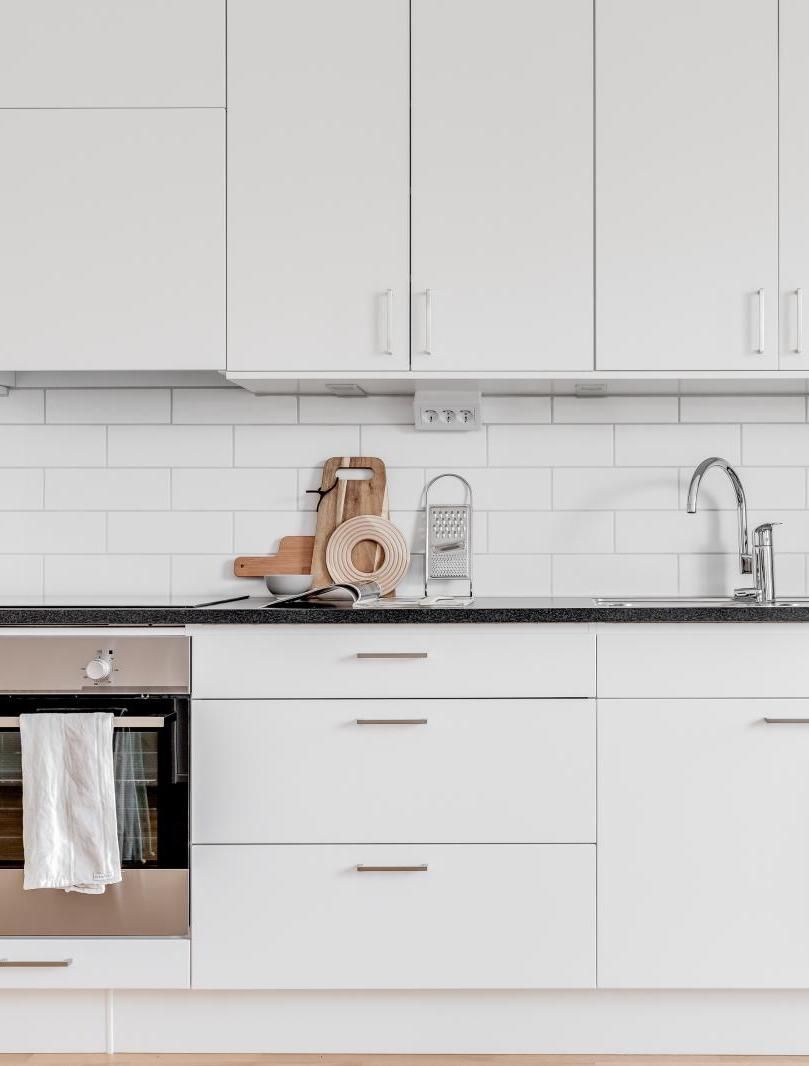 Brown Leather Counter Chairs
Want to warm up your minimalist kitchen design? Try going with brown leather counter chairs against a white kitchen island.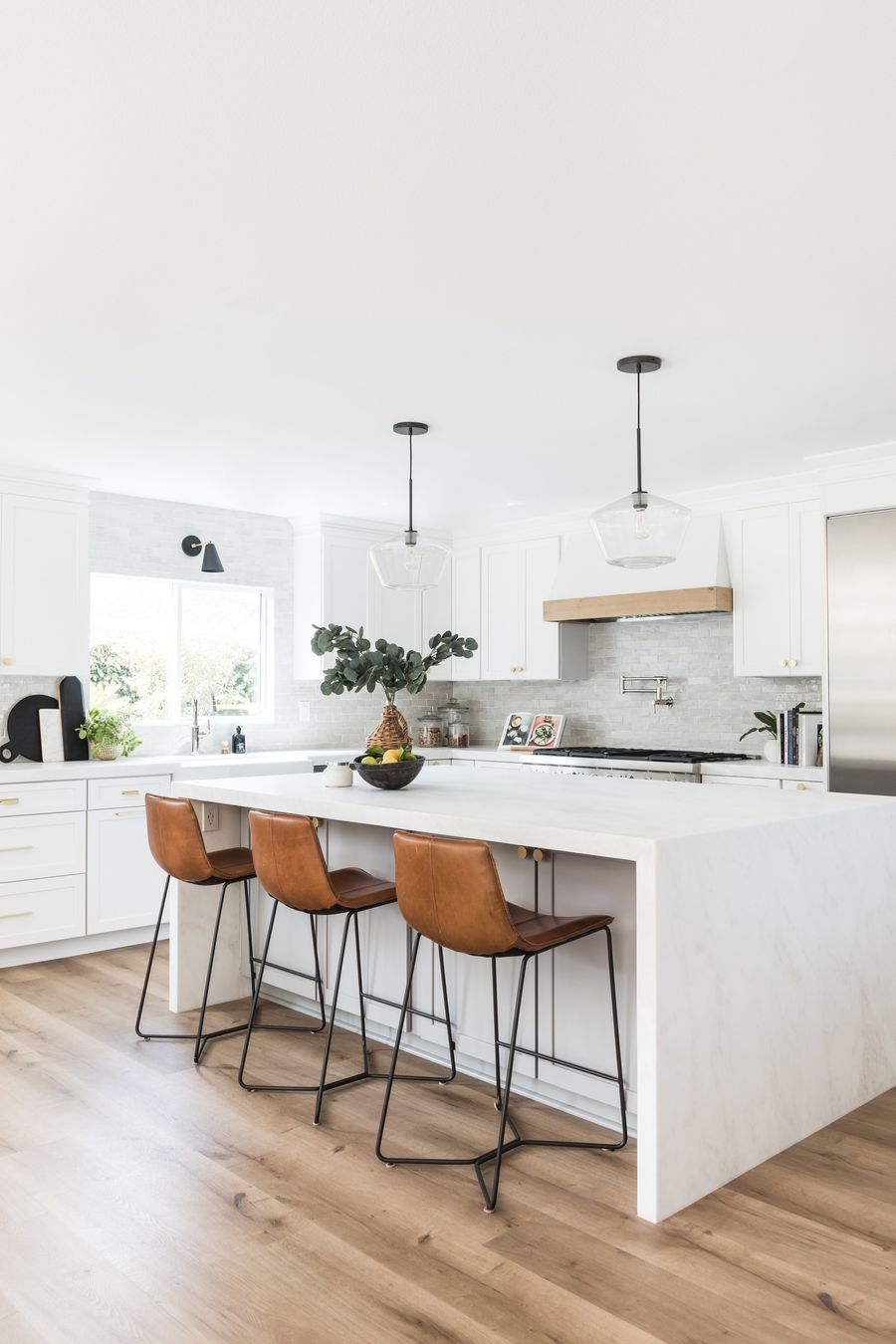 Concrete Kitchen Island
Want to try a unique design for your kitchen island? Go with a minimalist gray concrete slab as seen here.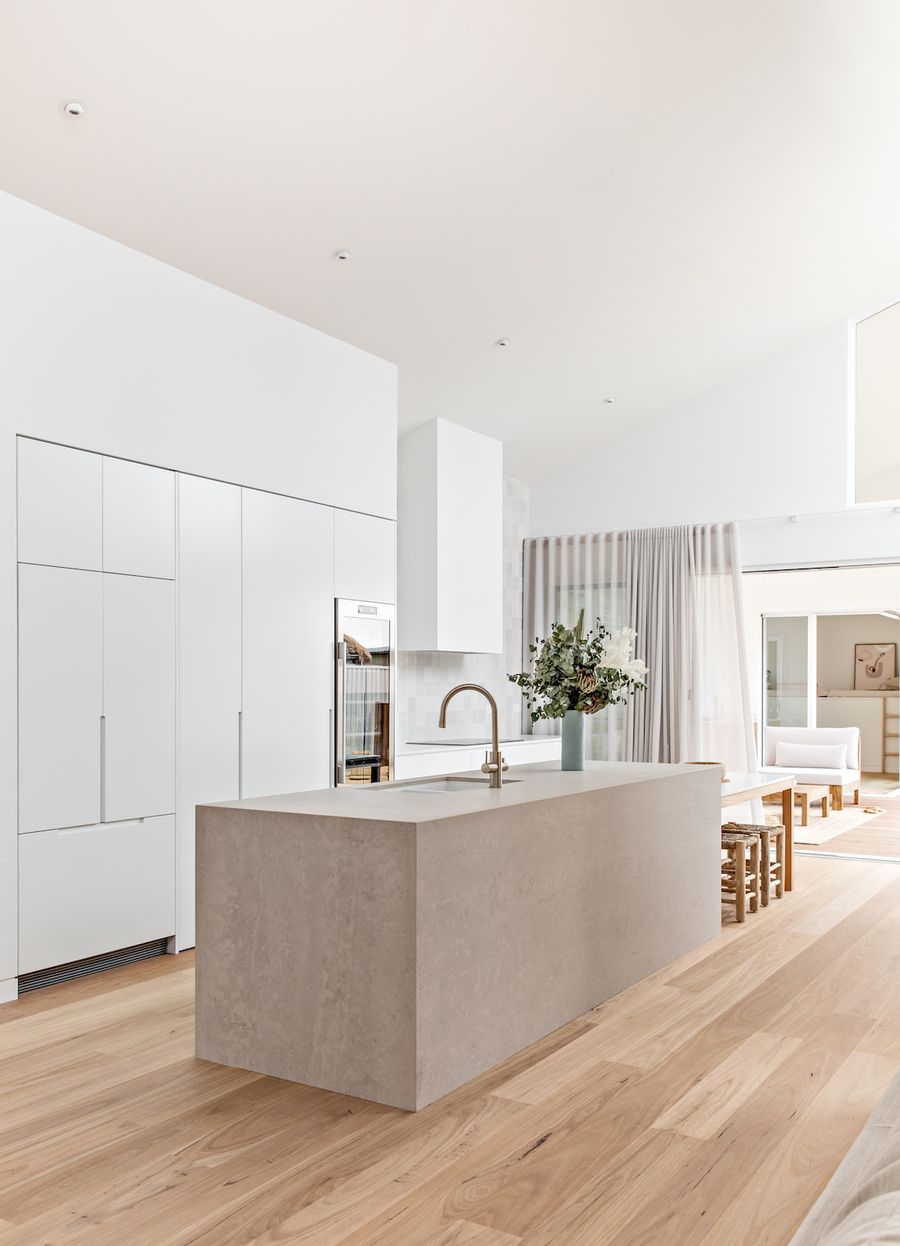 Paneled Cabinets
Paneled kitchen cabinets are a unique way of adding texture to an otherwise minimalist kitchen.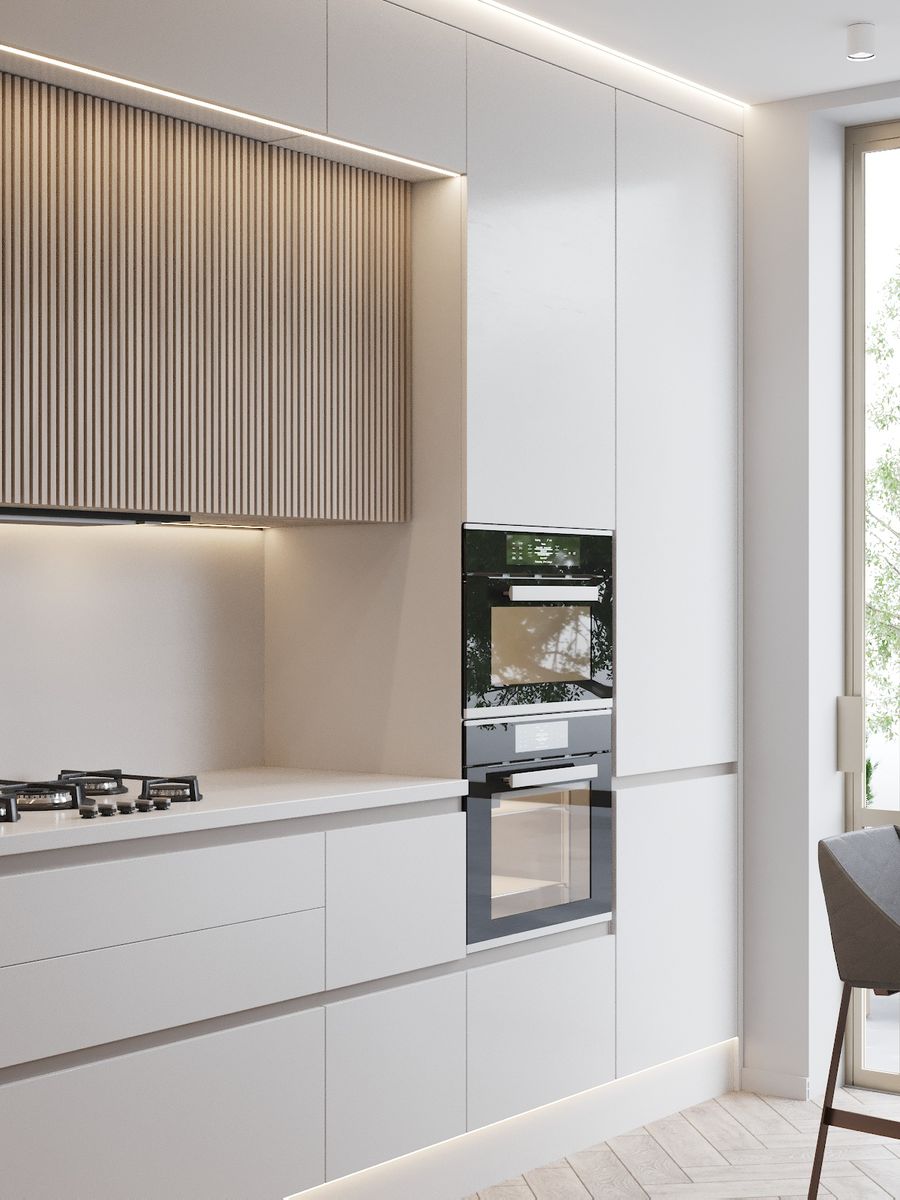 The minimalist look for the kitchen and throughout the house is the new "in style" look for today's homes! What do you think about it?
More Minimalist Decor Ideas
Get inspired by these related minimalist decorating ideas: