These minimalist bedroom decor ideas will help you achieve a simple white aesthetic in your bedroom. If you hate clutter and appreciate the simplicity of minimalist interior design, these are the key design elements to consider. A bedroom designed with only the essentials in mind is key to a happy and laidback life. Here is our guide for the minimalist bedroom look!
Black Lighting Fixtures
Minimalist bedrooms are often white, so to create a bit of contrast, go with simple black lighting fixtures that pop out against the white palette backdrop. Here, a black metal swing arm light is installed on the wall of this white minimal bedroom in Scandinavia.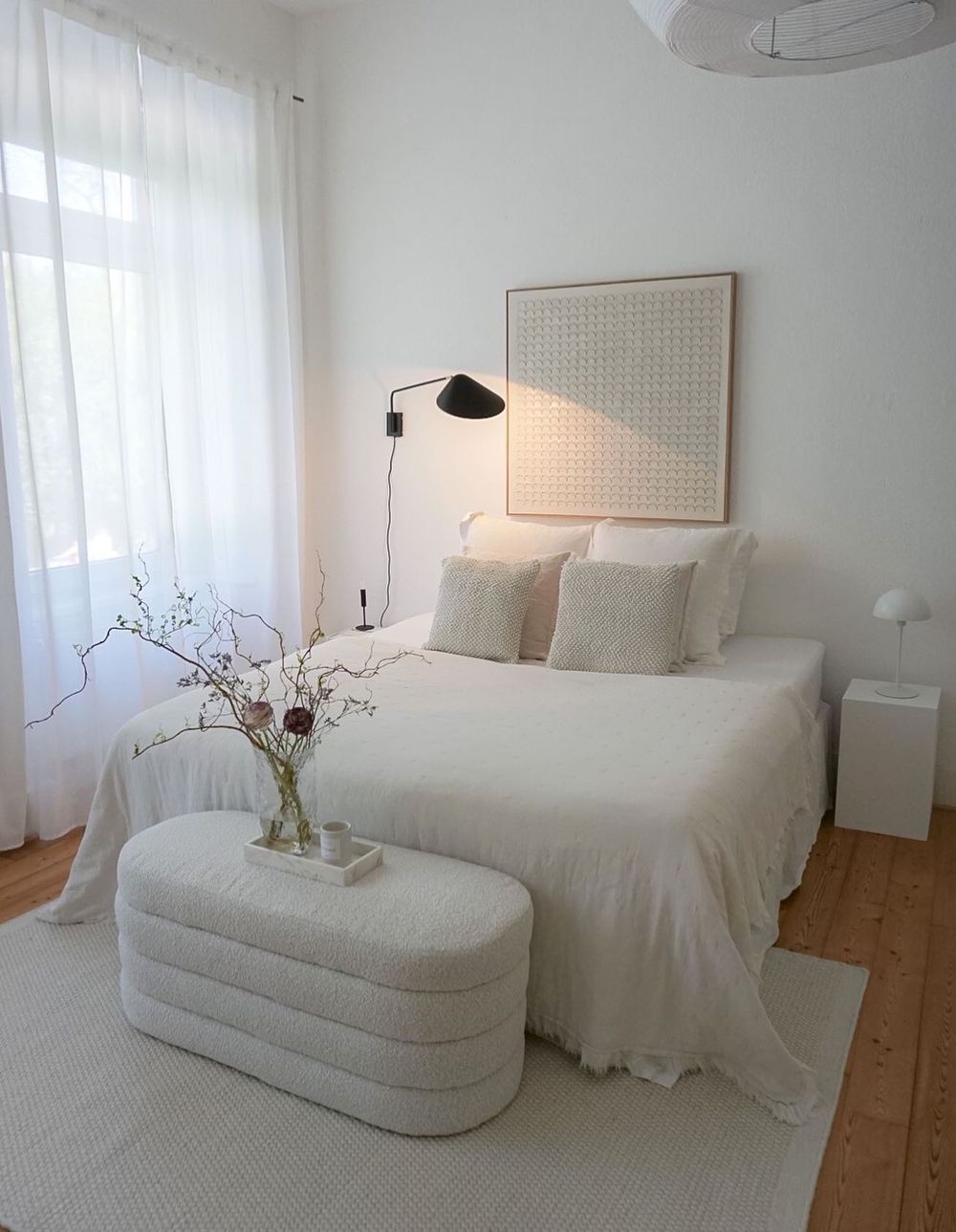 Monochrome Color Palette
Achieving a minimalist bedroom starts with the right color palette. Monochrome colors, such as black and white, are the perfect way to create a serene and uncluttered space. To add interest to your low-key bedroom design, choose different shades and tones of the same color. For example, you might use a light cream for the walls and a darker gray for the bedding.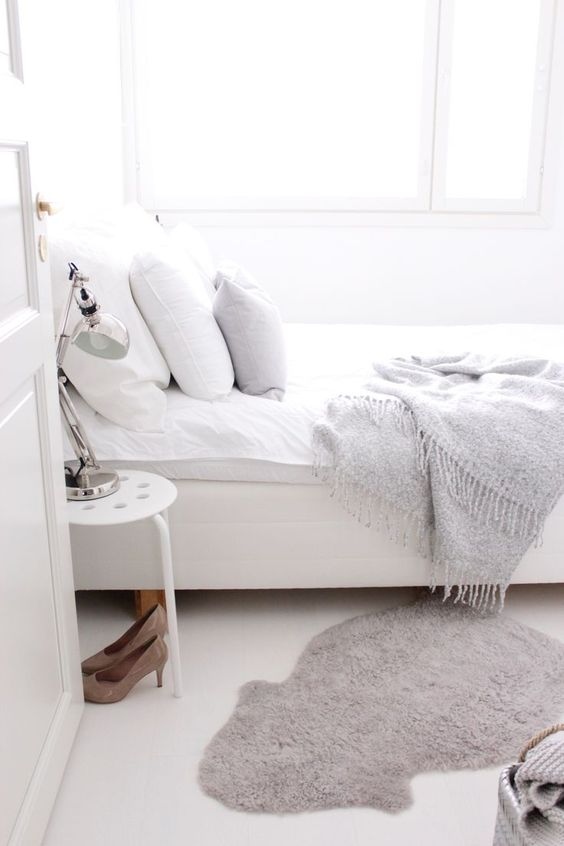 Texture can also be used to create visual interest in a monochrome bedroom. Try using different fabrics, such as cotton and linen, or mixing smooth surfaces with rough textures. The key is to keep the overall look clean and simple. You can create a beautiful and tranquil minimalist bedroom with a few carefully chosen pieces.
Minimalist Furniture
Minimalist furniture is functional and aesthetically pleasing, with clean lines and a simple silhouette. The focus is on form rather than ornamentation, which can make a big difference in your bedroom's overall look and feel.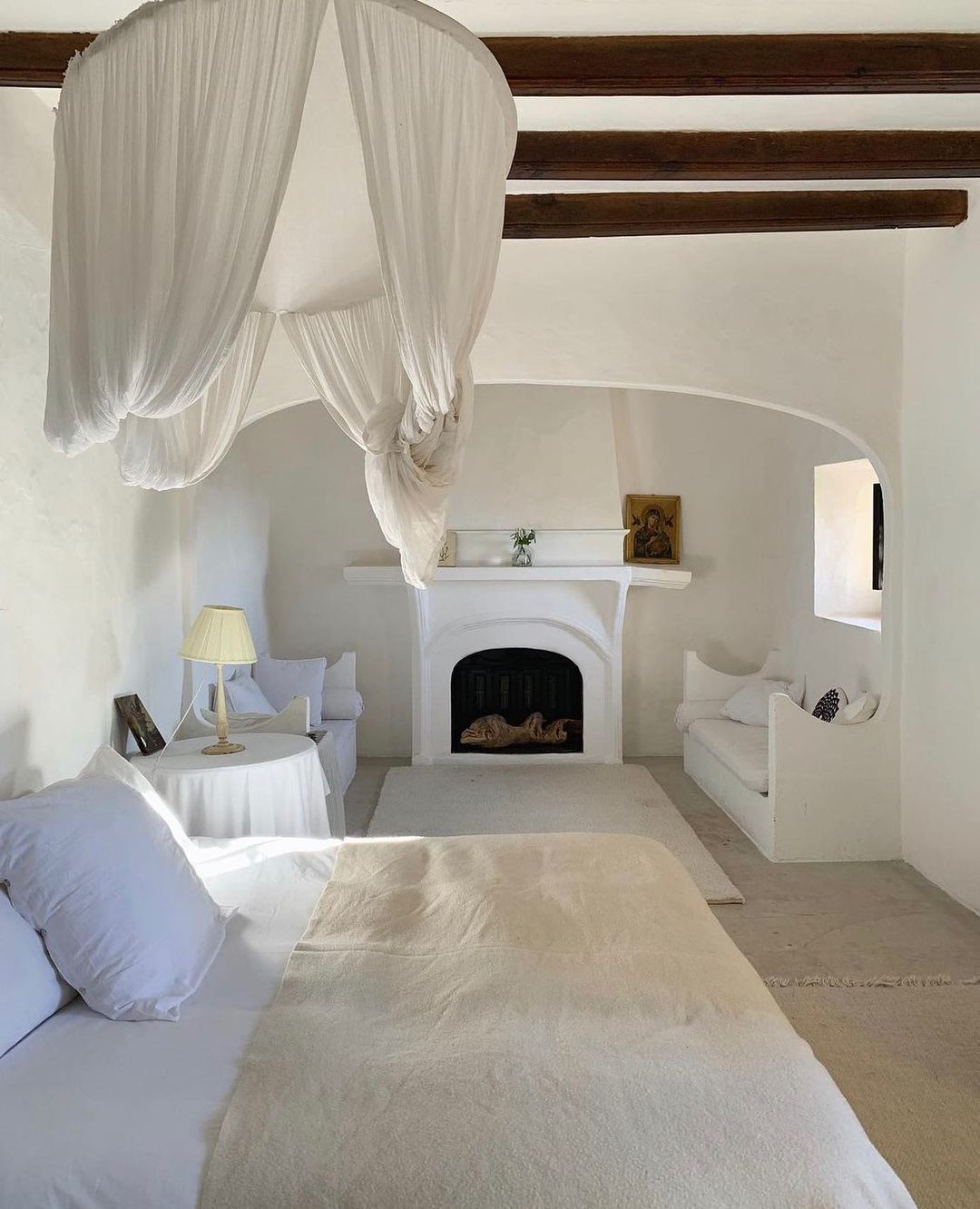 When selecting minimalist furniture, it's important to keep scale in mind. A bed, for example, should be the focal point of the room, so choose a size that will create a balanced look.
Similarly, minimalistic nightstands and dressers should be proportional to the bed. By carefully selecting each piece of furniture, you can create a serene and stylish bedroom perfect for relaxing and unwinding.
Black and White High Contrast Design
Another way to create a minimalist bedroom is to use a black and white color scheme. Black and white are the perfect contrast for a minimal bedroom design. The stark contrast between the two colors helps create a sense of order and peace.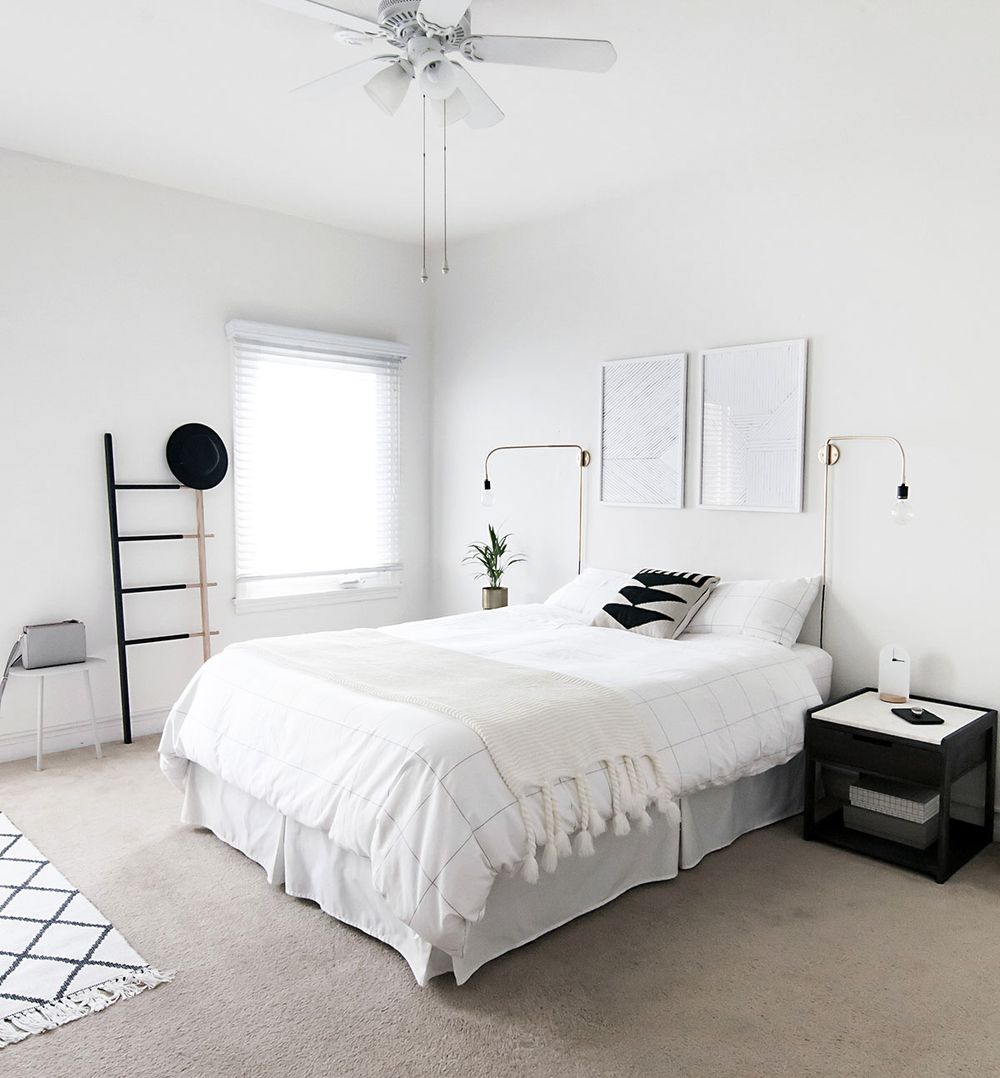 Additionally, black and white can be easily incorporated into any bedroom decor style. For example, you can add some black and white photos to your walls or use black and white bedding to create a clean look. Whether you're looking to create a serene oasis or want to declutter your bedroom, a black and white color scheme can be the perfect solution.
Simple Round Wall Mirrors
Simplicity is key when it comes to minimalist bedroom decor. Round wall mirrors are such a popular choice – they make a significant impact without being overpowering. Plus, their reflective surface helps to create the illusion of more space, which is always a bonus in smaller bedrooms.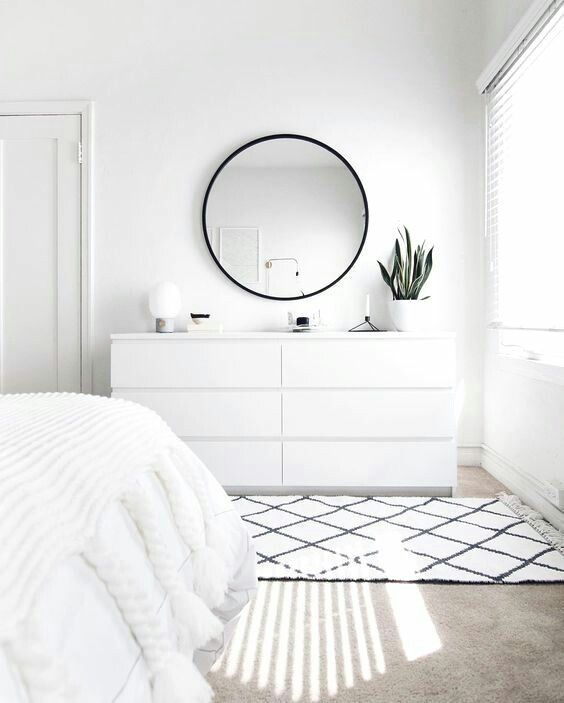 If you're not sure how to incorporate a round mirror into your decor, here are some ideas to get you started. Hang one above your bed for a stylish headboard alternative, or use a group of small mirrors to create an eye-catching accent wall.
You can also use a mirror to visually expand a cramped entryway or create the illusion of a window in a dark corner. Whatever way you choose to use it, a round mirror is a versatile tool that can be placed in a minimalist bedroom.
Crisp White Bedding
If you're looking for a sleek and stylish way to update your bedroom, consider investing in crisp white bedding. White bedding has a clean and modern look that can instantly transform the feel of your space. Plus, it's incredibly versatile and can be paired with almost any style of décor.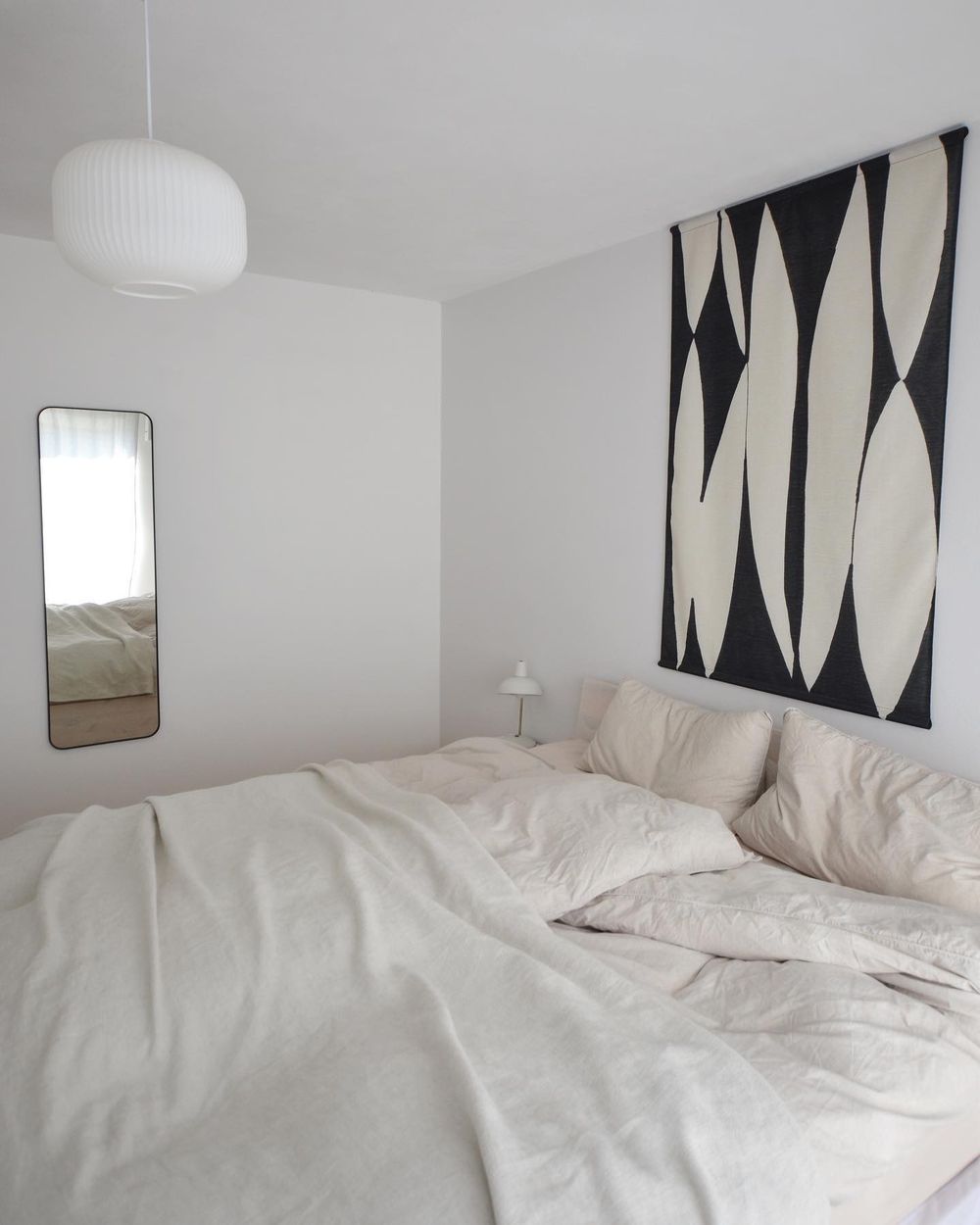 To give your bedroom a fresh, minimalist look, start by selecting crisp white sheets and pillowcases. Then, add a white duvet cover or comforter. Consider adding a white fuzzy throw blanket or some patterned accent pillows for a touch of texture.
You can also hang a few white curtains or blinds to let in natural light and complete the look. With just a few simple changes, you can create a chic and minimalist bedroom that is stylish and inviting.
Minimalist Artwork
As the name suggests, minimalist artwork is all about simplicity. In a minimalist bedroom, the goal is to keep the décor clean and uncluttered so that the space feels calm and serene. Minimalist artwork is the perfect way to achieve this look.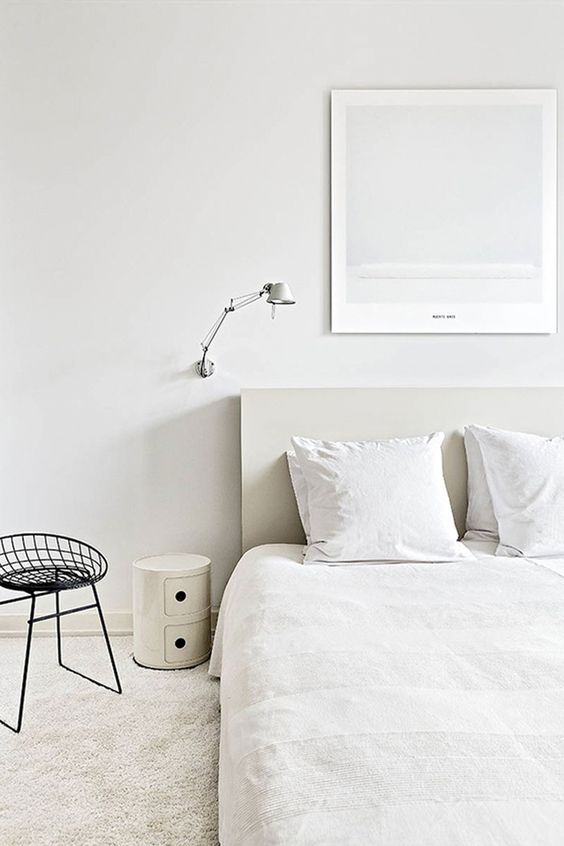 Instead of hanging a busy painting or a clutter of photos, choose one simple piece of artwork to act as a focal point in the room. Opt for a black-and-white print or a piece with clean lines and geometric shapes for something genuinely minimalist.
If you want to add a pop of color, choose a piece with a single accent hue. Hang the artwork at eye level for the best effect, and make sure it is adequately lit to be appreciated.
Mid-Century Modern Arc Lamp
One of the most popular minimalist bedroom decor ideas is to use an arc lamp as a focal point. Arc lamps are eye-catching and add a touch of style while providing much-needed light for reading or other activities.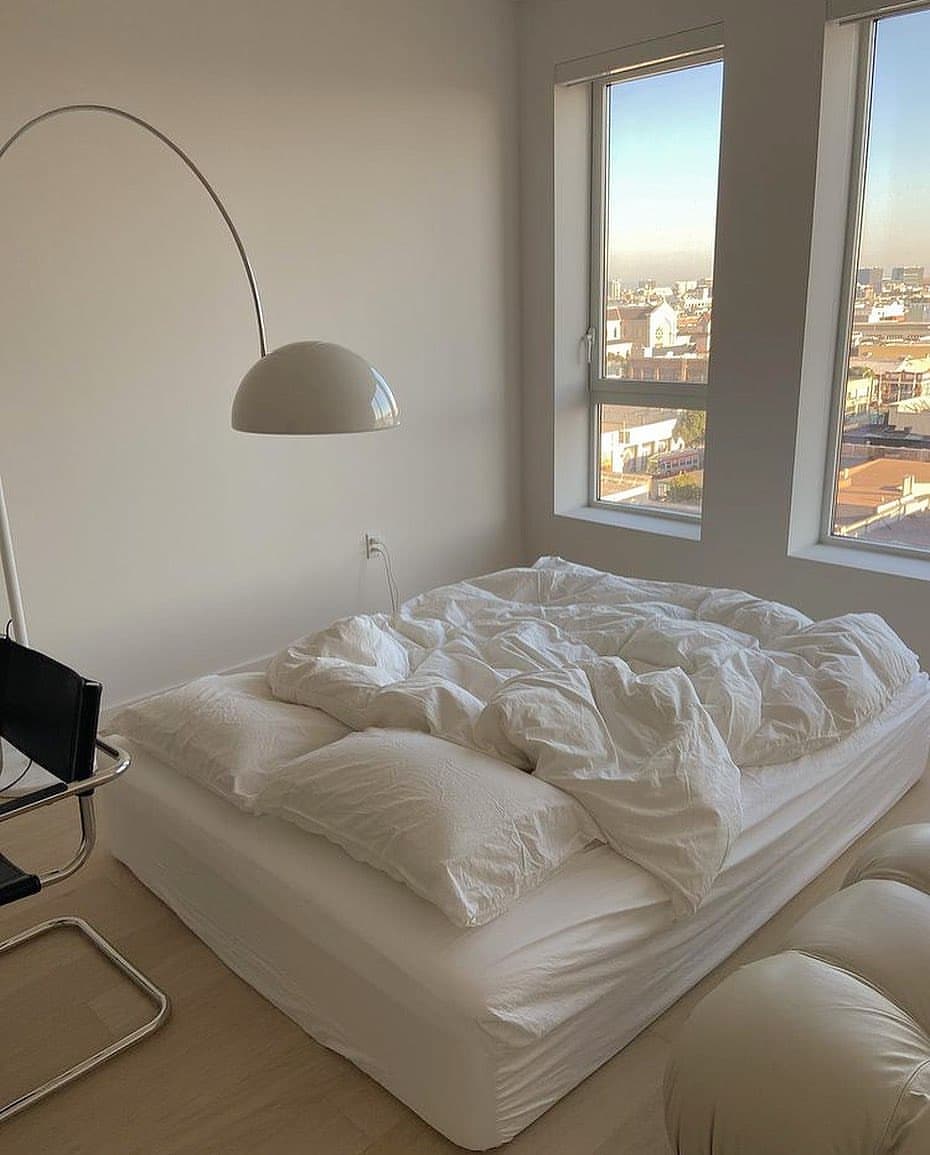 While you can find arc lamps in various styles, the mid-century modern look is particularly well-suited to a minimalist bedroom. These lamps often have sleek lines and a simple design, making them perfect for any space.
Another advantage of using an arc lamp in the bedroom is that it can be easily moved around, so you can adjust the light as needed. Whether you're looking for a statement piece or need more light, an arc lamp is excellent for your minimalist bedroom.
Transparent White Curtains for Windows
Transparent white curtains are a great way to add a touch of style to any space. They provide privacy and allow natural light to filter through, creating a bright and airy feel.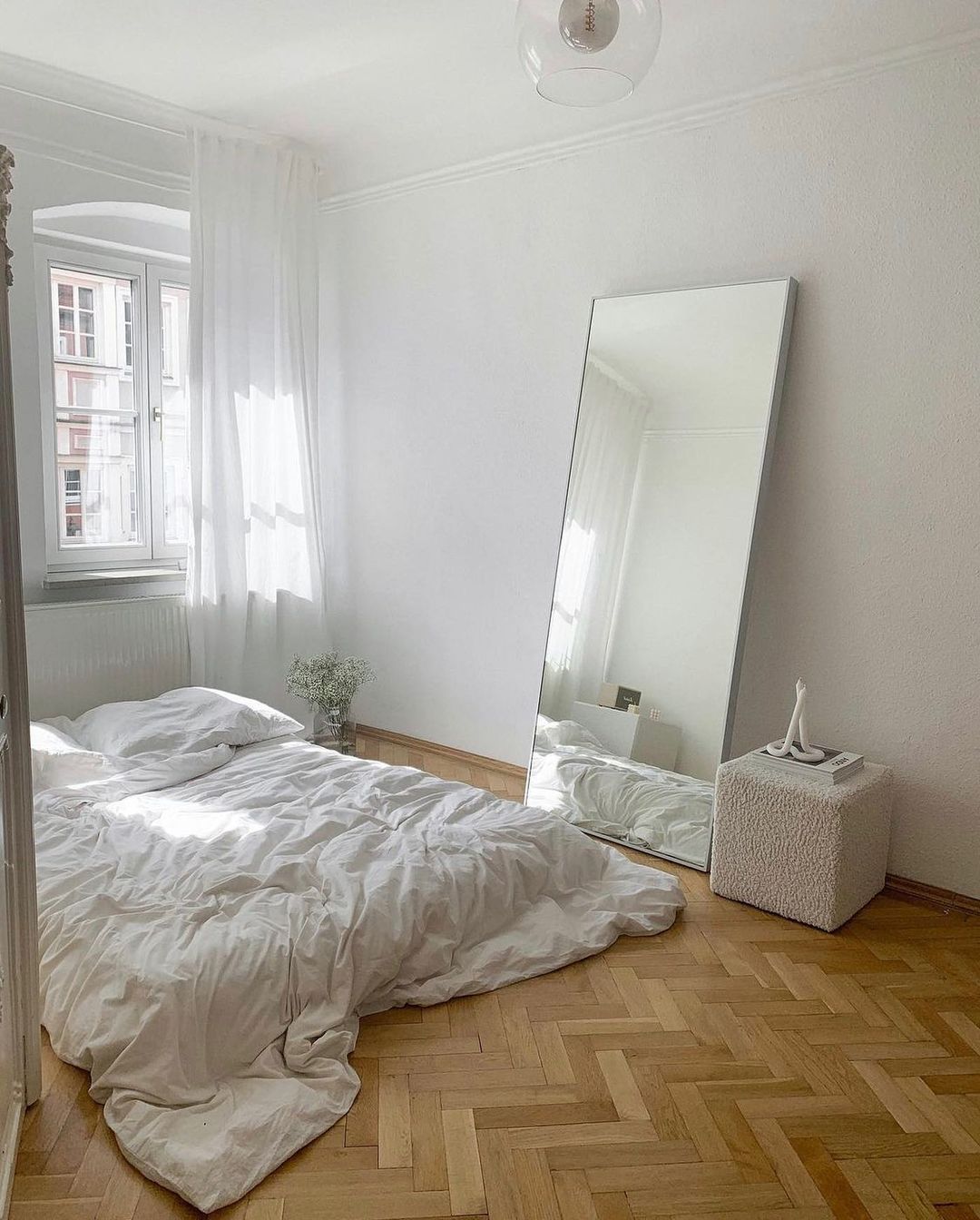 To give your bedroom a minimalist look, pair transparent white curtains with simple furnishings and neutral colors. Try adding them to windows that face the sun for a more dramatic look. The light's reflection will help create a warm and inviting atmosphere.
Whether you're looking for a way to update your space or simply searching for some inspiration, transparent white curtains are a great place to start.
Plush White Pillows
A plush white pillow is a perfect way to add a touch of luxury to your minimalist bedroom decor. The pillow can instantly make any bed look more expensive and inviting, and it can also help achieve the clean, crisp look that is so popular in minimalist design.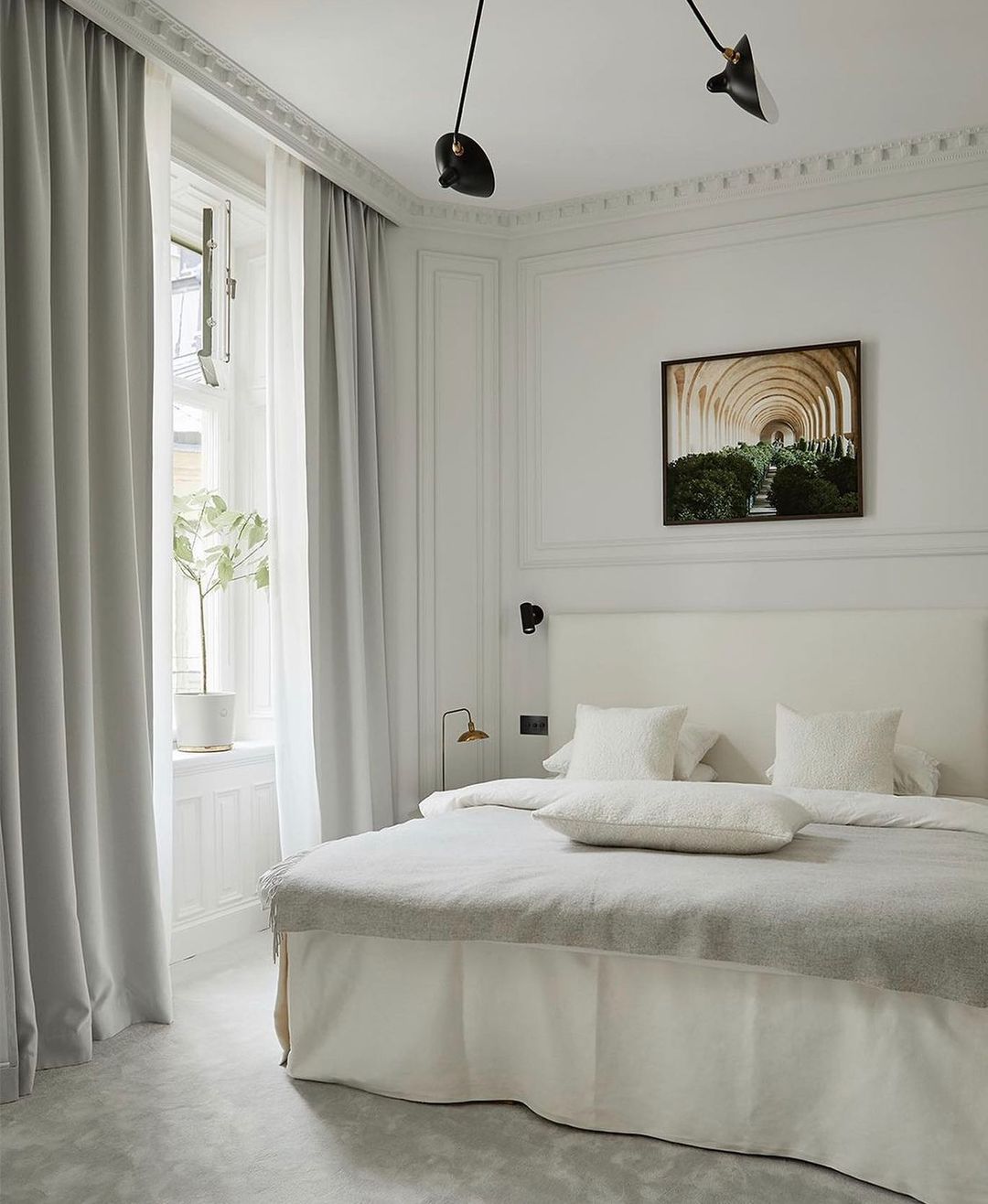 When choosing a pillow for your minimalist bedroom, select one made from high-quality materials. A down or feather pillow will be the most comfortable option, but synthetic pillows can also work well.
In terms of size, choose a pillow that is proportionate to the size of your bed. A small pillow may be all you need for a twin-sized bed, but you may want to use two or even three pillows for a king-sized bed. Whatever size you choose, be sure to fluff the pillow regularly to help it retain its shape.
More Minimal Decor Ideas