Kitchen runner rugs in a home can make a difference to how a kitchen looks. You get a feeling of having a more cozy kitchen. Some things you should consider before buying a kitchen runner rug are how resistant to time the rug is, which one is easier to clean, purpose, size, variety, texture, slippery protection, function, and the right type for your home.
If you're not a fan of walking on hardwood or tile in your kitchen, then you may want to consider adding one of these best kitchen runner rugs to your space. Rugs will always soften your step!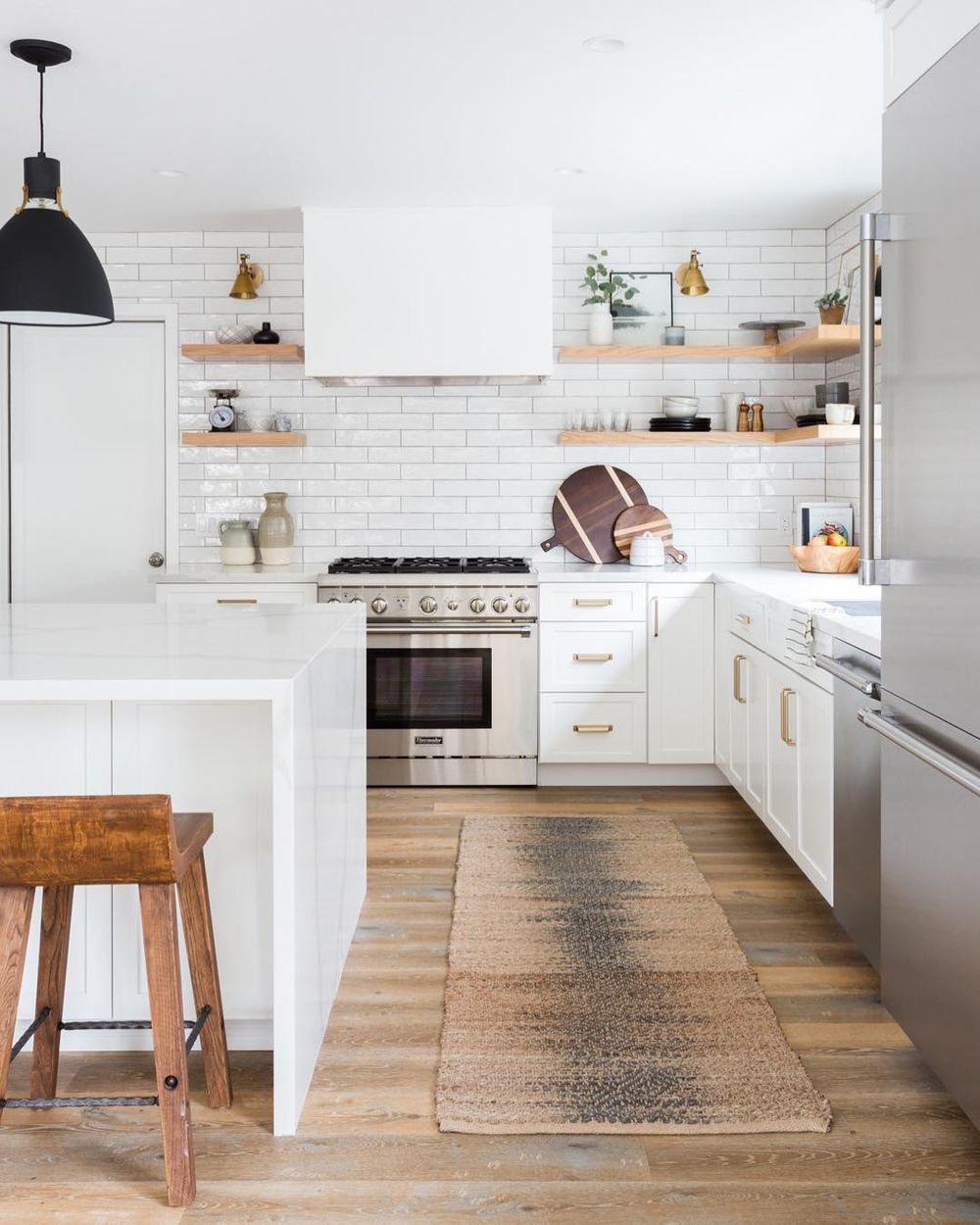 Best Kitchen Runner Rugs
Here are some of the best runner rugs for the kitchen to consider.
Washable Kitchen Runner Rugs
Washable kitchen runners are a very smart choice for busy households with lots of traffic or kids. Anytime a spill happens, you can just put the runner in the wash and clean it up. Ruggable makes some of the most popular washable kitchen runner rugs. The rugs are resistant to stains and water. They can be tossed in a washing machine with no problem whatsoever.

Read about washable rugs here.
Non-Skid Kitchen Runner Rugs
If you have lots of little ones running around or you're just a naturally clumsy person, a non-skid kitchen runner rug is ideal for you. Keep a rubber waffle rug pad underneath your runner rug and be sure to pick up a good non-skid rug. Here are the best non-slip rug pads for runner rugs:

Modern Farmhouse Kitchen Runner Rugs
If you live in the countryside, these modern farmhouse kitchen runner rugs are perfect for you. From classic beige to faded vintage, I'm sure there is a contemporary style runner rug that will suit your taste.

Boho Kitchen Runner Rugs
Boho kitchen runner rugs are perfect for bohemian style homes.

Classic Coastal Kitchen Runner Rugs
Live by the shore? You'll probably want one of these fresh looking modern coastal kitchen runner rugs.

Why You Need a Kitchen Runner Rug
Function
There are many purposes for having a kitchen runner. One is that it helps prevent spillage on your floors, and your feet can have something comfortable to stand on while washing dishes instead of those cold tile floors. The right runner in your kitchen can keep you from having a nasty fall from a wet floor. Still, you want to choose a quality rug that won't curl at the edges and cause slippage.
Beauty
You want something that makes your kitchen even more attractive to not only you but your guests. Some kitchens can look washed out but adding a runner can give your kitchen color without even having to put paint on the walls. If you live in a rental, you probably can't change the floors, but you can add something that would make that ugly kitchen floor tile look less unattractive.
Know the Sizes
One of the fun aspects of getting a runner is they come in different sizes and shapes, including rectangular, which is one of the most popular shapes. The square runners are also popular, then there are the round ones and oval ones. With the benchmark being around 2 and 3 feet wide, runner rugs can go up to fourteen feet long. You want at least 4 inches of floor available on all four sides of your runner.
Save On Wear and Tear
Kitchens are one of those areas where there is usually a lot of footwear traffic. This can become a problem with wear and tear on your floor. A runner will prevent your kitchen floor from being damaged any more than necessary.
Styles and Types
Runners not only come in different sizes and shapes but different styles. Knowing which runner is for your kitchen can make a difference. For instance, a blue Persian runner would work well with white cabinets and stainless steel. A flat-weave rug makes an excellent choice for your kitchen. They are easier to clean than other rugs. Rugs made of polypropylene make another wonderful choice because they don't absorb spillage easily. Also, cotton rugs because you can throw them in your washing machine.
Productivity
Runners in a kitchen can not only save your feet during a chore, but it's also good for your back while you are cooking or doing the dishes. The extra cushion under your feet relieves the pressure and allows you to do your chores more productively.
---
So there you have it, five reasons to get kitchen runner rugs. Remember, you want to choose the right rug size for your kitchen so be sure to measure before buying! For example, if you have a small kitchen you probably need a runner around the size of 3 x 5.
Let us know if you have any questions in the comments below!