DIY Halloween decorations are a fabulous way to decorate your home in October in a unique and creative way. These 31 projects are simple but spooky ways to add spooky Halloween decor to your home!
DIY crafts are the perfect way to keep the kids entertained during the month of October. Some of them are super easy, and many use materials that you can find in your house already.
Here are a few materials you may need for these Halloween DIY crafts:
Take a look at our favorite DIY Halloween Decorations and projects below!
1. Black Cat Garland
Use black straws as whiskers on this DIY Black Cat Garland project from Say Yes! While the cat faces were found pre-cut at Target, you can use black cardstock from Amazon to cut the face out yourself, too!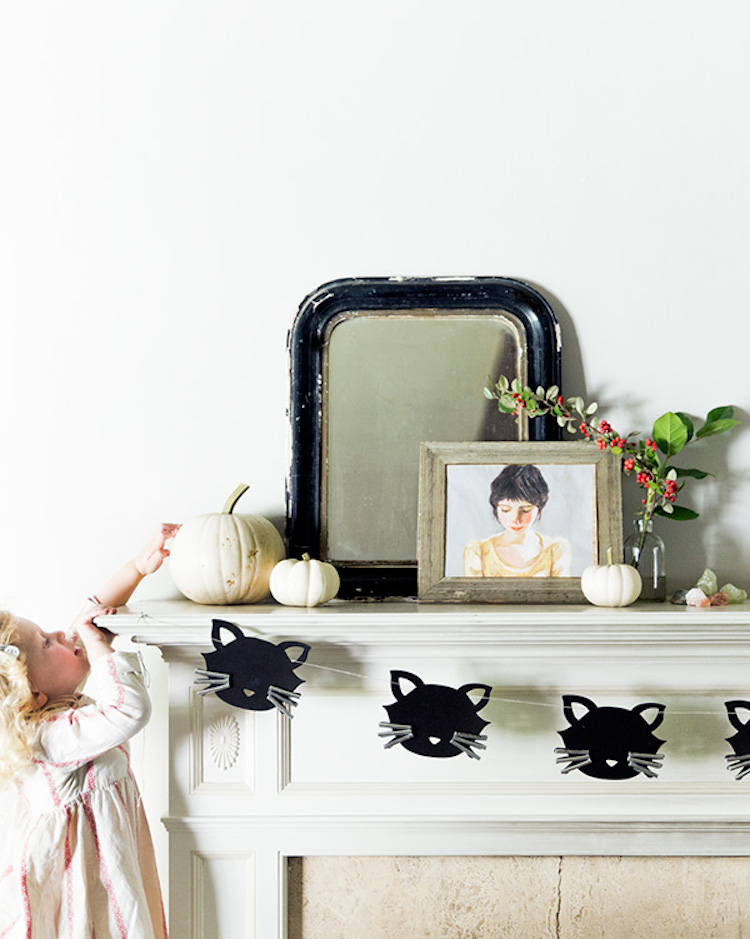 2. Sequin Polka Dot Pumpkins
Using some loose gold sequins, you can turn an ordinary pumpkin into a fabulous polka-dotted pumpkin for Halloween in this DIY project from Sugar and Cloth!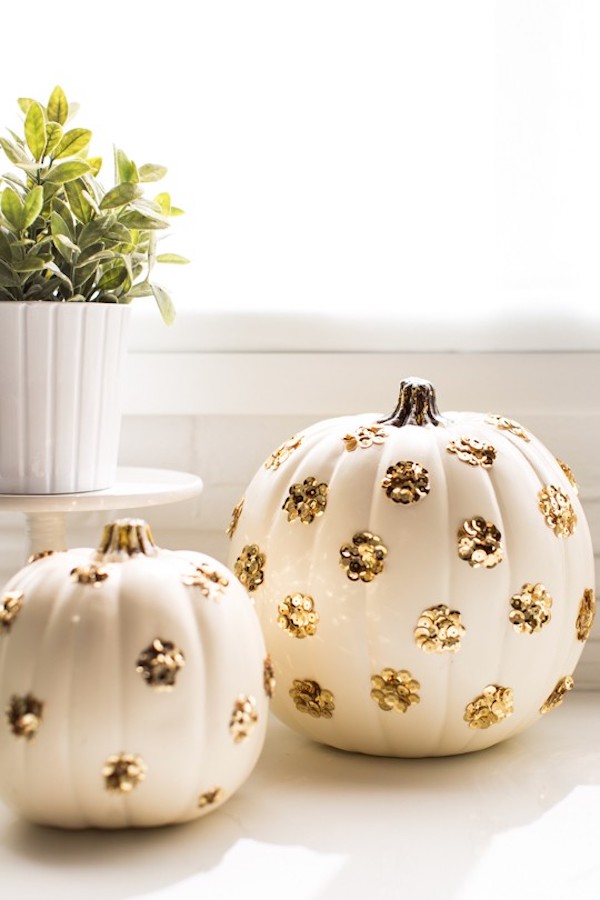 3. Dyed Cornhusk Witch Figures
I love this clever DIY witch figures made of dyed cornhusk in orange and black! Check out the project via Everyday Dishes.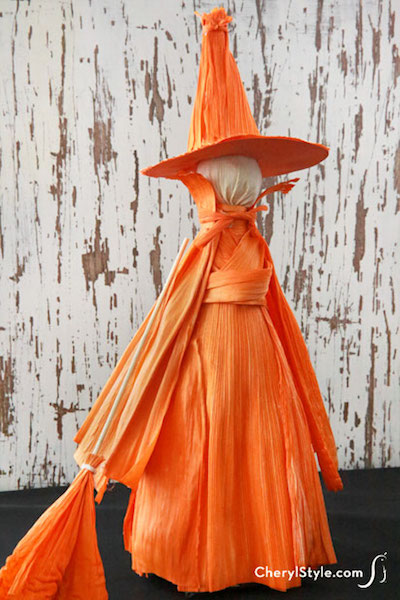 4. Creepy Coffin
How cool is this creepy stained coffin with the skeleton hands sticking out? DIY over at The House of Smiths!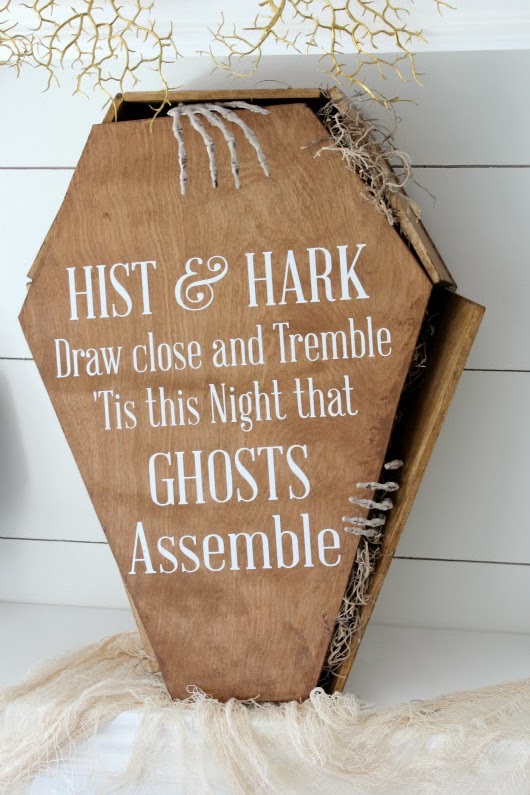 5. Crystal Ball Halloween Candlesticks
This Crystal Ball Candlestick DIY project is awesome because it's so creative! I have never seen such a cool and spooky Halloween decoration before – even better that you can make it yourself! Visit Flamingo Toes to see how it's done. This is one of my favorite DIY Halloween decorations!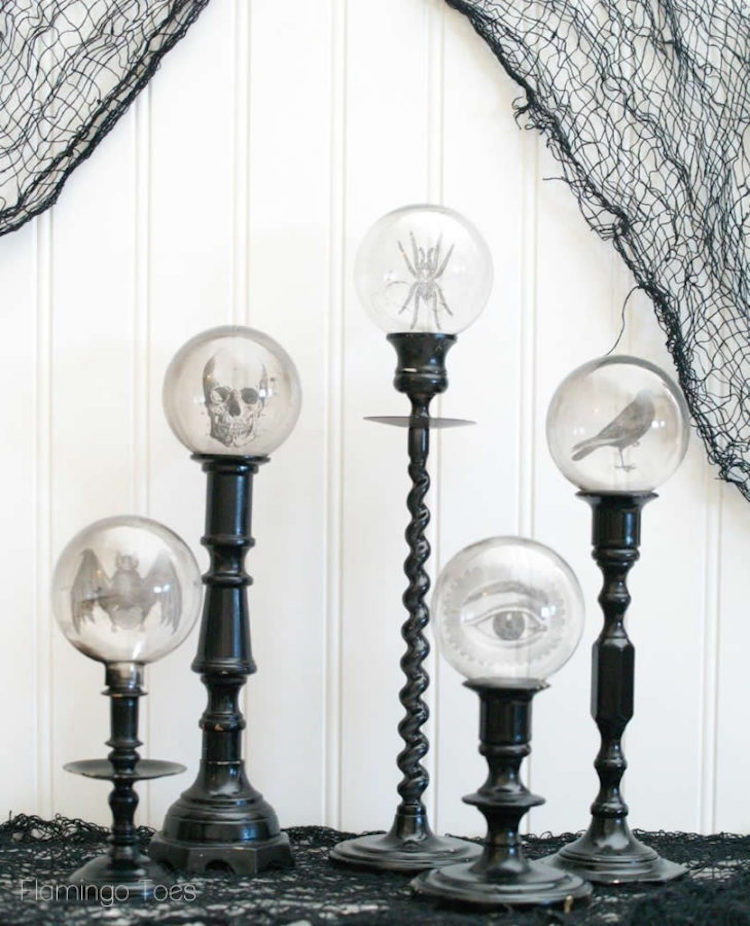 6. Honeycomb Pumpkins
Tissue paper can work wonders, especially around Halloween! Check out A Beautiful Mess for this DIY Honeycomb Pumpkin tutorial plus more clever ways to work with tissue and crepe paper!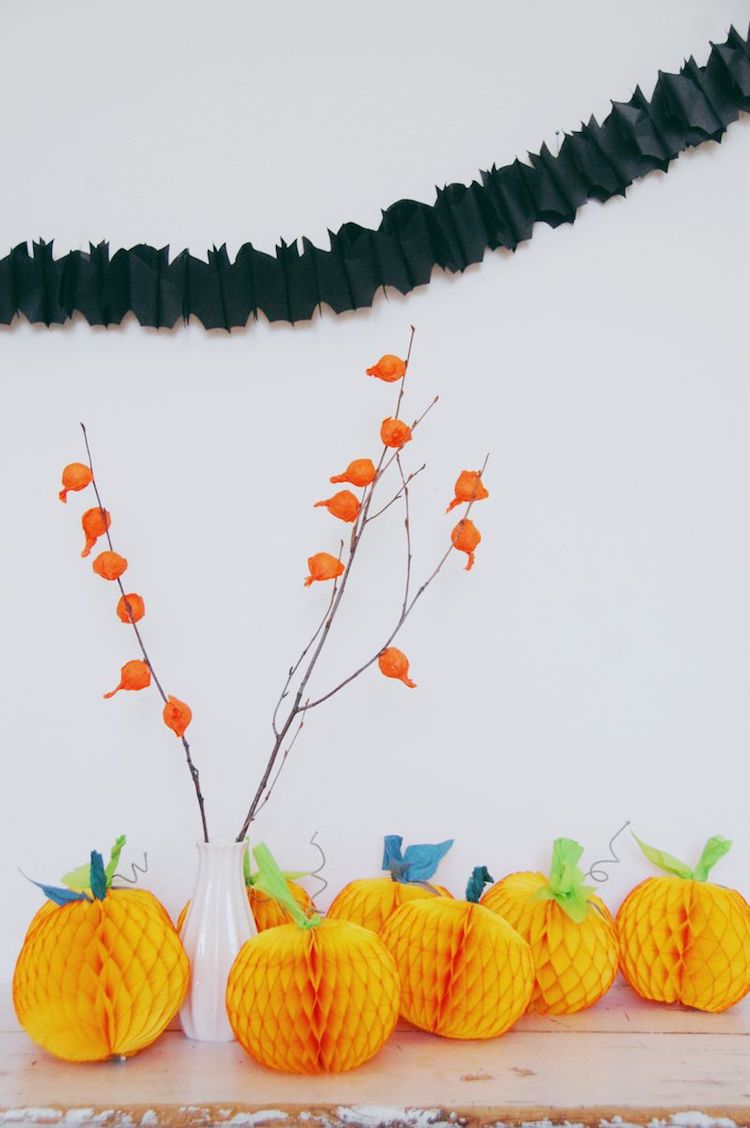 7. Mesh Pumpkin Wreath
This 3-D mesh pumpkin wreath is a great way to add a pop of orange to your front door. Check out Crafts by Amanda for the instructions!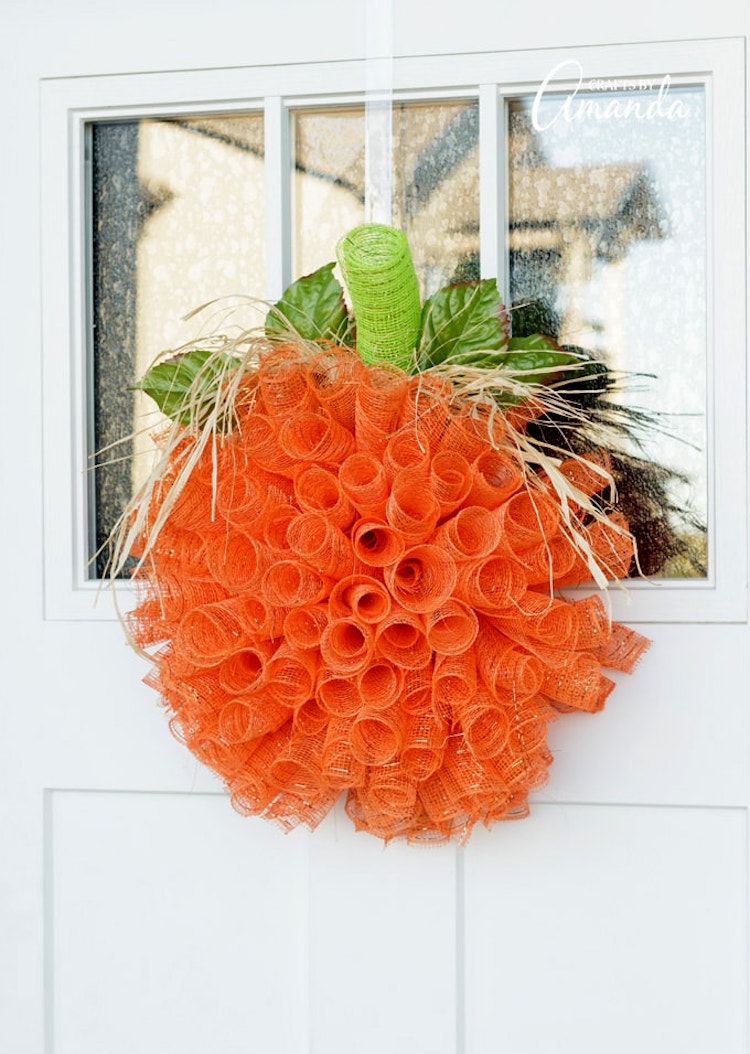 8. Bloody Halloween Candles
If blood and gore are your thing during Halloween, then you'll love making these bloody Halloween candles via Popsugar!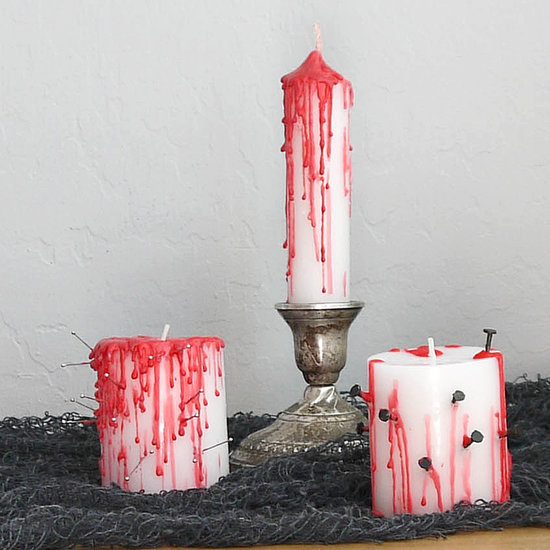 9. Mini Hanging Ghosts
How adorable are these miniature hanging ghosts made from cheesecloth? Makoodle shows you how it's done!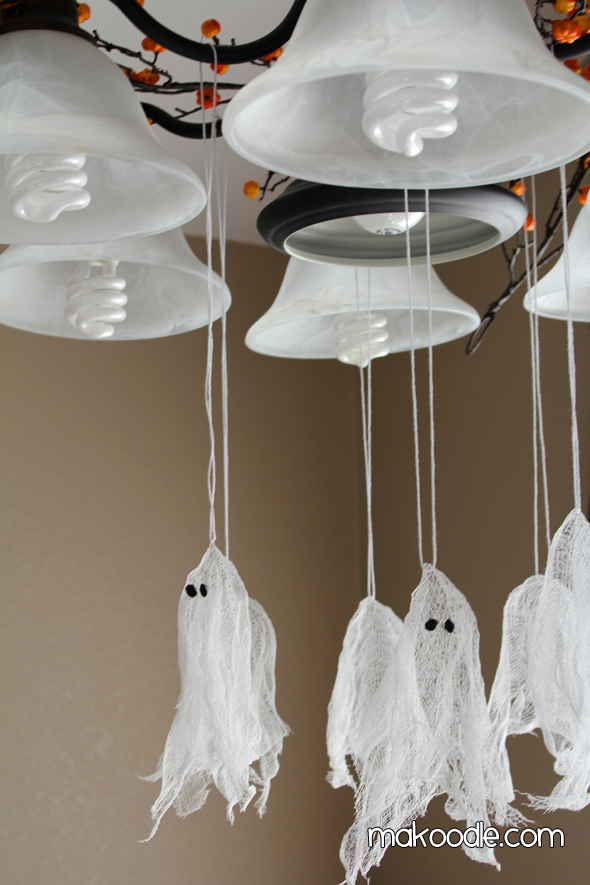 10. DIY Ghost Light
This minimal chic Halloween DIY is perfect for a Scandinavian home or someone who wants to keep Halloween decor a minimal affair. You take a giant Paper Lantern and give it two eyes and a mouth to create a spooky ghost light that isn't too frightful, but in the holiday spirit nonetheless! Get the details from Kristi Murphy!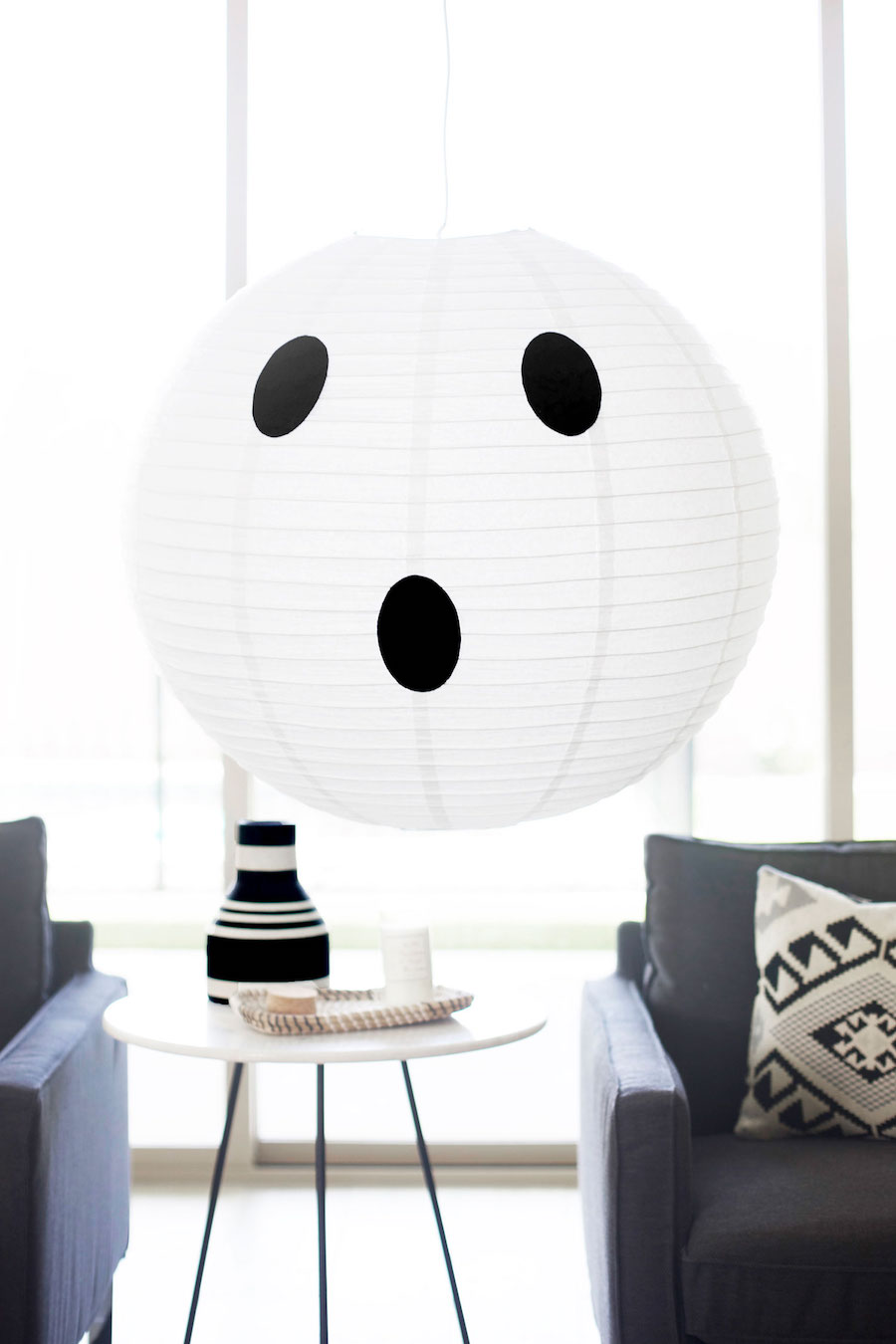 11. Black and White Halloween Garland
Another tutorial for the minimalists out there is this simple black and white Halloween garland from Kaley Ann.
12. Gold Dollar Store Pumpkins
Don't you love a good DIY project from Dollar Store finds? These plastic pumpkins become elegantly gold using some inexpensive and multi-purpose gold spray paint. I've seen many DIY tutorials using gold spray paint so I think it's a good investment! Hip2Save has the idea.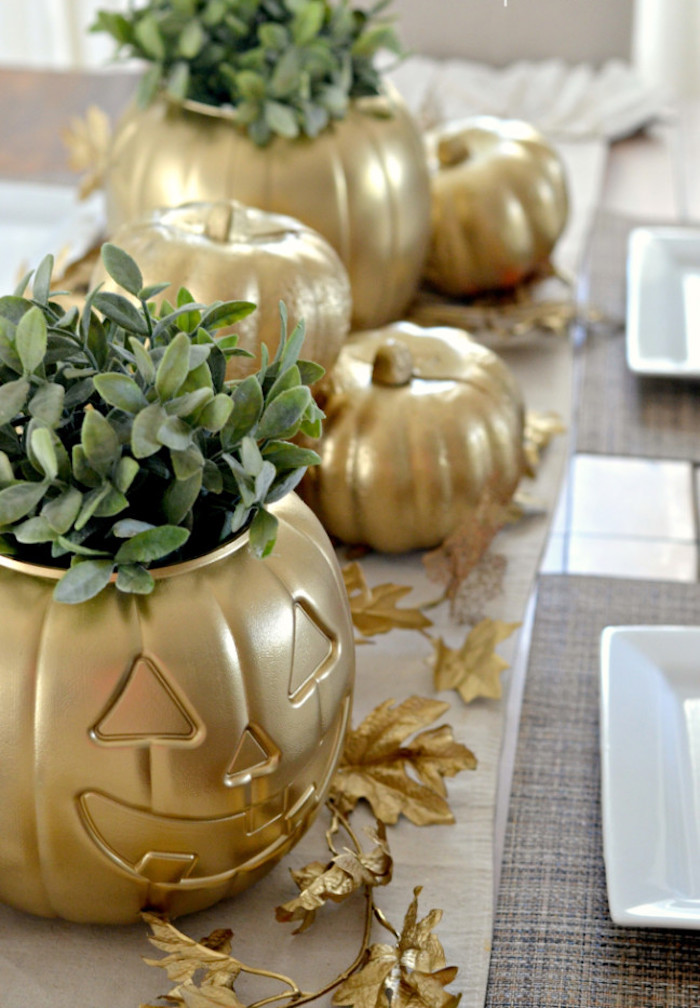 13. Floating Witch Hat Luminaries
Here's a Halloween decor idea you don't see every day. These floating witch hats are illuminated, making it seem like a spell has been cast on your front porch! Head over to Polka Dot Chair to see how it's done! This is without a doubt one of the most mystical and unique DIY Halloween decorations!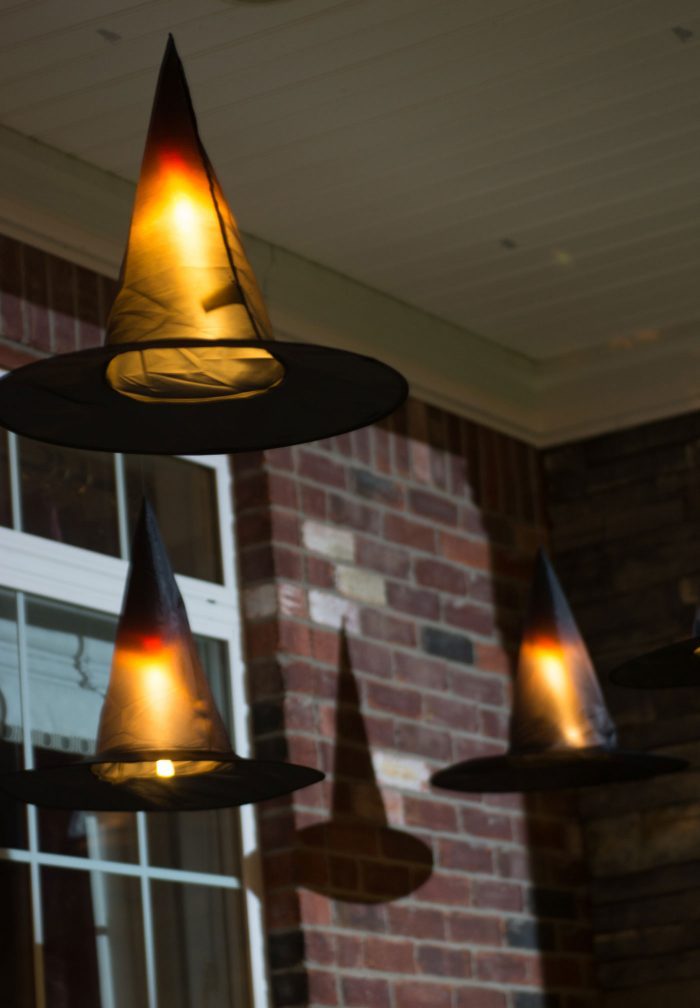 14. DIY Halloween Mantel
A few odds and ends from your yearly Halloween decor stash can come together to create the most beautiful Halloween mantel! Inspired by Charm shows you the way.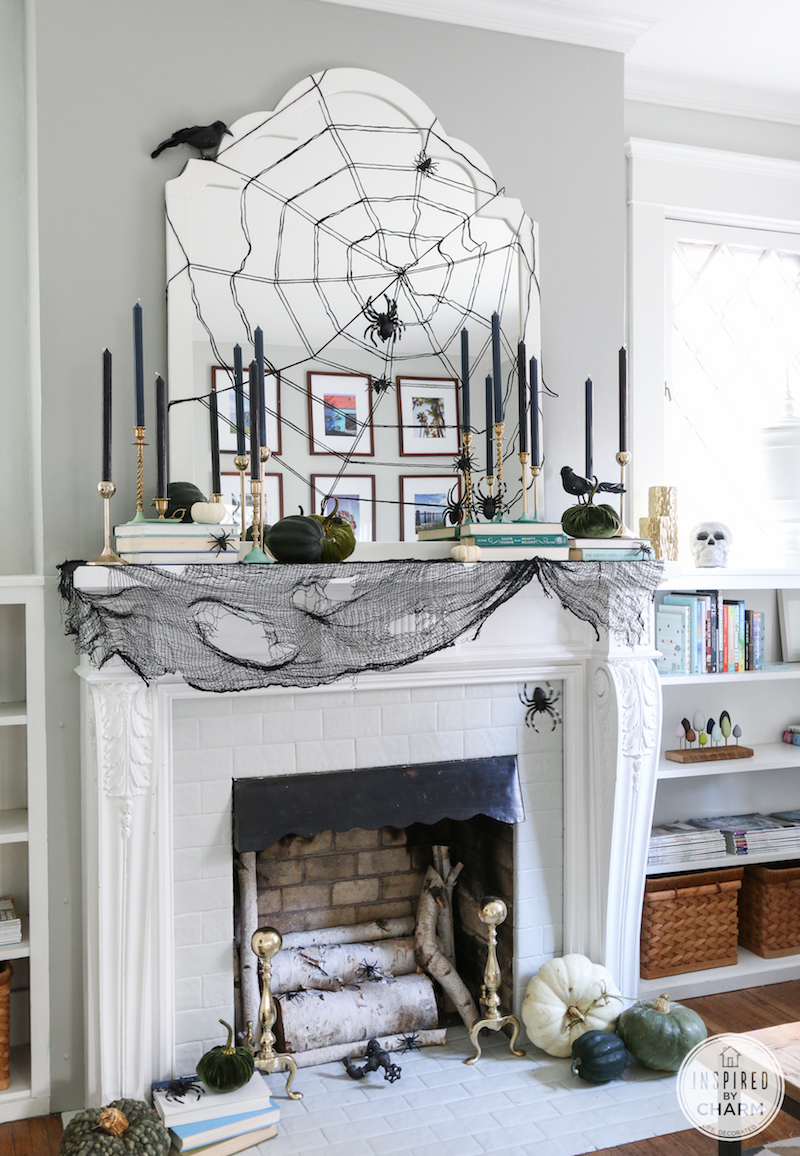 15. DIY Halloween Candy Door Hanger
If you won't be at home for this Halloween, then leave some treats for the neighborhood kids using this DIY Halloween candy door hanger from Cherished Bliss! With a pumpkin mouth to store the goods, this DIY project is sure to wow everyone who comes across it!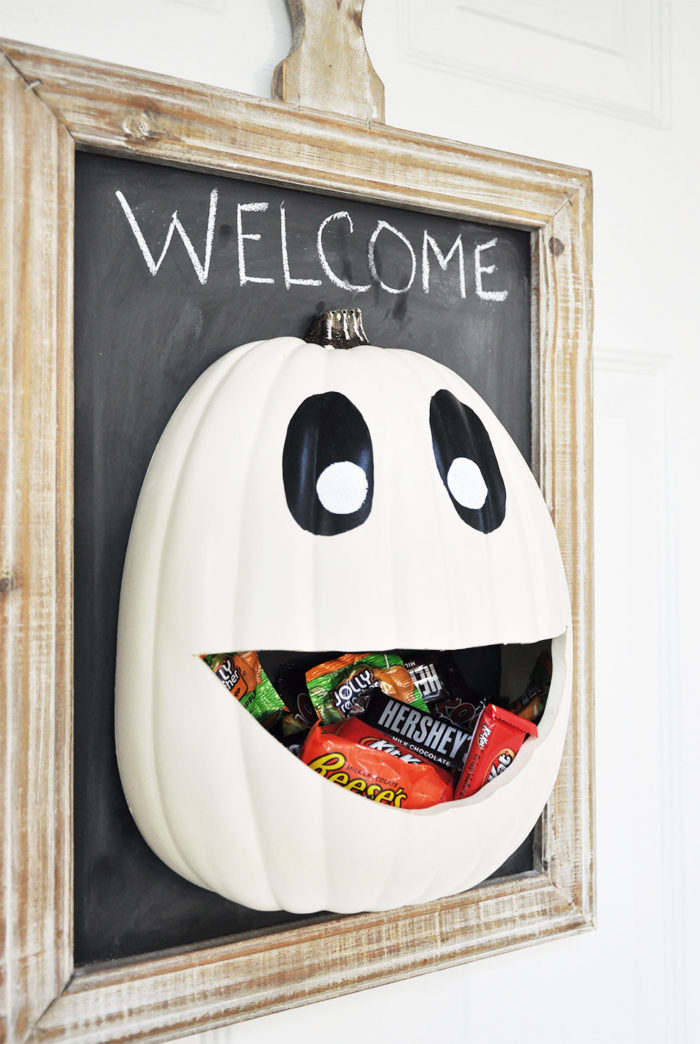 16. Black Trash Bag Spiderweb
This DIY project uses something you more than likely already have in your house – a large black trash bag! How About Orange came up with the clever idea to make spiderwebs out of this everday household item!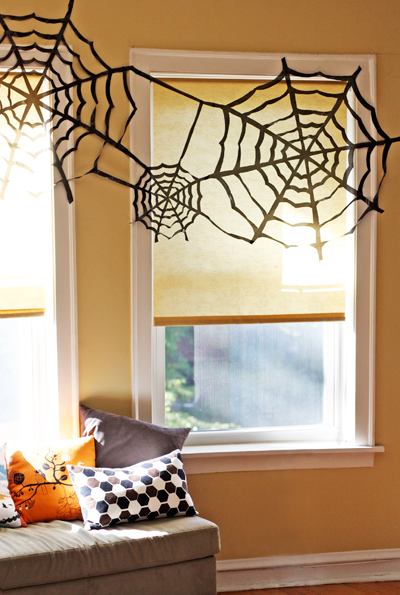 17. DIY Bat Branch Centerpiece
This is an ultra chic DIY Halloween project from The Sweetest Occasion. I love the idea of putting little black bats into a large branch centerpiece – very spooky yet elegant!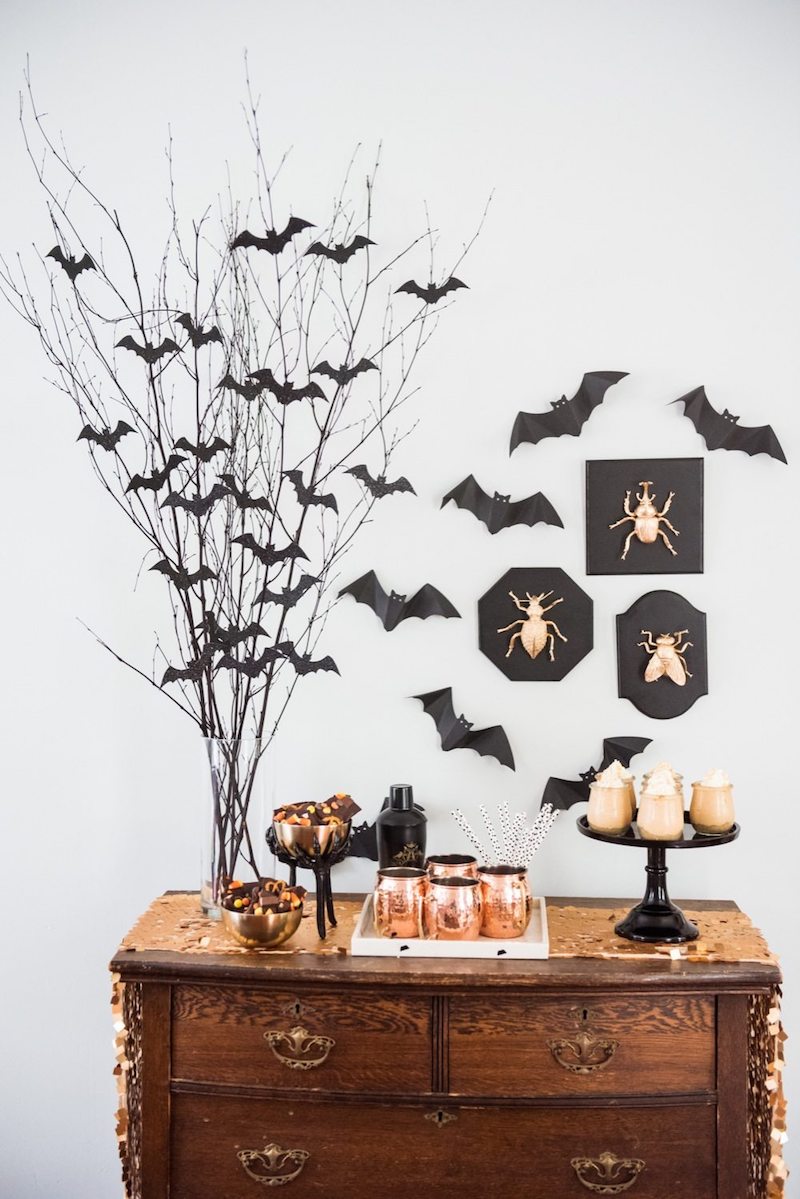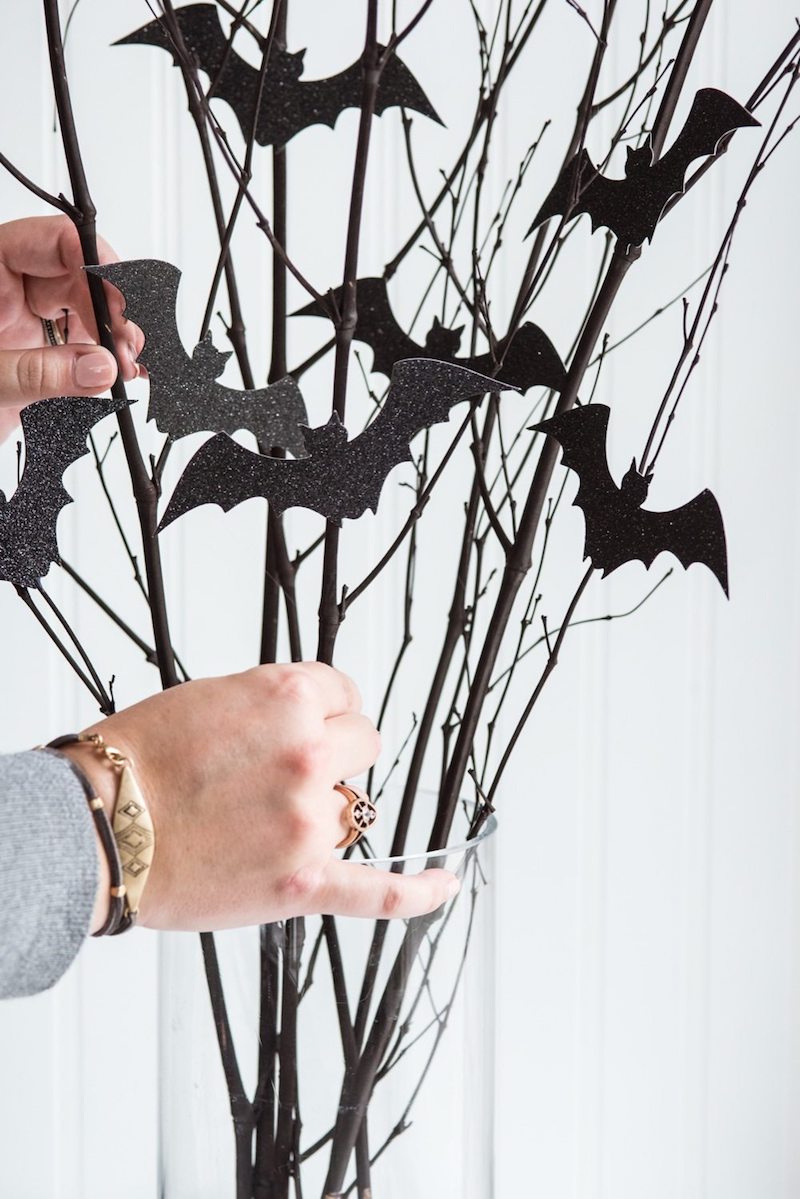 18. Skull Candle Holder DIY
Elsie and Emma from A Beautiful Mess come up with the most creative DIY Halloween Decor projects and this one is no exception! This skull candle holder DIY is so chic I can see it being used even after Halloween is over!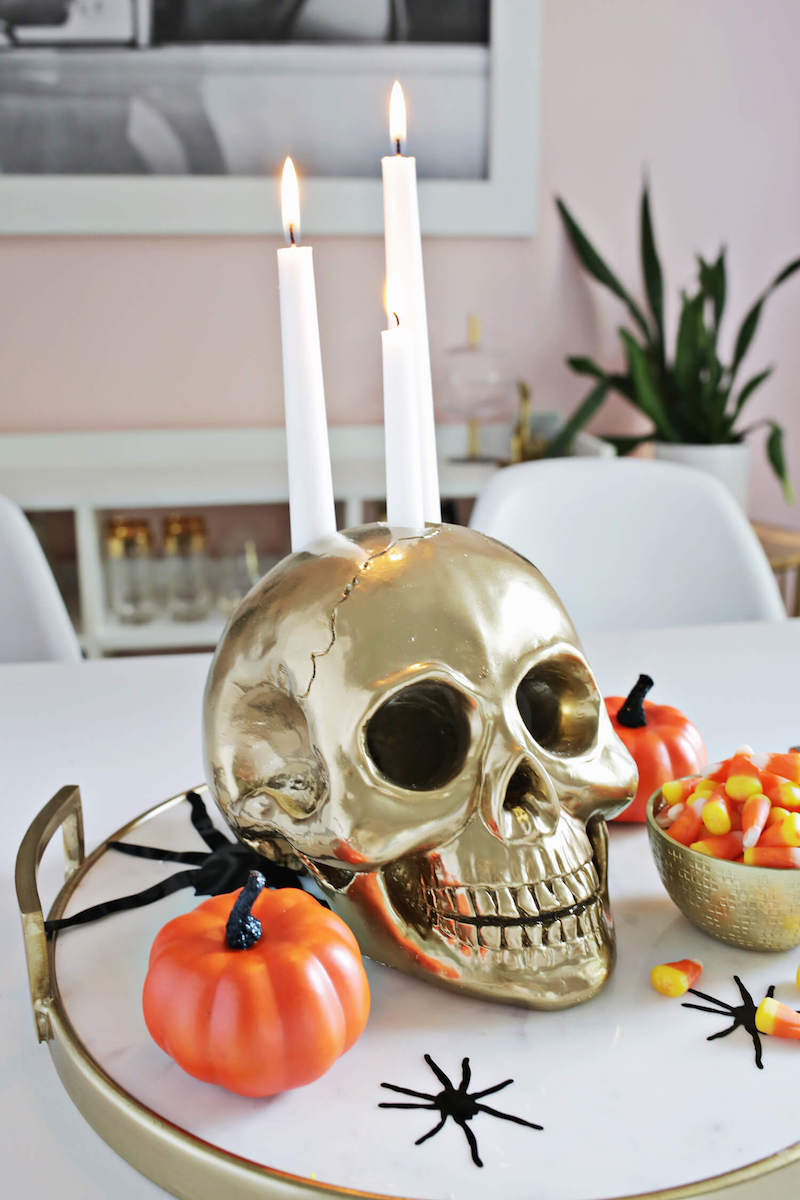 19. DIY Halloween Garlands
These garlands from No Biggie are fun, festive and most imporantly, super EASY to make at home for Halloween!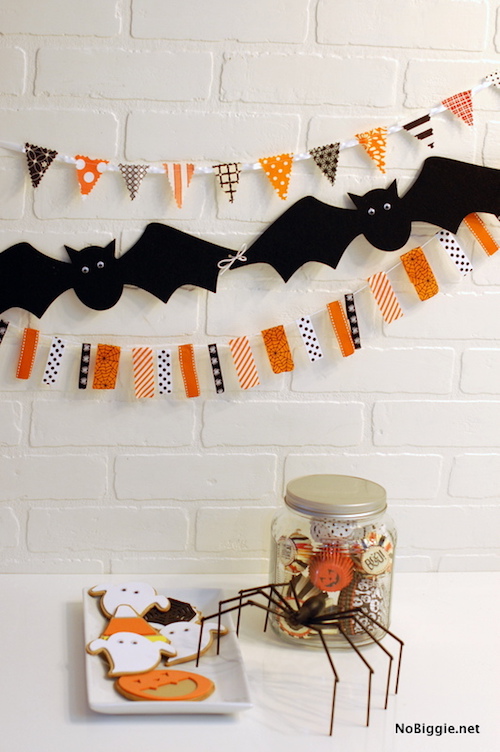 20. DIY Origami Halloween String Lights
Pumpkin string lights are perfect for Halloween but are usually way overpriced. This DIY project by Handmade Charlotte is the perfect alternative!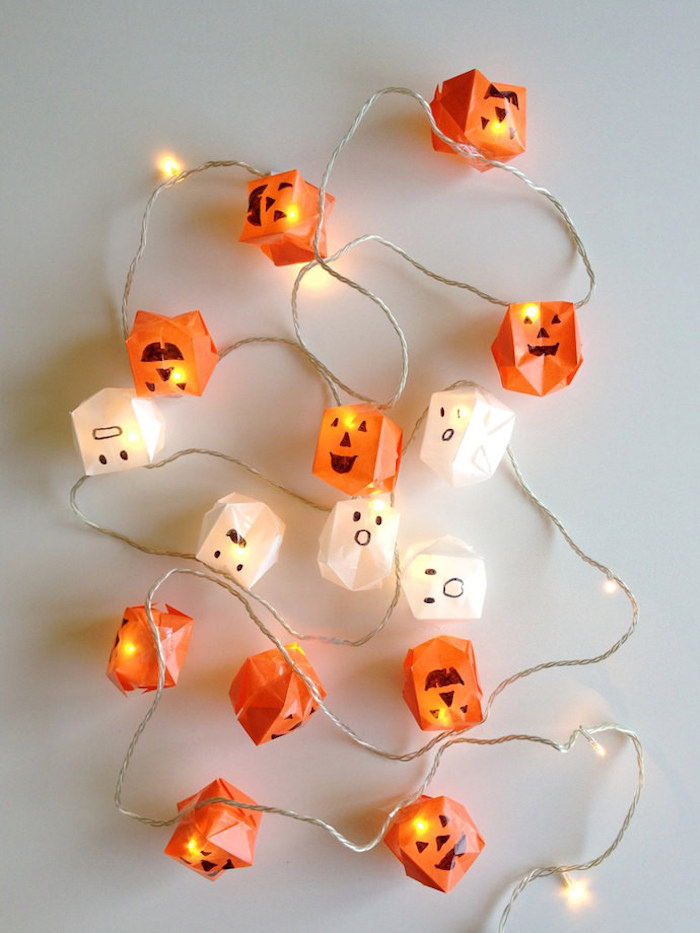 21. Stacked Skull Candle Holder
Another take on the skull candle holder, Endlessly Inspired takes three skulls and stacks them to create the ultimate spooky candle holder!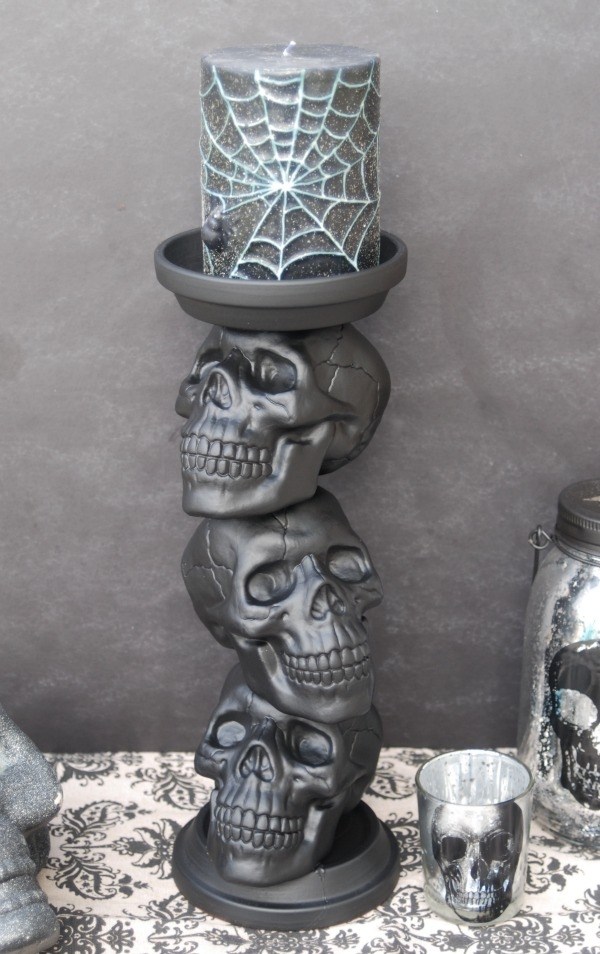 22. DIY No Carve Pumpkin People
If you hate the mess of carving pumpkins, then this DIY from Pretty Providence is for you! Glasses, mustaches and bowties can all be used to dress up your decorative pumpkins like little people for Halloween. It's a perfectly chic way to liven up your front door this October!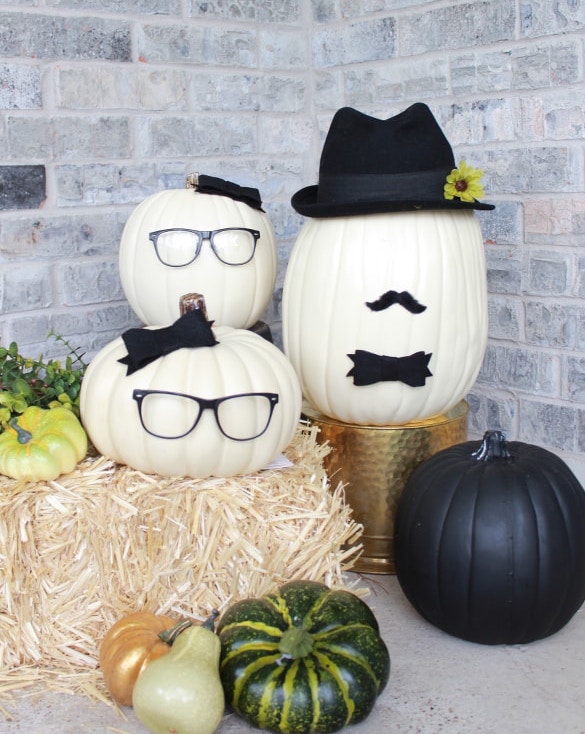 23. Tin Can Luminaries
These tin can luminaries are perfect to light up your doorway on Halloween night! Head over to Jolly Mom to see how it's done!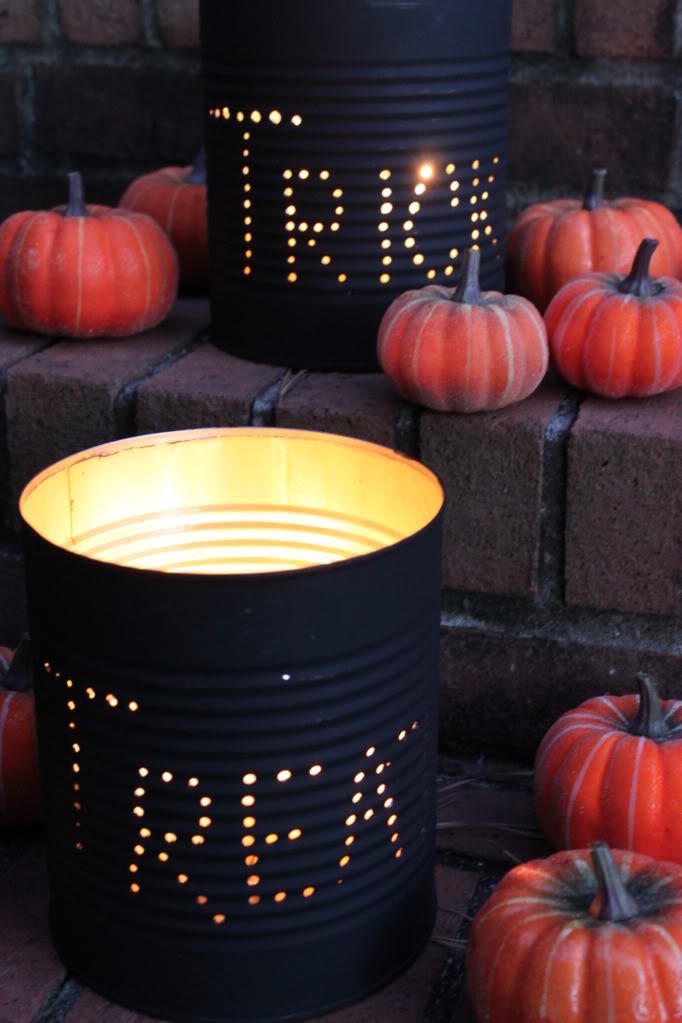 24. Spider Garland
I love this 3-D Spider garland from A Beautiful Mess. A cute way to add some spiders to your mantel!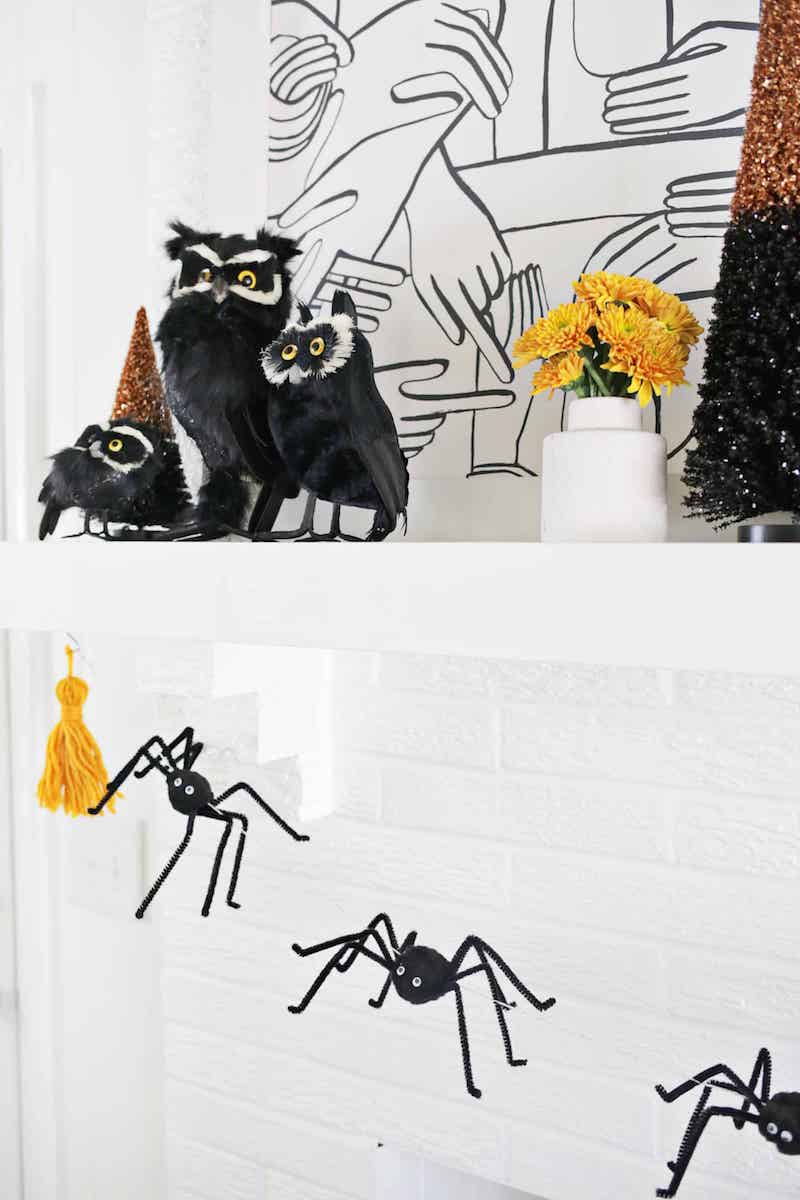 25. Bats Flying Across a Pumpkin DIY
Instead of carving your pumpkins, why not have bats flying across them? This tutorial from It All Started with Paint shows you how to DIY!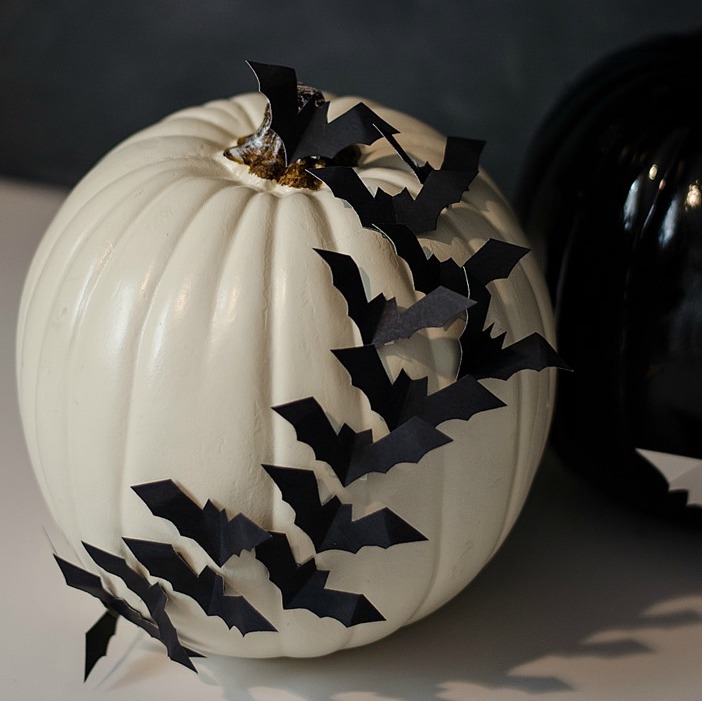 26. DIY Pumpkin Wine Dispenser
Momtastic came up with the brilliant idea to create a Pumpkin wine dispenser! This is a Halloween DIY project I can certainly get excited for!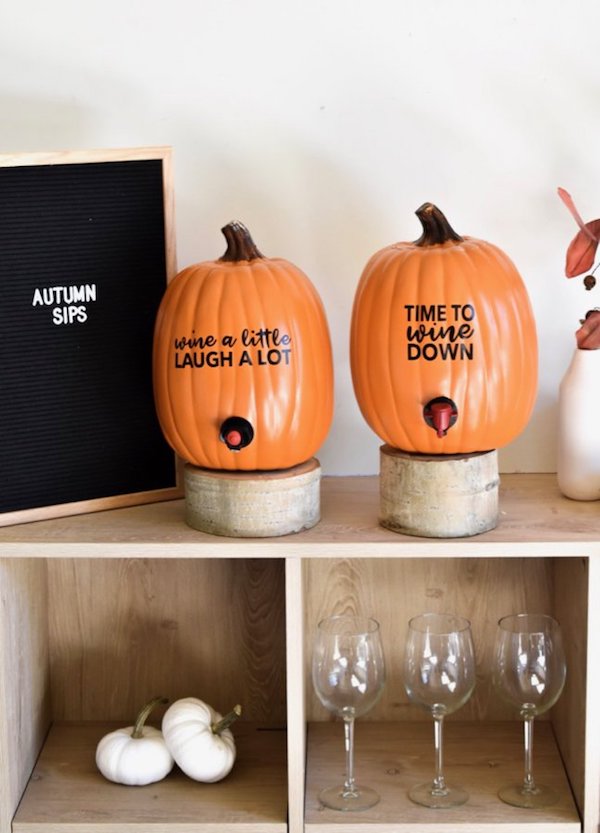 27. DIY Mummified Jars
Using some gauze and googly eyes, turn mason jars into DIY mummies this Halloween via Popsugar! This is perfect if you're looking for DIY Halloween decorations for kids!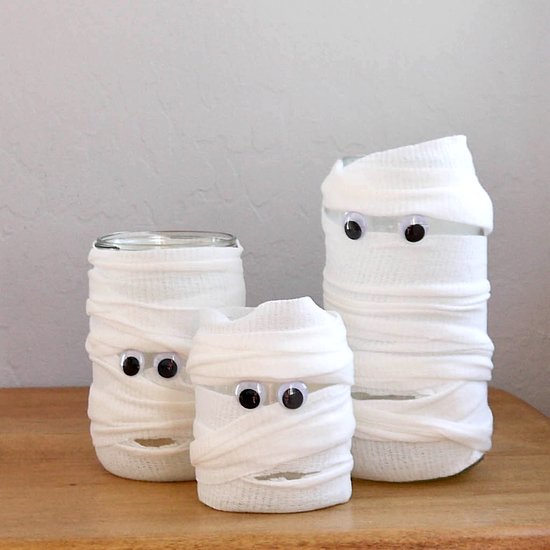 28. Ghosts in a Jar DIY
Trap some ghosts in a jar this Halloween using this tutorial from Landee See Landee Do.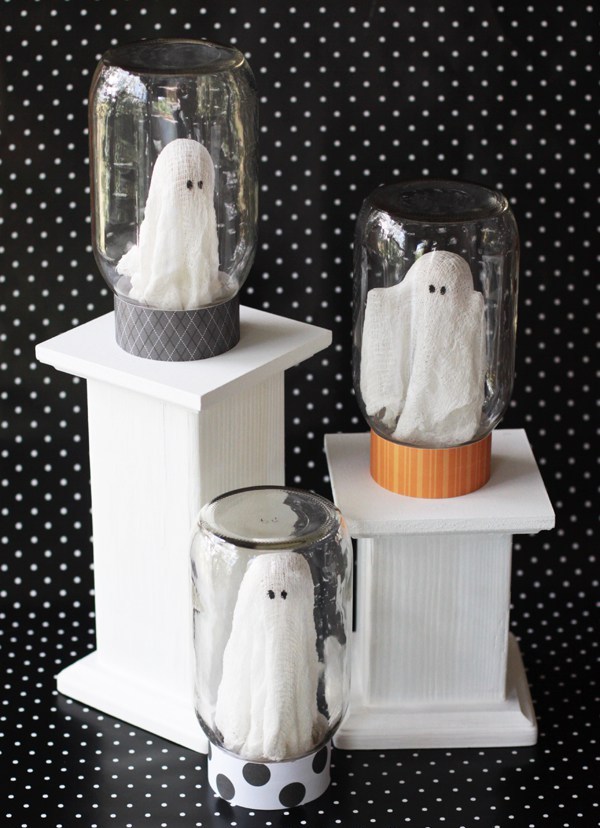 29. DIY Halloween Tag Banner
There are so many possibilities for this DIY tutorial but I love the phrase: Trick Or Treat Yo-Self! Use this guide from Inspired by Charm to create the perfect DIY Halloween banner in your home.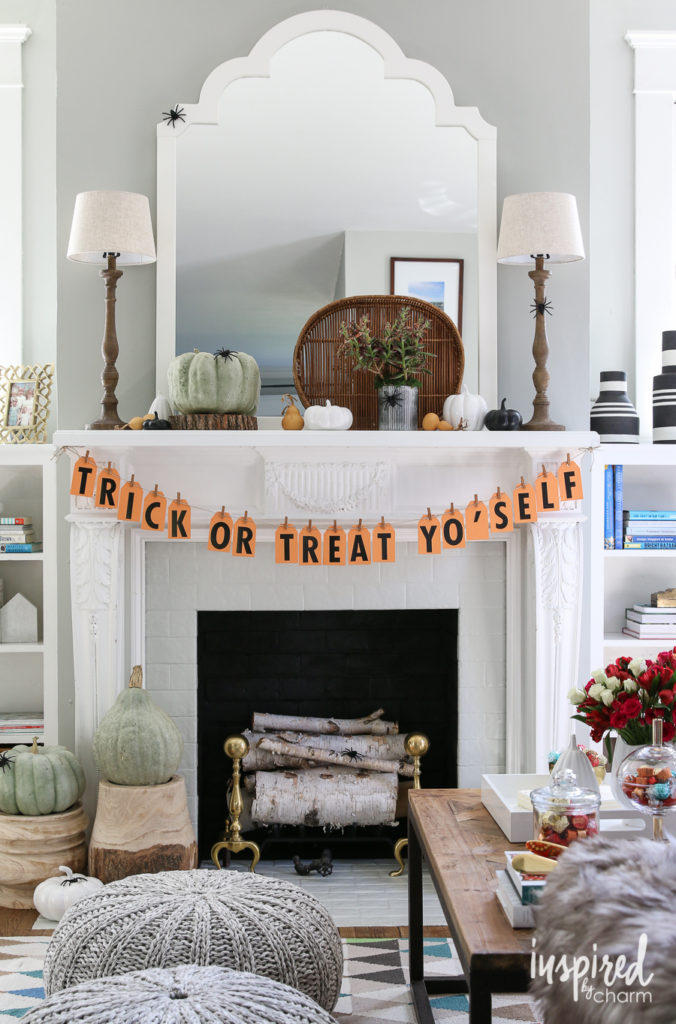 30. DIY Halloween Tablescape and Place Settings
You don't have to spend money on fancy Halloween table decorations! Simple black plates and black cat cutouts can work wonders for your Halloween tablescape and place settings. Just look to Everyday Reading for the best DIY Halloween table advice!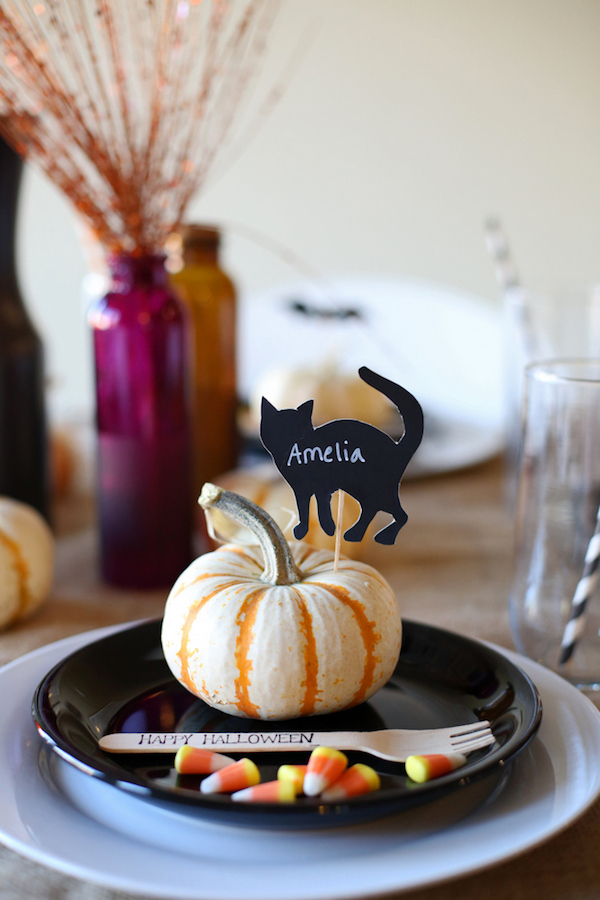 31. Ghost String Lights
Here's another fun, DIY string light tutorial! These DIY Ghost Lights from Say Yes are an adorable way to add some flying ghosts to your home this October.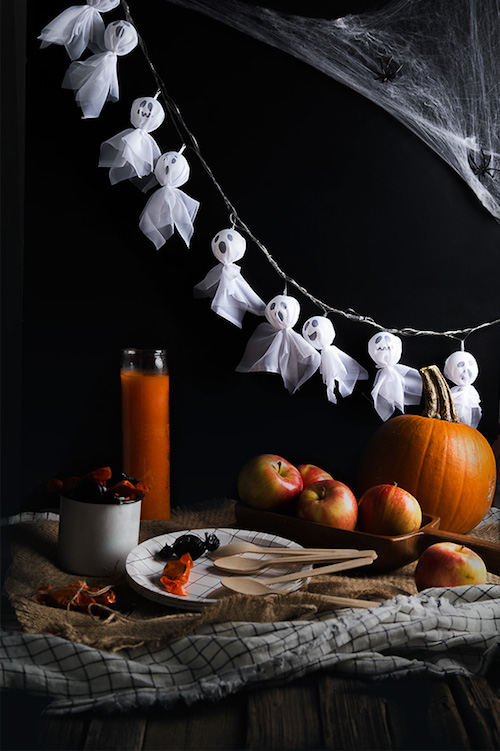 Hope you found a few DIY Halloween Decorations you'd like to make ahead of the 31st!
Need more Halloween decor inspiration?
Happy Halloween!
Pin this for later: