If you're looking to decorate or furnish a new house or apartment in the USA, you'll probably wish to shop at the best home decor stores in the country. These home decor retailers have long-lasting reputations for creating affordable yet high-quality lighting, rugs, and home decorations. You can count on them for the most up-to-date decorative styles and home decor accents. Whether you're looking for trendy accents or timeless pieces to design your home, these American-based home decor stores have you covered!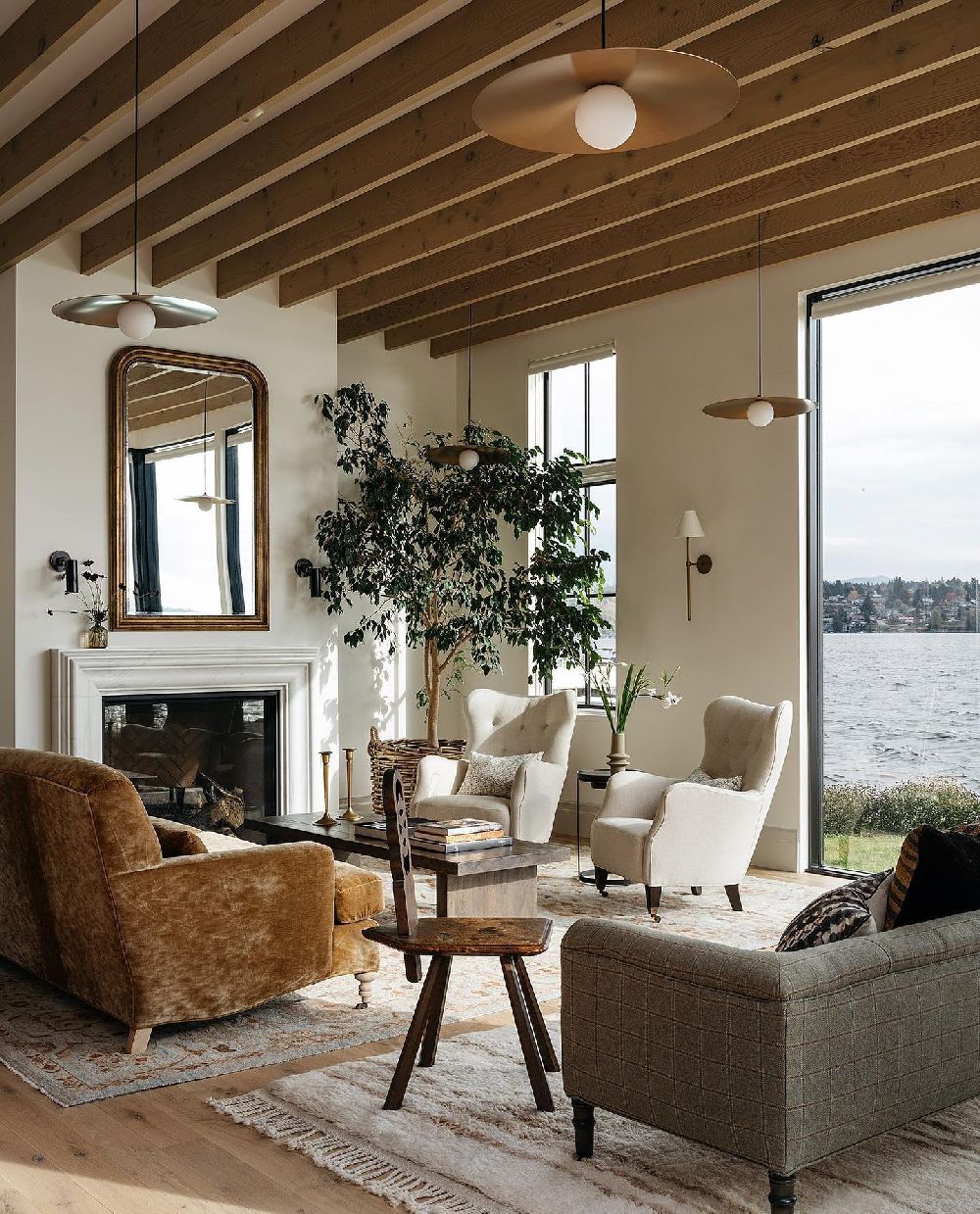 Wayfair
Wayfair is one of the biggest e-commerce retailers in the country. With thousands of home products, furniture, and accents for every space inside (and outside) the house, you're sure to find exactly what you're looking for from Wayfair. You can turn to Wayfair for the best deals on affordable home decor.
Wayfair is an American e-commerce company founded in 2002 and headquartered in Boston, Massachusetts. The company was started by Niraj Shah and Steve Conine and has since grown into one of the largest online furniture and home decor retailers in the world.
With a vast selection of furniture, decor, bedding, and more, Wayfair has something for every style and budget. Plus, their user-friendly website and customer service make shopping for home decor a breeze. Whether you're looking to spruce up your living room or revamp your bedroom, Wayfair has everything you need to transform your space into a stylish and cozy sanctuary.
Pottery Barn
Pottery Barn has been a beloved home decor store in America for decades. I adore the ability of Pottery Barn to transition with the times. They're constantly releasing new, on-trend home decorations that will make your home look fresh, updated, and well-designed. You can rely on Pottery Barn for pillows, throws, curtains, bedding, and so much more.
Pottery Barn is headquartered in San Francisco, California, and was founded in 1949. The company's CEO is Marta Benson, who joined Pottery Barn in 2017 after serving as the Chief Marketing Officer for Williams-Sonoma, Inc.
Crate and Barrel
Crate and Barrel is an upmarket home decor and furniture store for high-end home goods. Their products range from furniture and bedding to kitchenware and home accessories, making it a one-stop shop for all of your decor needs. Plus, they prioritize sustainability and ethical production practices, ensuring that their products are both beautiful and responsibly made.
Crate and Barrel is headquartered in Northbrook, Illinois, and was founded in 1962. The company's CEO is Neela Montgomery, who joined Crate and Barrel in 2020 after serving as CEO of the Otto Group, a global retail and services group based in Germany.
Serena & Lily
Serena & Lily is one of the best coastal home decor stores for beach home decorating. Serena & Lily is a fantastic place to buy coastal home decor as their products exude an effortless seaside elegance that is both timeless and modern. Their collections include beachy furniture, bedding, lighting, rugs, and decor accessories that are built with high-quality materials and designed to create a relaxing and inviting coastal atmosphere in any space.
Serena & Lily is headquartered in sunny Sausalito, California, and was founded in 2003 by Serena Dugan and Lily Kanter. The company also has brick-and-mortar stores across the United States, including locations in California, New York, and Georgia.
West Elm
West Elm sells some of the best mid-century home decor accents you can find. West Elm is an excellent place to buy home decor because it focuses on sustainability, ethical production, and modern design. They offer tons of cool furniture, bedding, rugs, lighting, and home accessories that are crafted with eco-friendly materials.
West Elm is headquartered in Brooklyn, New York, and was founded in 2002 as a subsidiary of Williams-Sonoma, Inc. The company's CEO is Alex Bellos, who has been with West Elm since 2008 and served in various roles before becoming CEO in 2019.
Williams Sonoma
Williams Sonoma is a classic American home decor store that families have trusted for decades. Williams Sonoma is a retailer of home decor, furniture, and kitchenware. The company was founded in 1956 by Chuck Williams, who opened a store in Sonoma, California, selling high-quality French cookware that was not widely available in the United States at the time. You can rely on Williams Sonoma for cutting-edge kitchen decor and home products you'll be proud of.
CB2
CB2 is the online, more affordable sister brand of Crate and Barrel. CB2 has modern and chic designs that can add a dash of sophistication to any living space. Whether you're looking for furniture, lighting, or decorative accessories, CB2 has a vast selection and a loyal customer base.
CB2 is a subsidiary of Crate & Barrel and was founded in 2000 with the goal of providing modern, affordable home decor to a younger demographic. The company is based in Chicago, Illinois, and has stores throughout the United States and Canada. The current CEO of CB2 is Ryan Turf, who has been with the company since 2004.
Jonathan Adler
Jonathan Adler is a bright and fun home decor store for eye-catching and unique pieces. Jonathan Adler is originally the name of an American designer known for his modern, playful approach to home decor. He launched his eponymous brand in 1993, starting with a line of pottery and quickly expanding into furniture, lighting, textiles, and accessories. Adler's designs are known for their bold use of color and pattern, as well as their irreverent sense of humor.
After studying ceramics at Rhode Island School of Design, Adler began his career as a production potter. He was inspired by the mid-century designs of the 1950s and 60s and began incorporating these influences into his work. In 1998, he opened his first retail store in SoHo, New York City, and has since expanded to over 30 stores worldwide.
McGee & Co
McGee & Co is great for the earthy and relaxed home decor we see more and more on Instagram. McGee & Co is a home decor and furnishings brand founded by husband-and-wife team, Syd and Shea McGee. The company offers home products like furniture, lighting, rugs, pillows, decor, and more, all designed with the goal of creating cozy, livable spaces.
The McGees began their career as interior designers, launching their firm, Studio McGee, in 2014. They quickly earned a social media fan base for their fresh, modern take on traditional design. In 2016, they launched McGee & Co as a way to offer the firm's signature style to a wider audience.
The brand's aesthetic is characterized by a blend of classic and contemporary elements, with an emphasis on natural materials, neutral colors, and a cozy, inviting feel.
Soho Home
Soho Home is the perfect store if you love laid-back English countryside style. Soho Home is a brand of homeware and furniture, offering a collection of products inspired by the design of the Soho House members' clubs around the world. Soho House is a private members' club founded in London in 1995 by Nick Jones, which quickly expanded to become a global network of exclusive clubs, hotels, and restaurants.
The Soho Home brand was launched in 2016 to offer a curated selection of products that reflect the design and atmosphere of the Soho House clubs. The brand's products include furniture, lighting, textiles, tableware, and other decorative accessories, all designed to evoke the cozy, welcoming feel of a Soho House interior.
Soho Home's products are designed in-house by a team of expert designers, who draw inspiration from global sources, including vintage designs, artisanal techniques, and global travel. 
Lulu and Georgia
Lulu and Georgia has a fresh and cool take on popular home decor trends. The e-commerce home decor brand offers furniture, rugs, lighting, decor, and more. Fans love Lulu and Georgia for its playful, bohemian-inspired designs that add a pop of personality to any living space.
The company was founded in 2012 by Sara Sugarman, who was inspired by her travels and her love of eclectic, colorful design. Starting as a small, online-only shop, Lulu and Georgia quickly gained a following for its charming aesthetic and affordable prices.
Arhaus
Arhaus is one of the all-around best home decor stores in America. Arhaus was founded in 1986 by John Reed, who was inspired by his travels and his love of unique, artisanal designs. Starting as a small, family-owned business in Ohio, Arhaus quickly gained a reputation for its top notch craftsmanship and commitment to sustainability.
The company has more than 70 stores across the United States, as well as an online shop. Arhaus' products are known for their timeless, classic designs, often using natural materials like wood, leather, and linen.
Anthropologie
Anthropologie is known for its bohemian-chic aesthetic and carefully curated selection of clothing, accessories, and home decor items. Its customers appreciate the company's eclectic, boho-inspired designs, often featuring bold prints, vibrant colors, and unique textures.
Anthropologie was founded in 1992 by Richard Hayne and his wife, Judy Wicks. Starting as a small boutique in Philadelphia, the brand acquired a customer base that valued its unique aesthetic and focus on artisanal, handcrafted products.
Anthropologie has expanded to include more than 200 stores worldwide and a comprehensive website. The brand's products are known for being made with natural materials like wood, rattan, and linen.
Jungalow
Jungalow is the best boho chic home decor resource. The bohemian home decor and lifestyle brand was founded by designer and artist Justina Blakeney in 2009. Its vibrant, bohemian-inspired designs celebrate color, pattern, and plant life.
Justina Blakeney originally launched Jungalow as a blog to document her design journey and share her love of plants and eclectic decor. The blog quickly attracted a following, and in 2013, Blakeney expanded Jungalow into an online shop selling home decor, accessories, and gifts.
Amanda Lindroth
Amanda Lindroth is one of the most popular home goods designers from Florida. Her product lines will give you a beachy, coastal, Palm Beach flair at home in no time. In case you didn't know, Amanda Lindroth is an interior designer known for her upscale, tropical-inspired designs.
Amanda Lindroth launched her eponymous brand in 2010, after spending years traveling the world and gathering inspiration for her beachy aesthetic. The brand's customers appreciate its elegant, breezy designs that bring a touch of island living to any home.
Amanda Lindroth's products are often made of natural materials like rattan, bamboo, and seagrass, as well as bold prints and vibrant colors that celebrate the beauty of the Caribbean lifestyle.
The Citizenry
The Citizenry is a great place to buy ethically sourced home goods from around the world. The company was launched in 2014 by Carly Nance and Rachel Bentley. It is known for its ethically sourced, artisan-made products that celebrate traditional craftsmanship from around the world.
The Citizenry was born out of a desire to create a more conscious and sustainable approach to home decor. The founders were inspired by their travels around the world and the artisans they met along the way, and saw an opportunity to connect consumers with beautiful, handmade products that supported fair labor practices and preserved traditional crafts.
The Citizenry brand partners with artisans and makers in over 25 countries, from Peru to Morocco, to create its unique products, which include furniture, bedding, lighting, and home decor.
Zara Home
Zara Home is one of the best home decor stores for affordable, yet on-trend designs. Zara Home was launched in 2003 as a sister brand to the popular fashion retailer Zara. The home goods brand is wholly owned by the Spanish fashion retailer Inditex. It offers everything from bedding, towels, tableware, furniture, and decorative accessories.
It has a distinct neutral and modern aesthetic, with pieces that could easily be mistaken for a more high-end retailer. Zara Home's products often feature minimalist designs with a modern, sophisticated edge. It has stores in over 60 countries, as well as an online store that ships worldwide.
Target
Target has been a long-time source of cheap, affordable home decor with great style. Target regularly collaborates with big names in interior design like Joanna Gaines' Magnolia brand and recently, the Studio McGee team!
Target is a retail company that was founded in 1902 as the Dayton Dry Goods Company. The company has a long history of offering everyday necessities at affordable prices, including home decor and furnishings.
Target began offering home decor products in the 1960s when it launched its first discount store in Minnesota. The company's home decor selection grew steadily over the years, and in the 1990s, Target launched its own private-label home decor brand, Room Essentials.
Cost Plus World Market
Cost Plus World Market is where you can find beautiful home decor from different countries around the world. The chain of retail stores specializes in home decor, furniture, and international food and beverages. The company was founded in 1958 by William Amthor, who opened the first store in San Francisco, California.
The original concept behind Cost Plus was to import unique and interesting products from around the world and sell them at affordable prices. The company earned a following for its eclectic selection of products, which included handmade furniture, artisanal textiles, and exotic foods and spices.
Cost Plus World Market is now owned by Bed Bath & Beyond and operates over 270 stores across the United States. It continues to be a favorite among design addicts and adventurous shoppers
Kirkland's
Kirkland's is reliable for affordable, budget-friendly home decor. The retail chain was founded in 1966 by Carl Kirkland, who opened his first store in Jackson, Tennessee.
Kirkland's began as a small gift shop but quickly expanded into home decor and furnishings. The company's focus on affordable prices and stylish products helped it to gain a following among budget-conscious shoppers looking for deals.
Urban Outfitters
Urban Outfitters has a young, boho vibe and is incredibly popular with college students and recent grads looking to decorate their first apartments or houses. The UO retail chain began as a single store in Philadelphia, Pennsylvania in 1970. The company was founded by Richard Hayne, Judy Wicks, and Scott Belair, who originally called it "Free People."
In the years that followed, Urban Outfitters expanded to focus on clothing and accessories aimed at young, urban shoppers. Urban Outfitters began to sell home decor products in the 1990s, expanding to include music and tech accessories for apartments and small homes.
Home Goods
Home Goods is one of the best discount home decor stores where you can score affordable decorations. The chain of off-price home decor stores was founded in 1992. The company is a division of TJX Companies, which also owns other discount retail chains such as T.J. Maxx and Marshalls.
HomeGoods began as a small chain of stores in the Northeastern United States, selling cheap home decor products, including furniture, lighting, rugs, bedding, and kitchenware. The company became popular with bargain-hunting shoppers looking for well-made home goods at affordable prices.
Today, HomeGoods has over 800 stores across the United States, making it one of the largest off-price home decor retailers in the country!
H&M Home
H&M Home is great for affordable, trendy home decor items that will give your home a modern look for less. H&M Home is the home decor division of H&M, a Swedish multinational fashion retailer founded in 1947 by Erling Persson in Västerås, Sweden.
H&M Home was launched in 2009, and the brand quickly gained popularity for its affordable and stylish home decor products. H&M Home's products include bedding, towels, curtains, cushions, rugs, and other home accessories.
H&M Home has stores in over 50 countries worldwide, and the brand's products are also available online. It has become known for its modern and on-trend designs, and for offering home decor products that are both stylish and affordable.
Walmart
Walmart is my go-to for cheap, affordable home decor. The American multinational retail corporation has been selling home decor items and products since the 1980s. The company's first foray into home decor was through its discount department stores, which offered a limited selection of home furnishings and decor items.
Walmart expanded its home decor business by focusing on affordable and functional products. Today, Walmart's home decor department includes everything you could possibly need at home like furniture, curtains, bedding, rugs, lighting, wall decor, and pretty home accessories!
The company has also invested in developing its private label brands, such as partnerships with publications like Better Homes & Gardens and the Pioneer Woman.
Ikea
Ikea is one of the best home decor stores for cheap home products. Ikea is a Swedish multinational furniture and home decor retailer that was founded in 1943. The company has been selling home decor products in the USA since the 1980s, when it opened its first store in Philadelphia.
In the early years, Ikea's home decor offerings in the USA were primarily focused on practical and affordable furniture, such as beds, sofas, and tables. Over time the company grew to sell all sorts of Scandinavian-inspired home decor items, such as bedding, curtains, rugs, lighting, wall decor, and other home accessories. Ikea is known for its practicality and simple design that just works. It certainly won't break the bank.
Today, Ikea has over 50 stores in the USA, and its products are also available to purchase online.
---
Which one of these home decor stores is your favorite?