If you're not sure where to begin when it comes to decorating your bedroom for Christmas, then don't worry, we've got you covered! These essential Christmas bedroom decorations will give you a great foundation for adding some holiday cheer to your guest room or bedroom. Guests will feel like they've walked into a Christmas wonderland if you take our bedroom decorating advice listed here.
Christmas Bedroom Decorations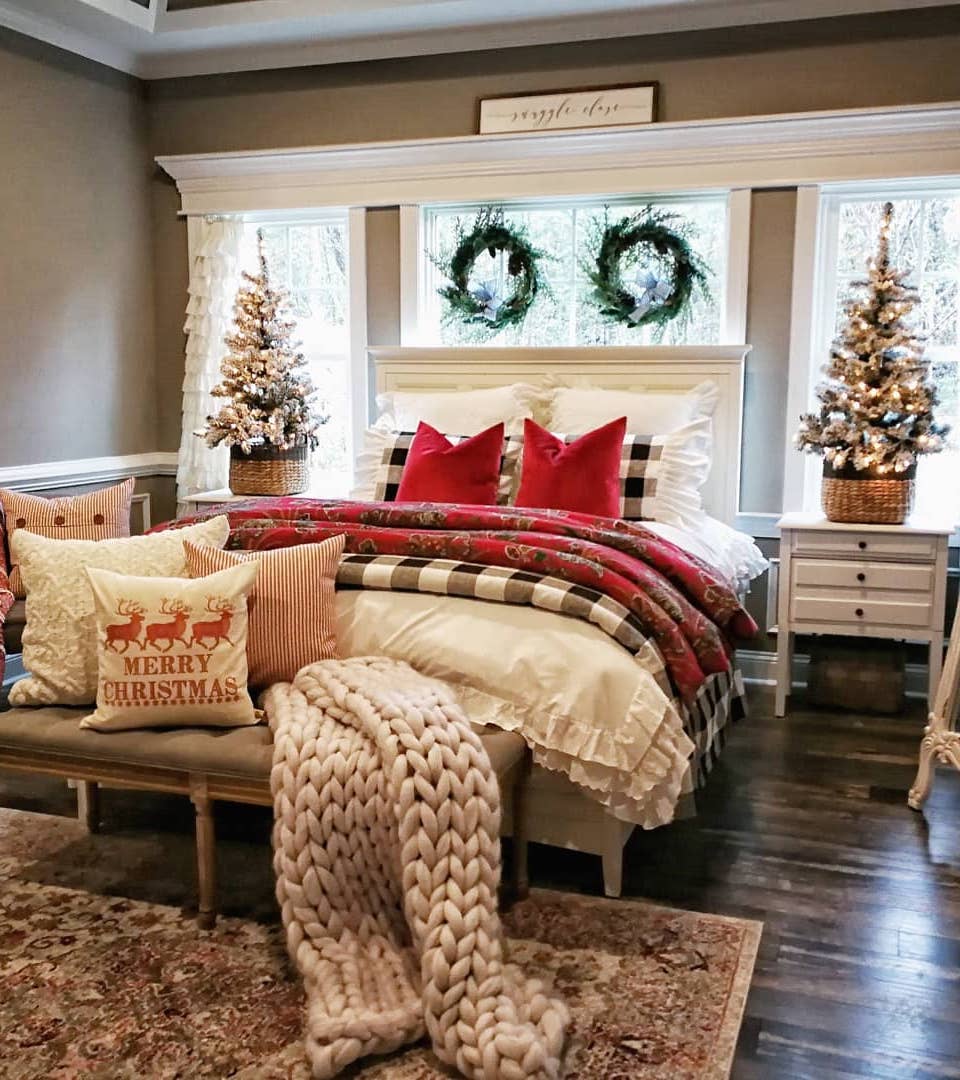 Here are eight EASY ways to decorate a bedroom for Christmas:
1. Christmas Comforter
Swap out your thin summer comforter for a Christmas themed one! This decoration is sure to put you in the Christmas spirit first thing in the morning and last thing before bed!

2. Christmas Bed Sign
Hang a festive holiday sign above your bed to celebrate Christmas each morning and evening. Wood signs can give a rustic feel to your bedroom, perfect for the winter season.

3. Christmas Throw Pillows
A simple and affordable way to decorate for Christmas. Pick some festive throw pillows and toss them on the bed or accent chair.

4. Mini Christmas Tree
The perfect decoration for your nightstand! A miniature Christmas tree will accompany your nightstand essentials in a festive way. You could also put one on a desk, dresser, or console table.

5. Christmas Throw Blanket
Keep cozy in your bedroom with a Christmas themed throw blanket. You can toss it over the accent chair, or drape it over the end of your bed. Either way, it's sure to make for a cozy Christmas!

6. Christmas Sheets
Flannel Christmas sheets are a great way to stay warm and decorate for Christmas in your bedroom! You can find them in pretty Christmas patterns to create a festive mood!

7. Christmas Door Wreath
Hang a simple but festive Christmas wreath over your door to celebrate the holiday.

8. Reindeer Figurines
These small but cute reindeer are the perfect way to give a rustic Christmas touch to your bedroom decor!

9. Christmas Rug
A red plaid rug, faux fur rug, or other type of wintry rug is an easy idea to add some Christmas cheer in your bedroom. Step out of bed each morning and be reminded of the holiday season with a Christmas themed area rug!

More Christmas Decorations
Looking for even more Christmas decorations and ideas? Check out these related articles: