Wicker accent chairs are a smart choice for coastal and beach homes. Wicker is a durable material that is popular for constructing furniture. Not to mention, the beige tones of wicker look beautiful in earthy home design! 
These wicker accent chairs are perfect for creating a coastal-inspired living room. They feature a natural wicker finish that will add a touch of texture to your space. Plus, the rattan construction is durable and easy to maintain.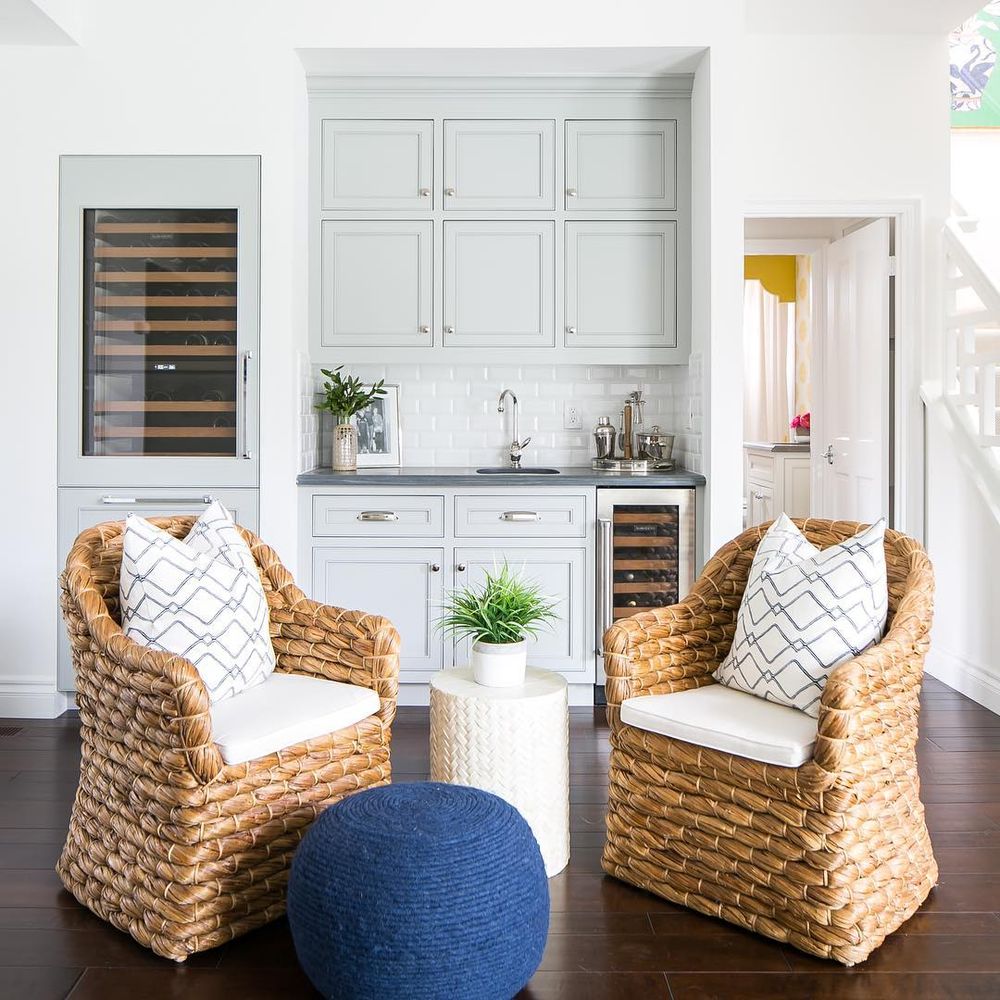 Wicker Accent Chairs for All Budgets
If you're looking for a wicker accent chair that will make a statement in your home, then this is the one for you. It features a bold, black wicker finish that is sure to turn heads. Plus, the metal frame ensures that this chair is built to last.
These are the perfect chairs for anyone who wants to add a touch of coastal style to their home. They're made with natural wicker, so they'll add texture and interest to your space. You can choose from a variety of colors and styles to find the perfect chair for your home.
Check out the wicker accent chairs we think are perfect for your home!

Wicker Furniture in Coastal Homes
Wicker furniture is a popular choice for coastal homes because it's durable and easy to maintain. Plus, the natural material can withstand the elements. If you live in a coastal area, then you know how important it is to have furniture that can withstand the salt air and humidity. Wicker is the perfect material for coastal homes because it can handle all of the elements.
When you're choosing wicker furniture for your home, it's important to choose pieces that will complement your existing decor. If you have a more traditional style home, then you might want to choose wicker chairs with a more classic design. If you have a more modern home, then you can choose wicker furniture with a more contemporary look. No matter what your style, there's a wicker chair that will fit into your home.
These are the best wicker accent chairs for designing a coastal bedroom or living space.
Is Wicker Easy to Clean?
Wicker is a natural material, so it's easy to clean and maintain which makes it great for furniture. You can simply wipe it down with a damp cloth to remove dirt and dust.
How to Style Wicker Accent Chairs
There are a few things to keep in mind when styling wicker accent chairs. First, you want to make sure that the chairs complement the other pieces of furniture in the room. Wicker chairs can range in style from traditional to contemporary, so it's important to choose a chair that will fit in with the overall style of the room.
Another thing to keep in mind is the color of the wicker. Wicker comes in a variety of colors, so you can choose a chair that will match or contrast with the other pieces in the room.
You also want to make sure that the chair is the right size for the space. Wicker chairs come in all different sizes, so you want to choose a chair that will fit in the space without overwhelming it.
When you're styling wicker chairs, have fun, and don't be afraid to accessorize your chairs with fun colored cushions and seat pillows!
---
Accent chairs are always a great way to refresh your living room design without spending too much money. They provide extra seating for guests or a place to curl up with a good book.
Don't miss our other home decor ideas using wicker, rattan, and more: