Traditional dressers are best for classically designed bedrooms and people who want to celebrate the sophistication of timeless interior design. We love traditional decor and design for its elegance and charm. Even though traditional design often refers to the past, you can find beautiful dressers that are fit for modern homes.
Traditional Dressers
Here are the best traditional dressers you can buy online. As you can see, these dressers feature a classic design and are often made of wood. The amount of storage you need in your bedroom will determine how big of a dresser you go for. I hope these dressers give you a great starting point as you go about making this bedroom design decision!
My favorite retailers for traditional dressers and furniture include The Well Appointed House, Ballard Designs, Pottery Barn, and Arhaus.
Dressers are one of the necessary pieces of bedroom furniture. They are perfect for storing clothing like underwear, sweaters, jeans, and t-shirts. You can also keep other things like shoes and handbags inside them. Every bedroom needs at least one good dresser!
Dressers often come in different shapes and sizes but the most common shapes are horizontal ones and tall dressers. Horizontal dressers are wider than they are tall. Tall dressers are taller than they are wide! Each can be useful in different circumstances. For example, you can store objects in easy reach on top of a lower horizontal wide dresser, something that isn't very practical with a tall dresser.
I love this white traditional style dresser with glossy wooden drawers. It's vintage and chic with lots of glamorous metallic decorations around it. The Venetian mirror that hangs above it looks beautiful next to the two thin gold picture frames on the wall.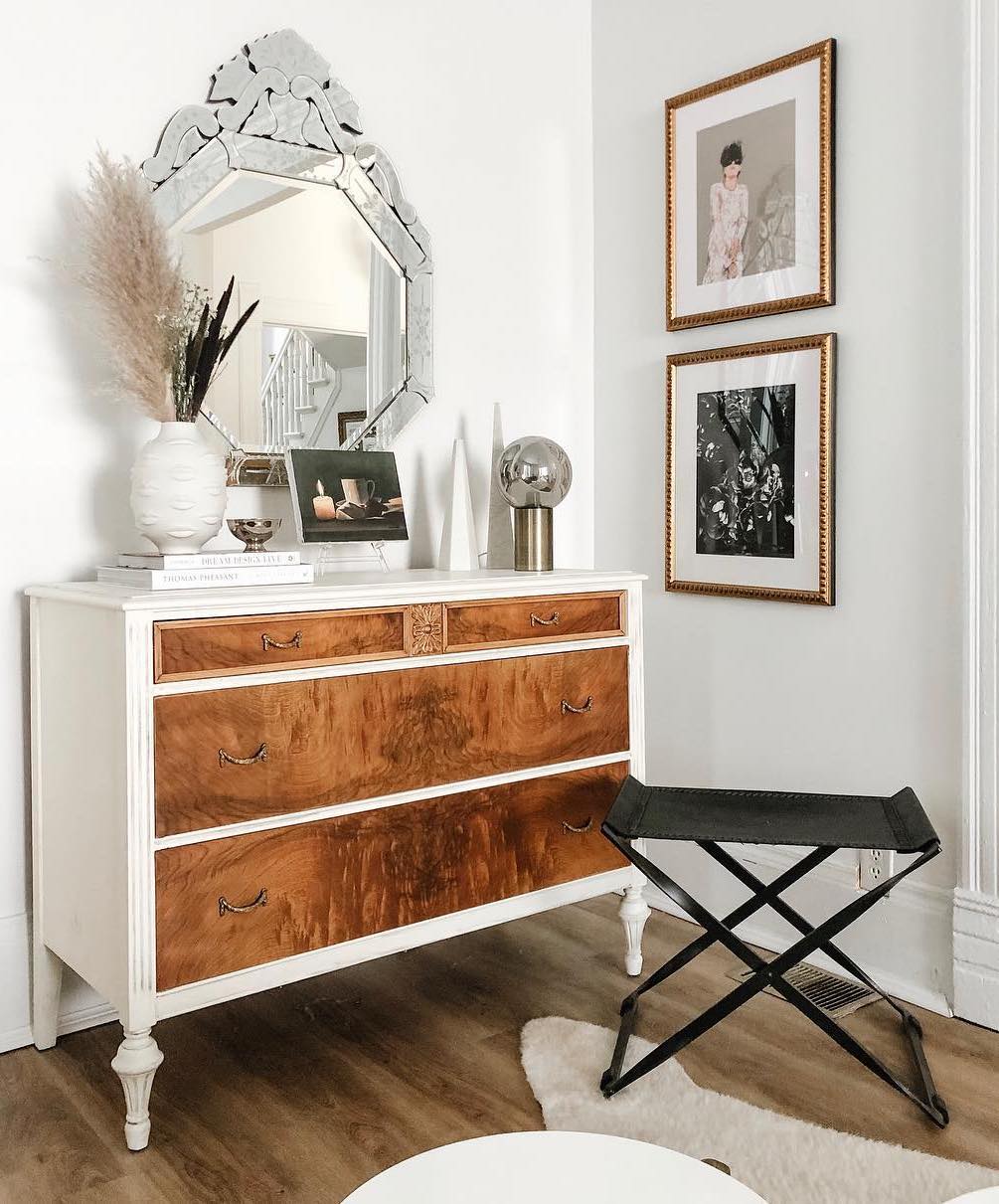 I hope these traditional furniture ideas inspired you!
More Traditional Decor Ideas
Love traditional interior design? Keep reading about this decorative style with these related articles: