Scandinavian home decor and furniture stores are becoming increasingly popular all over the world. The signature Nordic style, rooted in a minimalistic design and clean lines, is instantly recognizable. Scandi-style furniture stores sell home goods typically found in Sweden, Norway, and Denmark. These stores prioritize quality craftsmanship, often using sustainably sourced materials and natural finishes to create pieces that look timeless and will last for years to come. Shopping at Scandinavian furniture stores can give your home the minimalist, clean look you crave.
Here are the best Scandinavian furniture stores to shop from for Scandinavian interior design, some of which have warehouses in the US for fast home shipping.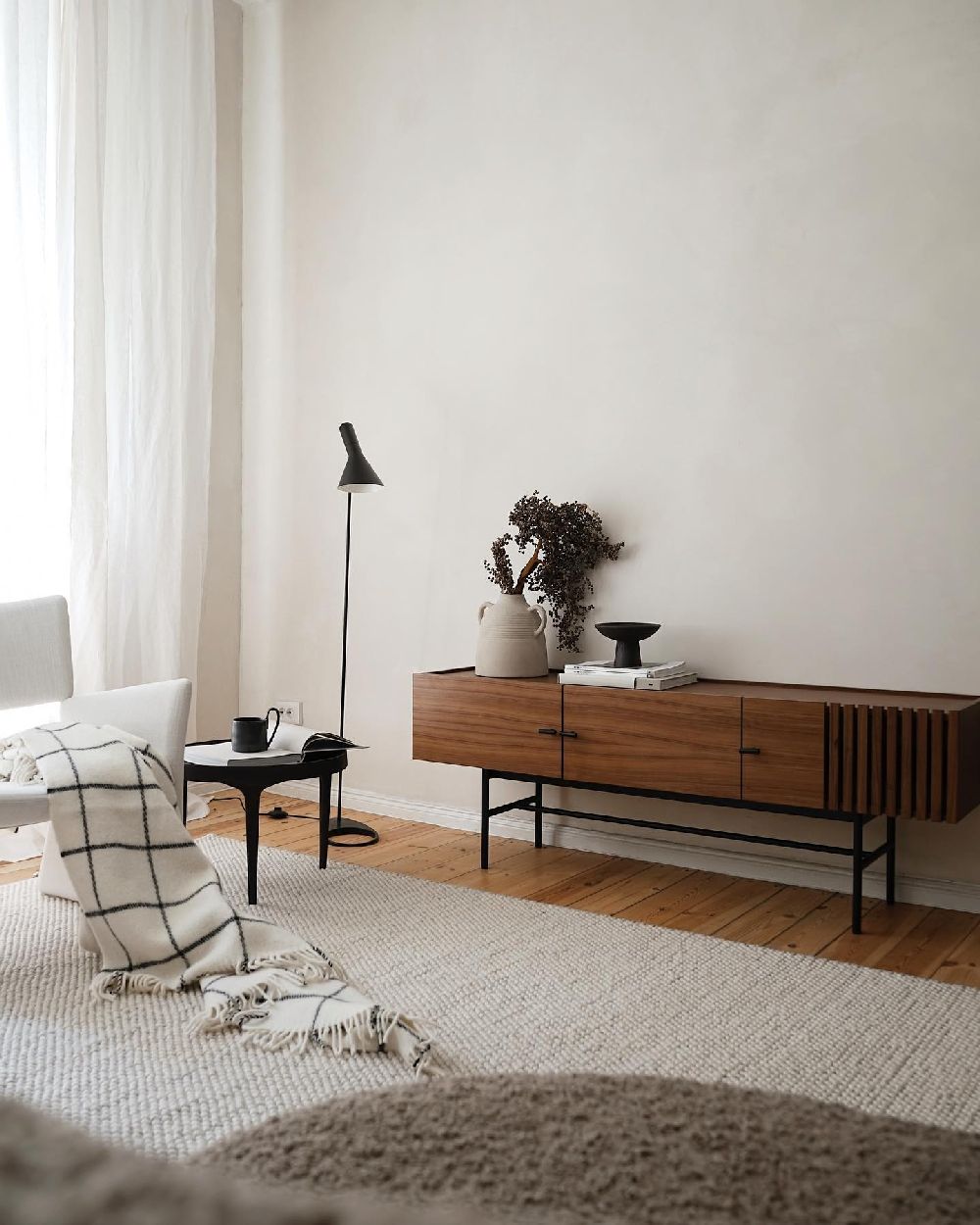 Nordic Nest
Nordic Nest is a retail brand founded in 2002 by husband and wife team, Christian and Marie. This family-run business offers a variety of Scandinavian home decor and lifestyle products that celebrate Scandinavian design and culture. Their best-selling products include traditional Scandinavian rugs, classic tableware, wall art, and other home accessories. They also carry a wide selection of popular Scandinavian furniture, lighting, and textiles. All of their products are carefully selected to reflect the modern Nordic design style, and they strive to create products that are both functional and aesthetically pleasing.
Scandinavian Designs
Scandinavian Designs is a retail brand that specializes in modern home furnishings, decor, and accessories, inspired by the Scandinavian aesthetic. Founded in 1963 by Niels Diffrient and Merton Gershun, the brand has become one of the leaders in modern furniture design, offering timeless and high-quality pieces that are both stylish and functional. Scandinavian Designs' best-selling products include their classic lines of sofas, sectionals, armchairs, beds, and dining tables. They also have an extensive selection of home accessories, such as rugs, lamps, wall art, and candles, to complete any room.
Kardiel
Kardiel is a furniture retailer that specializes in modern, mid-century, and Scandinavian designs with a focus on quality and affordability. Founded by brothers Ran and Oren, Kardiel offers a wide selection of products that range from sofas, chairs, and ottomans to sectionals, beds, and lighting. Their best-selling products are the Clara Mid-Century Modern Classic Sofa, the Nelson Platform Bench, and the Arne Jacobsen Egg Chair. All of their products are manufactured with premium fabrics and materials for long-lasting quality and durability. Kardiel is dedicated to providing outstanding customer service and satisfaction, making them a favorite among customers looking for high-quality and affordable furniture.
Finnish Design Shop
The Finnish Design Shop is a retail brand founded in Helsinki, Finland in 1954 by brothers Erkki and Kalle Mikkola. They envisioned a store that would introduce the world to the best of Finnish design, architecture and culture. Today, the Finnish Design Shop is a global leader in modern Scandinavian design, offering furniture, lighting, home accessories, and textiles from the world's most renowned design brands. The shop is known for its focus on quality, craftsmanship and sustainability, making it a favorite among buyers and designers alike. Some of the shop's best-selling products include the iconic Marimekko Unikko pattern, Artek's Stool 60, and Iittala's Aalto Vase.
Hay
Hay is a Danish furniture and home accessories brand that was founded in 2002 by Rolf and Mette Hay. The company's designs are known for their clean lines, minimalist aesthetic, and use of bright, bold colors.
Hay began as a small operation, selling a collection of designer products from its flagship store in Copenhagen. It has since expanded to the US, so Americans can shop the charming Scandinavian home products, too!
Ikea
IKEA is a multinational retail brand that was founded in 1943 by Ingvar Kamprad in Sweden. It is one of the world's largest furniture retailers and is known for its modern, Scandinavian design. IKEA's best-selling products include its Billy bookcase, Lack side table, Ektorp sofa, and Poang armchair. IKEA is popular for its low prices, which are achieved by designing and manufacturing products with minimal labor, materials, and packaging. The company also offers design consultations and home delivery services. IKEA has become a global brand and is now present in 28 countries.
Horne
The Horne retail brand was founded by husband and wife team, Ryan Walker and Alissa Parker-Walker, in 2008. Since its inception, Horne has become an award-winning American lifestyle brand that specializes in modern furniture inspired by Scandinavian design and home accessories with a focus on quality and craftsmanship. It sells popular Scandinavian brands like Ferm Living, Normann Copenhagen and Design House Stockholm.
Horne's best-selling products include its Mini Library shelving unit, the Simple bed, and the Knot chair, as well as home accessories like pillows, rugs, lighting, and textiles. Their Nordic products are available in in store by appointment at the showroom in Lancaster, PA. Horne has established itself as a reliable source for modern home furnishings and accessories and continues to be a favorite among Scandinavian style homeowners and interior design professionals alike.
Hem
Hem is a Swedish furniture company that was founded in 2016 by Petrus Palmér. The company specializes in designing and producing contemporary furniture, lighting, and accessories for homes and offices.
Hem's goal is to offer high-quality design products at an accessible price point by cutting out the middlemen and selling directly to consumers online. The company's design philosophy is rooted in Scandinavian minimalism, with an emphasis on clean lines, simple forms, and functionality.
Since its inception in Stockholm, Hem has collaborated with several prominent designers, such as Luca Nichetto, Max Lamb, Pauline Deltour, and Philippe Malouin, to create its product line. The company's products are sold worldwide and have received numerous awards and recognition for their design and quality.
2Modern
2Modern is an online retail brand founded by John and Christine Augustin in 2001. Specializing in modern furniture, lighting, and decor, 2Modern offers an impressive selection of products in the Scandinavian style. Their catalog includes pieces from some of the most renowned brands in modern furniture and décor, such as Muuto, Gubi, Skagerak, and Ferm Living.
Their best-selling product lines include the iconic Fritz Hansen Series 7 Chair, the Muuto E27 Pendant Lamp, and the Gubi Beetle Chair. With its dedication to modern design and commitment to providing only the highest quality products, 2Modern is an affordable destination to bring a hint of Scandinavian style to a home.
AllModern
AllModern is a contemporary retail brand founded in 2006 by Niraj Shah and Steve Conine, two entrepreneurs with a vision for stylish, modern home furnishings. Their mission was to make modern design accessible to everyone. AllModern has become a leader in Scandinavian style home furnishings, offering stylish, modern pieces made from quality materials at accessible prices. The brand is especially well-known for its best-selling products, like the contemporary-style Noguchi table, the mid-century modern-inspired Matilda bed, and the iconic Tripod floor lamp. With its vast array of beautiful and affordable products, AllModern has become a go-to destination to add inexpensive Scandinavian style to the home on a budget!
---
Which of these Scandinavian home stores is your favorite?