The fall season is upon us and if you're looking for the best fall bedroom decor ideas, then you're not alone! Many people are looking to decorate their bedrooms for the autumn season and fill it with joy. Check out our favorite autumn bedroom decorating ideas from across the web below!
Fall home decor is very popular come September. Lots of people want to fill their homes with pumpkin accents, cozy blankets, and leaf garlands. We have scoured the internet and found the absolute best fall bedroom decor ideas to share with you. There are several easy ways to decorate for fall.
Fall Color Palette
What does the fall color palette in the bedroom look like?
Classic Orange
The classic orange hue is a hallmark of the fall season, symbolizing the warm and vibrant energy of autumn leaves. Integrating this color into your bedroom can be as simple as adding orange throw pillows, curtains, or even a statement piece like an orange armchair. Pair it with neutral shades to balance the brightness and create a cozy, inviting space.
You can't go wrong with a warm orange hue when it comes to decorating the bedroom for fall. This bedroom has lots of orange decorations which really enhances the autumn atmosphere.
Dark Blue and Brown
Go with other muted colors like dark blue or sage green if you don't want to overdo it with the classic fall 'orange' hue. This will give your bedroom a more unique look for fall.
Dark blue and warm brown form a rich, sophisticated color combination that's perfect for a more subdued fall ambiance. Consider blue bed linen with brown wooden furniture, or incorporate accessories like rugs and wall art in these tones. This palette provides depth and elegance, evoking the crisp and serene atmosphere of a fall night.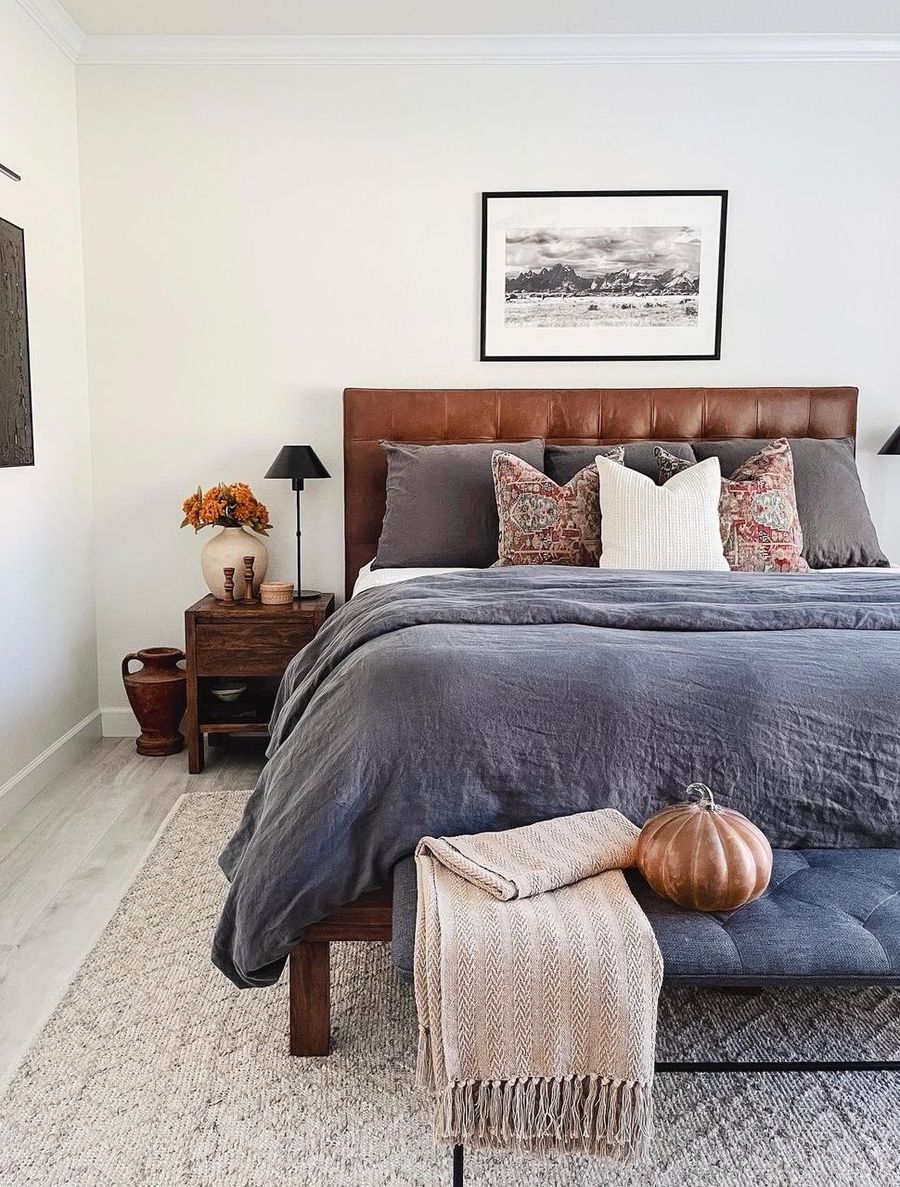 Decorate Your Bed for Fall
Here are several fall bedroom ideas for decorating your bed for autumn!
Lots of Throw Pillows
Orange, red, and yellow throw pillows offer an easy and affordable way to update your bedroom for the season. Choose pillows with fall-themed prints or fabrics like velvet and plaid to add texture and warmth. Mix and match different shapes and sizes to create a plush and cozy sleeping space.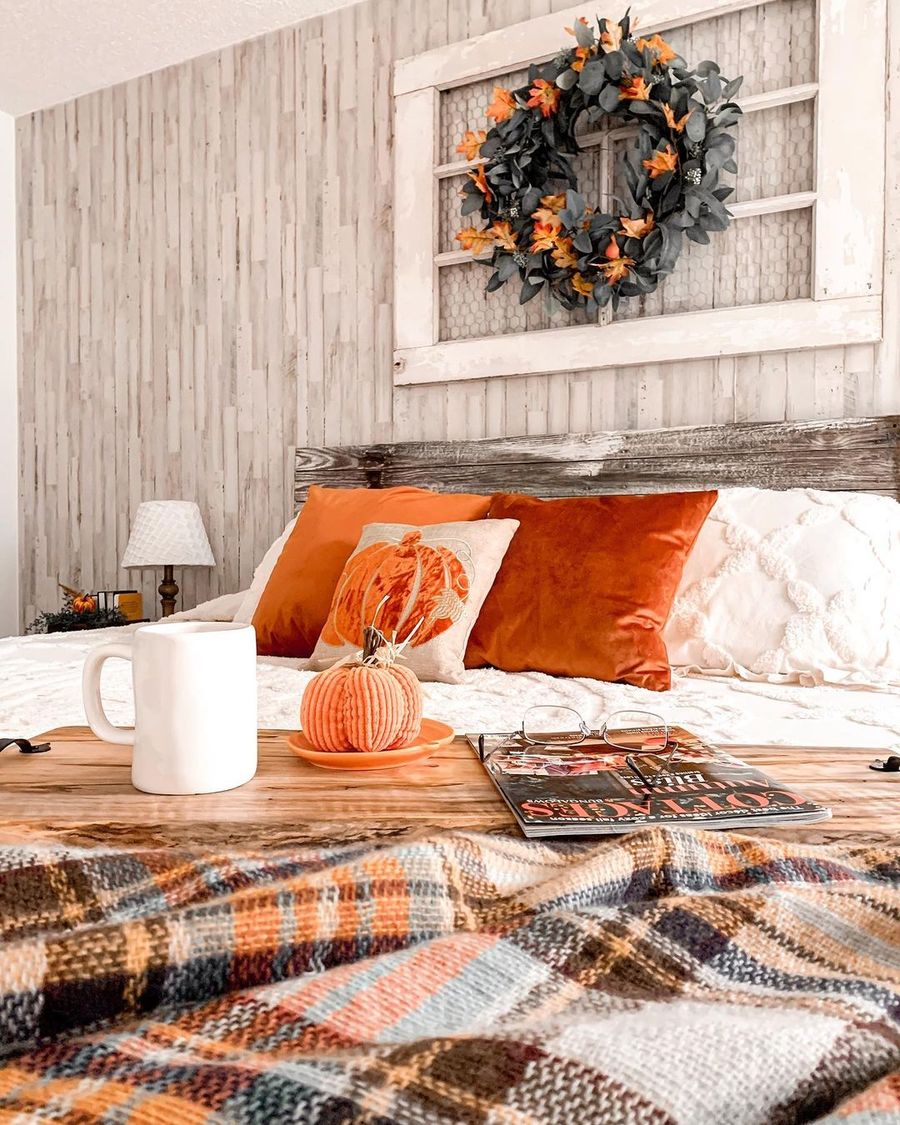 Warm Blankets
As the weather gets cooler, warm blankets become essential for comfort. Layer blankets made of materials like wool, fleece, or faux fur on your bed. Select shades that complement your existing decor, or choose bold patterns to make a statement. Either way, they'll provide both style and warmth. Fall throw blankets always make me feel cozy during those chilly autumn days.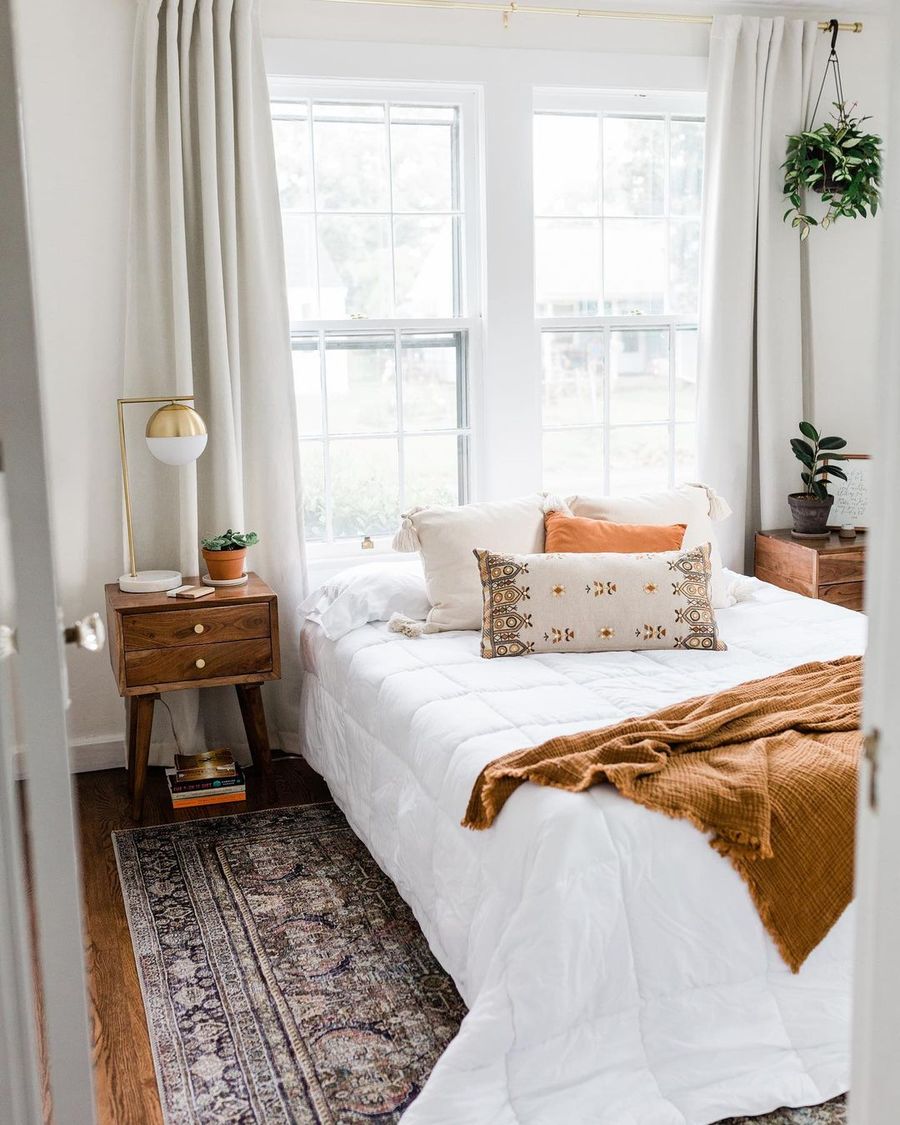 Fall Wall Decor Ideas
Here are some tips for decorating the walls of your bedroom for fall.
Fall Wall Sign
A fall-themed wall sign can be a focal point in your bedroom, adding character and seasonal charm. Look for signs with phrases that resonate with you, or opt for images of autumn landscapes. Hang it above the bed or on a feature wall for an eye-catching effect.
This bedroom has a cute "You're the Pumpkin to my Pie" sign on the wall above the bed. We have some DIY fall sign ideas for you to browse.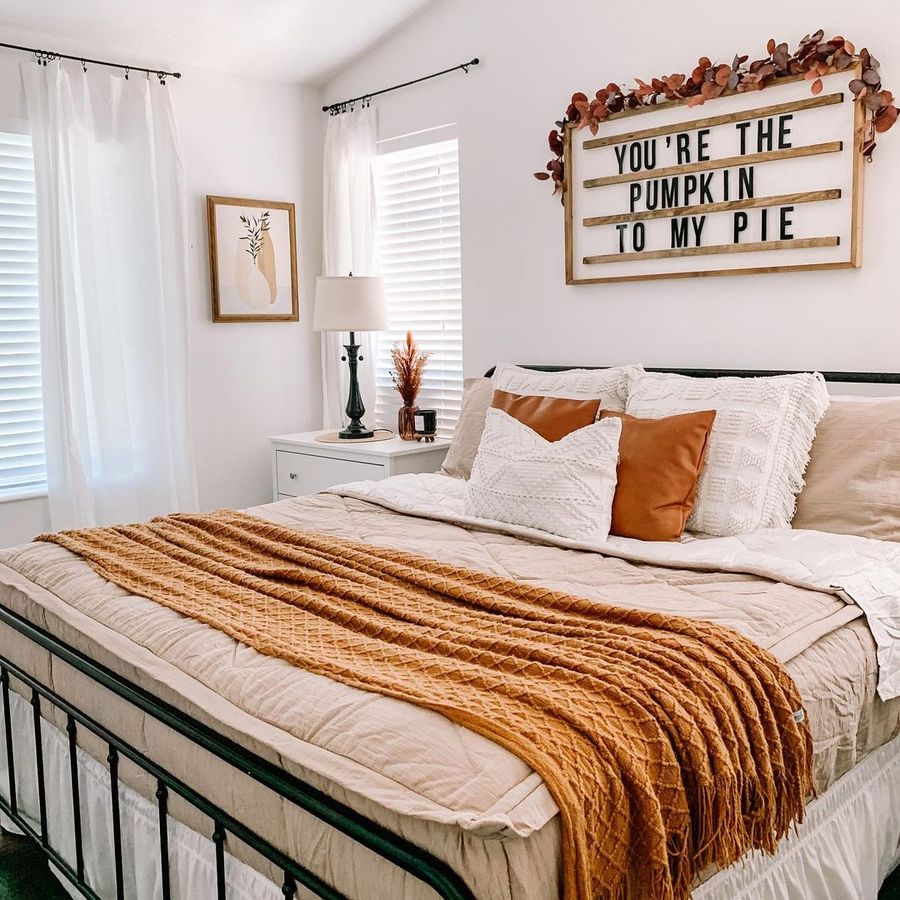 Wall Wreaths
Consider hanging a pretty fall wreath above the headboard of your bed. Wall wreaths made of autumn leaves, pine cones, and berries can bring the calming nature into your bedroom. Choose wreaths in various sizes, or create a DIY version with materials that match your personal style. They add a rustic elegance, perfect for the season.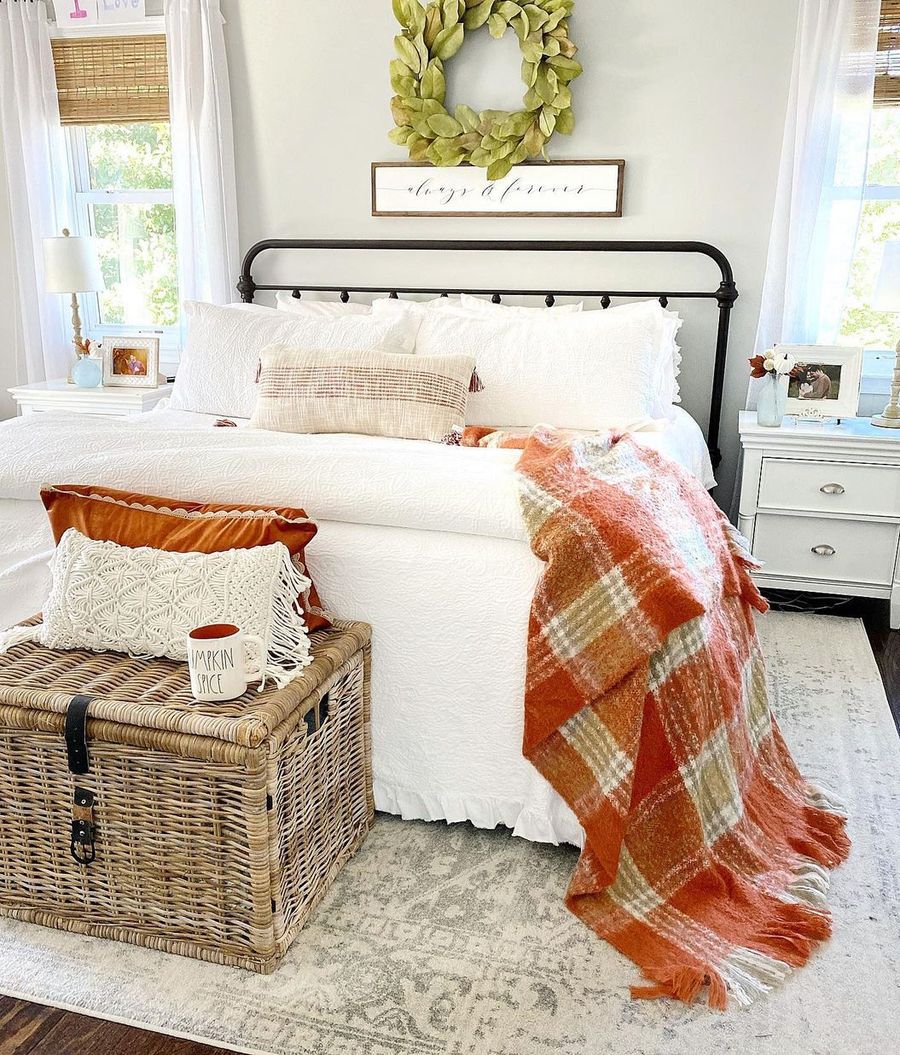 Fall Bedroom Decorations
Here are small decorations and accents you can use to decorate your bedroom for fall.
Fall Scented Candles
Fill your bedroom with the scents of fall with a fall scented candle. The scents of cinnamon, apple, or pumpkin can transform your bedroom into a fall haven. Place scented candles on your nightstand, dresser, or windowsill to infuse the room with the aromas of autumn. Not only will they provide a beautiful glow, but they will also enhance the overall ambiance.
Fall Branches in a Glass Vase
Incorporating fall branches in a glass vase is a simple yet stunning way to celebrate the season. Collect branches with colorful leaves or even bare twigs for a minimalist approach. Arrange them in a tall glass vase for a striking visual effect that captures the essence of fall.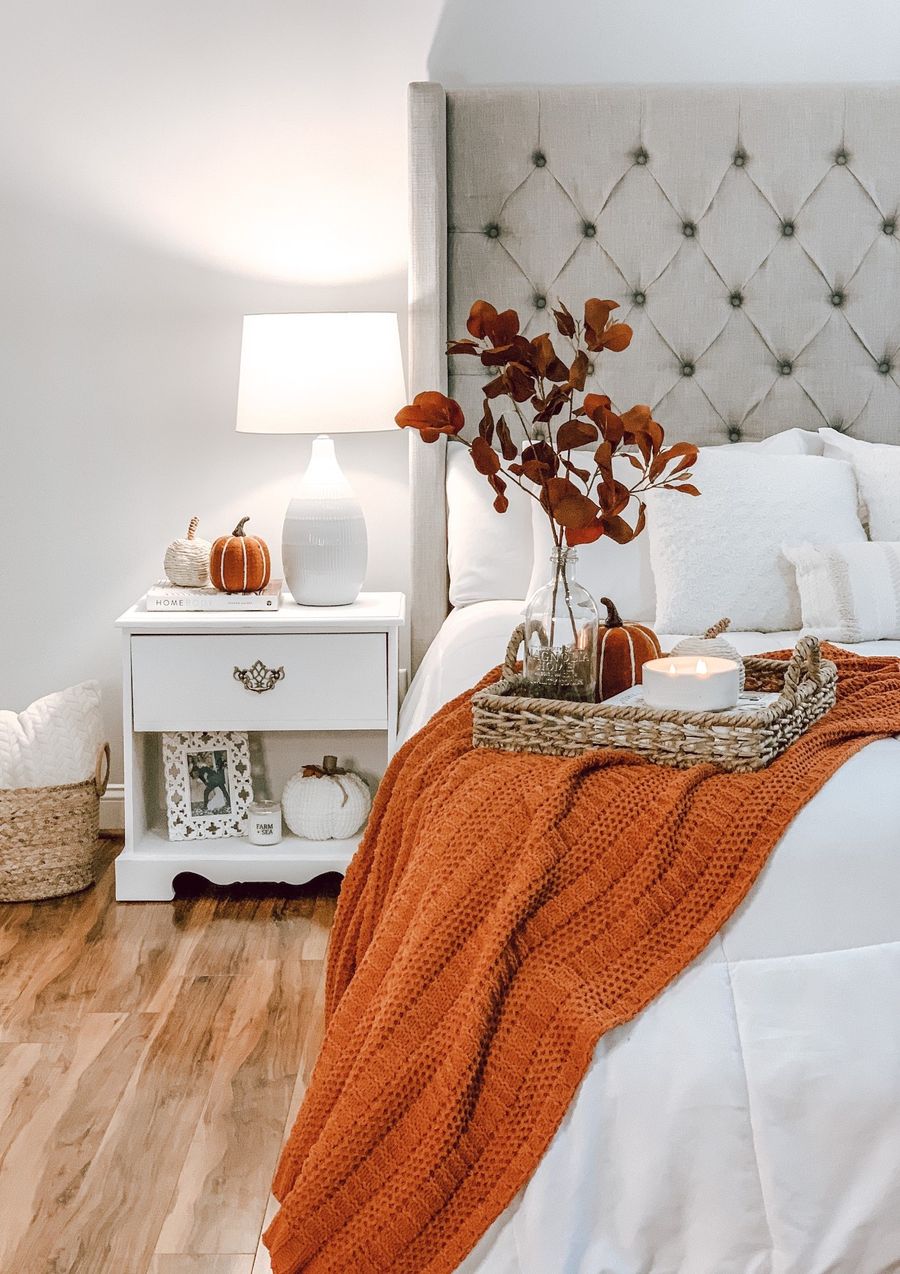 Fall Dresser Decor Ideas
Orange Plants
Don't forget to decorate the top of your dresser. This simple fall dresser decor includes a white vase with faded orange branches. Orange plants, like marigolds or chrysanthemums, can add a lively pop of color to your dresser. Plant them in rustic pots or modern vases, depending on your room's aesthetic. They provide a fresh and cheerful touch that's in sync with the fall season.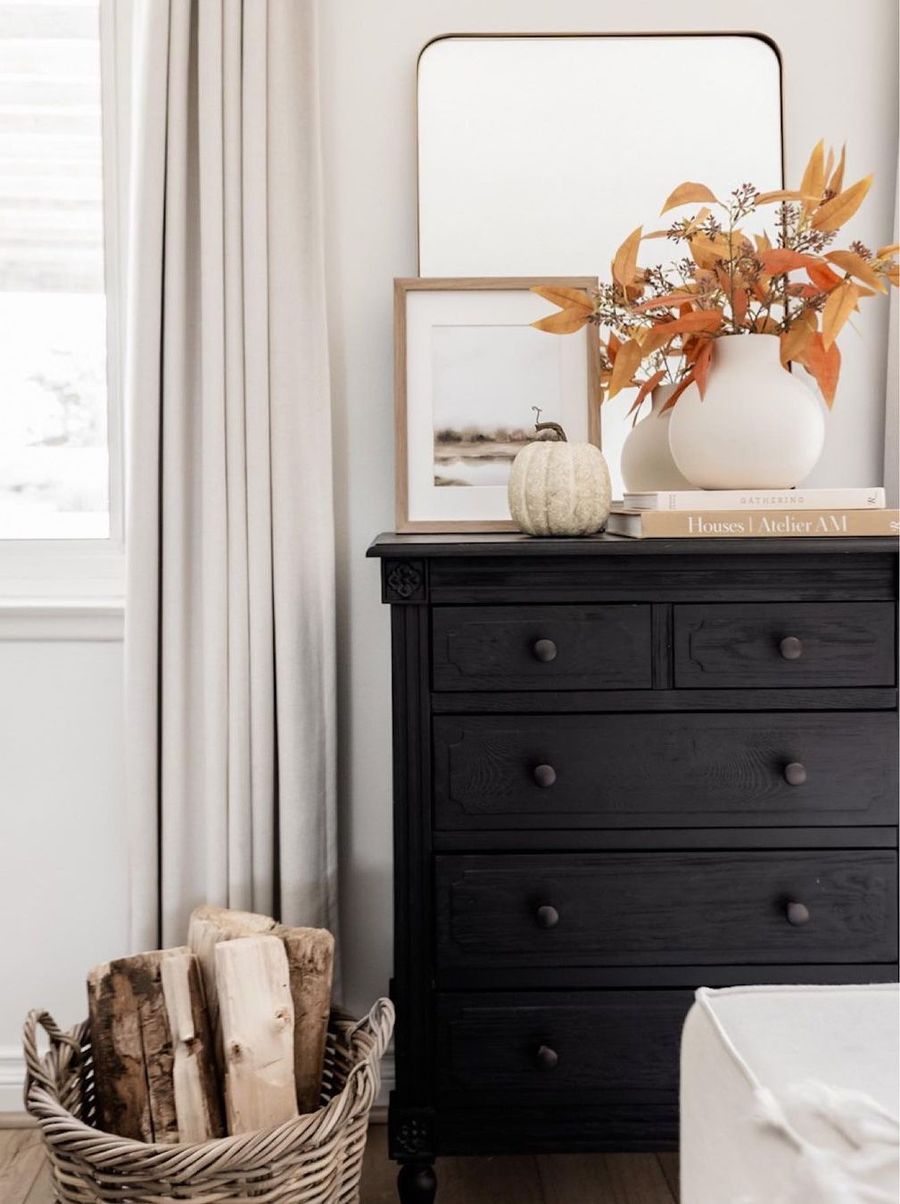 Pumpkins on the Nightstand
An easy way to decorate your nightstand for fall is to put various small pumpkins on top. Pumpkins are synonymous with autumn and make delightful decor items. Place small decorative pumpkins on the nightstand, either in a cluster or paired with other fall accessories like candles. They'll lend a playful and festive vibe, completing your cozy fall bedroom decor.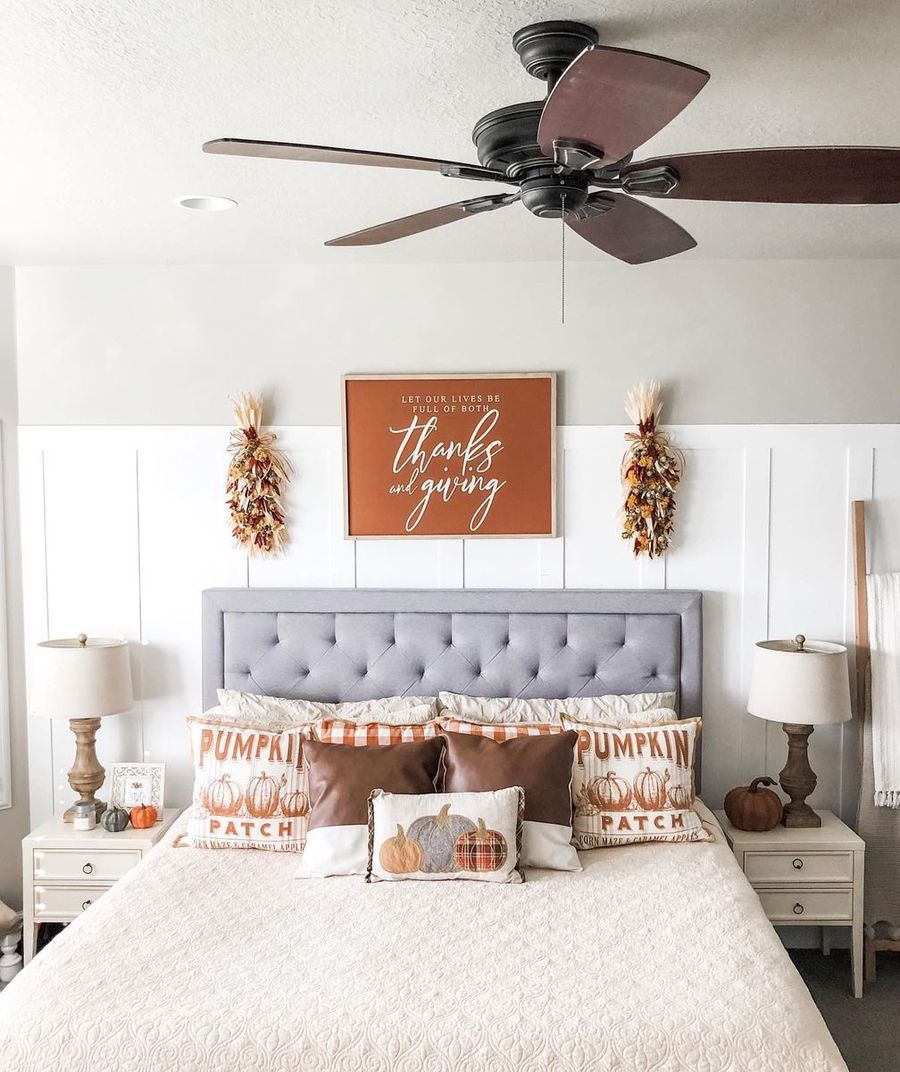 I hope these fall bedroom decor ideas inspired you endlessly!