This post has been kindly sponsored by Wayfair.
With the busy holiday season coming, I wanted to create a warm and welcoming outdoor bench for fall, a place that I'll enjoy and stay cozy throughout the winter.
To kick off the start of the holiday season, Wayfair has launched 5 Days of Deals, a feel-good sale where you can score amazing discounts across different home products. Not only can you save money during this sale, but you can feel good about shopping because 10% of sale profits from this event will be given by Wayfair to Community Solutions (US), an organization that works to solve homelessness.
Fall Bench Decorating
Decorating an outdoor bench for fall can enhance the curb appeal of your home and create a welcoming outdoor space. Here are steps to decorate an outdoor bench for the fall season:
Clean and Prepare: Start by thoroughly cleaning the bench. Remove any debris, dirt, or leaves to create a clean canvas for your decorations.
Choose a Color Palette: Select a fall-inspired color palette that includes warm hues like orange, red, yellow, and brown. These colors evoke the feeling of autumn.
Add Cozy Pillows and Throws: Place cozy fall-themed throw pillows and blankets on the bench. Look for pillow covers with fall patterns such as plaid, leaves, or pumpkins. Arrange them in a way that is inviting and comfortable for seating.
Decorative Cushions: If your bench has cushions, consider adding decorative cushion covers that match the fall color scheme and theme. These covers can be easily swapped out for different seasons.
Fall Foliage: Incorporate artificial fall foliage like garlands of colorful leaves or fall wreaths. Drape them over the backrest or along the arms of the bench for a seasonal touch.
Pumpkins and Gourds: Place pumpkins and gourds of various sizes and colors on and around the bench. You can stack them, arrange them in baskets, or scatter them for a charming fall display.
Wreaths or Swags: Hang a fall wreath or swag on the backrest or above the bench. Consider using materials like dried leaves, pinecones, or cornstalks for a rustic look.
Lanterns and Candles: Add lanterns or candle holders to the bench for ambient lighting during the evenings. Use battery-operated LED candles to create a safe and cozy atmosphere.
Blanket Basket: Place a basket filled with rolled-up fall-themed blankets near the bench. This allows guests to grab a blanket for extra warmth on cool autumn nights.
Seasonal Signage: Hang a wooden or chalkboard sign with a fall-themed message or greeting nearby. This can be propped up on the bench or mounted on a nearby wall or post.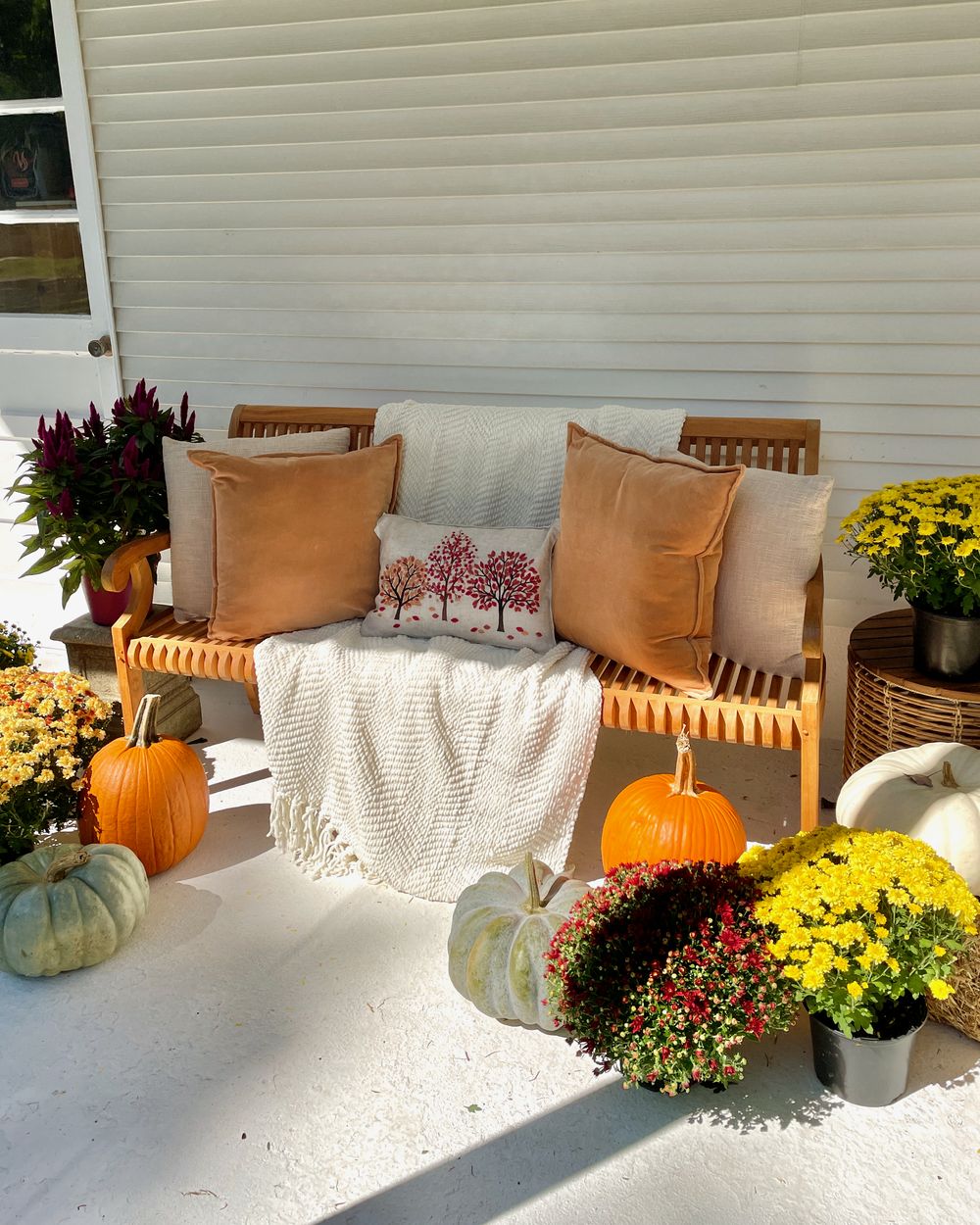 Fall Flowers: Incorporate potted fall flowers like chrysanthemums (mums) or marigolds on or around the bench. These add a burst of color to your outdoor decor.
Seasonal Doormat: Consider placing a fall-themed doormat in front of the bench to tie the entire look together and welcome guests with a seasonal touch.
Cushioned Seating: If your bench doesn't have cushions, you can add padded seat cushions in fall colors or patterns for extra comfort.
Pinecone Accents: Scatter pinecones around the bench or incorporate them into your decor. You can also paint them in metallic hues for added visual interest.
Maintain and Refresh: Regularly check and refresh your outdoor bench decor throughout the fall season to ensure it stays vibrant and inviting.
By following these steps, you can create a charming and inviting outdoor bench area that celebrates the beauty of fall and provides a cozy spot for relaxation or socializing in your outdoor space.
I picked up these great fall outdoor bench decor items from Wayfair: fall throw pillows, cozy blankets, and a comfortable bench cushion, before the holiday craze. You can save up to 80% during the Wayfair 5 Days of Deals sale.

Remember, Wayfair is offering up to 80% off during this mega sale, so if you love a good deal, now is the time to shop! The best part is that 10% of sale profits will be given to Community Solutions in New York, dedicated to fighting homelessness.
During the 5 Days of Deals sale, you can save big, and together we can give back!
What's one item you've been excited to add to your cart this holiday season?