The coastal decor style is all about making you feel as if you're completely relaxed, content, and calm at a beachside bungalow. Most often, this style features shades of blue, white, or ivory, and some natural rattan or wicker. Interior spaces in the coastal style are bright, heavily feature windows for natural lighting, and have white walls. All that light and white walls really keep the space bright and airy! The furniture in the coastal style goes for a classic look that doesn't make a space feel too busy or chaotic. After all, the idea behind this style is calm and relaxed! 
Couches, chairs, and other seating options typically have a solid color fabric, be it cream, ivory, beige, sea-foam, sky blue, or other pastel or soft natural color. In the coastal style, you will sometimes see a fun accent chair that has a pattern such as gingham, seersucker, plaid, or stripes – but that will only be an accent piece and not the focus seating. The throw pillows on a coastal style sofa may have some pattern and interest as well. Spaces in the coastal style are bright and clean and tend to be a bit cozy and close together for intimate discussions.
Coastal Dining Tables
Coastal dining tables bring bright, clean lines with natural, brown accents. These tables are usually a solid piece (which means no leaves to insert or remove). The tabletop of a coastal dining table is typically a natural wood finish. The stain can be light, medium, or dark.
The legs or base of the coastal dining table are most often a white or cream color. This goes with the overall coastal style in that it pairs natural brightness with an earth tone brown accent.
Seating with typical coastal dining tables often matches the wood tabletop with the white legs – meaning the chairs have a wooden seat with the rest of the chair painted white. They can also be bench-style seating or a combination of the two with a bench on one side and individual seating on the other.
Other seating might be even more casual and comfortable by having wicker chairs and neutral-colored seat cushions. That gives the feel of outdoor furniture seating while still being a functional indoor space.
Dining tables can come in just about any size, shape, finish and style you want! Dining tables are a place where families gather for quick meals, where children can do homework and work on projects, and where friends are hosted for dinner parties. Finding the table you want to meet your family's needs comes down to a matter of function and style.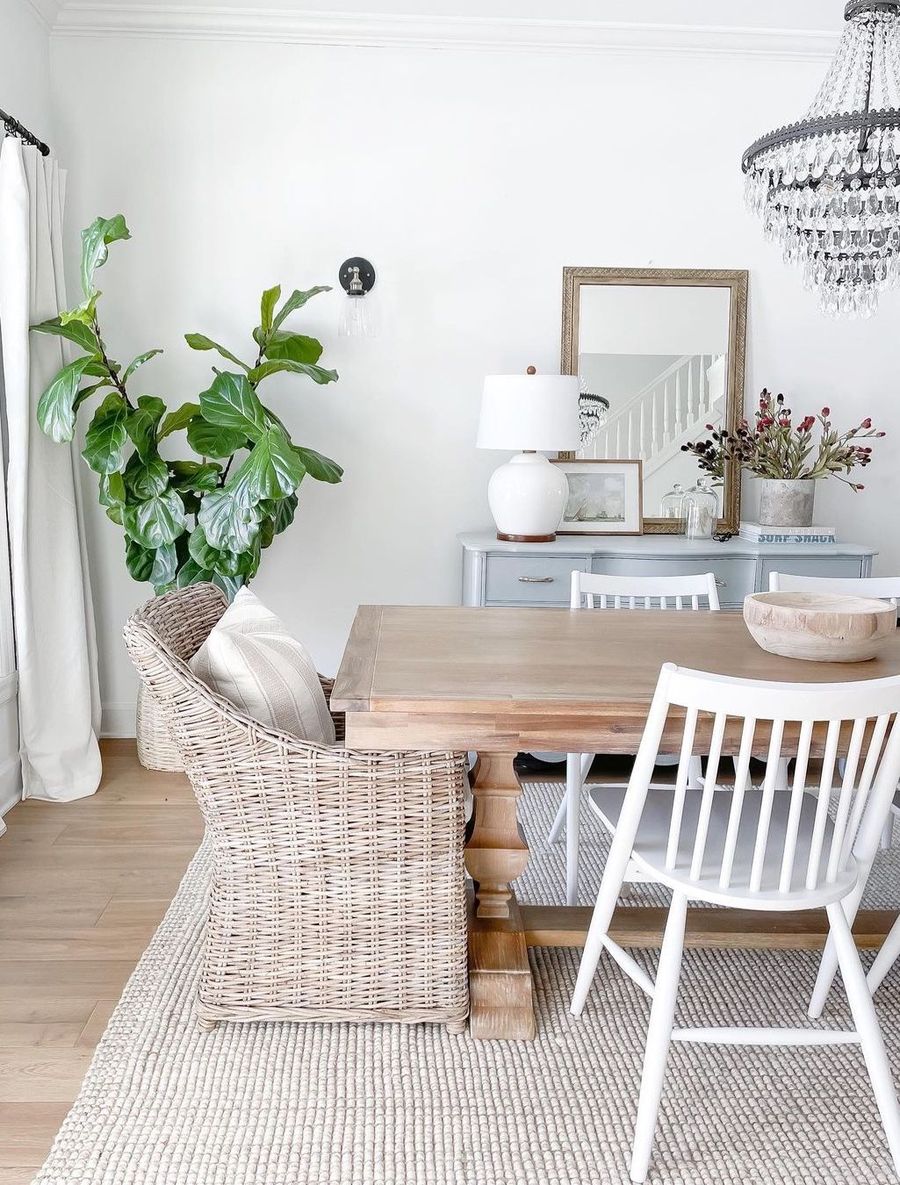 Seating can be bench style or individual seats. With individual seats, you then have the options of upholstered, padded, natural wood, acrylic, or any combination of those. Your dining table can be a standard height or a counter height, depending on your preference as well. The frame for the dining table can feature four independent legs, a center leg, or two long end legs. Again, this all comes down to what you want for your style and aesthetic in your space! Something important to consider with a dining table is what you're using it for, how the people using the dining table can get the most function out of it and, of course, how it looks for your space!
More Coastal Decor Ideas
I hope this post gave you some great modern coastal dining room decor ideas and you found the table of your dreams! Cheers to many meals with family and friends at your beach home.
Check out a few related coastal furniture and decor posts here: