Decorating your home for Christmas can feel overwhelming. Especially if you are hosting the big holiday this year at your home, you'll want to make sure every room in the house has a touch of Christmas cheer added. We want to make this project easier on you, so we decided to create a Christmas home decor guide for every room in the house! Our hope is that these ideas will inspire you to curate the best Christmas-style home you've had in years.
You see, Christmas is one of our favorite holidays. It's a time to celebrate the birth of Jesus Christ, spend time with family and loved ones, and give gifts to those we care about. Decorating the Christmas tree is only one small part of the fun we can have inside our homes during Christmas. Keep reading to learn about all the ways you can spread Christmas joy inside your home this holiday season.
Living Room
The living room is probably the most important room you will decorate for Christmas, as it's where you and your family will spend time during this joyful holiday! You can decorate just about every nook and cranny in the living room. Pay special attention to the mantel and Christmas tree itself. These will be central points of focus in your living room during the holidays. A few ideas for decorating the living room for Christmas are:
Go for a flocked Christmas tree this year
Hang evergreen wreaths in your living room windows
Display bottle brush trees on your shelves and console table
Drape an evergreen garland on your mantel
Hang stockings on the chimney
Christmas throw pillows are a must!
Add a cozy winter throw blanket to the sofa
Design a pretty Christmas centerpiece for your coffee table
Kitchen
When it comes to Christmas kitchen decorating, don't be afraid to go modern (above) or traditional (below) depending on your tastes! A simple string of lights around the kitchen window can go a long way in adding some festive cheer to your kitchen. Or opt for a traditional red plaid Christmas decor theme and go all out!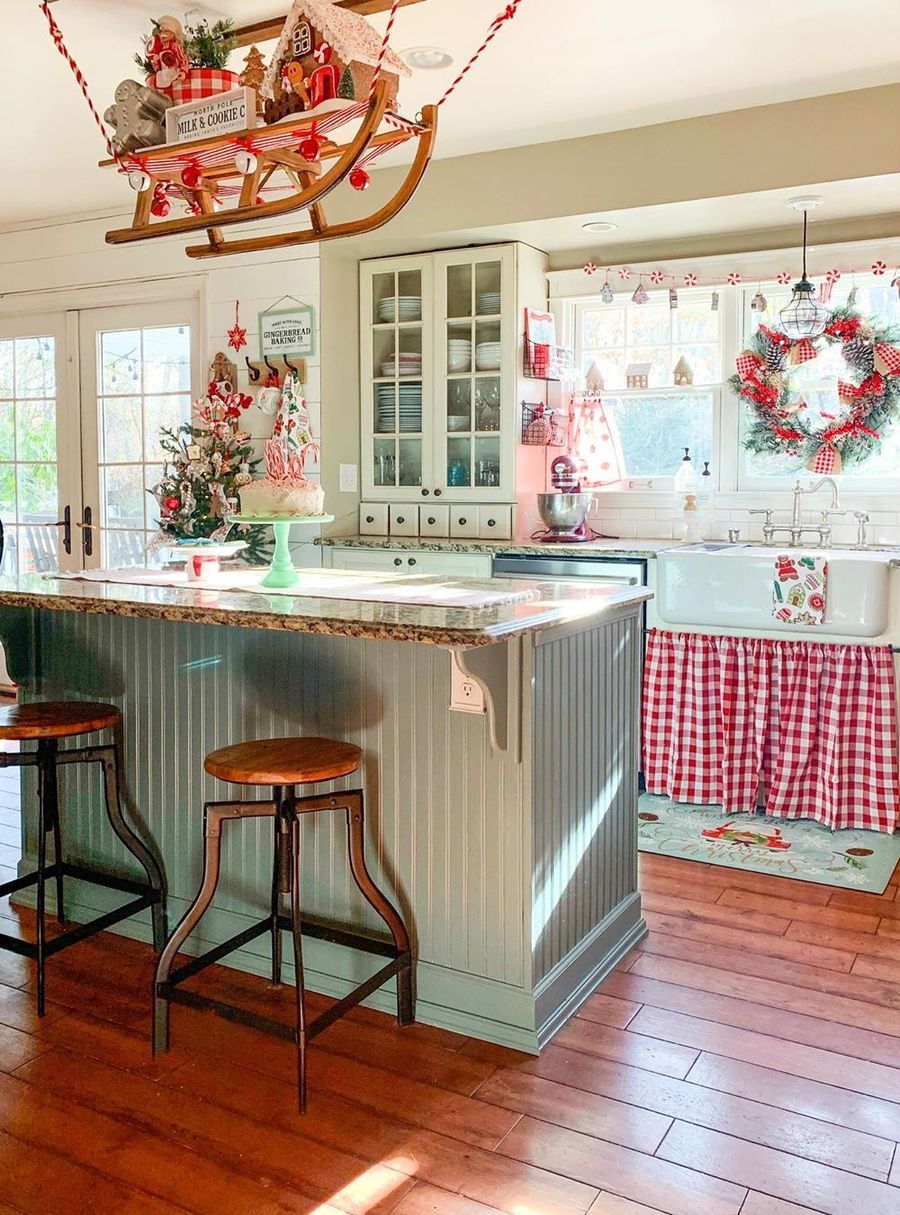 Of course, there are many more ways to decorate your kitchen for Christmas. Here are a few ideas to spark your imagination and creativity:
Frame your window with string lights
Hang a wreath in your window
Swap out your old dish towel for a red Christmas one
Make use of Christmas cake stands and cookie jars
Hang Christmas wall signs on the walls
Dining Room
Another important room in the house to decorate for Christmas is the dining room. If you are hosting a Christmas dinner, then be sure to decorate your dining room for the holiday. Here are the important decorations you must consider when decorating your dining room for Christmas!
Choose a festive table runner
Decorate with white candles
Be sure to put a Christmas tree in the corner
Make it cozy with faux sheepskin throws
Use evergreen in your Christmas centerpiece!
Bathroom
The bathroom isn't the first place you think of when decorating your house for Christmas, but don't underestimate this little room. I recommend adding small touches of Christmas cheer to your bathroom, especially if it's a guest bathroom and you are hosting! The scent of a Christmas candle or a festive red towel are wonderful, simple ways to decorate for Christmas in the bathroom. Here are a few more solid Christmas bathroom decorating ideas:
Add a Christmas scented candle
Display evergreen on shelves and corners
Swap in a Christmas hand towel
Go bold with Christmas themed toilet paper!
Hang wreaths over the mirrors
Drape a garland over your window
Put candy canes in the toothbrush cup
Hang a wreath or Christmas sign above the toilet
Use a Christmas shower curtain
Hang an ornament on the bathroom door knob
Hang a stocking on one of the towel hooks
Entryway
The entryway is the first room your guests will see as they enter your home for Christmas. That's why we had to include it in our Christmas home decor guide for you this year! Just because it's a pass-through space doesn't mean it doesn't deserve a little Christmas cheer. There are lots of ways to decorate your entryway for Christmas. Here are a few of our favorites!
Hang a wreath on your front door
Hang a red scarf on one of your coat hooks
Add a mini Christmas tree
Christmas throw pillows on the bench
Red lanterns on the ground
Drape an evergreen garland around your staircase bannister
Add a festive Christmas welcome sign to the wall
Hang a stocking from one of the coat hooks
Bedroom
We love spending late mornings in our Christmas bedroom. It's important to decorate the bedroom for Christmas whether it's your own or just a guest bedroom! The first place you wake up in the morning should be cheerful and bright, and these Christmas bedroom decorating ideas will help your guests feel right at home in your space this holiday season. Here are a few ideas for how to decorate the bedroom for Christmas.
Add a mini Christmas tree to your nightstand
Throw a Christmas blanket over the corner of the bed
Light a Christmas themed candle
Swap out your pillows for some Christmas themed throw pillows
Hang a wreath from your headboard
Hang a Christmas sign on the wall
Decorations & Accents
Sometimes you just want to add some Christmas accents here and there to give your house a festive spark of cheer. Our guide to the 25 Essential Christmas Decorations You Must Own will help you with that. Or you can use this area to shop for a few classic Christmas accents we love!
Christmas Accents
Here are a few Christmas accents that are easy to place around your home and give it some Christmas cheer! From decorative accents to pillows and blankets, there are so many ways to make your home cozy for Christmas. Evergreen is probably the most Christmas accent you can go for – so don't hesitate to purchase evergreen garlands, mini trees, and wreaths to decorate for the holidays!

Christmas Decorating Around the Home
I hope this post was helpful in advising you on how to decorate for the holidays around the home! Be sure to follow our Christmas Decor Board on Pinterest for more Christmas decorating tips and ideas!
Merry Christmas!