*This post has been kindly sponsored by Walmart*
Christmas is fast approaching. If you haven't yet finished decorating for the holidays, you might want to check out some of the best Christmas decorations for the home from Walmart. These products will add festive cheer to your home. They have great reviews from buyers and they all come at an affordable price!
Each of these Christmas decorations will surely impress your guests this holiday season. From stylish bedding, luxurious bath towels, and special touches for entertaining spaces, there are hundreds of holiday home decor items to choose from at Walmart!
Christmas Decor from Walmart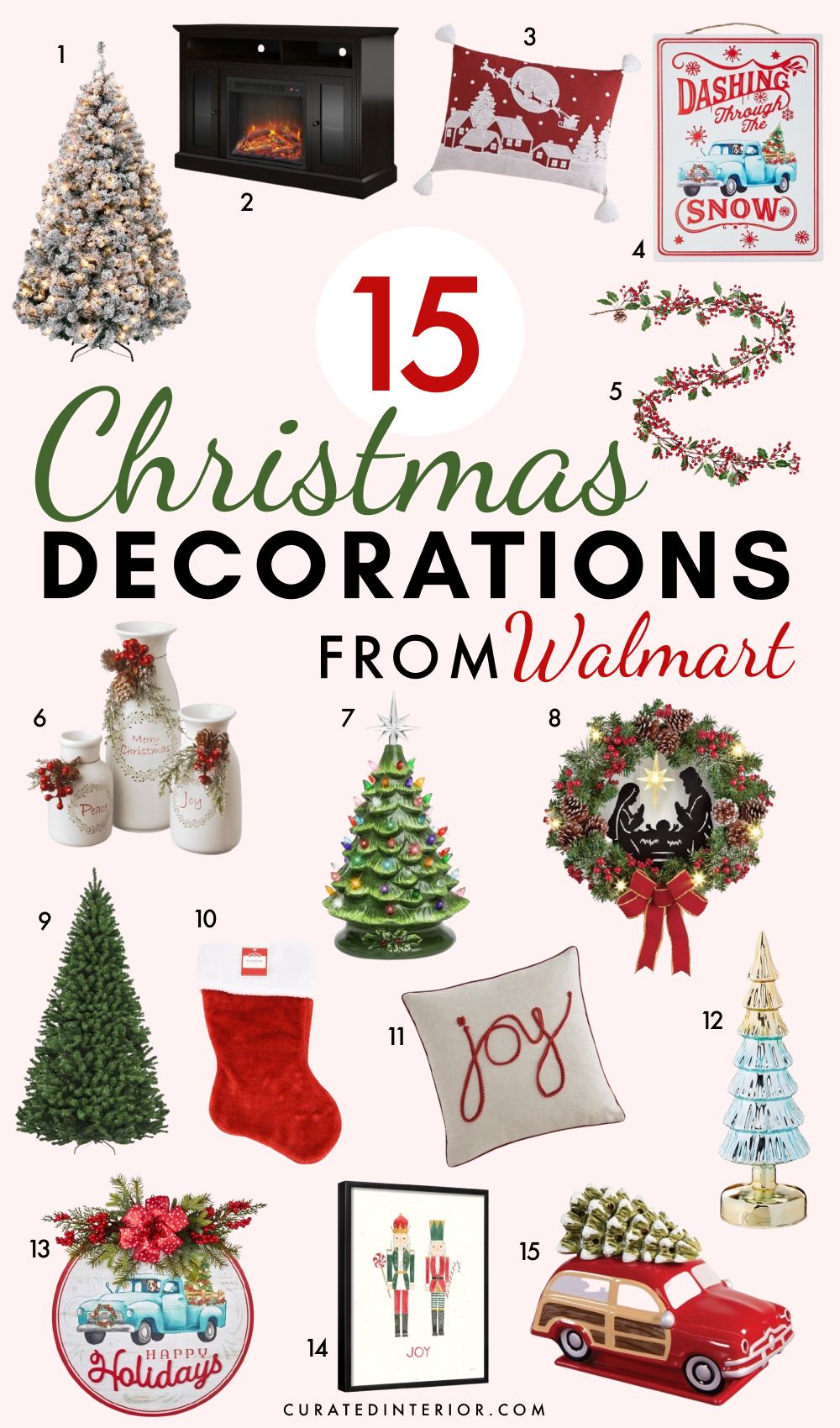 1. First up, this prelit flocked Christmas tree is top-rated. It stands six feet tall and has over 250 lights to brighten up your living room!
2. Stay warm and cozy with this fireplace console for TVs.
3. This is a gorgeous red and white Christmas village throw pillow ideal for the bedroom or living room.
4. A retro 'Dashing Through The Snow' metal wall sign will spruce up any wall of your home.
5. This red berry Christmas garland with pine cones and green leaves measures 7-feet long for Christmas cheer on the mantel or headboard!
6. This set of three antique Christmas milk bottles has been embellished with white and red berries. You can use them on their own or as vases!
7. This splendid 15-inch pre-lit hand-painted ceramic tabletop Christmas tree has 64 lights and would make an awesome centerpiece!
8. Here is a best-selling lighted nativity scene Christmas wreath you must check out!
9. This 7.5-feet premium spruce artificial Christmas tree assembles easily and has a folded base.
10. This red and white plush Christmas stocking is perfect for hanging on your fireplace. Get one for each member of your family!
11. This "Joy" script decorative throw pillow measures 18 inches squared. It can be tossed on the sofa or bed!
12. This blue glass tabletop tree decoration is perfect for setting a lovely Christmas dinner table.
13. A round 'Happy Holidays' hanging sign is another smart holiday wall decoration!
14. This black framed Nutcracker wall print measures 20 x 26.5 inches. It's perfect for any wall in your home!
15. This full-sized holiday Station Wagon wax warmer will release festive fragrances throughout your home.
Walmart Home is a great place to buy Christmas home decor. With thousands of products in different styles, you're sure to find holiday decor that matches your taste. Some items can be at your door in as little as 2 days! Here are some more categories to check out as you decorate your house for Christmas: