If you love to decorate your home for the seasons, then these spring home decor ideas will spark your creativity. Once the ground starts to thaw from a long and cold winter, everyone wants to see the first buds of spring in bloom! You can capture the magic of a new season in your home with springtime decor ideas inspired by nature, trees, and flowers.
Spring Living Room Home Decor
Our first batch of spring decor ideas centers around the living room. Many people only like to decorate their living room for the seasons since it requires less time and effort! We totally get that, so here are some easy and cute ideas for spring living room decor.
Flower Market Wall Art
Look how fresh and updated this beautiful spring living room looks! There are pink roses with green leaves in a white farmhouse pitcher vase that sits on a white coffee table tray. A smaller glass jar vase of flowers sits nearby as do two silver pillar candles!
I really love the "$5 Flower Market" rustic wood sign on the wall, though! It really helps give this room a spring feeling. The sign says "Fresh Cut Daily" and "Stems, Blooms, Seeds" which make it perfect for anyone who loves gardening and floral decor.
The pastel throw pillows in floral and plaid prints on the sofa are another affordable spring decor idea.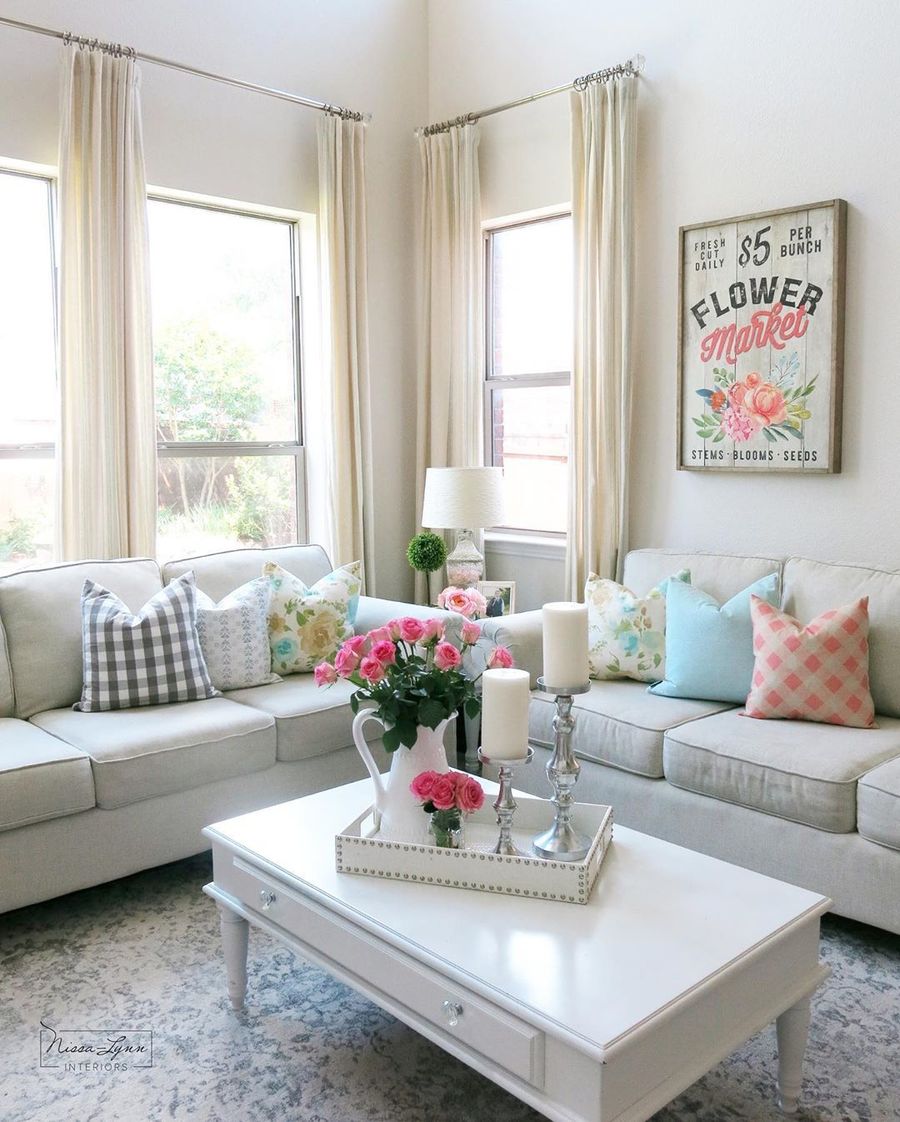 Blue Throw Blanket and Floral Throw Pillow
Since it can still be a little chilly during early spring, it's a good idea to keep a throw blanket handy in your living room in case you get cold. Here, a plaid blue throw blanket is draped over a cozy white slipcovered lounge chair. A pink floral throw pillow has been tossed on the chair as well. A blue metal vase on the side table holds several stems of light pink peonies.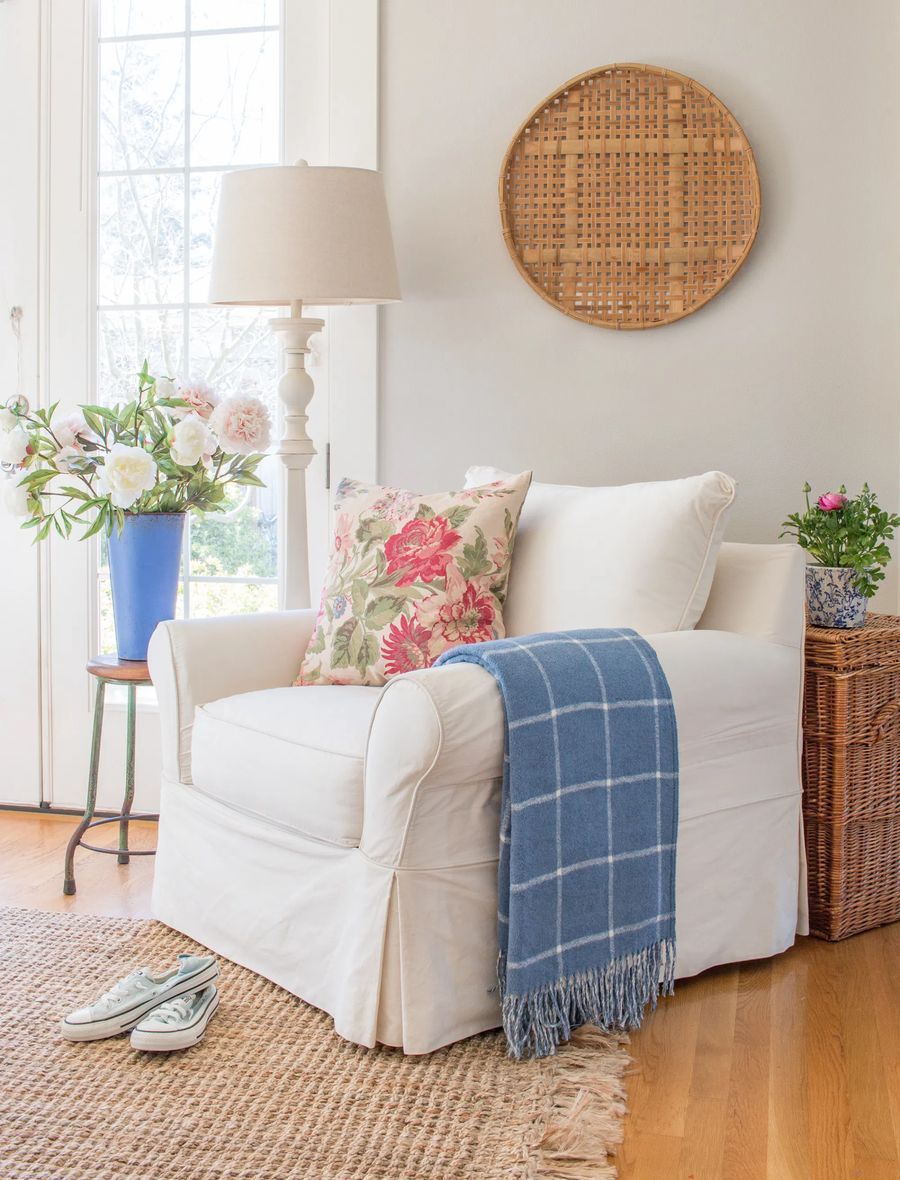 Spring Candles for the Home
Your home should smell like spring, too, and these spring candles will help you create the perfect springtime scent indoors! From fresh flowers to dewy rain, there are lots of beautiful aromas that can perfect the spring mood for your home. Here are three spring candle ideas:
Flowers on the Coffee Table
Putting fresh flowers on your coffee table is one of the best ways to decorate for spring at home. Here, a group of various pink flowers has been placed in a white French pitcher on a coffee table tray. There's another pitcher holding flowers in the back on the white fireplace mantel, too! Flowers in pitchers are one of the most classic spring home decor ideas.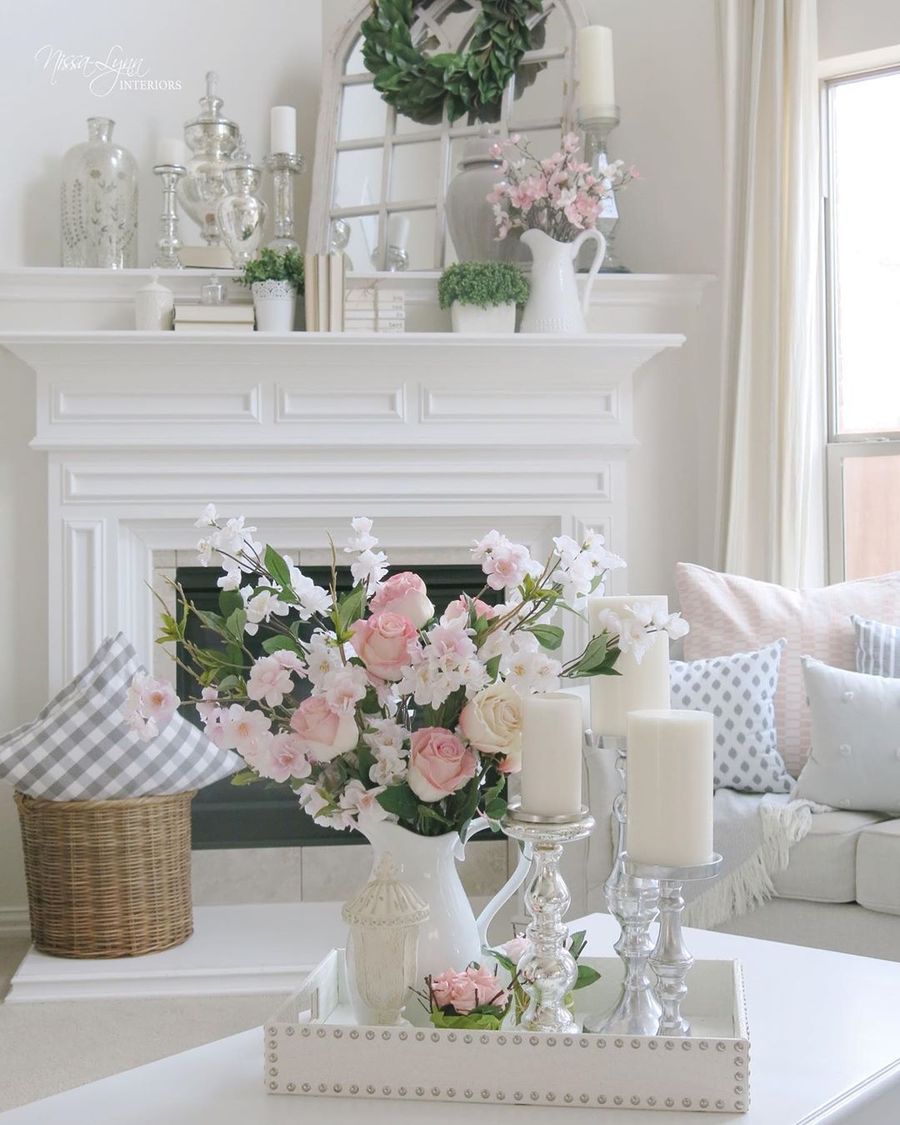 Cherry Blossoms in a Blue Ginger Jar
Cherry blossoms are another popular flower choice for spring home decor! Here, a large group of cherry blossom stems overflows from a blue and white ginger jar! You can pick up some very realistic-looking faux cherry blossom stems from Wayfair or Amazon. I wouldn't be surprised if these are fake even though they look so real!
The artificial flower market has improved greatly and you'd be amazed by some of these super real-looking flowers! What's great about artificial flowers is that they require no maintenance and they last forever! No picking up dried flower petals, no watering, and no expensive purchases!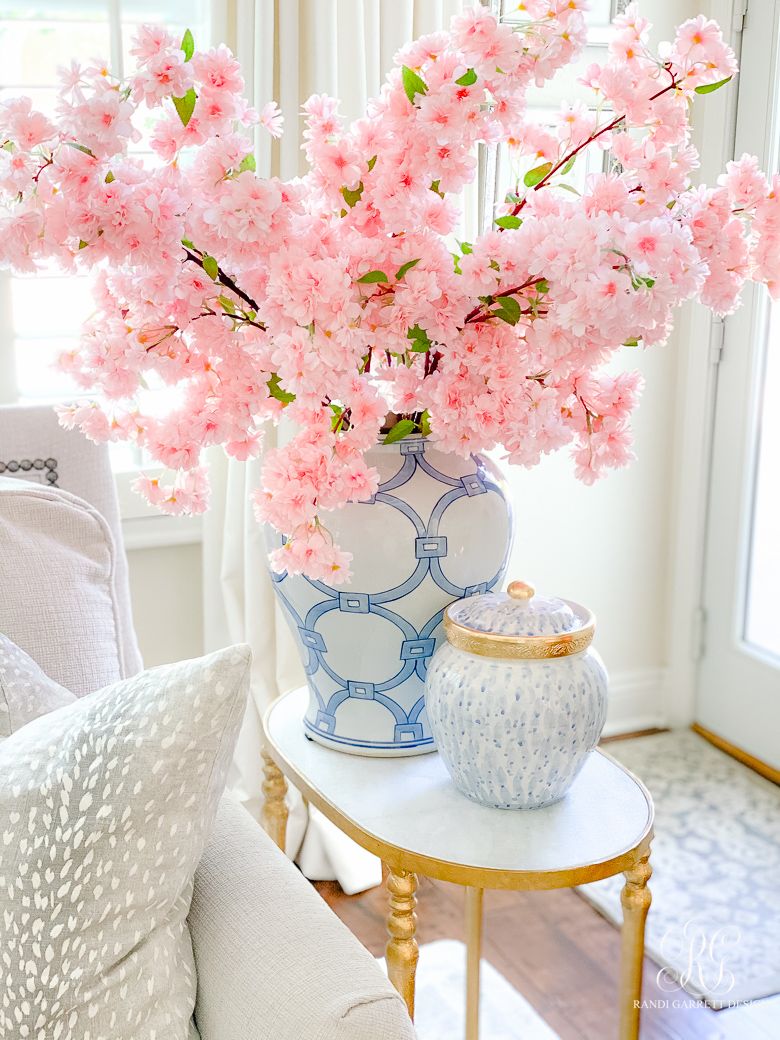 Spring Mantel Decor
Now let's talk about the mantel. Decorating your fireplace mantel for spring can involve a few different color concepts. You may want to keep it neutral, or you may want to add pink, blue and other pastel colors. Here are a few spring mantel decor ideas!
Botanical Wall Art and Floral Wreath
I love this gorgeous spring fireplace mantel! At first I thought there was some sort of botanical tile art installed above the fireplace, but then I realized that it's probably a group of small floral artworks that have been hung directly next to one another to create a beautiful botanical collage of flowers!
A floral hoop wreath with pink roses has been hung directly in the center of this botanical collage – creating the perfect spring mantel vignette! Silver candles flank each side of the fireplace mantel, with a few eucalyptus leaves at the base of each one.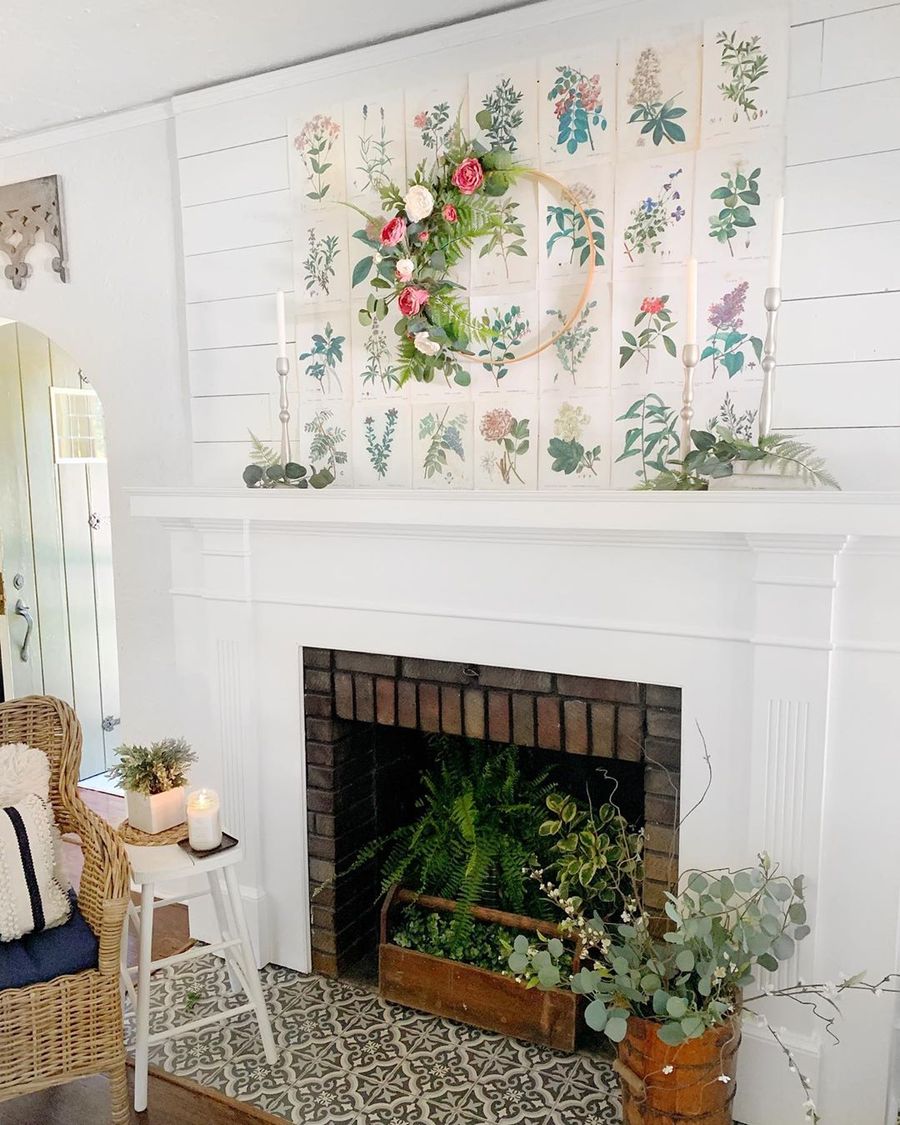 Hello Spring Chalkboard and Potted Plants
A simple way to decorate your fireplace mantel for spring is to place a rectangular black chalkboard on it and write the words "Hello Spring" using white chalk! This beautiful spring decor idea has been completed with little white potted plants on display below.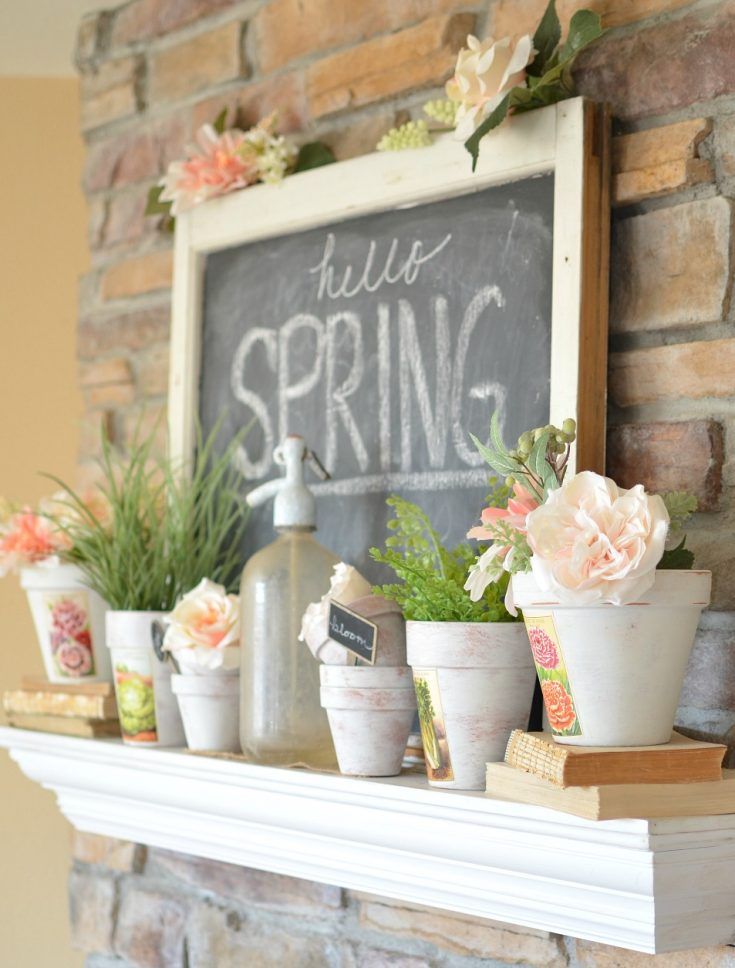 Eucalyptus Garland Decoration
Eucalyptus garland is a spring decoration that can be used in almost any room of your home in one way or another. You could drape it over the fireplace mantel, hang it on your bedroom headboard, drape it over the bathroom mirror, or line your kitchen range hood with it. There are many ways to use this charming spring decoration! Here are a few great garlands:
Spring Garland Sign
This is a neutral white springtime mantel decoration. A laundry line has been hung over the mantel, and the clothespins hold a simple card spelling out the word "SPRING" in capital letters across the mantel. This word garland is a great way to celebrate the new spring season! Glass urns and wire baskets are filled with Easter eggs on the mantel behind the sign. This is one of the best neutral spring home decor ideas we found.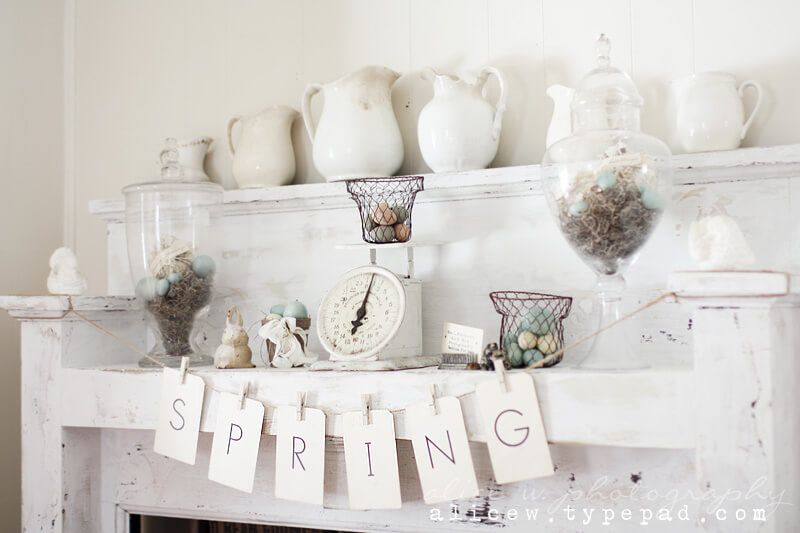 Spring Kitchen Decor
Decorating the kitchen for spring can be as easy as throwing a few flower stems in a simple vase and placing it in the middle of your kitchen island counter. You could also hang a floral garden around the edge of your range hood, or change out your kitchen wall art for something more fresh. Here are a few more spring kitchen decor ideas!
Pink Peonies
Pink peonies are one of the most popular spring home decorating flowers! These round and layered flowers come in a pastel pink tone that many women including myself adore. Here, they are displayed in a white cubic vase on the kitchen counter! Simple and easy spring kitchen decor.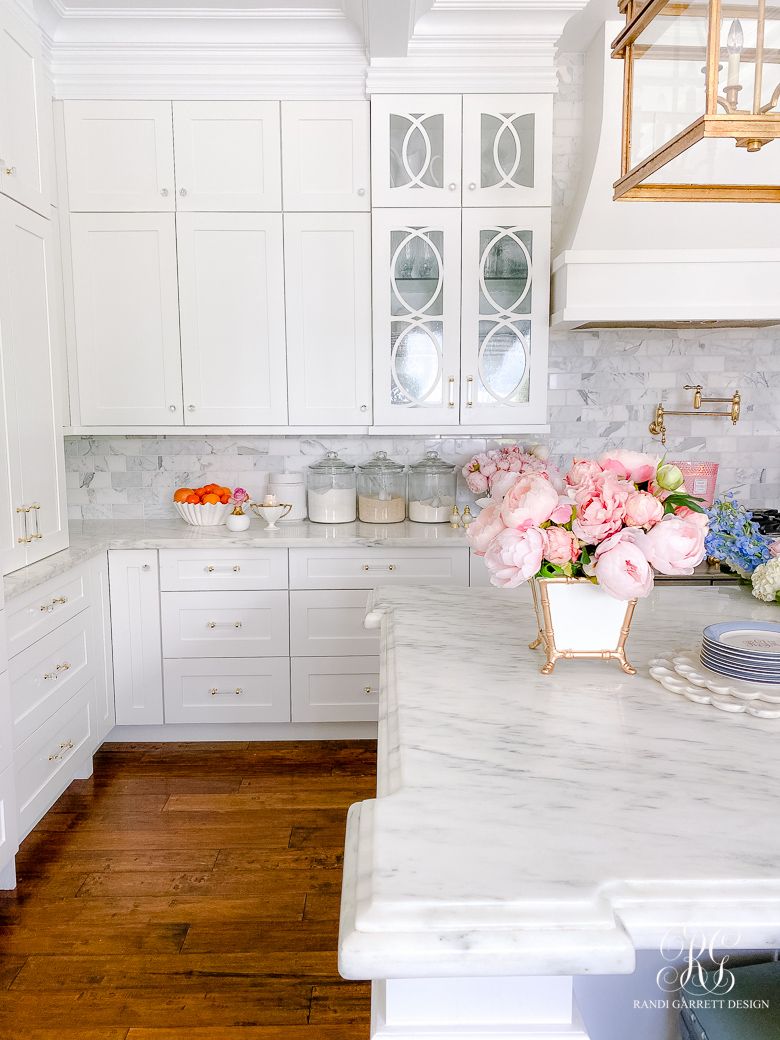 Blue Ginger Jars
These blue and white ginger jars make great vases for holding spring flowers and natural wood branches.
Spring Tiered Tray
Having a tiered tray in your kitchen is a classic decoration. You can decorate a tiered tray for spring by using small plants, mugs, and galvanized buckets, as seen here. This Easter-themed tiered tray is perfect for spring kitchen decor!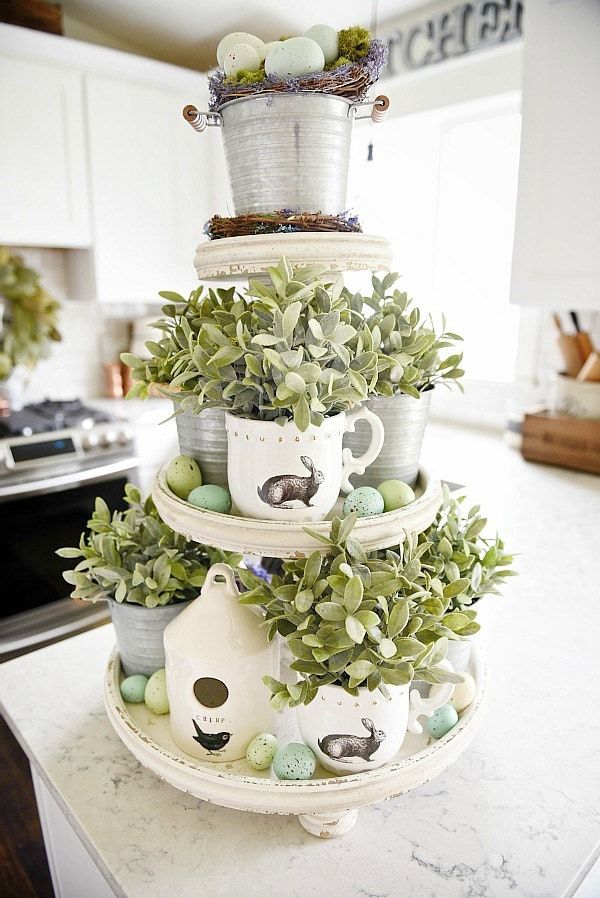 Spring Dining Room Decor
Decorating the dining room for spring doesn't have to be overly complicated. You don't have to go all out and update your furniture and wallpaper. Even making small updates like changing out your centerpiece to something more spring-friendly, or using pastel plateware to eat your meals can go a long way. Spring flatware isn't too expensive and can totally change the look and feel of your dining room. Here are a few more spring dining room decor ideas!
Floral Wallpaper Spring Home Decor
This dining room has a natural spring flair to it due to the beautiful colorful floral wallpaper that covers the upper half of the wall. Beautiful birds are shown on the tree branches of this wallpaper giving it a fresh spring vibe. The dining chairs have a small fuchsia lining that goes around their edge. On the dining table is a rustic terracotta pot with a small indoor tree.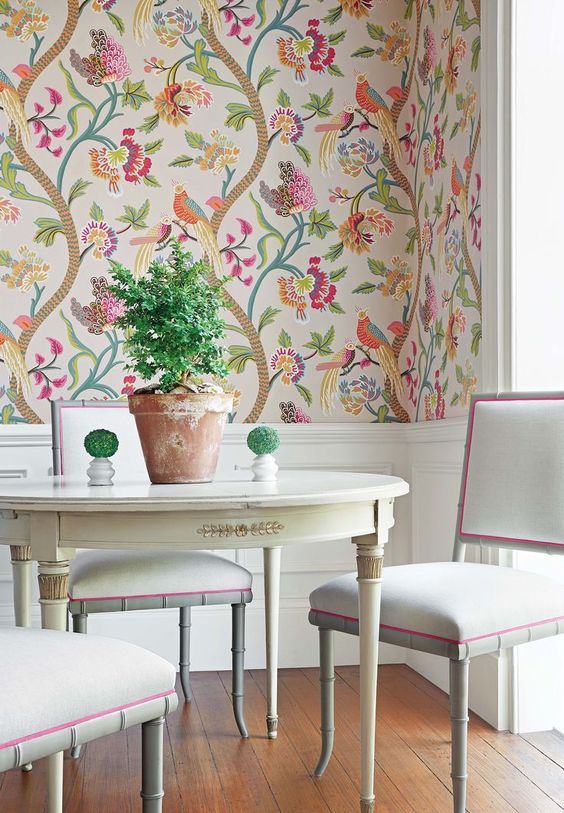 Spring Bedroom Decor
Spring bedroom decor can involve making updates to your bedroom that give it a fresh and clean look. You can change the bedding for a drastic effect, or just swap out some of the smaller bedroom decorations like your table lamp, bed tray, or throw blanket. Here are a few inspiring spring bedroom decor ideas.
Floral Wall Painting
This beautiful spring bedroom has a gorgeous pink floral painting on the wall which makes the room feel so fresh and bright! I'm sure that that piece is changed out according to the seasons and wall art is one of my favorite decorations for this reason. It's easy to swap out and doesn't require a ton of effort or money!
This spring bedroom also has a batch of flowers in a glass vase sitting on the wood bed tray and a bright white throw blanket draped over the edge of the bed.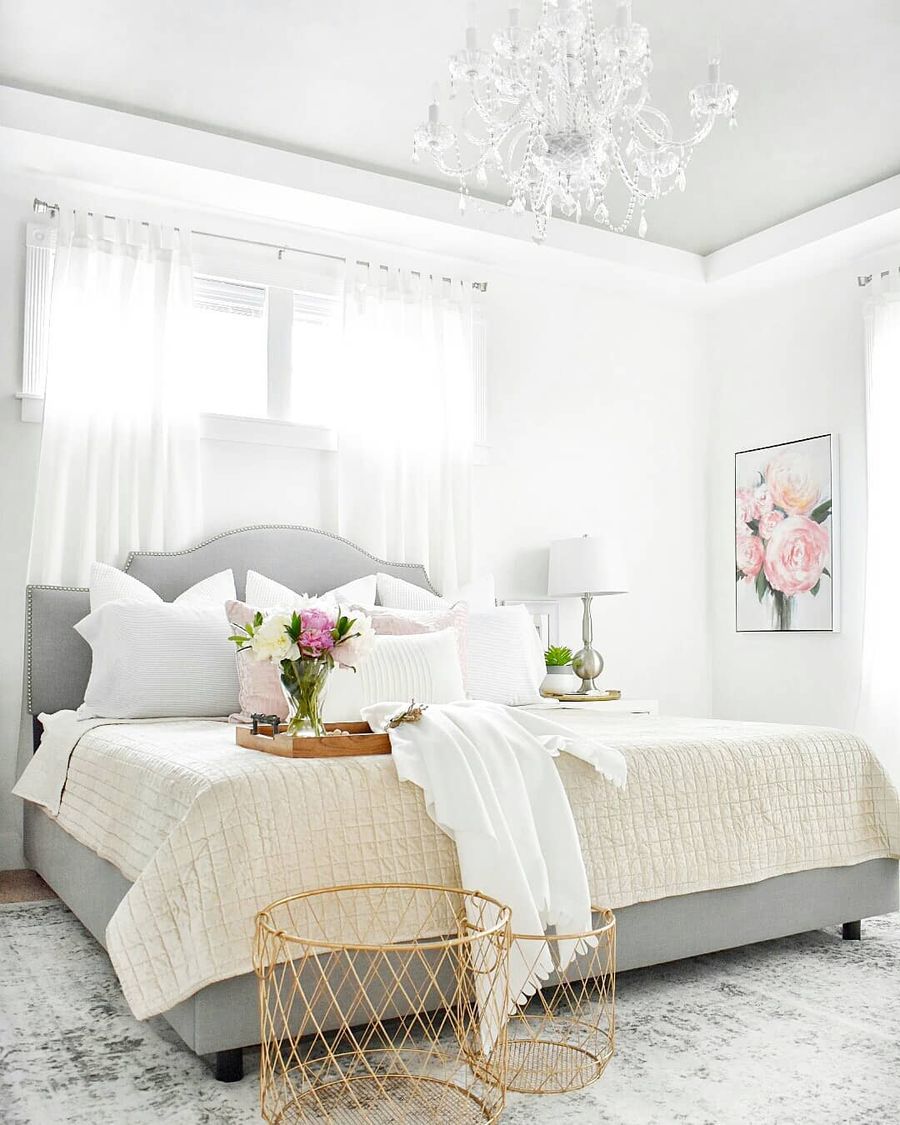 Spring Bedding
Some people like to change out their bedding to celebrate the spring season. You can find lots of floral bed sheets, throw pillows and blankets to help you bring the spring vibe to your bed. Blue, yellow, and pink are the most popular spring bedding colors!
Spring Bathroom Decor
To decorate your bathroom for spring, you can swap out some of the current products you use for fresh, spring style bathroom accessories. Things like your shower curtain, bath mat, wall art, hand towels and more can be swapped out for pastel colors or flower embroidery decorations. This will help bring a fresh spring look to your bathroom. Even something as simple as adding a glass jar of fresh flowers to the tray on your bathroom vanity counter can go a long way! Here are a few products to get you started:
Small Jar of Flowers in Bathroom
See how simple and easy this springtime bathroom decor idea is? Just pop a few pink flower stems in a glass vase and you're good to go! A white marble tray holds your flowers, soap and lotion all together on the bathroom vanity.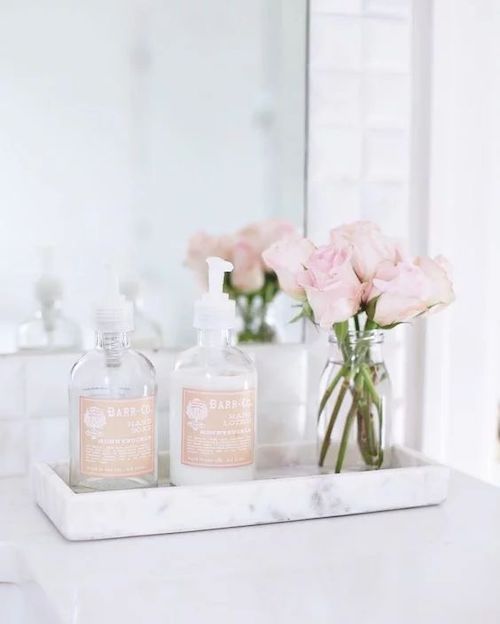 Spring Entryway & Front Porch Decor
Welcome guests to your refreshed home by decorating the entryway for spring. Whether you have a front porch or a small entryway foyer, there are so many ways to decorate the entrance to your home for spring. Let's share some of the best spring entryway and front porch decor ideas.
Roses in a Wicker Basket
Our first idea is to take a large wicker basket and place 25 pink flower stems inside it so the flowers are billowing out. You can place this basket on top of your entryway console table or on the floor next to the front door.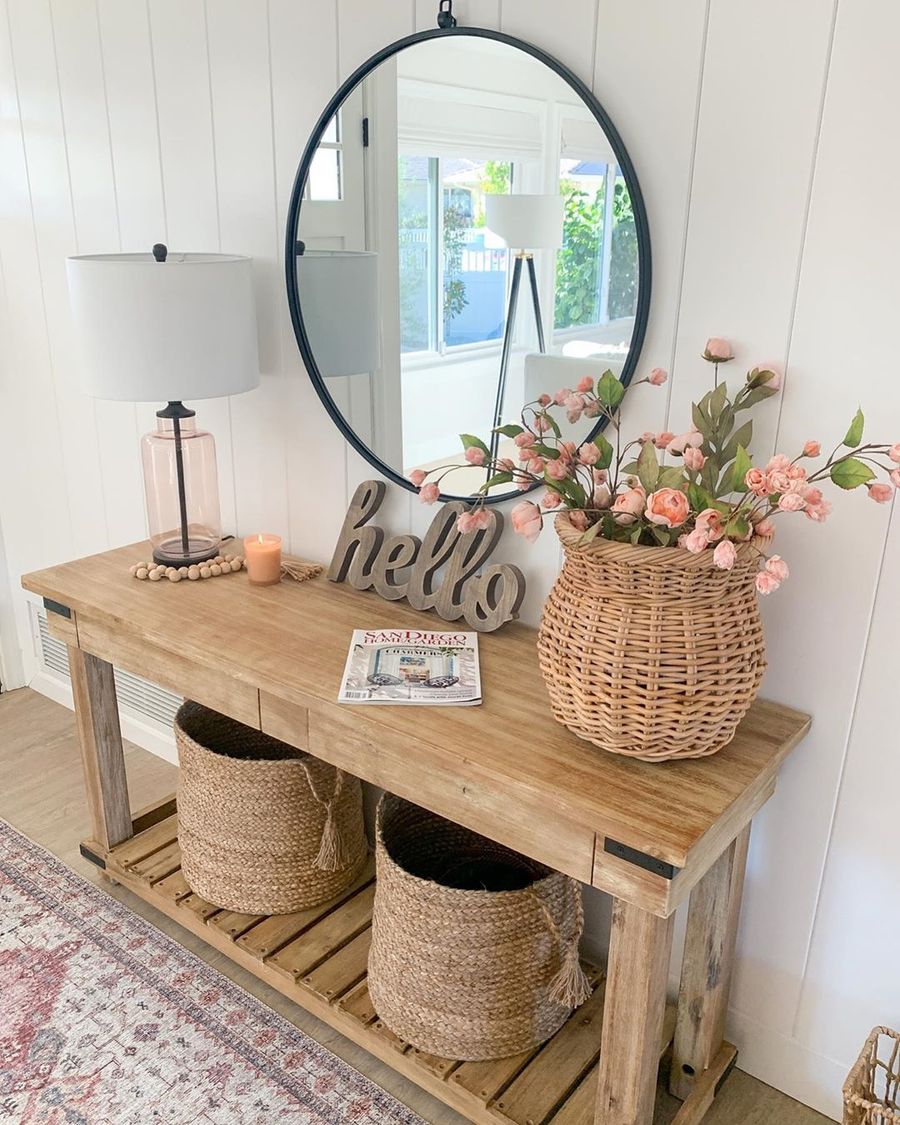 Spring Home Decor Wreaths
A spring wreath is a classic way to decorate your front door for spring. Actually you can use a spring wreath in so many areas of your home! Spring wreaths are generally made of flowers or greenery and they come in pastel or neutral colors depending on your taste and preference.
You can hang a spring wreath on your bedroom headboard, on your front door, over a mirror, above your fireplace mantel, on your kitchen range hood, over your dining room buffet and anywhere else that needs a bit of extra springtime cheer.
If you don't want to spend the money, there are numerous tutorials for making your own DIY spring wreath. This is definitely one of the more DIY friendly spring home decor ideas we are sharing today!
Floral Hanging Wicker Basket Arrangement
This spring front porch has been decorated with two wicker hanging baskets filled with fuchsia flowers. The wicker baskets are flat and have been hung against repurposed window shutters that lean against the house. This is a very rustic spring front porch design. A wooden "Welcome" sign greets visitors as they enter the home!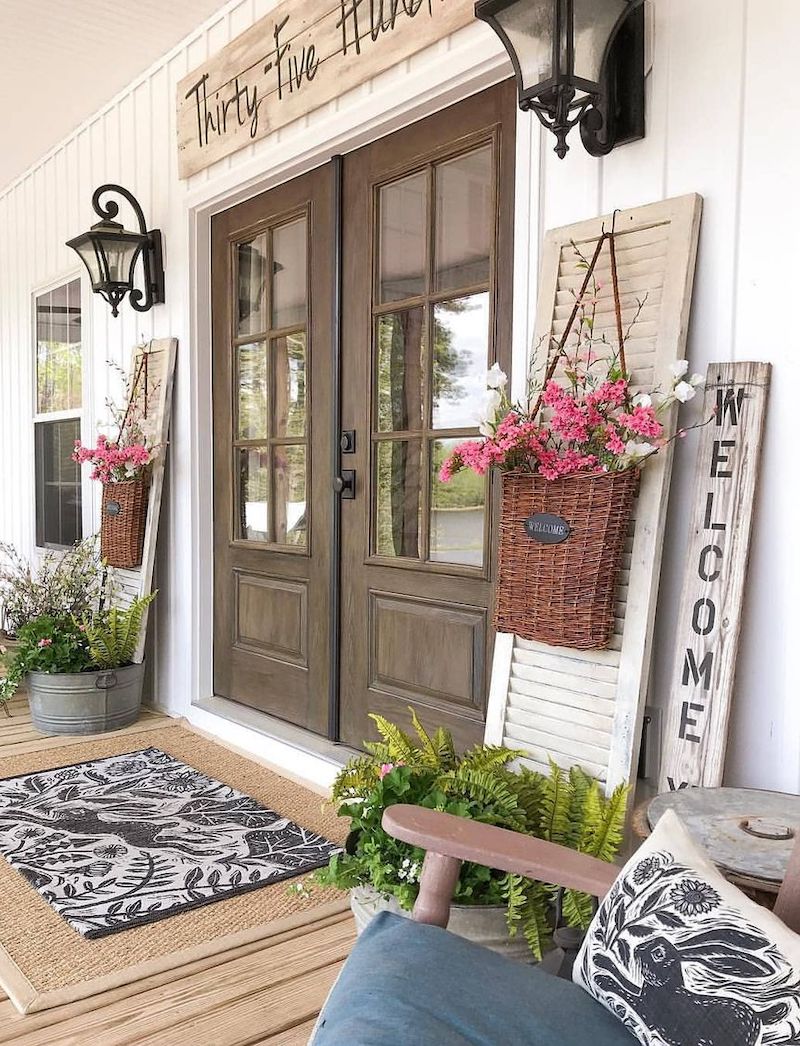 Spring Sun Room with Flowers
How dreamy is this springtime sun room filled with pink flowers in wood boxes and burlap bags? I would love to spend time reading on that dreamy white sofa propped up against a floral throw pillow and wrapped in a knit throw blanket. This sun filled spring room is the perfect place to chill out in the springtime and catch some rays!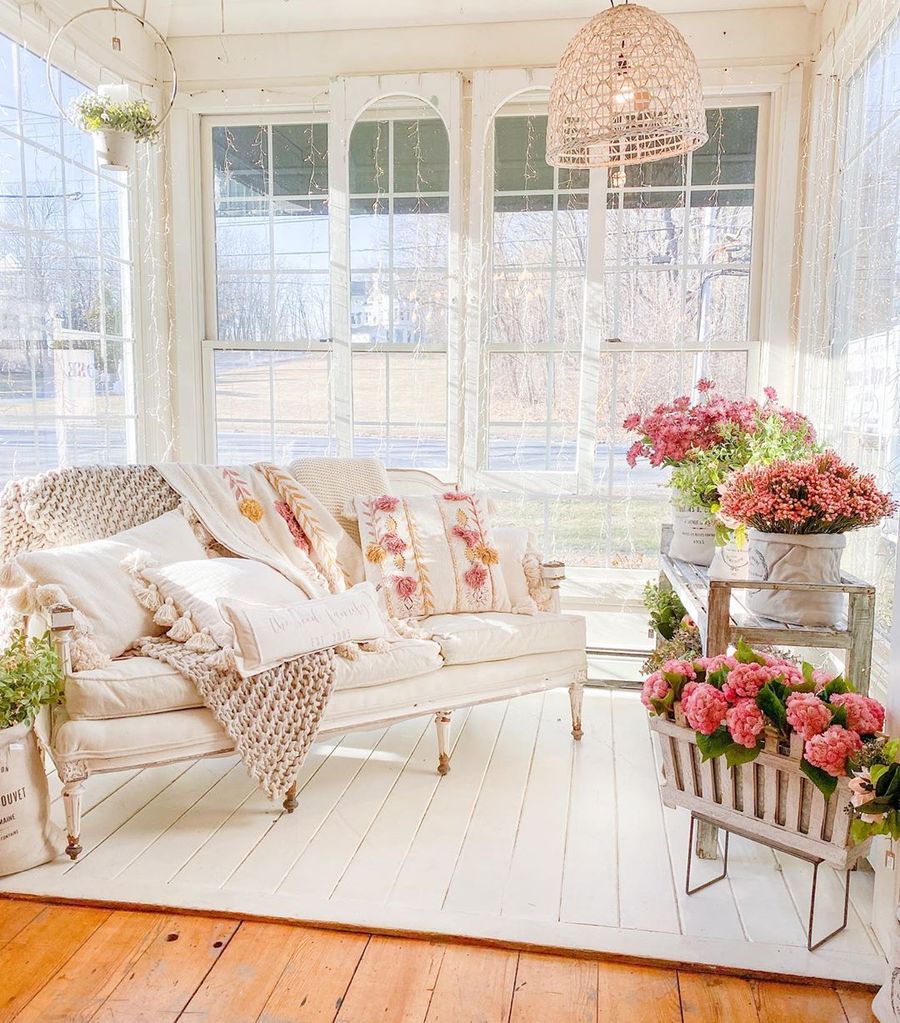 Butterfly & Baby's Breath Bouquets
This is a small and easy way to decorate for spring using baby's breath and little butterfly figures. It's almost as if the butterflies are flying around and landing on the white flower buds. The painted turquoise mason jar serves as a vase for this spring floral arrangement. What a beautiful spring bouquet decor idea!
---
I hope you enjoyed these spring home decor ideas and found them inspiring as you go about transforming your home for spring! Spring is one of my all-time favorite seasons and it's always such a joy to celebrate the blooming of flowers and the sunnier days after a long and cold north-eastern winter!
More Spring Home Decor Ideas
If you want to read more of our spring home decor posts, I recommend checking out these related articles:
Happy curating!