When the leaves start falling, it's time to start thinking about some creative fall living room decor ideas for the home. The living room is the primary place of the home where we spend time, so when looking at fall home decor ideas, you should probably start with this room!
Fall is at the door, and everyone has their plans on how they will welcome and live through it. The feeling in the air can tell you that it draws near, and one needs to have decor that matches and live through the fall season.
How about decorating your living room so that it can have that cozy feeling throughout the fall season? There are a couple of ideas that you can integrate into your living room so that it can be lively. How a living room looks like most defines your personality and also shows your sense of style. Fall living room decor ideas are what we are going to share today so that you can have a few good ideas to give your living room life in autumn.
Fall Living Room Decor Ideas
We all want a beautiful fall living room so that when you walk in, you feel as if you were in a homey environment, yet you are still in the same house. The aesthetic touch of charming autumn decor in the living room is what everyone wants during the fall months.
Let's talk about how to decorate a living room for fall!
Indoor Foliage
Using fall-themed in-house plants is one of the best fall living room decor ideas. Indoor plants come in different colors, of which they are from other families. Some of these plants include the Madagascar dragon tree, Prayer plant, Neon pothos, Croton, Snake plants, and many more.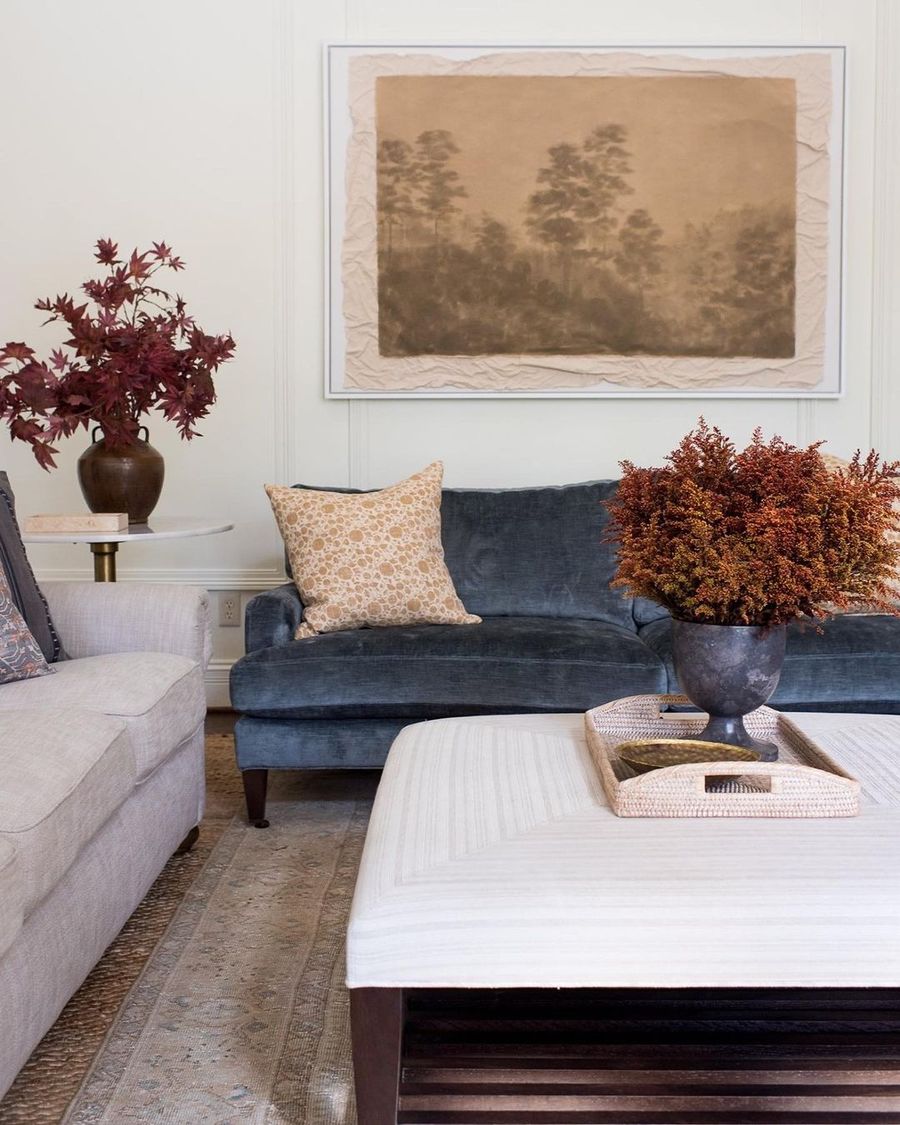 Houseplants give a living room a feel of life in the atmosphere. They do also require minimal care throughout the fall and winter seasons. House plants such as Philodendrons, pothos, Snake plants, and ZZ plants do well in the fall season because they are hardy plants.
Pumpkin Accents
One of the best advantages of pumpkins is that they coincide with the fall season, and therefore, they will be readily available most times. They are also budget-friendly and more of a DIY project. Fall is mostly a vibrant color season, and consequently, it is wise to make sure that you don't overdo the color of pumpkins.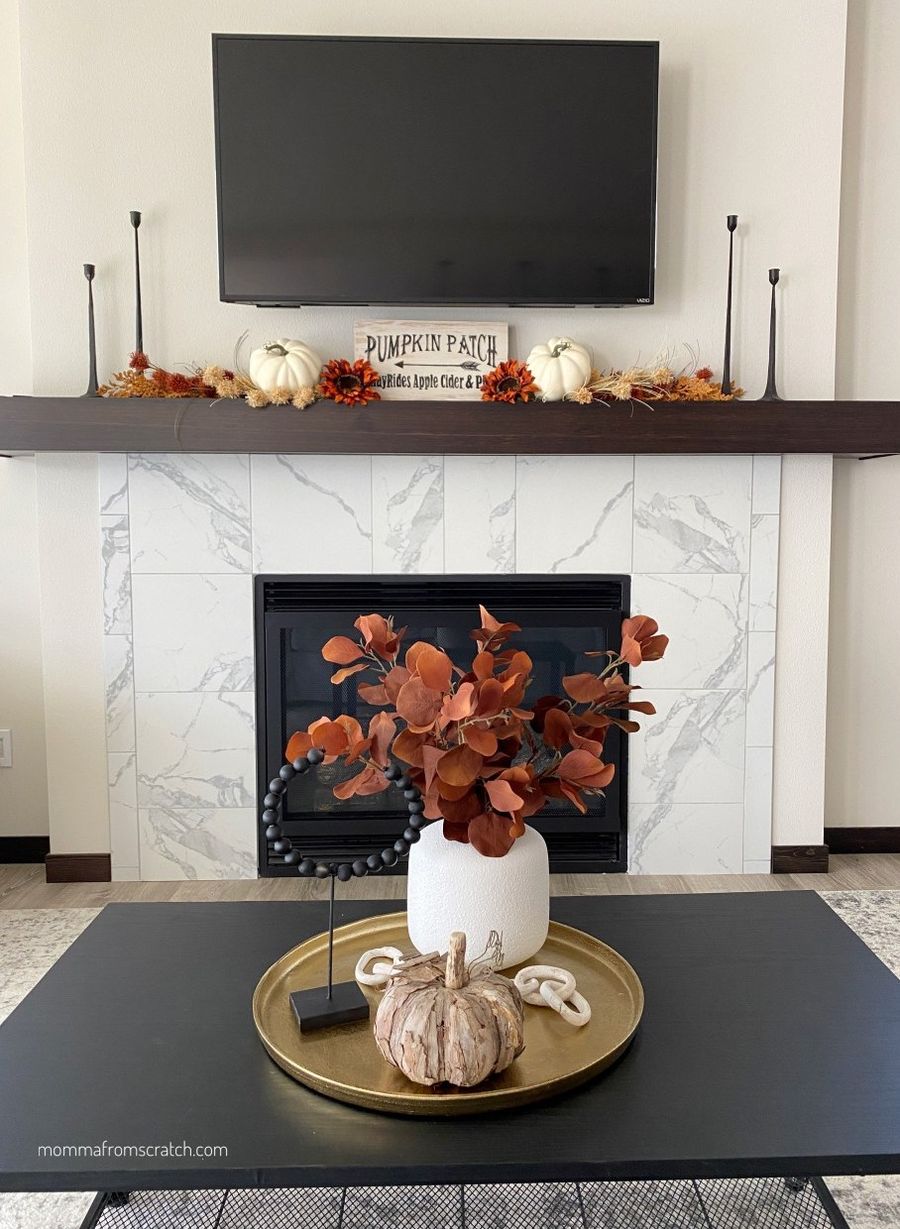 In a white-colored room, the orange-colored pumpkin is what to go for so that the room may feel neutral. You can also paint the pumpkins any color you desire, provided it will neutralize the living room color. You can also put other decorations around the pumpkins, and they often come in a variety of colors.
Fall Colors
Start by selecting colors that resonate with fall, such as deep oranges, warm browns, golden yellows, rich reds, and shades of green. These hues will help you create a harmonious ambiance.
Red, Yellow, and orange are the standard colors during the fall season, but that does not mean we don't have other fall living room decor ideas that are cozy. Some of these color ideas include:
Berry is a subdued purple, pink and red color and appears very luxurious.
Marigold can is used against a blue wall and becomes beautiful.
Deep green like in a chair mixed with a wooden coffee table will give a fall feel.
A glimmer formality is brought to a living room when accents of bronze and gold are present.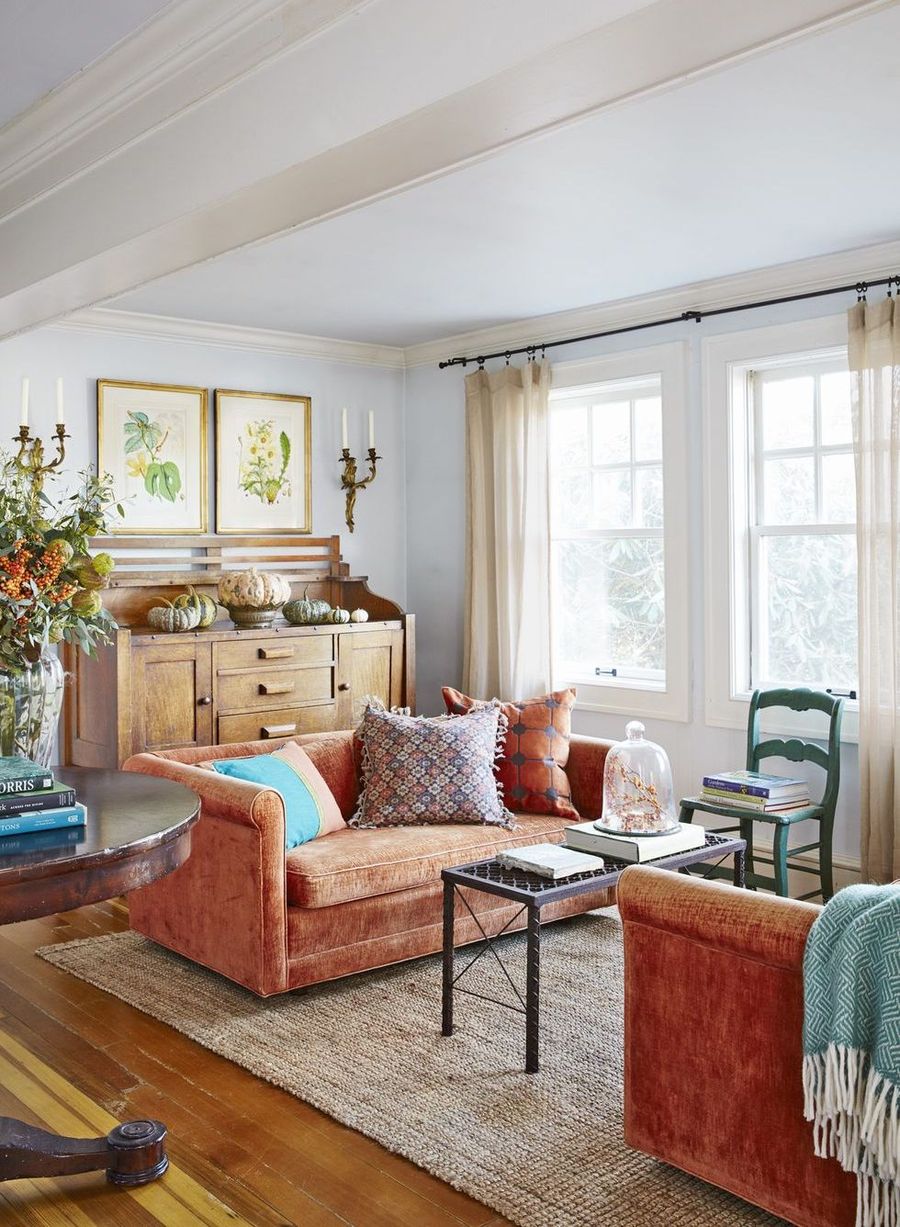 PS. Check out the best burnt orange sofas for fall.
Dark Dried Flowers
Consider incorporating natural elements such as dried leaves, pinecones, or small gourds. You can place them in a bowl on a nearby coffee table or even integrate them into the couch display by tucking them between the cushions or draping them over the armrests.
Pick a batch of dried flowers in fall hues and stick them in neutral vases. You can use this fall dried flower arrangement as a coffee table centerpiece.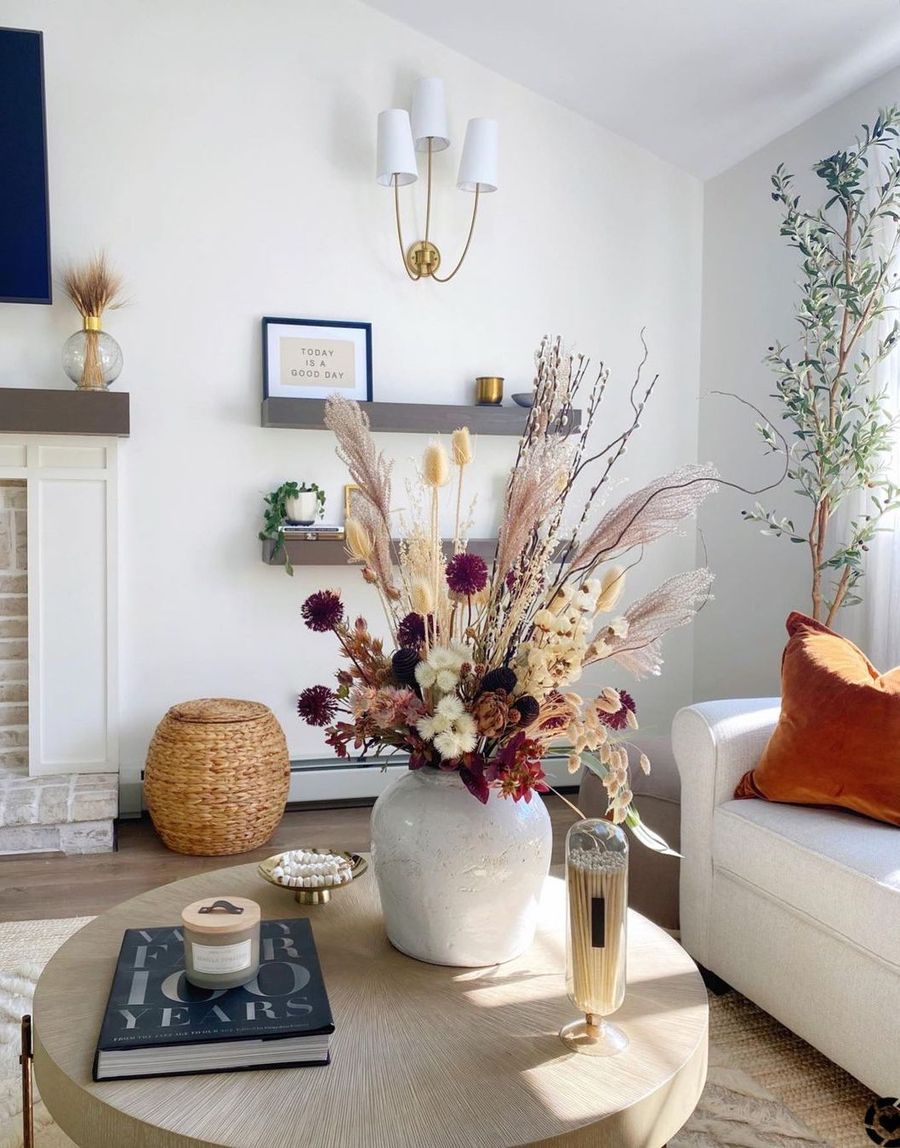 Fall Throw Pillows
Adding some fall-themed throw pillows to your living sofa is an affordable way to decorate for fall! Throw pillows come in different colors, shapes, and sizes. Fall throw pillows might include velvet, cozy pumpkins, Drucker lumbar pillows, and many more.
You can easily find or create pillows with autumn-themed patterns like leaves, pumpkins, or tartan plaid. Complement these with soft, warm throw blankets in coordinating colors to add texture and comfort.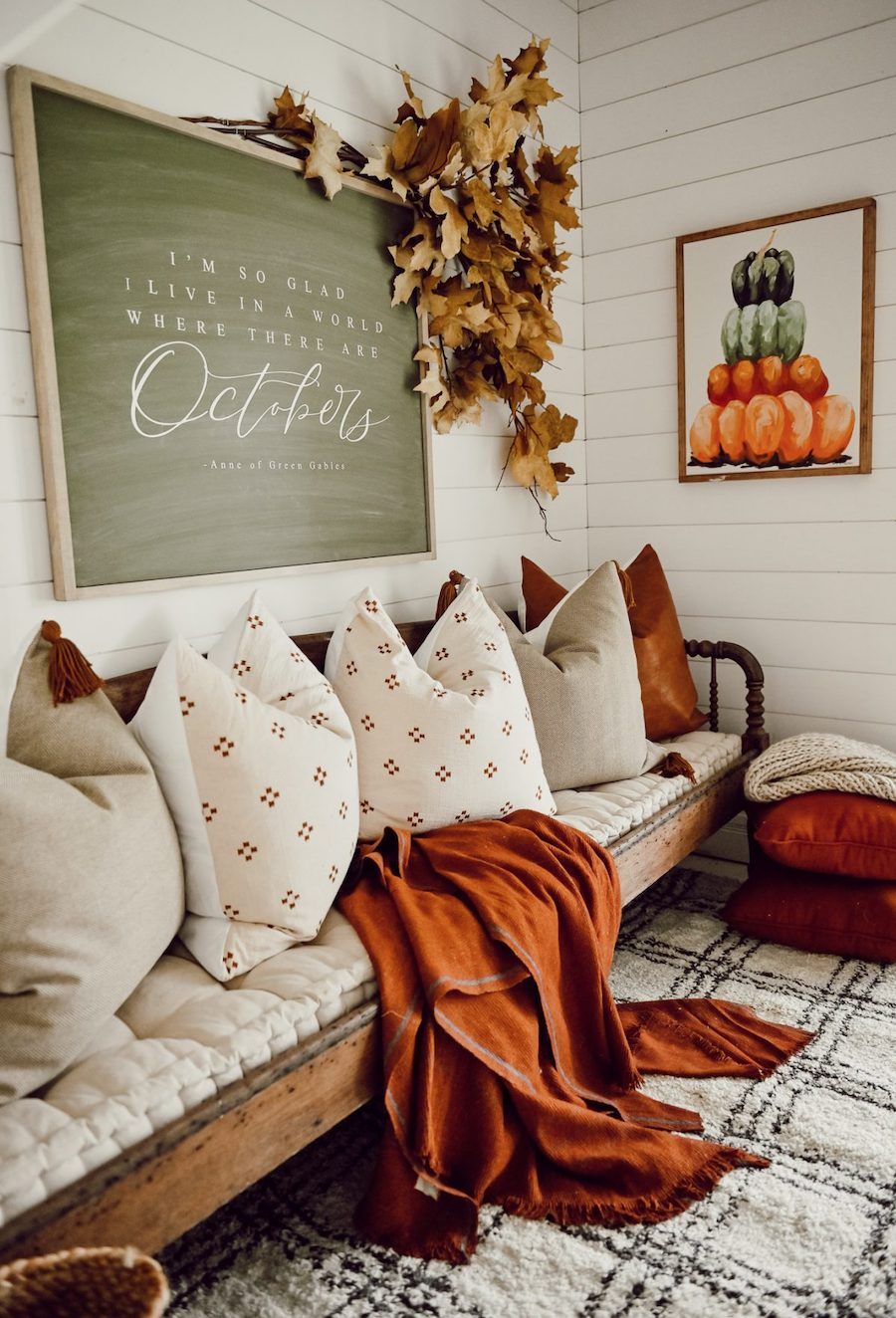 Plaid Blankets
Fall is all about rain and cold, and to live comfortably in a living room, blankets keep us warm during the fall season. In a bright-colored living room, a blanket should be in a color that warms up the room.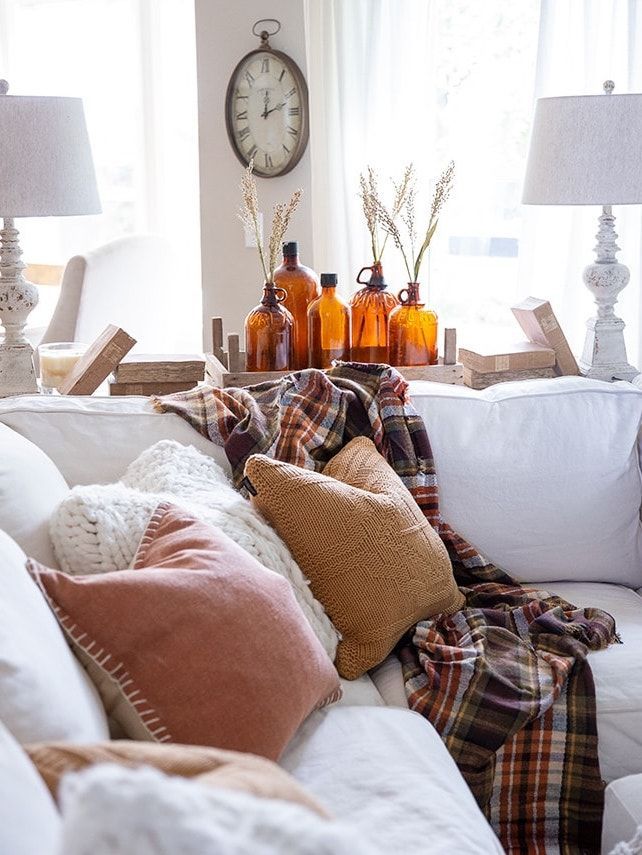 Metal Candle Lanterns
They are easy to use in a living room, and they bring about the simplicity of the living room yet are elegant. Gold, silver, black, grey, and dark brown are colors that rarely contradict living room colors during the fall season.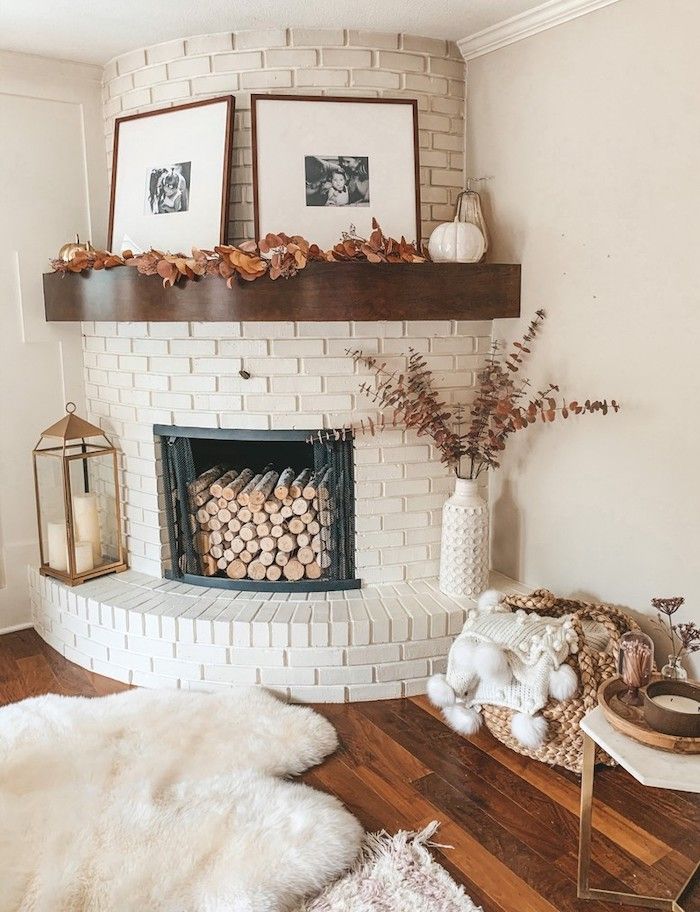 Cranberry Wreaths
Cranberry wreaths are often used to signify holidays and can be used to decorate a living room during the fall. Wire red twig dogwood stems into a circle, allowing some to protrude. Place fresh cranberries on the tips of the skewers. Wrap a long thread with cranberries and wind it around the wreath. Silver ball decorations and foliage serve as finishing touches.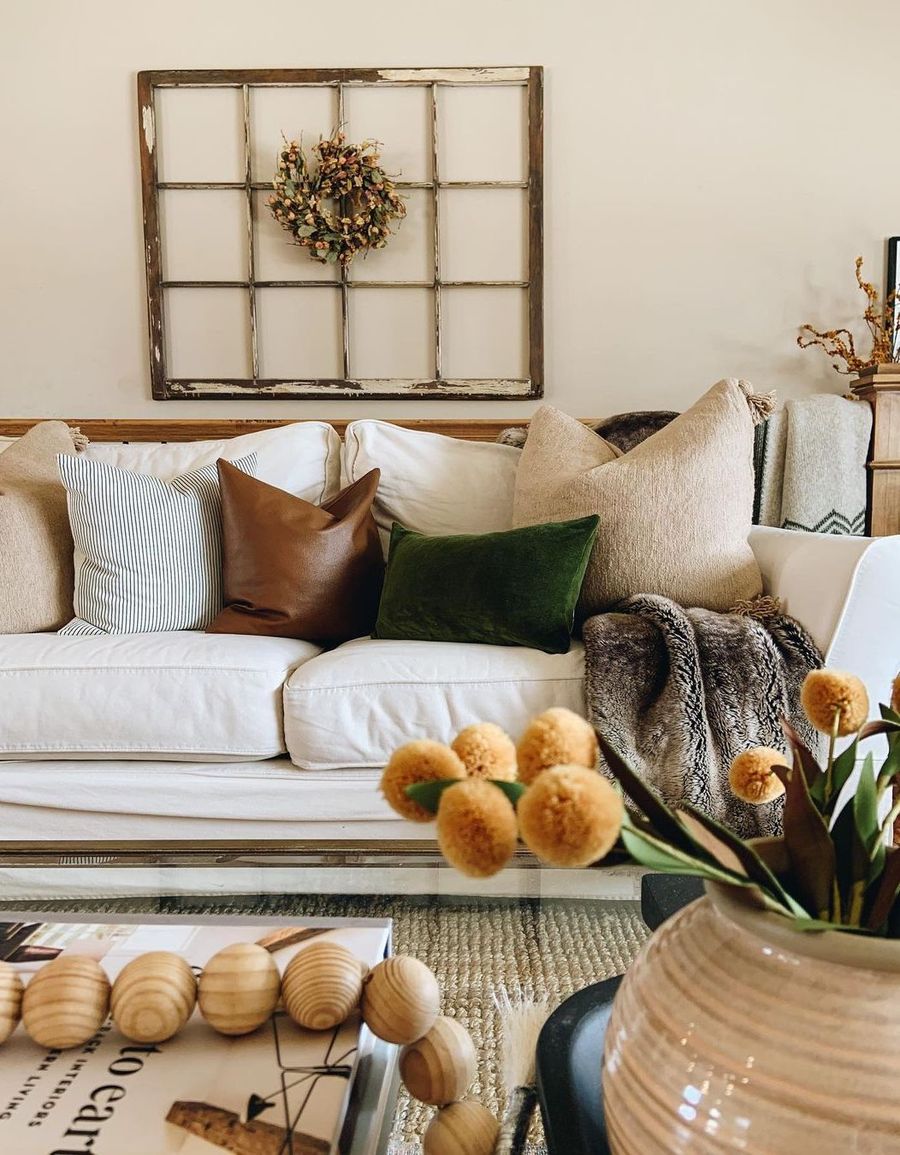 Pinecones in a Bowl
Consider using decorative baskets filled with seasonal fruits like apples or pears. Cornstalks and hay bales can also be used if you want to make a bold harvest statement.
This is a super easy way to decorate for fall in the living room. Grab a handful of pinecones and display them in a bowl that sits on your coffee table.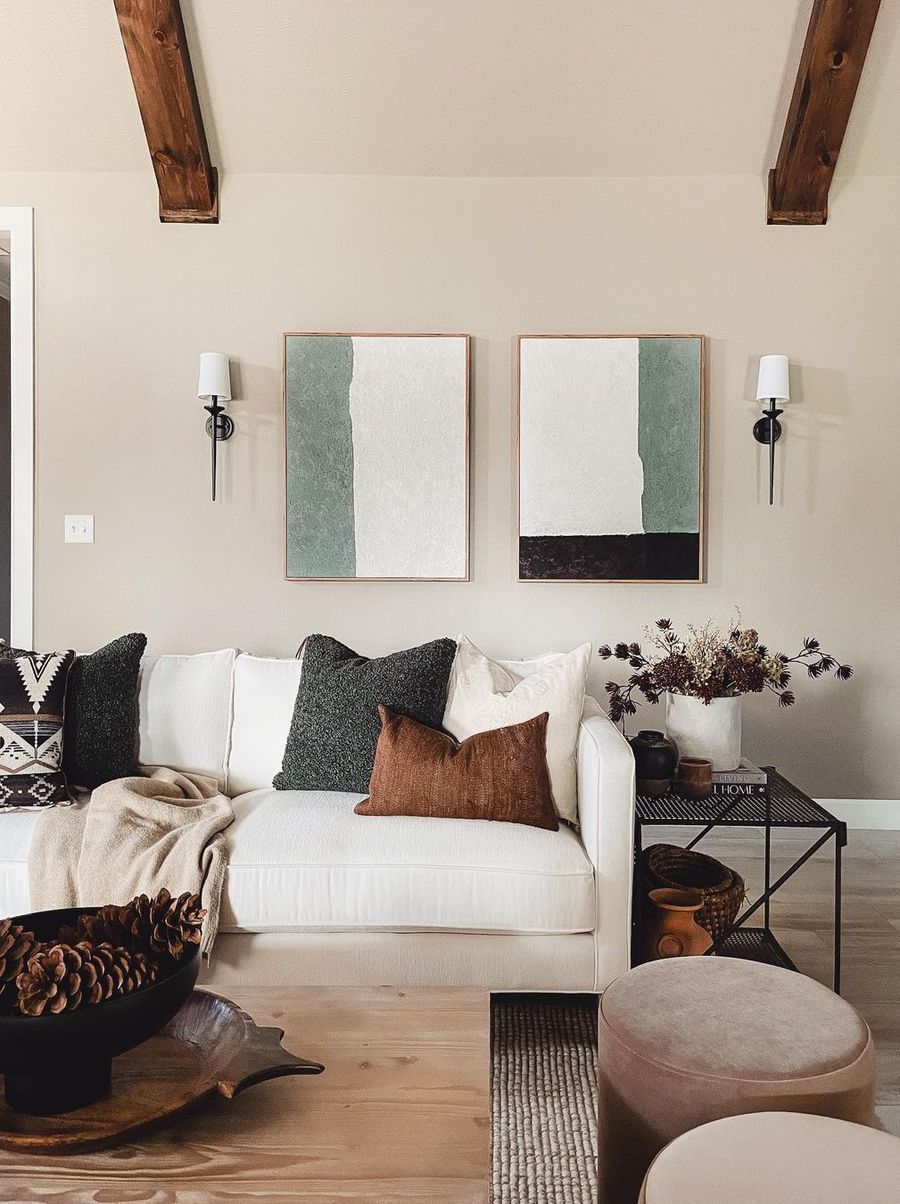 Mantel Garlands
Drape a fall garland over your living room mantel for subtle autumn decoration. Don't want to spend money on a seasonal garland? Check out our DIY fall garland tutorials to handmade a beautiful craft garland.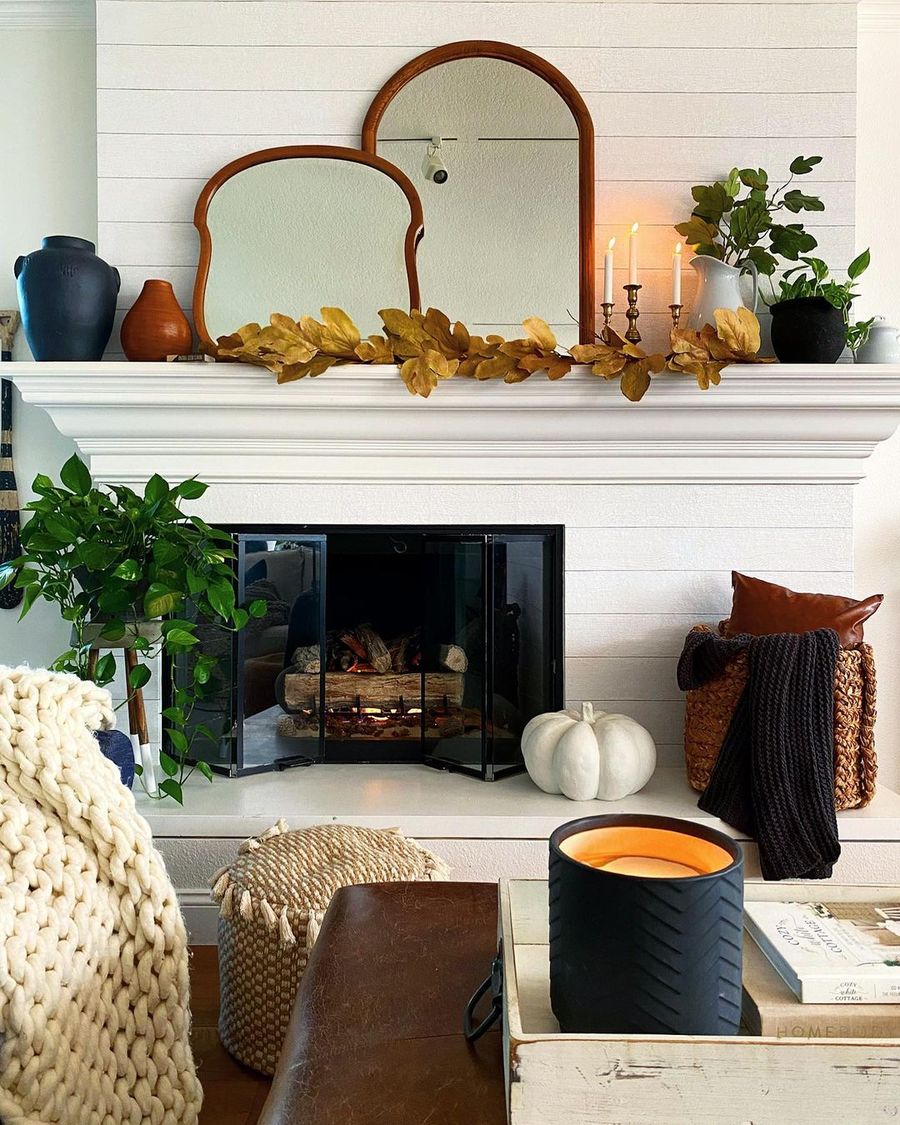 If you want to make a more significant change to your couch, consider using a slipcover in a fall color or pattern. This will not only transform the look of the couch but also provide protection from spills during festive gatherings.
Update your wall art with images or prints that reflect the season. This could be landscapes with fall foliage, artwork featuring harvest themes, or even framed pressed leaves.
Adding warm, soft lighting to the living room, such as a table lamp with a golden-hued shade or a string of warm fairy lights, can enhance the cozy vibe. It will emphasize the rich tones of your fall décor and create a welcoming atmosphere.
Fall is often associated with curling up with a good book. Create a reading corner with a comfortable armchair, a warm blanket, and a stack of your favorite books. A small side table to hold a cup of tea or coffee can complete the area.
Switching out your rug for one with autumn hues or patterns can instantly change the feel of the room. It can help anchor the space and tie your fall décor together.
While it's tempting to go all out with decorations, don't forget that your couch is a functional piece of furniture. Keep the décor visually appealing without sacrificing comfort. Avoid overcrowding the space with too many accessories, and make sure the seating area remains inviting and usable.
---
By thoughtfully selecting a few key pieces and integrating them with what you already have, you can create a warm and inviting space that celebrates the season. Experiment with different textures, patterns, and accents until you find the perfect balance that reflects your taste and the beauty of autumn!