While it's easy to find images of Spanish style homes all over the Internet, figuring out precisely what makes them look so great can be tricky if you don't know much about this style of decorating. In this Spanish interior design guide, you'll learn how to achieve the elegant, airy look that comes with the stunning Spanish style decor and how to incorporate some key elements, such as painted pattern tiles and wrought iron railings, into your own home design.
Where are Spanish style homes found? The areas of the United States with the most Spanish style homes include the states that were former Spanish colonies such as California, New Mexico, Arizona, Texas, and Florida.
Spanish Interior Design Characteristics
While there are no hard and fast rules for how to achieve such a look, there are certainly some characteristics that seem common among most examples of homes with a Spanish style:
Multiple levels

Large, curved windows

Stucco or adobe walls
Columns or pilasters – usually used as decoration on exterior walls
Natural materials like wood and stone
Ornate ironwork (like grates) – often used in stair railings or balconies
Wall paintings – often religious scenes
Colorful decorative tiles
Fountains
Arches
Carved wooden doors
Mud/adobe bricks
Verandas
Exterior courtyards
Murals
Stained glass windows
Tile floors
Ornate fireplaces
Heavy wood tables
White or light-colored walls
Dark espresso wood floors
Painted or carved wooden screens
Wrought iron chandeliers
Chunky stone and brickwork
Wooden shutters
Terracotta tiled roofs
Vines climbing up a wall
Stained glass windows
Hanging baskets
Tall ceilings
Arched doorways
Tile mosaics
Heavy curtains in dark reds and browns are often used to help block out cold winter winds and block heat from escaping on hot summer days. Although Spain's hot weather can be uncomfortable for some people, homeowners love how cool their Spanish homes feel year-round as a result of these solid home design features.
If you want to experience this aesthetic yourself but can't move to Spain (at least not yet), consider incorporating these Spanish interior decorating ideas into your own living space.
Earthy Color Palette
The color palette of Spanish interior design is earthy, vibrant, warm, and welcoming. However, that doesn't mean it should be limited to those with a fair complexion and olive-toned skin.
There are many beautiful pieces for decorating your home in a traditional Spanish style without sacrificing your own personal flair or taste. In fact, if you have light hair, green eyes, and/or freckles you can incorporate these into your decorating scheme as well!
Just don't limit yourself by choosing to use only neutral colors in your decor because although they're lovely when they match a space, they tend to look quite plain on their own.
Stucco Walls
During medieval times, masons used brick to construct their houses. However, as they started to rebuild their cities after taking control of Spain in 1492, they realized that bricks were expensive and took a long time to build with.
So, they decided to use one of their most abundant resources: sand. Mixing it with lime, plaster, or cement and water gave them a durable material called stucco that could be molded into almost any shape they wanted.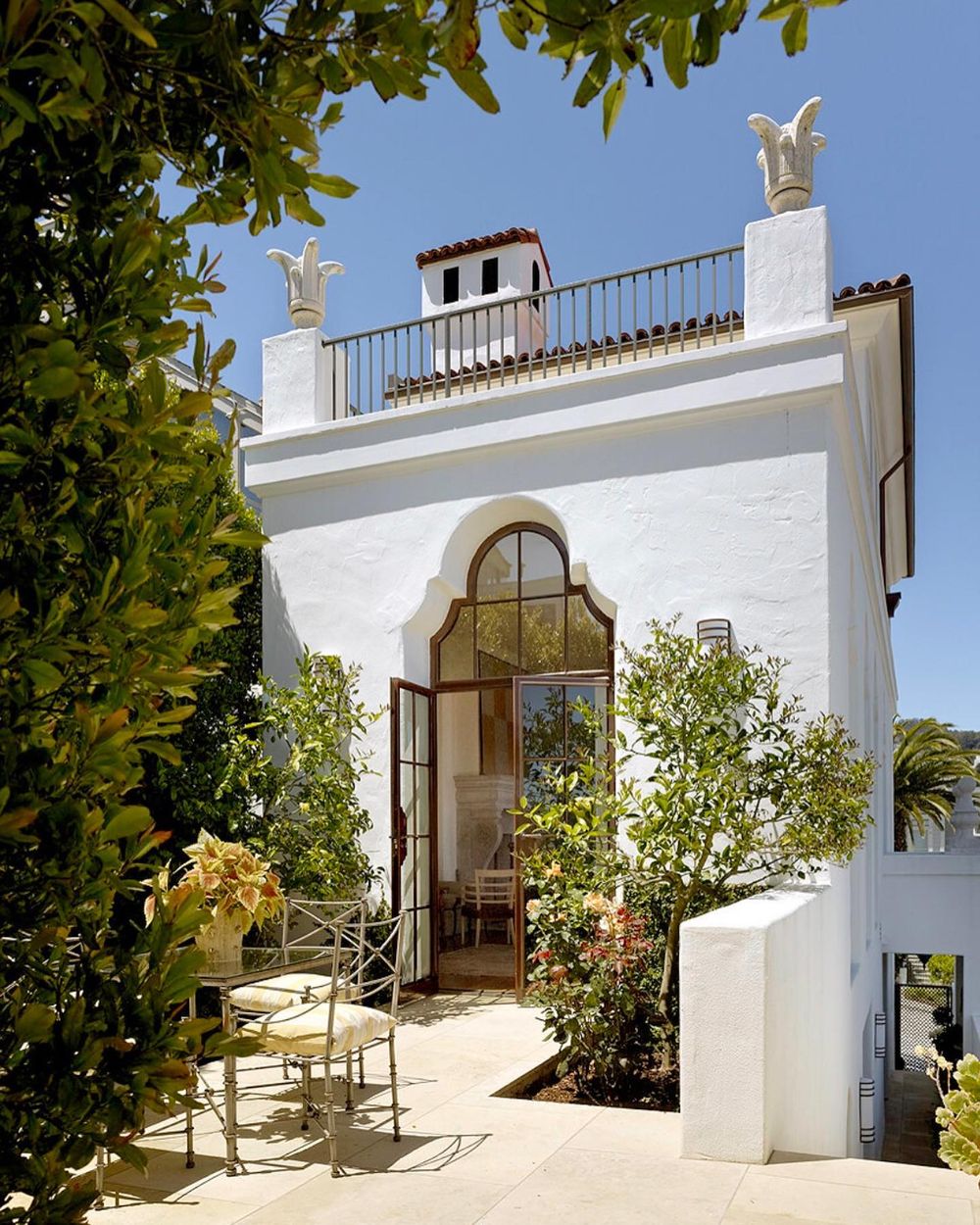 In addition to being cost-effective, stucco walls are also very strong; they can withstand earthquakes without crumbling as brick walls do. Since it's made from natural materials (sand and lime), you can paint over stucco without worrying about lead poisoning or other health hazards that come from paints containing toxic chemicals like cadmium or chromates.
Stone Fireplaces
Spain's rich history, combined with beautiful landscapes and rich resources make it a prime location for stone fireplaces. Stone is naturally available from nearby mountains, and they're an integral part of Spanish interior design.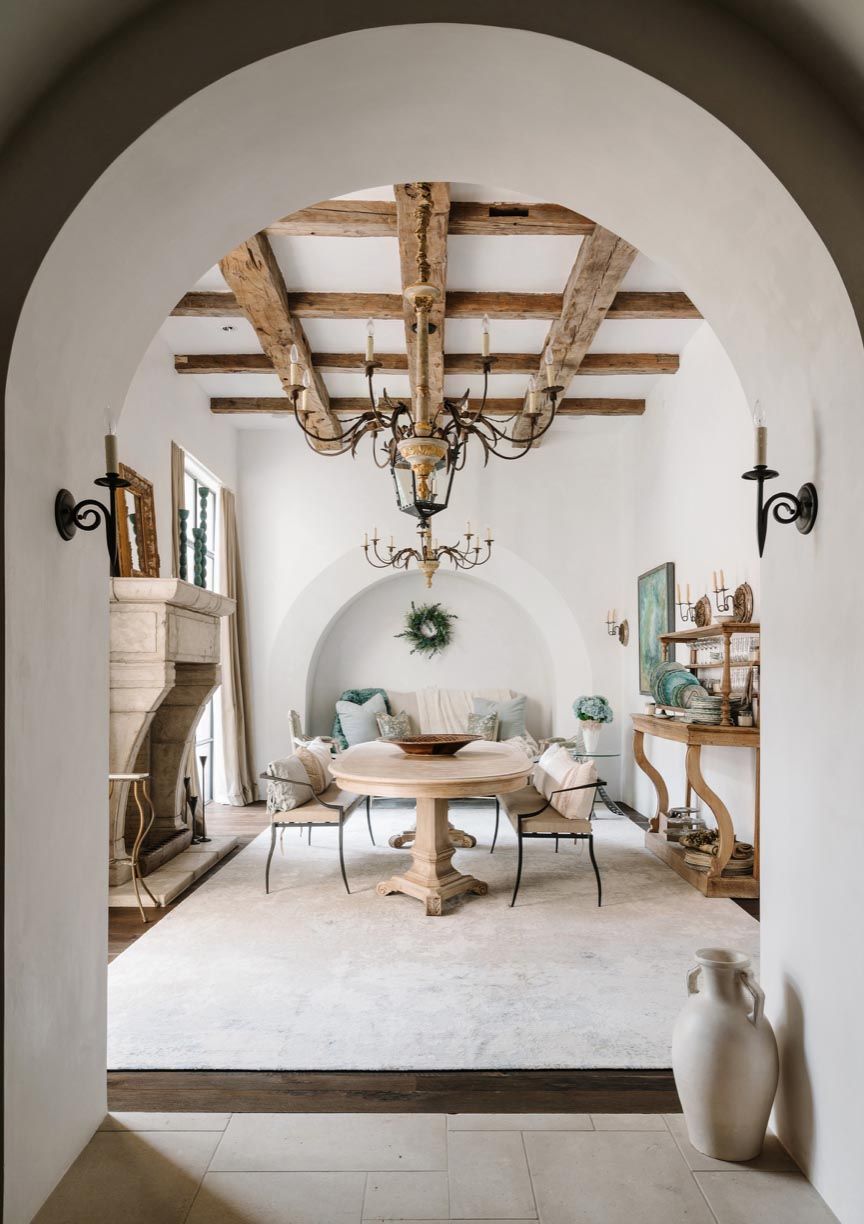 Many visitors to Spain remark how even in homes where only one or two rooms have central heating, most rooms have a fireplace—including bathrooms! To keep your stone fireplace looking its best, remember that these types of fireplaces aren't designed to be used for cooking.
If you use your fireplace regularly for cooking, your chimney could become blocked and actually start causing fires instead of preventing them!
Wrought Iron Railings
Installing wrought iron railings is a great way to incorporate classic Spanish elements into a home. If you're lucky enough to have a large staircase, front porch, or balcony, adding wrought iron banisters will not only keep you from falling off, but it can serve as a lovely decorative feature for your home.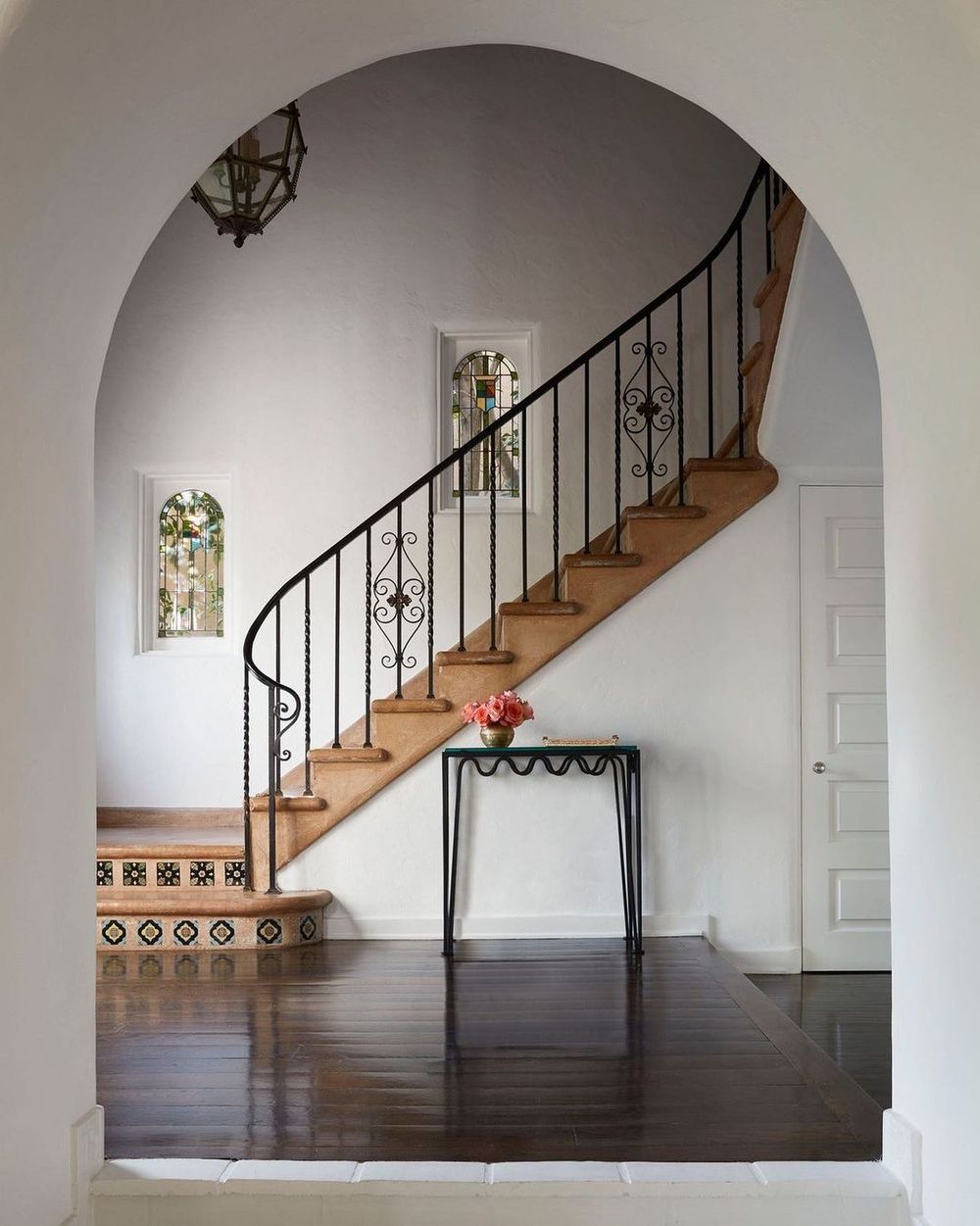 Painted Pattern Tiles
Painted tiles are a decorative and utilitarian option is a great way to add color to your house and make a statement. Often used in commercial spaces such as public buildings, apartment complexes, and office lobbies, patterned tiles are extremely durable.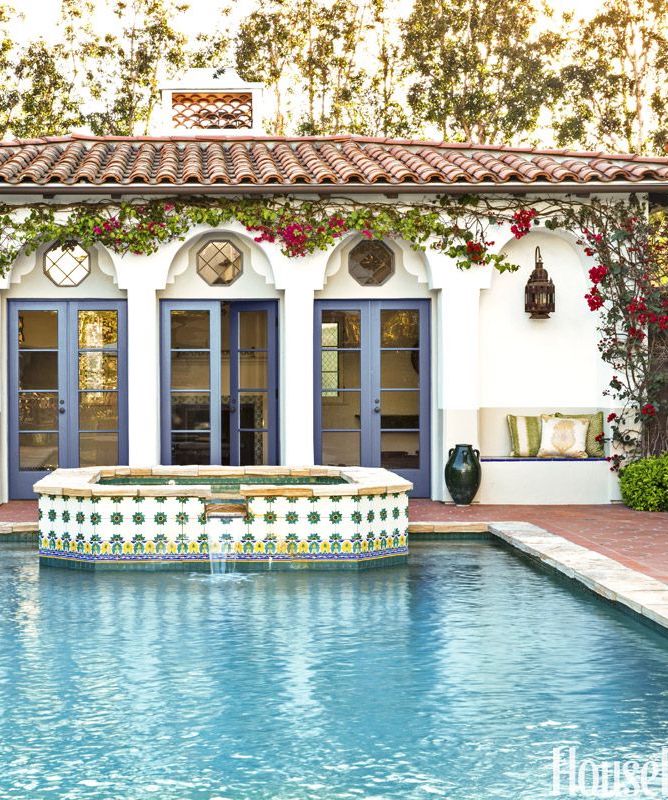 Painted pattern tiles can also be used outside on a patio or walkway. The downside is that these tiles are expensive and are difficult to install yourself.
Terracotta Tiling
With its earthy tones and easy-to-work-with format, terracotta tiling is a great way to inject a little Spanish interior design into your home. Although often used in flooring, terracotta tiles can be used just as effectively on walls. With their rough texture and thick appearance, they're perfect for creating something bold—and will bring an instant sense of warmth to any room.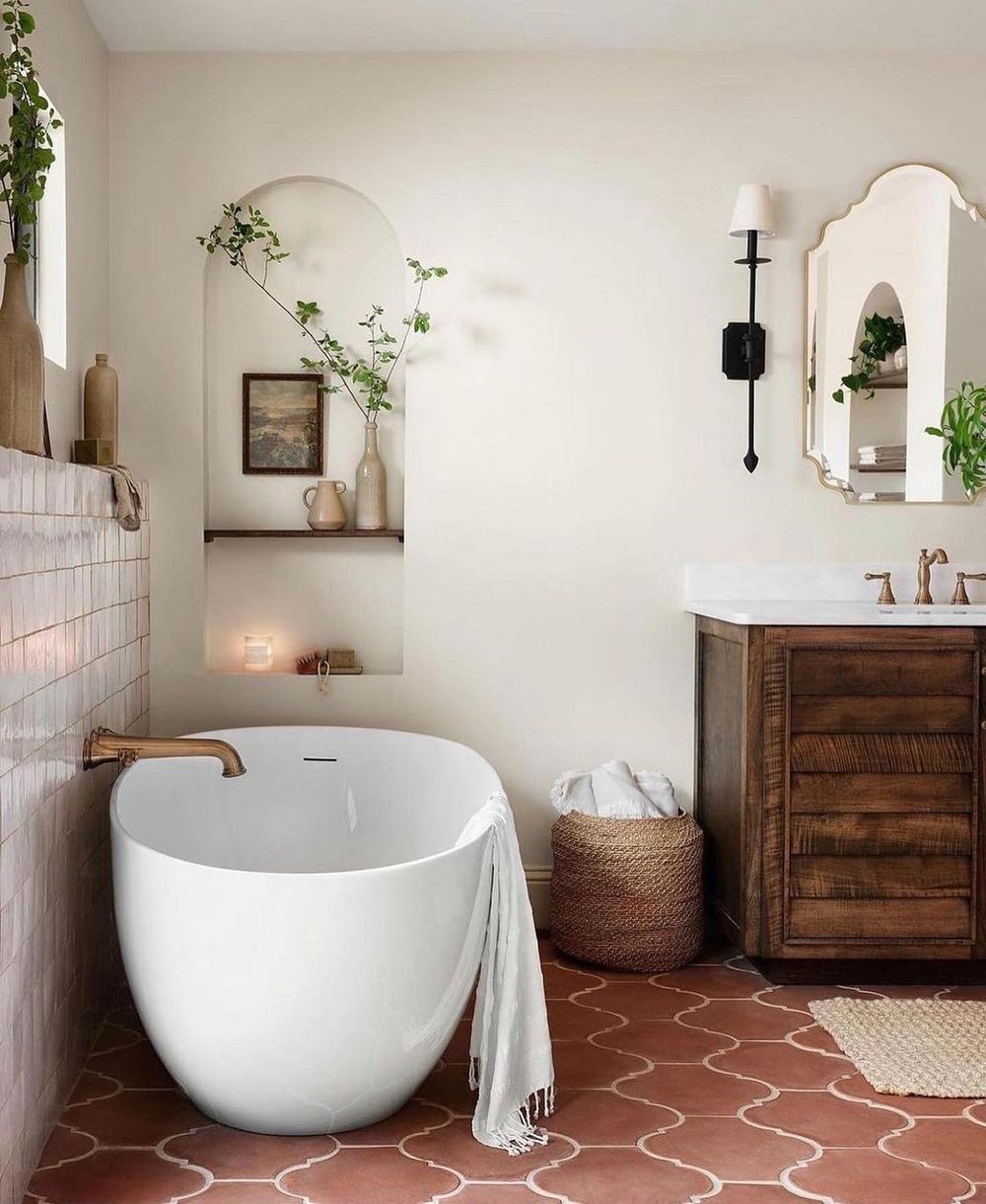 Arched Doorways
An arched doorway is a traditional Spanish detail that offers visual interest and allows for extra lighting and decorative touches on a wall without adding too much weight. This arch can be used to separate two rooms or create an entryway.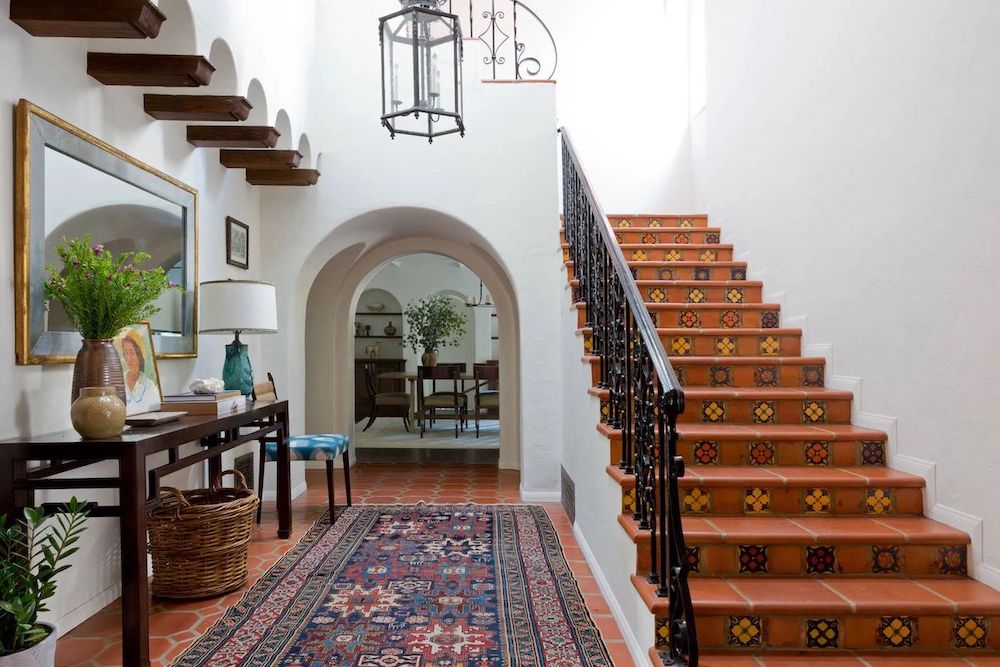 Although not obvious, there are certain limitations to using arches in any space, such as ceiling height restrictions; the overall size of the room; and consideration of light sources coming from above or within walls.
Arcade Walkways
The designers of Spain have always been fond of using metal and glass walkways, floor-to-ceiling windows, and large open spaces. This style makes a home seem lighter and airier, with plenty of room for circulation. If you're tired of your small house feeling crowded in and want to add a touch of Spanish flair to your decorating scheme, consider implementing one or more of these arcade walkways in your home today!
Mexican Pottery
Mexican clay pots and vases are popular interior home decor items in Mexico and other Central American countries. Mexican ceramic pieces not only make your home more colorful but also helps you feel more connected to Mexico! This is one of the easiest Spanish interior design tips.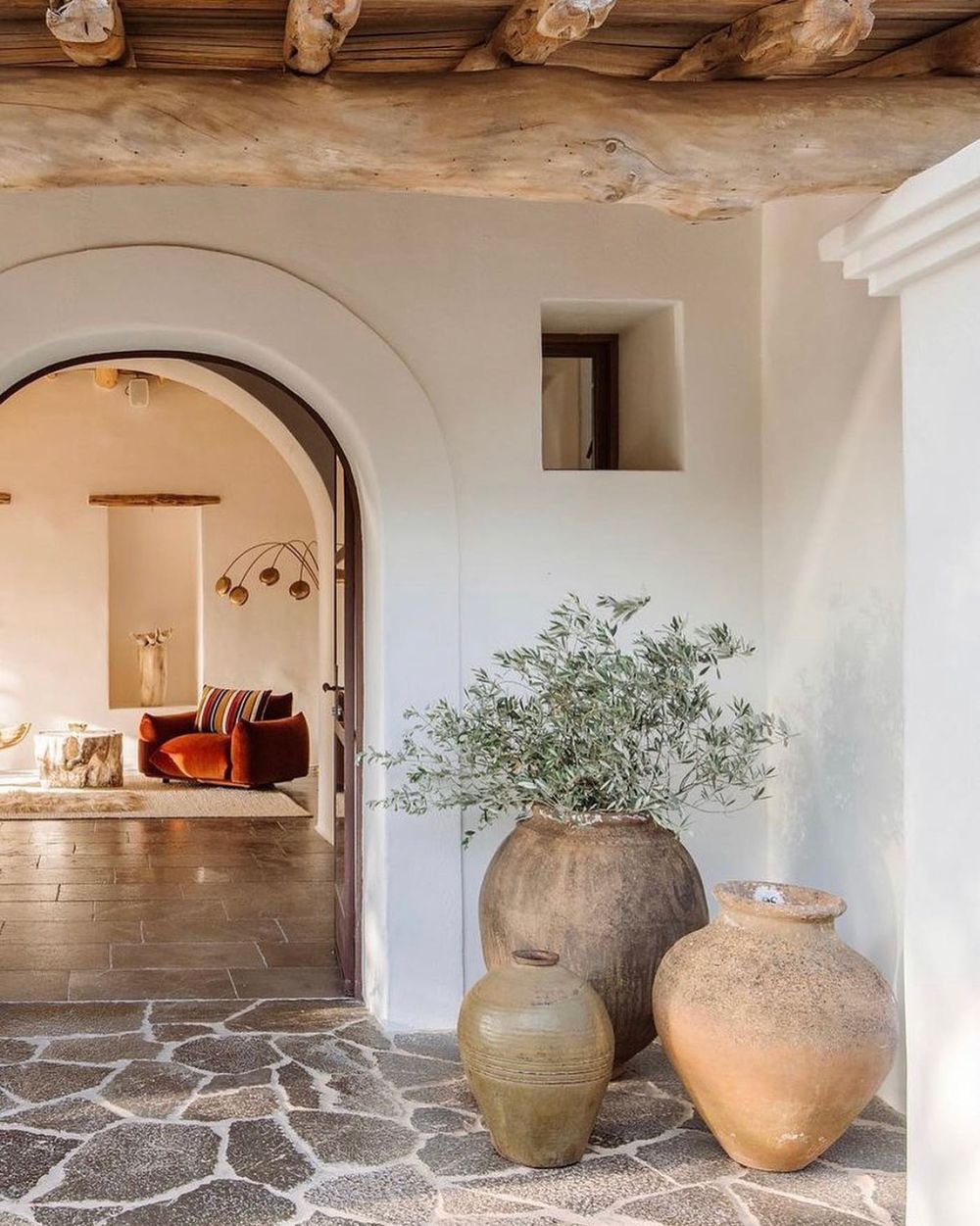 ---
I hope you enjoyed this post on how to get the Spanish style look at home!