I'm going to make a bold statement: I truly believe in my bones that flooring is what makes or breaks a space. Sure, there's a good argument for paint color or wallpaper as the defining room characteristic. However, while I can easily change paint colors, decor, furniture, art, and all that stuff (which I do a bit more than I care to admit), what remains constant is the flooring.
When it comes to flooring design and choosing what works best for my home, I definitely make sure I take my time exploring all the options! I'm all about the idea of updating decor and changing furniture around to freshen a space with a new color palette. But my floors? I want my floors to be timeless and capable of fitting into any type of decor I may choose now or in the future.
Is that too much to ask? Maybe. Am I going for it anyway? You bet I've been dreaming up flooring design for a long time and I must say, there's a lot of great options out there that I can see myself falling in love with forever!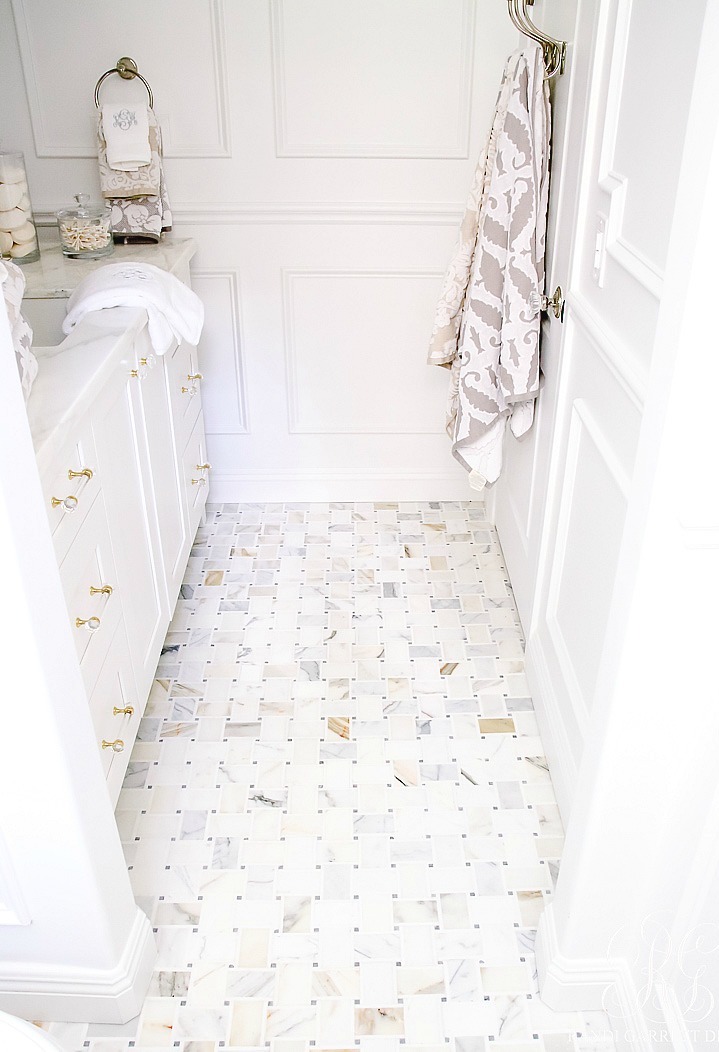 Types of Flooring
The first thing on your mind is likely: What types of flooring are available? Let's dive into the different types of floors for residential homes.
Hardwood
Hardwood is a classic flooring idea staple for a reason! Endless options with plank size and stain make this a very popular route to explore. The things to consider with this flooring are since it's the real deal, you may be prone to gapping, crowning and cupping with larger plank sizes. However, hardwood is generally thicker than engineered wood and installed by nailing, instead of staples or floating installation, meaning you're in it for the long haul!
Vinyl
Vinyl is another justifiably classic flooring idea! Vinyl usually comes in sheets, though you can totally get tiles. Vinyl sheets (sometimes called linoleum) are durable, resilient, insulating, easy to install AND you can get it in just about any appearance or design. It's definitely budget friendly too!
Tile
Tile is a flooring idea most common in bathrooms or other spaces where there could be quite a bit of moisture on the floor, but honestly I find tile flooring in any space beautiful. You have everything from ceramic to glass to natural stone tiles that can then include granite, marble, and travertine to choose from. If you go with a stone tile, be warned they do require sealing to keep them from getting stained (which is probably why you see them more often than not in kitchens and bathrooms where cleaning is pretty regular), but the variety of options definitely keep this a viable flooring choice. Tile is also ideal in the entryway where we track in dirt and rain from outside – so much easier to clean up!
Laminate
Laminate flooring, or as I know it, floating wood tile, is one of the most popular flooring design right now. Anytime I see anyone redoing their space, they are using floating wood tiles! The reason for that is you get the look of hardwood without the gapping, cupping, or crowning you might get with the real deal. Laminate flooring uses the tongue in groove style of installation, which means pretty much anyone can do it. And you can put it over existing floors or carpets, so you can change your space in a snap!
Bamboo
Bamboo is a rich, beautiful, unique flooring idea! Undeniably this looks like hardwood, Bamboo floors are stronger, more durable, and more eco-friendly than hardwood due to it's renewability.
Marble
Marble flooring is a whole mood for sure! High end, posh, and chic are words that come to my mind when I think of marble flooring. Marble is undeniably gorgeous, but does require polishing and sealing as it is made of stone. Though I must admit, there is something about heels clicking on marble that just makes you feel like you can conquer the world.
Concrete
Concrete is assuredly a viable flooring idea for any space! I mean, there's a good reason why concrete is the subfloor for a basement, right? It's durable and strong! Granted, this may give a house a more "cool" feel, you can polish concrete to make it shiny like marble or have an epoxy resurfacing to give it a different look.
Carpet
The reality is that nothing warms a space like a soft surface, and that's true with flooring design as well. Whether you opt for area rugs or wall to wall carpets, they undeniably warm up and cozy up a space.
Hybrid Flooring
You get the best of both worlds! Hybrid flooring combines laminate and vinyl attributes to give you a stronger floating floor that can be installed anywhere in your house! You get all the wear and durability of laminate and the beauty of vinyl. Win-win!
Popular Flooring Colors and Patterns
If you don't have a particular flooring color or pattern in mind, then these ideas might spark your imagination.
Gray Floors
Look, my favorite color is gray for a very good reason. First of all, it makes me feel comfortable and calm. Second, it goes with everything. Literally everything. Browns. Blacks. Blues. Yellows. Oranges. Is there anything grey can't do? Having a grey floor is undeniably chic and keeps your decor options open!
Blonde Wood Floors
Blonde wood floors are another solid flooring idea because of how bright they make a space! Yes, we all know the importance of paint choice when it comes to making a room feel bigger, but I gotta tell you that floors do the same thing! Bright floors, bigger space.
White Floors
Now this flooring idea is for the brave and the bold. White floors are chic and classy, but will need some additional elements to make them less stark and foreboding. Rugs, runners, designs, whatever you need to break up that space and make it feel more homey!
Patterned Floors
This is a super fun trend in flooring ideas lately and I love it! Especially if you're going with tile or solid white floors, patterned flooring is where it's at! You get the accent of design to add interest to your space easily! Patterned floors lean heavily into the art deco vibe, and I'm all about that.
Brown Wood Floors
A classic. Brown wood floors are undeniably timeless and homey. Dress them up or leave them bare. You truly can't go wrong with these.
Black & White Floors
This can be a little bit challenging, but when a black and white floor is executed well it is a statement that you don't forget! I'd definitely lean in for a pattern with black and white floors such as a herringbone to avoid it being like a classic diner vibe.
Cheapest Flooring Options
Okay, let's be real here. We all want something that looks nice without breaking the bank. The best budget-friendly options for flooring design are laminate and tile. Laminate flooring comes on a roll and starts as low as .69/sq ft, versus the starting price of vinyl plank starts at $1.79 or the 3.49 sq/ft of hardwood. Floor tile is 99 cents per sq/ft and has endless options and the ability to cut and place individual pieces easier depending on your space, which gives you more control over the finished floor.
Flooring is absolutely something that matters for the overall aesthetic to a space, but not something you want to continually refresh. When it comes to flooring ideas, I'm looking for something that will be suitable for a very long time! It may mean spending a bit more time researching options and finding just the right color, tone, and pattern, but a beautiful floor is well worth the investment! This is one home improvement you don't want to skimp on as changing it can be a pain.
I hope you found this flooring guide useful! Let me know your thoughts in the comments.