Let's talk about kitchen cabinet organization. While kitchen cabinets are great for storage, they can get messy fast. Most people struggle with maintaining organized kitchen cabinets. Disorganization usually comes from a lack of time to put things where they belong, so it's important to ensure that you make it as easy as possible for yourself when it comes to organizing your kitchen cabinets. There are lots of ways to use shelves and mini baskets that will remind you which object goes where. Here are some amazing organization ideas that pertain to the cabinets in the kitchen!
Kitchen Cabinet Organization Ideas
These genius ideas for kitchen cabinet organization will make your life so much easier. A little upfront effort can go a long way in saving your sanity in the kitchen!
Here are a few of our favorite highly rated Amazon products for organizing your kitchen cabinets.
1. Kitchen Cabinet Helper Shelf
This is one of the easiest ways to create extra space in your kitchen cabinets. It requires such little effort but can literally double the amount of shelf space you have available in your kitchen cabinets! Pick up a small, medium or large helper shelf to stick on a shelf in your cabinet and watch the impact it can have on your cabinet organization!

2. Write Baking Measurements on the Inside of Your Kitchen Cabinet
You can write baking measurements and hang measuring cups and spoons on the backside of your kitchen cabinet doors to help yourself out and save space at the same time! If you don't have great handwriting, then try one of these peel and stick decals you can buy online!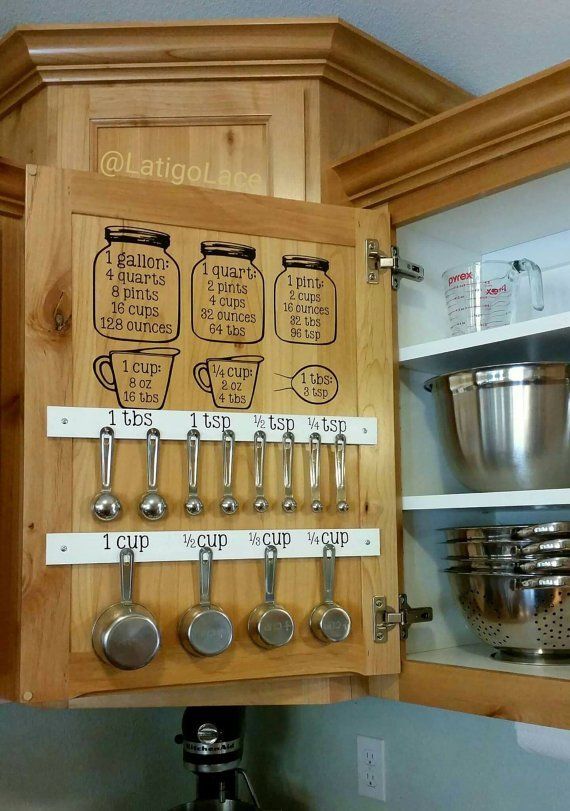 3. Organize your pot lids on the inside of a cabinet door or on the cabinet shelf
You can buy a variety of racks to neatly organize your pot lids instead of throwing them wherever they may fit! Try a rack that stands on the surface of shelf, or try one that attaches to the back of a cabinet door and see which one you prefer!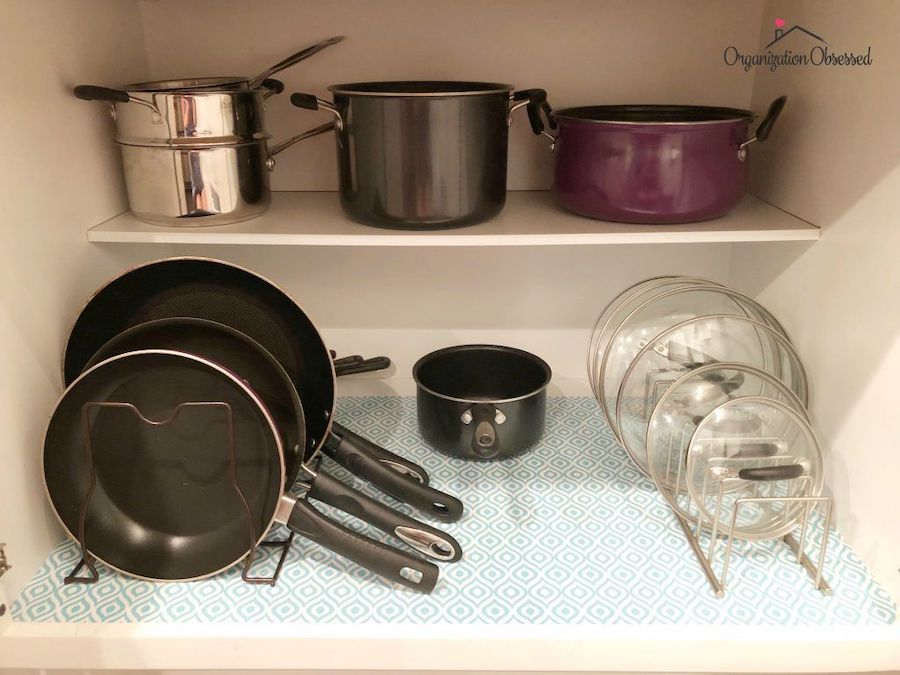 4. 3-Tier Spice Organizer for Cabinets
Can't see what's in the back of your kitchen cabinet spice shelf? You need a tiered spice organizer stand! Try this affordable yet highly rated 3-tier spice organizer for your cabinets!
5. Under Shelf Storage Baskets
Here is another super easy way to make a big impact on your kitchen cabinet storage space for just a few dollars! An under shelf storage basket or shelf is easily attached to any existing shelf you have. It hangs below and offers another level of storage!
6. Metal Rack to Store Baking Sheets
Vertical storage is the way to go when it comes to organizing your kitchen cabinets! Try purchasing a metal rack to store your baking sheets vertically inside a cabinet. It's a much better way to organize than simply stacking them on top of each other!

7. Make use of Slide-out Cabinet Organizers
These Lynk Professional® slide out cabinet organizers are from Walmart and are rated really highly! They come in a variety of sizes and can make reaching far into the back of your cabinet a thing of the past! The stainless steel racks are easily installed and make storing heavy kitchen accessories a breeze. Check out our favorite models here:

8. Go for Pull-out Bins and Dollar Store Labels
You don't have to spend a fortune to organize your kitchen cabinets successfully. Grab some cheap pull-out bins and stick a dollar store label on them for fast and easy kitchen organization.

9. Use white trays with labels to keep items
If you prefer to hide what's inside your trays so the labels stand out, then try these white storage bins that work well in cabinets. They're small, and cost less than $1 each!
10. Install an over-the-cabinet kitchen organizer
Over-the-door kitchen cabinet organizers can be so useful and super easy to install! You can use these on the inside or outside of your cabinet and then come in just about all kinds of shapes, sizes and colors!

11. Install Lazy Susans in the Corner Kitchen Cabinets
Lazy susans are the best way to make the most out of corner kitchen cabinets, which are notoriously hard to reach and see what's inside! This two-tiered lazy susan turntable is a sure winner.
12. Put a Corner Cabinet Shelving Unit in Your Cabinets
If you have a shorter depth for a corner kitchen cabinet, then think about putting a small corner shelving unit inside to help you stack plates and other dishes easier.
13. Or opt for plastic or wire corner bins instead!
These farmhouse wire bins are great for any exposed cabinet shelving you may have, otherwise, these solid plastic bins with a handle are great for inside!
14. Use a Knife Drawer Organizer
Knife blocks are functional but they take up too much space on the kitchen countertop and they look bulky and ugly! Opt for a neatly hidden knife drawer organizer to keep your knives out of view, yet easily accessible.
15. Key rail to hang measuring cups and spoons
Using a simple key rail to hang your measuring cups and spoons is simply genius! Credit for this idea goes to Two Twenty One.
16. Use built-in dividers for utensil drawers
Standalone utensil trays can slide around inside drawers, but if you buy an expandable cutlery tray, they tend to fit in place nicely and keep things organized! Whatever your preference, make use of built-in dividers to keep your forks, knives and spoons properly organized!
17. Organize Your Tupperware by Sections
The Rev-a-Shelf Food Storage Pull Out Pantry has fantastic reviews and offers a great way to organize your tupperware bins and lids inside your kitchen cabinets! Of course you can use it store just about anything else, too. The piece slides in and out for easy access to what you need.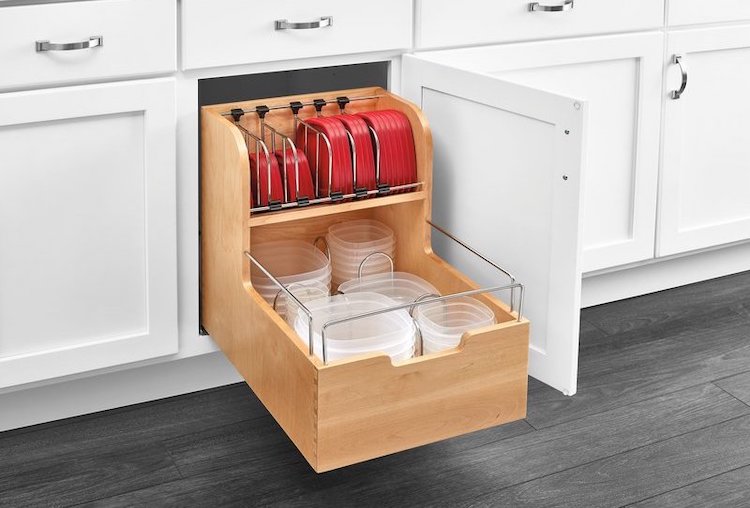 18. Store Plates Vertically for easy access
As I said before, vertical storage is key to keeping things organized! A vertical plate rack can work wonders for your kitchen cabinet organization.
19. Roll out wire baskets
Add roll out wire baskets to short kitchen cabinets as seen here: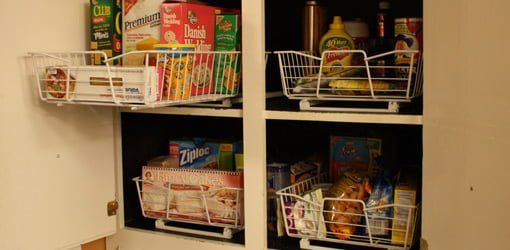 20. Painted Kitchen Cabinets
Paint the inside of your kitchen cabinets a bright color so that any white plate ware will stand out!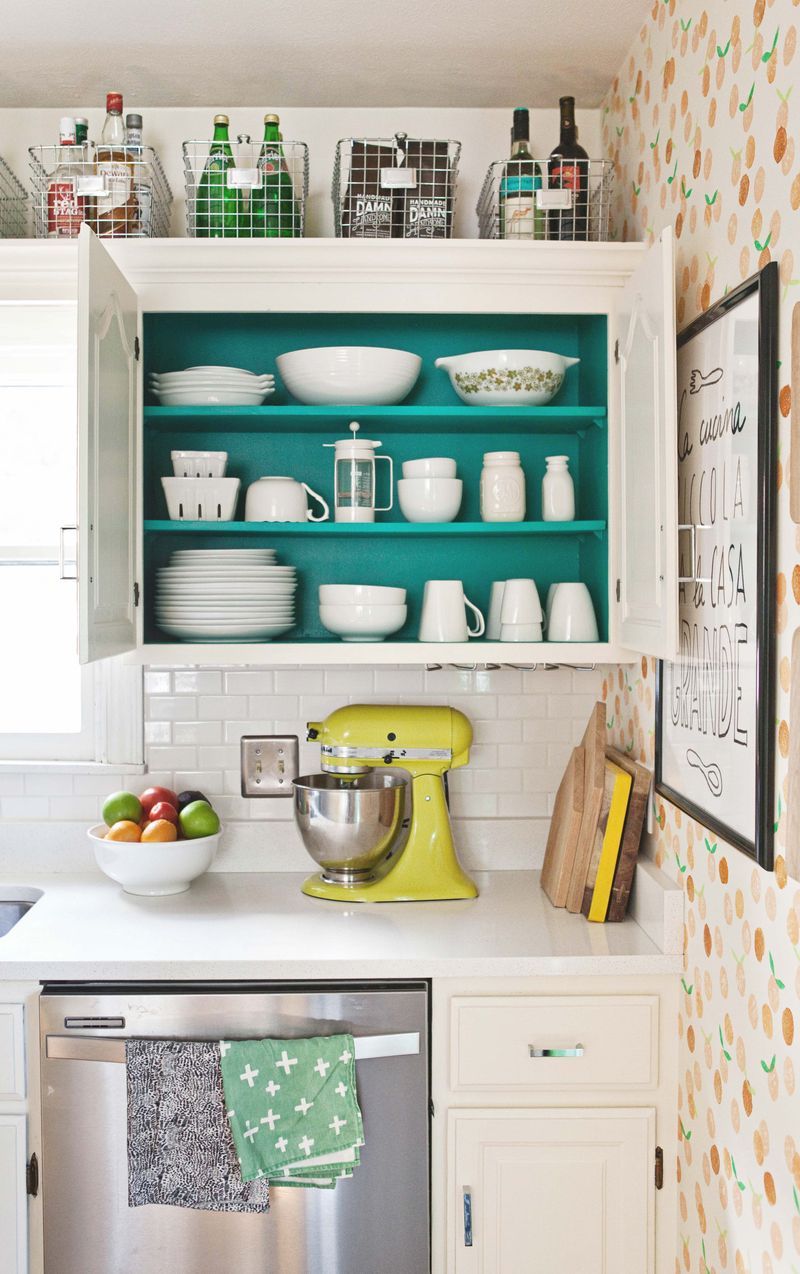 21. Use Adhesive Hooks to Hang Things
You can hang things like oven mitts and hot pads using cheap adhesive hooks!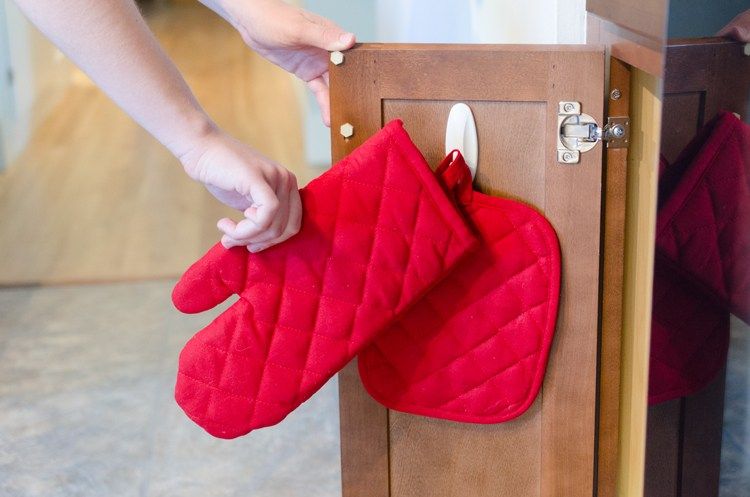 More Kitchen Improvements
I hope these kitchen cabinet organization ideas inspired you to improve your own kitchen today!