If you are hosting this year's new year celebrations, you may be looking for the best New Year's Eve decor ideas! When it comes to celebrating the New Year at home, it's all about adding shiny decorations and metallics to your space. You can go with gold, silver, or a mix of both metals. Here are our best ideas for ringing in the new year with style! We've already covered DIY New Year's Eve decorations you can make at home, but here we'll share some set-ups you can copy in your own home.
New Year's Eve Home Decor
Here are our favorite New Year's Eve home decorating ideas to celebrate the new year. Whether you are having guests over or just want to decorate for yourself, we hope these ideas will inspire you to curate the home of your dreams.
1. Repurpose Your Christmas Tree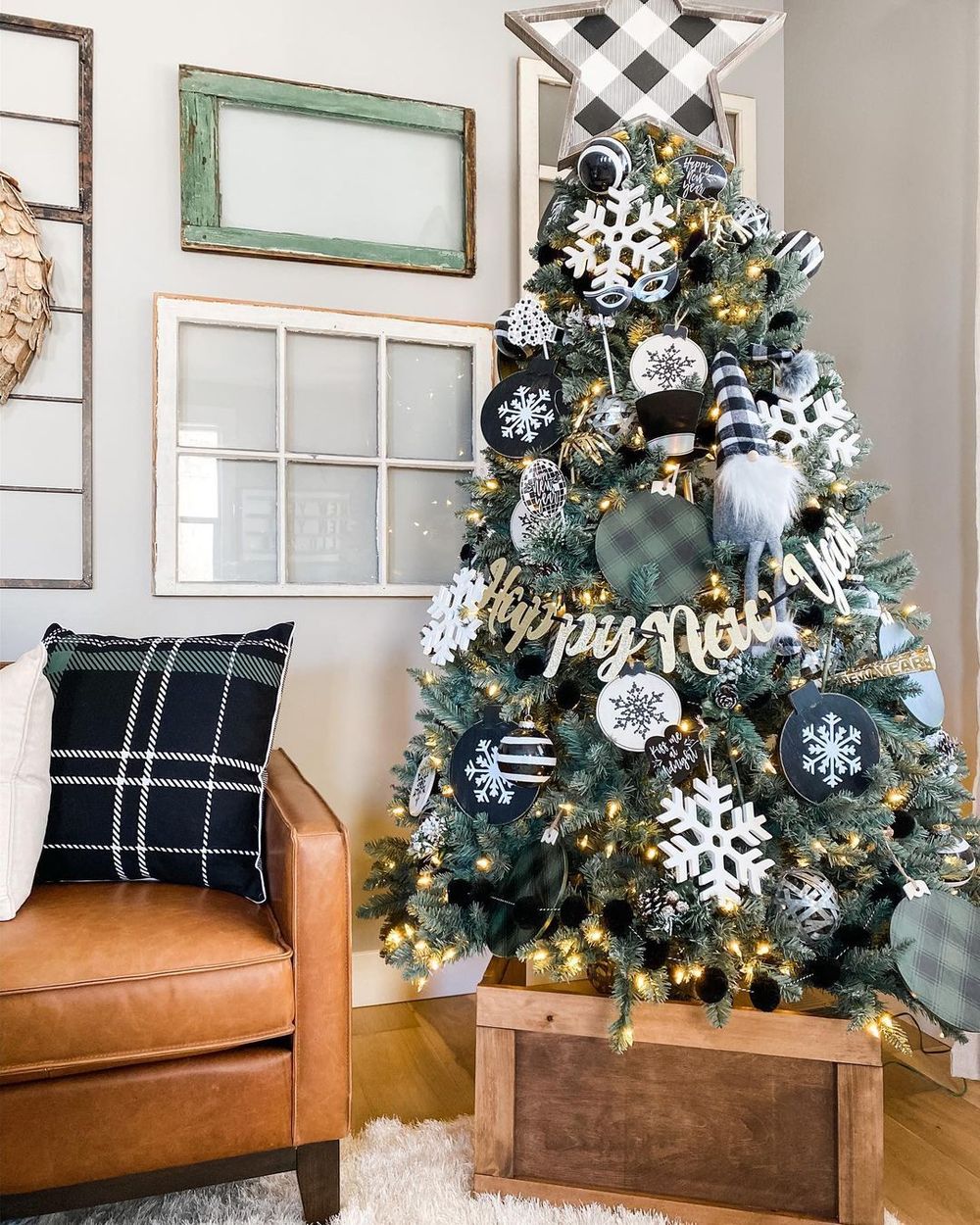 One of the easiest things to do is to work around your existing home decor! If you already have a Christmas tree up, don't take it down! Instead, remove the red decorations and replace them with metallic ones. You can hang gold and silver ornaments on the tree, wrap it in shiny garland, or display a pretty banner across the front. Leave the string lights on, of course!
2. Pink Balloons as Champagne Bubbles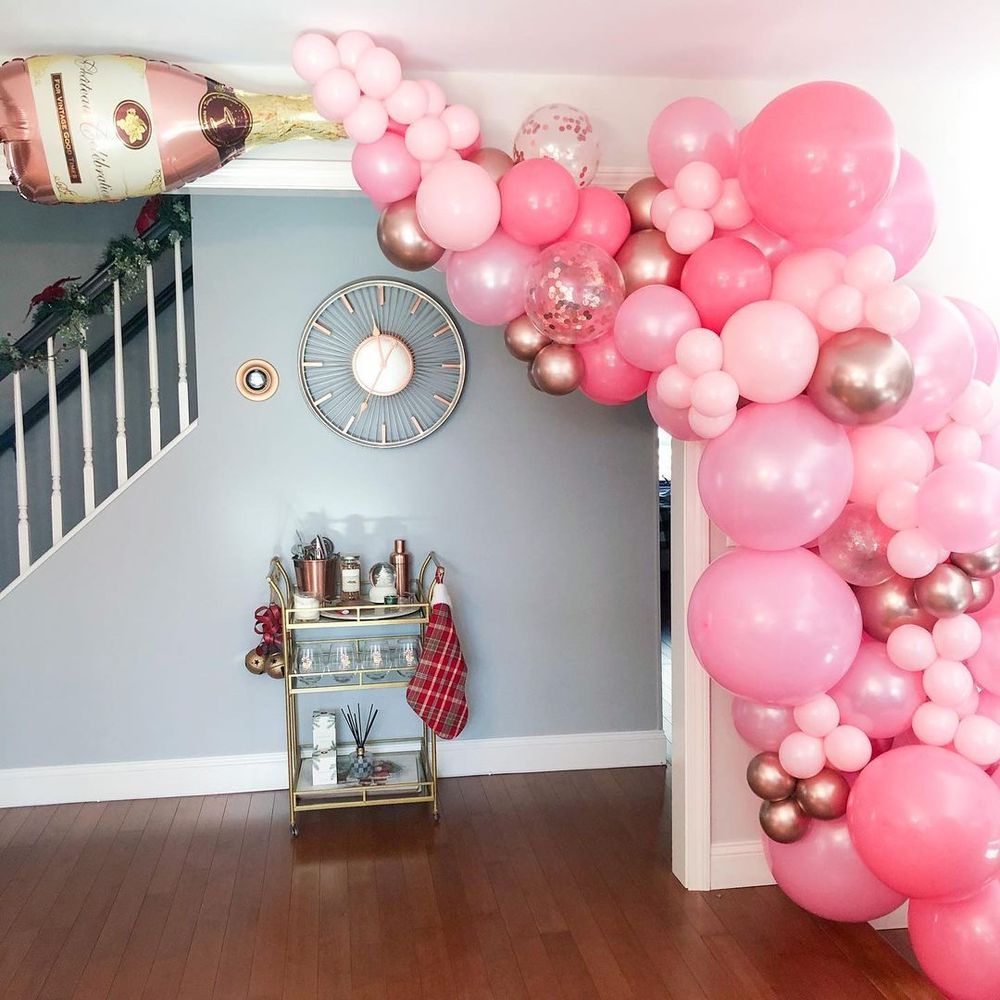 I love this overflowing champagne bubble decoration using pink balloons over the doorway!
3. Gold Table Decor with Countdown Clock
Creating a festive gold tablescape is equally important if you plan on hosting a New Year's Eve dinner! From gold utensils to gold-rimmed plates, I love these pretty New Year's tableware and decorations!
4. Giant Year Digit Balloons
A classic New Year decoration is the giant balloons with digits making out the year! These year balloons are the perfect backdrop for this festive dining room table with gold party favors.
5. Gold Serving Trays
I love this metallic gold serving tray for holding beautiful white roses in this charming home. Silver and gold streamers hang on the wall in the background.
6. Snowflakes on the Back of Counter Chairs and Gold Rimmed Champagne Glasses
Metallic gold and silver snowflakes decorate the backs of these kitchen counter chairs. This is a great way to transition to winter decor in your home! On the kitchen island, a group of gold-rimmed champagne glasses sit waiting to be served.
7. Champagne Bubble Balloons on Mailbox Outside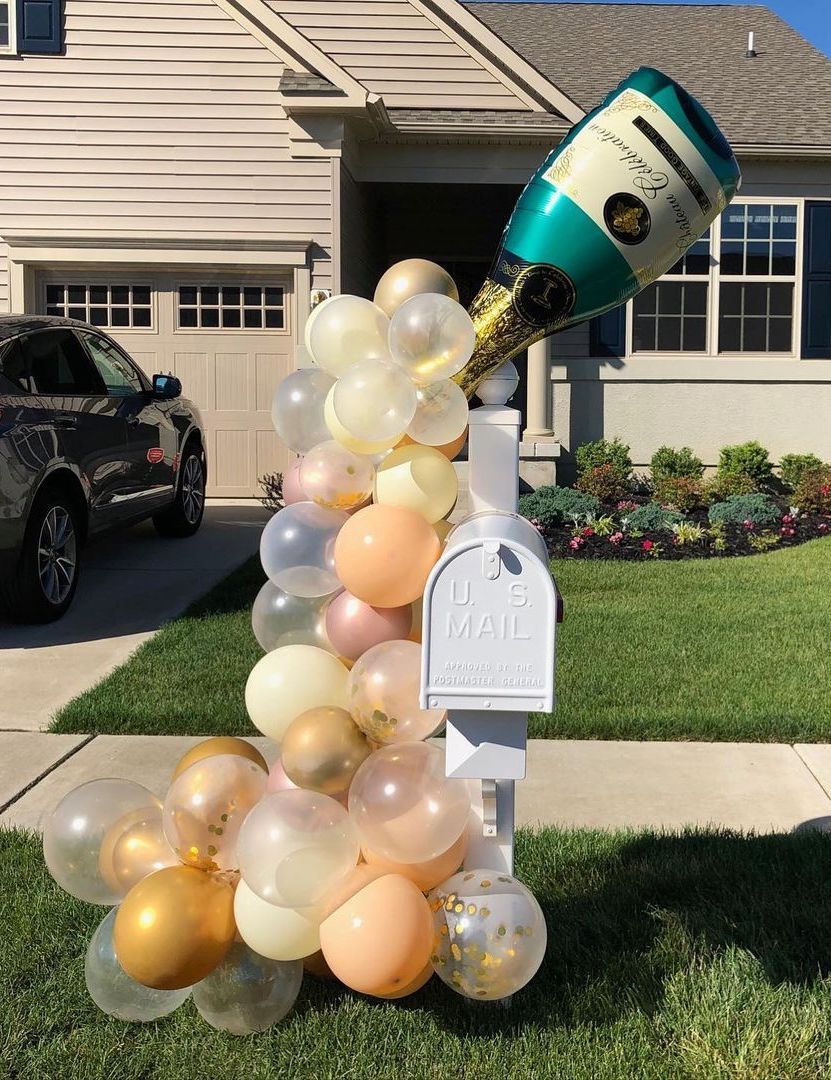 This is a very clever outdoor New Year's decoration idea. You can use gold and yellow balloons to mimic champagne bubbles on the mailbox in front of your home. A champagne bottle balloon should rest on top of the mailbox!
8. White Wreath String Light Centerpiece
I love this beautiful New Year's winter centerpiece idea. This white wreath has been interlaced with string lights. It illuminates the glass hurricane jar in the center with a few round spherical silver ornaments. It's a great New Year's centerpiece!
9. Happy New Year Gold doorway banner
You have to have at least one "Happy New Year!" gold banner in your home! The gold fringe garland is optional, but I just love this beautiful doorway decorating idea.
10. Countdown Clocks
The countdown clock is a traditional symbol of the New Year celebration! You can buy old clocks and display them in different parts of your home to reference the famous countdown to midnight!
---
I hope you enjoyed this post on decorating for New Year's Eve! Let us know your favorite ideas in the comments below.