Designing a laundry room from scratch can be difficult. Let's be honest. Most of us don't exactly look forward to spending time in there! But we must. There are lots of things to consider when designing your laundry room like the location of the room, whether you can handle the noise, and what kinds of accessories you need to make your life easier. We hope this laundry room design guide will help you in creating the perfect practical laundry room for your home.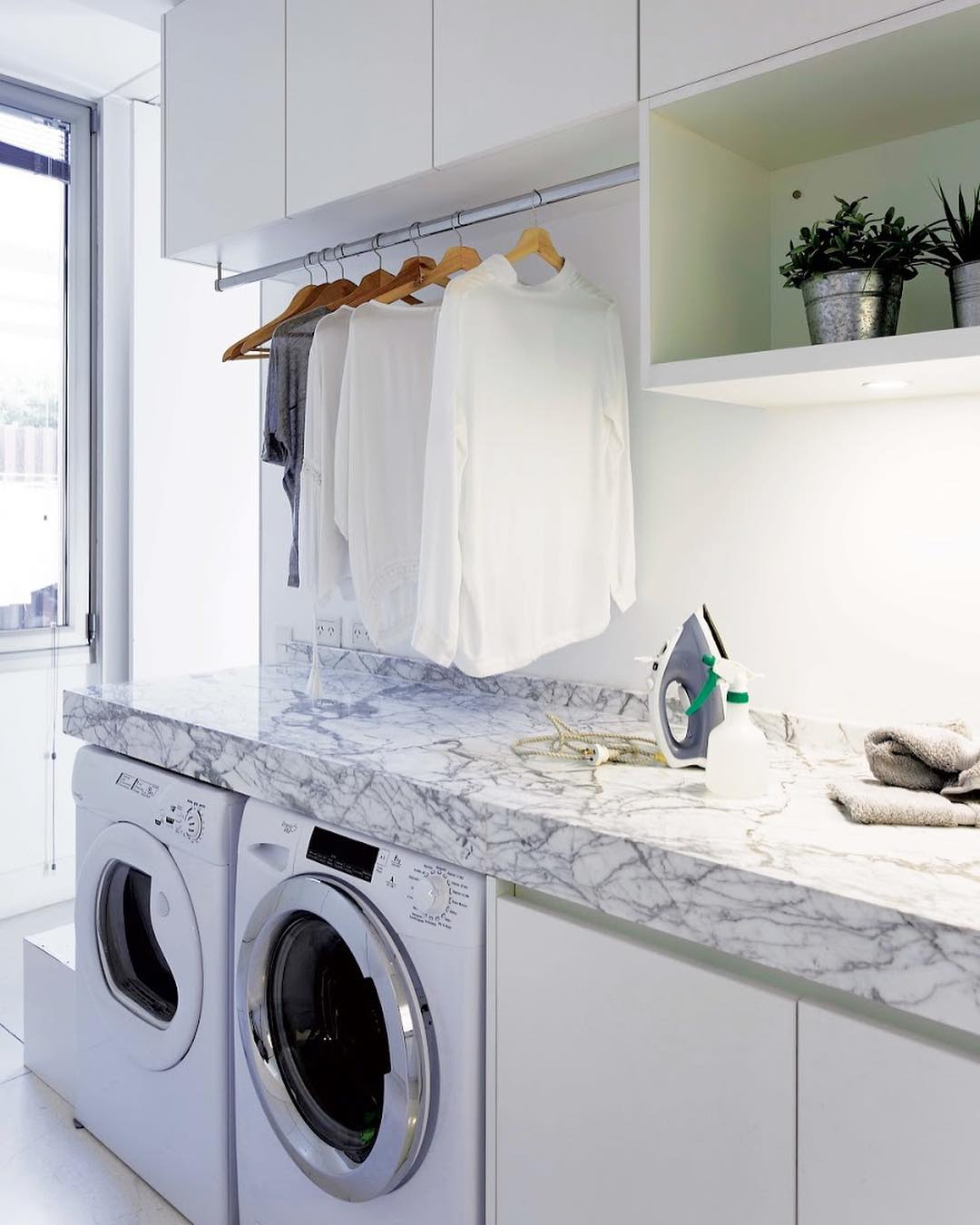 Location
The first step in designing and planning your laundry room is to figure out where it will be located. In the past, most people kept their laundry machines in the basement to keep the noise out of the main living areas. Today, laundry rooms are found in the main part of the house, typically so they are easy to access.
Personally, I prefer to have my laundry room on the same level as the rooms where most laundry comes from – the bedrooms. Having an upper level laundry room allows me to wash sheets and clothing not far from the rooms they belong in.
Of course, your preference may be different, especially if the noise from the spin cycle or drying machine bothers you.
Double Up
Many people opt to combine their laundry room with their mudroom to save space. You can also combine the laundry room with a spare bathroom. These are just a few ways to combine two rooms into one.
Noise
The second item to consider is the noise coming from the laundry room. Most washing machines and dryers will have a level of noise that you have to listen to while they are running. Some appliances have extra insulation and better suspension to reduce noise while in use. If you don't see a decibel rating, it's safe to assume that the machine is particularly noisy. Washing machines with high speed spin cycles greater than 1,000 rpm are also particularly noisy so keep that in mind as you shop.
A solid door will help reduce some noise in the laundry room, as will rugs.
Sorting, Loading, Folding
Think about the steps involved in your primary laundry duties as you design your space. Installing elements like cabinets, shelves, counters, and rods can make your life easier.
Sorting: Create a space for sorting, using either bins or baskets.
Loading: Store your laundry detergent and other products on a shelf or in a cabinet, within easy reach of the washing machine.
Folding: Ensure there is a tabletop or counter space for folding your laundry after it's done in the machines.
Installation
Be sure to measure your space before selecting a washing and drying machine. Always leave a little extra space than what you need in case any future home buyers have a larger machine, or you decide to upgrade a few years from now.
Don't forget to consider the drain in addition to hot and cold water lines, as well as whether ventilation is needed. Work with a plumber to determine the best way to hook up your pipes to a laundry room. It's a good idea to place the laundry room with at least one exterior wall accessible to facilitate ventilation. Lastly, you should have a strong electricity supply of at least 120 volts.
Flooding is a real possibility when it comes to washing machines. In the event that your machine malfunctions, consider adding a drip pan beneath your machine or even installing a floor drain. Work with your plumber to create an automatic shutoff in case of a water leak.
Washer/Dryer
There are lots of options to consider when purchasing a washer and dryer. It's best to consult with your local appliance store to learn about the latest washing machine and dryer capabilities. Here are a few options you should consider before heading to the store to purchase an appliance:
Front or Top Loading
Front-loading machines can be hard on your back. Opt to elevate them at least 15 inches using pedestals or lower cabinets. Top-loading machines can be difficult to reach into the bottom if you are petite.
Stackable
Stacking machines on top of each other is a great way to save space. Be sure they are properly attached to prevent toppling. Stacked installations can be installed in the bathroom or kitchen.
Washer/Dryer Combo
Another space saving option is to opt for the washer dryer combination machine. These machines can automatically dry clothing after washing them, or you can run them as a washer or a dryer at separate times. You have full control of the machine.
Washing
Here are a few things to consider about washing clothes in the laundry room.
Sink for Hand Washing
Do you have a lot of items that need to be hand washed? Consider installing a small sink for quickly hand washing clothing, soaking stained clothes, or pre-treating them before tossing them in the machine. Sinks are the ultimate luxury to have directly in the laundry room!
Drying
Here are several ideas to consider for the drying portion of your laundry room tasks.
Rod for Hanging
A rod stretched between the walls or cabinets is handy for items that need to be air dried or just items that you prefer to hang right away to prevent wrinkling after they are done in the dryer. Be sure to add some wire hangers for quick access.
If you can't install a rod, then consider buying a standalone clothing rack on wheels.
Ironing Board
A wall-mounted ironing board that folds down is the best idea to have a board at your disposal without taking up too much space and having to fiddle with opening and closing it. This type of product folds up against the wall when not in use, saving you space.
Countertops for Folding
Countertops are great for folding clothes. Go for a durable option that you would put in the bathroom or kitchen. It should be strong enough to avoid staining in case liquid is spilled on it. If you don't have the room or budget for countertops in your laundry room, then consider adding a tall side table where you can fold clothes after they are dry.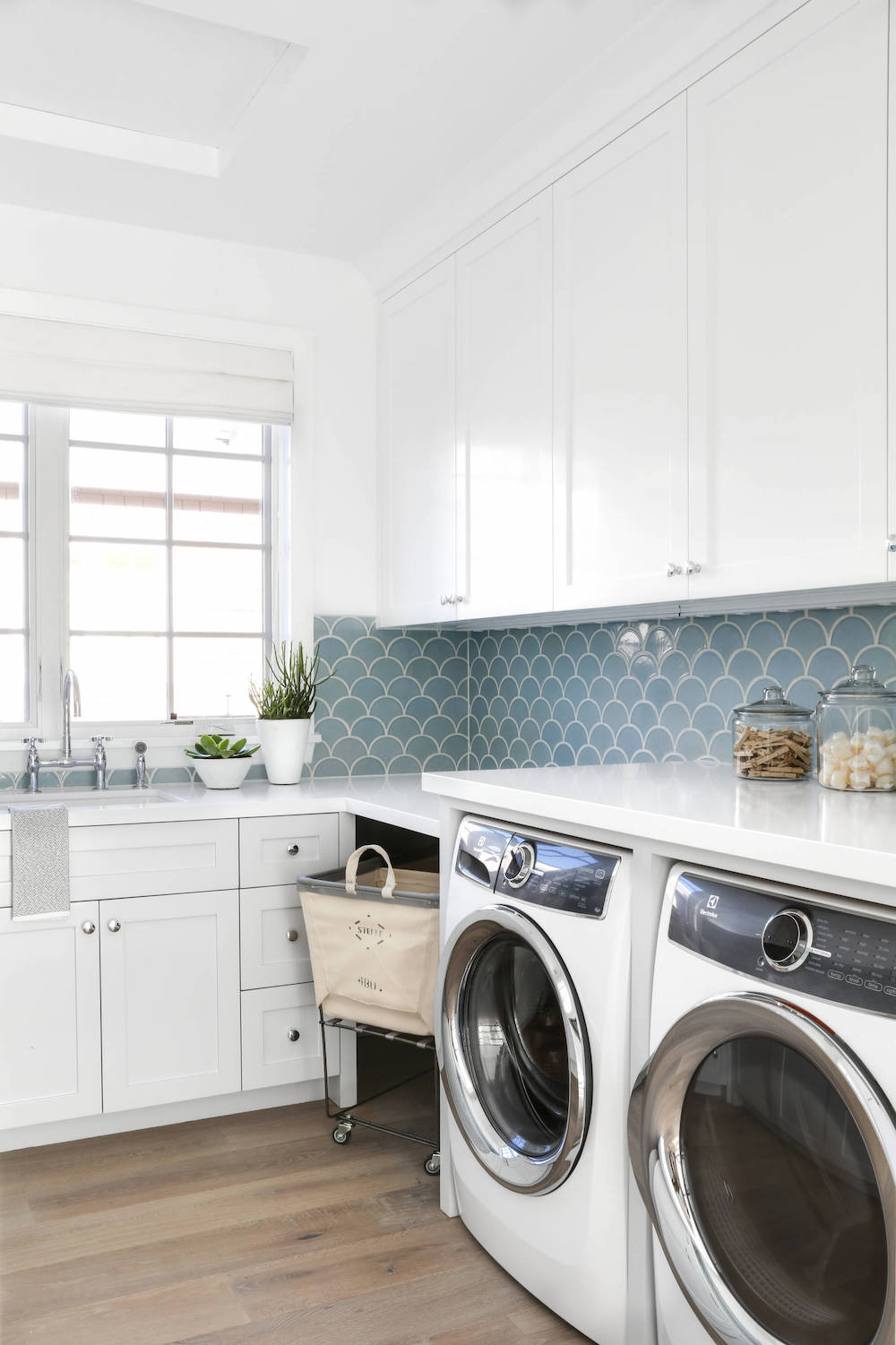 Lindye Galloway Interiors
Cabinets for Storage
If you're able to install cabinets in your laundry room, all the better. If not, try a standalone closet with shelves. Be sure to keep hazardous laundry liquids like bleach high enough up so children cannot reach them! Decorate with bins to keep items hidden.
Here are the items you will probably need to store:
Laundry Detergent
Fabric Softener
Stain Remover
Dryer sheets or dryer balls
Home dry cleaning sheets
An Iron
A Clothing Steamer
Lighting
A bright overhead light in the laundry room should be sufficient for most people, but if you know you have bad eyesight, think about installing task lighting on countertops, or under shelves. You want to be sure you can spot stains on items easily! You should also consider lower lighting to make sure you get everything out of the washing and drying machines after you use them.
Decor
Don't forget to give your laundry room some personality. Choose a fun wallpaper or hang some interesting signs to give it some life. We all know that doing laundry isn't the most enjoyable of tasks, so do what you can to make the room cheerful. You could even install a small TV to have something to listen to or watch as you do your laundry!
Lastly, be sure to follow our Laundry Room Pinterest board for more laundry room design and decorating tips.
Happy laundry room curating!