Ever wonder why there are so many different house styles across the United States? America has myriad house styles because of its diverse geography and varied population. The country has been shaped by immigrants and settlers from all over the world, and each of these groups brought their own style of architecture with them.
For example, the French introduced the Colonial style of architecture, while Spanish settlers brought the Mediterranean style. As Americans moved westward and settled in different areas, they adapted their house styles to fit the changing environment.
The most popular house style in the United States is the Colonial style. This style was introduced by the French settlers and has remained popular throughout the years. It is characterized by its symmetrical shape, two-story construction, and simple lines. The Colonial style is often associated with the traditional American dream, and it is a popular choice for many new home buyers.
Keep reading to discover all the most common American house styles to choose from!
Ranch
The Ranch house style is one of the most recognizable house styles found in America. Ranch-style homes are single-story houses that have a simple, rectangular shape. They are usually found in suburban areas, and they are popular for their spaciousness and easy-to-maintain design. Many senior citizens or those with mobility issues prefer ranch-style homes so they don't have to climb stairs.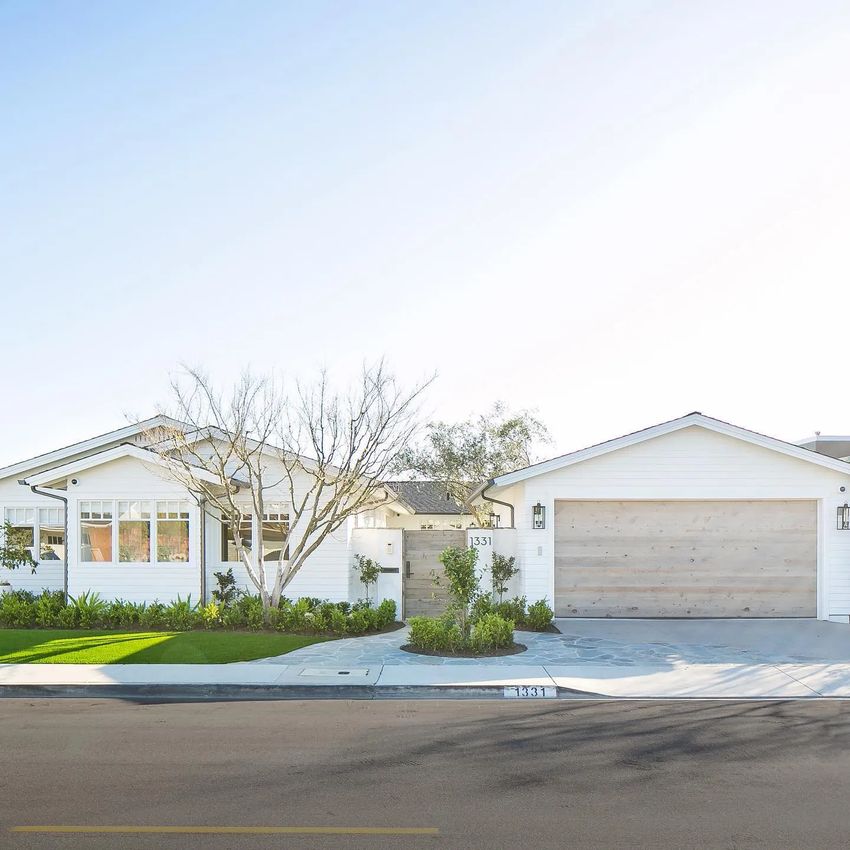 Ranches are characterized by having one level, a low-pitched roof, and an open floor plan. Ranch houses are often asymmetrical in shape, with large windows and sliding glass doors leading to the backyard. They have a simple and modern aesthetic, which allows for easy customization and personalization.
The open floor plans make them ideal for entertaining, and the single-story layout allows for easy access to the outdoors. Ranch houses also tend to be energy efficient, with extra insulation and natural light to help reduce energy costs.
Colonial
The Colonial American house style found in the USA is characterized by its symmetrical design, two-story frame, and simple but elegant lines. This style of home was popularized in the early 1600s and is an iconic part of American history. These houses are mainly found in the northeastern part of the United States, as well as in parts of the mid-Atlantic region, the Midwest, and some areas of the South. Colonial houses are designed inside in the traditional European-style home decor.
Colonial houses are usually constructed with brick or wood, and they likely have shutters and a central chimney. Architectural features of Colonial homes include a wide front entrance, a central hall, and windows that are evenly spaced and divided into small panes. The steeply pitched roof, prominent chimney, and shuttered windows provide a classic Colonial look.
Colonial homes are renowned for their warmth and comfortable feel, which makes them ideal for families looking for a cozy atmosphere. The timeless style and classic features of Colonial homes make them a popular choice for homebuyers looking for a traditional yet inviting home.
Townhouse
The Townhouse home style is a popular form of housing that is found in many cities and towns across the United States. Historically, these houses belonged to wealthy families who maintained a primary residence in the countryside and stayed in the townhouse for trips to the city.
A townhouse is a row house that is attached to other houses on either side. Townhouses are typically two or three stories tall, with either a partial or full basement. Townhouses are usually located in urban areas, and they are standard for people who want to live in the city, without living in a high-rise.
They often have a symmetrical shape, with a front door in the center and two windows on either side. Townhouses have a shared wall with the neighboring house and are typically found in densely populated urban areas like Brooklyn, New York.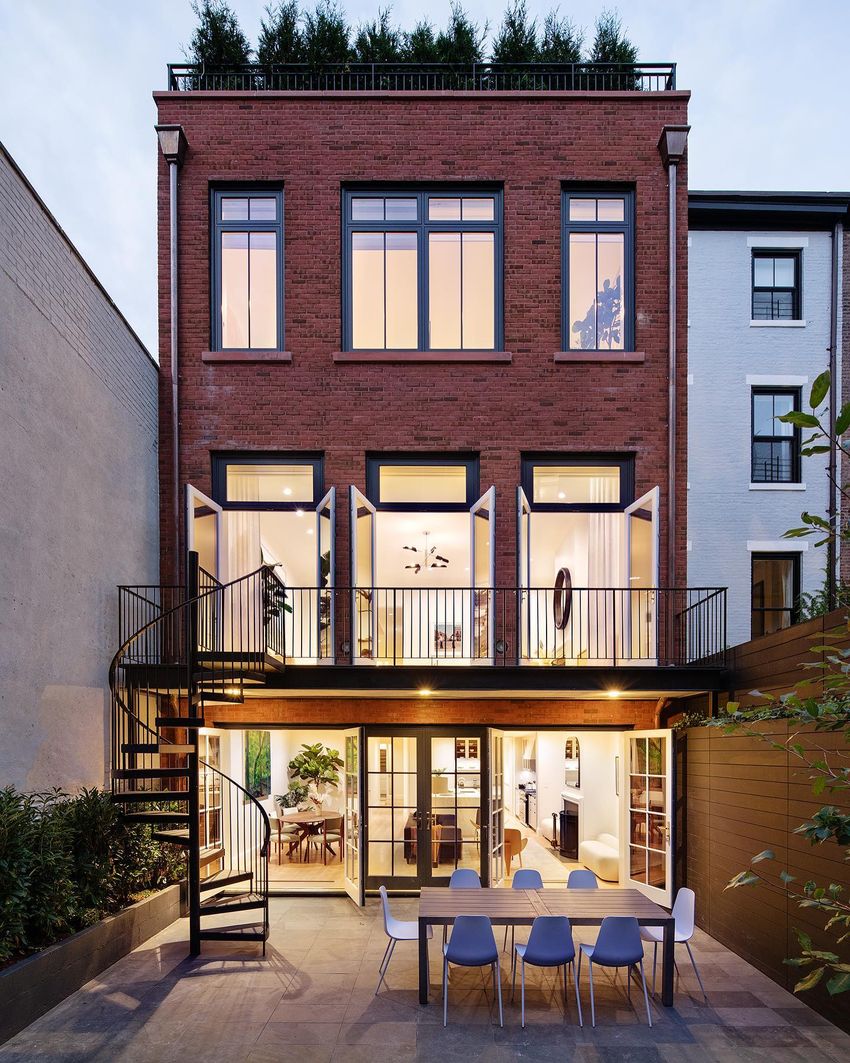 Townhouses are great for getting the benefits of a house but with less of the associated lawn and landscaping maintenance. They offer a sense of privacy not found in apartment buildings, yet the neighborly proximity provides a sense of community.
Townhouses provide a great opportunity for communal living, as the closeness makes it easy to create relationships with neighbors. They sometimes have access to community amenities, too, such as pools and parks, which make them fantastic for families.
Cottage
Cottages are small, quaint houses that are often found in rural areas. These homes are typically produced with stone or wood, and they might have a thatched roof.
The Cottage house style is a popular English style of home found throughout the United States. These homes typically feature a single-story, asymmetrical design, with a low-pitched roof, often with dormers, and a front porch. The walls are typically made of clapboard or shingle siding, with shuttered windows, often with a bay window in the front.
The interior of Cottage homes is often designed in an open floor plan, with a large central living area, combined with a kitchen and dining area.
Cottage house styles are seen particularly in older neighborhoods and rural areas. These homes are often more affordable than other styles of homes, making them a popular choice for first-time buyers.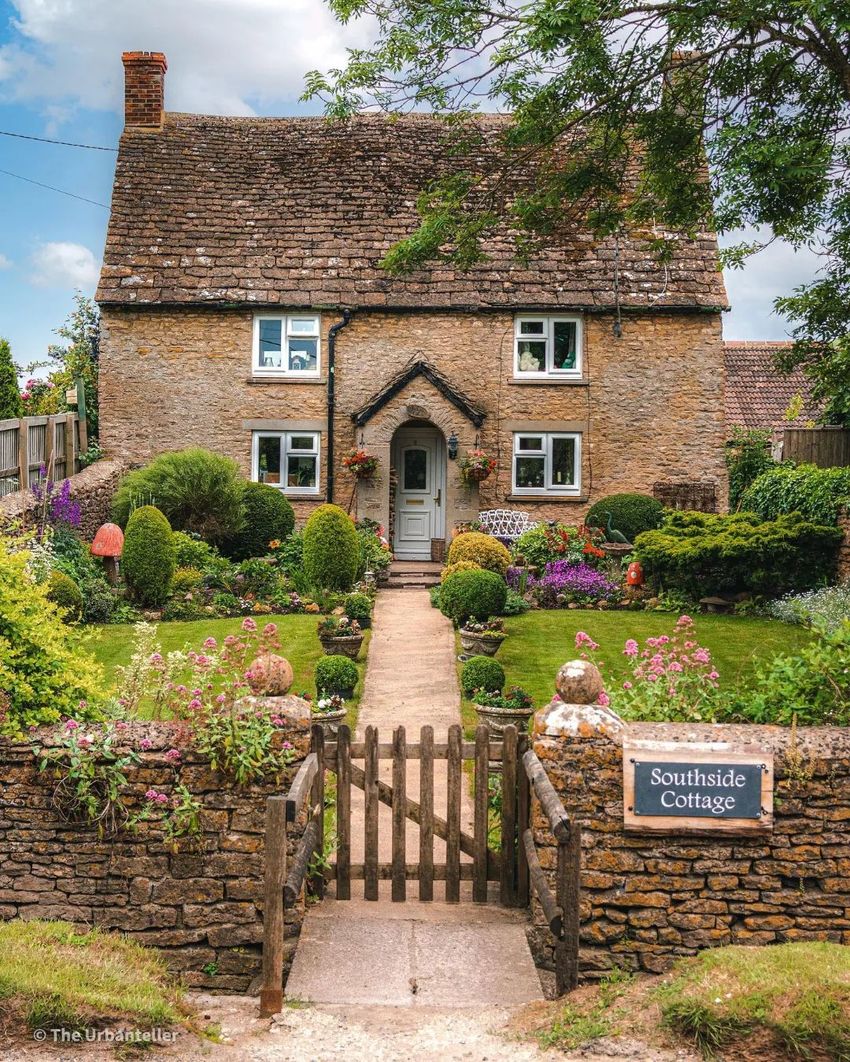 Cottage house styles make great homes due to their welcoming look and feel. The single-story design makes them easy to maintain and is ideal for families with small children. The use of natural materials like wood and stone also makes them highly energy-efficient, and their small size makes them a great option for downsizing. Their unique style gives them a cozy, homey atmosphere.
Victorian
Victorian houses are known for their ornate design and grandeur. Victorian homes are often built with brick or stone. They often have visible turrets and bay windows. These homes are also associated with Queen Anne homes.
Victorian houses are a popular style in America for their elaborate and intricate designs. These homes are constructed with a variety of materials, including wood, stone, and brick, and they feature intricate architectural details, such as turrets, spires, and decorative trim. Victorian houses are often found in the Northeastern United States, though they can be found in other regions as well.
Victorian houses make for excellent homes because of their timeless style and intricate details. They are often built with materials that are designed to last for decades, if not centuries. The intricate details, such as the spires, turrets, and trim, give the house a unique and beautiful appearance that is sure to stand the test of time.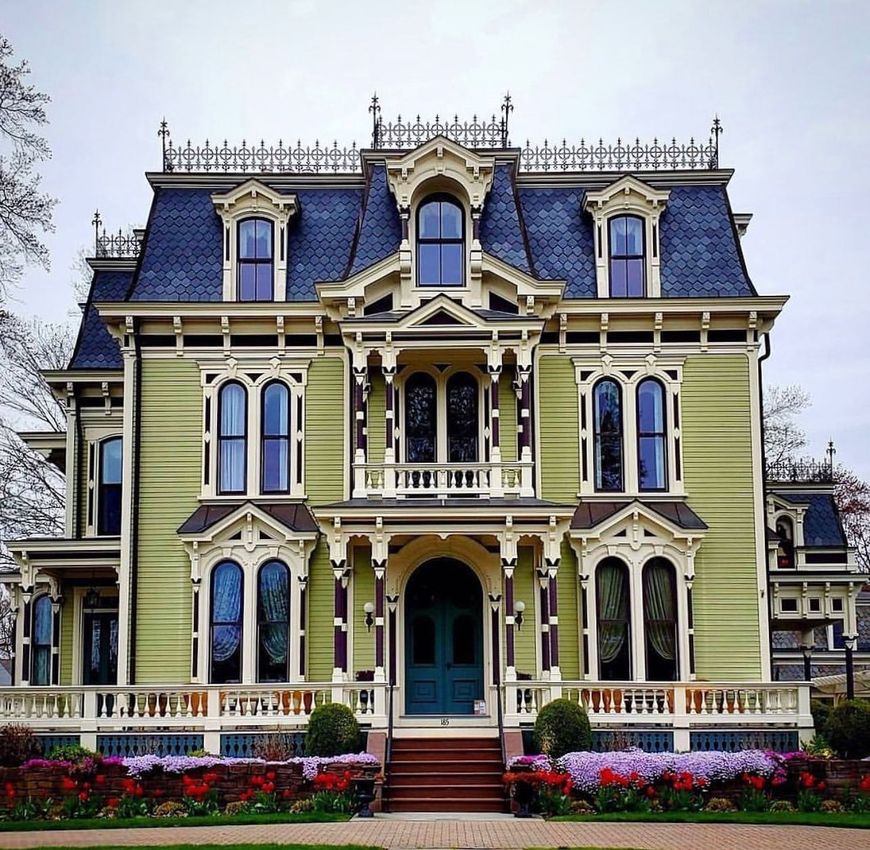 Victorian houses are also highly functional, as they often have large, open floor plans with plenty of space for entertaining. Many of these homes also feature original features, such as fireplaces and pocket doors, that can add a unique touch to any home. The unique style of these homes also makes them highly sought-after by buyers, as they can add a touch of elegance and sophistication to any neighborhood.
Georgian
Visually, Georgian houses have stunning symmetry and balance. Georgian homes are usually created with brick or stone, and they almost always have beautiful elements like Palladian windows and columned porches.
The Georgian house style is found all over the US, particularly in the northeastern states, with many examples of historic Georgian homes in the states of Delaware, Maryland, Massachusetts, New York, Virginia, and Connecticut. Recently, the style has become popular in other parts of the US, such as California and the southern states.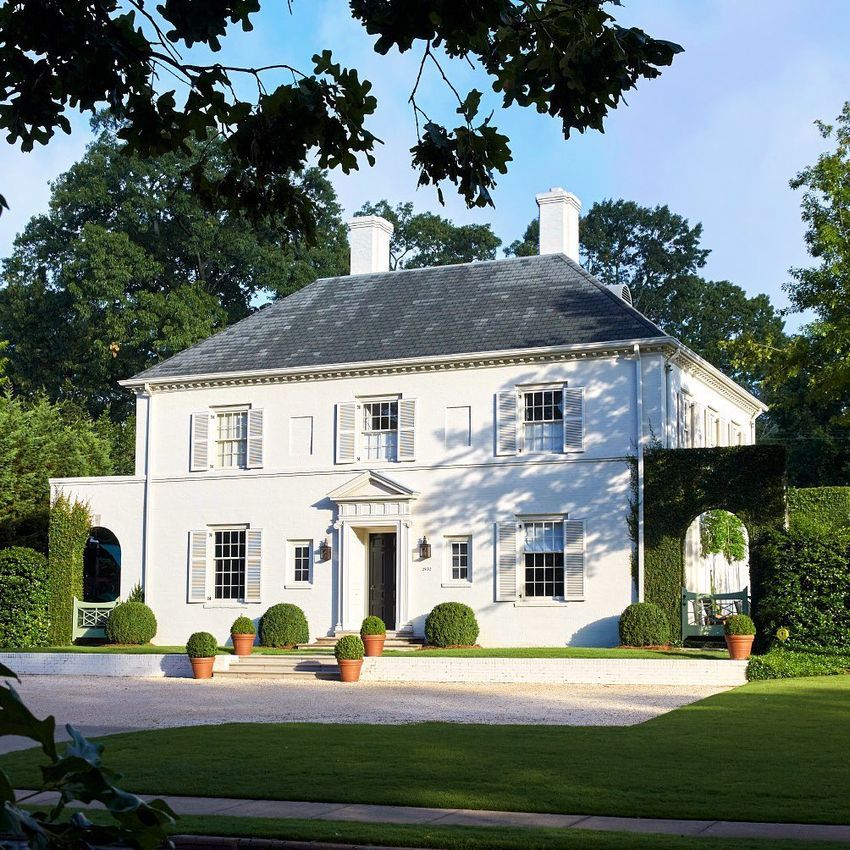 The American Georgian house style is a traditional, symmetrical, and classically designed home. The classic look of a Georgian house is characterized by two stories with a symmetrical facade, a low-pitched gable roof, dormer windows, and a centered door with a pediment. Construction materials typically used for these houses are brick and wood, with roofing materials such as slate or asphalt. The interior often consists of a large hallway with a grand staircase, as well as a formal dining room, living room, and library.
Georgian style houses make great homes because of their traditional and timeless design. Their symmetrical structure gives them a sense of balance and stability, and their large windows and large doors give them an airy and inviting feel. The high-quality construction materials used for these houses also make them durable. Their elegant and classic design gives them a timeless appeal and strong resale value.
Tudor
The Tudor house style, also known as the Tudor Revival, is a popular architectural style found in many American homes. It is characterized by a steeply pitched roof, large exposed timbers, and decorative half-timbering. These homes are constructed from brick, stone, or stucco, and often have large, arched windows and doors. They are usually found in the northeastern and midwestern regions of the United States and are particularly prevalent in the suburbs of large cities.
Tudor houses are often described by their half-timbered design. Tudor homes are usually built using materials like brick or stone and have features like leaded glass windows and decorative chimneys.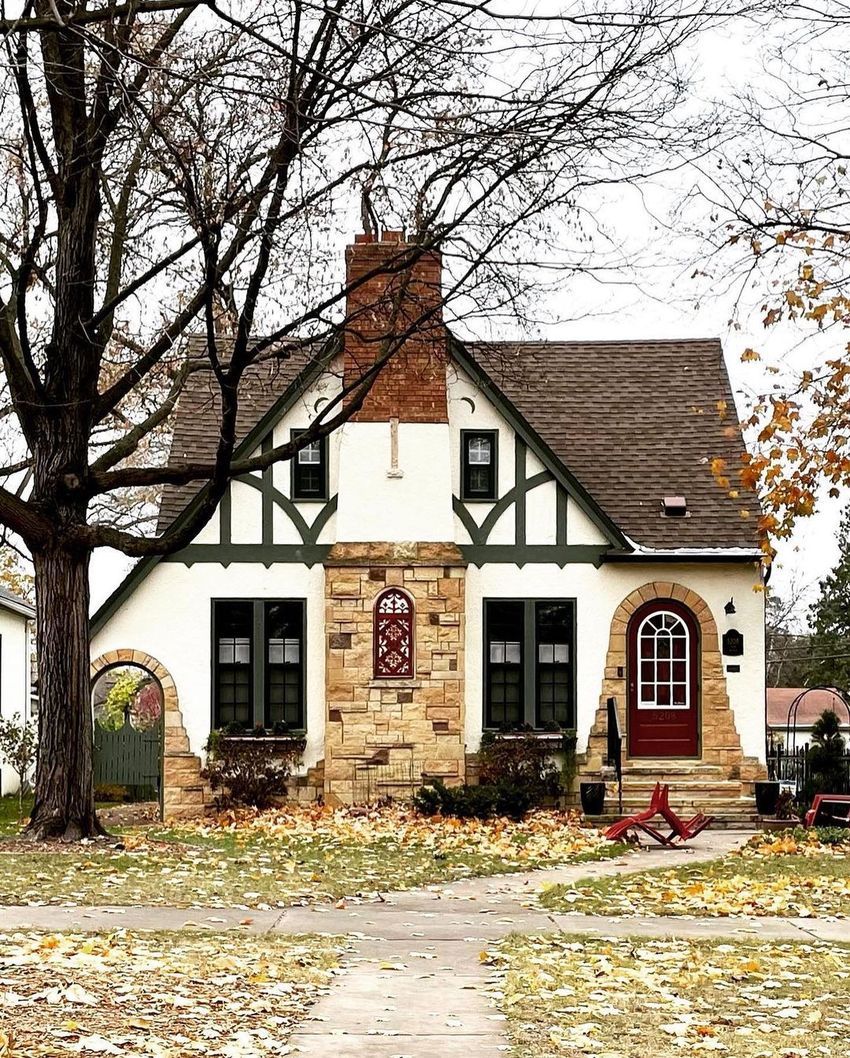 Tudor houses are known for their classic charm and character. They often have a large, open floor plan, with large common spaces like the living room, dining room, and kitchen. They also often have large, stately bedrooms and bathrooms, as well as cozy nooks and crannies. In addition, Tudors often feature high ceilings and large windows, allowing ample natural light to enter the house.
With their thick walls, they are able to provide good insulation against cold winters and hot summers. They also tend to be quite airtight, which helps to keep the interior temperature regulated. This, combined with the elevated ceilings and big windows, makes these homes ideal to save on energy costs. The Tudor house style is best for a classic, charming, and energy-efficient home.
Craftsman
Craftsman style homes are recognized for their simple, handcrafted design. These houses are usually made of wood, and they often show features like exposed beams and large porches.
Craftsman houses are one of the beloved house styles in America, mainly in the western and southeastern United States. They make use of natural materials such as wood, stone, and brick.
Craftsman architectural features include a low-pitched roof with a wide overhang, exposed rafters and beams, and large porches with tapered columns. They also typically have a large central dormer window, and large windows and doors to let in plenty of natural light.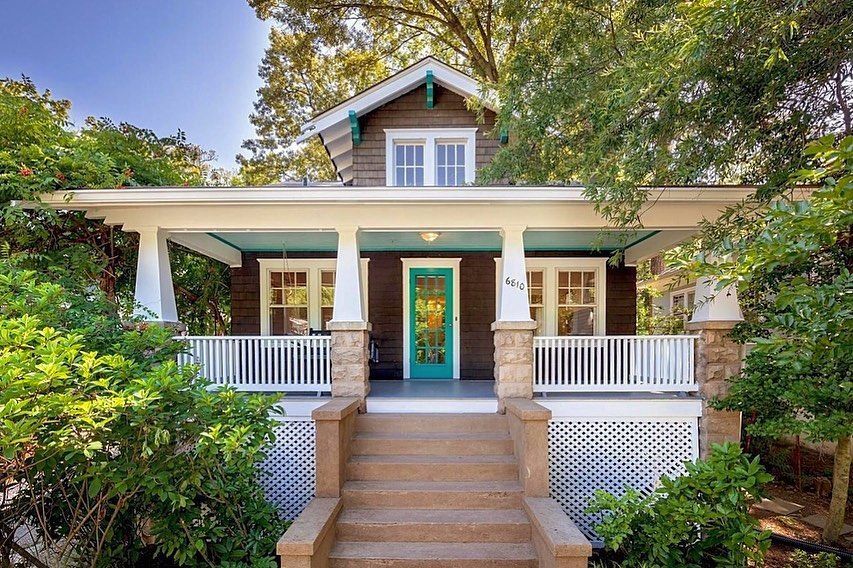 The construction materials used in Craftsman houses are typically natural materials such as stone, brick, and wood. The use of these materials helps to create an aesthetically pleasing look and an inviting atmosphere. Moreover, these materials are also very durable and energy efficient.
Federal
Federal style homes have a formal design. They are often more ornate than Colonial homes. They often have aesthetically pleasing elements like symmetrical windows and columns.
The Federal house style is a style of residential architecture that originated in the United States in the late 18th century, after the Revolutionary War. These houses are typically characterized by their symmetrical, boxy shape, two stories, and columned front porches.
The construction materials used are usually brick, wood, or stone, and the roofs typically feature a low pitch. Federal houses usually feature a central hall that runs the length of the house, as well as tall windows and shutters.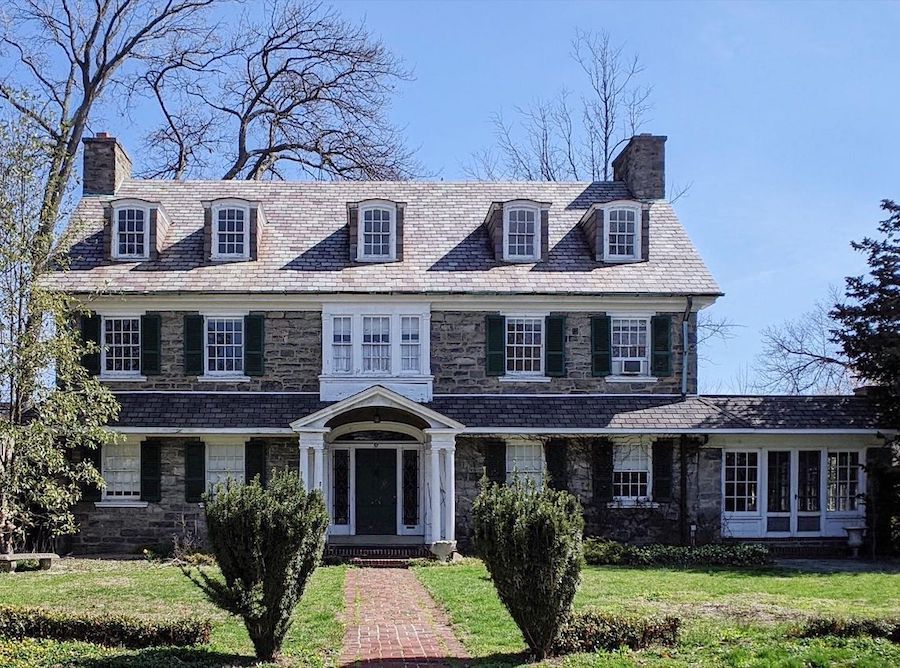 Federal houses are typically found in the Northeastern United States, especially in the suburbs of historical cities like Philadelphia and Boston. Their symmetrical design brings balance and harmony to the house. The tall windows also allow plenty of natural light to fill the rooms. The central hall makes it easy to move from one room to another without having to go outside. Low-pitched roofs and columns create an elegant and timeless look that is perfect for any home.
Italianate
Inspired by the Italian Renaissance, Italianate houses are ornate homes found in America. They tend to be very tall with slightly sloping roofs. The Italianate house style is a popular and sought-after home style in the United States. This style of house was introduced in the mid-1800s and is often associated with being a "Victorian" style of architecture. The style originated in Britain before making its way across the Atlantic.
Italianate homes feature tall ceilings, large windows, and intricate details such as ornamented brackets and balustrades. These homes are typically constructed of brick and are characterized by their tall and boxy shape. The roof lines of Italianate homes are typically flat, with wide eaves and decorative brackets. The windows are arched, often with shutters.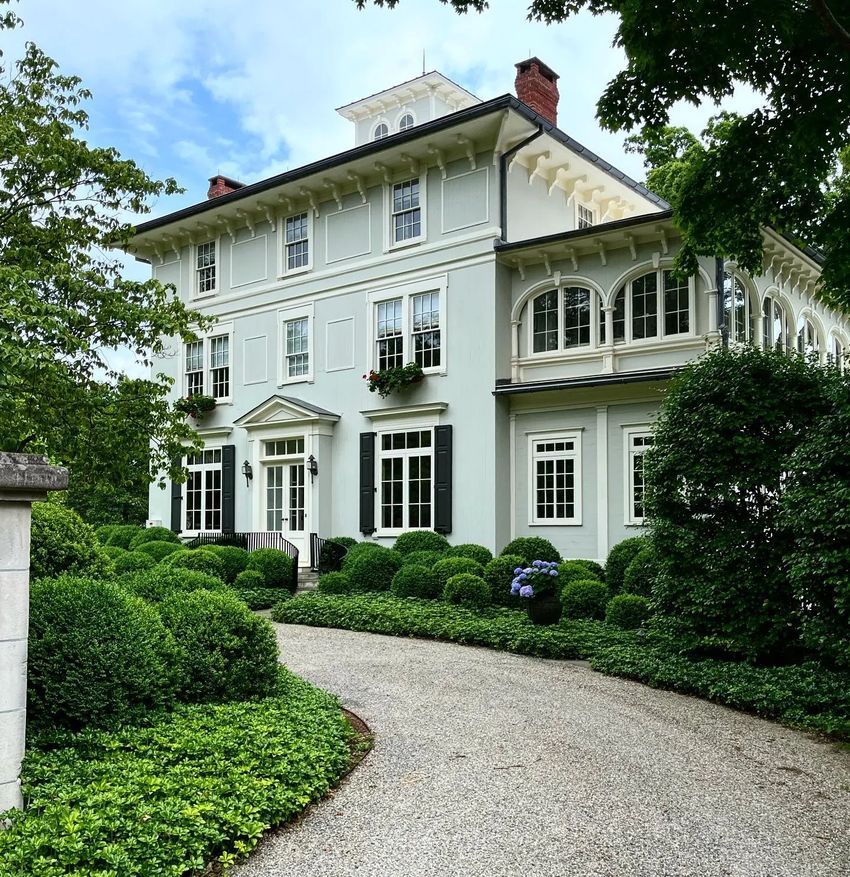 Italianate houses can be found in almost every region of the United States, though they are more common in the Midwest and Northeast. These types of American houses remain in style thanks to their classic look, spaciousness, and flexible design. The interior of an Italianate home typically features large open spaces, tall ceilings, and large windows, which allow for plenty of natural light. The exterior design of these homes is also very pleasing, with a variety of eye-catching architectural details. Italianate houses are typically built to last, making them great forever homes!
Neoclassical
Neoclassical style homes are characterized by their grandeur and symmetry. The Neoclassical house style is a popular choice in the United States. These stately homes are often constructed using brick and stone, with a symmetrical design that features Corinthian columns, pediments, and large windows.
The style is derived from the classic Greek and Roman architecture, and its popularity has remained strong throughout the years. These houses are usually found in the more affluent neighborhoods of major cities, as well as in smaller towns and rural areas.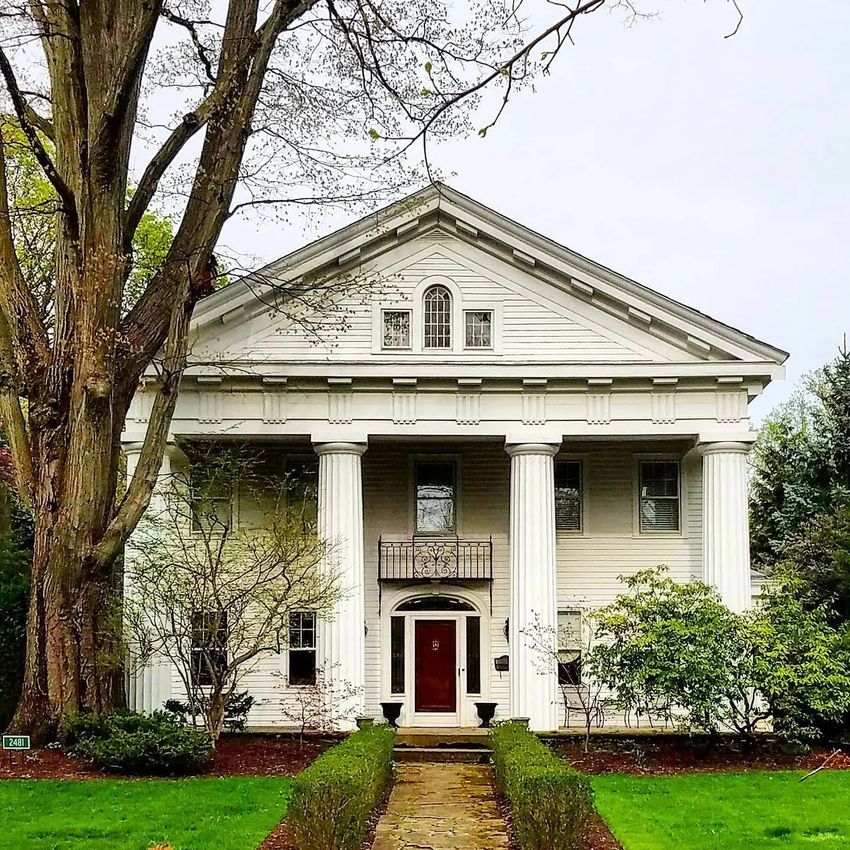 The Neoclassical house style is characterized by its grandeur, often featuring a two-story front porch with columns and a pediment over the entranceway. The interior of these houses is typically very spacious, with high ceilings, elaborate moldings, and ornate fireplaces.
These homes are also well-insulated and airtight, making them comfortable to live in. With their timeless style and superior construction, Neoclassical homes make excellent homes for families of all sizes. They're homes that will stay with you for generations!
French Provincial
The French Provincial house style seen in America is an elegant, symmetrical style of architecture characterized by high-pitched roofs, large windows, and an overall grandiose feel. These houses are often made from brick or stucco and feature a central door flanked by two windows on either side.
The roof is typically made of slate or terra-cotta tiles and is often steeply pitched with two stories of windows. Outside, French Provincial houses often feature large balconies and porches, as well as a variety of decorative elements such as shutters, ornamental moldings, and wrought-iron balconies.
French Provincial houses exist around the United States, but their most prominent locations are in the southern states such as Louisiana, Texas, and Mississippi. These homes offer a certain elegance and charm that is not found in other styles of architecture.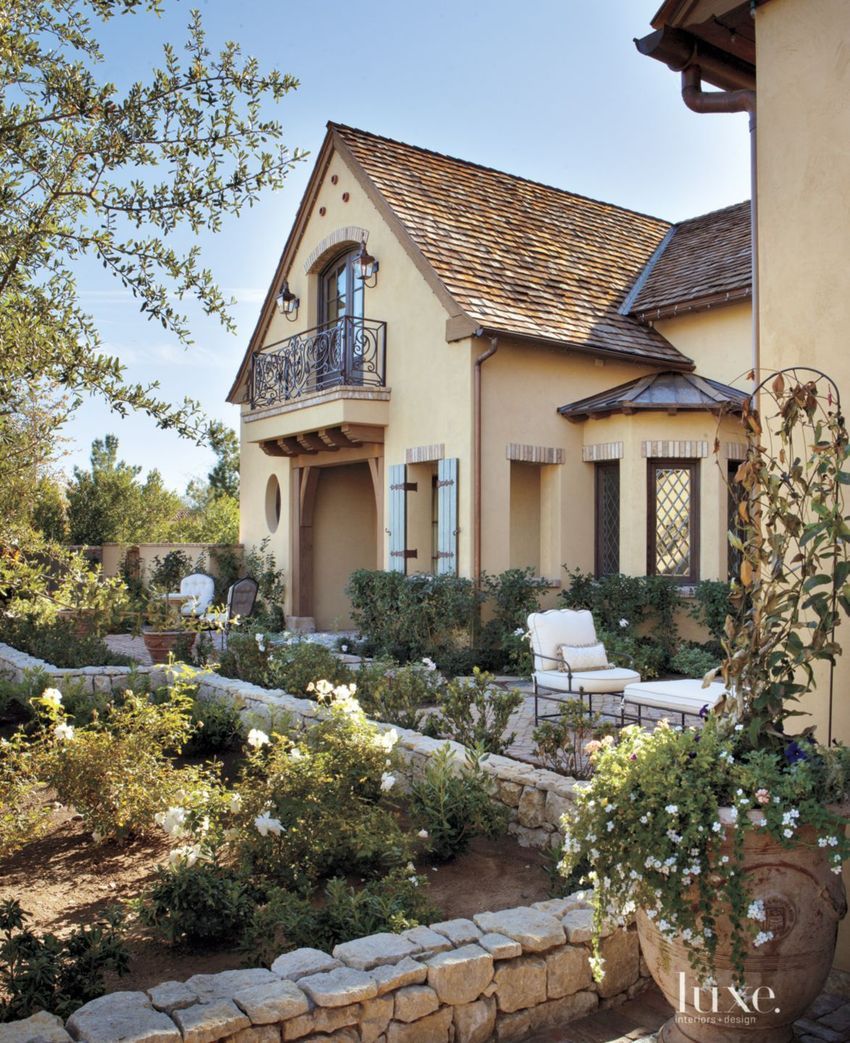 Many people are drawn to the sophisticated French Provincial style for their own house design. French provincial houses have interior features like carved moldings and arched doorways. The large windows, stone fireplaces, and ornate millwork elements give the home a luxurious and inviting feel. The French Provincial style is perfect for entertaining and can easily accommodate large family gatherings and other social events.
Spanish Mediterranean
The Spanish Mediterranean house style encountered in America is a combination of Southern European and Mediterranean influences, featuring clay tile roofs, stucco exteriors, and arched windows. The style was very popular in the early 20th century and is still present throughout the United States today.
Construction materials typically include adobe bricks, stone, and timber, with an emphasis on creating an inviting atmosphere with open courtyards, terraces, and gardens. Spanish Mediterranean architectural features often include wrought-iron balconies, terraces, courtyards, and porticos, as well as curved windows, shutters, and ornate detailing.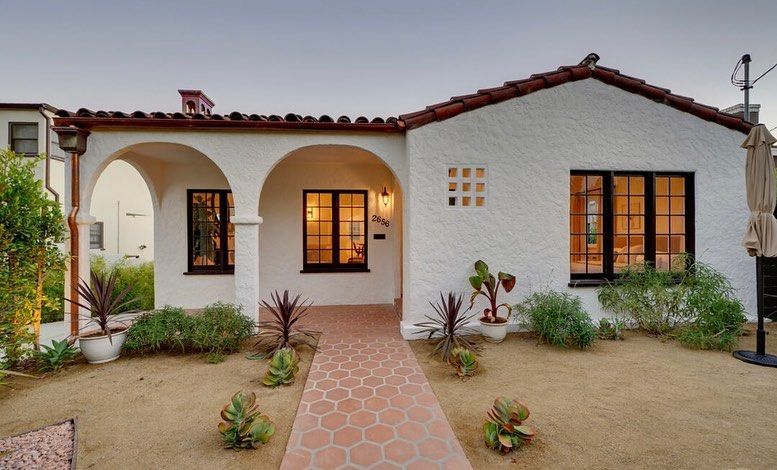 These houses are most commonly found in the southwest Hispanic states such as Arizona, California, New Mexico, and Texas, but also in other areas of the country, such as Florida and even New York. These houses have a strong connection to nature. They also provide plenty of natural light, which helps to create a sense of well-being. Spanish-style Mediterranean houses are one of the most beloved American house styles.
Bungalow
The Bungalow house style is an iconic American house style found in many places throughout the United States. Bungalows are typically one or one-and-a-half-story homes with low-pitched roofs and shallow foundations.
The exterior walls are usually made of wood frame construction, although brick and stone exteriors can also be found. Bungalows are known for their wide, inviting front porches, often with tapered box columns and exposed rafter tails. Other defining features of Bungalows include deep eaves, wide overhanging eaves, and grouped windows.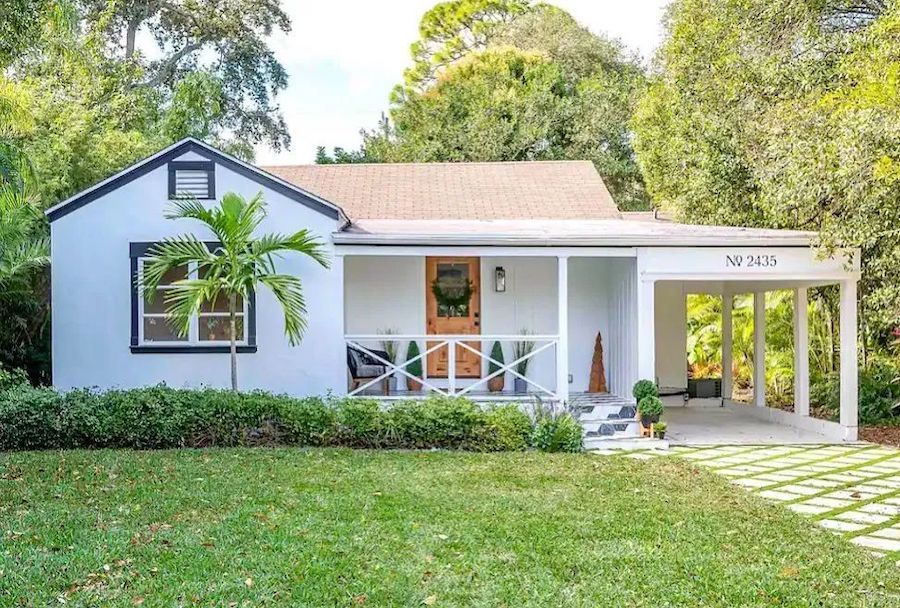 Bungalows are popular in many places in America, particularly in the Midwest and California. They are often found in suburban neighborhoods and small towns, where their simple charm and quaintness provide a sense of home. Bungalows are also popular choices for vacation homes and retirement homes, due to their cozy feel and relatively low maintenance needs.
With their small size, open floor plans, and inviting porches, Bungalows make excellent starter homes. The interior walls of a bungalow may be finished in either plaster or drywall. Their simple layouts and use of basic materials make them cost-effective, making them an ideal choice for first-time homebuyers or those looking for a budget-friendly home.
Dutch Colonial
The Dutch Colonial house style in America is a popular home that is characterized by its gambrel roof, which is a sloped roof with two sides on each side. These roofs were typically made from wood shingles and often included dormer windows at the top. The exterior walls were usually two stories and were constructed from wood, brick, stone, or stucco. A Dutch front door is often found on a Dutch Colonial home.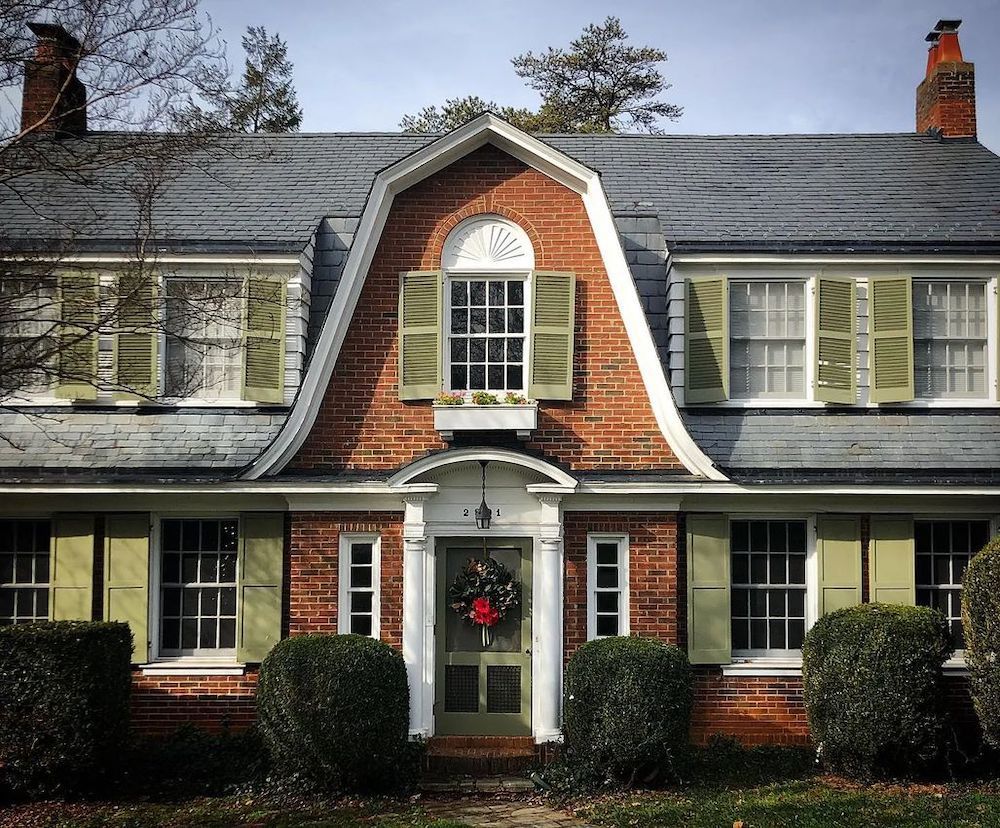 The Dutch Colonial style homes are found mostly in the eastern US, from Maine to Pennsylvania as well as in Illinois and Michigan. These homes are popular for their traditional look and for their durability, as well as their ability to stand up to harsh climates. The gambrel roof allows for more space in the attic, where you could add a bedroom or office. The brick or stucco walls are easy to maintain and provide good insulation.
Gothic Revival
The Gothic Revival house style is distinguished by its steeply pitched roofs, tall windows, and prominent chimneys. This style of home is often constructed with brick, stone, and wood materials, creating a traditional yet timeless feel.
Gothic Revival homes can be found across the country in a variety of climates, and are often surrounded by lush green gardens and tall trees. They feature intricate details such as pointed arches and ornate decorations, as well as more subtle touches like bay windows and projecting gables. Gothic Revival style homes have cool features like turrets and arched windows.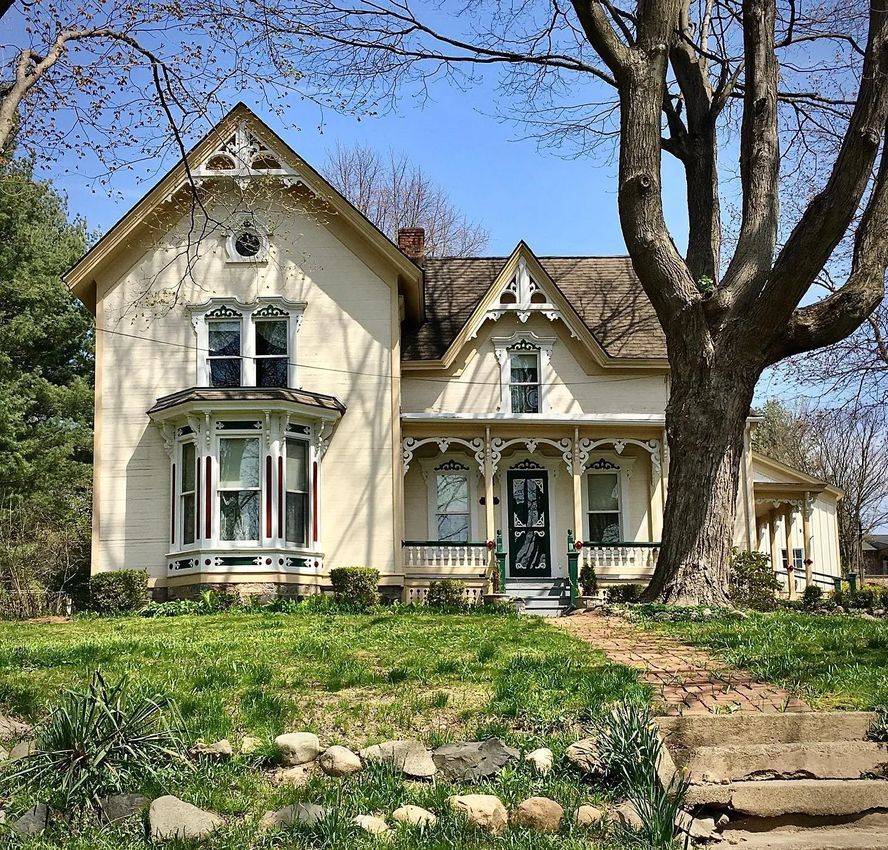 Gothic Revival homes are incredibly versatile and can fit into various lifestyles. They are well-suited to larger families due to their spacious layouts, and their classic design lends itself to a wide range of decorating choices. Many of these homes feature wrap-around porches, making them perfect for relaxing summer evenings. The steeply pitched roofs are a great way to keep the house cool in the summer, and the heavy materials used in construction make them highly durable.
Greek Revival
The Greek Revival house style often has a symmetrical shape and two-story design, and uses traditional Greek elements such as columns, pediments, and entablatures. Although this style of architecture is typically associated with the American South, it can be found in many other regions of the United States as well.
The houses are usually constructed of brick or wood, with clapboard siding and classical detailing. They have large porches, often with columns and a central pediment. The interior of the house usually has high ceilings, large windows, and an open floor plan.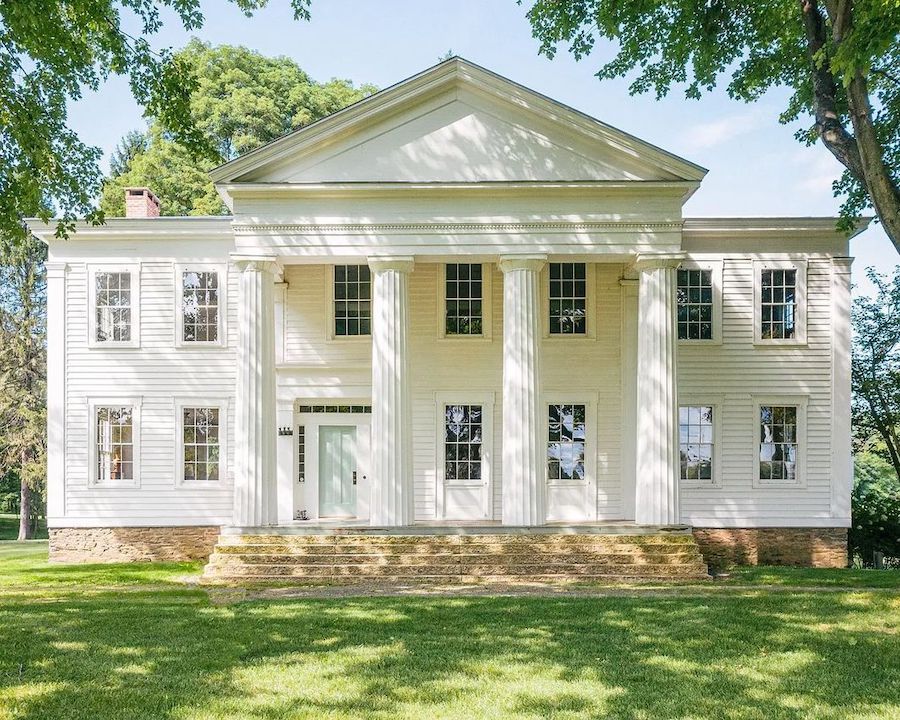 Greek Revival houses make excellent homes, due to their combination of aesthetic appeal and practical design. They are energy efficient and provide a great deal of natural light. The large porches make them great for entertaining guests, and their traditional style makes them timelessly beautiful.
The Greek Revival style can be seen in the historic plantation homes of the South or the coastal cottages of the Northeast. They are ideal for anyone looking for a classic American home with a strong sense of style and elegance.
Prairie
The Prairie house style, found in America, is a type of architecture that was popular from the late 1890s through the 1920s. Prairie houses are located throughout the United States, but they are particularly common in the flatlands of the Midwest. Frank Lloyd Wright was the architect most associated with this style of house.
Prairie houses are characterized by low-pitched roofs, wide overhanging eaves, and strong horizontal lines. The walls are usually made of brick, stone, or stucco and the roofs are typically asphalt or wood shingles. These houses have medium-sized casement windows and open floor plans. They often have a central chimney, and the rooms are organized around the chimney. The houses are typically one or two stories high and have wide, inviting front porches.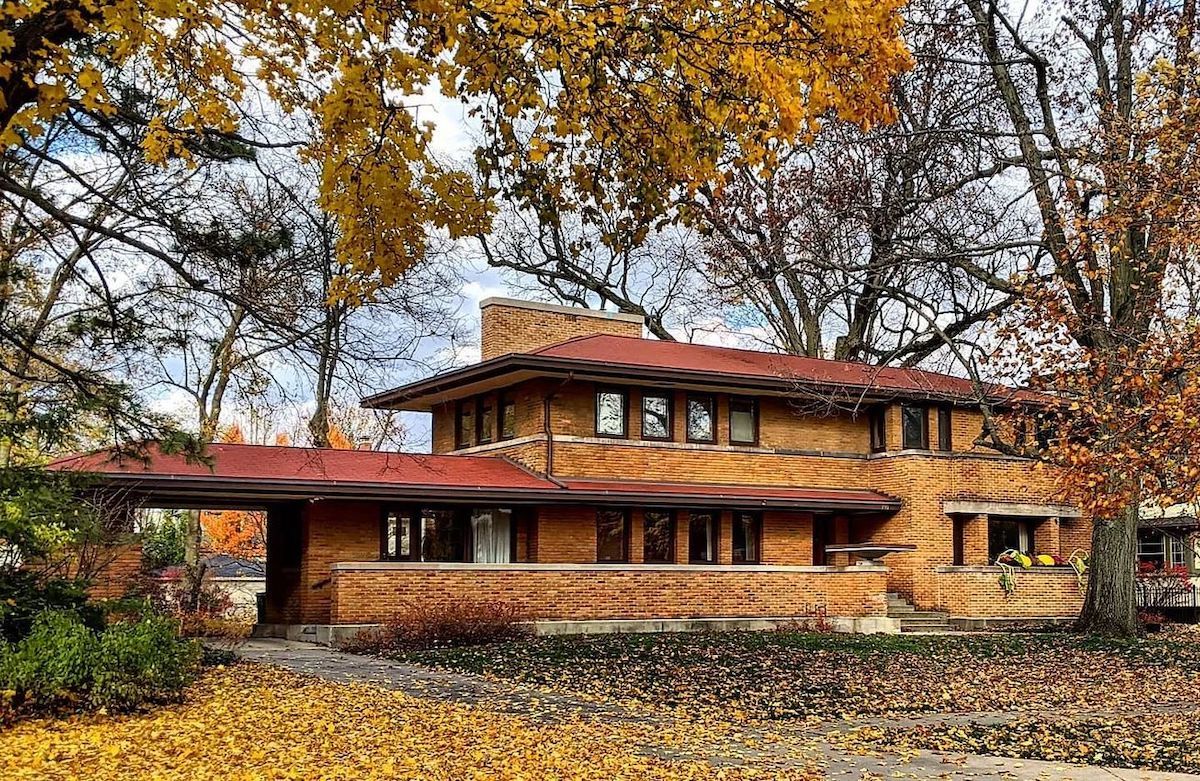 Prairie houses are known for their strong sense of craftsmanship and attention to detail. Prairie houses have a distinct look. They are also designed for comfort and convenience, with their spacious floor plans. Prairie houses are beloved for their large interior spaces rather than aesthetic appeal.
Contemporary
Contemporary style houses are known for their clean, simple lines and lack of ornamentation. These post-modern style homes have clean lines and minimal design.
The Contemporary house style found in America is characterized by simple, rectilinear designs, open floor plans, and large windows. This style originated in the 1950s and gained popularity in the 1960s and 70s, becoming a mainstream style due to its modern aesthetic. These houses often feature flat or low-pitched roofs and are typically located in urban areas, such as cities and suburban developments.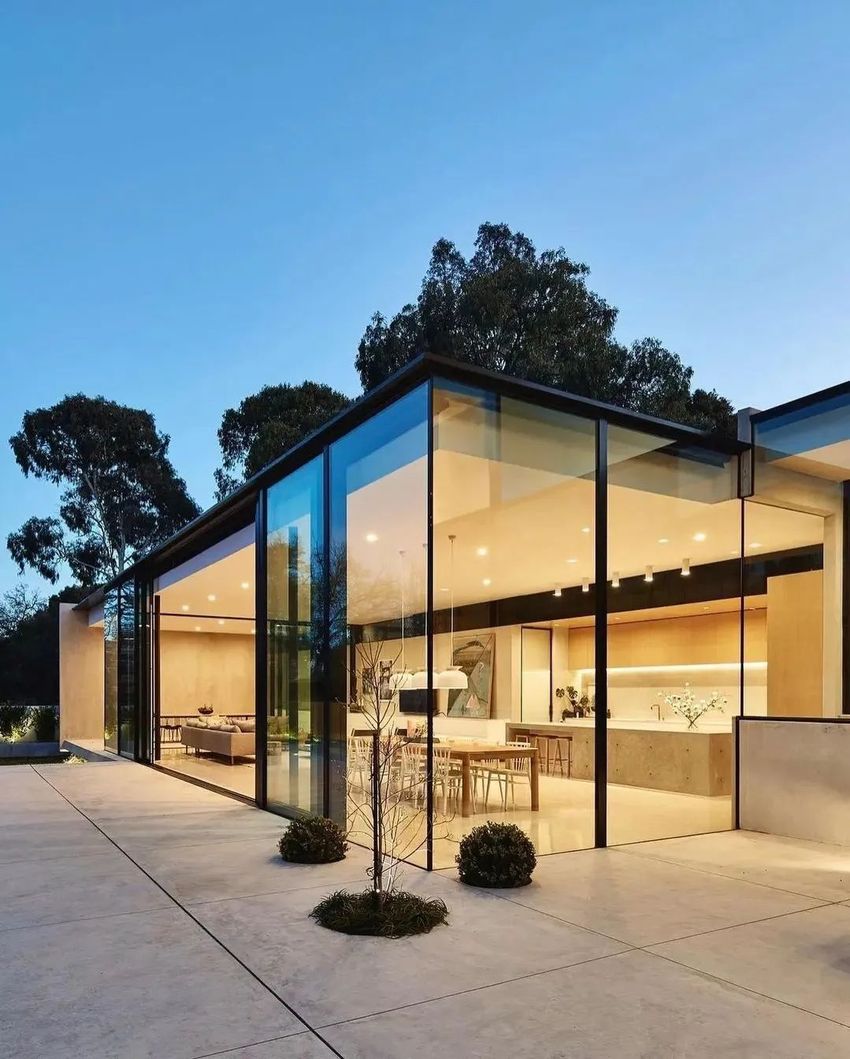 Contemporary houses utilize a variety of construction materials such as wood, steel, and concrete. They are often characterized by large windows, asymmetrical designs, and open floor plans. Other features include skylights, high ceilings, and glass walls to connect the interior to the outdoors.
Contemporary houses often feature landscaping features such as terraces and decks. These houses are designed to maximize natural light, and create a sense of openness and airiness. These homes are often designed with large windows and open floor plans that make the most of natural light. Contemporary style homes are also known for using sustainable and eco-friendly materials.
---
As you can see, in America, there are a large variety of different types of houses. From the traditional single-family house to the more modern condominiums, the options are endless.
Single-family homes are the most popular type of housing in the United States, usually consisting of a two-story house with a yard. Townhomes are another popular option, as they provide a more private living space than an apartment but still feature shared walls with other units. Apartments and condominiums are also common in urban areas, with apartments usually rented and condominiums being owned. Other types of housing in America include manufactured homes, mobile homes, and duplexes.
There are so many house styles and design styles found in America that it can be hard to keep track of them all! I hope you enjoyed this guide to several of the most common American house styles, along with their key architectural features.