If you want to create a beautiful gallery wall with different photos, drawings, and paintings, then you're going to need a good set of gallery wall frames.
Today we're going to share the best places to buy beautiful frames that can be used to curate the perfect gallery wall in your home!
Gallery wall art is actually a historical approach to wall decor. Centuries ago in Europe, wealthy homeowners would arrange their paintings on the wall in a collage so that each painting fit in like a puzzle.
You can use this look in your home using a collage of picture frames that can make your walls look like a European art gallery, too. There are many different styles and there is a look that fits everyone's idea of beauty. This traditional way of displaying artwork can be personalized to make a statement in your home.
Sometimes gallery wall art tends to make a room look cluttered or take away from the style of furniture or other decorations. The key to making the room look great is to find a balance. Get some art ideas for the home right here.
Gallery Wall Frames
You can purchase gallery wall frames as a set or individually.
You may want to mix different colors and materials. You can order black gallery wall frames, or gold, white or wood ones. These are the most common gallery wall frame colors.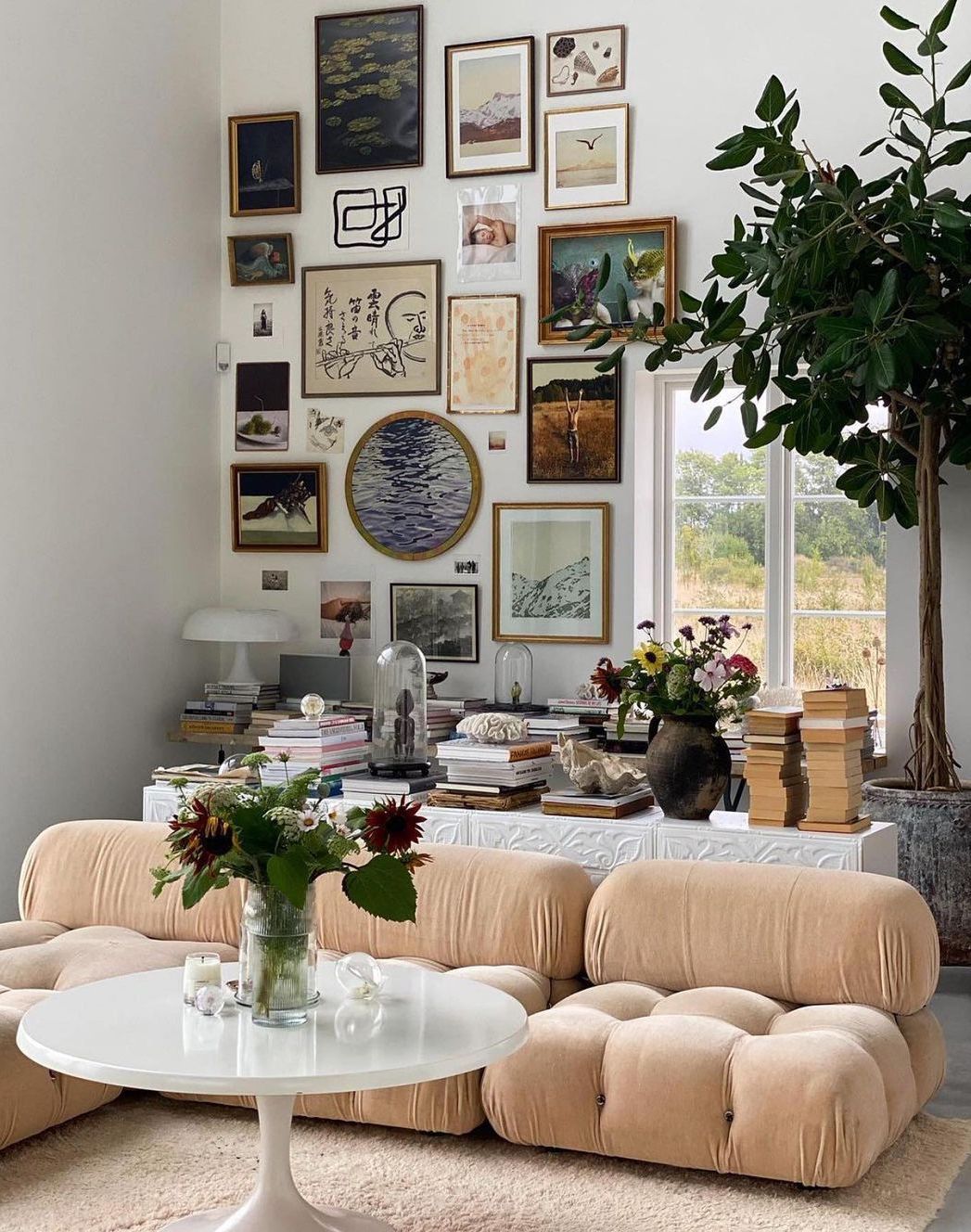 Mixed gallery wall frames in gallery wall art sets are where the frames are purposely mismatched. This changes the elegant, modern look into a more personal look that makes the art really pop. Although different color gallery wall frames can make a new look, one part on a gallery should be consistent for it to stay "put together" such as the size of frames, the colors, etc. Often, two colors are used in gallery wall art. A popular choice of colors is black and gold. The color really depends on how the frames will be arranged, and some styles need the same color and size to make the arrangement work.
Gallery wall art sizes vary often. Some people use all one size or two sizes. There is really no way of doing it wrong, it is about personalization and personal tastes. Not everyone likes the same thing, so it is important that people find what they like. The most popular frame sizes are 4×6 and 8×10.
The frames chosen mostly depend on how big the wall is that they will be going on. For example, if you have wall space between two windows, measure the area to determine how big and how many frames to buy.
The size of the wall can vary. Whether you want an entire wall or just a small section, there are many choices for arrangements to perfectly fit your needs.
Gallery wall art arrangement is where it gets tricky because there are so many options. The most popular arrangements are grid, asymmetrical, triple frame, and layered. Grid-style gallery wall art gives a sense of order and elegance. The idea of the grid is to keep the art even and level. The same style and size of the frame are used to create a square that is typically 3×3 or 4×4.
Asymmetrical wall art is the most popular as it is the easiest to create. There is no pattern or style that is required for the gallery wall art, so decorators can mix and match whatever they choose. Triple frame is just as it sounds: three frames. This look can be either horizontal or vertical, and it outlines a display of harmony. An example of this can be three degrees hung together in an office.
Layered style gallery walls are more complicated as they take more planning. If a decorator is going for a more dramatic look, this style is perfect. The idea is to have gallery wall frames layered over each other for a dimensional look.
More Art Ideas
Get inspired by these related art home decor ideas below: