For most people, winter is tough. The cold weather can put a damper on our mood and force us to stay inside more often than we'd like. If you live in a place with brutally cold winters, it's important to make your home as cozy as it can be to cheer yourself up. Winter depression is real, and these ideas will make your home infinitely cozier – and you, more happy – this winter season!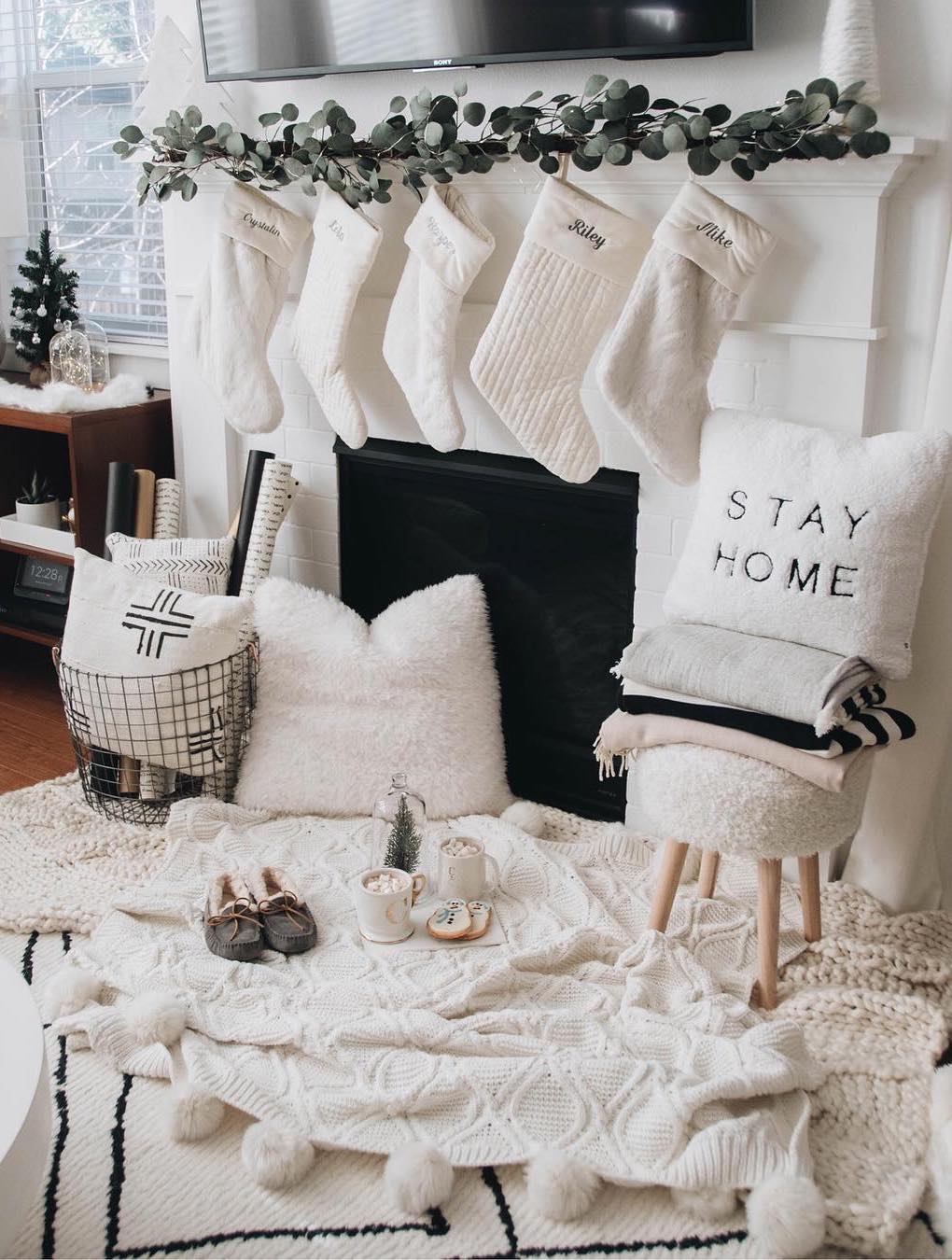 Cozy Winter Home Ideas
If you are wondering "How do I make my house cozy?" this winter season, then get ready to read up on our top ways to create a cozy winter house!
1. Throw Blankets & Pillows
Throw blankets and pillows are one of the easiest and most low-cost ways to make your house cozy for winter. Switch out your thin, linen or cotton fabric pillows with heavy sweater-like material throw pillows. Change up your lightweight throw blanket with a heavy faux fur throw. You'll immediately feel ten times more cozy when lounging on the couch!

2. Scented Candles
There's nothing like a scented candle to lift your mood in the dark gray months of winter. Some of my favorite winter scented candles include: vanilla almond, evergreen trees, and the best… portable fireplace!

3. Sheepskin Rugs
One of my favorite ways to decorate for winter includes adding a faux sheepskin rug under my bed. Stepping onto the cozy faux fur beats starting the day on a cold, hard surface during the winter!

4. Indoor House Plants
House plants are a great way to purify the air inside your home. Having a small piece of nature inside will cheer you up when you are down during the cold winter months. If you don't have experience caring for house plants, then start with a low-maintenance plant that is easy to grow. Succulents, jade plants, aloe and cactus are a few plants that are sure to survive the tough winter months.

5. Knitted Furniture
Knitted furniture is a great way to add some beautiful winter textures to your home. I love this idea, even if just for the visual pleasure I would get! Check out these ultra cozy, knitted floor poofs!

6. Electric Fireplace
If you aren't lucky enough to have a real fireplace in your home, then why not purchase an electric one and get all the benefits without the maintenance? You can purchase an electric fireplace to keep you warm in the winter months for as little as $100! Bigger budgets can get faux marble fireplace mantel attachments, too.

7. Fleece Slippers
Cold feet is never fun in the winter. Keep your feet cozy and warm by slipping them into a pair of fleece slippers as you walk around the house.

8. Flannel Sheets
Sheets made of cotton tend to hold the cold air. Flannel sheets are the perfect option for winter because they don't hold cold air, so you feel happy getting into bed every night! They also keep you super warm during the night, so you don't need to keep your heat as high.

9. Velvet Curtains
Thick, velvet curtains are great for keeping the cold air out. They will insulate the windows in your home and ensure that heat stays in!

10. Hot Beverage Station
There's nothing like hot chocolate or hot tea to warm you up on a cold winter day. Why not make it easy for yourself and guests to make a hot beverage by setting up a little station for hot water and drinks?