Wondering how to decorate a ski chalet?
The interior of a ski chalet should be warm and inviting, with cozy furniture, plenty of natural light, and features that make it feel like a home away from home. If you're ready to discover the best ski chalet home decor ideas, here are some chalet interior design tips.
Ski Chalets in America
Buying a ski chalet is an excellent investment for anyone who loves skiing. Not only is it a great place to store your ski gear and relax after a day on the slopes, but it also allows you to have a place to stay when you're visiting a ski resort. Ski chalets can be used as a family vacation home or as a rental property and can provide a steady income.
They are also generally located in beautiful enclaves and can offer stunning views of the mountains. Ski chalets can be outfitted with all the amenities you need for a great ski getaway, such as a hot tub and a fireplace. All in all, buying a ski chalet is an excellent way to invest in an enjoyable and potentially profitable asset.
Ski chalets can be found in many picturesque locations throughout the US. Popular ski resort destinations such as Colorado, Utah, Vermont, and New Hampshire all feature a variety of ski chalets for rent or purchase. For a unique experience, consider a ski chalet in the Adirondack Mountains of New York or the Rocky Mountains of Wyoming. Many of these ski chalets are located near ski resorts and offer easy access to the slopes. Whether you're looking for a luxurious ski vacation in Aspen or Jackson Hole, or a cozy secluded mountain retreat, ski chalets in the US have something for everyone.
How to Decorate a Ski Chalet
Let's take a look at some classic ski chalet home decor ideas to inspire you. Ski chalets are often decorated with a cozy and rustic feel, using natural materials and warm colors to create a comfortable and inviting atmosphere. Here are some tips to get started with decorating a ski chalet.
Start by selecting a color palette that complements the natural surroundings and creates a warm and inviting ambiance. Warm earthy tones, such as brown, beige, cream, and deep green, work well for ski chalet decor. Incorporate natural materials such as wood, stone, and wool to create a warm and cozy feel. Wooden furniture, stone fireplaces, woolen throws, and sheepskin rugs are common elements in ski chalet decor.

Entryway or Mudroom
The entryway or mudroom of a ski chalet is one of the most functional places in this type of vacation house.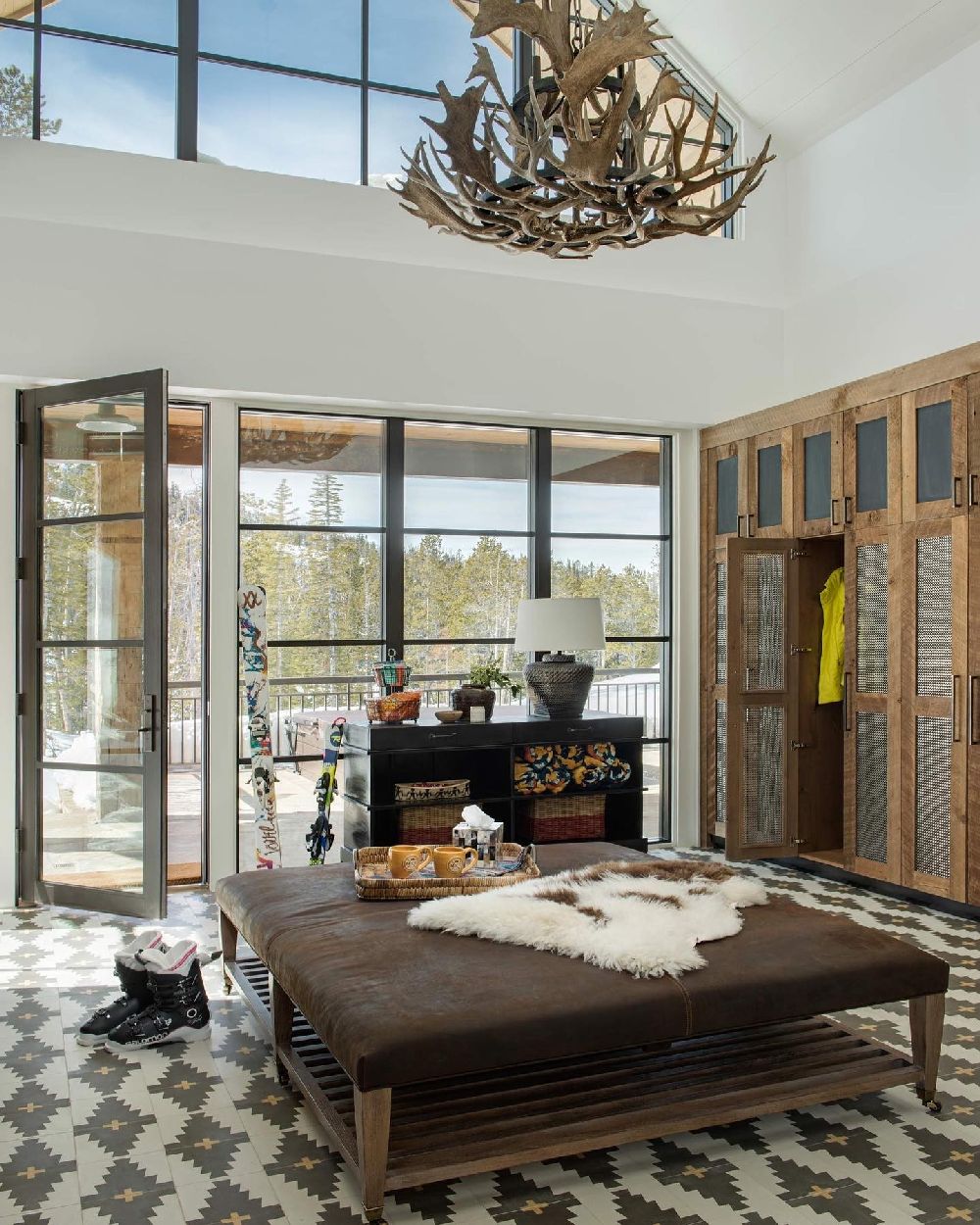 Living Room
The living room is often the gathering place of a ski home or mountain retreat. As such, you want to make sure it has plenty of seating including both sofas and accent chairs. Bring it all together over a cozy rug, centered in front of the fireplace. Add a nice wood coffee table to keep your drinks, books, and candles on top of.
Add ski-themed decorations such as skis, ski poles, snowshoes, and ski signs to create a fun and festive winter atmosphere!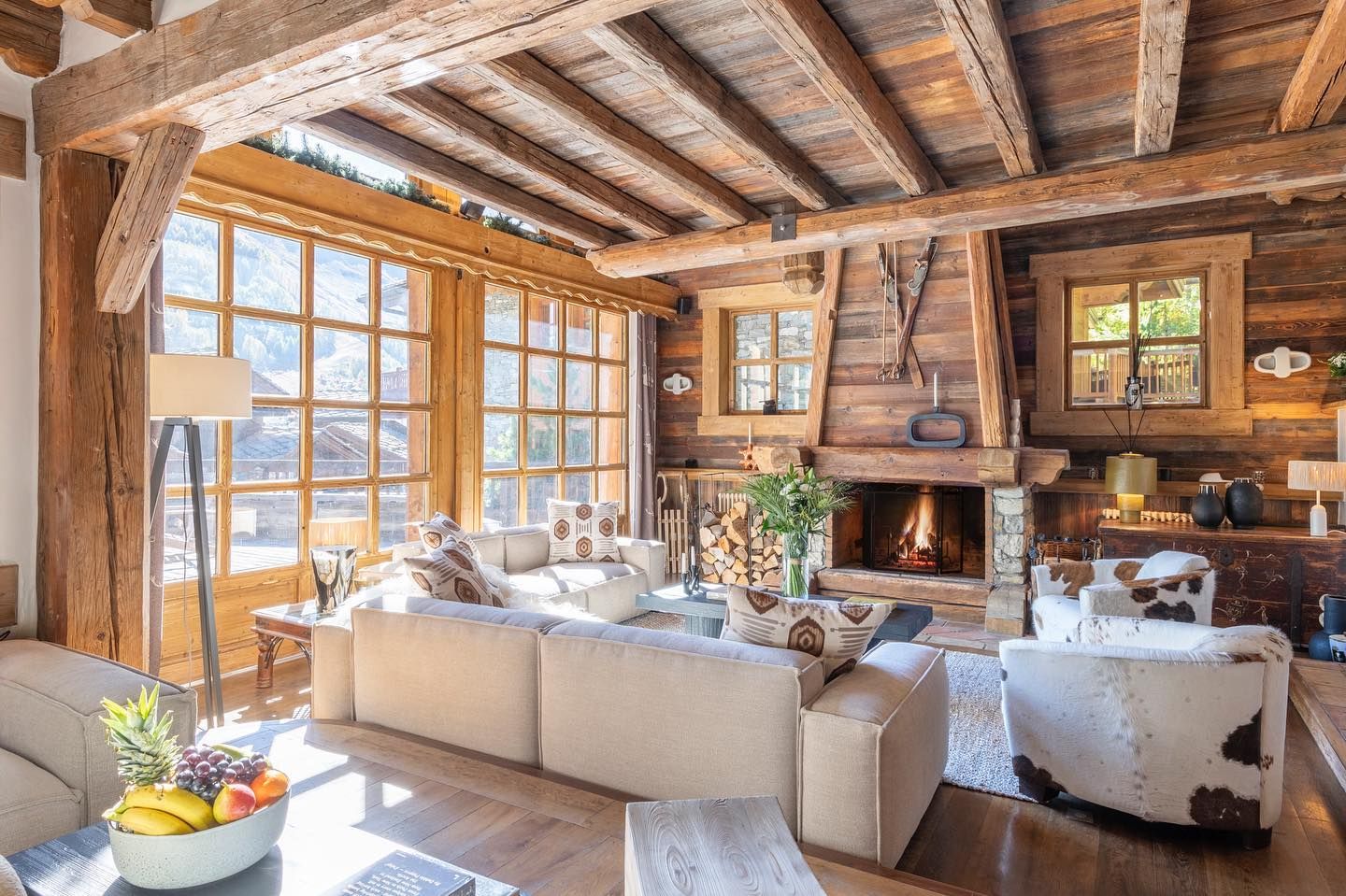 Sheepskin Chair Dining Room
The dining room of your ski chalet should have enough seating to accommodate your whole family plus perhaps a few extra guests you may have.
Textiles such as plaid wool or faux fur throws and rugs can add a cozy, warm feeling to the room, while muted colors such as light blues, grays, and whites can create a calming atmosphere.
This ski chalet dining room has wood dining chairs covered in sheepskin throws.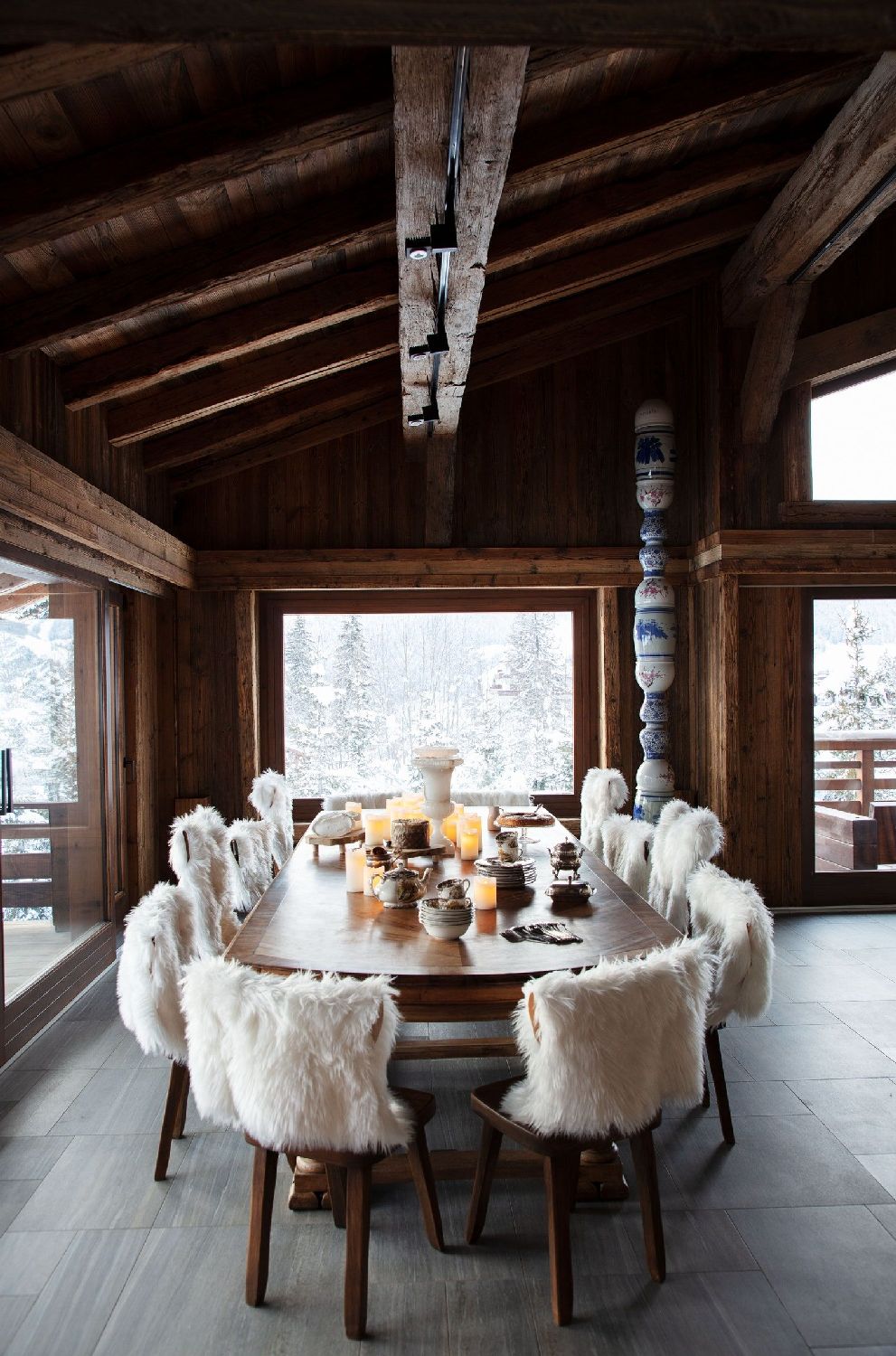 Rustic Wood Bedroom
When decorating a ski chalet, you should incorporate colors and materials that reflect the natural environment of a mountain ski town. For example, a rustic wood cabin look is great for a ski chalet, and can be achieved with wood paneling on the walls and natural wood furniture and accents.
In the bedroom, use live edge wood furniture for the headboard and rustic wood for thee dresser. Add a sheepskin rug, throw, or small stool to make the space extra cozy. Dress the windows with thick curtains so you can sleep in the darkness at night.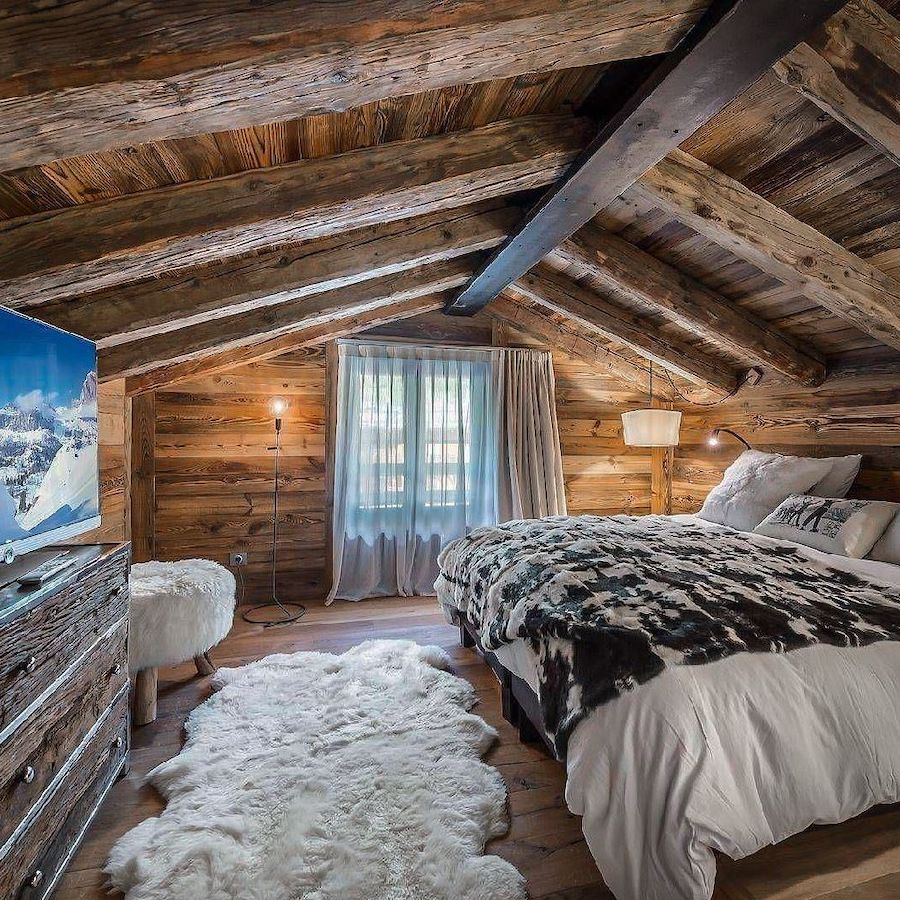 Open Layout
Modern ski chalets often have an open layout to encourage free movement between the different rooms. Ski chalets are often rented or purchased in groups so fewer walls means the spaces feel less crowded!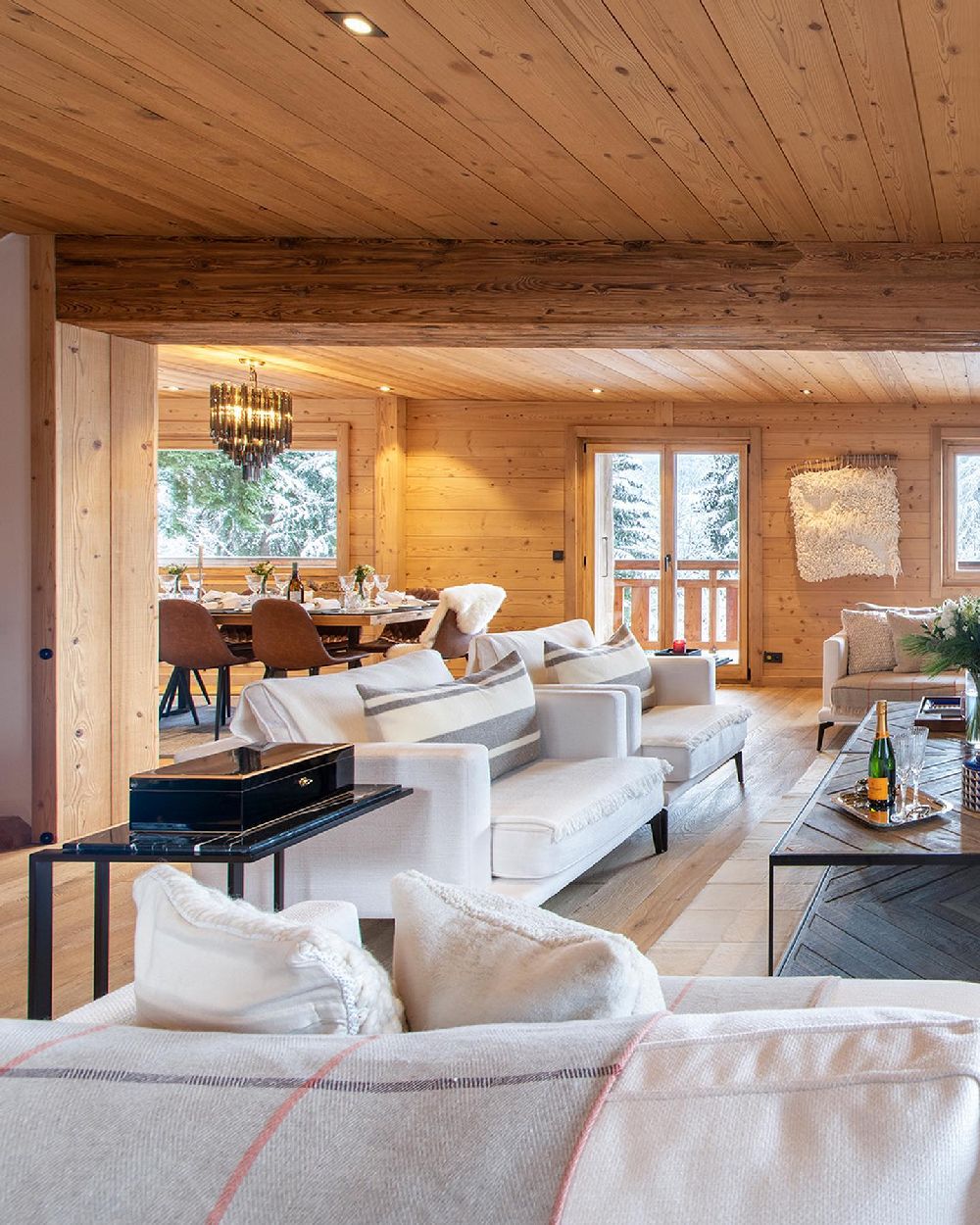 Entertainment Room
It's nice to have an entertainment room in a ski chalet where the group can relax and watch a movie while sipping on mixed drinks at home. You can consider outfitting the basement of a ski home to serve as an all-purpose media room, complete with a wide-screen TV and a home bar area.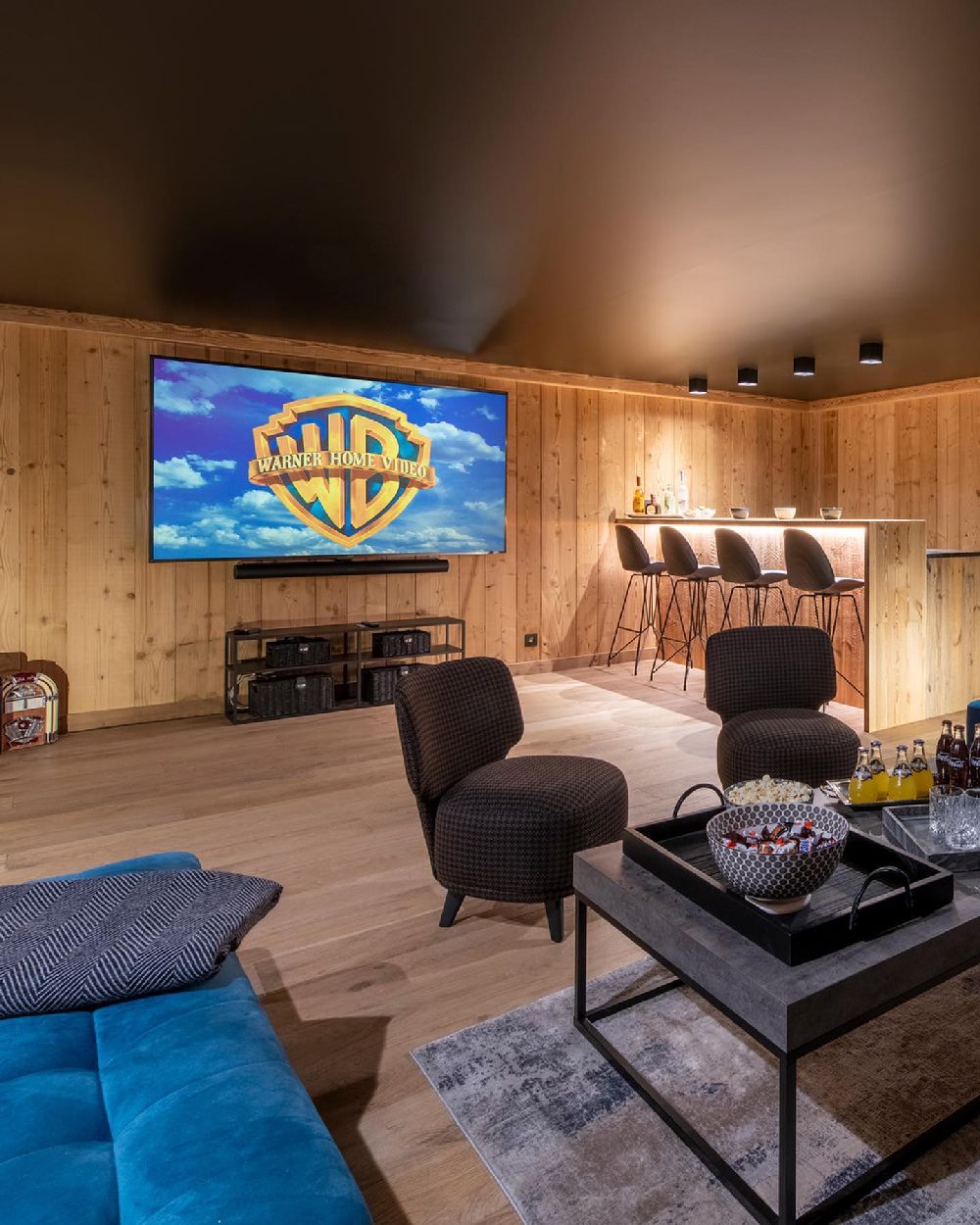 Wine Cellar
Many ski chalets feature wine cellars in the basement where wine can be stored for dinner. You can even set up a small table with chairs to entertain and organize wine tastings for your family and friends.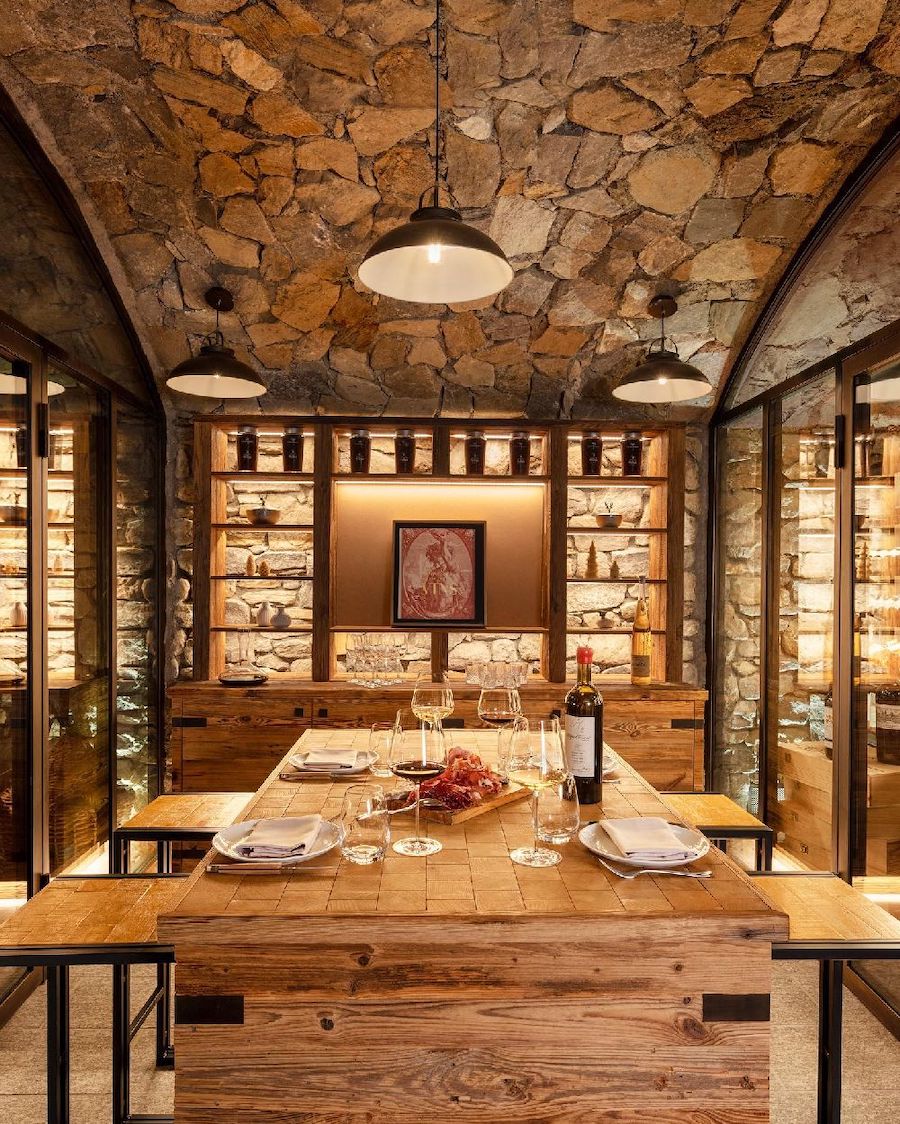 Spa
You should consider building a home spa in your ski chalet to increase the home's value. Having a masseuse come over to relieve tense muscles is a great way to unwind after a long day of skiing the slopes!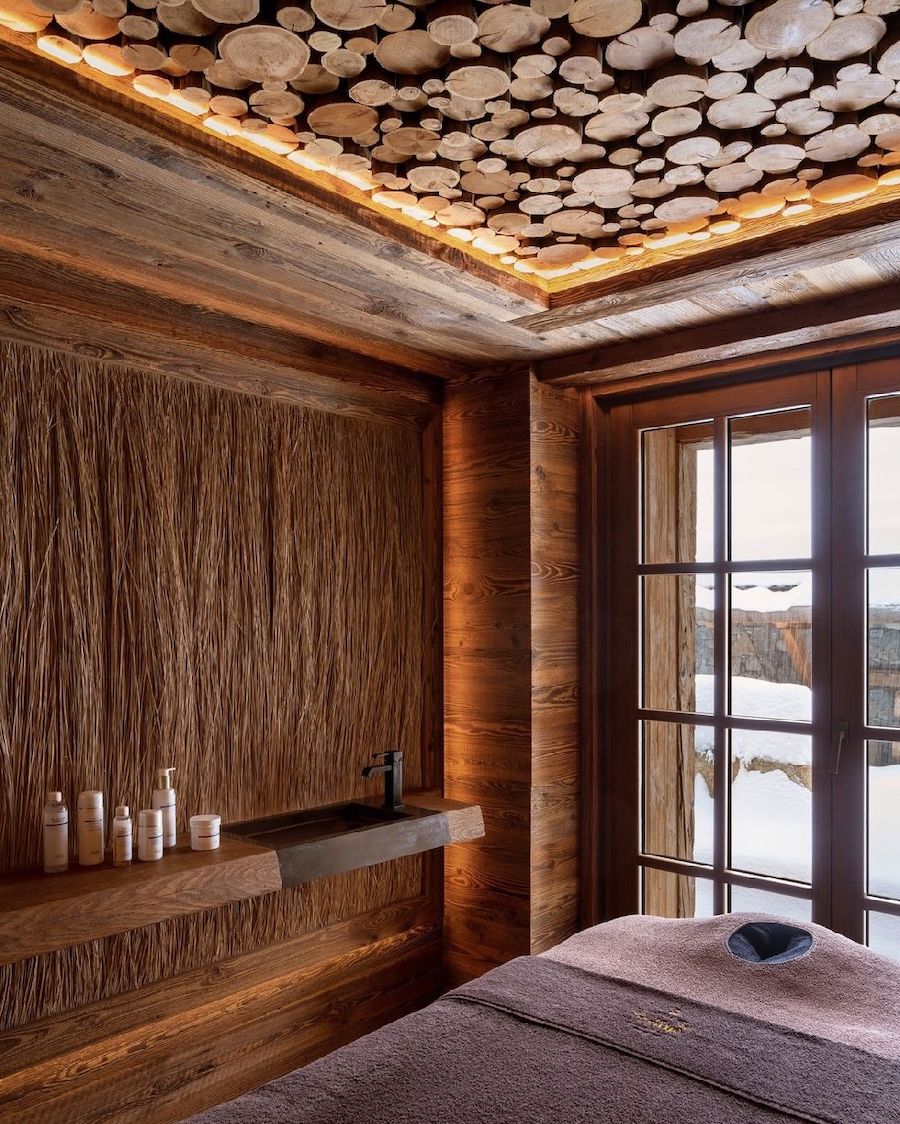 Sauna
Saunas are commonly found in ski chalet homes because they offer a number of benefits for skiers and snowboarders after a day on the slopes.
Saunas provide a great way to warm up and relax sore muscles after a long day of physical activity. The heat from the sauna can help to increase blood flow, reduce inflammation and soothe aches and pains. This can be especially beneficial after skiing or snowboarding when muscles may be fatigued and sore.
Saunas offer a way to unwind and de-stress. Spending time in a sauna can promote relaxation and help relieve stress and tension. Saunas are a traditional part of Finnish culture, and many ski chalets are built with a nod to the alpine architecture of Scandinavia!
Outdoor Space
An outdoor space is great for taking in the stunning mountain views of your ski chalet. Get some weatherproof sofas and chairs to create the perfect outdoor living room. If you can install an outdoor fireplace to keep warm, even better!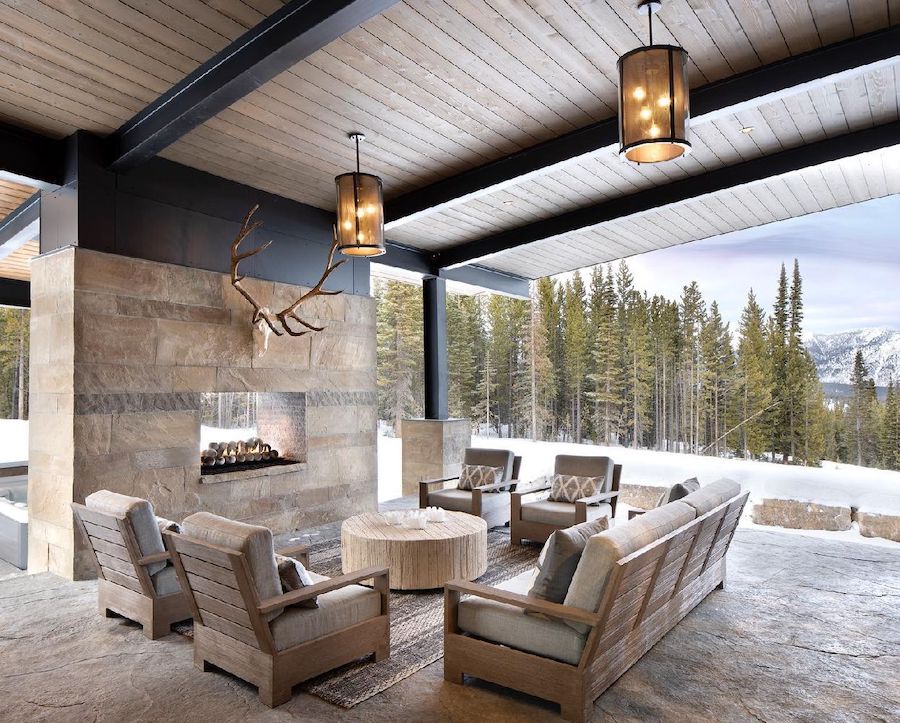 I hope these ski chalet home decor ideas gave you a better idea of how to decorate a ski chalet!