We travel to the coastline to unwind, sink our toes into the dunes, and take in the breathtaking crystal-clear waters. Some of us are even lucky enough to live right on the coast in a beautiful coastal home! Even if you don't call the beach home, you might be wondering about the most popular coastal furniture pieces found in beach homes.
Reminiscent of a sandy beach, we all want to decorate the interiors of our houses to evoke sun-kissed patio days, breezy winds, and the sensation of tranquility created by seaside living. The coastal design aesthetic is the interior decorating approach that integrates these characteristics.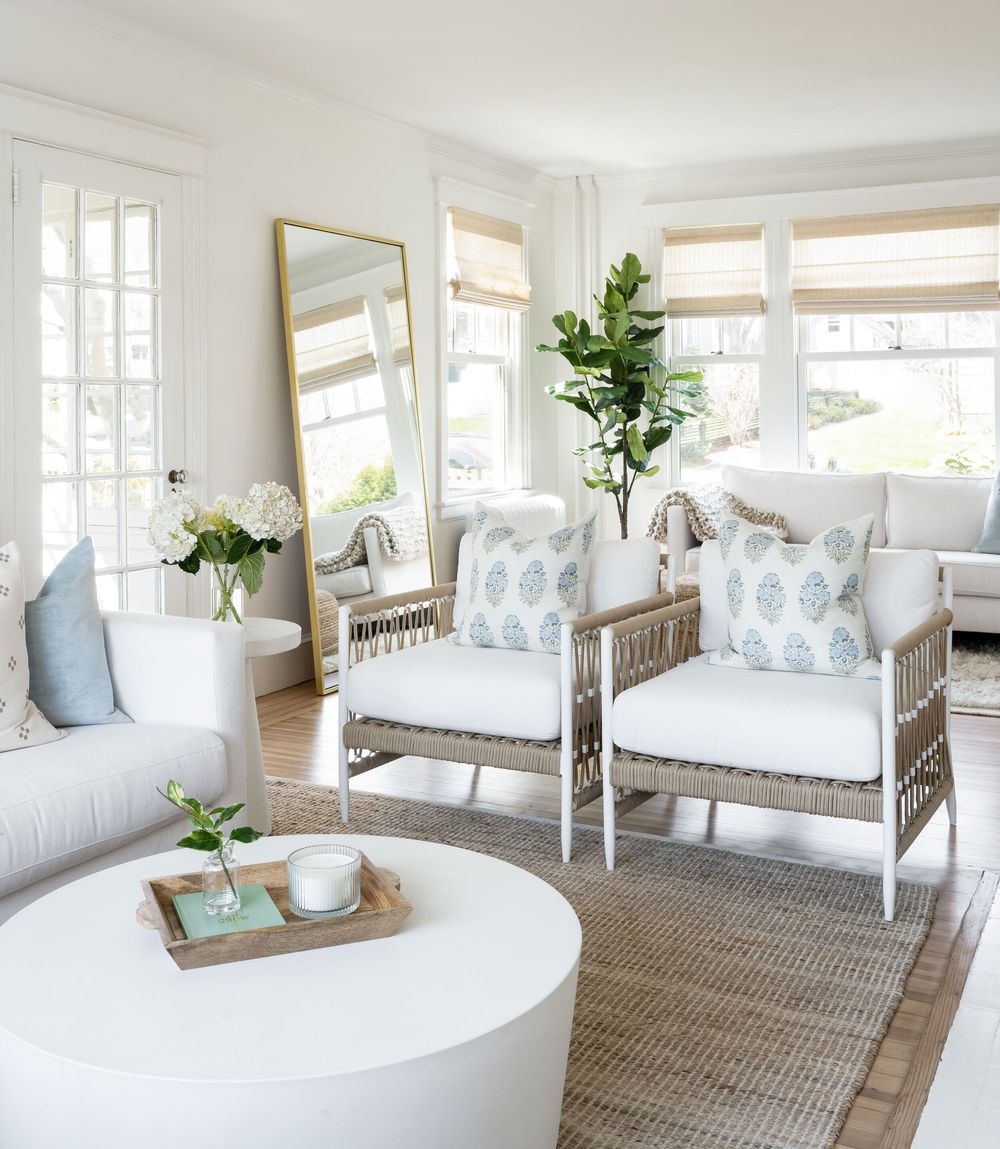 Classic Coastal Furniture Ideas
One of the most critical aspects of creating a coastal-style house is selecting the right coastal furniture for the space, from living rooms and bedrooms to dining.
In this article, I will guide you on everything you need to know about shopping for seaside furniture. This will inspire you with a waterside design to make your house into a peaceful coastal oasis.
Here are the quintessential coastal furniture pieces found in many coastal homes.
White Linen or Cotton Slipcover Sofa
Most shore dwellers I know adore white slipcovered couches. Some people have their doubts such as could white slipcovers indeed be as simple to maintain as some people claim. Isn't it true that you can quickly clean them and they'll be as fresh and new? How about when you have children? Or animals? Or maybe husbands? But that's easy to solve, just remove the slipcover and toss it in the wash!
White slipcovers for the sofa have a bright, clean appearance and a relaxed coastal manner. Suppose you want an inviting atmosphere in your busy beach home living room. A white slipcover couch upholstered in linen or cotton is perfect for you. Putting white slipcovers on your sofa creates a fresh ocean air atmosphere that can easily blend into the rooms in residential beach houses.

Blue and White Striped Sofa
During springtime, stripe patterns were a great sensation on the runways, but stripes never once have gone out of the trend. Although they are regarded as the most basic design available in home décor, they are from being dull. They can be used in various ways to make your interior breathtaking.
Striped patterns give a room a traditional seaside summer vibe, and designs may help camouflage some damage. Therefore, you will not have to launder a striped slipcover for an extended time.
Please note that a stripe pattern sofa may serve multiple purposes. Become a central focus, establish a motif, spark a color scheme, determine what the space requires and what approach you have planned, and proceed accordingly.

Rattan Bistro Chairs
Rattan bistro chairs have gained popularity in the interior design community due to their resemblance to French café chairs. The bistro chair is a multipurpose seat famous worldwide in diners, cafes, and private residences. It blends seamlessly in many periods and ages gracefully as well. According to designers, as the seat ages and its construction relaxes, it softens and transforms into a much more attractive piece of furniture.
These coastal chairs are adaptable, very comfy, and have lots of personalities. Bistro chairs are indeed the best indoor/outdoor seating solution! They are frequently used at dining tables lined indoors and provide elegant seating for enjoying cocktails on the balcony. This type of chair is the perfect addition to your coastal furniture collection.

Wicker Coffee Table
Why not add a wicker coffee table if you are into the beige, woven aesthetic of rattan furniture? Wicker furniture pieces not only convey a feeling of timeless coastal elegance, but they are an excellent purchase due to their stable structure.
Wicker-style coffee tables are versatile in that they can blend in with any other furniture pieces, both inside and out. They add character and a touch of nature to cushioned furniture items in terraces and verandas. They are truly perfect for the coastal vibe.

Adirondack Chair
Adirondack chairs are typically comfier than some other kinds of lounge chairs due to their curved form, which makes it simpler to relax and supports the inclusion of added blankets and pillows.
These chairs are pretty cozy to sit around. A good thing about Adirondack chairs is they are beautiful seats that need minor servicing. They are dense and well-constructed. The windy weather will not blow them away as well as the weather will not hurt them throughout the year. Perfect for placing outside the patio to reminisce the feel of sitting on the shoreline with a cold beer at your side.

Where to Shop for Coastal Furniture
Here are the best coastal furniture stores to buy top-quality coastal furniture pieces.
Serena & Lily
Serena & Lily is one of the top modern coastal home decor brands. The design team blends their enthusiasm for excellently crafted with their appreciation for the laid-back California aesthetic. The style is coastal and informal but polished. Their designs combine historical inspirations with contemporary lines and diversified inspiration with excellent American flair.
Serena & Lily like comfortable, well-traveled places with distinct personalities in their approach. They think the house must be an inviting sanctuary — a favorite spot to unwind, socialize and live each day happily.
Wayfair
Wayfair has an amazing selection of budget coastal furniture to help you get the look for less. From coastal cottage to traditional coastal furniture, Wayfair has it all! Everyone can discover that one item that really represents them, their lifestyle, and the people they spend time with since Wayfair provides the largest and most comprehensive collection for all price ranges.
Pottery Barn
Pottery Barn is an American network of luxury home decor shops plus an e-commerce business, having store locations across the United States, Canada, Mexico, and Australia.
Pottery Barn is a quality furniture manufacturer that started out with a country vibe but has since expanded into other decor aesthetics such as coastal. If you want the coastal farmhouse look, Pottery Barn is the furniture store for you! Try the Cayman line for rustic beachy furniture.
Pottery Barn was founded on the principle that house decor should be unparalleled in comfort, craftsmanship, aesthetics, and worth. Pottery Barn is an excellent furniture option if you are looking for reliable pieces that are durable. Pottery Barn furniture has been engineered to survive seasons of use no matter how many people, children, and animals are part of your household!
---
Although everyone has their sense of style, some fundamentals still make the classic coastal design stand out. To achieve the best coastal motif in your house, choose delicate linens, handwoven fabrics, and hues reminiscent of the open sea. You can implement the ideas mentioned above with your living room's furnishings by selecting suitable beach home chairs like rattan bistro chairs or Adirondack chairs. The best style of coastal sofas must be a white slipcover sofa or a blue and white striped sofa. Using these fundamental concepts as a foundation, you may search for more goods in many furniture shops online.
There are still so many other things that you need to consider in making our home have a coastal feel. Follow the basic guidelines we've mentioned about some coastal furniture to start your journey in transforming your interior into a vibey beachside cottage.