Black kitchen cabinets can create a dramatic and elegant look in your kitchen, but they also come with their own set of pros and cons. Here are some of the most significant advantages and disadvantages of black kitchen cabinets to consider before making this bold design decision as well as some design tips for creating a stunning kitchen with black cabinets.
Pros and Cons
The pros of black kitchen cabinets include:
Stylish and elegant: Black kitchen cabinets are a classic and timeless choice. The color black is associated with high-end sophistication and elegance in home design.
Hides dirt and stains: Black cabinets are less likely to show dirt, stains, and scratches than lighter-colored cabinets, making them a practical choice for busy kitchens.
Makes small kitchens feel bigger: Black cabinets can make small kitchens appear larger by creating the illusion of depth and space.
The downside to black kitchen cabinets include:
Dark and gloomy look: Black cabinets can make a kitchen look dark and gloomy, especially if there is not enough natural light in your space. You'll need to consider providing ample kitchen lighting.
Shows fingerprints and smudges: Black cabinets can show fingerprints, smudges, and other marks more easily than lighter-colored cabinets, making them harder to keep crisp and clean.
May be harder to match: Black cabinets may be harder to match with other kitchen elements like countertops, backsplashes, and flooring than lighter-colored cabinets.
Black Kitchen Cabinet Design Ideas
Here are some tips and visual ideas for designing a kitchen with black cabinets!
Forego Upper Cabinets
One way to make the black less heavy is to forego upper kitchen cabinets.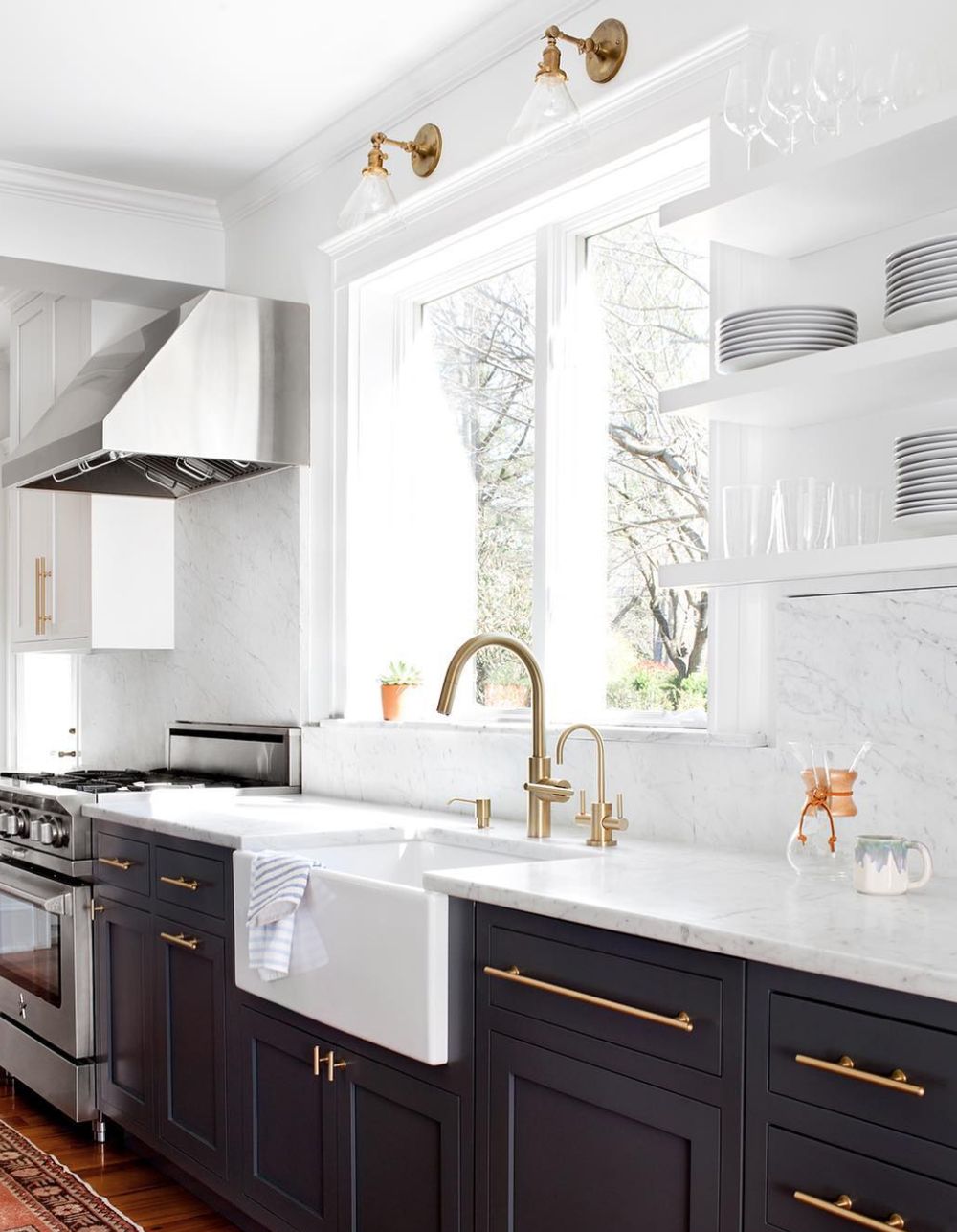 Balance It Out with White
White is the most popular color to pair with black kitchen cabinets. You can use white countertops, white painted walls, and white backsplash to create a sharp contrast.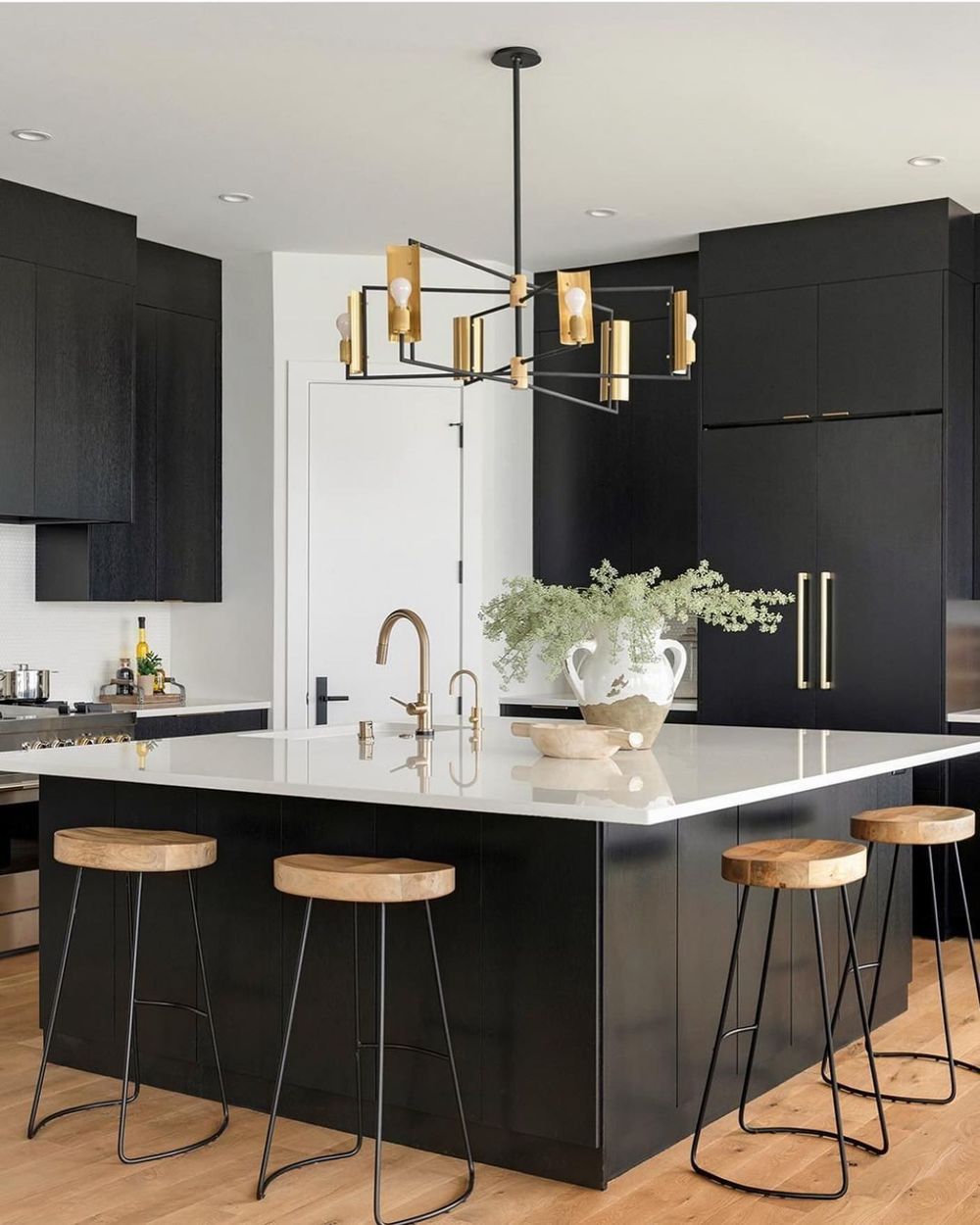 Black Pendant Lights
Keep the black theme in the kitchen going with some simple yet dramatic black pendant lights.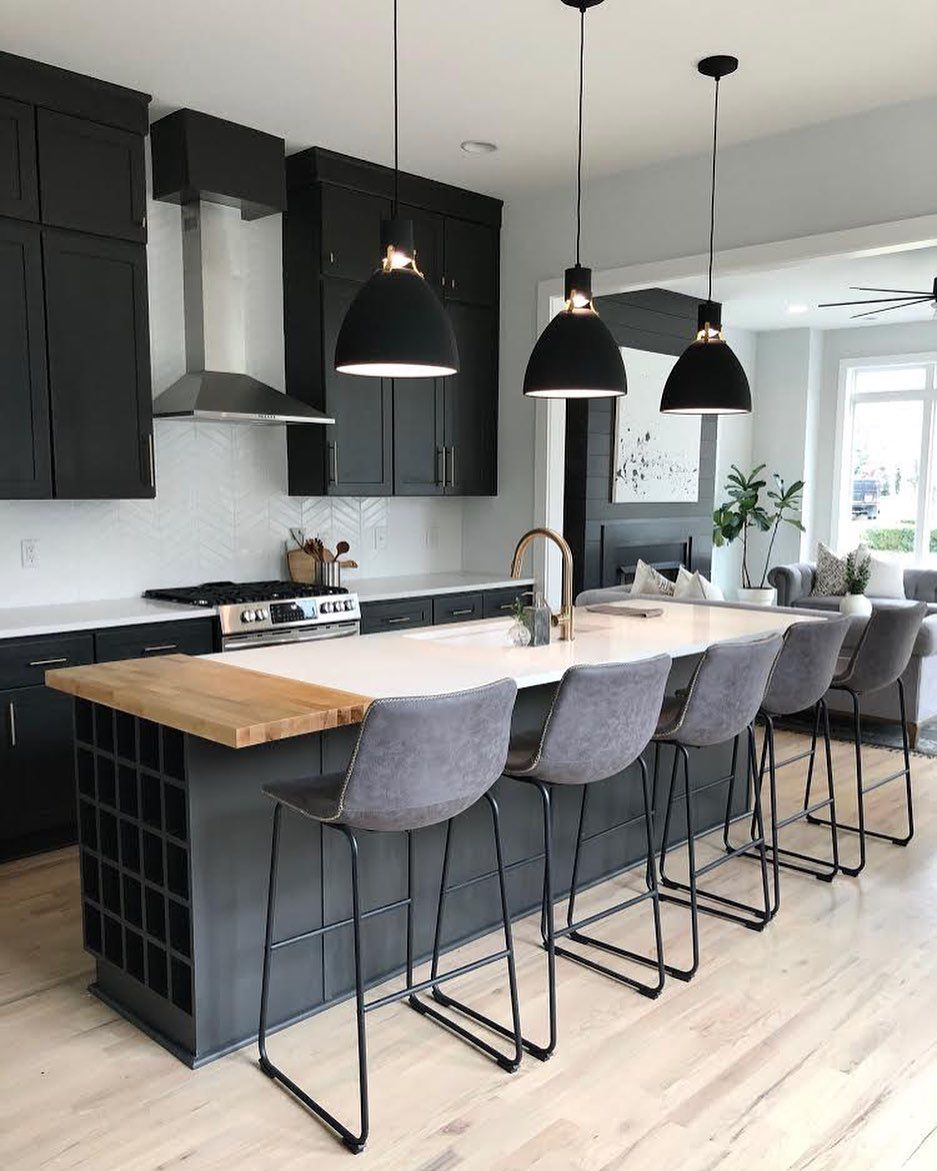 Brass Hardware
Brass kitchen hardware has been on-trend in recent years and this type of hardware pairs perfectly with black kitchens!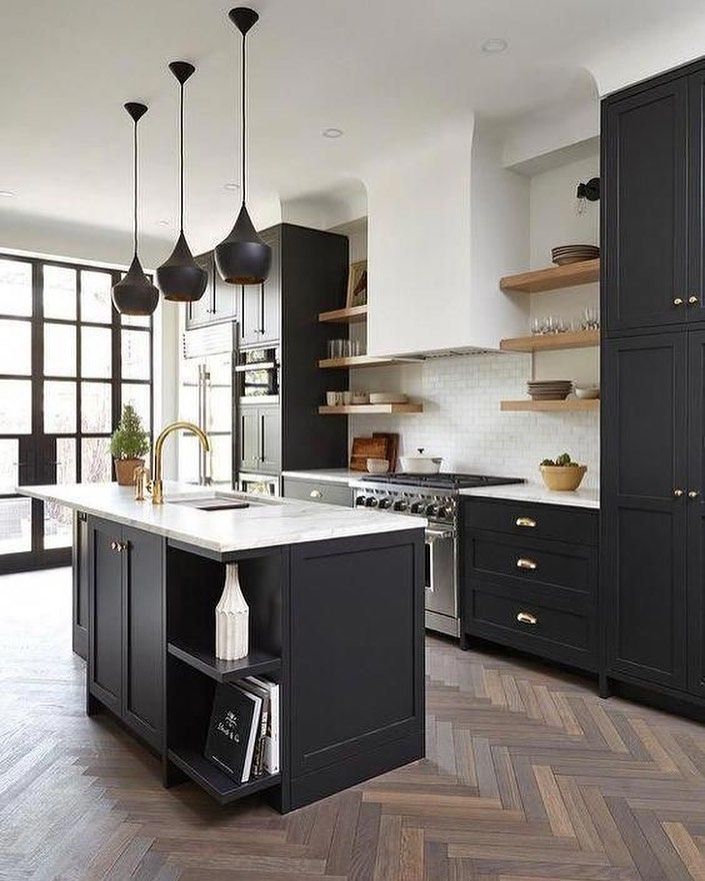 Glossy Backsplash
The glossy tiled backsplash of this black kitchen draws the eye in to the range.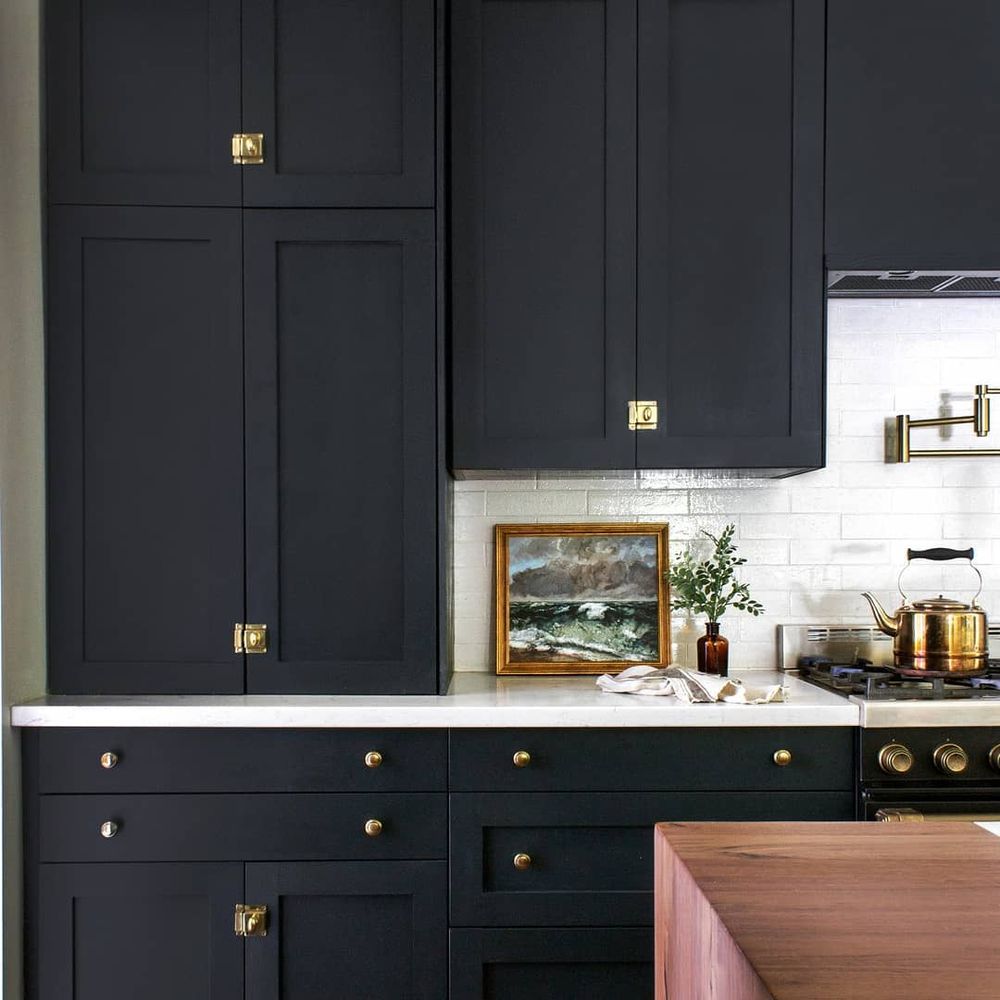 Go Contemporary
Black is a popular choice for sleek, modern, and contemporary kitchens. They work really well in a Nordic-style minimalist kitchen design with simple cabinets.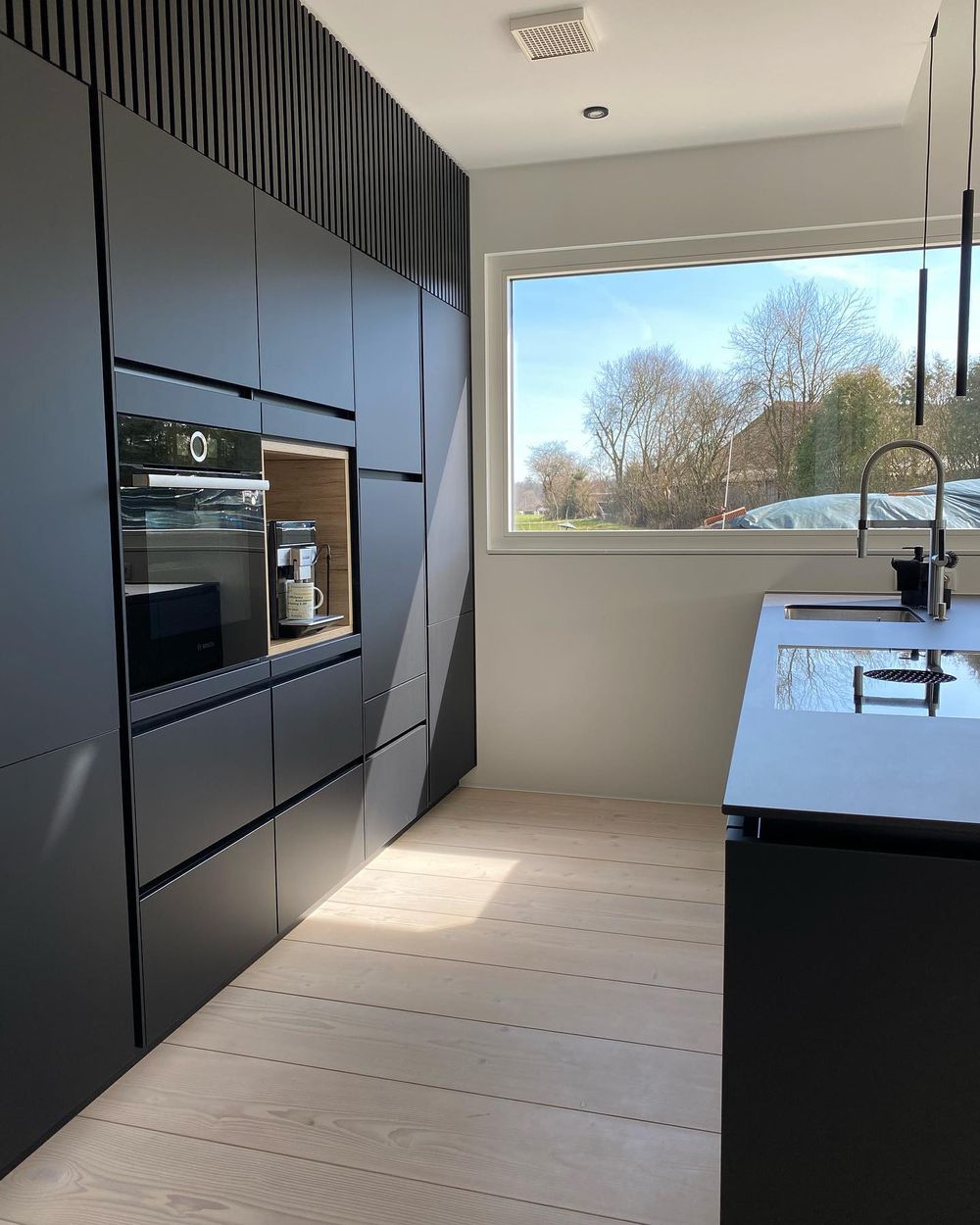 Glass Front Cabinets
If you go with black glass front cabinets, be sure to paint the inside shelves all black too to keep the theme consistent.
Earthy Tones
Here is a kitchen with black cabinets in front of a sage green wall.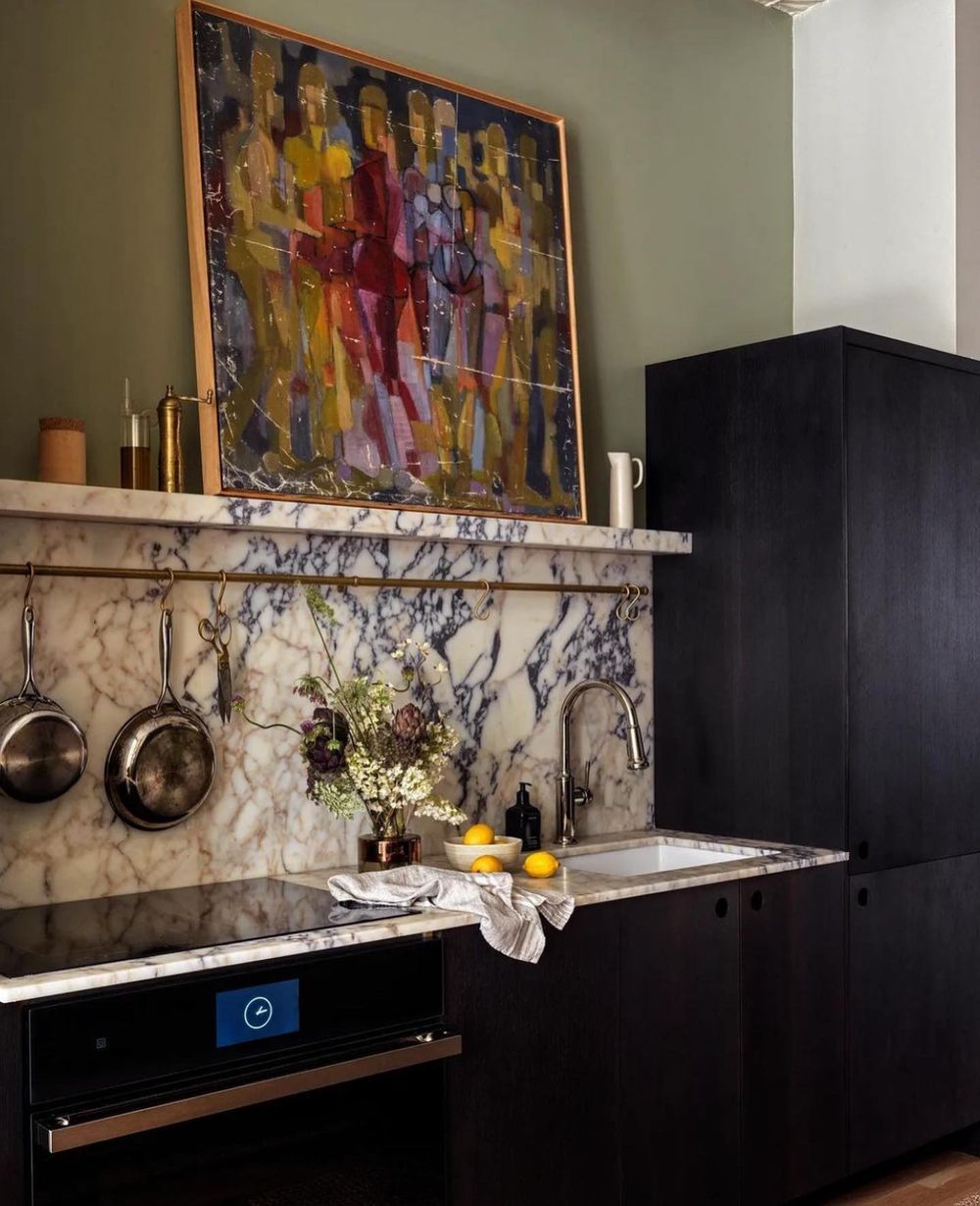 Ceiling Moulding
The simple and rectangular black kitchen cabinets look sharp in contrast to the detailed, intricate ceiling moldings of this European kitchen design.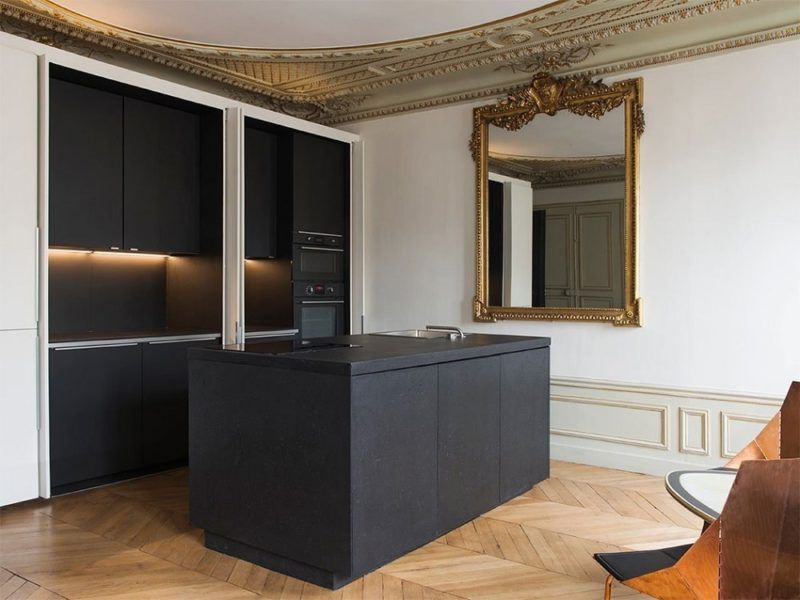 Arched Cabinets
Make your black cabinets even more interesting by going with arched upper cabinets.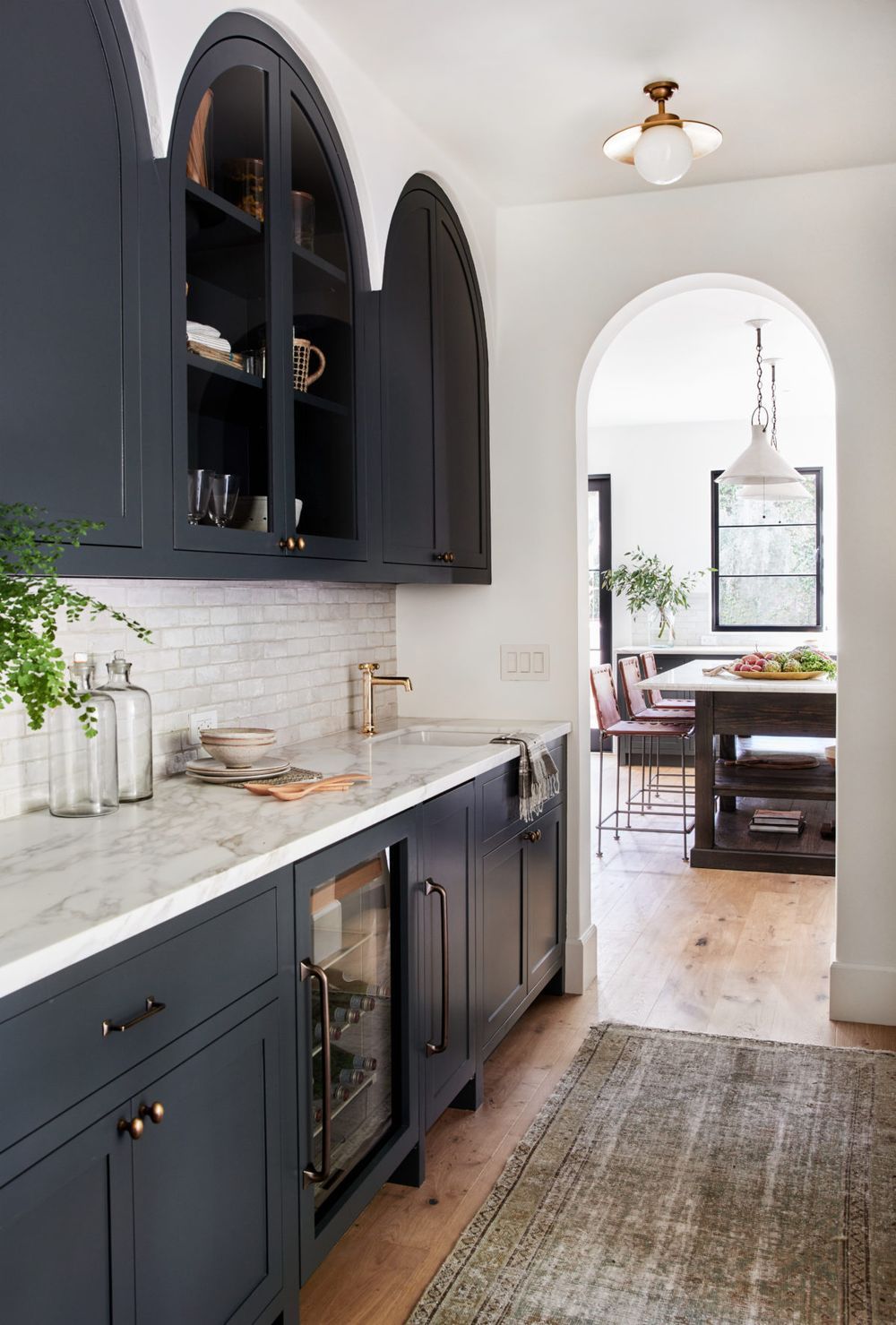 Brass Pendant Lights
White backsplash, blond wood floors, and brass kitchen pendant lights really help to brighten up this kitchen with black cabinets.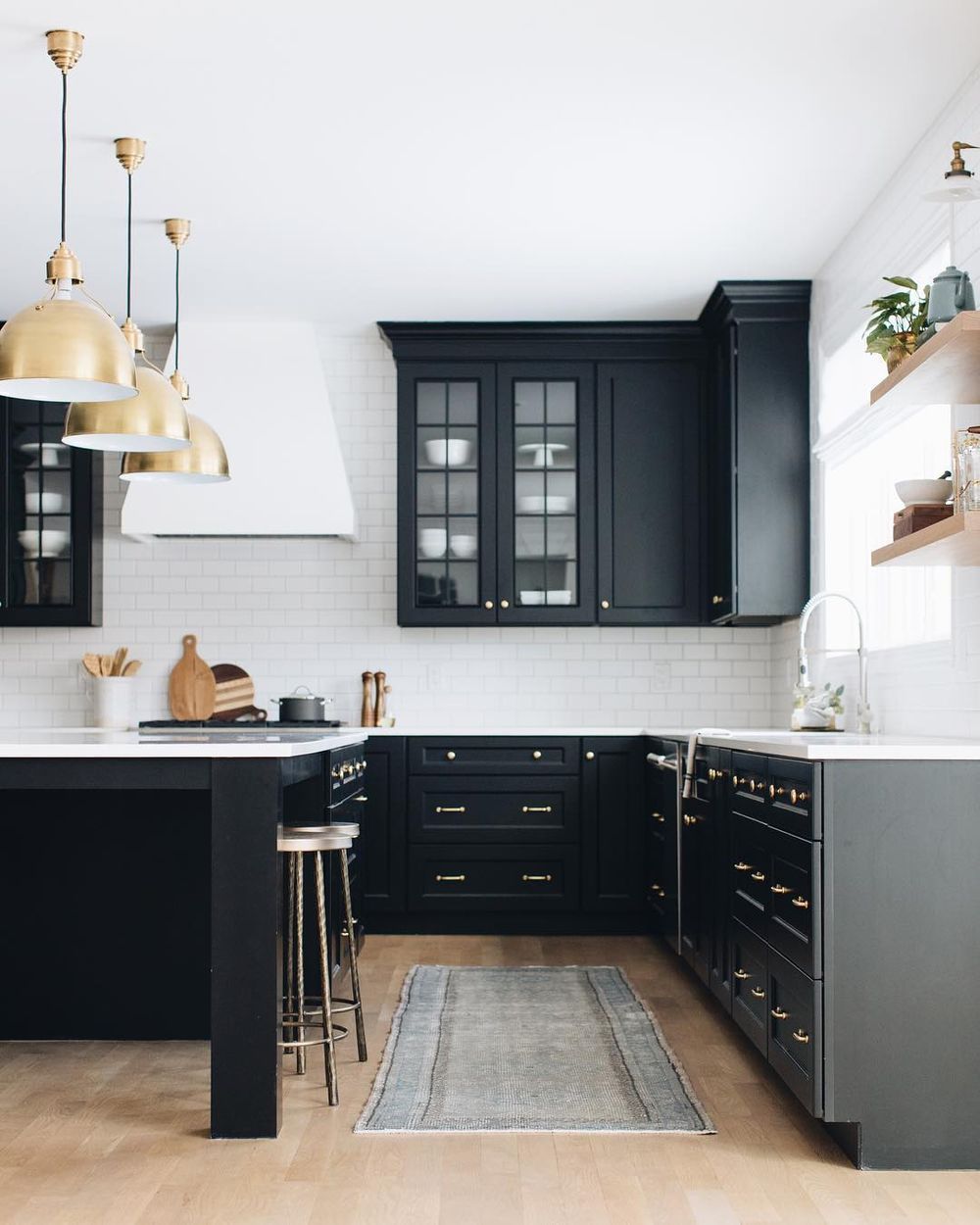 Brick Wall
This kitchen opted for lower black cabinets and left the brick wall exposed on the upper section.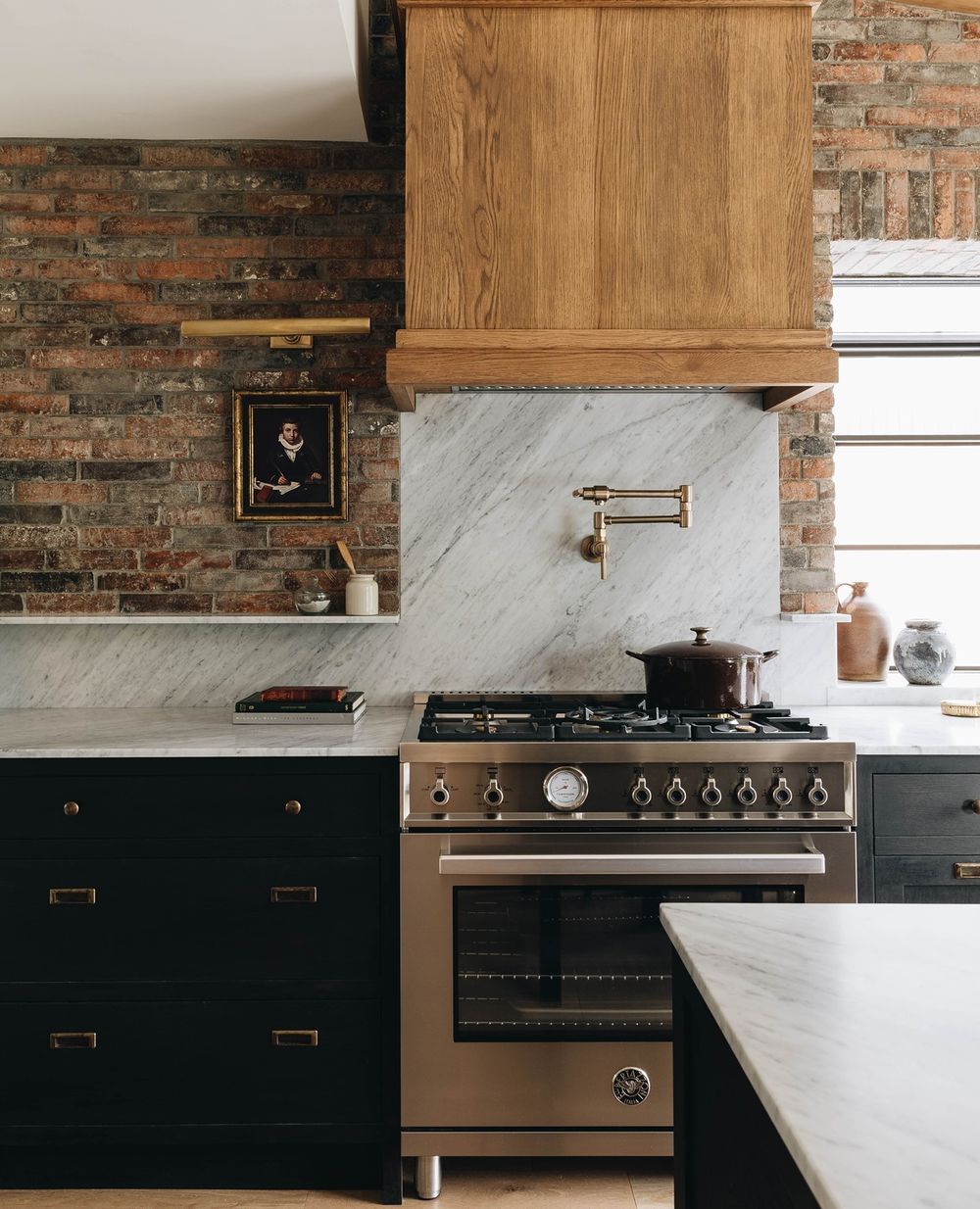 Black Oven Range
This kitchen has a matching black oven range by Lacanche.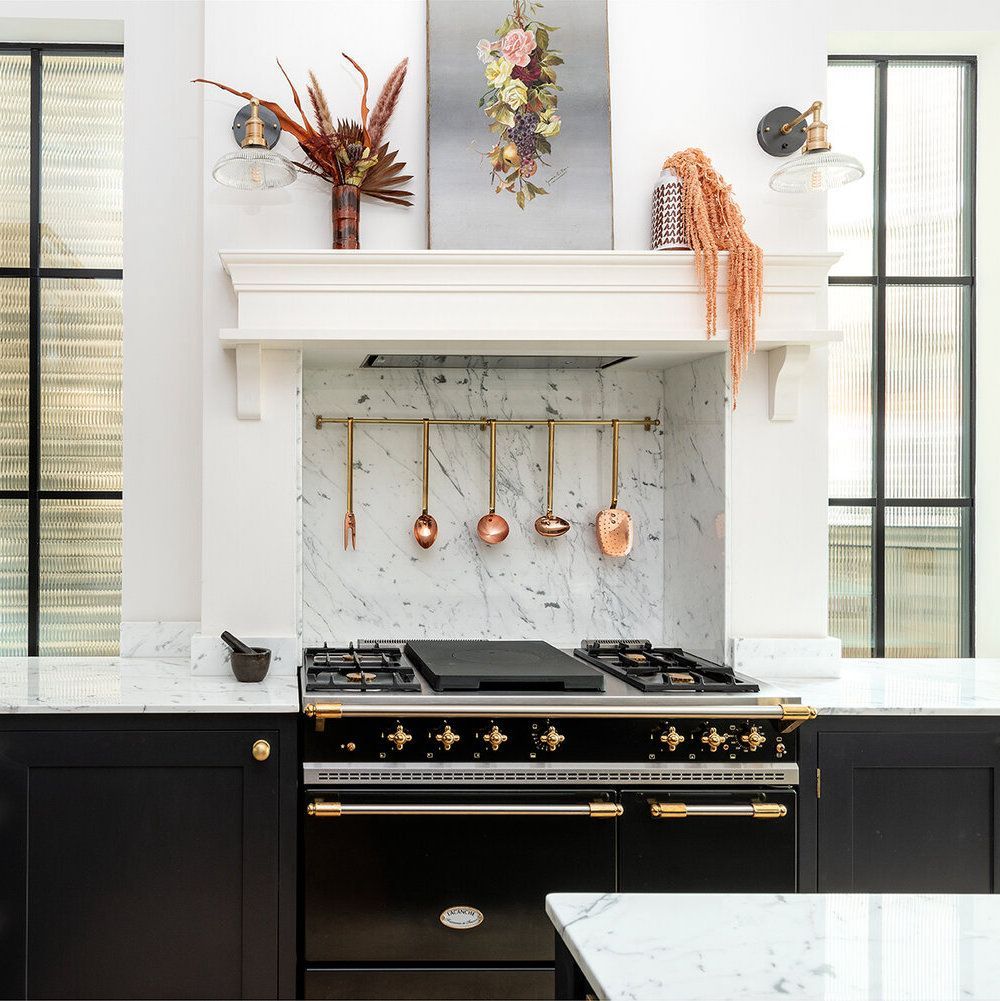 Dramatic Marble
If you go with marble backsplash with thick veining, then the marble will certainly steal the show! Marble is the perfect stone to pair with black kitchen cabinets.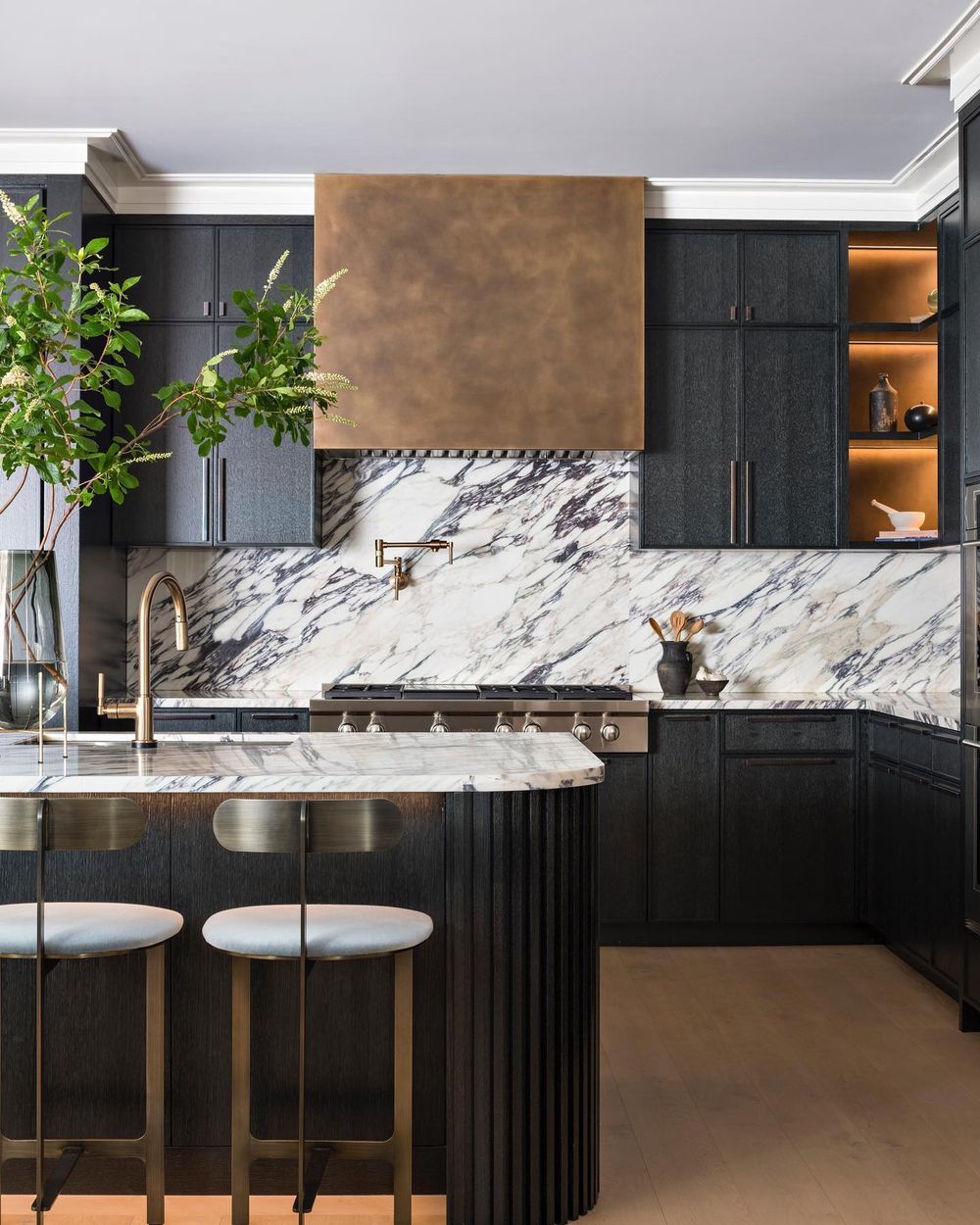 Vintage Theme
This black kitchen has a vintage theme with cone wall sconces, brass open shelving, and vintage cabinet pulls.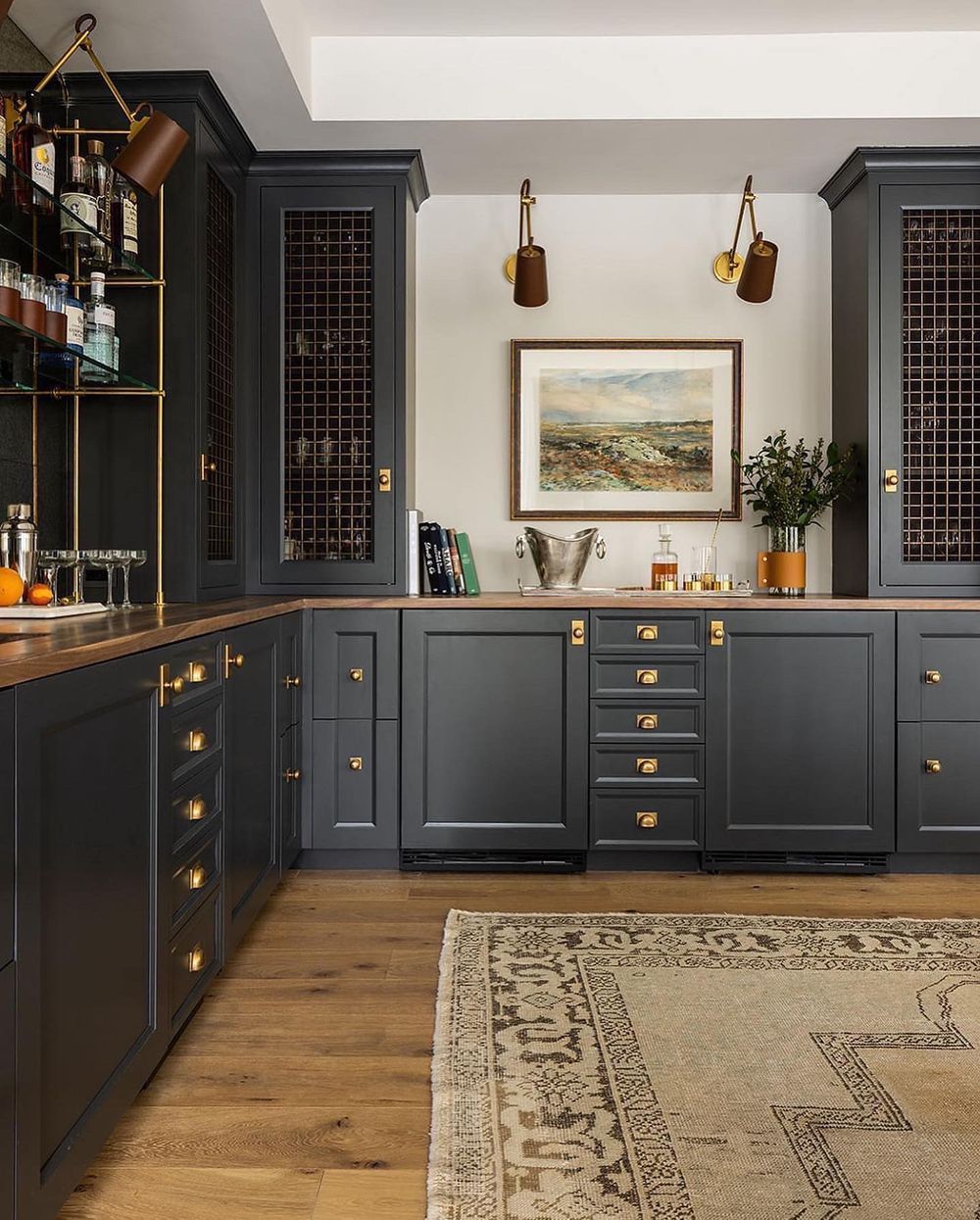 I hope these amazing kitchens with black cabinets inspired you!