If you're thinking about designing a kitchen without upper cabinets, this article will give you some ideas as well as share the pros and cons of this design decision. I see both large and small kitchens without upper cabinets, so it's something to consider no matter what size room you're working with!
Pros:
Open and Airy Look: Kitchens without upper cabinets have an open and airy look, which can make the space feel larger and more inviting. This is because upper cabinets can sometimes make a kitchen feel closed in and a little claustrophobic.
More Light: Without upper cabinets, there is more room for windows, which can provide more natural light and make the kitchen feel brighter and more welcoming. Let the light flow!
Display Space: Kitchens without upper cabinets provide an opportunity to showcase beautiful dishware, glassware, cookbooks, or other kitchen items on open shelves, adding a personalized touch to the room.
Easy Access: With everything at eye level, items are easily accessible and organized. No more digging through deep cabinets trying to find that one pot or pan you need!
Cons:
Less Storage: Without upper cabinets, storage space is limited, which can be challenging if you need ample space to store your kitchen items.
Dust and Grease Buildup: With open kitchen shelving, dust and grease can accumulate on kitchen items, requiring more frequent cleaning.
Limited Protection: Kitchen items on open shelves are more susceptible to accidental damage from pets, children, and other household members. Plus, if the kitchen is located near a door or window, items may be more prone to damage from the elements.
Aesthetics: While open shelving can be a beautiful addition to a kitchen, it may not fit everyone's aesthetic preferences. Some people prefer a more traditional look with plenty of upper cabinet space.
Neutral Dream
I'm in love with this gorgeous neutral, brow and beige kitchen without upper cabinets! It really allows the marble on the walls to take center stage. The stone flooring is also gorgeous. There's so much to love about this kitchen!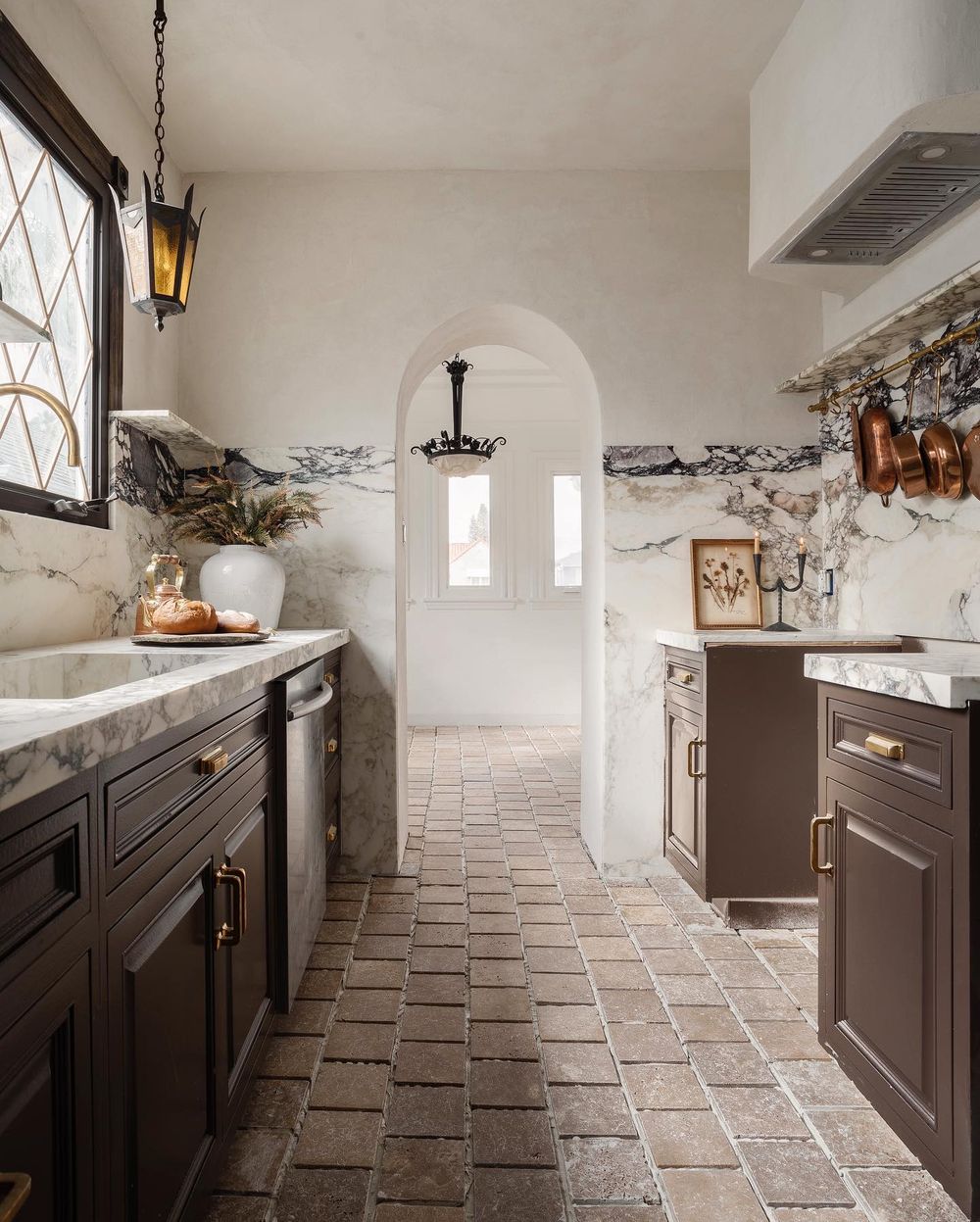 Wall of Windows
The lack of upper cabinets in this kitchen really allows the light to shine through from the three windows on the far side.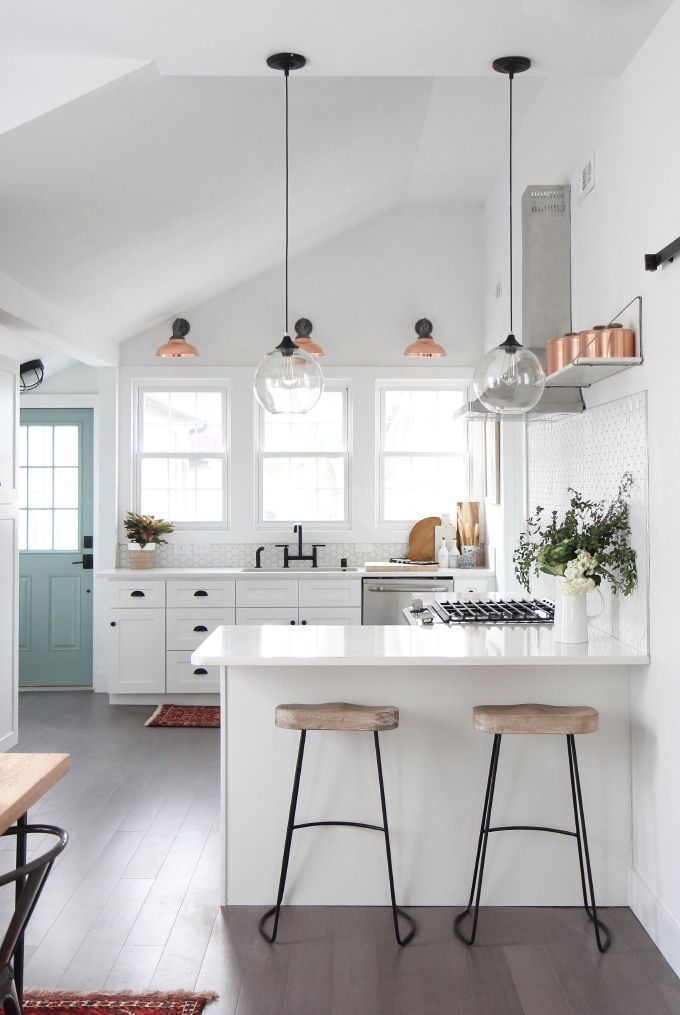 Minimalism
Go back to basics and stick with only lower cabinets in the kitchen like this Copenhagen kitchen.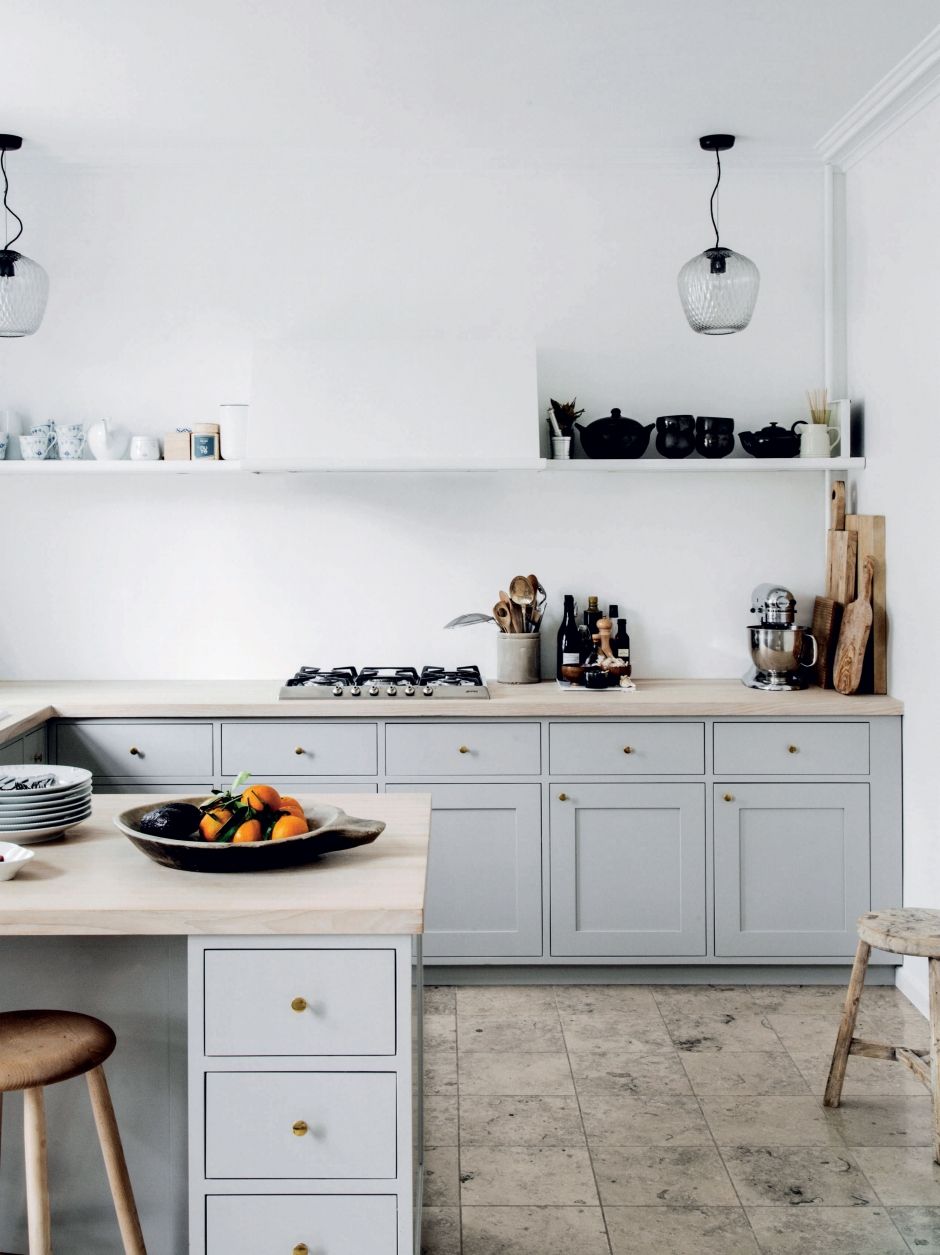 Mid-Century Modern
This mid-century modern style kitchen keeps it simple with dark walnut cabinets, white and gray countertops, and a simple design.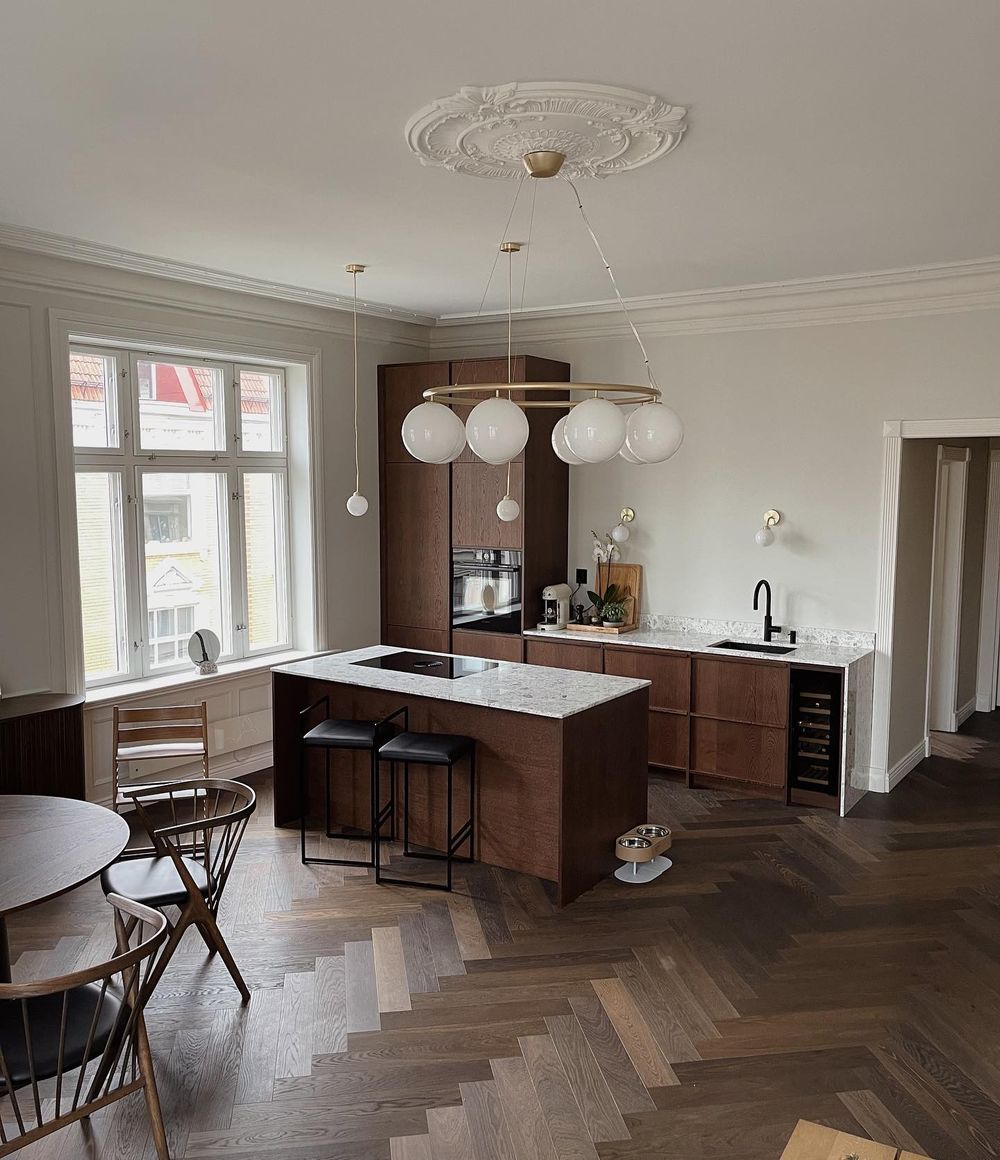 Scandinavian Simpicity
This Scandinavian kitchen in Stockholm has beautiful gray lower cabinets and no upper cabinets whatsoever. Instead, the white backsplash tile goes all the way to the ceiling! It certainly looks very spacious.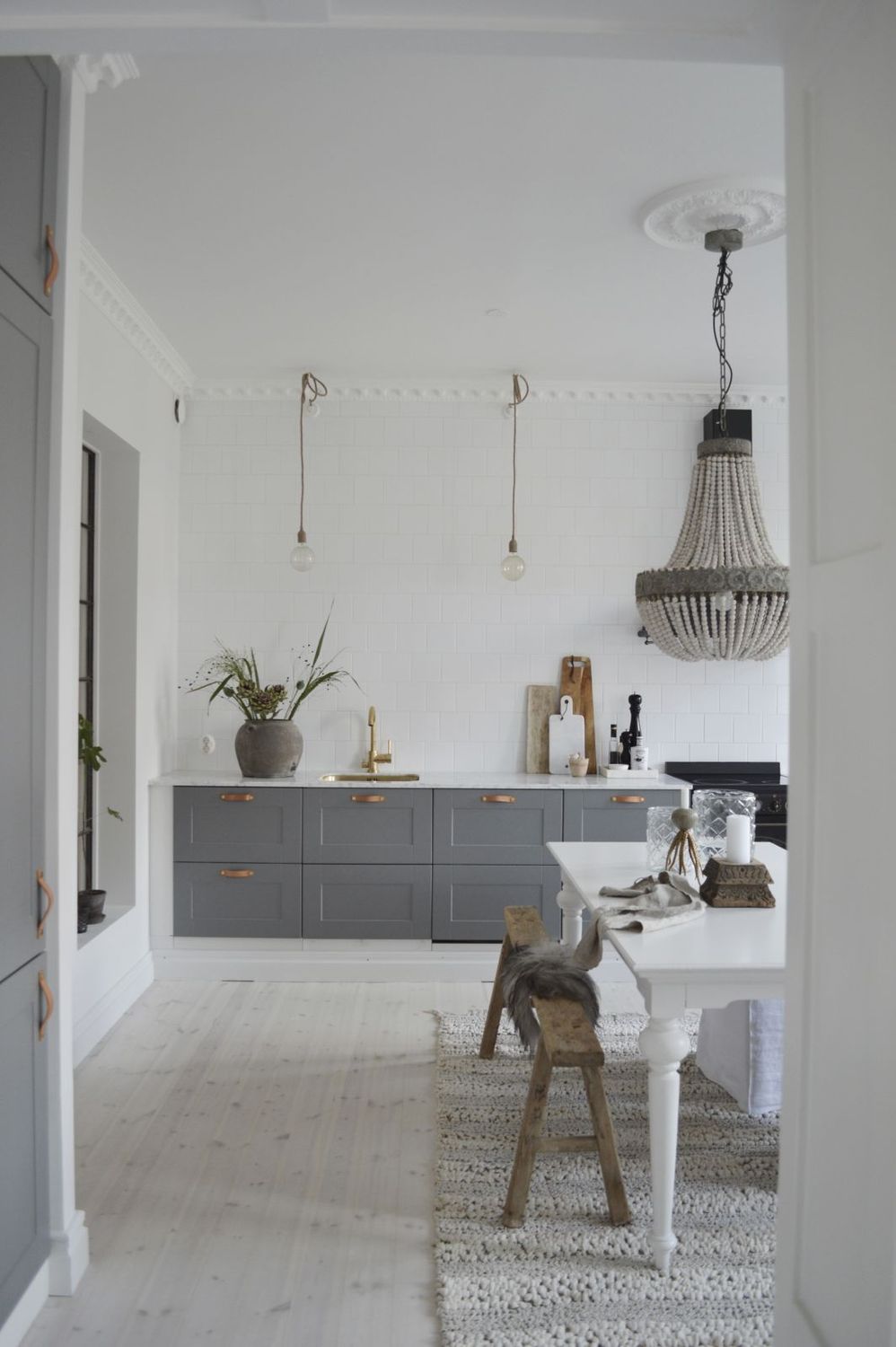 Upscale French Country
This upscale French country kitchen decided to forgo upper cabinets in favor of large windows, sconce lighting, and a simple solid marble backsplash on the wall!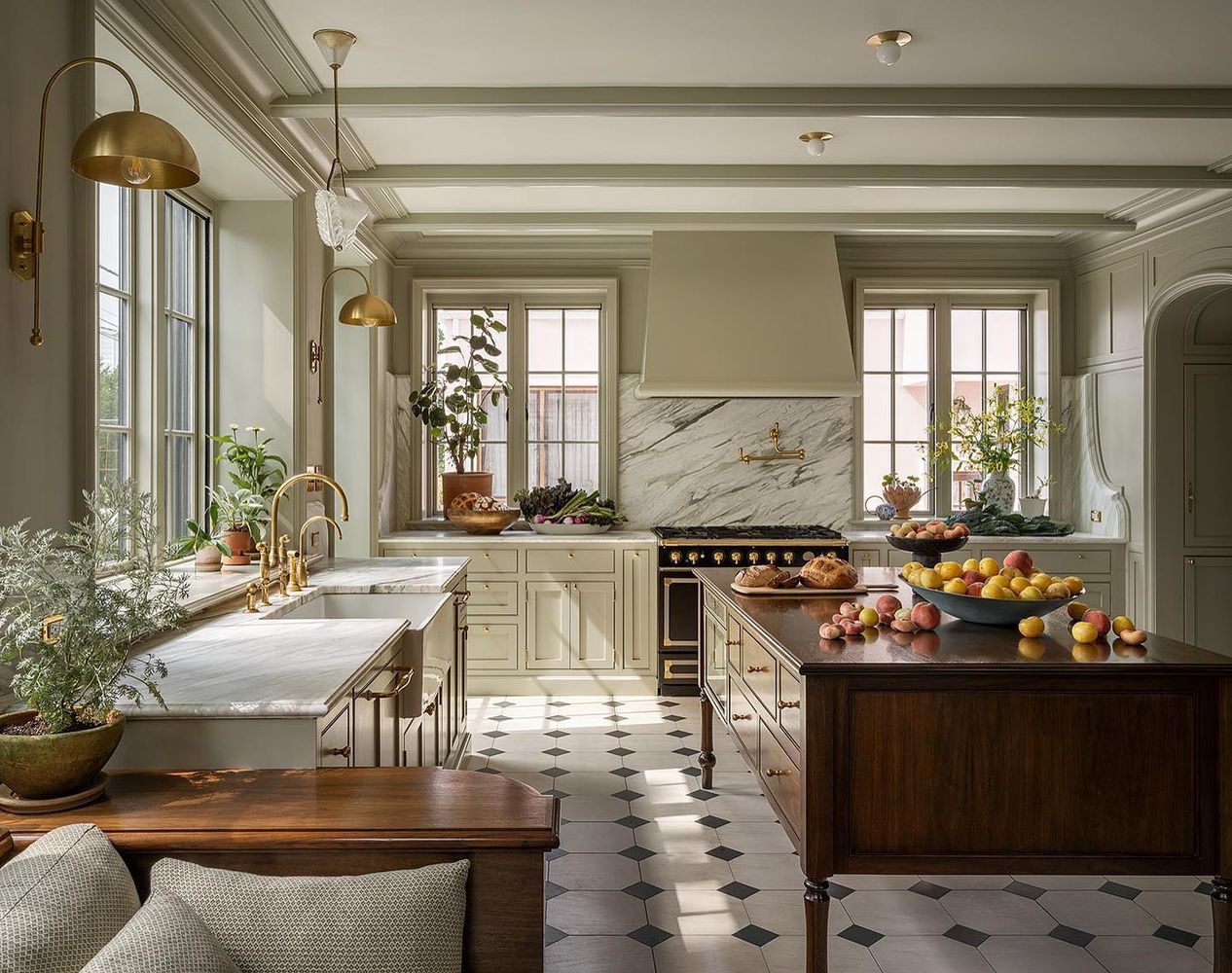 As you can see, it's entirely possible and even stylish to omit upper cabinets from your kitchen design these days. What do you think about this design choice?