Are you interested in discovering the most dreamy bedrooms with endless bookshelves perfect for book lovers? If you are someone who can't go a day without reading a book, then this post is for you. While you may already have a dedicated reading nook or library space, what if you want to keep your books a little closer to where you start and end the day?
If you dream of bookshelves lining the walls of your bedroom or you're just looking for creative book page bedroom decor ideas, then we think this post will be perfect for you.
Bedrooms with Bookshelves for Book Lovers
Here are the most inspiring bedrooms with seemingly endless stacks of shelves filled with books. Each of these spaces was selected for their beautiful bedroom book decor. Enjoy!
1. Open book headboard bedroom decor
I just love this DIY open-book headboard decor idea! It's a shame that the website with the tutorial is no longer live, but I think you can get the gist of the concept from the photo! It makes for a beautiful book page headboard.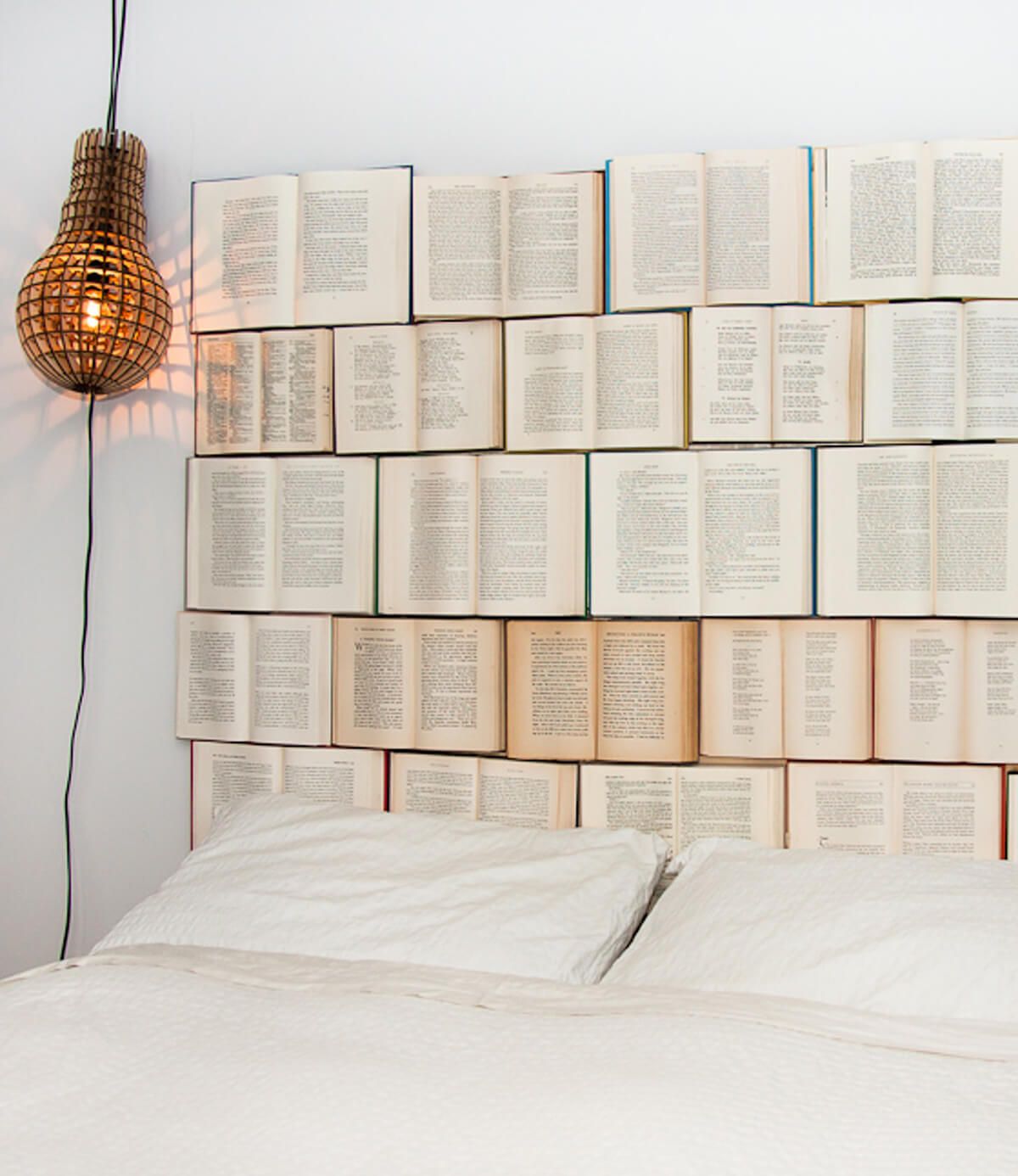 2. French Country Bedroom with Built-in Bookshelves
I am swooming over this gorgeous French country style bedroom with double built-in bookshelves surrounding a gorgeous vintage mirror.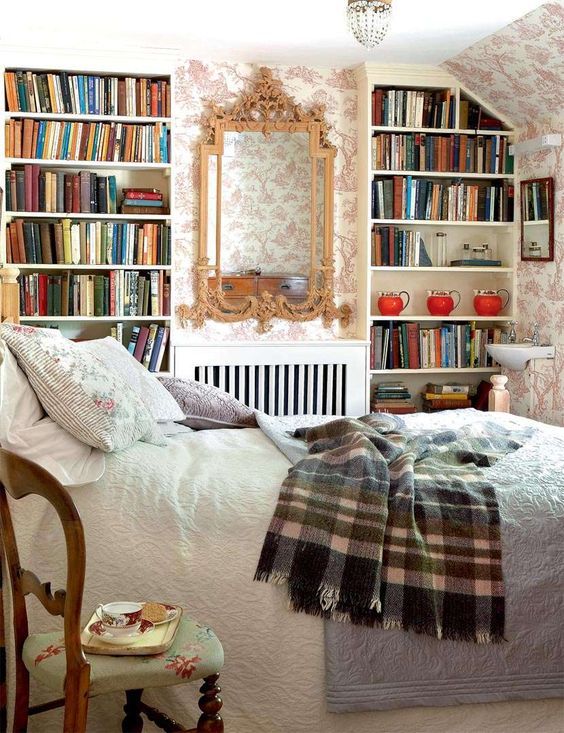 3. Built-in Bookshelves Surrounding the Bed
The bookshelves in this bedroom frame the bed perfectly! I like how the built-in shelves are painted gray too in order to create some contrast. The bed slides right into that nook seamlessly. It's one of the best book storage ideas I've ever seen.

4. Bedroom with Upper Installed Bookshelves
Upper built-in bookshelves are a fabulous idea as they allow you to still have a nightstand or dresser on your floor below and against the wall. The books replace the wall space that would normally hold a mirror or artwork. Brilliant use of space!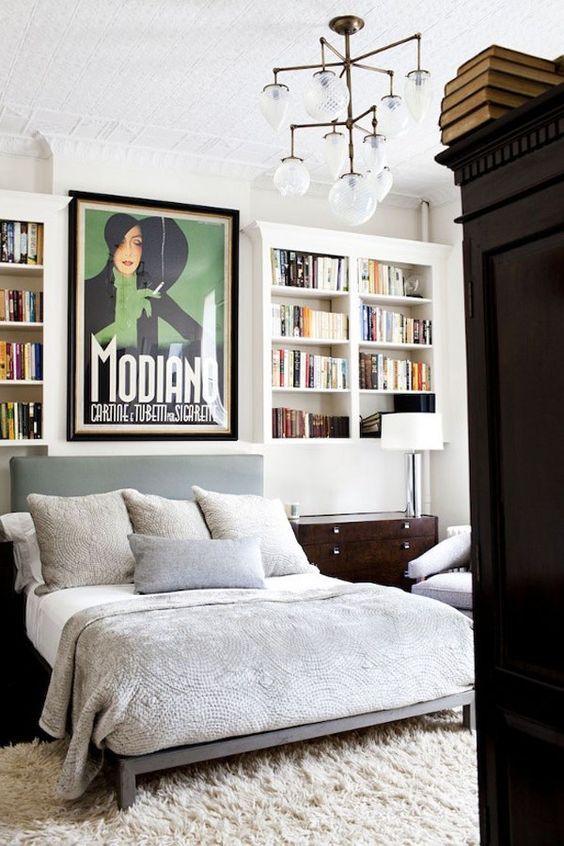 5. Bedroom with Upper Bookshelves
Another great upper bookshelf installation idea. This three level bookshelf serves as a kind of crown molding to the space!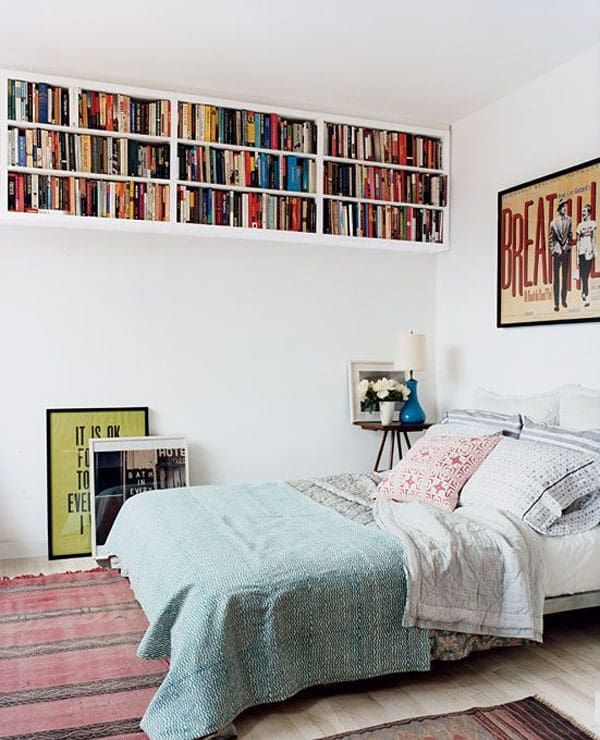 6. Bedroom with three walls of bookshelves floor to ceiling
Seriously, can you possibly fit any more books in this bedroom? If your collection is overflowing, then go ahead and install bookshelves on three walls of your bedroom from floor to ceiling! I'm kind of thinking that the fourth wall is lined with bookshelves too, even though we can't see it based on this shot!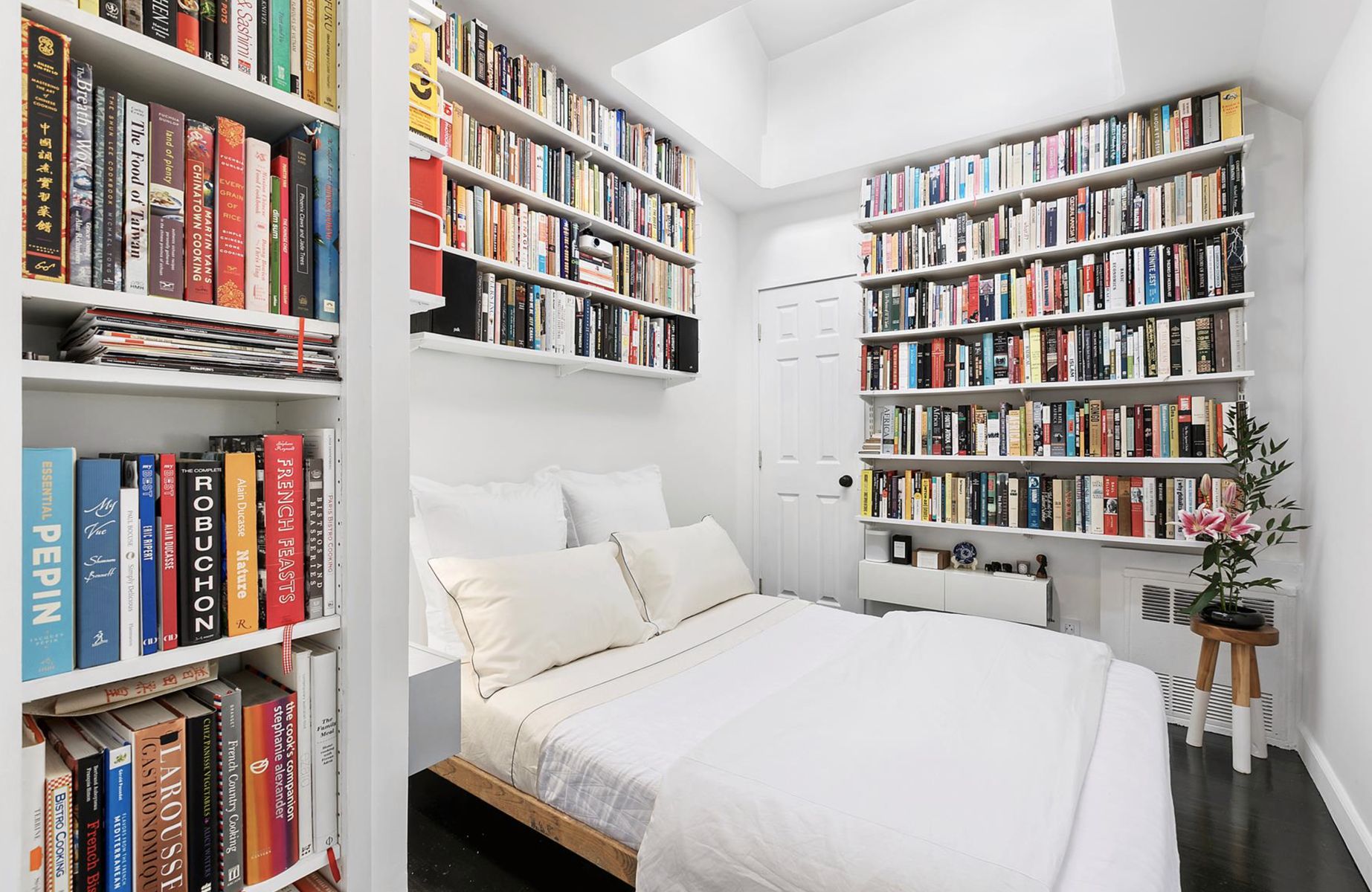 7. Bedroom with Floating Bookshelves
Floating bookshelves mean you can pick out some pretty bookends to keep your collection upright. I like how these books are stacked in different directions to give the space a bit more dynamism.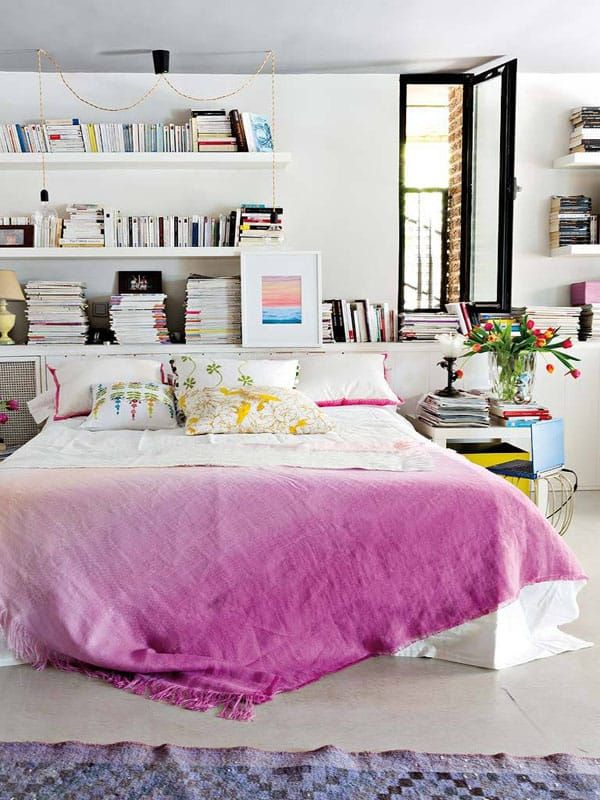 8. Scandinavian Bedroom with Bookshelves Lining the Wall
This minimalist Scandinavian bookshelf wall in the bedroom is great if you want to keep things tidy and clean.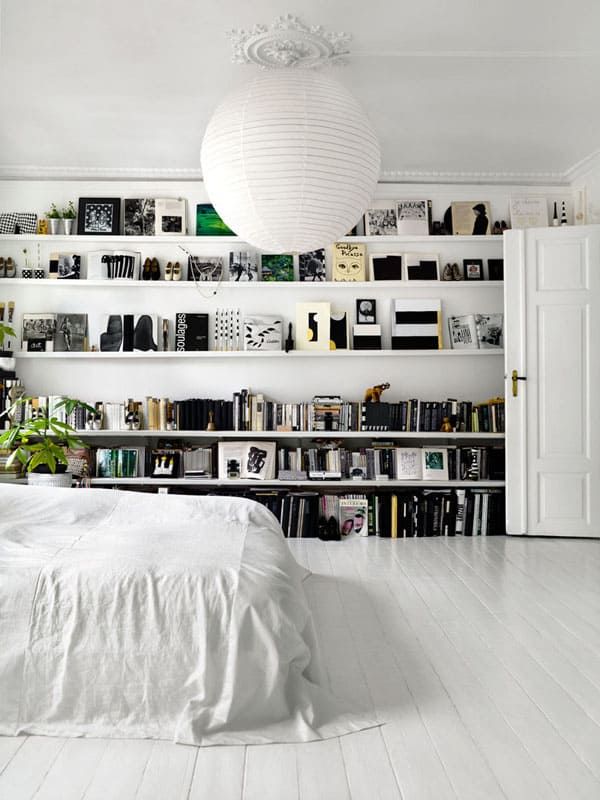 9. Bedroom with a Sliding Ladder and Tall Bookshelves
What a dream it would be to have super high ceilings in your bedroom so that you actually need a sliding ladder to reach the upper shelves! I like how these bookshelves are stacked with various decorative accents and knick knacks. Those shelves and that ladder give the room so much character!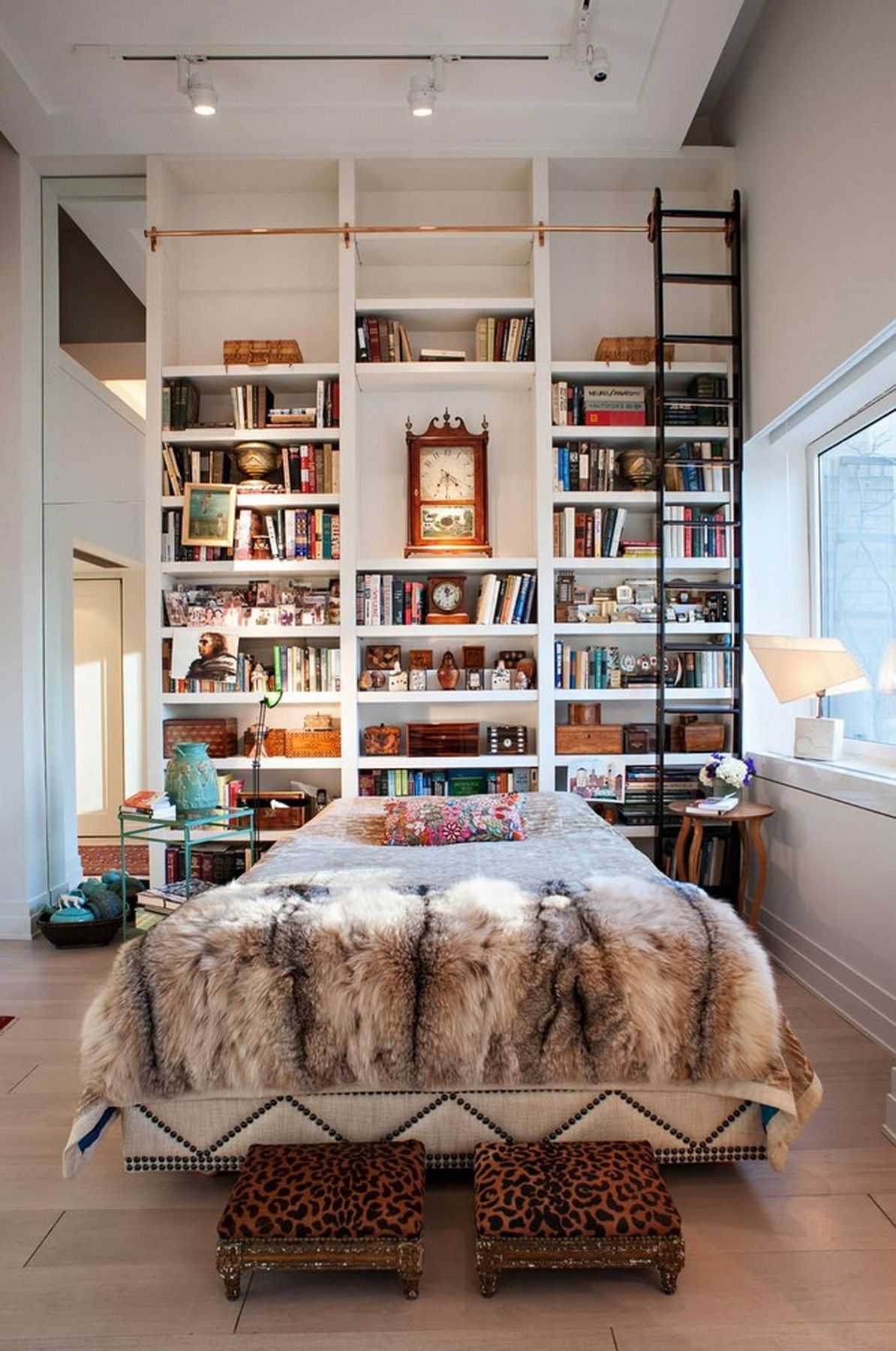 I hope these bedrooms for book lovers inspired you to design the practical, book-friendly bedroom of your dreams! Which room was your favorite?