The television is often the focal point of a living room or family room, so choosing the right TV stand or entertainment center is a critical decision. If you love watching TV and movies, then you know how important it is to have a great stand for your television! The stand you select can influence the flow and feel of the whole living room space.
There are several major categories of TV stands to consider that differ in style, functionality, and price point. I'll give an overview the most popular types of TV stands on the market today – console tables, wall-mounted shelves, entertainment centers, and media consoles. I'll highlight the key features, pros and cons, and decorative possibilities of each TV stand type. I'll also offer tips on how to choose the right stand for your space, lifestyle and budget.
Whether you prefer clean contemporary lines, rustic charm, or maximum storage, one of these TV stand styles is sure to perfectly anchor your TV viewing area. Read on for an in-depth look at today's top options for showcasing your television in style. Let me know in the comments which TV stand category you find most appealing!
Main Types of TV Stands
When you're in the market for a new TV stand, there are a few different types to consider as an entertainment station for your living room, basement, or family room. Here are some of the most popular options:
Corner TV Stand
Corner TV stands are designed to fit neatly into any unused corner of a room. Their angled shape maximizes viewing angles. Corner TV stands typically have shelves or cabinets.

Open Shelving TV Stand
Open shelving TV stands feature exposed shelves rather than enclosed cabinetry. They have a light and airy feel perfect for small spaces.

Console TV Stand
Console TV stands are long and low for mounting TVs at an ideal viewing height. Their simple design makes them a versatile option.

TV Stand with Audio Shelf
TV stands with audio shelves provide a dedicated space for speakers and audio components. They keep clutter organized and accessible. This is ideal for creating a home theater system.

TV Stand Hutch
TV stand hutches add extra storage with overhead cabinets and shelving. They create a built-in look while hiding clutter.

TV Stand Cabinet
TV stand cabinets completely enclose electronics behind doors for a hidden, built-in aesthetic. They maximize storage capabilities.

Swivel TV Stand
Swivel TV stands can rotate for flexible viewing angles in open concept spaces. They allow repositioning screens easily.

Floating TV Stand
Floating TV stands wall-mount a shelf to suspend TVs just off the ground. A floating TV stand helps you create a sleek, modern look in your home. This type of stand mounts to the wall and appears to "float" above the ground. It does not have legs, making it easy to clean underneath!

TV Entertainment Center
TV entertainment centers are large, multifunctional units with abundant shelves and storage. This is a great way to create a full-fledged home entertainment system. They become true focal points.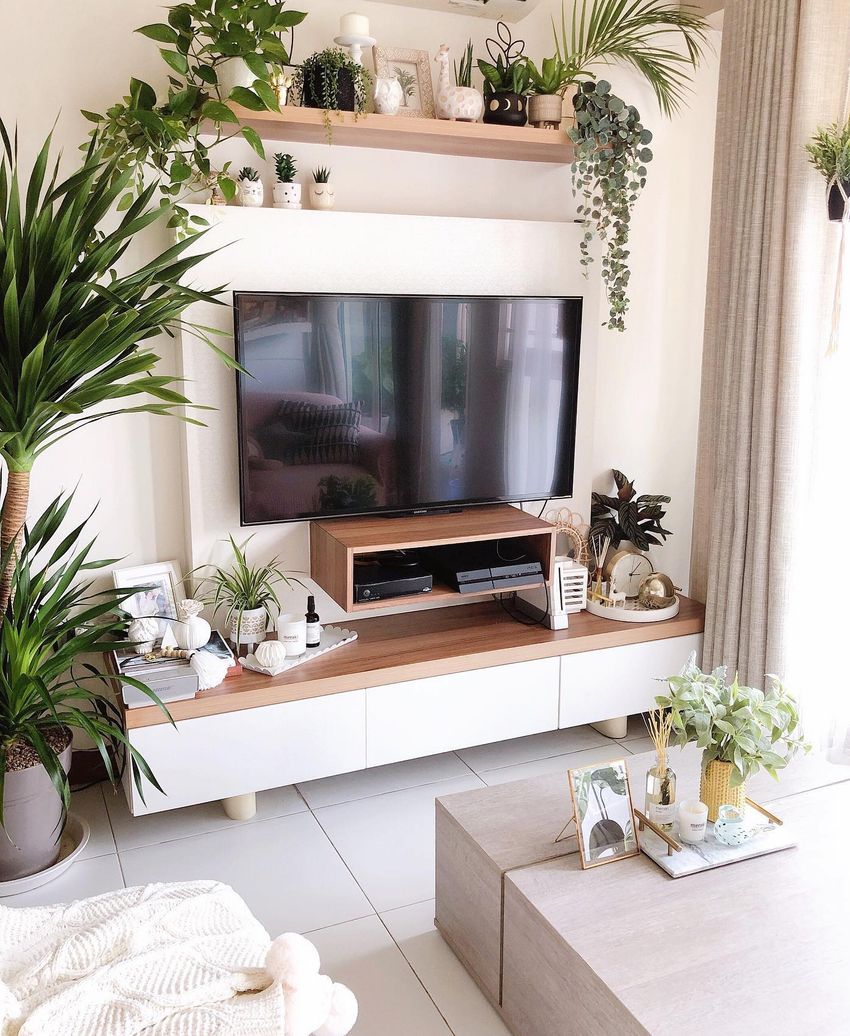 Types of TV Stand Materials
When it comes to TV stand assembly, there are several key materials that they can be made from.
Glass TV stands
Glass types of stands are very popular because they offer a sleek and modern look. They also tend to be very sturdy, so you don't have to worry about your television wobbling or falling over.
Wooden TV stands
Wooden TV stands are classic and timeless. They come in a variety of woods, such as oak, maple, and cherry. You can also find them in a variety of colors, such as black, white, and brown.
There are some beautiful farmhouse TV stands made of wood:

Metal TV stands
Metal TV stands are also trendy, offering an industrial or farmhouse-style look. They're usually made from stainless steel or aluminum and can be found in a variety of colors, including black, silver, and gold.
---
Now that you know more about the different types of TV stands, you can start shopping for one that will fit your needs.