If you love the coastal chic style of Serena & Lily but find their designer prices a bit too high, mark your calendars for their biggest sales of the year! Serena & Lily runs several major sales throughout the year that are worth waiting for.
In this blog post, I'll fill you in on the usual timing and what categories are discounted during the Serena & Lily Annual Bedding Sale, Outdoor Sale, Summer Sales, Labor Day Sale, Holiday Sales, and End of Year Clearance. Understanding the retailer's general sale schedule will help you plan out when to purchase certain items and take advantage of the best deals.
With discounts ranging from 20% to 70% off, you can give your home a high-end refresh for a whole lot less by shopping these sales strategically. Keep reading to get the inside scoop on sale seasons at Serena & Lily so you can decorate in their signature style on a budget!
When Does Serena and Lily Have Sales?
Here is some general information about Serena and Lily's major sales:
Annual Bedding Sale: Typically held in January, this sale offers discounts on all bedding like sheets, duvets, pillowcases, etc.
Spring Design Sale: the Serena & Lily spring design sale happens every spring around March or April. You can typically score 20% off full prices.
Annual Outdoor Sale: Usually held in April/May, this sale has deals on outdoor furniture, rugs, lighting, and accessories.
Summer Sales: Serena & Lily runs various summer sales from June through August on categories like furniture, rugs, lighting, decor, etc.
Labor Day Sale: Large Labor Day weekend sale with savings sitewide.
Black Friday Sales: Significant discounts offered in November/December for holiday shopping on furniture, bedding, decor and more.
End of Year Clearance: Large clearance sale to clear out inventory before new year begins.
The exact dates and product selections on sale vary each year. Signing up for their email newsletter is the best way to get notified of upcoming sales and special offers from Serena & Lily!
What to Buy During Serena & Lily Sales
Every spring, I get a ton of notifications that my readers are purchasing these gorgeous Serena & Lily chairs from my article on French Bistro Chairs. When they go on sale, it's the perfect time to freshen up your dining room or kitchen island chairs with these beautiful "Riviera" bistro chairs that are a HUGE reader favorite.
Serena & Lily has become known for these popular chairs, but they are also known for their modern coastal style. From the timeless Riviera bistro chairs to relaxed linens to luxurious bedding, Serena & Lily has everything you need to refresh your space for spring.
You can shop the entire Riviera Collection here, which includes other seating options like outdoor chairs and benches, too!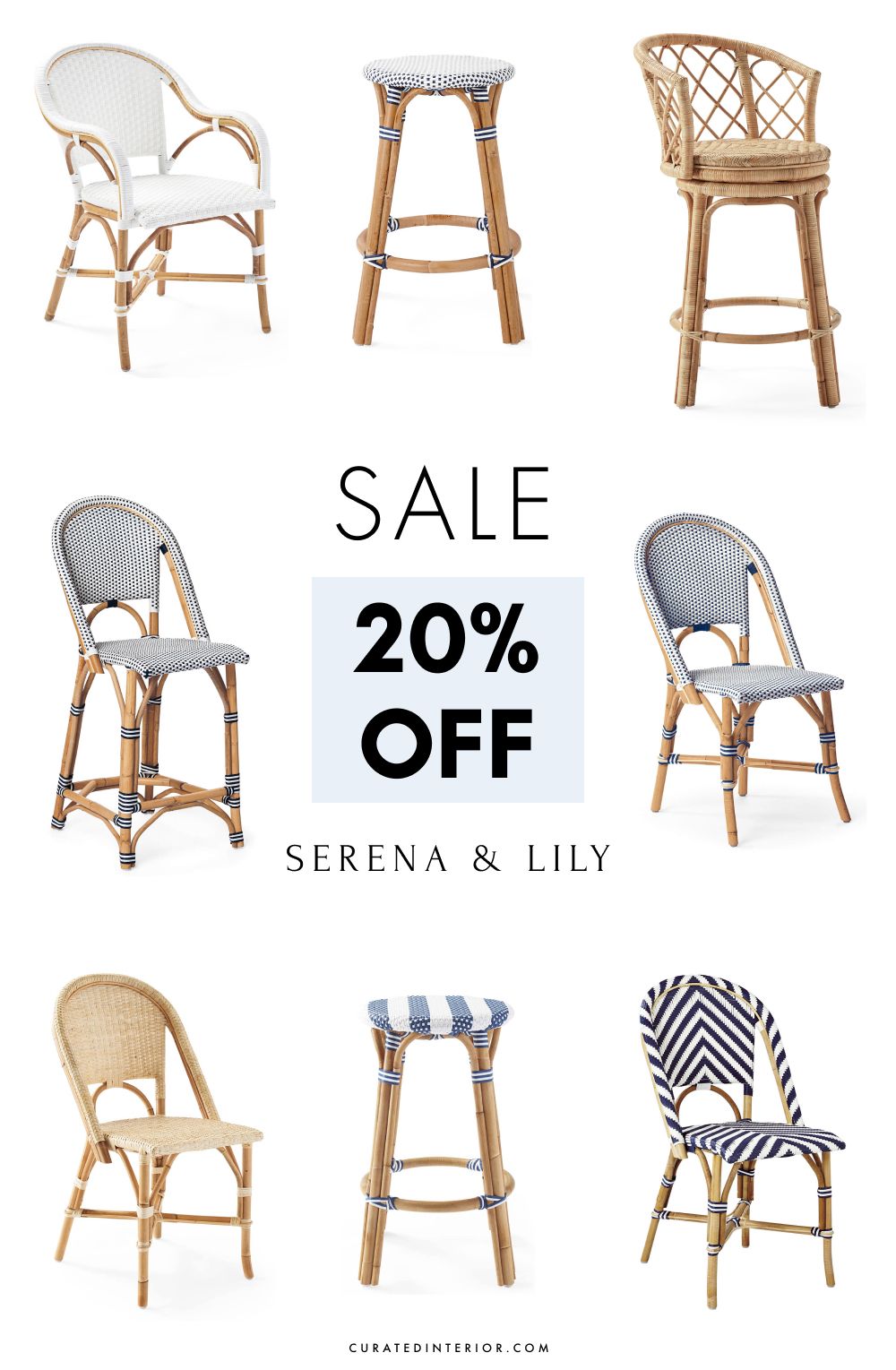 Shop the chairs we love here: